Best Foldable Flats Reviewed & Rated for Quality
In a
Hurry? Editors choice:
Test Winner: Ollio

We can all agree that, after walking around in heels for hours, the last thing you want to do is walk even more. We all know the heels can be tedious and tiresome, causing our feet pain and blisters. In many cases, we are unable to carry a pair of comfortable footwear in our back pockets, making it nearly impossible to find relief. I mean, have you ever had to wear heels for hours at a wedding or a formal event? It can get exhausting! Well, we have a question for you that may lead to a life-changing moment. What would you say if there was a very easy solution to this problem – that's also quite cost-effective? Do you have any idea what we are talking about?
Standout Picks
Criteria Used for Evaluation
Advanced Features
To our surprise, while performing research, we began to notice that a few brands offered consumers a bit more than just a standard pair of footwear. So, when assessing different products, we really wanted to see what additional features or benefits companies were offering. What we found was that companies were creating and offering carrying bags, mini-fashion purses, and even selling their products in sets with different color choices. For us, if the product was high-quality and came with an added bonus, it was a huge plus and easily secured a spot on our list.
Durability
While these can be a cost-effective means to providing instant comfort, we wanted to ensure that they would last. The last thing any consumer would want is to swap out their heels for a pair of these and, after a few minutes of walking, the soles fall apart. In this, when picking out products for today's list, we were very careful to only highlight those that were notable for their durability.
Now, aside from the outsole, there are a few other ways that we tested for durability. In one, we looked to see if the manufacturer shared any information regarding the life expectancy of their product. Additionally, we wanted to see if they assured consumers with a warranty or guarantee that their product would last. For us, brands that take the time to offer even a minimum of a 30-day guarantee, it's better than companies that offer nothing.
The last thing that we did to ensure that we picked a durable product was looking through consumer reviews. We combed through hundreds of customer reviews, looking at 2, 3, and 4-star products to see how people felt about each footwear. In our opinion, before consumer purchases any good, this is a step that you should take. It could help provide insight on issues or benefits that you never knew of.
Materials
The first criteria that we used when choosing the best products were the materials and construction. By understanding what types of materials manufacturers used and how well the product was constructed helped us determine the quality of the product.
So, for each product we analyzed, we carefully studied the different materials that the brand used to construct the:
Outsole
Midsole
Insole
Upper
If you are new to shoes, these are the four different structural components of footwear. If you ever want to see whether a pair is worth purchasing, look at these areas and see what materials the manufacturer used. You are really looking to see whether or not a company is using quality materials like polyester or leather rather than plastic or synthetic materials.
Here is a small breakdown of what each section is – and what they are responsible for.
The Outsole: this is the bottom part of a shoe. This sole is what holds the entire product together. If a manufacturer uses cheaper materials here, you can anticipate quick wear and tear. Typically, companies will use traditional rubber as its known to be quite durable and great for shock absorption. The best brands in the industry will use an impact-based rubber, which significantly boosts shock absorption and offers traction support.
The Midsole: This is where the part between the outsole and the insole. The section of footwear is really designed to give consumers support, stability, and comfort. A lack of foam or padding in the midsole could leave a consumer with a ton of foot or ankle pain. When it comes to the midsole, you really want to look for materials or technology like EVA foam.
The Insole: This is the part above the midsole, often referred to as the footbed. Like that of the midsole, the insole should be designed with padding, comfort, and support for the arch of a foot.
The Upper: This is the top part of footwear and it plays a major role in fit, security, stability, and breathability. If a manufacturer lacks quality on its upper, it can result in improper fits, poor performance when walking or exercising, and even sweaty feet.
Style
Flats come in all sorts of different styles, from athletic options to those that would look right at home at a wedding or another formal event. In fact, some of the more formal styles will work in casual situations, and vice versa. When looking at which flats you want, it's a good idea to take a look at a few things.
Color: The human eye can see about 100 million colors, meaning there's no shortage of color variety for flats. While neutral colors such as black and ivory are some of the most popular, finding bright or unconventional colors will still be easy. Neutral colors are best for the office, while social events such as parties may call for a more daring style.
Versatility: There's a flat for every occasion, from religious events to birthdays to spending time with friends. Of course, some flats are more versatile than others. Typically plain designs and neutral colors are the most versatile, as they can easily blend into any outfit in any environment. It's important to consider not only whether you like how the flats look but also look at the practicality of them in different situations.
Value
Throughout today's buying guide, one feature that we always looked for when assessing each product was the cost and value. This is something that we always measure and assess as it's a great means to unveil the level of quality of an item. Now, typically, consumers often don't look past a price tag beyond whether or not it means their budget.
If you want to ensure that you are getting your money's worth, you need to use the cost a bit more to your advantage. You see, consumers have the power to decide what product they want to purchase. No brand is forcing you to buy their item. So, before you hit the "buy" button, try this process and see how it helps you!
What we did before choosing any product for our list was looking at the entire field and what companies were charging. We wanted to have a vast understanding of what the market looked like. By knowing the highest priced product and the lowest price, we were able to use this information to measure how fair priced products were. We even used this strategy when assessing and comparing the value of products.
Here are some questions that we asked ourselves that you can use as well when picking out a product:
Is this item higher priced than the average product?
What value does this item specifically offer?
Is the value justified by the price?
Top 10 Picks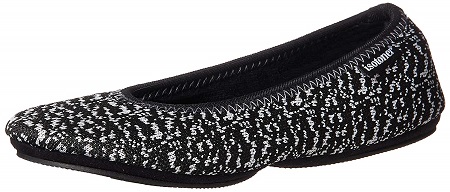 Isotoner first got their start over twenty years ago, and since then has become synonymous with basic and comfortable footwear. These sport flats are portable and travel-friendly, making them great for when you expect to do a lot of walking.
Moisture-Wicking Footbed
Flats are often the footwear of choice in the summer, as they are lighter and cooler than sneakers. Of course with warmer weather comes the potential for sweat, which can be uncomfortable and cause irritation and odor.
Knit Upper
One of the reasons flats are so popular is because of their comfort. These flats feature a knit upper made from lightweight materials. Not only is this upper very soft, but it will also help keep your feet warm in colder weather.
Cost and Value
While prices will vary based on size and color options, the Isotoner Sport Knit flats are overall quite inexpensive. These lightweight shoes are great for travel and provide more warmth than the average flat.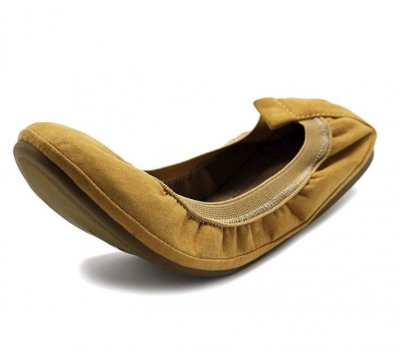 When it comes to this market, there are so many different brands and products all competing for the throne. However, there is one in particular that is captured the attention of consumers around the world: Ollio. Perhaps it could be the unique color designs or even the materials used to construct them. Let's find out!
Elastic Top
Have you ever worn a pair of these before and, after walking around a few steps, the upper part of the flat falls off? Well, this brand designed this particular item with a unique elastic upper so that it will essentially hug your foot. This adds an additional level of comfort and stability so you can enjoy walking for longer periods of time.
7 Different Colors
In the shoe industry, it's vital that brands differentiate their products. If they don't, it can actually hinder the chance of their item selling. With this in mind, this manufacturer designed their quality and popular flat in over 7 different colors. With choices ranging from black, navy, purple, to even mustard – consumers can really customize their experience.
Cost and Value
As far as cost and value are considered, this product is actually priced quite affordable in comparison to many of the other choices that we will share today. In this, the brand also infused a wealth of value into their item, including elastic materials, a comfortable footbed, and numerous color options to pick from. So, if you are looking for a great deal, look no further!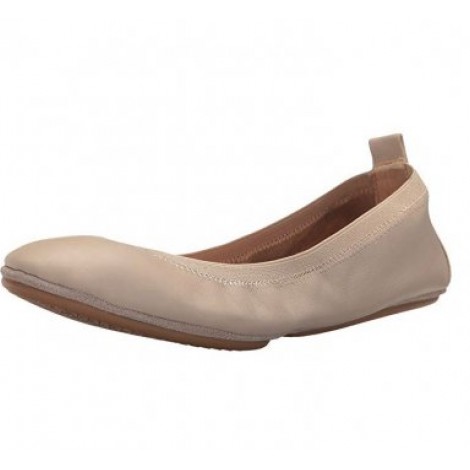 Taking up the fifth spot on today's buying guide, we have the Yosi Samra 2.0. Today, this specific brand and product are considered one of the most popular choices, thanks to their numerous color designs, leather materials, and impressive memory foam interior. Do we also mention that is an original marker of this type of footwear?
Made of Leather
If you are looking for a product that is made from quality, real materials, this may just be the choice for you. Every option and color that you pick from is made from quality leather materials, which is known for its durability, comfortability, and stability. Partner this with a quality rubber sole and you have a product that can last for a while!
Sock Foam
For the first time on today's list, we have a product that was designed with a sock foam. In fact, the interior has a combination of both memory foam and latex foam, both at 2mm and 3mm respectively. Collectively, these help to provide the much-needed comfort and support when walking around or doing daily tasks.
Cost and Value
When it comes to cost, this is easily the single most expensive product we are going to share today. For some, it may be difficult to justify spending this amount of money on a simple foldable flat. However, it's important to really look at what you are gaining. Here, this product is made from a synthetic leather material, designed with impressive memory foam materials for added comfort, and comes in a wide selection of colors. If you look at this like purchasing any other type of footwear, it's worth it!



The Dunion Attract is easily one of the best design footwear in this market today. When it comes to footbeds, this brand infused some of the most unique technology and innovations, which helps to separate from the rest of the competition. If you are looking for something different, stylish, and at a great price tag, look no further!
Memory Foam
If there is one reason why consumers are purchasing this product, it's because of the footbed. As we said above, this footbed is designed with some impressive technology, including double memory foam. Here, consumers will feel the comfort of walking each and every day. On top of this, the outsole has slip-resistant properties, keeping consumers safer when walking.
Classic and Fashionable
Another big reason why consumers are purchasing these is the classic and fashionable design. With rivets all throughout the upper portion of the shoe, consumers will have their friends and family asking exactly where they got their new flats.
Cost and Value
When we first evaluated this product, we actually did not look at the price tag right away. We took our time to look at the value first. In this, we were quite taken aback by how affordable this brand and item is! In truth, when it comes to value, this product easily takes the medal or trophy. It has one of the best footbeds in the game, a stunning and fashionable design that previous consumers touts, and is impressively durable.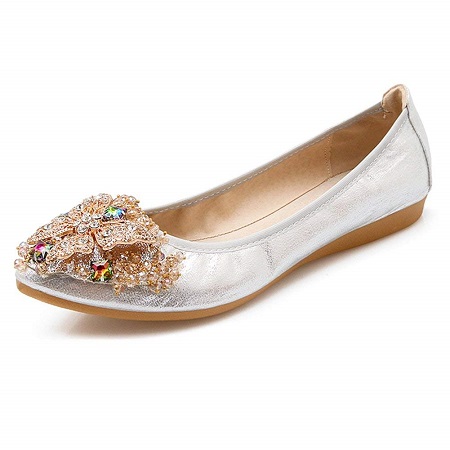 Flats have gradually become a more popular option for wedding footwear, especially for the reception. They are comfortable and lightweight, and some are even foldable, making it easy to keep them in your handbag. These semi-metallic flats from Meeshine come in three color options and feature beautiful rhinestone embellishments.
Elastic Collar
One of the most important factors in the comfort of a shoe is the fit. If a shoe fits comfortably and securely, you will enjoy it a lot more. These flats feature an elastic collar to allow for a secure fit without feeling constricting. They also better accommodate wider feet as a result of this collar.
TPR Outsole
Foldable flats need to have outsoles that are sturdy enough to handle normal use and are flexible enough to allow for folding and packing. TPR, or thermoplastic rubber, is a lightweight material that mimics the performance of rubber without the use of latex. This makes them safe to wear for those with latex allergies.
Cost and Value
These are priced similarly to most other shoes on our list, especially those from Isotoner and other shoes offered by Meeshine. The beautiful design is great for formal events such as weddings, while the TPU outsole and elastic collar will ensure a secure and comfortable experience.

6

. Isotoner Satin Ballerina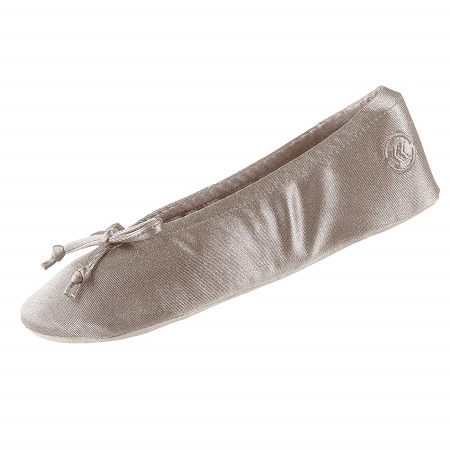 Ballet slippers have become a sort of fashion staple over the years, thanks to their flexible design. These Isotoner flats take all the beauty of a ballet slipper and put it into a compact foldable package that is available in four different colorways.
Suede Outsole
Suede is a type of leather that is more flexible than cowhide. This flexibility along with the durability and style we've come to expect from leather make it a solid choice for the outsole of these flats. It provides similar durability and traction to other outsole types while being flexible enough to use in a foldable shoe.
Cotton Terry Cushioning
A fabric normally reserved for bathrobes and beach towels, these flats feature cushioning made from cotton terry. This soft and fluffy fabric provides breathable cushioning without impacting the weight of the shoe.
Cost and Value
While the price will vary based on size and color, the Isotoner Satin Ballet Flats are very budget-friendly and priced similar to the other Isotoner shoe on this list. These flats stand out thanks to their cotton terry cushioning, which is similar to feel to a fuzzy bathrobe. You might find yourself buying all four colors.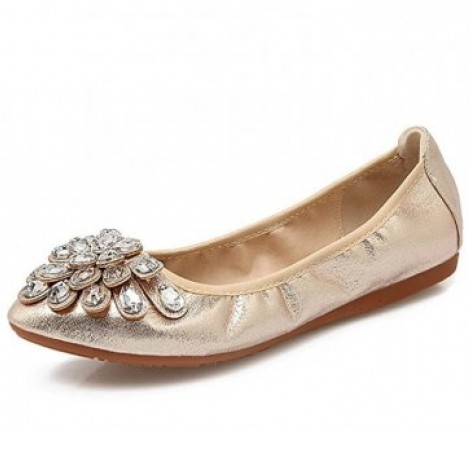 In the third spot on our list today, we have the popular, Meeshine Rhinestones. This brand and product have reached this place on our list because of their clever and fashionable design, alongside the numerous features embedded into the product. If you are looking for footwear for just about any occasion, here you go!
Lightweight
What makes this such a special choice is really how lightweight they are. The brand sought to make this product from the lightest possible materials, making it easy to wear, fold-up, and wear again. Since they are also flexible, consumers don't need to worry about whether or not these will break.
Fashionable
Our favorite part about this product is its fashionable design. In fact, we can argue that, out of the many different choices, this is easily in the top 3 for visual appeal. Now, the best part is that the brand created a few different variances of this product, including different patterns and designs of the rhinestones. In other words, you might not just want one style of these! You might need them all!
Cost and Value
Let's talk about the cost for a minute. Looking at today's list, this product and brand could be considered quite affordable. These are similarly priced as the number one choice on today's buying guide and offer pretty similar value. With numerous different color choices, a lightweight and flexible design, and the opportunity to wear these just about anywhere, you can't go wrong with a pair from this brand.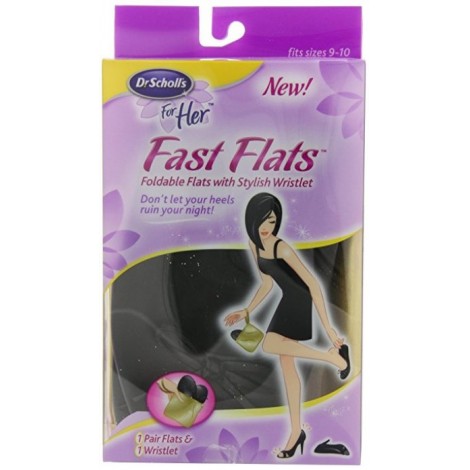 When it comes to feet, there is no better brand than Dr. Scholl's. This company knows just about everything when it comes to comfort and ensuring your feet are protected. With that being said, you should not be surprised that this brand is near the top of toady's buying guide. Let's take a look at what makes this such a valuable consideration.
Wristlet Case
One of the biggest selling factors of this product is not necessarily the flat itself, but rather what the product comes with. Here, consumers will receive a bonus, fashionable wristlet. This is so that, when going out for the night or attending a wedding, consumers can simply keep their handy new footwear with them for those uncomfortable moments.
Practical
Are you looking for more of a practical choice or one that you can use after long hours of walking around in heels? Well, this brand specifically designed this product so that consumers can swap out heels in a moment notice and find the relief and comfort they need.
Cost and Value
To the surprise of many consumers, and ourselves included, this specific choice is the most affordable option on today's buying guide. Here, you can expect to pay significantly less than every other brand and receive some impressive value. Not only are these flats a simple and easy solution to walking around, but it also comes with a handy, fashionable case, which is always a great addition.

9

. Cambridge Select Ballet Flat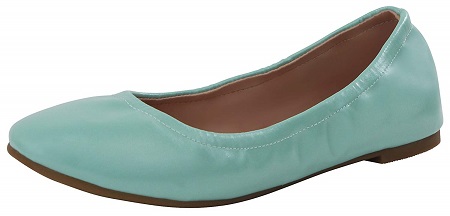 Known for their wide range of footwear- including combat boots and gladiator sandals- Cambridge Select also offers this low-cut ballet flat. They feature an easily packable design along with a slip-resistant outsole for traction. These flats are offered in five color options, ranging from a canary yellow to black patent.
Slip-Resistant Sole
Even flats are prone to slick surfaces such as wet pavement, which can be an accident waiting to happen. That's why Cambridge Select uses slip-resistant soles for the majority of their flats, reducing the chance of a nasty spill.
Rounded Toe Section
While pointy-toed shoes have a very retro and appealing style to them unless you have narrow feet they are not going to be very accommodating. That's where these shoes come in; the rounded toe is more forgiving for wider feet, especially for long periods of time.
Cost and Value
Prices will vary depending on size and color, but overall these Cambridge Select flats are budget-friendly. With a diverse range of colors, these shoes will go with almost anything, and the rounded toe section and slip-resistant sole make these great for all-day wear.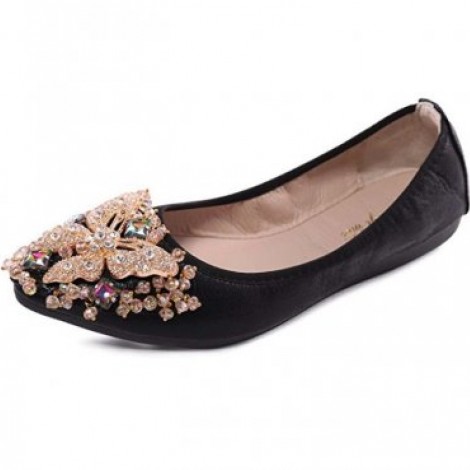 As we start to reach the end of today's buying guide, we want to share the Cattle Shop Bling Rhinestone Loafers. Rather than flowers, this brand sought to make this footwear a bit more elegant through incorporate classy butterflies in rhinestones. Let's take a peek at what makes this a great and considerable option.
Lightweight & Flexible
The last thing that any consumer wants is a pair that is gravely heavy. Can you imagine heavy flats? Well, this brand designed these from the lightest materials, ensuring the most comfortable wear and walking experience. In addition to this, the manmade material is also very flexible, making it easy to travel with.
Very Comfortable
In efforts to compete with some of the greatest brands in the game, this company attempted to design the most comfortable shoes. The interior part of this item is designed with soft materials, providing your feet with a comfortable feel. In addition to this, the outsole is designed with anti-skid materials, ushering in an even better walking experience.
Cost and Value
Are you looking for a product that is fairly priced, offers a lot of value, and it's trendy or fashionable? Well, this is precisely how you can describe this brand and shoe. Our favorite part about this product is how flexible and lightweight it really is. I mean, aside from the stunning rhinestone butterfly. You can't go wrong here!

Subscribe to our Newsletter