Best Bridal Shoes for the Big Day Reviewed
In a Hurry? Editors choice: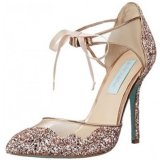 Test Winner: Betsey Johnson Stela

The perfect dress, the perfect day, why not the perfect shoe? Pumps or sandals, whimsical or formal there are a lot of different choices that can overwhelm the hopeful bride. It really makes sense to go all out when it comes to your special day. You will never be able to wear your wedding dress again after your ceremony, but you should definitely be able to wear your slips or heels again. That means that you're totally justified in spending a little bit extra since you can wear them on your nights out and for formal events. When picking bridal styles, there's a lot to consider. The following list looks at the ten best bridal shoes available for purchase, giving you great options in varying styles, making for a relaxed and successful shopping experience.
Standout Picks
Criteria Used for Evaluation
Style
Your footwear is an essential part of the whole wedding theme. You've spent a lot of time and perhaps a great deal of money choosing the perfect wedding dress or outfit to wear for your day. You want a pair that matches your attire well, doesn't clash and expresses your personal taste and style.
Whether it's understated elegance, fun & flirty, youthful and energetic, or unique and individual you will find a pair on this list that will suit you. Each is a modern take on a classic heel and in a variety of heights that will please anyone, from those who have never worn a heel before to those who have a closet full of 6" stilettos.
In terms of style here is our advice to you:  Choose your dress or suit first. It's what brides tend to stress the most about. Ensure you're happy with the style, color, fit. Once you've chosen the "one", then come online and have a look for something that complements your outfit AND grabs your heart.
Does your dress look best with a little ballet flat, a kitten heel or can it handle the dramatic height of a stiletto?  Is the dress light enough for strappy sandals or is a closed toe d'Orsay more the way to go. Sparkly or matte?  We're sure we've chosen styles that can inspire your purchase.
If you're going non-traditional Western, will your choice complement the color of your dress?  Today's generation is not bound by color and luckily, neither are most of the above. Metallics like gold and silver are popular as are rhinestone detailed heels. Even in a white dress, you could consider a very bright and vibrant pair that matches your flowers or choose an ultra-bright white to go with your Cinderella blue gown. The choices are endless and the color is entirely up to you.
Value
As the quality goes up, usually so does the price. We looked for shoes where the build quality at least matched and usually surpassed the price, ensuring that you get the best value for your money without sacrificing good materials. The last thing you want to worry about on your wedding day is a wardrobe failure – straps that break, heels that snap, insoles that collapse.
We looked at how the piece was constructed, especially at the heel (which are usually glued on with small nails that help secure the heel while the glue dries). We read reviews to ensure strappy sandals would stay strappy sandals and not a twisted mess.
Here are some tips on what to look for in a quality heel:
Connection: the heel should be solidly connected to the sole. Straps should also be solidly glued or sewn on. If it's glued (and it usually is), there shouldn't be any gaps where the adhesive might fail. Adhesives peeping through the joint is a sign of poor manufacturing and a pair may fail from too much adhesive. Read reviews to determine whether other users have had any heel or strap problems.
Padded insole: there is no excuse for even a wide-open sandal to not have some padding in the insole. Otherwise, your foot will be resting on a bare sole which is very uncomfortable.
Lining: lining should be soft fabric, suede or leather for the comfort of your feet. Harder fabrics and some synthetic fabrics can irritate the foot.
Straps: The straps of a sandal should never cut into the heel, ankle or other parts of your foot. Quality straps are lined to prevent this from happening but again this is a great place to read over the reviews to see if other users have had strap issues. Your feet should not be scraped and bleeding on your big day - or any other day.
Materials
When you're purchasing a pair of footwear to wear on a special occasion, your first criterion will likely be style and use, but another thing you should take into account are the materials used in construction. The quality of a shoe greatly depends on what was used to make it, and it will determine whether you only wear the pair of one night, or if you can keep and use it for years to come.
Furthermore, the type of material also determines how the shoe will perform in certain situations. The surface underfoot will have a big impact on what you need in terms of traction, as will the temperature in terms of breathability. Overall, your best choices are always leather, rubber, and textile.
Leather is traditionally used in a wide variety of footwear, and formal shoes are no different. In addition to the upper and lining being made with this material, you will also often find that the sole is made from it. It's important to keep in mind that this type of sole is best used indoors, as it won't put up to the abrasion that happens on concrete, will quickly deteriorate if gotten wet, and won't offer too much in terms of slip resistance.
Rubber will perform much better in terms of providing you with traction. If your wedding is taking place in a hall with a tile or marble floor, it's the best way to go. It will also perform better outdoors, such as on grass and even sandy surfaces.
Last but not least, textile materials can be a great choice for formal footwear. Lightweight and flexible, they also offer a great deal in terms of breathability, which is crucial if you're planning on taking to the dance floor. Do note, however, that textile is harder to keep looking new and clean, and may not last as long as a full grain leather upper.
Comfort
Bridal shoes is almost always worn for long hours, which is why picking a comfortable model is key to keeping you happy and pain-free. While choosing a good fit, both in terms of length and width is important, there is a number of things you can do to ensure your shoes won't be hurting your feet.
Cushioning: A bit of shock absorption in the forefoot area of your pumps can go a long way. While some models already come with a cushioned sole, adding a bit extra is relatively easy with a pair of gel or silicone insoles. These can help prevent shock from impact traveling up your legs - making you less tired at the end of the night.
Breathability: Depending on your entire outfit, you may decide to wear hosiery or not with your outfit. However, what you should pay attention to is whether your new shoes are suitable for barefoot wear. Some are lined with soft leather, and these can be great - they will provide adequate breathability, and shouldn't cause blistering or rubbing. Others, however, feature synthetic materials on the inside, which may trap heat, making your feet swell.
Support: Most high heels don't come with support, but you can fix this with some orthotic inserts. Adequate arch support can make you feel much better in the long run, so make sure you have it in your footwear, regardless of heel height. Do note, however, that flats are easier to fit with orthotics than heels.
Heel
Although traditionally most women will opt for a pair of pumps or high heeled sandals on their wedding day, you should go with what works best for you. Some designer models even come in varying heel heights, so you can choose between sky-high stilettos, classic 3-4 inch heels, kitten heels, or even flats.
Overall, there are a few types of heels to consider:
Stiletto: Traditionally over 4 inches tall, stiletto heels are thin and straight. They look amazing but don't offer much in terms of support and stability, and will cause you to shift your weight far forward, which may result in back, hip or knee pain.
Classic Heel: From 3-4 inches high, this is a great choice for any occasion. It won't seem out of place even for more formal events, but will still give you the advantage of definition and elevation.
Kitten Heel: Though originally designed for teenagers in the 1950s, kitten heels have since then become a synonym for class and sophistication. Choose these if you prefer to stay comfortable, but still want to look elegant.
Stacked: Thicker than classic heels, these can be of varying heights, but offer one main advantage over the other types listed, and that is stability. They have a larger surface in contact with the floor, minimizing your chances of losing your balance. They are the best option for outdoor events, especially when there's grass involved.
Flats: Though not as popular, you can get married in a pair of flats as well. Choose anything from Oxfords to ballerinas, even flip flops - what you feel most comfortable in will often be what looks best on you.
Top 10 Bridal Shoes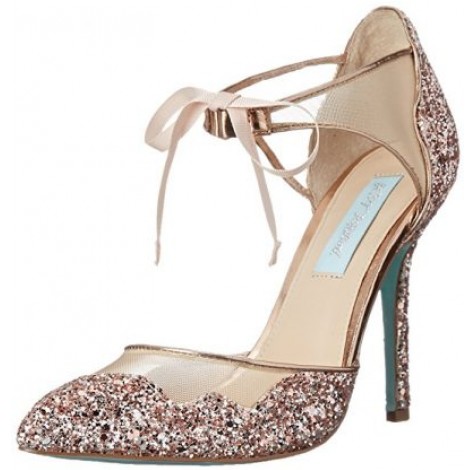 Coming in at number one, this stunning bridal style is hot. This gorgeous four-inch heel is one of the most popular on the market right now, and not just because of the reasonable price. With the Stela, Betsy By Blue has created an elegant yet sexy design with enough pizzazz to have everyone staring as you walk down the aisle. Glitter overlay and a chic bow come together to create a look that is not for the faint of heart.
That cute little bow tie on the front isn't just for show - it has a pretty useful function. It helps the entire style stay on nice and tight, which keeps you stable as you walk. Glitter can often come off looking cheap, but this is not the case with the Stela. And this is what we would expect from a top-of-the-line American designer like Betsey Johnson.
One of the major selling points for this is the value. It's considerably cheaper than many of the other styles on this list, which is quite the accomplishment seeing as it claims the number two spot.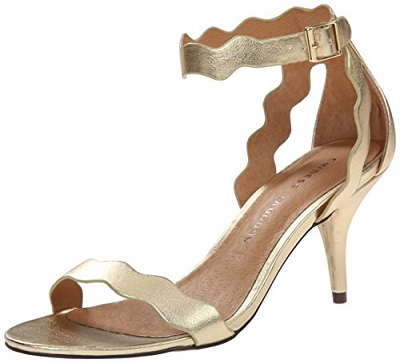 This moderately high, kitten heel with its cute rolling strap style, will make a great addition to your wedding day ensemble. It is lightly padded and constructed of a soft, micro-suede. This is a very flattering, very affordable design to finish your bridal look.
The scalloped straps on the Rubie offer up a unique, flowing design that will look great with a full-length dress, shorter styles or even slacks for your big day. Available in a variety of colors, the product is affordable enough that you and your bridesmaids can be coordinated cute.
The insole is lightly padded and the heel is not so high as to put pressure on your forefoot and midfoot so you will be comfortable in this style throughout your wedding festivities and still have the energy for dancing at the reception. The adjustable strap ensures a good fit at the ankle. The design falls into the lower range of prices for the list. For a good value, you get a cute, unique pair that is low enough to be comfortable and tall enough to add height and an elongating line to your legs.

3

. Chinese Laundry Teaser


If you want to make a real impact with your footwear and gain almost 6" of height, these platform sandal stilettos are for you. Available in the flashy silver above, in white, black or a tan color, these stunners are going to be noticed. They are also very affordable for the bride that wants a statement-maker for a reasonable price.
With a 2" platform and a heel that is 5.75" inches high, this pair will give you nearly 6 full inches of height. These are great for making a statement but they also are great if you want to fill a size gap in those photos.
This stiletto has a light and strappy style that will suit most wedding dresses or wedding suits. It's not for the beach or brides who aren't accustomed to heels but it is great for warm weather weddings where something light and breezy is called for. These also fall into the lower range of prices on our list. They are a good value in a dramatic, height adding, strappy stiletto platform. You won't break the wedding budget in these very tall platforms.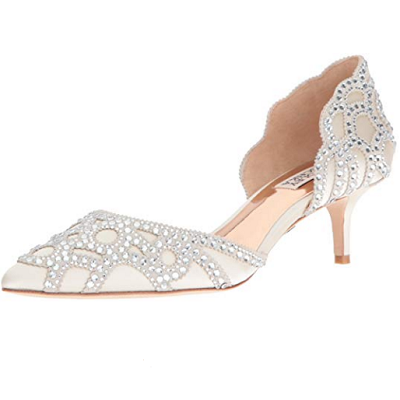 Whimsicality Designed by the minds of two of the best in the industry. The Ginny combines comfort with sophistication that is perfect for a wedding or a night out. Low heels make this an easy shoe to walk in.
Low heels are becoming more popular as most wearers like to wear heels but also like stability. The two-inch heel of the Ginny gives just that, stability with the slight height that a low heel shoe can give.
The upper and sole on this pair are both leather, which is a durable, breathable material. This design will last long past your wedding day, so you can wear it to other formal or semi-formal events or anywhere you want a little rhinestone, classically styled fun. This design falls in the mid-range price-wise. It is a fantastic, classic meets modern update heel that will make you feel and look stunning on your wedding day. A bit of an investment, the pair is durable and will last you through several other events and occasions, becoming a favorite dressy addition to your wardrobe.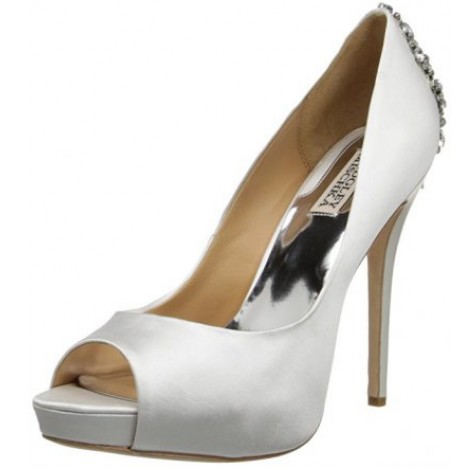 Two Badgley Mischka designs make our top ten list - this is the Kiara, which is a conservative yet stunning bridal style which has been worn by countless brides on their big day. This 4.5-inch stiletto heel features a peep-toe and a signature rhinestone cluster. It also has a leather sole and a textile upper.
The rhinestones are tastefully and professionally done, and won't come loose. They add just the right amount of sparkle to an already beautiful design, and won't catch on your dress either.
It's possible to wear these for hours on end without getting uncomfortable, which is amazing considering they're a 4.5-inch heel. This is largely due to the padded leather footbed. These are definitely a little bit more expensive than some of the other options on this list, but the quality matches the price, and some would even say they're a steal.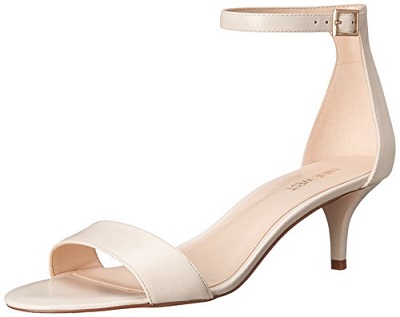 Nine West's Leisa is a cute little kitten heel with a delicate ankle strap and open toe design. It will suit any number of wedding day outfits and is small enough and comfortable enough for dancing and for being on your feet greeting guests. It is a simply designed style that will also suit other outfits and events after the wedding – work or play, you will get a lot of wear out of them.
This simple two-piece sandal has an adjustable ankle strap and a closed heel cup for fit. The heel is a reasonable 2.5" kitten heel that will be easy to walk, stand and dance in. It's simple, elegant design will pair well with a number of wedding attire choices.
This cute heel comes with a padded insole for your comfort. On your wedding day, you shouldn't have to worry about stressed or tired feet and you won't have to with the comfort this Nine West pair will provide. This is at the low end of the range in terms of price. It's a real value when you consider how versatile, comfortable and simply styled it is. You'll reach for these in your closet over and over again.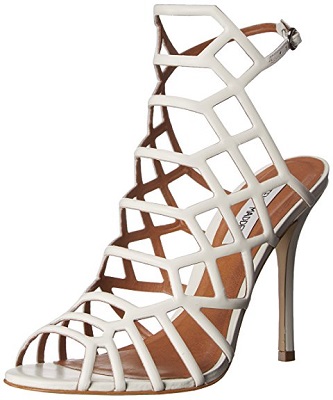 This edgy Steve Madden dress sandal is a great complement to most wedding outfits. Made of quality leather in a cage design, this design is youthful, fun and oh so stylish. Choose the style to match your wedding outfit or pair another color choice to give your bridesmaids height and an open, edgy feel.
The leather straps on this stiletto will be strong and comfortable. The leather is a natural material that is comfortable and breathable against the skin yet strong enough to make into straps that won't give out during your wedding events. Steve Madden products are youthful, chic and modern and these are no different. With a 4" height, the stiletto lends tall, lengthening lines to your profile while giving the pair a deceptively delicate appearance.
These are mid-range in terms of price. For a small investment, you will have a unique bridal piece that will also be wearable on other formal or less formal occasions. The chic and modern style can be pair after the wedding with a pair of jeans to make them casual, a summer dress for a day function or even another formal dress or suit.

8

. Manolo Blahnik Hangisi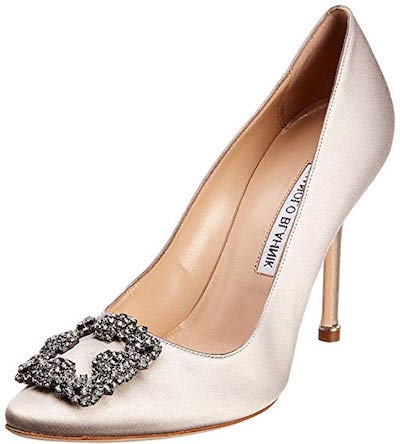 An absolute staple in anyone's closet, the Manolo Blahnik Hangisi is a sophisticated pair of shoes that comes in a variety of color options and heel heights, making it a great choice for anyone. Inspired by Napoleon I and Josephine and Pauline Bonaparte, it features a beautiful, Swarovski crystal embellished buckle that's sure to get you lots of compliments.
The great thing about the material is that it looks absolutely luxe, no matter what you pair it with. The Hangisi comes in a variety of colors, so you can go as bold or as classic as you wish, and you won't make a mistake. Do note, however, that it will require a bit more care than your regular leather pump.
With high heels, a lot of pressure is put on the metatarsal area, which is why a lightly cushioned insole can be a lifesaver. The Hangisi features just that, so you can expect to feel less fatigue and back pain after a night spent in these. Expensive designer shoes may not be for everyone, but if you're determined on treating yourself to something quite amazing, then this is the way to go. Not only will you have a fashion staple in your closet, but you'll also know that you've invested in a quality pair of footwear you'll be able to wear on numerous occasions.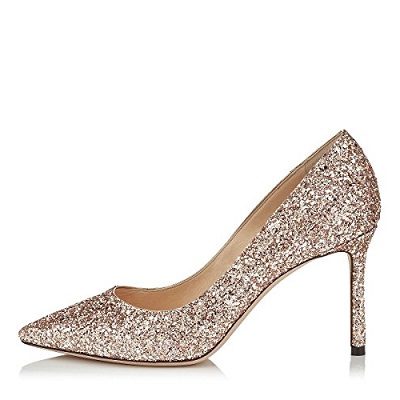 Beautifully made in Italy, if glamour is what you're going for you can't go wrong with Jimmy Choo's Romy. It has a 3.5" heel and is well built with high-quality materials and an elegant design. Shimmer and sparkle in a variety of colors including white, silver, and gold that will compliment your wedding attire beautifully.
Leather makes a fantastic lining because it is natural, doesn't irritate the feet and allows your feet to breathe. Cool and dry feet during your wedding day is one less thing to have to worry about. Plus, you're looking hot. No, seriously, hot.
The high-quality construction means that they will last a very long time. Wedding day, formal occasion, first anniversary, the one after that. This pair will suit a number of occasions making it well worth the investment that you make. This is not an inexpensive design by any means. However, this is a case of you get what you pay for in a great way – high quality, durable, and glamorous, these will make your wedding outfit and many other outfits down the road. You'll want to wear that formal dress to work just to put your Jimmy Choos on, we promise.

10

. Vince Camuto Stellima


This design is available in a number of colors and we love the white with silver and gold accents on the vamp and closure for brides. Beautiful! The tassel tie closure for the ankle strap is a unique detail that will add character to your wedding attire.
With a flexible sole, this pair will move with you and go where you go, great for dancing in if you're comfortable with the height. A flexible sole also prevents strain from stiffness and allows your foot to move naturally. Flexible soles aren't for everyone. If you have flat feet, forever, these will be uncomfortable.
If you're going to be in a high heel for yours, a padded footbed can go a long way to making the experience more comfortable. High heels put a strain on your forefoot and midfoot but a padded footbed helps to cushion and distribute some of that pressure, meaning you can wear them longer. The Vince Camuto Stellima is priced in the mid-range of the list. For the investment, you are getting a very unique design with a unique closure and fun, youthful style. These will pair well with many bridal dresses and suits and will also become a summer fave for other occasions as well.

Subscribe to our Newsletter