Best Foot Massagers Reviewed & Rated for Quality
In a Hurry? Editors choice: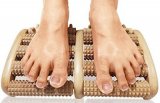 Test Winner: Theraflow Dual

When it comes to finding a way to relax and unwind after a
long and tiring day
on your feet, there is nothing that can beat a thorough foot massager to indulge your aching senses. Massaging the feet can alleviate tension and bring about a
deep state of relaxation
. For those that may suffer from foot problems such as
plantar fasciitis
, a deep tissue foot massage is essential for pain relief. A foot massager can also be a great gift for one of your loved ones to show them that you really care, as it is something that is both personal and worthwhile. In any circumstance, a good foot massager will always be an investment as they can provide ongoing relief and leave you feeling revitalized after a long day on your feet.
Standout Picks
Criteria Used for Evaluation
Features
Most foot massagers will have plenty of different features and options, however, it is important to not get drawn in and distracted by things that may not even work for you, or make any difference when it comes to a good massage. Take the time to learn what relaxes you the most, and offers you the best massage experience, unwanted features will add to the price yet
A heating option is one of the most common and is a great way to relieve pain and encourage blood flow and circulation throughout your feet and lower body. Look at which parts of your feet it heats up, they do not all heat up your entire feet and can just focus on certain areas. If you are intrigued by the heating function and feel it will be beneficial to you, find one that heats up in areas that you feel pain. This can also be wonderful during colder months when you get home from work and need to warm up and be cozy. Sitting on the couch with a nice book, and feeling warm while getting massaged is the ideal way to relax.
It is common for massagers to have a few different speeds to change the level of strength, most will typically have around two to three and these will range from weak to quite strong. Try out each speed and make sure there is at least one or two that feel good for you, otherwise, this device will not benefit you in the slightest. Most massagers are very customizable, however, if it only offers one speed, ensure it feels just right.
Comfort
The weight and size of your foot massager can be quite important, especially if you live in a small apartment and have a lack of space. You probably will not want it sitting out at all times on display, so finding the perfect size to either put it in a closet or under your bed is crucial. Aside from the entire size of the device, you want to ensure that if it requires you to insert your feet and or legs into it, that it comfortably fits them. If you have very large feet, you must make certain that your feet will sit in the device without feeling squished or uncomfortable if that is the case not only will it not adequately massage you, you will never want to use it.
Relaxation may be one of the main reasons you are looking for a massager however when buying keep in mind other health issues you may have that can be helped or cured by this device. This device can be much more beneficial to you that you ever imagined if you take the time to access your health needs and see what will best fit your life.
Investing in a nice foot massager does not only benefit you physically and mentally but financially as well. Going to the spa frequently can add up very quickly, and is not always the most relaxing experience when you know you have to drive or transit home afterward. Having a spa-like experience in the comfort of your own home, whenever you wish to is a life-changing experience.
Potency
There are many forms of massage techniques, and what works best for one person may not necessarily work for another. It is important to know your pain and what causes it, to better understand what technique will relax you. All devices should relax you and help you unwind, however, they should also offer you health benefits and add to your life. Not all of these techniques and forms of massage will appeal to you, or even benefit you, so finding what best fits your life is crucial prior to investing.
Our entire body weight is applied to our feet all day, just walking around or doing day to day things. Add onto that playing sports, running, injuries or illnesses and you'll realize feet endure quite a lot of stress on a day to day basis. Letting them rest after a tiring day is nice, but working out those muscles and increasing blood flow is more important and there are many forms in which to do that.
Shiatsu – The most common and popular form of massage as it really works out your muscles while fixing other parts of the body as well. Similar to reflexology, applying pressure to one part of the body (your feet) can aid another such as your head if you suffer from headaches. However rather than just applying pressure like you would with acupuncture or reflexology, a shiatsu foot massager will massage and work out all areas of the foot to ensure you are thoroughly relaxed.
Deep Tissue – This form of massage is much slower and feels much more intense as it really focuses in on certain areas to deeply massage and works out knots and tension in your muscles. If you are more so looking to relax and do not need forceful pressure, you may find this kind of massage much too painful and not enjoyable. However, if you suffer from prior foot injuries or joint pains this can be painful but enjoyable and very rewarding.
Electric – The rolling and oscillating motion of this massager will warm up and vibrate to get your blood moving and everything circulating properly. Made to really increase circulation, many of these massagers have close to 10-speed options as they are mainly meant to restore blood flow to your lower body, this is a great choice for those who suffer from diabetes or edema.
Manual – A manual massager can be ideal if you are on the go a lot and wish to use this while you are not just at home. You are also completely in control of the amount of pressure being applied to your feet which can be very important to some. If you have small aches and pains a lightweight manual massager can be the perfect thing to keep in your desk drawer for times when you need a quick massage.
Water – Foot spa machines are essentially what you place your feet into when you go to the spa, however, it isn't necessarily going to be as relaxing because you need to set the entire thing up on your own first. The purpose of the water is to clean your feet while relaxing you and warming you up, however they are quite bulky and tend to be rather noisy so picking the right one can be challenging.
Advanced Features
The control panel is generally on the top of the device, or at least easily accessible. If you find yourself adjusting the speed, or other settings frequently during use, you will want the control settings to be as in reach as possible. Bending down constantly can be a pain and stop you from fully being able to relax so try to find a device that either has toe-touch controls or a remote.
Toe-touch controls allow for you to change a setting with the simple tap of your foot which can make your entire experience much more enjoyable. Similarly, a remote is easy and effortless and allows you to stay in a comfortable position. Keep in mind that added features like this add on to the price tag, so if you do not find yourself changing settings often this is not a must-have.
The entire point of relaxing is having peace and quiet while you receive a massage; nothing is less relaxing than the sound of a loud motor. Few massagers will be utterly silent, but many don't make much of a sound, ensure prior to buying that yours doesn't distract you from relaxing, especially if you wish to watch a show or something while using it.
Effectiveness
Buying a foot massager for the sole purpose to relax is great, but there are surprisingly numerous benefits to owning one and using it regularly other than just unwinding after a long day. Depending on the device you choose, it should work your muscles and help with pain, especially from being on your feet all day but it can also have many health benefits you may not have known about.
Blood flow and circulation – If you are on your feet all day and find by the end of the day your feet are tingly, cold and in pain it could be a lack of blood flow to your lower body or a build-up of fluid, and a quick 15 minute massage can really get things flowing again and bring warmth and blood back to your limbs. If you suffer from diabetes or edema, these devices can be extremely beneficial.
Improves sleep – After a long day at work, this can be a great way to de-stress and unwind before bed. Loosening up those tense muscles and increasing circulation throughout your body will help have a long peaceful sleep, which in turn will leave you much more rested to start the new day.
Pressure points – Applying pressure and adjusting reflex and pressure points cannot only relieve things such as headaches and nausea it can also according to Chinese medicine be extremely beneficial to your brain and how it works. If the idea of getting actual acupuncture seems too much, a good foot massager that truly applies the correct amount of pressure to certain parts of the foot can act in almost the same way.
Aids with anxiety – Interesting to think something as simple as a massage can change not only change your physical well-being but the mental state as well. Those who suffer from stress, anxiety, and depression will find a massage can drastically raise their levels of serotonin thus helping not only their overall mood but sleep as well.
Headaches and pain – There are four main points on your feet that allow for natural pain relief, especially when it comes to headaches and migraines. We have all suffered through those brutal headaches that do not ever seem to end, and many times taking medicine is not something you want to do. Having pressure applied to these points can truly make a world of difference in how you feel. Learn about your feet and which pressure points need to be massaged to see effects and find a foot massager that works for you.
10 Best Foot Massagers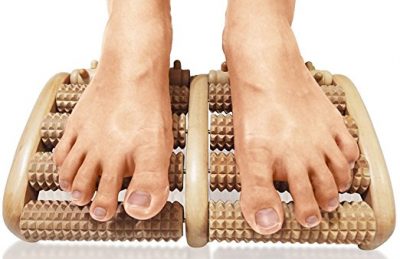 The Theraflow Dual Foot Massager is a portable easy to use wooden massager with a simple yet effective design to follow the natural contours of the feet. It comprises of ten comfortable sturdy rollers that provide relief through a repetitive rolling motion of the feet. It helps to relieve pain from plantar fasciitis, promote blood circulation and even help to reduce anxiety and stress levels. The simple and lightweight design is great for those that prefer a portable, non-electrical product.
The Theraflow comprises of five rows of sturdy rollers with grooves on the outer edges to provide a deeply comforting foot massage. The fifth roller includes larger protruding pegs designed to provide deep penetration to the soles of the feet.
The Theraflow provides a simple, lightweight design that makes it very easy to use with no setup time required. It can be used whilst watching television, working at the office or even for short-term commutes away from home.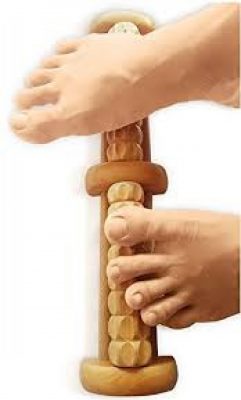 Sometimes when it comes to self-care, simplicity can be best! The TheraFlow Foot Roller is a self-guided massager which rolls along the foot and floor surface to help relieve sore spots and tender points from long days. Featuring dual nubbed rollers, the TheraFlow Foot Roller can be placed at the base of a chair while you simply roll your feet back and forth. And, since it's quite simple, it can be used on other areas of the body as well. For a super budget-friendly price point, this one is perfect for those who want a little foot TLC, but don't want to invest in more advanced equipment.
Wooden in design, the Foot Roller is comprised of a simple platform base that houses two separate rollers. Rollers have grooves and nubs so as to help stimulate and relax tender foot skin and muscles. You are able to roll both feet in different directions at the same time, so you can simply sit and create a massage you need for your feet.
With an improved design upon other older models, the foot roller is ideal to help relieve tension in the arch of the foot, even for those with higher arches. Portable and lightweight, it's a great travel option to help keep your foot care maintained. And, TheraFlow will replace or refund the product with a no-hassle guarantee if you aren't satisfied with it for any reason at all!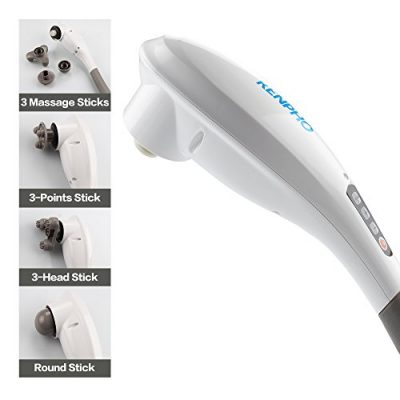 The RENPHO is a deep tissue massager that can really get into hard to reach spots and thoroughly loosen and relax the muscles. If you are looking for something that can be taken anywhere you go, and easily charged with its built-in battery this is perfect. It comes with multiple massage heads for you to switch between until you find the one that works right for you, this massager is a must have for on the go relaxation.
One of the most frustrating things when trying to use a device is finding an outlet to plug it in. Use this cordless massager in the comfort of your office chair, car or bed without having to worry about where you will plug it in. The built-in battery allows it to be fully charged and last for up to 120 minutes so you never have to worry about buying batteries again.
Our bodies always have different levels of aches and pains, and the feet especially can be very sensitive, so applying too much pressure can be painful. It is nice to be able to switch through a few massage heads to find the one that fits your needs, and properly relaxes you without causing unnecessary pain.
Cost and Value
Sleek, easy to use and easy to bring anywhere with you, this portable and cordless massager is a great value and perfect for anyone who does not want something bulky if they don't have space. It is one of the most affordable massagers on this list as well, making it a great option.

4

. Pure-Wave CM7 Cordless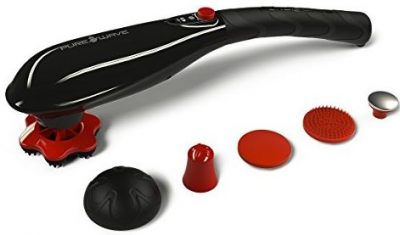 The Pure-Wave CM7 is a remarkably strong handheld massager perfect for those that want to invest in a massager that is not limited to the feet. This cordless massager comes with six attachments, a stand, a charger and a carrying bag. The Pure-Wave CM7 is also chargeable and small enough to be taken anywhere you desire, whether it be the gym, a hiking trip or weekend away.
The Pure-Wave CM7 boasts six different attachments that comprise of a six-head stick for bigger muscle areas, a point stick for more direct impact (perfect for soreness under the feet), an air cushion stick for delicate areas such as the ankle and knee, a facial scalp and a body oil stick.
For a handheld cordless massage, the Pure-Wave CM7 is strikingly powerful. On its lowest level, the machine vibrates at 1500 rpm and reaches a maximum level of 3700 rpm. This is great for providing a really deep tissue massage and targeting those hard to reach knots. This also is great for speeding up muscle recovery for athletes and active individuals.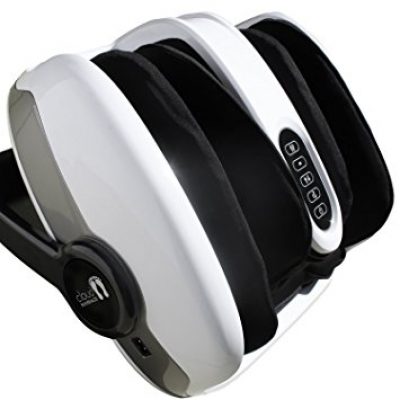 The CloudMassage Shiatsu provides not just massaging compression to your feet, but to your calves as well. Compression, when applied to the legs, helps improve circulation, ease tension and tired muscles, and leaves you feeling relaxed and rejuvenated. It also has a adjustable option for both compression and heat, as well as an easy adjustable bar to set the angle for your calves to rest upon.
This particular massager is perfect for those with medical conditions such as diabetes or neuropathy as it helps improve blood flow in the legs with both compression and heat. For athletes, it will help revive those tired muscles after extended training sessions and is perfect for those involved in multisport or running long distance. With adjustable settings for both compression and heat, you can gradually find the best setting for your needs.
Not only are the compression and heat settings adjustable, the CloudMassage Shiatsu also allows you to select and lock in the angle for which you prefer to let your legs rest against. You can keep at a 90-degree angle, or recline and relax to let the massager do the work. Plus, it comes with a satisfaction guarantee, so if for any reason you aren't satisfied, you can simply return for a refund.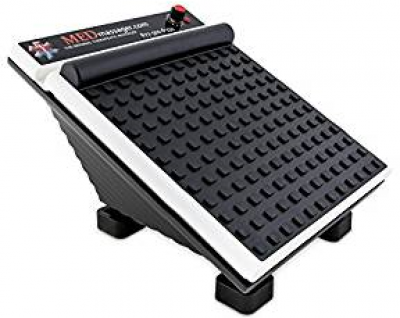 The MedMassager MMF06 is an optimal therapeutic choice for those specifically suffering from severe foot or leg pain. Unlike other foot massagers, the medimassager does not use rounded rollers. Instead, It consists of a single foot pad that is positioned at an angle for you to comfortably rest your feet on. This durable massager is one of the most powerful out there, providing 11 different speed levels to ensure maximum results.
The MediMassager is widely used by clinicians and patients who suffer from diabetes, as the MediMassager increases vasodilation to patients who suffer from poor blood circulation in the feet and calves. This is ideal for individuals seeking results rather than a relaxing, and gentle massage experience.
The MediMassager is one of the most powerful foot massagers on the market. There are 11-speed options to select from, providing high-intensity vibrations to restore blood flow to the feet, calves and even legs. This makes up for the lack of a heating option, as the increased blood flow to the feat naturally provides a warming sensation.

7

. NekTeck Kneading Massager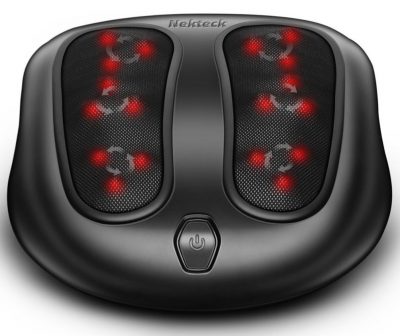 This massager is sleek, easy to use and does not have a cover which makes it less bulky, and easier to clean. With its 18 rotating massage nodes, it is sure to hit every inch of your foot that may be aching. The manual heating option is also a great way to increase circulation and keep your feet warm after a long day of work.
This manual function is perfect if you want to focus on warming up your feet while increasing blood flow. After a long day on your feet, they can sometimes be swollen as well as achy, so this heating feature is a great way to soothe and work out any knots that may have accumulated throughout the day.
All feet are different shapes and sizes which means not all items like these work for everyone, the NekTeck is especially great because of its adjustable height feature. This ensures that no arch is too high and all of your foot will be thoroughly massaged without you having to move it around and constantly readjust.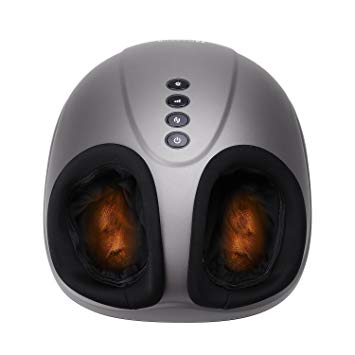 The MARNUR Shiatsu Foot Massager is a sleek silver device that provides two separate foot chambers. It features powerful shiatsu style rotating nodes that work independently on both feet. With adjustable effective pressure based therapy and kneading options, it provides high impact relief. It also provides several adjustable control functions and is ideal for those who prefer the luxury of customization.
There are 48 deep-tissue rotating nodes that work independently under each foot to provide a powerful shiatsu style massage that effectively relieves tension, aches and pains. The nodes rotate underneath the foot and also provide relief to the sides of the feet.
There is a central console that is positioned between the feet so you do not need to bend down to adjust the control settings. The console allows you to control the power, pressure, speed, and heat of your shiatsu foot massage.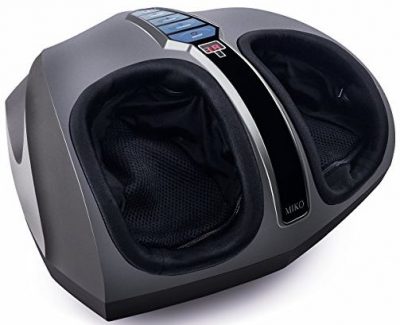 The Miko Shiatsu Foot Massager is beautifully designed providing a futuristic element to its presentation. it is similarly built to the Belmint Shiatsu Foot Massager with two foot chambers to provide the ultimate shiatsu style massage to the bottom and sides of the feet. The Miko Shiatsu is filled with air to provide pressure based relief as well as a selectable heat function to provide a gentle and relaxing feel to your massage.
The Miko Shiatsu provides a soft touch panel in the center between the two-foot chambers. This enables you to customize your massage experience catered to your own feet. The wireless remote provided provides the flexibility to change massage configurations easily whilst multitasking.
There are five different air pressure settings allowing you to adjust the massage to allow for a deeply invigorating experience or a more relaxed and calming one. This is ideal for those looking to stimulate blood circulation in the feet.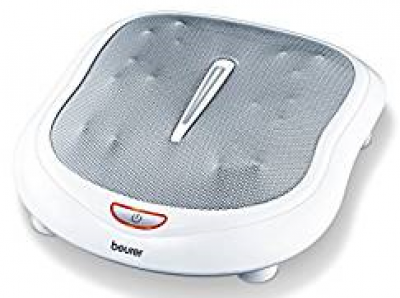 The Beurer FM60 is quite similar to the Homedics FMS270H, consisting of eighteen massage heads across a spacious open surface, perfect for those with bigger sized feet. This German design also includes a heating function and two massage speed settings. The unit is also adjustable in height and angle and includes easy-to-use toe touch control.
The eighteen nodes work in groups of three to create clockwise and counterclockwise rotating motions. This satisfies the trigger points located underneath the feet helping to revitalize circulation and reduce aches and pains.
Not all foot massagers have the option of adjusting the angle and height of the unit. This is quite ideal for those that would like to use the foot massager in an office setting or whilst watching television. This option ensures you can adjust the unit to gain optimal comfort and relaxation.

Subscribe to our Newsletter