SOREL Explorer II Joan Snow Boot
One of the first things you'll notice about the SOREL Explorer II Faux Fur Boot is how cute they are. No matter what color you choose, you're bound to look good in these winter boots.
Boasting a lightweight sneaker feel with complete weather protection, you'll look and feel good while treading snow this winter.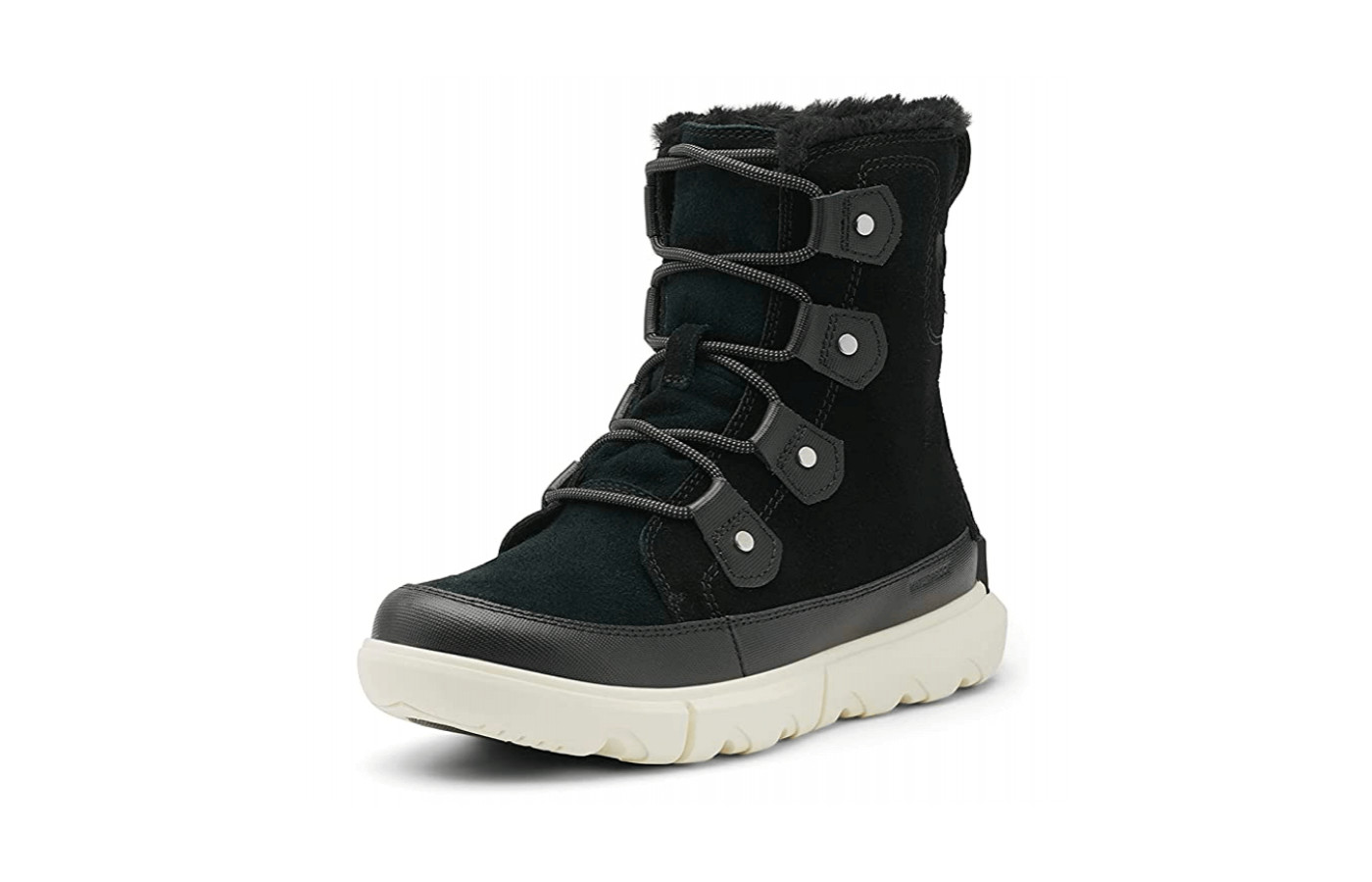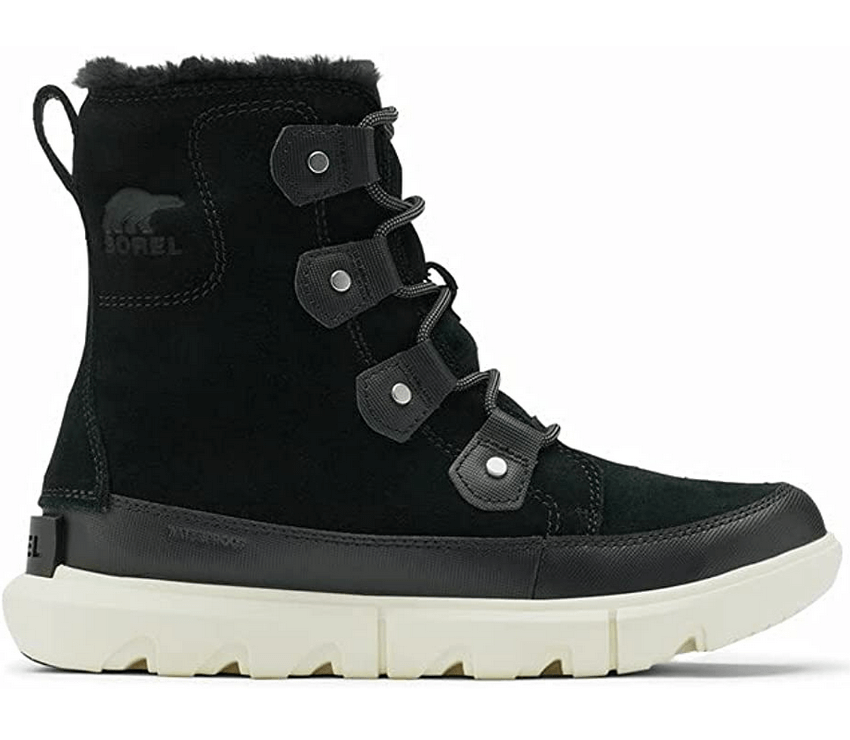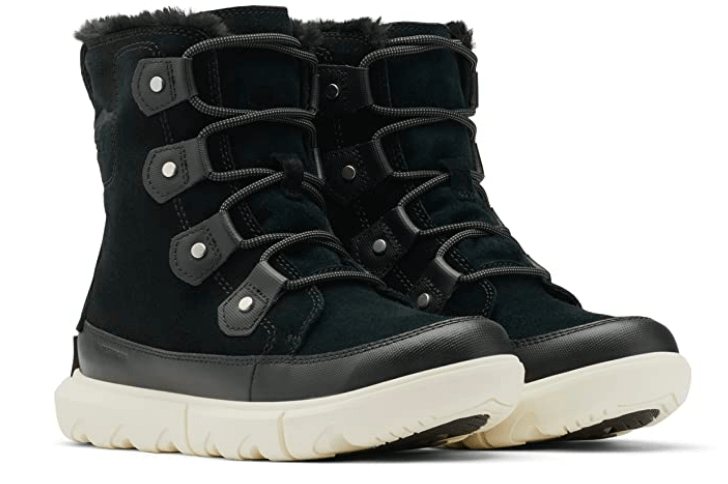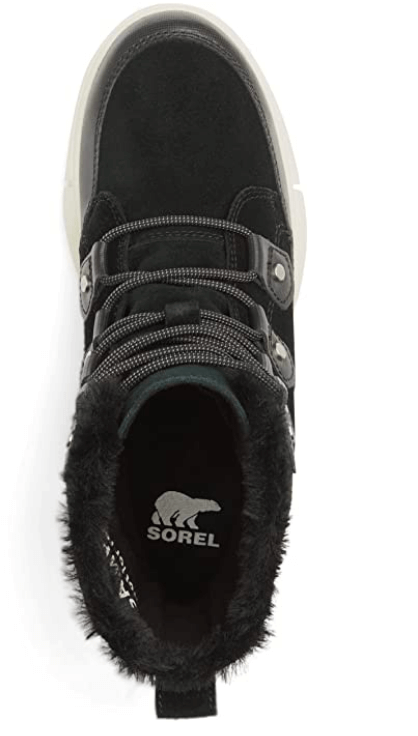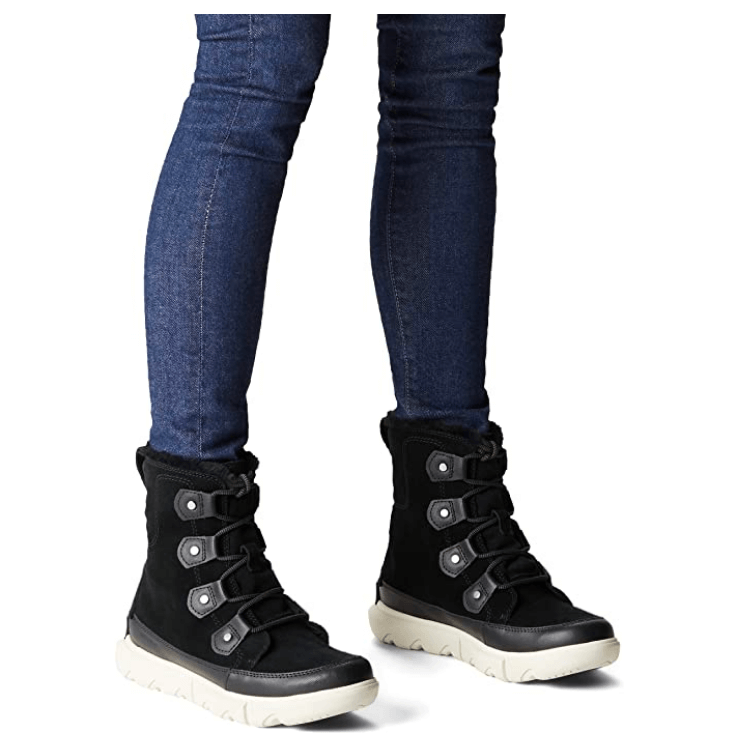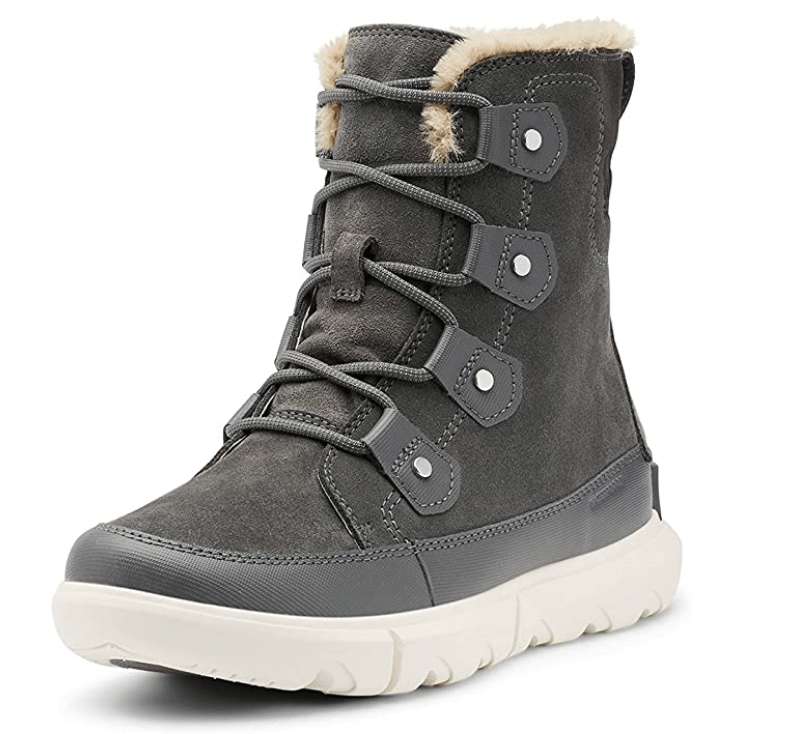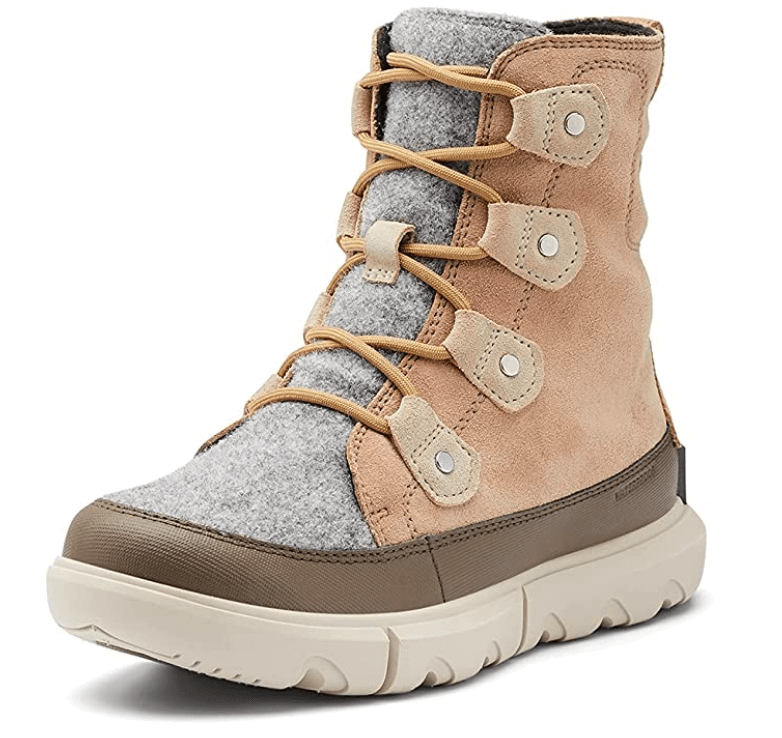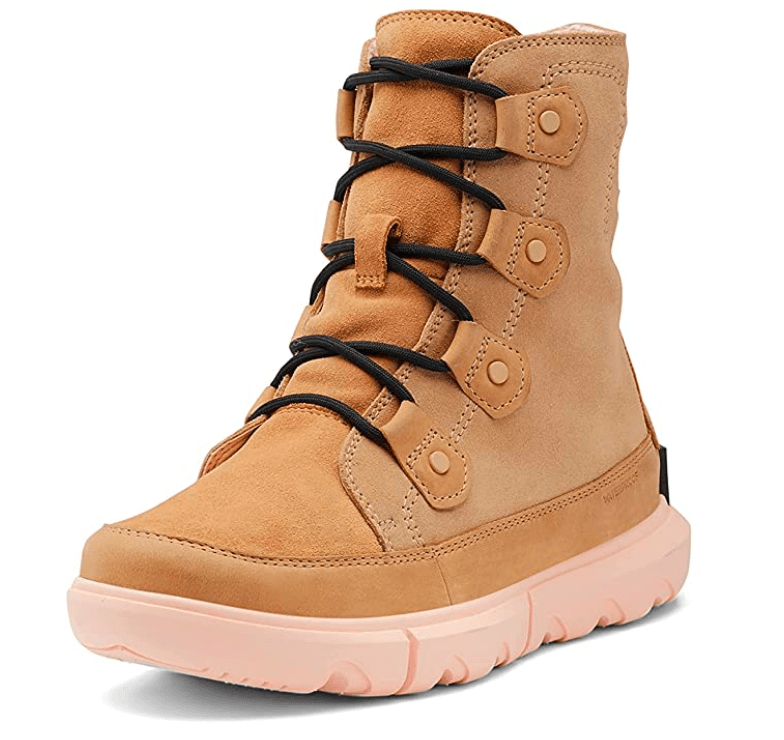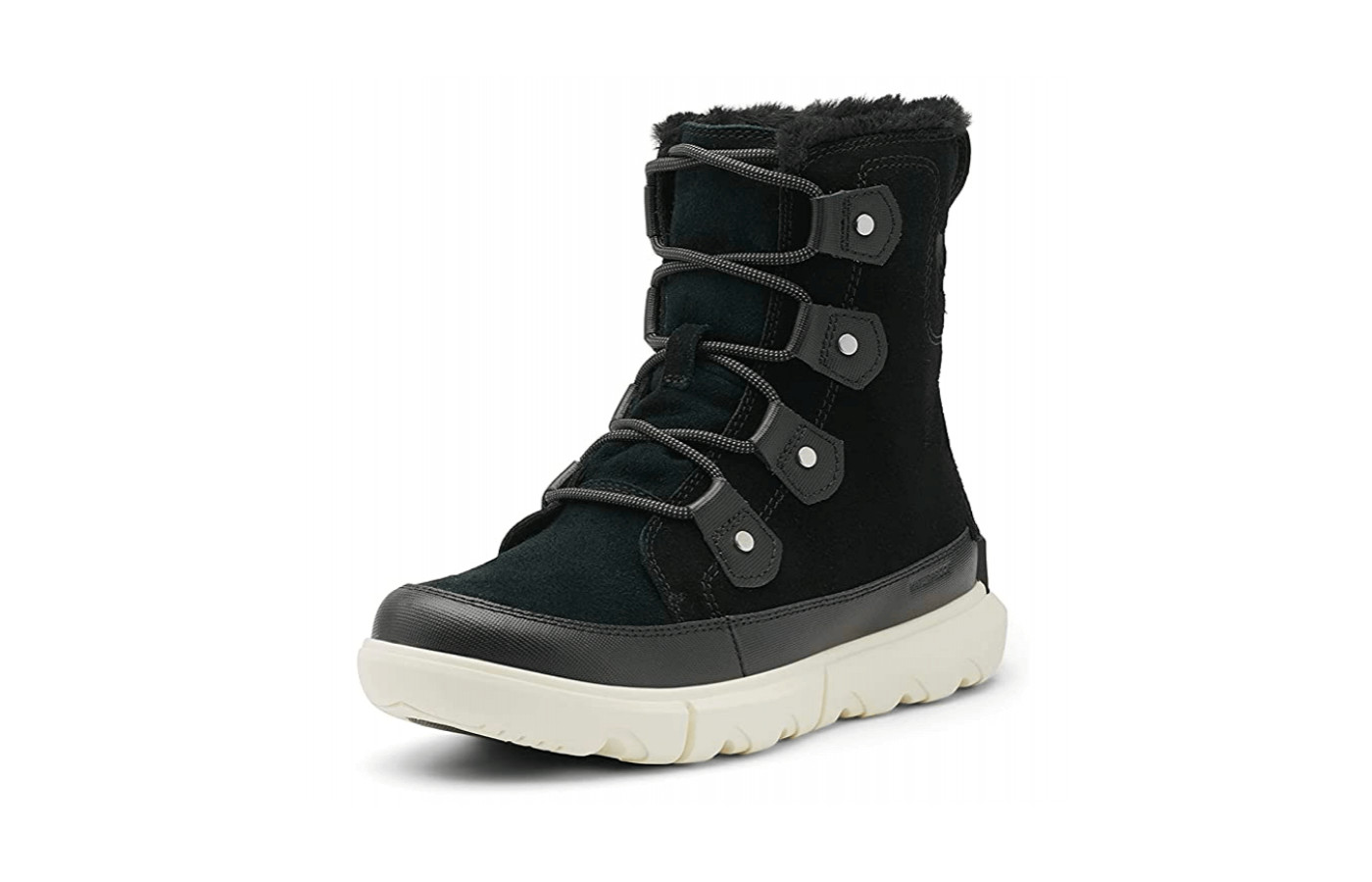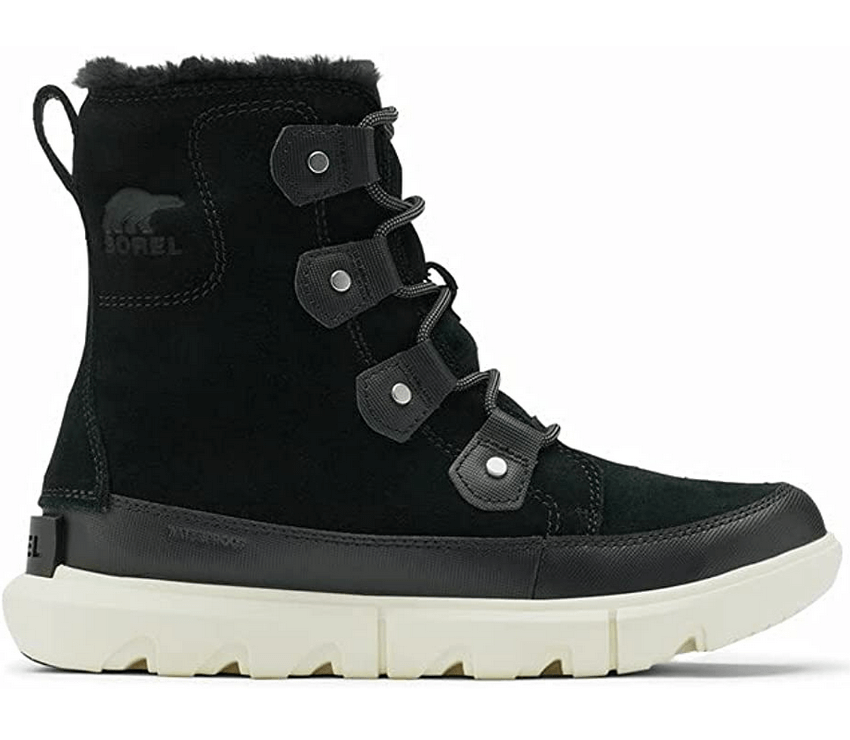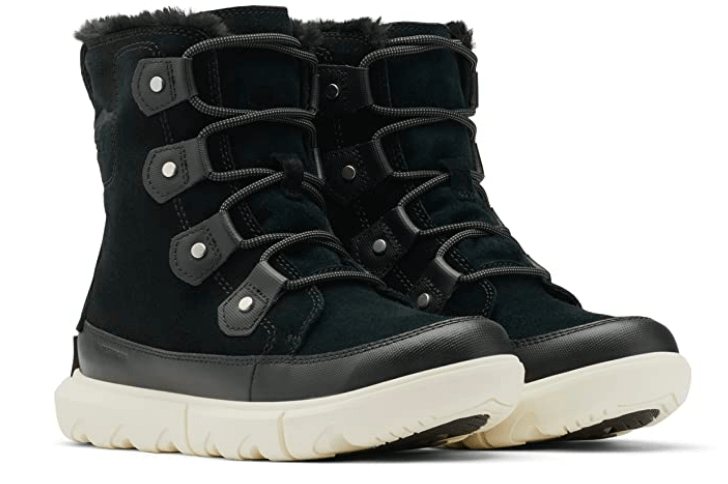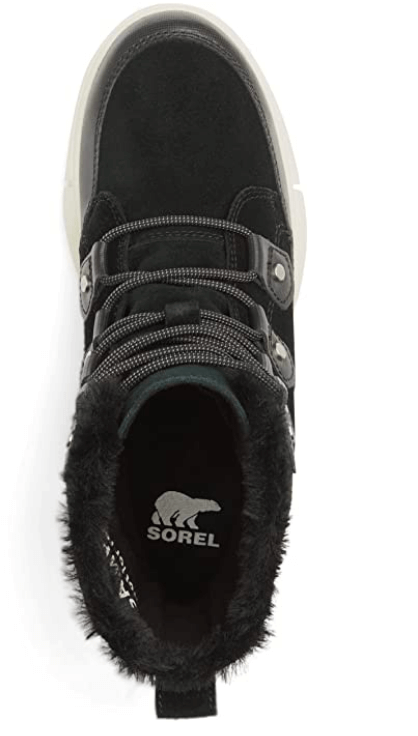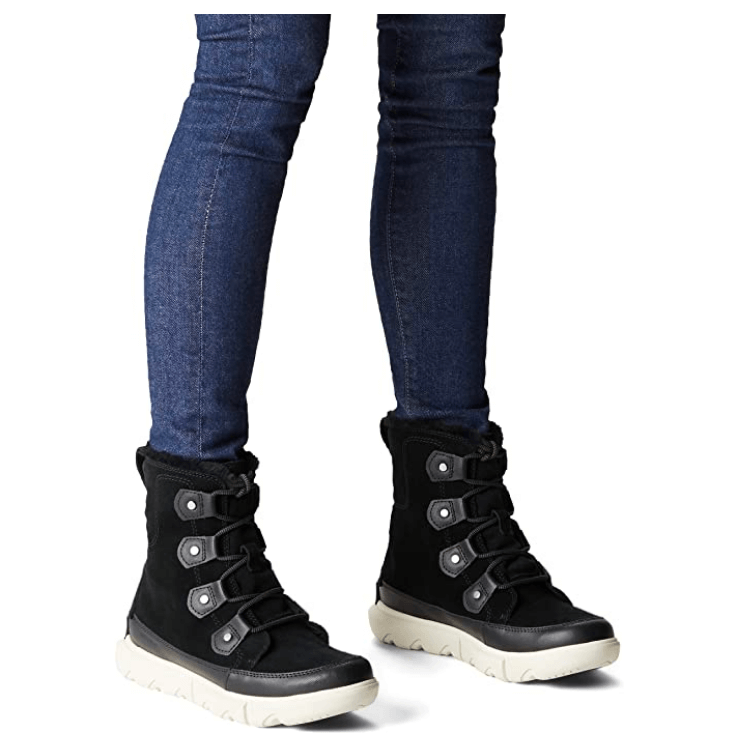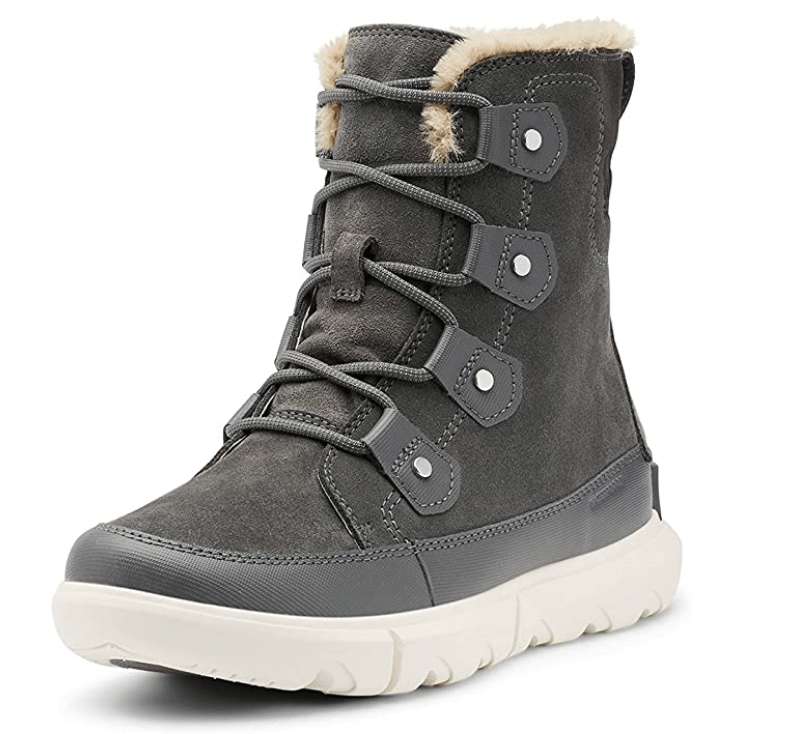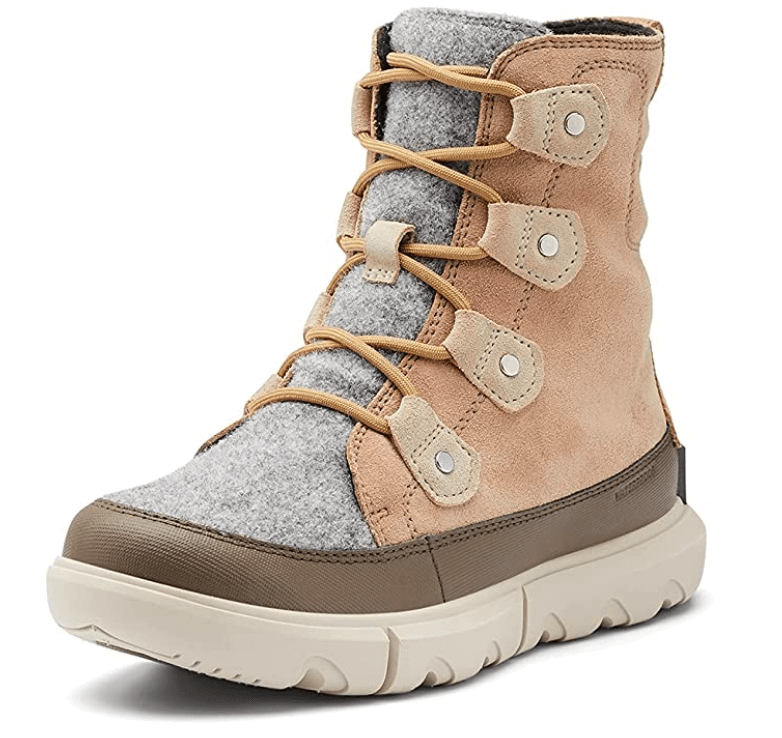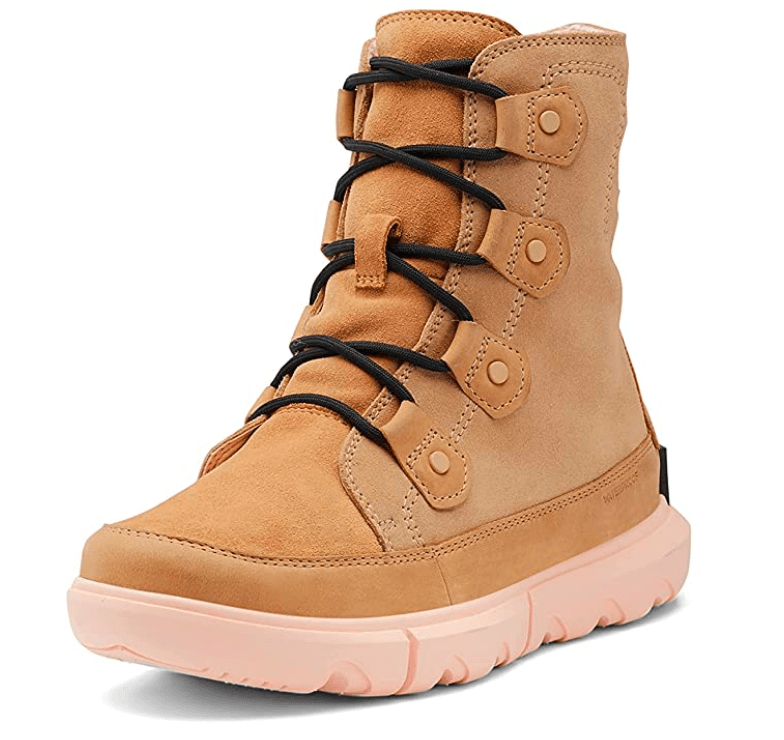 Our Conclusion
SOREL treat your feet with a new, cozier edition to the Explorer Joan faux fur boot. Adding some sporty design updates, 100g of insulation heat-retaining warmth, and a max EVA cushioning underfoot, this new boot is a pleasure to wear.
Even though this new SOREL edition has a lightweight feel, these
snow boots
are sufficiently hardy against the miseries of winter. The light insulation warms your feet without weighing you down. Waterproof uppers keep rain and snow out. But lastly, tackling snow is easy with these grippy soles.
What's more, SOREL doesn't sacrifice style just because this boot is so functional. A suede leather upper, criss-cross lace design, faux-fur cuff, and contrasting white sole ensure you'll receive plenty of compliments this winter.
If this is what you're after in a snow boot, carry on reading to find out more.
Pros & Cons
Grippy soles for mud and snow
It runs small, you'll need to size up
Grip potentially not sufficient for ice
Key Features
Key Features
Design
It's easy to see why this SOREL winter-boot range is one of their top sellers. For such a stylish
winter boot
, the SOREL Explorer II Joan Snow boots are incredibly functional.
The Explorer II Joan has high-performing rubber soles that work on most terrains, including snow and mud. Boasting an outsole-grade EVA with high-traction rubber down the center allows for superior grip and improved traction.
This grippy sole means this SOREL winter boot is ideal for hiking, walking the dog, or just nights out at your local pub.
The one-inch heel also helps to keep your tootsies from getting wet and cold in harsh snow and rain. There is nothing worse than soggy socks.
SOREL is one of the leading brands in combining function with fashion, and the Explorer II Joan Faux Fur boot is no different. Despite their insulated, high-top design and rubber sole, the Explorer II is lightweight and relatively easy to walk in over long distances.
With an easy-to-pull-on design and simple to secure lacing system, getting a secure fit is easy too.
Comfort
The intense levels of comfort that come with the Explorer II Joan put them way ahead of the competition. A construction that sports a one-inch heel and one-inch platform screams a bootie that isn't only just plush in style, but in comfort too.
A suitable 100g of insulation also makes it easy to stay warm with cozy protection against the ice-cold bite of winter.
Despite their lightweight nature, the SOREL Explorer II Joan also keeps you nice and dry in wet and snowy weather.
However, this lightweight nature makes it easier to use these boots comfortably for long, all day-cold weather treks. In addition, your feet should stay comfortably dry with the high ankle boot design and waterproof suede/PU leather upper.
Slipping your feet into the winter babies will be like stepping into heaven with its soft, plush inner microfleece lining and faux-fur cuffs. What's more, you can stay comfortable all day long with a molded EVA footbed, rubber heel log and iconic SOREL scallops.
However, the fit seems to be off for most reviewers. To get a comfortable fit, size up by at least a half to a full size.
Materials
SOREL combines the soft with the hard to create a stylish, comfortable, and robust boot. A soft, inner fleece lining and the soft faux-fur cuffs stop the cold winter air from creeping in. Boasting a waterproof suede with PU leather upper isn't just about style, although these boots do look trendy.
This material is also naturally waterproof and durable. Combining a rubber heel log and grippy rubber outsole also allows your feet to stay firmly planted on the ground in mud or snow.
Durability
You only need to look at the SOREL to see how immensely well-made they are. Combining expert design, materials and construction mean these SOREL snow boots are going to last you, without a doubt.
Adding naturally durable materials to the design, like rubber soles and a suede leather upper, also ensure the longevity of this winter boot.
Comparison to Similar Winter Boots
If you like the idea of keeping your feet toasty this winter but don't want to sacrifice on style, then there are a few great options on the market, just like the SOREL Explorer II Joan snow boot.
For those after a weatherproof, stunning knee-high winter boot, the
SOREL Tofino II boot
is one of the most stylish winter boots on the market.
Like the Explorer II Joan, this boot provides complete weather resistance due to its 100g of warm insulation, waterproof upper, comfortable EVA footbed and winter-ready nature. However, it could also be more breathable. On a plus note, its traction is slighter hardier for icier conditions.
Lastly, its faux fur cuff and tan design let you easily transition from après ski to city streets. The Tofino II boot is fantastic, but I prefer the flexibility and breathability of an ankle boot.
Although the Explorer II Joan is plenty warm, some may find the 100g of insulation insufficient for serious winter treks. If you are after a boot that deals with extreme cold with gusto and still looks trendy, I recommend the
UGG Adirondack III Waterproof Bootie
. A DryTech waterproof finish ensures your feet will always stay dry, whereas the plush wool UGGpure™ lining adds extra comfort.
Built to handle temperatures up to -32 degrees Fahrenheit, you can relax knowing your feet will stay warm in even scary cold. You will need to pay a slighter higher price for the privilege of the Adirondack III Waterproof Bootie.
Verdict
Although the SOREL Explorer II Joan comes at a slightly higher price, the price is fair when considering the design, construction, and materials that make it a robust snow boot.

It's a firm favorite for many come winter, and it's easy to see why. Insulation and a waterproof upper keep you warm and dry. The EVA footbed's sticky rubber sole and cushioning keep your feet comfortable against uneven ground and stable when tackling snow, mud, and most ice.

But winter boots don't always look the nicest, so it's great to find a boot that combines fashion and functionality.

Subscribe to our Newsletter