Best Steampunk Boots & Shoes Reviewed
last updated:
Oct 18, 2019
Imagine dancing into times that have passed away with shoes of leather and lace. In our minds, we characterize these times, with the inner-workings of clocks, bold browns, elegant 3-piece suits, top hats and tight corsets. This is a genre where fantasy meets the 19th century. It's a centered around steamed powered gadgets and advanced machinery, classic clocks, time travel, mystery, and adventure.
This adventurous style has been showcased in movies such as; Sherlock Holmes, The Golden Compass, and the classic The City of Lost Children. Many people have thrown parties and have weddings centered around this fun, imagination-driven theme. You'll want to be ahead of this up and coming trend with the right choice of complimentary shoewear. Wearing an item that stands out will make your outfit feel more authentic as if you just stepped out of a steam-powered time machine.
Featured Recommendations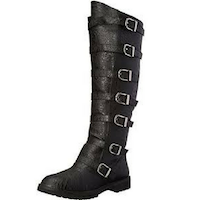 110 Engineer Boot

Our rating
Adjustable Straps on Boot Shaft
Price:

See Here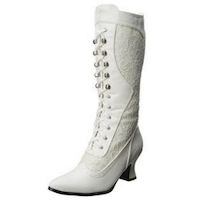 253 Rebecca

Our rating
Feminine Victorian Lace Detailing
Price:

See Here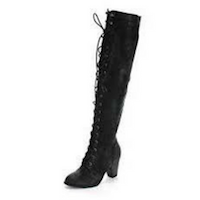 Camila 48

Our rating
High Quality & Affordable Pricing
Price:

See Here


Buying top rated, quality raiment is important when dancing the night away with a twist and sashay. There are brands that even offer vegan-friendly options, which is important since the core of this style does tend to have leather integrated into its fabric.
It should be noted that this top rated footwear can also be used to pair with everyday garments as well. This will keep your closet functional and on-trend, with no extra unusable items taking up space. This is part of what makes these items necessities for your wardrobe. Let's move forward bravely into the fantastic world of steampunk fashion.
10 Best Steampunk Boots & Shoes
1. 110 Engineer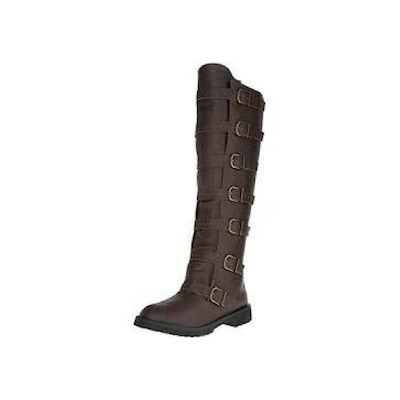 These are primer costume-wear. They are fantastic for all-day festivals and for indoor or outdoor wear. These will hold up in mud, light rain and uneven terrain. The 110 engineer has an 18-inch shaft from the heel that stops just above the knee area typically. The buckles are aligned up the shaft making this particular style look true to its essence. The buckles are able to be fastened at your leisure for extra security in areas you may need it.
Expand to see more
Expandable Shaft
The shaft of this particular footwear can accommodate calves as large as 18 inches. The straps are adjustable and can remain tight around smaller or larger calves. They also go as high as the knee which can be difficult to find for something so modifiable. They feature a small masculine heel that will give the wearer a little more height without causing any foot discomfort.

Roomy Interior
Great looking outer-gear for fantasy wear is a must-have. Surprisingly roomy, long-lasting and comfortable shoe attire is a huge plus. Having wide feet or customized insoles will be no issue for this particular item because of the extra room. Toes will feel comfortable and protected in almost any environment.

Cost and Value
Costuming garb of tends distinction tend to acquire a much larger price tag. The pricing is very reasonable. The exterior is enduring and can adhere to its original look for quite a few outings before there are any noticeable signs of wear and tear. There is limited arch support but plenty of room for insoles if needed. The expandable shaft is great for larger calves and genuine drapery.
Adjustable Buckles
Roomy Interior
Authentic Look
Long-Lasting Wear
Little Arch Support
No Side Zipper
2. 253 Rebecca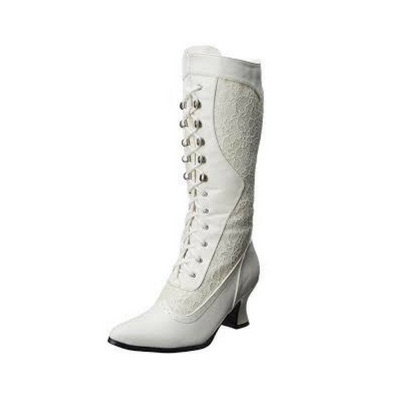 This outerwear features feminine lace detail. They are a standout piece that will not break the bank or your ankles. A notable trait is that these are safe for animal lovers to wear. The heel is 2.5 inches and very sturdy for dancing and strutting courageously. Everyone will be staring at your ensemble with this dainty apparel being the focal point.
Expand to see more
19th Century Inspired
Classic styles
rarely go out of fashion. The feminine detailing endows this footwear with a delicate vintage feel. The 19th-century Victorian wear was dominated by tight corsets, lace and flowing full-length skirts. When dressing for a fantastic time period the integration of Victorian details with an adventurous undertone requires creativity and shoes that will stand out.
Quilted Inside Lining
Finding mid-calf items that have a luxurious foot feel is euphoric. The designer creatively assembled attractive footwear that alleviates foot fatigue while maintaining important aspects of times past. There is no annoying rubbing or chafing. The side zipper was placed strategically and can't be seen overtly. This allows for lacing up just once creating the perfect fit with on/off ease.
Cost and Value
This a generously priced ensemble for such a thoughtful model. They can be worn with casual attire, for a special event, cosplay parties, or as an accent item. This is great for when you feel like adding something uncommon to your repertoire. The material may wear out quickly if exposed to the elements for long periods of time. Keeping them in your arsenal is a smart way to keep your
style fresh and unique
.
Vintage Detail
Adjustable Lacing
Padded Interior
Sturdy Stitching
3. 48 Camila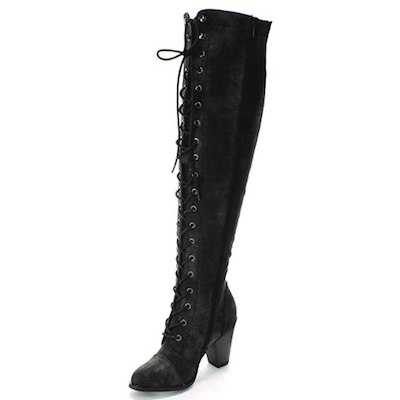 Some shoppers prefer architectures of simple elegance. These knee-high riders with a chunky heel will have you dancing all night. The suede exterior with a simple front lace-up system just screams charming and playful. Thick low heels are a staple for everyday wear. These are perfect for a rugged vintage feel; while being able to pair with casual or dressy attire.
Expand to see more
Variety
The diversity of colors and materials for this style makes them very inviting for a variety of shoe enthusiasts. The neutral color palette ranges from black faux leather to suede blue, browns and much more. An item like this is a staple that will go with every outfit.

Chunky Low Heel
Keeping your foundation feeling untroubled and serene is important. When having weak ankles and other foot issues it may be hard to find a heel that is trendy and comfortable. These eye-catching knee highs allow you to stand out and walk with confidence at any special occasion.

Cost and Value
Aside from variety and style, pricing on this product is very fair. This is in the range of any budget and manages to maintain its integrity. The lacing in the front adds a touch of seduction while still being very classy. The architecture is simple, clean and structured.
Diverse Neutral Colors
Easy Walking
Calves Fit Well
4. 420 Quinley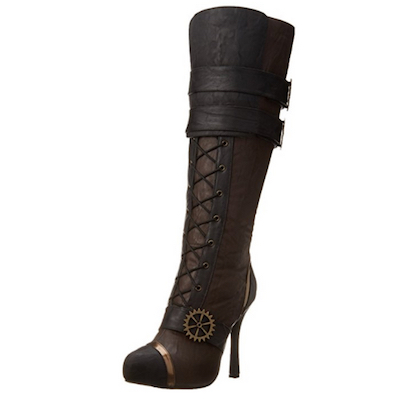 This knee-grazing footwear is
fashioned forward
and endowed with bronze colored metal detailing that looks like the inner-workings of a historic clock. This exhibits a hidden platform for an extra boost and a very seductive 4-inch heel. The lacing in the front is adjustable for slimmer or thicker calves. These boast as being cruelty-free; making them safe to wear for animal lovers.
Expand to see more
Safe For Vegans
Activism for animals has been on the rise in the past decade. Many people are looking for animal-friendly options in favor of traditional leather. The material used in these is polyurethane and can be worn with confidence that no animals were harmed during production.
Soft Footbed
The inside of these beauties is padded. This boot is fitted with a supple footbed for long-term wear. The mid-heel is high enough to make your legs look striking without making your feet and toes feel tight and crushed.
Cost and Value
Isn't it maddening buying something for a special occasion that can never be worn again? These are not only
unique enough
to complete a cosplay or Halloween costume, but they also have an amazing boho-chic vibe for everyday wear. The 420 Quinley is moderately priced and made to withstand daily wear.
Easy Lacing System
Unique Metal Detailing
Versatile Design
Economically Priced
Sizing Discrepancy
Heel Design Issues
5. 299 Caribbean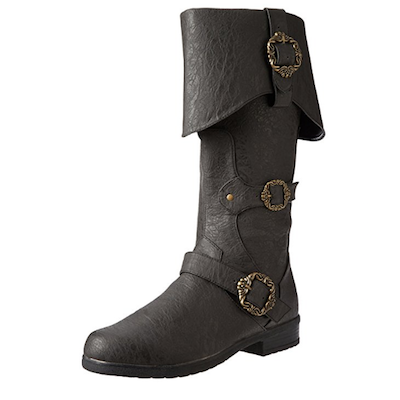 That distressed look is perfect to bring a sense of authenticity to any costume. Whether you want to look like you just stepped out of a murder mystery or a traditional 19th century pub after fighting to save your partner from an unseen villain. The distressed feel mixed with flexibility, genuine look, metal octopus-inspired detailing and durability make this a great find.
Expand to see more
Authentic Design
One of the most striking aspects is the distressed faux leather and metal octopus-inspired detailing. The exterior material looks like a rugged whale or shark skin. The footbed is sturdy enough to provide structure while walking. This item, although soft and flexible is built to last.

No Break-In Time
If you must wear a costume, you must have these in your closet. The Caribbean 299 needs no break-in time. They are built for comfort right out of the box. You may have some issue with breathability but it's a small trade-off when considering the foot feel. The lightweight materials used to manufacture this artistic creation makes it great for long periods of walking without foot fatigue.

Cost And Value
Quality costume gear does tend to carry a more moderate price tag. Although these may cost a little more it's not so expensive that anyone can't afford them. These swashbuckling inspired wear will hold up very well for years to come. The right side zipper will be the only give away that you didn't just walk out of an old-school maritime adventure.
Accurate Historic Design
High Quality Stitching
Little Break-In Time
Unique Customized Details
Adjustable Straps
6. 65 Timberly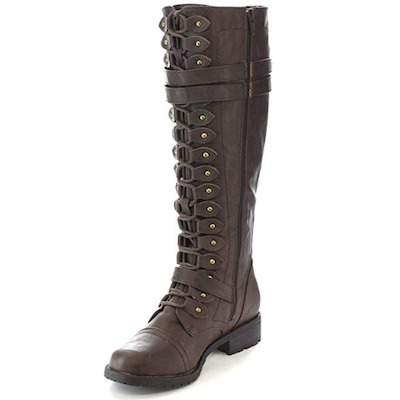 Wild Diva Shoes has been established since 1998, this company prides itself on high-quality shoes for
competitive pricing
. These edgy combat-gear have the ability to translate to adventurous party wear. They are great for daily use, especially with favorite fall outfits. These will complete a tough explorer look for the time-traveling extraordinaire.
Expand to see more
USA Made
These are proudly made in the USA and are available in cognac, premiere black, and brown. This foot attire captures the essence of the traditional American spirit. The way the rivets for lacing are aligned in the front are very reminiscent of colonial soldier jacket buttons. It's a rare find that can stand out even when they are dressed up or down.

High-Quality Material
This combat structured attire is made with a very high-quality synthetic leather. The soles are handmade and intended for a roomy relaxed fit. The stitching is very secure and built to last. The buckles are decorative so they will not produce tightness in the calf area. The fit overall is balanced. It isn't too loose or too tight but does give a little extra room for thick socks, wide feet or insoles.

Cost and Value
You will not find a better item for such a fair price anywhere. They are animal-friendly, present a hand-made sole and are American made. The balance between structure and comfort is notable. The versatility as part of event or daily wear is well-balanced, hitting its mark. Such wonderful attention to detail creates a very alluring product.
American Made
Animal Friendly
Structured
Hand-Made Sole
Flat Footbed
Sizing Concerns
7. 01 London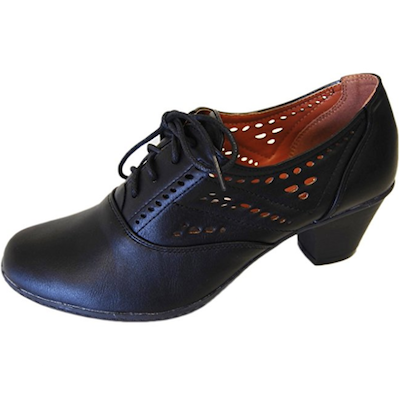 This style is a favorite of fashion-forward connoisseurs everywhere. Inspired by rugged suits of past invention the oxford detailing and material seems like real leather but is cruelty-free. This shoe presents cutout detailing and a cute 2-inch heel. Making fashion feel businesslike and fun.
Expand to see more
Classy
Shoppers who want an elegant shoe to complete their garb for day or evening wear have found a perfect pair. The London 01 can absolutely go from the office to the party. If you don't have time to indulge in a complete wardrobe change these can assist in creating the look you want. All that is needed are a few accent pieces.

Accommodating for Wide Feet
Wider feet can be a challenge to find the right dimensions for. Tight shoes can really cramp your style. The lacing and side cutout makes these more breathable even with thin socks and adjustable as well. The round toe box is a great addition for those who need a little extra wiggle room.

Cost and Value
The expense is nominal for such a wonderful shoe. This classy look seems like it would break the bank but instead, you can save some cash. The cut out is such a cute addition; adding a feminine touch to an oxford-inspired shoe. The heel is equipped with a classic click sound without being obnoxious or overbearing. Everyone will know you've arrived and you'll feel like it too.
Oxford Design
Feminine Cut-Outs
Rounded Toe Box
Sole Stiffness
Ankle Chafing
8. 130 Walker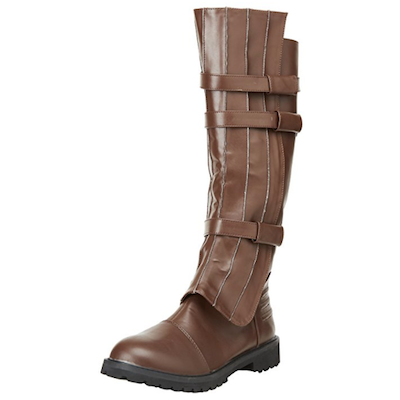 If you are looking to stand out the Walker 130 is available in a futuristic looking sleek black pu and earthy brown pu. Funtasma is known for designing innovative costume footwear. These do not disappoint, they are a great addition if you are looking to give the authentic feel of an unrefined innovator.
Expand to see more
Modifiable
Making your footwear customizable is something many manufacturers can't say they offer. The front piece is decorative and can be removed with ease. This can be replaced with whatever kind of material the buyer feels compliments their attire. This leaves room for imagination; adding leather belts or thicker twine would transform this outstanding specimen.

Great Traction
Dress-up shoe attire is not known for traction but the bottoms of these are built for a secure stride on various surfaces. Attending an outdoor event or coming across uneven or slippery turf will not be a challenge for this rubber-soled shoe. They are not made for galavanting through the rain or deep water but they can handle the occasional spill or misplaced item.

Cost and Value
Wearing these with confidence is easy knowing valuable earnings were not wasted on a niche item. This creative vestment will stand up to a long day at comic-con or any themed wedding. Customizing this item can be fun and choosing them over another more expensive habiliments is the right choice.
Good Traction
Customizable
Secure Zipper
9. Military Combat Lace-Up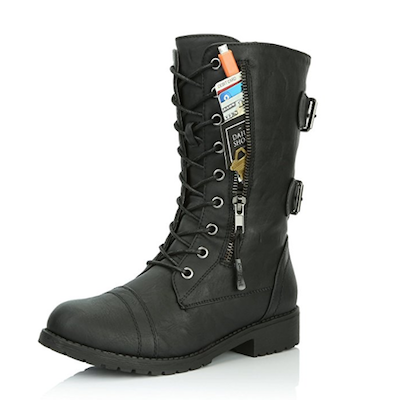 This item is vivacious enough to stand up to an array of environments. They look smart and are very functional. These
combat
lace-ups have interesting accents including side buckles, a small hidden pocket for storing necessities and padded insoles. They also emphasize tough vegan leather, a large variety of colors, and superior traction for diverse surfaces.
Expand to see more
Storage for Essential Items
This clever design features a hidden storage compartment near the side zipper. It's actually large enough to fit personal items, such as; credit cards, loose cash, i.d. cards, and keys. The zipper design was built for security and longevity. This unique addition is a wonderful way to travel light and not be worried about essentials.
Assortment of Colors
Buying the exact color of footwear needed to complete an uncommon ensemble can be a challenge. The variety of hues available for combat lace-ups can be limited but variety is where these shine. Over 20 unique pigments are accessible for this particular finery. Paired with comfort, great traction, storage, and support.
Cost and Value
These are very fairly priced for the amount of thought and care put into architecting such a versatile product. The accent of the buckle creates functionality and
additional flair
. The hidden zipper pocket is very practical and rare. Extra traction and a cushioned footbed make these very wearable for longer affairs. It's easy and adjustable to fasten the laces in the front. This allows for adaptability and control for a better fit.
Slip-Resistant
Buckle Addition
Cushioned Insole
Hidden Storage
10. Polarex Johna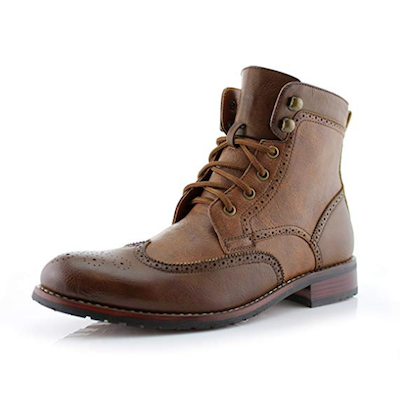 The Polarex brand creates traditional looking foot attire at very competitive pricing. This item has the vintage feel of times that have passed with luxurious padding and added traction. The wing-tipped detail is a great touch that gives additional character to a delightfully antiquated impression. The inner right zipper and lacing allow for adaptability. This company also gives a complementary 90 day warranty.
Expand to see more
Faux Leather
The faux leather on the wing-tipped Johnas looks slightly distressed. The two tones for the browns very strategically placed. Another notable detail is the perforated pattern on the front toe box of the shoe. This detail is very elegant and eye-catching. The faux leather is animal-friendly. You may notice a chemical smell for a couple of days after purchasing. Wiping them down with a wet rag and leaving them to air dry will also reduce the smell.

Ankle Support
Marrying a trend-setting style with a supportive structure makes these a stand out item. The Johna protects and stabilizes the mid-ankle area. The 4 slot 2 hook lacing system allows for adjusting tightness and stability. The soles are synthetic, flexible and allow some breathability. The laces themselves are coated with protective wax and made to be very durable.

Cost and Value
When looking for generously priced oxford inspired footgear these are very cost friendly. They are not made for hiking through tough trails but for everyday wear. These wing-tipped beauties stand up well to normal wear and tear. The only real drawback is the slight chemical smell upon arrival. This is an issue that is easily remedied however and in a few days will be far less pungent. In the aspects of uniqueness, ankle stability, durable lacing and comfort these are winners.
Built to Last
Ankle Support
Classic Perforated Detailing
Chemical Odor
Sizing Issues
Walking boldly into the innovative past with shoes that define the sign of the times is essential for costume wear. Victorian themed parties and events are popping up everywhere. Being ahead of trends is the best way to stay prepared for them. Many of the traditional footgear here are not solely for costume wear but can also translate to everyday wear. Making this the best list anywhere for shoe attire you want and need.
Criteria For Evaluating
The Best Steampunk Boots & Shoes

Authenticity
This is a niche that harmonizes fantasy and 19th Century fashion. When searching for footwear that will synchronize with vintage attire there is no need to purchase anything that is overly gaudy. This particular genre is centered around inventors, explorers, and steam-powered machinery. Even playing a sleek villain can be executed flawlessly with stylistic oxfords. Accessories are what will bring the look to life. No need to try too hard, authenticity and a little dirt even will create imagery everyone will be astonished by. Below are details passionate enthusiasts will want to keep an eye on.
Bronze or Gold Detailing

Leather or Leather Looking Material

Lace is a Delicate & Historically Accurate

Buckles Everywhere

Clock Gear Elements

Neutral Colors Occasional Pops or Red, Purple, Green, and Blue
Anything reminiscent of an old-time leather tanner or metal worker would be an excellent addition to pulling this look off. Vintage welding goggles also are a big trend along with anything clock gear related.
Dependability
Costume-wear doesn't have the best reputation for being long-lasting. This is why purchasing shoe-dress that is appropriate for the environment and need is imperative. Buying based on need first can narrow down options dramatically. This is a short list of needs to consider when looking for the perfect pair.
Contemplate the amount of time that will be spent walking or standing

Be aware of the potential frequency of use (are these for daily or occasional use)

Give thought to the ailments of your extremities

Be aware of the weather for outdoor functions

Note what you value the most (sweat-wicking, arch-support, fashion etc)
All people have different feet that require varied approaches to care. Some individuals can get away with little support or a high heel. Others may value extra room or supportive arches.
Awareness is key when making an informed decision. Following this approach will give valuable tools for deciphering an authentic match for individualized use. Proactive thoughtfulness in regards to wearability will leave you appearing serene and moving through crowds with the same sentiment.

Frequently Asked Questions
Q: How will I know if the shaft will fit my calf size?
A: This is an issue that can be easily remedied. Buy an inexpensive tailors measuring tape and measure the circumference of your calves. Typically under "specifications", many manufacturers will list the circumference of the shaft. Items with belts or lacing can often comply with a wider range of leg sizes.
Q: How will I know for sure that a product is vegan?
A: Many companies are giving consideration to eco-friendly alternatives. When looking up specifications or details it is made apparent if a particular stock is cruelty- free. Normally terms such as animal-friendly, cruelty-free, vegan, vegetable leather, and earth-friendly can be found in descriptions. A little-known fact is that many synthetic materials translate into vegan outerwear as well. It is imperative to make it a point to find out the kinds of glues used in production. If that information is unavailable it's better to search for other verifiable options.
Q: How will I know if footgear is wearable for long periods of time?
A: Anything can be worn for a long duration. Keeping in mind your needs will help determine the best fit. A contoured footbed whether it be foam or handmade can be great for walking over a longer stretch of time. A little extra room may feel angelic for more spread feet. Hammer toes could require a wider toe-box. While drastic changes in weather may need light waterproofing or sweat-wicking capabilities.
Q: How can I decide if costume-footwear is the right choice for my garb?
A: This depends on what is valuable for the wearer. Creative inspired pieces may be a better alternative to traditional outlets. Higher quality materials may be required and in this instance making the decision for engineer inspired or distressed looking materials could be a better fit with a more solid build. Adding insoles for more support or finding something with more available traction will not take away from the overall feel associated with your garment.
Subscribe to our Newsletter