Best Shoes for Achilles Tendonitis Reviewed & Rated
In a Hurry? Editors choice: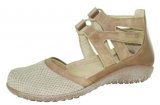 Test Winner: NAOT Kata

If you've recently upped your regular exercise routine or workout, you may have developed a swelling and a burning sensation along the back of your ankle, just above your heel. These symptoms are caused by stress or injury to the tendon that connects your heel bone to the muscles in your calf. What are the causes of injury? And what can you do besides ice it and wait? You'll be glad to know there's an easy answer: You need to find the shoes that will support you the best.
Standout Picks
Criteria Used for Evaluation
Heel
Research has shown that a heel lift can help to minimize Achilles Tendonitis. Put simply, a low heel drop (heel-to-forefoot height differential) may be too low to offset the load-rate stress experienced by runners.
Will you be better off with a low heel drop or a higher heel drop? It's going to be different for everyone, but it's important to note one powerful factor: Often wearers of new models of sneakers think they are buying the same heel drop they had in their previous pair, but the reality is otherwise.
For example, over the past several years, a number of manufacturers have created a minimal version of a shoe or product line. And in that process, it has been noted that one particular sneaker which, originally, featured a 12-millimeter heel drop, now, has only an 8-millimeter drop. If you are making a change to another shoe, then this is an important factor to consider. It can make a huge difference to have that 4 millimeters back in your shoe of choice. In spite of the fact that 0–2 millimeters are often a suggested range, but certainly, not for everyone. The best solution is to find a shoe that has a heel drop that is perfect for your particular comfort needs. Many runners find that changing the heel offset can make all the difference in their foot health.
Fit
If you have a podiatrist-prescribed orthotic for a foot problem, you will want to use it with the sneakers to reduce the stresses on the tendon, due to the 'whipping' action. It's important to know that the Achilles Tendonitis shoe that you select has room for your orthotic insert without causing a problem for comfort or fit.
The proper orthotic insert will reduce the reaction force you experience and minimize unwanted rearfoot motion. The effect of your orthotics on foot motion and impact will make all the difference in your workout or workday use. Your orthotics has been prescribed by your doctor to align your feet properly to avoid injury. Or they could be prescribed and designed to protect your feet from moving within the shoe improperly, due to a previous injury. Whatever the reason, there must be room in the sneakers to accommodate them.
Some of the sneakers mentioned have a removable footbed but you should, also, look for plenty of room and width in the toe box to accommodate any orthotic your podiatrist has designed for your particular foot problems. If your sneaker does not allow for the orthotic to be comfortably inserted, then you can have a serious problem that may cause you to develop further tendonitis issues.
Comfort
More cushioning is desirable for running or high-impact activities if you suffer from Achilles Tendonitis, to decrease that '3-times your body weight' factor on toe-off. If your Achilles tendon feels pain after running, then you know you must begin to take it seriously before further injury might occur. And that's exactly what any of these shoes will protect you from – further injuries and stress to your foot.
Some prefer gel, some prefer foam, and some prefer air. Every step you take can make or break your activity when you have an Achilles tendon weakness or sensitivity. They will give you a good flow between heel-strike to toe-off but, also, maximum protection for foot movements. You'll find that you can walk or run much further than you, usually, can with greater comfort.
Use
Choosing the right shoe for overpronation is essential for foot health, as it is directly linked to developing Achilles Tendonitis. But how do you know whether you have underpronation, overpronation, or if you are in the neutral category? If you see that the outside of your shoes often shows the most wear, then you are adjusting to the outer side of your shoes, as you walk or run. This wear pattern will pinpoint you as an underpronator. If you are neutral, then the soles of your shoes will show wear in an S-shaped pattern. Lastly, you will see extra wear under the ball of the foot and the inside of the heel if you are an overpronator. Once you or your doctor have determined what our general tendency is within these categories, you can find a shoe with the exactly right support and cushion for your foot, to avoid tendonitis.
If you're an overpronator, you should look for sneakers that provide more stability. You will need maximum support and cushion that is structured to distribute the impact of your footfall and minimize your pronation. This is the condition that most often leads to tendonitis.
If you're an underpronator, you are often more prone to shock-related injuries, so you should always look at a shoe with a lot of cushioning.
Size
If you have read only a few testimonials from shoe purchasers online, you will often see that someone says they wish they had known they needed to order a somewhat larger size of a sneaker than they, normally, do.
With the Achilles Tendonitis shoes discussed above, users of the sneakers do not always need to order one size larger, especially with some of the softer sneaker sock top styles.
It could be that you, also, may need to purchase a size of shoe that is half to one size larger; as well as, one width size up from your normal width. And in the case of orthotics, this is even more of a consideration.
So, the sizing will vary, accordingly. Be sure to check the testimonials of the Achilles Tendonitis support shoe you have selected, in order to see if the shoe you have chosen has users who say, "They should have ordered one size up," per se. Afterward, you will know the tendency of that particular brand, in terms of sizing, and can order with confidence.
Sneaker Weight
Naturally, from the materials with which they are constructed, some sneakers are going to be much lighter than others. Though it may seem like a few extra ounces would not make a difference, it's something to consider; depending on the main purpose that you have in mind for your arch support sneakers.
Are you planning to use your sneakers for hours and hours of extensive hiking? Or are you planning to use your sneakers more for the purpose of having to be on your feet for eight hours a day, walking around indoors assisting customers, or warehousing, for example?
Recent studies have shown that running with heavier shoes increases energy expenditure; as well as, causing slower times.
As you look at the difference in weight on the shoes you are considering, now's your chance to compare. A few hours, or even a day of wearing an extra 5, 10 or even 20 ounces, could make a big difference in your foot health over time. Look for synthetic materials that are especially light for the upper part of your sneakers.
10 Best Shoes for Achilles Tendonitis
1

. Adidas Ultraboost Uncaged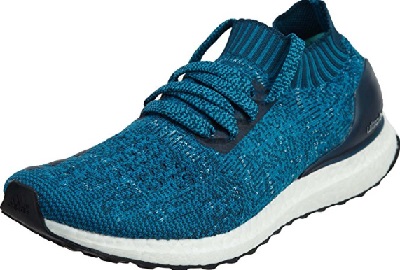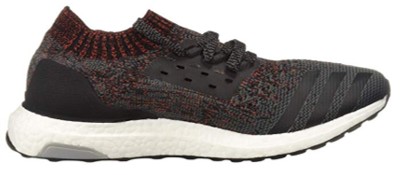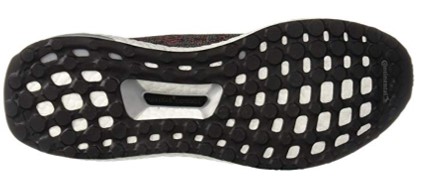 The Adidas Ultraboost Uncaged features the high-quality Boost technology that energizes every step and cushions every landing, and the outsole has a rubber material that is very, elastic with no stiffness. These sneakers are built to give return energy to the runner by their unique construction, with a Primeknit mesh upper and use of exceptionally, lightweight and flexible materials.
The Adidas Ultra Boost Uncaged sneaker features the high-quality Ultraboost Technology™, giving cushioning energy to each footfall of the runner, and providing a springy liftoff.
The boost™ midsole consists of thousands of very, lightweight TPU pellets that have been molded together and are highly responsive to the energy of the runner.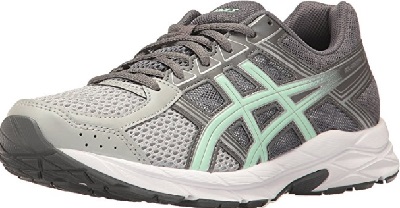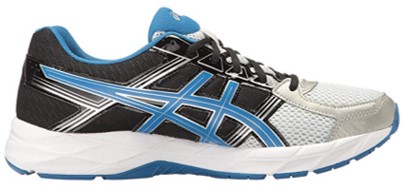 Looking for a shoe that really moves with you? These sneakers feature many components of higher-priced shoes and work well for running, cross-training, walking, and aerobics. The Asics Gel-Contend 4 running shoe features a high degree of support for your foot; as well as, gel cushioning to give you comfort in all activities. These sneakers have a great roll-through feel that gives you flexibility and moves with you, as you move through your routine.
The comfort and springiness of the roll-through functionality with these sneakers create a super-comfortable experience for wearers and are a great pair of long-distance running shoes, as well.
These sneakers, in addition to their comfortable and snug feel, also, feature a gel cushion in the heel to further support and protect your Achilles tendon, as you work out.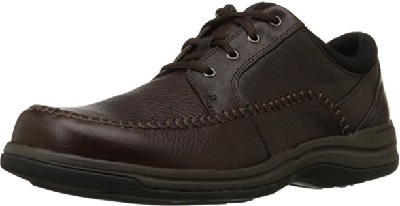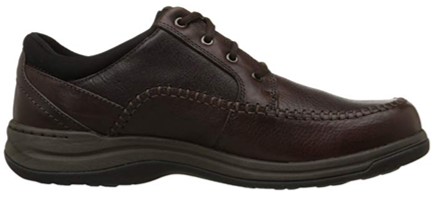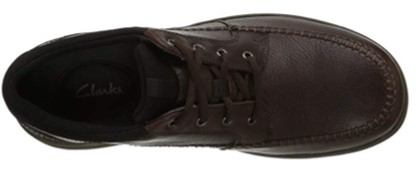 If you are looking for a casual shoe that is stylish, comfortable and gives great support, then the Clark's Portland 2 Tie Casual could be a perfect choice. This good-looking shoe features a leather and synthetic upper to provide durability; as well as, breathability for your activities. The Ortholite footbed gives your foot all the support you could wish for. Some wearers buy additional pairs because they're afraid they will not be able to find this shoe model again in a future search.
The excellent cushioning and support of the Ortholite footbed is highly versatile and can be easily removed for inserting any orthotic. This shoe features a rubber outsole that not only lasts a very long time but, also, provides great traction for the user in any environment. And it's still stylish enough to wear with khakis and jeans if desired.
The Clarks Portland 2 Tie is a great value for the price. The leather and inner materials are high-quality and extremely durable, and most users find the shoe is tops in comfort and wearability, as well.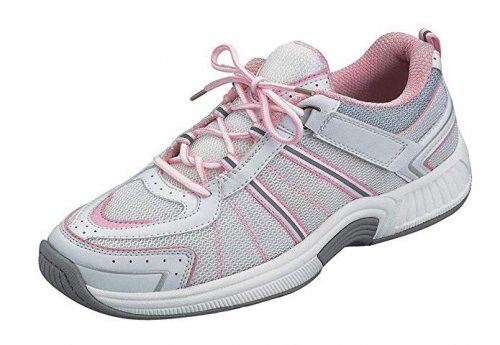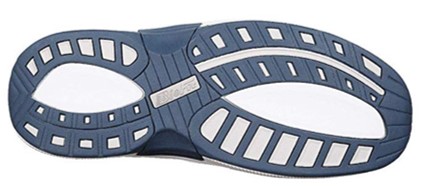 Achilles Tendonitis can be a painful, debilitating orthopedic condition. Fortunately, you don't have to suffer in pain because the Orthofeet Tahoe keeps your feet comfortable and supported while the Tahoe dissipates shock away from joints, tendons and muscles. The Tahoe is also an excellent choice for people suffering from RA and diabetes, as well, as the Tahoe's orthotic support and cushioning system relieve the stress on the feet and legs when in motion.
The Tahoe comes with a built-in premium, orthotic insole and features arch support and a cushioning heel that molds to the unique shape of your foot. The lightweight sole is enhanced with air cushioning and gives pleasant feedback when walking. The Ortho-Cushion System supports the walker throughout the entire gait cycle, making each step pain-free!
The Tahoe has a wide toe box, which prevents chafing, blistering and corns, while the padding under the heel is made of gel for superior comfort. Whether you have achilles tendonitis or plantar fasciitis, diabetes or rheumatoid arthritis, find a friend in the Orthofeet Tahoe—don't suffer needlessly anymore!

5

. Mizuno Wave Creation 19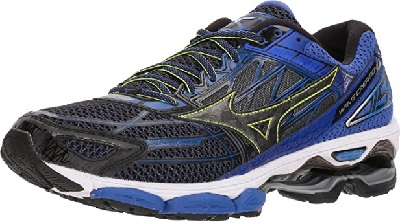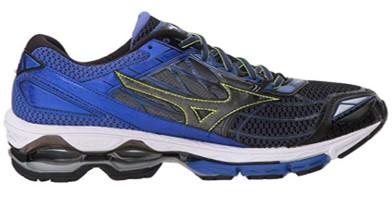 Offering great arch support with their Infinity Wave Construction, these sneakers offer even the most-intensive running workout, a comfortable ride. The flex grooves at the fore plate work with the articulation of the wave plate to propel you forward. There's, also, an enhanced sockliner for more comfort. Perfect for running, these lightweight and breathable shoes have great cushioning, and some report they don't even feel the footfall!
The carbon, rubber outsole on the Mizuno Men's Wave Creation 19 running shoe, also, features SmoothRide Engineering for great traction on many surfaces.
For great follow-through motion, the U4icX and Infinity Wave Construction cushioning offers a fast and effective heel-to-toe transition. These shoes are comfortable for the largest or tallest runner's needs.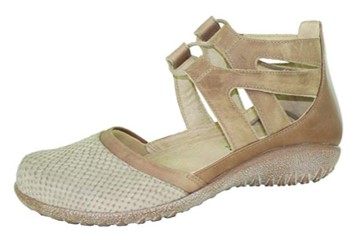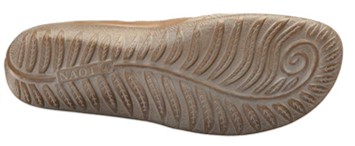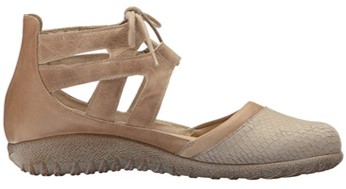 The Kata from NAOT is a supportive summertime sandal option for those who need a bit more from their footwear. As a brand that's well known for their quality support, cushion and craftsmanship, NAOT brought a stylish suede sandal to the market that's perfect to pair with shorts or boho style skirts and dresses. Breathable and light, it has arch support where you need it most as well as other ergonomically design elements to keep you comfortable, and steps feeling soft.
Uppers on the Kata are a leather soft suede, which wrap around the base of the ankle to the top with a strappy design. A small lace up closure allows for a customized, adjustable fit around the ankle, while a high back helps support and cup the heel. The uppers around the toes are a perforated leather, allowing for ventilation and little moisture build up. There is also a removable footbed, made from latex and cork which has a softer feel to it than some other materials.
The footbed has been ergonomically designed to help support and cushion the foot, with a padded heel cup that helps settle the foot in properly. A synthetic sole with tractioned grip provides slip resistant function on tiles or wet surfaces. With its softer lining, cushion, support, and grip, this sandal has you covered for just about anything! It's versatile in style for casual events, or even some work related attire, making it a great option to add to your collection.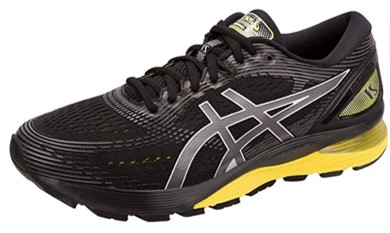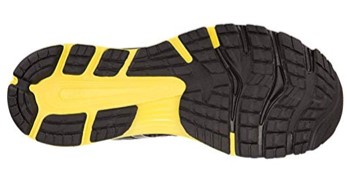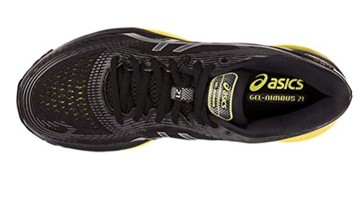 Updated from its predecessor, the Gel Nimbus 21 from Asics offers loads of support and cushion technology, packed in a sleek looking sneaker. It now has an abrasion resistant rubber outsole, so durability of the sole and sneaker itself should be extended from its older versions as well. Lightweight mesh uppers keep it breathable, while cushioned heels and forefoots make it great for anyone suffering from Achilles Tendonitis. With a rugged sole built for any kind of condition you'll encounter, it's a sneaker option that could just be your next new pair!
In terms of support, Asics designed the Impact Guidance System to help align the foot properly when walking or running, promoting a more natural gait and responsiveness. It also has a Trusstic System technology that helps support the midfoot as well as help natural gait. These technologies combined make the Gel Nimbus 21 a quite supportive and controlled shoe! You'll also find a moisture wicking sockliner that helps comfort and cushion the foot during wear. This pair of shoes is great combined with Asics Cool 2-n-1 shorts, so if you are thinking about running outfit you can't make a mistake by combining the two.
The outsole of the Gel Nimbus 21 has a rubber resistant to abrasions, so the shoe's longevity is extended for some time. Inside, you'll find both a forefoot and heel Gel cushion system, providing not just bouncy plush steps, but return of energy from foot strikes, helping to reduce foot fatigue. Mesh uppers help keep it breathable, and a rugged patterned sole allows for optimal traction. With all the support and cushioning one would need, it's a solid option to consider.
8

. Puma Cell Riaze Heather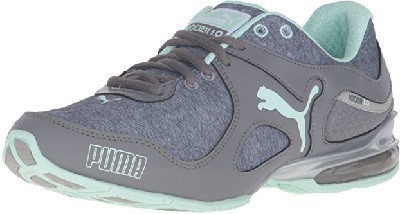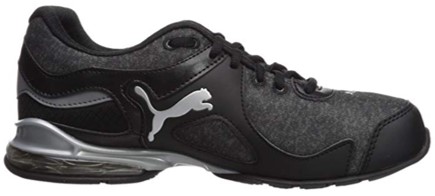 These Puma Cell Riaze Heather Cross-Trainers provide a high level of stability and balance for your workout. They are designed to support performance needs for track requirements; as well as, gym requirements. Featuring a high level of traction, as well as, cushioning for those who have a workout every day at the gym, these trainers are perfect to keep up a daily workout regime.
Offering a great level of comfort for running, the BubbleCell technology of this shoe is second to none; featuring a Bubble midsole made to absorb impact, which protects your foot from injury and can make those workouts much more fun.
In addition to real durability in a quality sneaker, the EcoOrtholite sockliner offers a great fit and is designed to withstand the use it will undergo during a daily workout routine.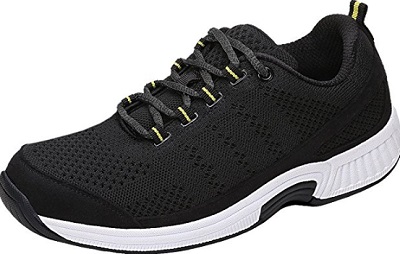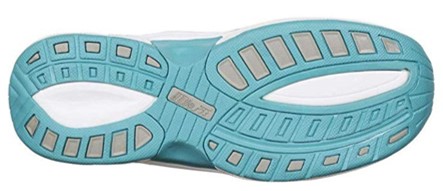 These shoes are wonderful for those suffering from Achilles Tendonitis. They are lightweight, have anatomical arch support, a non-binding upper, and utilize both the Easy-Gate and Ortho-Cushion™ System technologies. As a result, your day just became a bit more comfortable. Additionally, these shoes can accommodate orthotics, as well. This is a definite surplus in the quest for comfort.
This orthotic insole is 0.25 inches thick. Better, it is removable. This means if you need your own specialized orthotic insole in place, you can. This system helps to improve on the effort it takes to complete your stride. It enhances stability, helps facilitate foot motion, and adds that extra spring back into your next step.
These shoes fall into the midrange of cost association. In other words, you can have great shoes for a great price; that is, these shoes are worth every penny spent.

10

. Nike Flex Experience RN6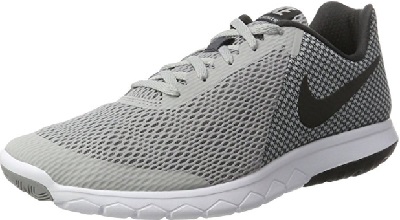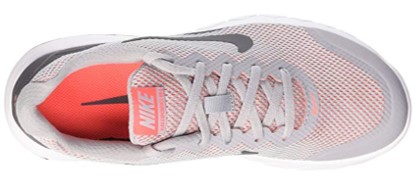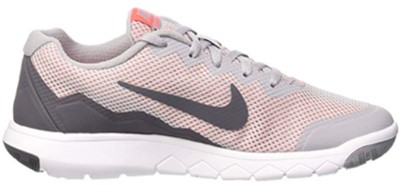 This great looking shoe has a mesh upper, a cushioning insole, and features a padded tongue and collar for maximum comfort. The round toe and bootie slip-on construction add ease to wearability. This shoe, also, has a Flexible Phylite midsole to create a comfortable arch support, and for stability in any environment, it has a durable, rubber traction outsole.
This flexible and patented Phylite Midsole is able to adjust to your foot with every step or footfall, creating a very, smooth transition experience for walkers, as well as, runners.
It's hard to believe that Nike has over 42 years of experience in traction technology. And part of that know-how has allowed them to develop a rubber traction insole to give this shoe extremely effective traction in indoor, as well as, outdoor environments.

Subscribe to our Newsletter