Best Victorian Boots & Shoes Reviewed for Style
In a Hurry? Editors choice: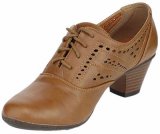 Test Winner: Refresh London

When it comes to fashion, it is said that the more simplistic, the more modest and reserved one era is, the following era will be all the grander. Before the Victorian era, there was the Regency period, characterized by streamlined silhouettes and simple gowns. Then came Queen Victoria, and fashion exploded in a sweeping showcase of lace, bows, layers, jewels, and
opulence
.
Footwear, of course, was no exception. The Victorian era was the first one where shoes were no longer made the same for both feet, but rather now there was the left shoe and the right one specifically – talk about an improvement on comfort! Additionally, around the year 1850, women were allowed to wear the same type of
boots
that were previously only meant for men, marking it as a baby step in the direction of gender equality.
Standout Picks
Criteria Used for Evaluation
Upper
At the beginning of the Victorian era, there was the boot. Boots were made out of hard leather – genuine, of course – and they would go up to a woman's calf. They were form-fitting and provided good support for the ankle; this was especially important if the woman wasn't used to walking in heels and would wobble or even stumble as she walked.
Boots also had the added benefit to hide the ankle of the woman. It was considered indecorous to have one's feet and legs exposed, and so this type of footwear was excellent in protecting the ankle from unwanted attention. However, some designs featured lacings strategically placed around that area to provide a titillating tease.
Today, we can distinguish several types of boots from this time period:
Black Satin: Black satin boots weren't tall in design, and they were meant mostly for the house. They were sewn in the side and had several straps along the vamp, from the toes up to the ankle. These straps came with fastenings for easy entry into the shoe, and they would also reveal a glimpse of elegant stockings underneath.
Kid Walking: It is unknown whether the name of this design has something to do with kid suede or actual children. Nevertheless, this boot went up higher on the leg, up to the calf, and it had a lacing system on the inner side. The front was usually embellished with vibrantly colored embroidery and patterns.
Carriage: These boots, as their name says, were the epitome of elegance and style, as they were worn by women who had to be taken somewhere by a carriage. They were made out of kid and quilted satin for the upper part, while the rest was constructed out of hard leather.
Heel
In the latter part of the Victorian age, boots were slowly edged out in favor of pumps. Skirts remained long and layered, and the sight of an ankle wasn't so scandalous anymore, which was the perfect setting for a shoe more lower in the cut. At that time, of course, they weren't called pumps, but walking shoes, though style-wise, they definitely resembled today's pumps. They had a short – or a slightly taller – heel, a low-cut front, and a fastening of some kind.
Kid Walking: Children also had their own type of footwear, which was in design very similar to the adult women's pump. It had a small heel, straps across the instep which were fastened to the side by buttons, and a decorative bow at the front. This type of shoe was usually worn with an embroidered stocking.
Oriental: This design is similar to the kid walking shoe, only it has just three straps across the instep, and every strap is embellished with its own bow. The heel of this shoe was higher than the one on the kid's version, curved and widened at the base to increase stability. This type of heel is known as the 'Louis XV heel'.
High-heeled Walking: Other than the two most common types described above, walking shoes came in many more shapes and sizes. They had heels of different heights, vamps of different designs – from a regular pump, over a Mary-Jane silhouette to something akin to today's ankle bootie. There were no rules when it came to this type of footwear, and everyone reached for the styles that fit their own personal aesthetics the best.
Materials
In their most private quarters, ladies wore slippers. That is not to say that this footwear was any less extravagant than the designs made to be seen by the public.
The slippers were made out of linen cloth, dyed cotton, expensive wool, with felt soles and cork socks. They were embroidered with intricate stitchwork, decorated with bows and ruching around the sides. Aristocratic ladies made a difference between bedroom slippers, bathing slippers, morning slippers, and special slippers designed to be worn only during illness.
Brand
When we think about some of the hottest and most luxurious brands in the fashion industry, ones like Prada, Gucci, Louis Vuitton and Jimmy Choo might come to mind. A product is a promise made, but a brand is a promise kept; generation after generation. A brand and its label are a statement of quality, craftsmanship and service found in each of its products.
When assessing the products on our list for "brand", we took into account the quality of its products, its attention to detail and style, its reputation within the fashion industry, its commitment to customer service and its perceived luxuriousness and exclusiveness, to create an overall score for brand equity. Brand equity can loosely be defined as the pricing power a brand has in the marketplace due to each of the aforementioned factors.
So, while a product that scores high on this list may be gorgeous and exclusive, you can also bet it will much pricier, as well. After all, if everyone could afford it, it wouldn't be exclusive or luxurious, would it? Be prepared to look amazing, but feel the pain at the bank, if a product scores high on this metric!
Style
While style is often a matter of personal taste, we've checked thousands of online reviews to see what people are saying about each of the products on our list. Some things, such as sleek design, seamless construction and overall weight and shape of the shoe, were common likes or dislikes among buyers of each product.
To evaluate style, we considered everything from the design, color, shape, weight, lines and overall construction of the shoe in question. While no one wants to wear an uncomfortable shoe, they also don't want a comfortable shoe to be ugly on the eyes. We've selected all of those on our top 10 to be not only stylish, but also comfortable, true-to-size, supportive and durable.
The higher the score on the "style" metric, the more fashionable we and the community of buyers we surveyed deemed the product to be.
Top 10 Picks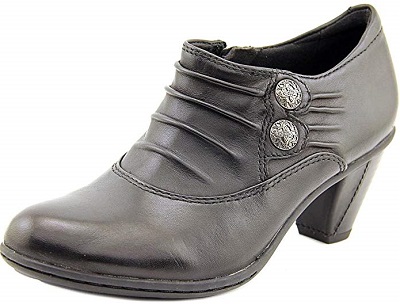 Earth Amethyst is a design not only rooted in the nineteenth century but also one that is made out of the highest quality materials. The upper of this ankle bootie is constructed out of premium full-grain leather with interesting vamp ruching in the front. It has a breathable leather lining, a side zip closure, and a stacked two-inch heel. Its outsole is rubber, and the footbed is padded for extra comfort. With the Earth Amethyst, you get an authentic Victorian appearance with all the modern day comfort and support.
Leather
Natural material such as leather is unparalleled when it comes to comfort and quality. It promotes proper air flow through the shoe, keeping your foot cool and sweat-free, and it also molds to the shape of your foot over time, providing you with a gentle, customized fit.
Cushioning
The Earth Amethyst comes with cushioning in the footbed which provides cloud-like comfort to your foot from heel to toe. Not only that, this bootie ensures that your arch is supported as well, which is definitely necessary if you're intending to be on your feet for longer periods of time.
Cost and Value
We are surprised that the Earth Amethyst is not more expensive than it is. Compared to other designs on this list, it sits in the middle range of price, and yet it greatly exceeds them in terms of material quality, comfort, and durability. We are hard-pressed to find a flaw in this model, and we are sure that you will absolutely love it.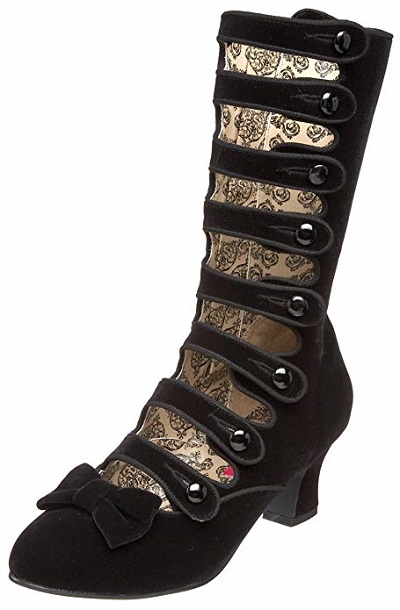 The Pleaser Whimsey 115 is a type of a design which was a rarity in the Victorian age. Not because it was unpopular, but because it was reserved for only the noblest of ladies, those who had riches to spare. It is a mid-calf boot made from black velvet with straps from the instep all the way up to the top. A dainty bow at the front adds a touch of femininity, and the entire number has a side zipper to offer a quick and easy way of getting in and out. Lastly, there is a two and a half inch heel to add a boost in height without sacrificing comfort.
Velvet
Velvet is a soft material that is gentle on your skin and which won't rub you the wrong way no matter how long you wear the Whimsey 115 for. Furthermore, velvet brings an expensively plush finish to the design, making it nothing short of aristocratic in appearance.
Straps
The eight straps of the Pleaser Whimsey 115 are a unique touch. Each of them has a decorative shiny button on the side, and their purpose is to reveal slivers of expensive, intricately knitted stockings of wealthy ladies.
Cost and Value
The Pleaser Whimsey 115 is one of the pricier options on our list. It is truly Victorian in design, complete with a low heel, a bow embellishment and a strappy vamp, and it will become a lux addition to any vintage outfit. What's more, it is also well made and solid in construction, which is why we feel that its high price isn't exaggerated.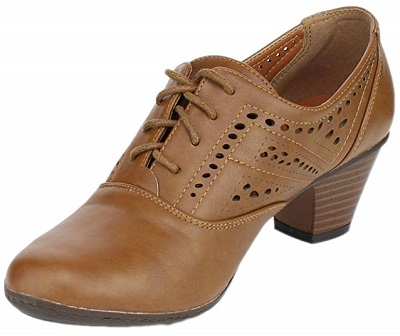 Is it a regular oxford? A vintage oxford? For costumes? Or for everyday wear? We say that it's for both! The Refresh London is a heeled oxford made entirely out of synthetic materials. It has an almond-toe design, with a lace up system at the front and perforations in the side. We are absolutely in love with this lightweight, retro model - it goes well with skinny jeans and heavy autumn skirts as well as being suitable for a more practical and less formal Victorian outfit.
Perforations
While the little holes all over the upper of the Refresh London do add interest to the design, they also serve a purpose. Namely, these perforations allow the air to properly circulate in and out of the oxford, providing much needed breathability.
Animal Friendly
You will be pleased to know that no animal was harmed in the making of the Refresh London. This oxford is 100% synthetic, making it a perfect environment-friendly vegan option.
Cost and Value
We are pleasantly surprised by the low price of the Refresh London. In fact, it is the least expensive design on our list! With its comfortable two inch heel and charming silhouette, this oxford is cute in style. However, its quality seems to be a little lacking. If you're not willing to spend too much money to complete your vintage look, this is a perfect choice for you, but don't expect it to last very long.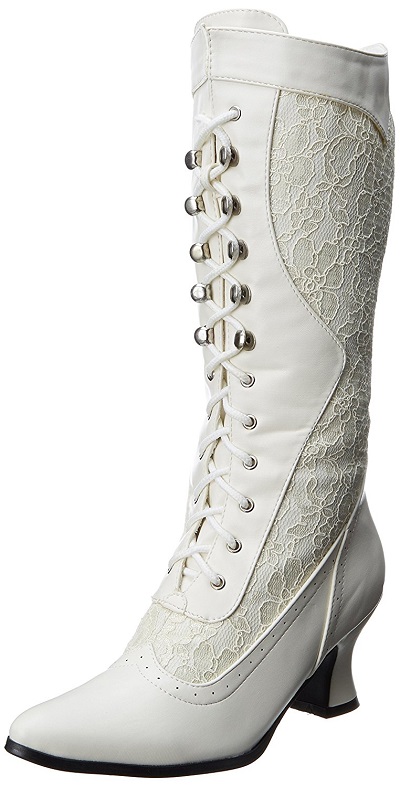 Now here's something truly Victorian. The Ellie Shoes Rebecca is a mid-calf pointy-toed boot with a lacing system that goes all the way to the top. It is made out of synthetic leather, but also has lace inserts in the sides and back for a touch of authenticity. For ease of entry there is a zipper closure in the side, and for a comfortable, smooth ride, there is a two and a half inch stacked heel which has a wide, stable base. We are absolutely in love with the romantic, feminine design of this classic nineteenth-century style.
Lace Inserts
While it is true that a lady would never bare her ankles to the world, that didn't stop some more seductive women from enticing the public with lace inserts strategically placed on their boots. These add playfulness and sensual mystery to the overall design.
Side Zipper
Do not get spooked by the seemingly complicated long lacing system of the Rebecca! Its purpose is decoration only, while the more stress-free way of putting on the boot is by using the zipper in the side - quick and effortless!
Cost and Value
The Rebecca is one of the least priced models on our list. It embodies everything that the early Victorian era was with its mid-calf height, lacing accent and lace detailing for a more coquettish vibe. Granted, it may not be the most comfortable to wear for longer periods of time, but for such a low price, it is an absolute steal.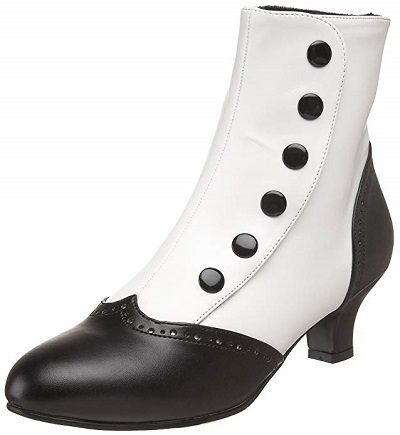 Channel your inner sass with the Pleaser Flora 1023. This ankle boot comes with a dual-toned upper made out of synthetic leather, glossy ankle snaps, and a two-inch heel that is unbelievably comfortable to walk in. The Pleaser Flora 1023 is a play on men's footwear near the end of the nineteenth century, when women became bolder and more daring, experimenting with their styles and throwing in touches of menswear to spice things up. You can match this charming design with a petticoat, a shirtwaist, or anything with frills to play up its retro appeal.
Snap Closures
If you're wondering where the way inside this boot is, we're here to help you - it's the buttons. They may seem intimidating at first, because they require a specific motion to get them on right, but once you master that, getting in and out of the Flora 1023 becomes as easy as pie!
Versatile
These cute booties are not only meant for stage plays and costume parties. Anyone with a love for vintage can pair them up with their own style and wear them as casual autumn footwear. They're comfortable to walk in, and simply impossible not to admire at.
Cost and Value
The Pleaser Flora 1023 is not an expensive design. Its cost is somewhere in the middle range when we line it up with the other options on this list, and we feel that it is a good indication of its quality and design.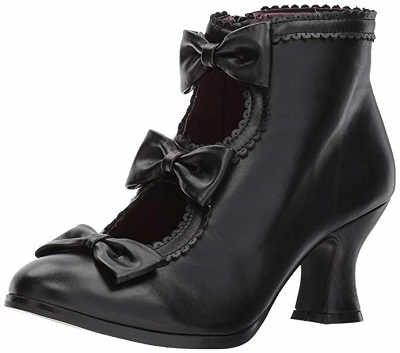 With the Ellie Shoes Missy, we step into the world of dark and mysterious and a little gothic. This ankle boot is constructed out of man-made leather, has a two and a half inch heel and a rubber sole. It comes adorned with three bows on the vamp and has a zipper in the inner side for comfortable wear. The top line and the edges of this design are made to look like lace for a hint of femininity. If you are aiming for a darker spin on the classic Victorian look, something more sinister and yet still deceivingly cutesy in appearance, then the Missy boot is a perfect choice.
Gothic
The Victorian era was mostly about grandeur and pomp and celebrating life and wealth. However, that is not to say that there was no place for a darker version of things. Women in this age were finally allowed to express themselves as they pleased in terms of fashion, and more edgy footwear like the Missy wasn't out of the norm.
Comfortable
The two and a half inch heel of the Missy guarantees a pain-free ride no matter how much time you spend in these boots. Additionally, the ribbon straps across the instep secure your foot inside the shoe and prevent it from sliding forward.
Cost and Value
The Missy is in the middle range when it comes to cost. It is a true Victorian design, especially considering the ankle height, the bow accents and the lace-like top edge of the boot. It may not be exceptional when it comes to quality, but it will surely last you for a season or two, making it very much worth it.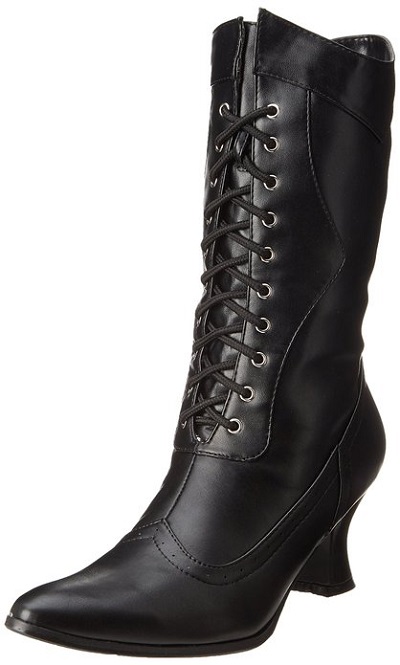 The Ellie Shoes Amelia embodies everything that is purely vintage. This is an ankle boot - what is today fondly called a 'granny boot' - with a lace-up system at the front. It is made out of polyurethane leather with a matte finish and has a stacked two and a half inches heel. The heel has a Louis XV style, meaning that it has a distinct curve and is wider at the bottom. The Amelia might lack some of the more extravagant details of the Victorian era, but it is a simple, straightforward design which you can wear for everyday use as well.
Heel
The heel of the Amelia is at a comfortable two and a half inches in height, meaning that you won't even feel it as you're walking around. What's more, its wider base provides you with stability and much needed support, so you don't have to worry about stumbling or losing your balance in these.
Ankle High
While in the early nineteenth century exposed ankles were considered scandalous and improper, today the benefits of wearing footwear that covers your ankle are different. Namely, this secures your ankle and prevents any wobbly movements that might result in a sprain or injury.
Cost and Value
The Amelia is a very affordable design. We love it because it is reasonably comfortable and it has a recognizable Victorian look, but it can also go well even with non-vintage outfits.

8

. Elegant Park Mary Jane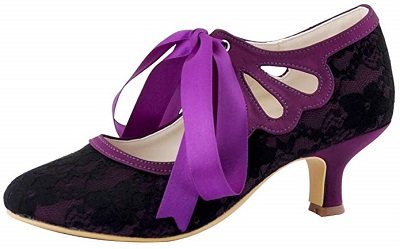 You may think that the Elegant Park Mary Jane is too provocative for the Victorian era - and you wouldn't be completely wrong. At the beginning of this time period, women's fashion was definitely more conservative, however, by the end of it, pumps and heeled oxfords became the new standard of dress. This is why this Mary Jane fits perfectly - especially with its lace overlay, a delicate ribbon over the instep and a top line with tear-shaped cut-outs. To round this design up there is a two-inch heel and a rubber sole. Interesting, elegant and excitingly romantic!
Ribbon Accent
Some kind of a strap across the instep is required to complete the Mary Jane look, and in the case of the Elegant Park design, this is a ribbon. It is not only there as a charming accent, but also to help you adjust the fit of the shoe to however tight or loose you'd like it to be.
Multipurpose
As much as the Elegant Park Mary Jane works for costumes and masquerade balls, it can also serve as a great dress shoe. In fact, in its ivory, white or champagne version, it can be a perfect wedding design for many a bride!
Cost and Value
The Elegant Park Mary Jane is neither cheap or expensive. It comes at a fairly reasonable price, especially for such an intricate design, and while it is not made out of the finest materials, it is a solid shoe, which will serve the purpose of completing your vintage look.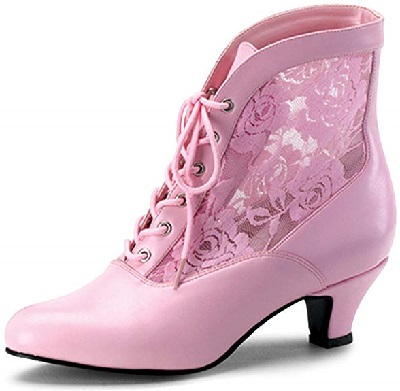 If you're the type of person who likes drawing attention to themselves and likes receiving loads of compliments on their style and fashion taste, then the Funtasma Dame 05 is definitely a design for you. This ankle boot - or rather a shootie, a combination of a shoe and a bootie - comes in an array of colors, from this bubbly pink, over black and ivory to a stunning gold polish. Its elegant lines and lace inserts in the vamp aren't meant to leave anyone indifferent, and the lace-up closure allows for a customized fit. A barely two-inch heel promises an easy, comfortable ride in this amazingly loveable vintage model.
Flirty Style
With the eye-catching color options and the interesting lace designs on the side, there is no way you won't get noticed in the Funtasma Dame 05. This shootie has a foxy, flirty vintage style which was very popular in the Victorian era.
Perfect Fit
In the Funtasma Dame 05, you won't feel too constricted. This design has a roomy fit, one which has enough space for your toes to comfortably wiggle. Furthermore, in case anything feels off, the lace-up system at the front allows you to easily adjust the fit to your liking.
Cost and Value
The Funtasma Dame 05 is a reasonably priced model. It isn't too cheap, but neither is it too high on our list when it comes to cost. You will be pleasantly surprised how comfortable it is and how well it supports your ankle. However, the fact remains that it is not made of high-quality materials and will have a shorter lifespan.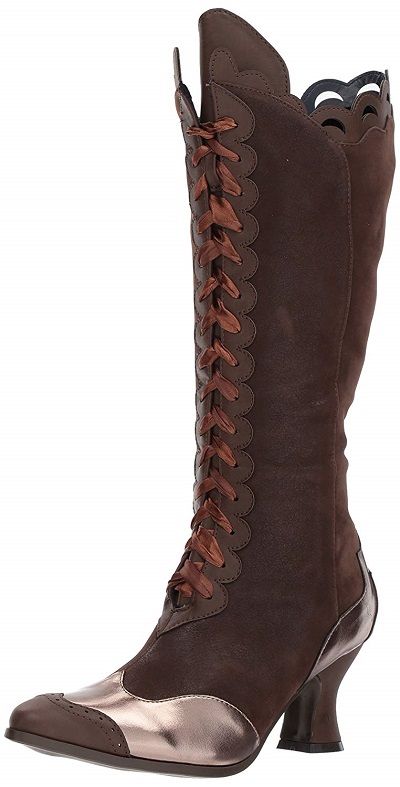 This mid-calf boot is walking a fine line between Victorian, gothic and steampunk. The Ellie Shoes Stella has a man-made upper with metallic overlays over the toes and around the heel. It comes with a long lace-up system for adjusting the fit and a zipper in the side to make it easier to slide in and out of the boot. The sole is made out of rubber, and the top line is scalloped for a touch of interest. The Stella is not your run-of-the-mill Victorian design, as it fits someone of a more noble upbringing, an independent lady who isn't afraid to take matters into her own hands and get the job done while looking unapologetically fashionable at the same time.
Lacing
The laces on the Stella are made of satin for a more classy finish, and the unique thing about them is that you can't take them out of the boot because of their metal decorations at the ends. This makes it very easy to keep track of your laces and not get all tangled up if your boots decide to unlace themselves.
Rubber Sole
Aside from being durable and abrasion-proof, the rubber sole of the Stella also provides you with slip and skid resistance. This design guarantees that you won't lose your footing no matter which surface you decide to take on.
Cost and Value
The cost of the Stella is leaning towards the high range. This is understandable, as it is a mid-calf boot in design, and none too simple to construct. Its comfort is not meant to withstand everyday wear, as it is a costume model first and foremost, so take that into account before you invest your money in this option.

Subscribe to our Newsletter