Best Shoes For Teachers Reviewed & Rated
In a Hurry? Editors choice: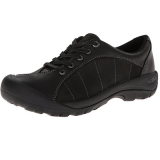 Test Winner: Keen Presidio

The average teacher will spend eight hours a day
standing
on their feet. Standing for long periods of time is directly linked to many physical problems, such as sore feet, swelling of the legs, muscle fatigue, lower back pain, and stiffness of the neck and shoulders. Even with regular breaks, standing for five or more hours per day has been proven to reduce productivity and make you tired. What's a teacher to do? Unless you can somehow convince the principal that time stopped and school is forever out for summer, you're going to have to pick up a pair of shoes that take pressure off the feet while giving you good support.
Standout Picks
Criteria Used for Evaluation
Comfort
We discuss comfort as criteria in many of our guides. That is because when it comes to our feet comfort is always important. Different jobs and walks in life require different features to ensure your feet aren't under too much stress from the moment your day begins all the way to the end. Shoes for teachers need to offer superior support and cushion to provide the desired outcome of comfy feet.
The more we wear a pair of shoes the more they break down and can become very uncomfortable. Finding footwear with a replaceable or removable insole can really add to the overall comfort you feel day to day. When the insole breaks down it does not absorb shock as well nor does it support sensitive areas of our feet the way they did when they were new. By replacing your insole as it wears down or removing it all together, for your custom orthotics, keeping fresh, thick soles will keep you feeling good for days to come.
Another factor in comfort is break-in time. Shoes for teachers need little to no break in time because from the moment they are worn they need to perform or you may be in for a long painful week. Long break-in periods can lead not only to pain but also to blisters, ingrown toenails and areas of the foot may have skin breakdown due to excess rubbing. The less break-in time required the better.
Support
Whether a sufferer of flat feet, high arches, plantar fasciitis, corns, or even if you don't currently have issues with your feet, the support your shoes give you is critical to making sure all the miles you walk are walked as comfortably as possible. We aren't only talking about your feet. Your entire body will feel the effects of a shoe that doesn't support you.
So, how do you find the correct support for your feet? A great place to start is to look at the bottoms of your favorite shoes and see where they are worn the most. The most worn area at the bottom of a shoe is the part that is taking the most pressure.
When your ankles are properly aligned they sit over the heel of your foot or in a neutral position. If this is how your ankles sit, you experience the least amount of foot pain as well as a decreased chance of rolling an ankle if not wearing supportive shoes.
Supination -
Unlike pronation, supination is when the ankle rolls to the outside and the heel tilts inward. This is a common problem for people with high arches or tight tendons between the back of the leg and the heel. The outer part of your foot is now taking all the force from pounding the halls and pain is sure to ensue. If ankle sprains, knee pain, and muscle tightness are common for you, supination may be the culprit. Supporting supination requires extra cushioning for added impact absorption. Allowing your feet to move with a flexible shoe will also aid in supported feet. Lastly, look for a straighter instep, this will help correct the supination.
Severe Over-Pronation -
Like over-pronation the ankle rolls in and the heel tilts out, but in this case, it is to an extreme. You may experience repeated ankle injuries, stress fractures, or painful arthritis you may be in the severe over-pronation category. You will want to find a shoe that offers motion control. These shoes will have a very stiff heel and a straight shape. This adds support to the arch. They also usually have a very firm midsole to ensure your feet stay in the correct position.
Over-pronation -
When the ankle rolls in and the heel tilts out. This is most common in people who have flat feet. Flat feet do not absorb shock as well and therefore choosing a shoe that offers support in shock absorption is going to be very beneficial. Flat feet need great arch support. That may seem silly because there is no arch to support however that is exactly why you need it. The arch of your foot helps reduce stress and shock. Shoes for teachers with flat feet need to offer deep heel cups, arch support, a firm midsole and low heels to make sure your entire body feels great.

Shock Absorption
Shoes for teachers require a shoe that can take the pressure and reduce the shock your body takes on the daily. If your shoes aren't absorbing and helping disperse the shock, it still has to go somewhere, and your body pays the price. Not all material is created equal when it comes to shock absorption.
Different pieces of your shoes work hard to absorb shock. A huge part of it is the insole of your shoe. EVA insoles are very popular among the top manufacturers because of their durable, supportive, and shock absorbing traits. Memory Foam is another common insole that does a good job at supporting your feet and keeping the shock where it belongs. Another insole that offers good shock absorption is those made of cork or a cork mixture.
The outsole of your shoe also plays a huge part in absorbing shock. The softer the outsole of the shoe the more shock it will be able to absorb. Materials like blown rubber, cork, and synthetic blends are not only lightweight, helping to keep muscles from fatigue but they also do an excellent job absorbing shock.
Arch support and the heel cup in footwear for teachers also play their part in shock absorption. Heel striking when you walk causes a ton of the shock that is received. Finding a model with good padding in the heel or the ability to slide a gel heel guard under the insole can really benefit absorbing all the force you put on your feet. Likewise, supporting your arch or lack of arch will help to disperse pressure evenly.
Durability
Shoes can be expensive, and should be treated as an investment. They serve an important role in supporting your entire body throughout the day. As a teacher, you'll likely be on your feet a lot, which can quickly put wear and tear on your shoes. As such, it's important to choose a shoe that is going to be durable.
Consider what class you'll be teaching. A math teacher's footwear needs are going to be different than that of a PE or woodworking teacher. If you're on your feet constantly, you should priortize the sole, as this is the part of the shoe that is usually first to show wear and tear. Teachers in vocational positions such as engineering and woodworking will likely need soemthing with all-around durability; features such as steel toes and an oil-resistant upper come to mind.
Also consider the time of year and climate. While mesh and canvas are some of the most breathable materials in shoes, they have little in terms of waterproofing. If you live in an area that is prone to a lot of precipitation, you may want to opt for something less permeable. Likewise if you live in a hot or dry climate, leather may not be an ideal choice as it can crack and break down in dry conditions.
Let's come back to the sole. A poorly-made outsole can sometimes result in holes, which will allow water into the bottom of the shoe and compromist overall durability. We've made it a point to only list products with durable rubber outsoles.
Style
Style is a quality that is sometimes overlooked in shoes for teachers, in favor of other factors like durability and comfort. However, it is an important thing to consider for one major reason; dress codes.
Like students, teachers must follow certain guidelines in regards to how they dress or potentially be subject to disciplinary action. These guidelines can vary based on many factors: the type of school, the position that the teacher is in, and even the day of the week (casual Fridays, anyone?). Dress codes are also subject to change on a case-by-case basis, due to things such as weather and special events such as field trips. Let's take a look at some of these in a little more detail.
There are three common types of schools in the US; public, private, and parochial (religious). Private and parochial schools will often have more stringent dress codes than public schools, for both students and teachers. It's important to read up on these guidelines, and reach out to your leadership with anyquestions or concerns you may have.
The position a teacher is in will also have an impact on this. Classes such as PE will typically call specifically for sneakers or other athletic shoes, as these are the best fit for the teaching environment. Vocational courses like woodworking and engineering will emphasize safety, so boots and steel-toe shoes may be preferred. Even science courses such as chemistry may call for a specific type of footwear.
Special events such as musical performances and field trips may also have their own guidelines. Performances will often call for a more formal shoe, while field trips may allow for more comfortable styles, depending on the trip.
Regardless, open-toe shoes are almost always not allowed. This is a safety measure in the event that something falls or is dropped, such as a heavy textbook or computer equipment. Most schools will also call for non-marking soles, as they will reduce the wear and tear on hard flooring. Again, look at your specific guidelines carefully, and discuss any questions you may have with your leadership.
Top 10 Shoes for Teachers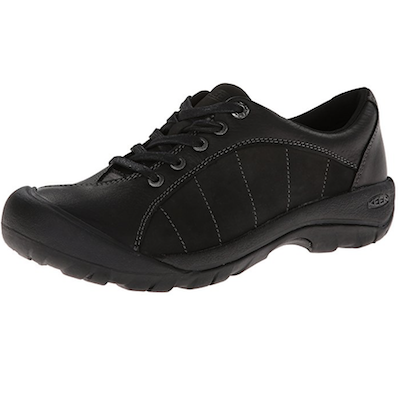 A pair of footwear that provides instant comfort, style, and durable wear from a company trusted and relied on, the KEEN Presidio has everything we have been looking for in a great shoe. Moisture-wicking lining keeps your feet cool while structured support cushioning gives you superior comfort from the moment you put these on to the moment you take them off. The Oxford style is not only classic but also very versatile. Important to note also, is the fact that these are made of leather. With leather you know the product will last for miles to come and the design will stay popular with all of those.
This model includes a metatomical footbed which offers advanced support that has been engineered to support the arch and mold to your individual foot. All feet are shaped a bit differently and all have curves, but the footbed in these will contour or shape to your feet providing unparalleled comfort. Made by a company that truly understands how to provide comfort, after wearing the KEEN Presidio you may not want to wear anything else.
Keen really has taken innovation and technology to the next level. They have paired their Presidio model with a probiotic used in their material that activates as you start to work. It naturally fights odor causing microbes, helping your feet stay fresh. The addition of Cleansport NXT to the KEEN Presidio will have you cleaning your shoes less and have them smelling good longer. Safe for the environment, high quality, advanced technology, and durable wear all come with a higher price tag. These will be more of an investment than most others in our guide, however, we feel they are an investment worth making.

2

. Clarks Unstructured Un.Loop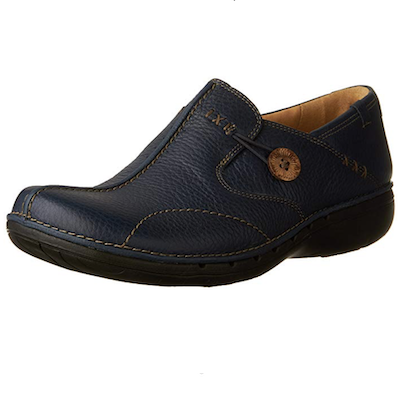 Clarks Unstructured Slip-On is a weightless and tenacious model which provides unique comfort. A leather upper and side button detail make for a trendy and stylish look which is perfect for standing up in front of a classroom. Clarks Air Circulation System™ allows warm air to escape keeping your feet cool and dry all day long.
The Clarks Air Circulation System™ used in this model works to bring fresh air in while the internal air channels vent away from the warm, moist air from the inside. Keeps feet fresh and dry all day long.
The rubber used in the outsole is flexible and sturdy, and it also absorbs shock. This prevents your feet from discomfort associated with standing on hard surfaces for extended periods of time. The value the Clark Unstructured has to offer far outweighs the mid-range price tag. It's stylish leather upper and durable rubber sole ensure that wear and tear won't stop the Unstructured. Fashionable and trendy detailing make these a hit in the teachers' lounge.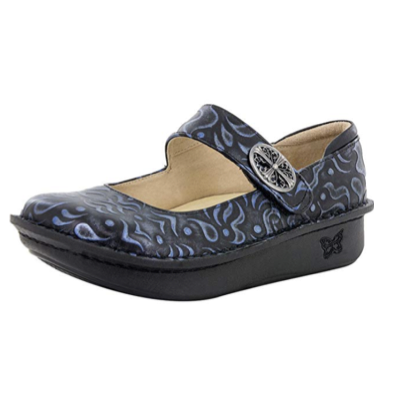 Alegria knows what it takes to keep working feet in ultimate comfort. The Mary Jane style is versatile and easily dressed up during the week or dressed down on casual Friday. The replaceable latex and cork footbed contours to your foot giving a customized fit. Have a custom orthotic? No problem, the footbed is removable and there is ample room to fit inserts made for your feet. In addition to these features, this model also reduces impact and relieves pressure because of the polyurethane outsole. Supportive of your natural gait, the Alegria Paloma will provide comfort and support to help make painful feet a thing of the past.
Every person has unique feet and that includes the width. It can be so frustrating to hear about an amazing pair of footwear, just to find they won't fit your narrow or wide feet. The ability to choose what width you need is not always easily found, even among the top brands. Customizing your fit helps tailor the shoe to meet your needs, making sure you and your feet feel great throughout your day.
Not only is the interior of these ultra soft, it also wicks sweat away from your feet. We all know how important it is to keep our feet dry and cool. No one wants to fight a fungal or bacterial infection because their footwear can't keep their feet dry. The natural wicking ability of an all leather interior will aid you in keeping your feet dry. These very stylish and superiorly comfy shoes are a bit pricey. They will last you for school years to come and will ensure your feet feel great every day that you wear them, making the cost not so difficult to justify.

4

. Easy Spirit Traveltime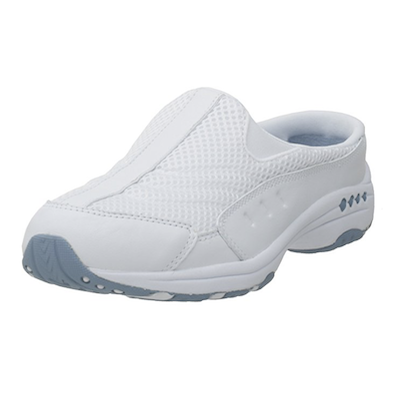 A favorite amongst teachers everywhere, the Traveltime Mule is as stylish as it is comfy. It's Orthotic-friendly and lightweight design with a low heel height making this an ideal wear. Available in 25 colorways and extended width sizes, this Mule has something to offer everyone.
Foot orthotics help to relieve painful feet and are ideal if you are recovering from an injury. Having the ability to remove an insole and add your own custom insert is invaluable to those who need it.
Built-in removable sock liner which absorbs shock and provides excellent arch support. This sock liner is easy to clean and will keep your feet healthy and feeling great. With over 35-years of experience in providing good quality stylish footwear, Easy Spirit delivers time after time. The Traveltime Mule is a budget-friendly shoe that is guaranteed to keep your feet comfy all day long! Its orthotic design is perfect if you are recovering from an injury, or if you are just in need of added support.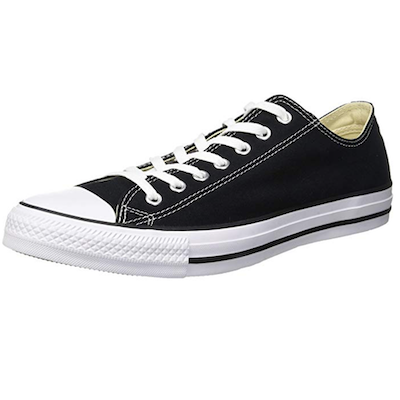 Converse is a brand loved globally. The Chuck Taylor All Star is iconic in look and style. Looks aren't the only important thing when it comes to finding a great pair of shoes for teachers. The Converse Chuck Taylor Low Top Sneaker also offers versatility because they go with almost every outfit. They form to your feet, making them feel like they were made with you in mind. Easy to clean canvas material is wonderful for those accidental Chemistry Lab explosions or spilled spaghetti from your lunchroom duty day last week. Additionally, this sneaker comes in a variety of colors, will look great, and provide you with comfort throughout the long afternoons.
Making sure your feet stay supported throughout is crucial in upholding the constant moving and shaking required of teachers. Shoes for teachers must be comfy and the Ortholite insole provides superior cushion adding to the comfort. You will find this insole forms to your foot and wears well over an extended period of time.
You may find your everyday classroom stuffy, which is a common complaint among teachers. If this is so, you may also have experienced wet, sweaty feet. Wet feet can lead to a plethora of problems. Including, blisters, sheared skin, bacterial or fungal growth, or exceptionally smelly shoes. The canvas upper of these is not only easy to clean, they are also very breathable. The addition of medial eyelets increases airflow, keeping your feet cooler. The cost of these is affordable with an age-old favorite design, loved by many generations.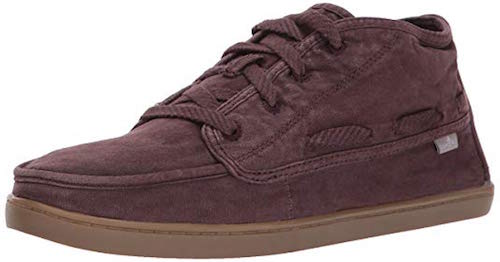 If you're after something that offers a good mix between casual and professional, you may want to check out the Sanuk Vee K - an ankle depth moccasin with a sneaker sole and the best of the brand's comfort technology. This chukka boot sneaker comes in three color options, black, desert green and brown, and is relatively easy to pair with a variety of outfits, while keeping your feet cushioned throughout the working day.
The upper of the Vee K is made with enzyme washed canvas that is put through the chemical process to give you a material that looks worn in, and is soft and pliable at the same time. This reduces the breaking in period, especially in those parts of the chukka that feature more layers. The use of canvas has another advantage, which comes in the form of breathability - crucial for those who spend a lot of time wearing the same footwear.
The insole on the Vee K is made with a foam material that's also used to manufacture yoga mats, which means excellent shock absorption, incredible softness, and a footbed that completely molds to your foot. It's covered with canvas to prevent moisture buildup, and is protected with a rubber outsole that is ultra flexible. In terms of cost association, this product ranks below average, making it an excellent investment.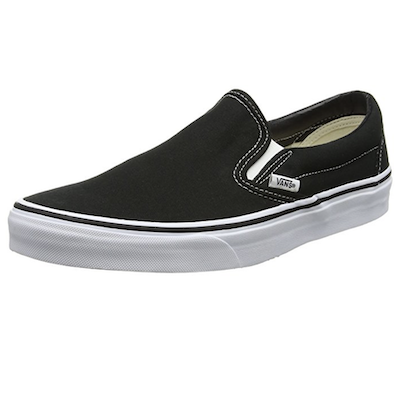 Vans brand has been trusted for comfort for a long time. Well-padded and with good quality insoles is something that is expected of Vans. The classic slip-on look with elastic side pieces makes these shoes flexible and great for all-day wear. Sitting can lead to swelling, during those test days, when you actually get to sit a bit, these shoes for teachers will give your feet some extra room and keep you feeling comfy. The rubber sole is good for impact absorption and gives you good grip and traction on potentially slippery floors.
Trying to find a good pair of footwear can be difficult, especially with what things cost nowadays. The look of the Vans Classic Slip-On will go with many style choices. Easy to dress up and available in a variety of colors, your feet can feel great and you can look great all at the same time.
Vans has been providing great looking shoes for decades. With a massive following, they are able to continue giving us the quality and comfort we have come to expect at a very affordable price. These will fit into any budget easily, and help gain you some coolness credibility with students. Start your day by wearing them with any outfit and end your day with feet that don't hurt and the knowledge that it all didn't cost you an arm and a leg.

8

. Keds Champion Original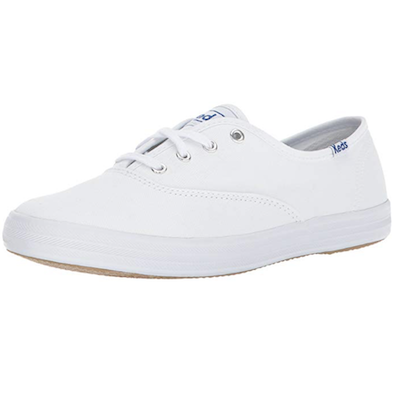 The original and still popular 100 years after it was originally introduced, the KEDS Champion is a comfy little flat sneaker that will take the beating you give it during the day. Lightweight, shock-absorbing and featuring excellent traction on most surfaces, you'll be able to focus on your lessons rather than your feet.
This model includes an already tried and tested Ortholite insole. With great shock absorption and durability, it will provide you with comfort for an extended period of time.
It's often hard to find comfy shoes for wider feet but the original KEDS Champions come in wider sizes. However, they don't offer any arch support, which means they are not suitable for flat feet. The Champion is a reasonably priced option and with the classic style, breathability and durability these offer, they are well worth the cost. Cool, dry and well-cushioned, they will get you through your day and well into the evening.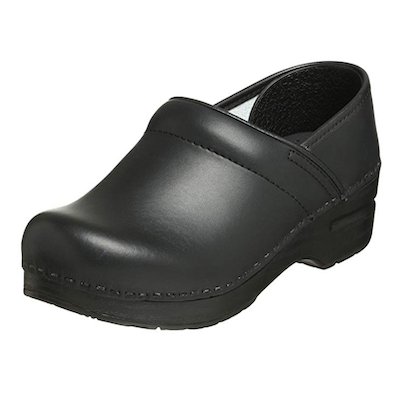 These roomy clogs were designed for long-wearing comfort. A padded instep collar and leather sock lining make sure your feet stay happy, while the protective TPU heel counter lets your heel move freely. The Professionals reinforced toe box design offers protection with lots of wiggle-room for toes.
The padded step collar provides extra support and cushioning at the ankle. This will help prevent rubbing, and will prove to be quite useful if your feet tend to swell.
The TPU counter stiffens the material surrounding the heel to provide extra foot support. When you walk your heels strike causing shock and eventual pain. The heel counter will help reduce this shock and keep you feeling great, even after a very long day. While these clogs are on the pricier side of the list, they offer excellent value. Each pair is hand-crafted with staple construction resulting in superior stability, support, and cushioning. Designed with a polyurethane rocker-bottom sole which protects your feet, back, and legs from the pressure of walking.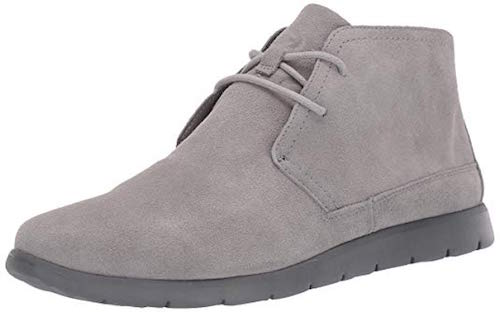 Another chukka boot, the Dustin is a polished suede model that uses a classic suede upper and puts it on top of a sole you'd find in a pair of sneakers made for running. With the variety of classic colors that are offered, and the sleek, minimalistic lines, this is the perfect item for those who want to look their absolute best while teaching and inspiring the next generation. Add to that the fact that it's a quality product by a reputable brand, and you quickly realize that even though the price is slightly above average, it's well worth the purchase.
Made with suede, this chukka can be expected to perform really well, for long periods of time. This type of leather is softer and more flexible than full grain, but still retains all the features that make it such a popular material - it's breathable and lightweight, and is resistant to wear. Although it won't be appropriate for wear in rain and snow, and will take some extra care, it's a great choice for transitional weather.
The footbed of the Dustin is made with EVA foam which is often used in running sneakers due to its shock absorbing properties. Those who work as educators know how much standing a single period requires, so a sole that prevents fatigue but that's supportive and lightweight at the same time is a great feature. Overall, this is a good choice for those who don't only care about comfort and functionality, but also want something that looks great.

Subscribe to our Newsletter