Best Budget Running Shoes – 2021's List
In a
Hurry? Editors choice: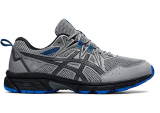 Test Winner: ASICS Gel-Venture 8

Expensive doesn't always mean better. A good pair of budget running shoes is a great way to get out on the trails without thinking about the hit to your bank account.

If you are working with limited funds, you can still score a pair of name-brand trainers at a reasonable price point.

We made sure to pack our list with trusted names that utilize responsive and modern features while still keeping the price tag pretty low. Plus, if you are just getting started, we suggest opting for a more affordable design to help you decide which design of sneaker works for your running style.

On this list, we have rounded up some of the best budget-friendly running shoes to put miles behind you without draining your bank account!
Standout Picks
Criteria Used for Evaluation
Breathability
The material is very important as well when choosing running shoes, you want something that is breathable and allows for proper airflow.
Any sort of synthetic material will not be very breathable and will make your feet feel stuffy and sweaty. Although a more affordable option, it is a cheap material and you want to avoid that in the upper part of your shoe.
The upper should generally always be made with mesh which is great year-round, but especially in the summer when your body and feet are already hot. A mesh upper is flexible and will keep your feet cool and dry all day.
Leather is also common in running shoes and although it is very durable and looks sleek, it is simply not as breathable and tends to show wear much quicker. When you run, your foot bends, and this will cause the leather to form creases, whereas mesh does not. Leather will protect against odor, so a mesh leather combo is a perfect choice.
Keep in mind that there are different running shoes for different terrains, and ones made for soft surfaces like trails will wear out much quicker if they are being used on concrete.
If you wish to switch up the environment in which you run, you will need different shoes that are specific to that terrain.
Comfort
In every shoe, comfort is paramount.
An uncomfortable shoe means an uncomfortable run. Your feet are delicate and fragile and need all the protective comfort they can receive. That protective comfort can come in the way of cushioning.
Cushioning requirements vary from person to person and different parts of the running shoe are cushioned. Your arch will also determine how much cushioning you need.
The insole needs to be flexible and soft but stable and supportive and a removable insole is best for people choosing to wear orthotics.
The midsole is where the most stability, shock absorption, and cushioning happens so it needs to be well built and durable or your body will feel it. Special touches in cushioning such as the collar or tongue can make a difference as well.
Most running shoes do not require a break-in and should have stretchable materials such as mesh so the shoe will move with your feet. If the shoe feels oddly fitted or uncomfortable when you first wear them, it's probably the wrong size, construction, or shoe for you.
Durability
The durability you need in a pair of running shoes depends on how you will be wearing them and where.
Most shoes should last between 300 and 400 miles, but it is possible for them to wear sooner if you are not wearing them as they are designed for.
The easiest part of a running shoe to notice wear in is the outsole, take a look at the bottom of your shoes and look for cracks, or worn down areas. Although they may still feel okay when you run, do not prolong the life of a pair of running shoes, it will only lead to uncomfortable and possibly painful runs.
The midsole which cushions your impact will begin to break down over time and begin to offer you less and less cushioning. Most midsoles are made with EVA foam which is very durable and resilient and may hold up long after your shoes need to be replaced.
If you run more casually, say on the treadmill at the gym, rather than outdoors in different conditions, on different terrains, your shoes will most likely last longer, and in that case, will not show wear in the same way and should be switched out around every 6 months.
Durability is determined by what kind of running and how often. In the wrong type of durability, a lot of running will wear them out quickly.
Fit
Running shoes are a very specific type of shoe, and will never be a one size fits all.
Fit should be your number one focus when choosing a running shoe. Determine the size and shape of your feet and what kind of running style you might have. Take note of your arch as well because your arch affects your running style.
There is no one size, one design fits all in running shoes. Once you have determined the type of feet and run you have and what support or other features you may need, it can be easy to choose the correct shoe you need.
It's best to order size as your feet will swell up but if there is a particular fit that fits you best, stick with that instead.
In addition, choose shoes with laces instead of straps as you'll have greater control in fit and will be provided much better security, support, and stability.
Protection
There are many parts of a running shoe that are cushioned, and each of these is very important when it comes to protecting your feet.
Everyone's level of cushioning will vary, and depending on your arch you may need more support than others, but a basic running shoe should be sufficient in properly cushioning your feet.
Insoles should be soft and flexible yet still offer good support and stability. If you tend to need orthotics, look for running shoes that have a removable insole as these will best accommodate them.
The midsole gives the most stability and is where the shock is mostly absorbed so if it is not durable and built with proper materials your feet and the rest of your lower body will feet the brunt of your run.
Not everyone needs a thickly cushioned midsole, and some runners actually prefer a barely-there shoe that gives them an almost barefoot-like feel. It is completely up to you what feels right, and optimizes your performance.
Unlike sneakers that often times are stiffer and do need to be broken in, running shoes are built to feel great and be used right away.
Because of the stress and impact being put on your lower body during a run if your best running shoes for the money were not able to immediately accommodate your feet out of the box, injuries could occur.
Top 10 Budget Running Shoes
The Gel-Venture 8 from ASICS provides runners with a host of supportive and stabilizing features without draining your bank account.
The very first thing that we noticed about this design is that it hosts a supportive knit upper that is super comfortable and breathable. Mesh panels in key areas help to lift hot air up and away from your foot.
Synthetic overlays help to keep your feet supportive and a padded collar and tongue provide extra comfort on those long runs.
For added stability, this design is equipped with a rearfoot GEL technology cushioning system that offers excellent energy feedback. Runners can feel the extra spring in their step throughout all stages of the gait cycle.
It also boasts an Ortholite sock liner that helps manage moisture and odors to keep your feet cool and dry.
If you need a pair of lightweight stability trainers for a wide variety of workouts, this design is with a look.
When you take a look at all of the advanced features that Saucony offers with the Cohesion 14, many feel that this shoe is underpriced.
While the style of this shoe doesn't break any new ground, it is a great option for those that need something that is flexible, provides a good deal of movement for a wide variety of workouts, and offers excellent cushioning and energy feedback.
This design lives somewhere in between a stability trainer and a minimalistic trainer.
The mesh upper is super lightweight and flexes to the shape of your foot for great movement. It isn't bogged down with a lot of synthetic overlays, which helps your foot breathe on hot days and the stretchy materials promote a perfect fit and excellent lockdown.
What runners love most about the Cohesion 14 is that it boasts a lightweight midsole that offers excellent energy feedback throughout your entire gait cycle.
It has a 12 mm drop, which is typically only down in serious stability trainers. This high drop makes this shoe ideal for heel strikers of those with a heavy step.
While it boasts a ton of supportive features that help cushion and protects your foot, the Cohesion 14 isn't overly heavy.
If you are looking for a sleeker design of stability trainer that comes in a wide variety of color options, the GT 2000 9 is worth a look.
This shoe is packed with a host of supportive features that help cushion and support your shoes, as well as lock it in place without too many overlays that can become a little stiff.
What makes the GT 2000 9 stand out from other ASICS stability trainers is the construction of the upper. It omits many of the synthetic overlays designed to cradle and support your foot.
By opting for a stretchy and breathable knit upper with a unique lacing system, it locks your foot down securely in place while still offering excellent movement as well as breathability.
We also love that the design of this midsole mimics the midsole found in some of the more expensive stability trainers in the ASICS lineup. It offers runners a thinner layer of their patented FlyteFoam in the midsole which provides excellent energy feedback throughout your entire gait cycle.
If you need a pair of affordable stability trainers that are lightweight and flexible enough to keep up with your dynamic workout routines, this design from ASICS is a great choice.
If you need something that is lightweight and versatile for a wide variety of workouts, the Nike Revolution 5 is worth checking out.
This newest model of the Revolution design offers some more modern features found in more expensive Nike trainers while still keeping the price tag low.
One of the things that we loved most about this design is that it is equipped with Nike's Epic React Foam found in this midsole. This foam provides users with excellent energy feedback throughout their entire gait cycle, and it is often reserved for more expensive designs in the Nike lineup.
We also love that the upper of this design offers great movement as well as breathability. This makes it an excellent trainer for CrossFit, HIIT, weightlifting, or simply running.
It is important to note that there isn't a whole lot to the construction of the upper, which means that your feet may easily become wet in the face of even a little moisture.
The reason that we placed the Nike Revolution 5 at the top of our list is that it comes equipped with some of the more expensive materials such as the Epic React FOam that is often reserved for more expensive brands.
This provides you excellent cushioning and energy feedback when training on hard surfaces, and offers excellent movement in the upper.
5

. Under Armor Micro G Assert 7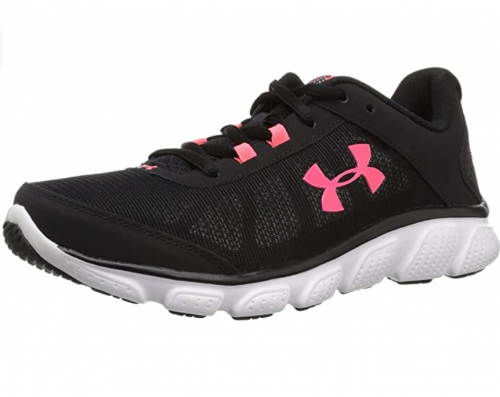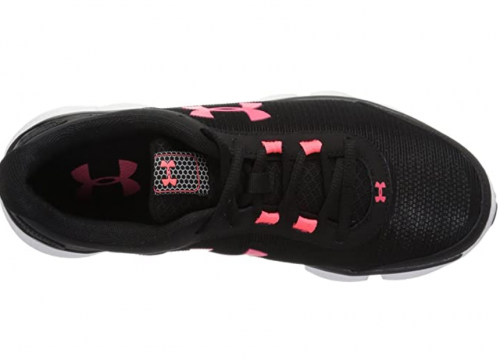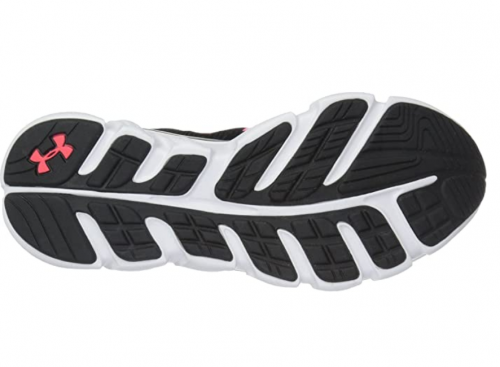 You are going to feel and look great in the Assert 7. They are constructed to provide a great fit without adding extra weight that'll hold your run back.
The upper is mesh and the outsole is rubber. Plus, there is an EVA sockliner, the midsole is Micro G foam and a midfoot locked-in fit. You'll have awesome comfort and support in every step in these cheap running shoes.
Having overlays constructed with leather helps you in multiple ways. It helps to lock in your midfoot which increases stability.
The material increases durability and decreases wear and tear. Lastly, leather gives a much more stylish and high-quality appeal.
These running shoes feature stabilization and true fit and will provide a run that is balanced and focus. You'll have a run that is less painful and better defended against injuries.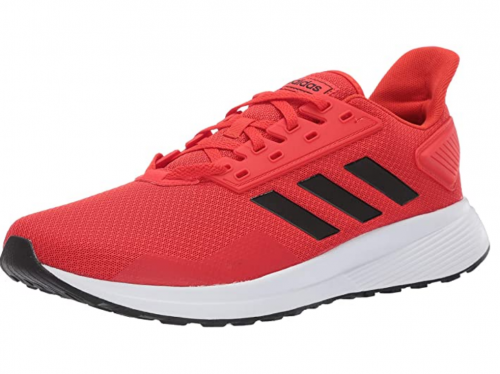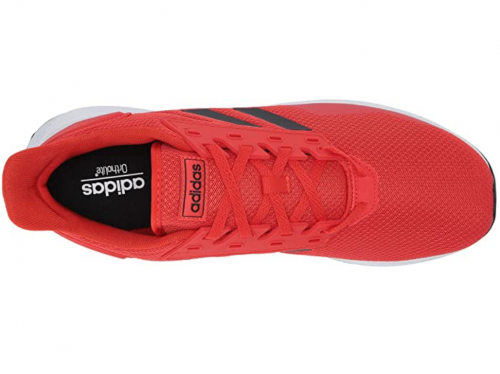 The Duramo 9 Adidas running shoes make for an excellent choice for all those who want streamlined, lightweight sneakers that works just as well for long walks and gym workouts as it does for runs on road surfaces.
It's the brand's most popular model when it comes to budget running options, and considering the durability and comfort it provides, this comes as no surprise. It comes in several simple color options, making it really easy to wear it as an everyday model.
The upper consists of durable double mesh that's breathable and offers a seamless fit on the inside (so you can even wear these barefoot), while printed overlays ensure stability, keeping the weight of the shoe to a minimum.
The lacing system is customizable, allowing users to get the best possible fit, while an external heel cage prevents movement inside the shoe.
The midsole of the Duramo 9 is made with Cloudfoam, a cushioning system that's highly comfortable right out of the box, and that's lightweight enough for longer runs. The Adiwear outsole is durable and non-marking, and most importantly, abrasion-resistant.
As for the price range, this model ranks average, but certain colors can even be purchases for cheaper, making it one of the most affordable models on this list.

What we love about the 510 V5 from New Balance is that it boasts a unique retro design with a host of modern features to keep your feet comfortable and supported.
This design is a perfect option for a wide variety of workouts that include running as well as HIIT and weightlifting.
The very first thing that we noticed about this design is that it has a blend of leather and knit for the upper that helps keep your foot supported.
The placement of the leather panels helps promote lockdown and enhance stability as you run. The knit panels are incredibly breathable and help to move hot air up and away from your foot.
The best part about the 510 V5 is that it has quite a few features that help absorb the impact of your step as well as provide excellent energy feedback. It boasts a FuelCell midsole that works to absorb the impact when running on hard surfaces.
A modest 6 mm drop keeps you more in tune with the road ahead of you, making this design perfect for working out at the gym or on the trails.
The rubber outsole with modest lugs makes this design great for trails or working out at the gym.
8

. Adidas Energyfalcon Adiwear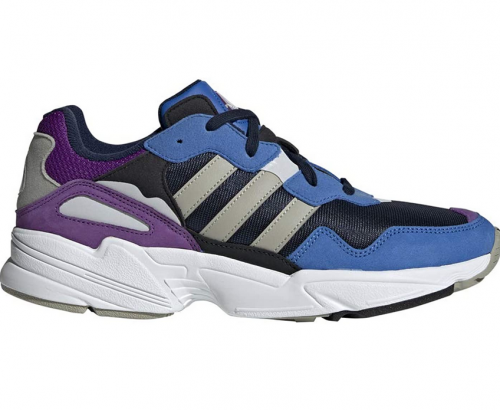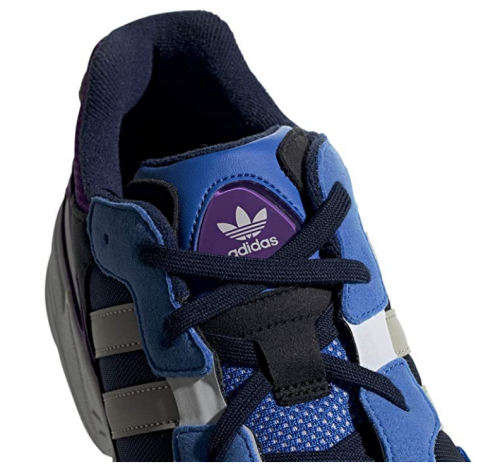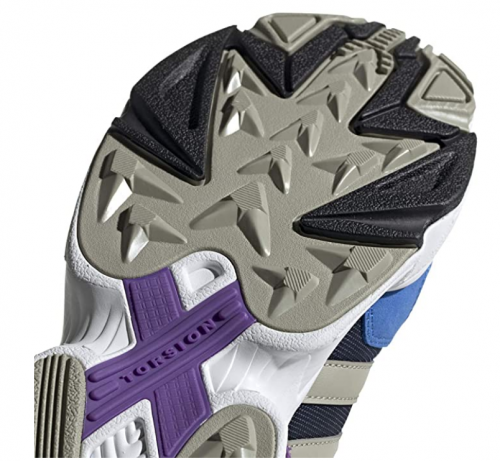 Simplicity is the name of the game when it comes to the Energyfalcon Adiwear from Adidas.
This design is not only affordable, but it is super lightweight and versatile. It omits many of the advanced features found in other Adidas trainers to keep the price tag low.
However, it sports a well-designed frame that helps to even out your ride and provides excellent energy feedback when running on hard surfaces.
The very first thing that we noticed about this design is that it sports a breathable and lightweight mesh knit upper to keep feet cool and dry.
The design of the mesh stretches over your foot for a secure fit and offers a good deal of movement when running or engaging in CrossFit. Plus, it comes in a wide variety of unique colors and design options as well.
The midsole is composed of a layer of Cloudfoam technology that provides a good deal of cushioning. This midsole puts an extra spring in your step, but it is made from super-lightweight materials that won't weigh you down.
If you are in the market for something that is lightweight and easy (that also takes it easy on your wallet) this is a great choice.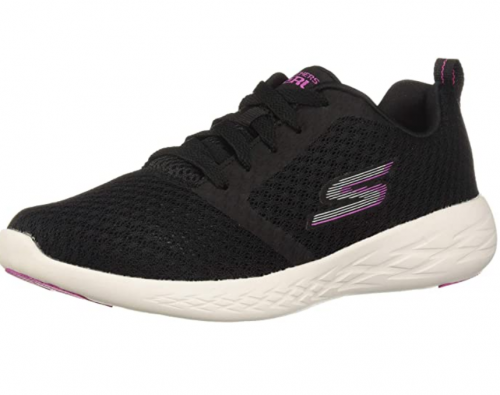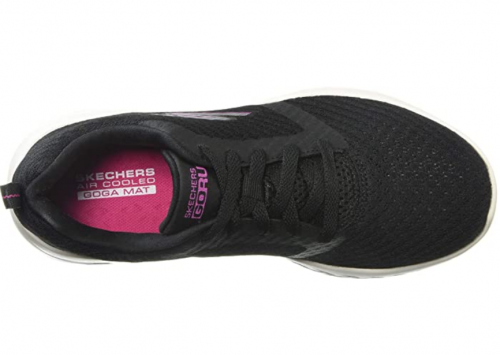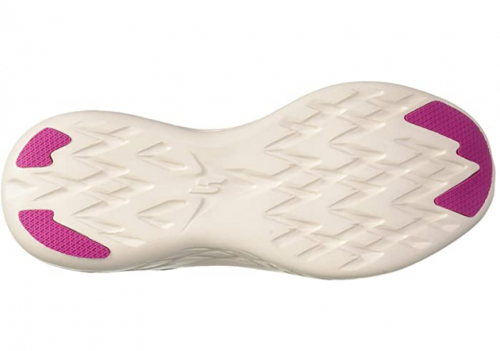 You can count on Skechers to make footwear that performs great, but is still affordable for the average user.
The brand's GO Run series was developed to provide excellent cushioning without bulk and weight, and the 600 series appeals mostly to those who are after lightweight models that will easily transition into casual wear as well.
The upper of the Go Run 600 uses a combination of jersey knit fabric and mesh in the upper for a flexible, lightweight feel that supports the foot through the 3D printed overlays.
As for the cushioning system, it consists of a 5GEN midsole that is responsive and durable, while a GOGA Run insole provides additional shock absorption.
The shoe is constructed using a parametric construction which encourages a natural gait cycle, ensuring a good amount of support to all neutral pronators.
The outsole is made with wavelike grooves that grip the road and indoor surfaces well, although its durability is considerably lower than some of the other models listed here.
The price of this item is around average, making it a great investment for most casual runners, as well as those looking for great comfort and fit at an affordable price.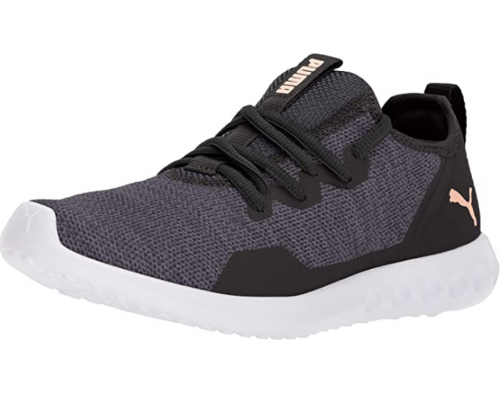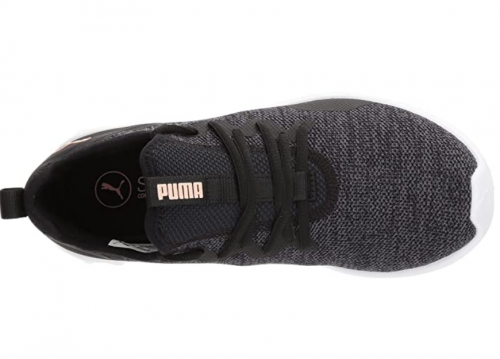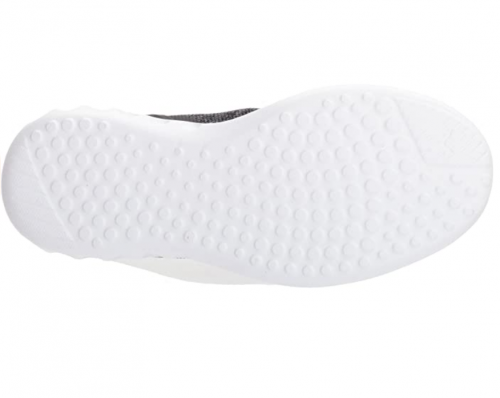 If you're a fan of knit options - which are usually more durable and supportive than mesh, but provide the same amount of breathability, the Puma Carson 2 X Knit is a good choice.
It comes in several color options, most of which are based on grey, while the slip on construction eliminates bulk. A lacing system is still present, allowing you to customize the fit to your preferences.
The model features synthetic overlays for added midfoot stability, and pull tabs at the tongue and heel ensure easy on and off.
As for the tech included in the Carson, this model features a ground-contact EVA midsole that's become an industry standard in running footwear. It provides protection from shock, and is lightweight enough for most users.
The outsole is made with the same EVA compound that's found in the midsole, with a circle traction pattern that does a good job on flat surfaces. It is, however, one of the least durable outsoles on this list, and probably won't do well on abrasive surfaces, or all-day use.
Nonetheless, the low price of the Carson 2 X Knit makes this an appealing choice for the average user, or those who are just starting to get into running, and don't want to spend too much until they figure out what it is that they require.

Subscribe to our Newsletter