Best Ice Grippers & Cleats for Shoes
last updated:
Feb 20, 2021
Ice cleats, traction aids and crampons are all fantastic ice grippers when walking or jogging in snow and ice. Providing the perfect balance of traction and stability, ice grippers can easily be attached to your shoes, allowing you to safely navigate through snow and ice without slipping and getting hurt. 
Ice grippers can range in design, size, and price, and when it comes to picking the correct ones for you, it may seem like a minefield.
That is why we have reviewed and selected some of the best ice cleats on the market so you can be sure to stay firmly on your feet!  
In a Hurry? The test winner after 9 hrs of research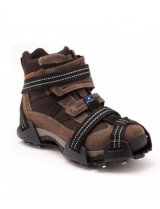 STABILicers MAXX 2
Why is it better?
Replaceable cleats
Heavy duty
Full-sole coverage
Quick on/off design
In a
Hurry? Editors choice: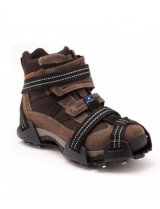 Test Winner: STABILicers MAXX 2

5
Researched Sources
11000
Reviews Considered
9
Hours Researching
10
Products Evaluated
Use
Traction
Durability
Ease of Use
Portability
By Default
Top 10 Ice Grippers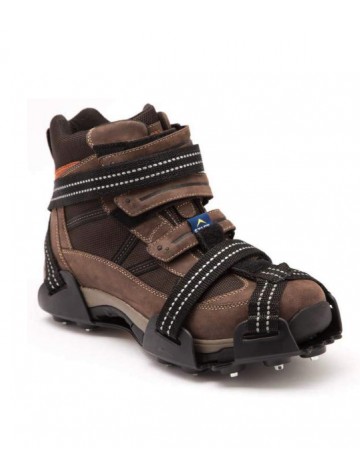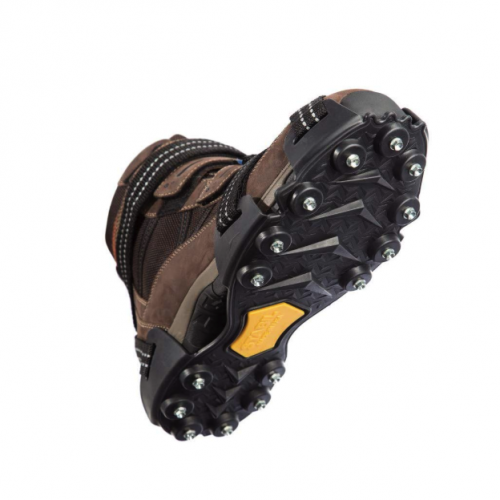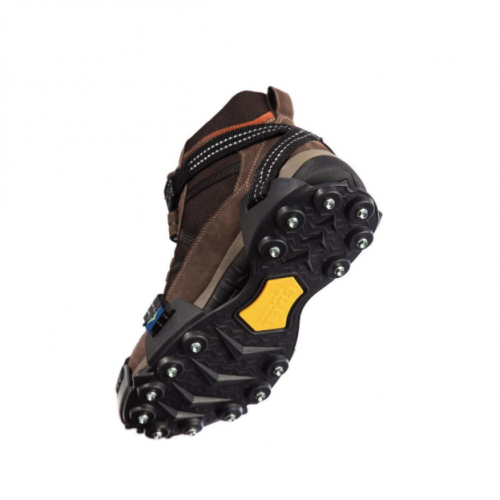 Replaceable cleats
Heavy duty
Full-sole coverage
Quick on/off design
These sturdy ice gripping sole cleats provide unsurpassed traction on snow, ice, or even mud. Some terrains can be tough to go through, but with the STABILicers MAXX 2, it's literally a walk in the park. The 34 casehardened cleats bite into the slickest snow or ice, giving serious traction.
You can find these ice cleats for shoes used by the military, police, rescue professionals, and many others. Understandably, they are applicable in many types of terrains to find them applied so diversely. When braving harsh winter conditions is part of the job, the MAXX 2 makes it a little easier to navigate.
Thanks to the Velcro fasteners, you can attach them to your favorite winter boots or shoes fast and easy. When one of the cleats deteriorates, rather than throwing the ice grippers as a whole, you can replace them by ordering new ones from the manufacturer. They also offer an option of brass cleats, which are softer and non-sparking.
The sole is made of rubber, which is flexible. This property makes it easy to apply these crampons to many sorts of shoes without sliding. The rubber is also foldable, and you can fold it to fit a small bag. Instead of chains supporting most grippers, the straps are made of rubber, making the MAXX 2 supper light.
Suits varying footwear
Multiple size options
Long spikes
These award-winning (backpackers editor's choice 2012 award) crampons have a grippy, durable, easy to slip-on traction system. Ever since the brand won the prize, little has changed from the strategically laced stainless steel spikes to the tough elastomer shoe harness connecting the dynamic flex chain. With all that's going for it, you can get a pair and walk comfortably over any slippery, snowy, or icy terrain.
The Kahtoola also stand out by how easy and seamlessly they fit over shoes or boots designed for their size. They don't require straps or buckles seen in most of their competitors. Their reputation precedes them, as seen from the multiple positive reviews. You can take advantage of the two-year warranty if in doubt.
These grippers are durable and lightweight, featuring ten tungsten carbide spikes on either side. The 3/8 inches long spikes, bite into icy surfaces, giving you optimum levels of balance.
With such minuscule lengths, you won't lose your balance, as seen in those with longer spikes variations. The chains don't jangle, and you can maintain a natural stride over multiple terrains.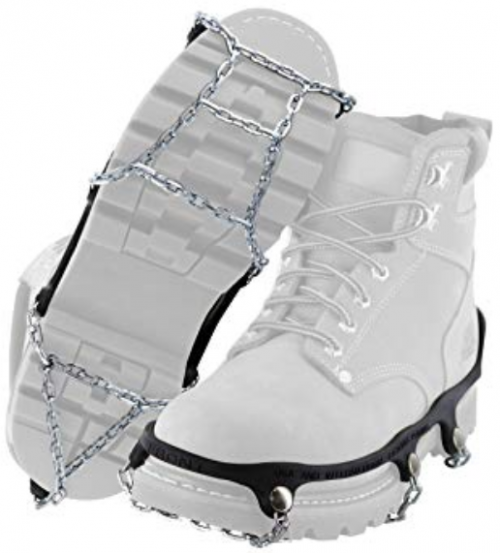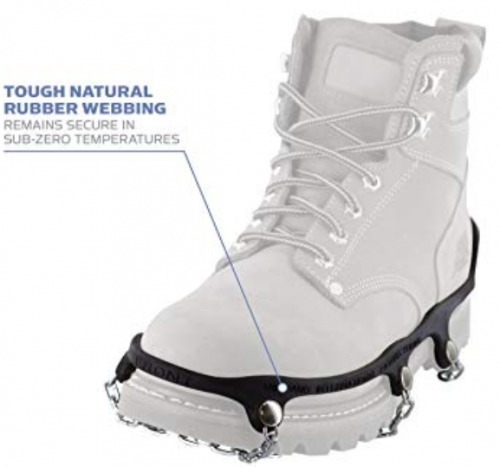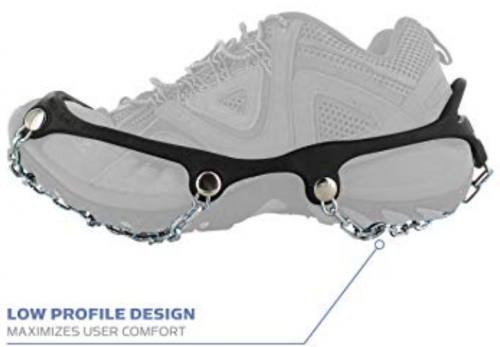 360-degree traction
Fairly priced
Easy to lace
These grippers are widely used by runners, hikers, walkers, and winter athletes to reduce the chances of falling. The ten gripping points ensure you have a natural stride. The abrasion-resistant stainless steel spikes, fill the bottom of your shoe to bite the ice. Multiple coil angles on the carbide-steel spikes combine to offer all-around traction on snow and ice surfaces.
Natural rubber, which is stronger and more durable than alternative materials, holds the device together. The square-shaped welded links bite into the ice while being resilient in abusive conditions.
It also has impact nubs, strategically located in high-wear areas, to add to its durability. These grippers are so easy to place, by directly hooking the straps over your shoe toe area, and stretching it over the sole, locking them in place.
The ladder pattern design on the chains ensures heel to toe traction, maintaining a low profile to ensure user comfort and balance.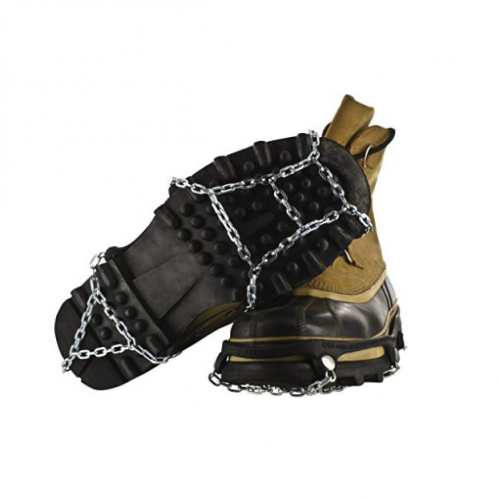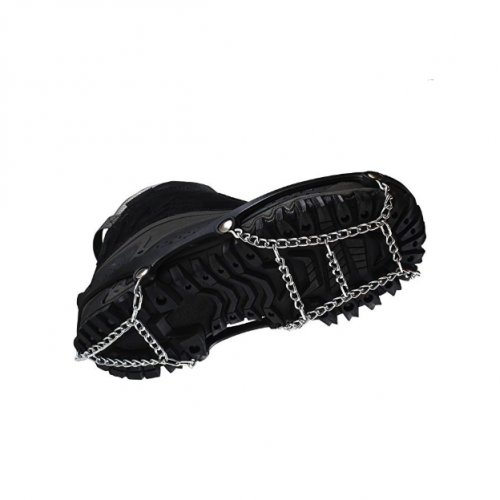 Affordable
Easy on & off
Patented chain design
These tire chains have individually welded case hardened square steel links. The TIG-welded chains are arranged in unique ladder patterns under the ball of the foot and triangular on the heel to ensure a stable footing, comfortable for extended wear. You get this and much more at an affordable price too.
The ladder pattern design also gives you more stability because of the low profile, as the square-shaped links aggressively bite into the ice.
The black rubber sling is flexible, even in subzero temperatures, to clamp the gripper onto your shoe and for easy storage.
The designers of these grippers for shoes borrow from high-end tire chains found in cars. With their expertise, every detail of the chain, cables, and studs are carefully scrutinized, to ensure you are primed to take on slippery terrains, just like a monster truck. By using said principles, you can comfortably tackle different conditions adequately.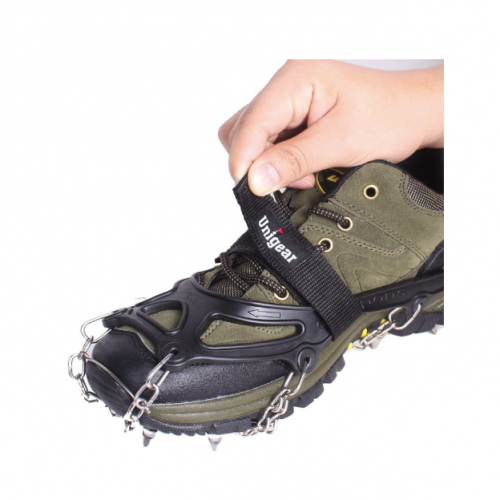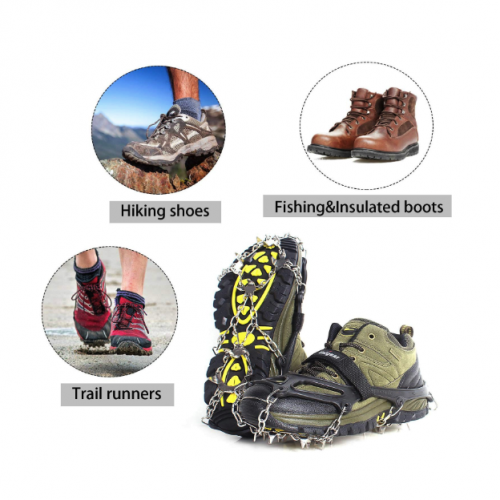 Ergonomic plate system
Carry bag included
Fairly priced
These snow spikes are worth every penny, managing to overcome most shortcomings by their competitors. Some options aren't large enough, making them useless in the snow, while others are just too expensive for nothing. Unigear manages to suit most people by having an excellent design and premium materials.
The chances of slipping and falling over in the snow are significantly reduced because of the 18 or 13 spikes on either cleat, measuring ½ inch long. These hardened stainless steel spikes dig deep into icy terrain, offering maximum traction. The double reinforced eyelets also add on to the overall durability.
The elastomer harnesses, made of TPE, stay supple and flexible in frigid temperatures. Additionally, the elastomer bands are anti-abrasive, and the edges are thickened so that they don't tear easily. The hook and loop mechanism makes it easy to get them on or off your shoes.
You can choose a pair of either orange or black. These crampons are also conspicuous because of how they are held in place with chains. The only issue is that the spikes are so long and sharp, so you have to remove them in most pathways. Nevertheless, hiking a steep snowy mountain or weaving through an icy driveway couldn't be easier with the Unigear traction cleats.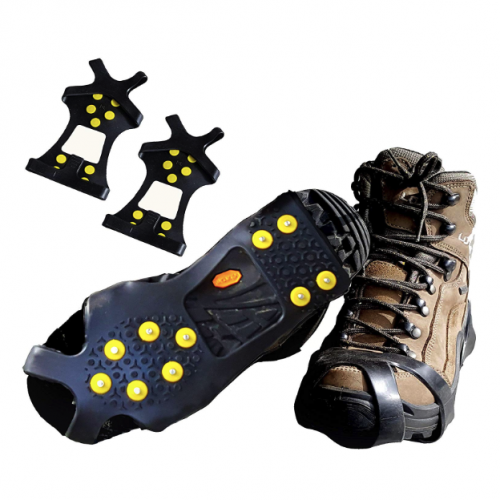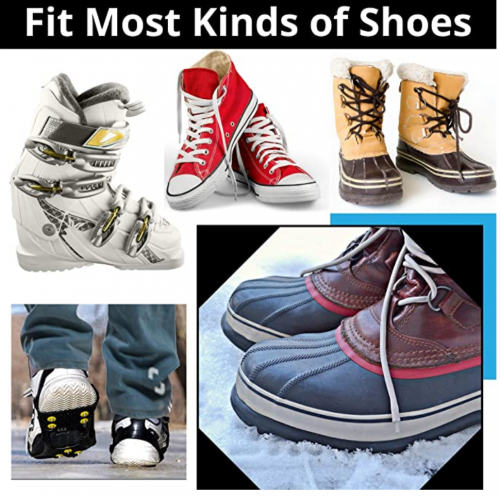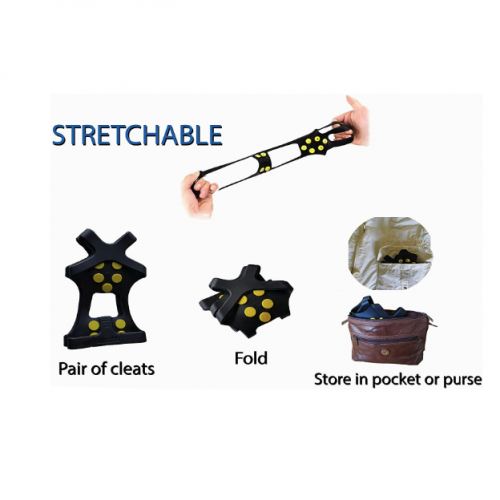 Multiple size options
Rolls to size
Fast placement
This unique pair of ice cleats will prevent you from slipping and hurting yourself in the snow. Another stand out feature is how they have many fixed-size options, rather than having adjustability in general. You first outfit the front part of the shoe and adjust the back end. Tightening straps are also included for and even more secure fit.
You have the option of big spikes, excellent for the thickest snow and standard: suitable for most terrains.
The design ensures full foot coverage, as you slip the Limm cleats over your footwear in seconds. Either option rolls up into a super small size, to put in the convenient carry bag included or in your pockets.
The ten heavy-duty steel studs offer excellent traction on very slippery surfaces. The multiple size options make it perfect for professionals, pedestrians, the young and elderly as well. These high-quality cleats keep you out of harm's way in winter terrain.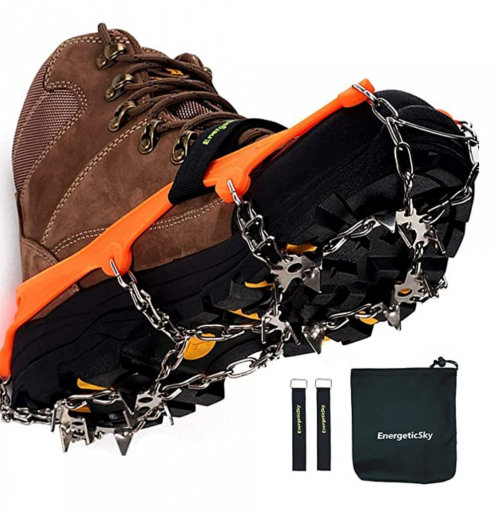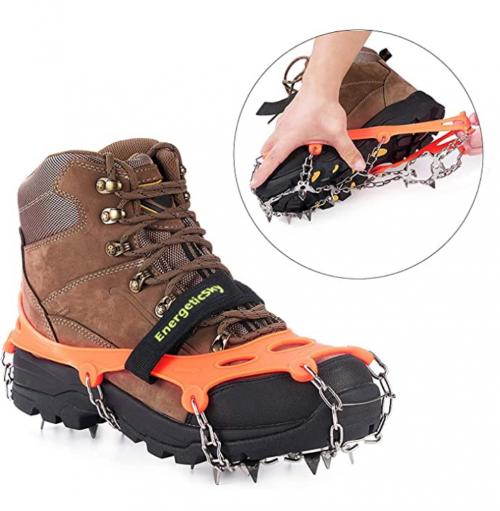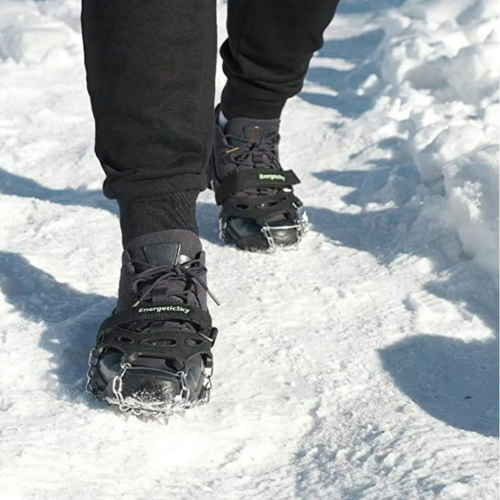 Patented silicone design
Full-sole coverage
Abrasion-resistant spikes
These pair of ice cleats from EnergeticSky are suitable for ice fishing, winter trail hiking, and even traditional fishing. The 19-multi directional spikes provide excellent traction on icy surfaces. The strategic placements of the spikes ensure uniform distribution, providing durability, comfort, and balance.
The robust spikes are abrasion resistant and held together by a sturdy stainless steel welding chain. You can confidently walk on wet, icy paths because the materials used are also rust-resistant. The treads in conjunction with cleats prevent slipping on smooth terrains.
Rather than the usual TPR rubber found in most ice grippers for shoes, EnergeticSky uses silicone, which won't tear easily when compared. Additionally, the silicone fabric is lighter and still maintains its plasticity in up to -60 degrees Fahrenheit. That's not all; you can mold the crampon better thanks to the silicone, making it fit most shoes and easy to store by folding it more.
With these crampons on, you can go about your day-to-day activities confidently with the snow or ice under your feet. You can get a pair in three different sizes and in black or orange.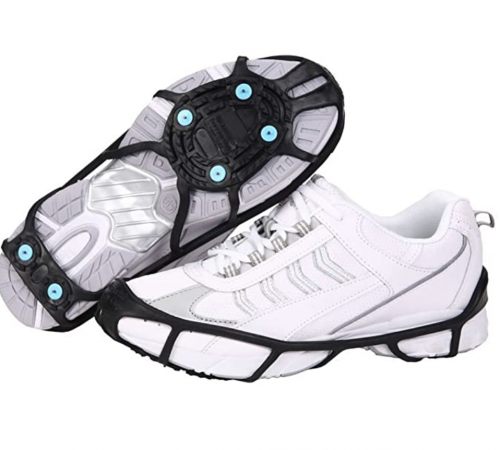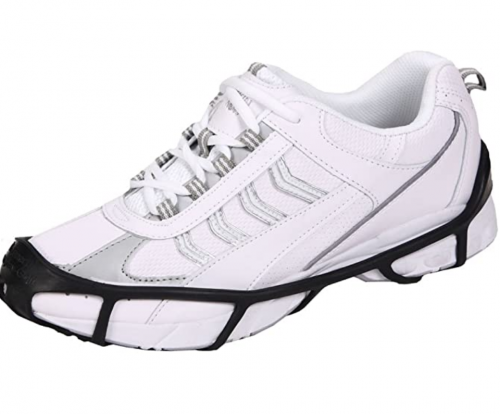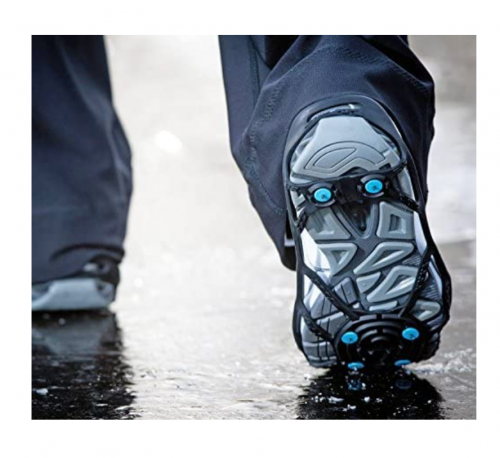 Supportive
Minimalistic design
Has webbed soles 
Portable 
Strong and flexible
Only available in 2 sizes 
Durability issues
Designed to be worn with lightweight casual, athletic, or dressy shoes, the Due North Everyday G3 will provide you with the support and stability you need when walking or running in icy and snowy conditions. Unique in comparison to a lot of the other cleats in our collection, these traction aids have been designs to be minimalistic, you could even say practically invisible.
The webbed sole design allows the tractions aids to adapt to the shape of your shoe, whatever style they may be. When not in use, the traction aids are small enough so they can be placed in your coat pocket or bag. 
The Due North Traction Aids feature traction pads that stop ice and snow from building up between your shoes and the traction aids. They have been made from a special rubber compound that is strong and retains an elasticity, particularly in cold temperatures. The traction aids have also been cleverly molded to be more comfortable and feature a support hole on the heel strap, allowing you to easily adjust the tension and make them quick and easy to put on/ take off.
A textured lining prevents you from slipping on the sole of your shoes and ensures a secure fit. They have a 360-degree spike pattern that improves the level of grip. These also have 6 tungsten carbide diamond spikes placed along with the rubber tread, providing a great level of traction.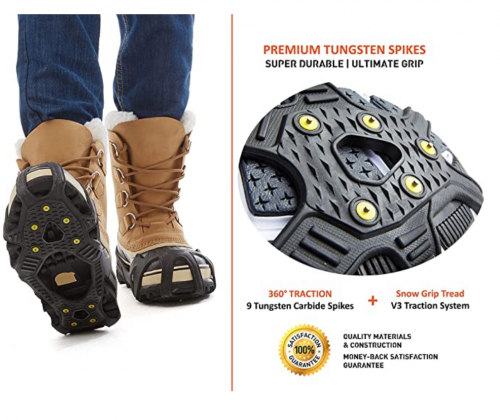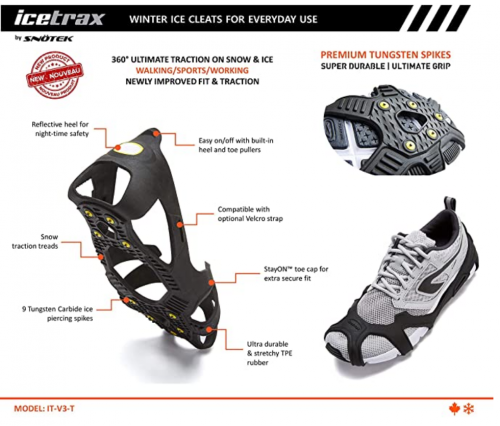 StayOn toe caps
Easy to put on/ take off
Extreme weather conditions 
Built-in reflective heel
Extremely durable 
High price 
Only come in 2 sizes 
These ICETRAX V3 Tungsten ice grips have been designed to wear in extreme snow and icy weather conditions. Whether you are shoveling snow, walking, or even running, you will feel safe and fully supported. This option features a snow tread traction system and 9 strategically placed ice cleats creating the ultimate level of traction.
The ice grips have StayOn toe caps that guarantee a snug and secure fit. The design feature also prevents the ice grips from moving around when you are on the move, providing brilliant stability as well as safety. The lightweight ice grips are extremely easy to put on and take off. They are also portable so can easily be stored in your bag when on the move.
These have a built-in reflective heel, providing you with great visibility when walking at night or early hours of the morning. The ice grips are extremely durable, featuring reinforced joints. The surface material has also been made from a special rubber compound that retains its strength and elastically when exposed to extremely cold weather conditions.
The ICETRAX V3 comes in two sizes including Small/Medium and Large/X-Large. Sold for a high price, this is one of the more expensive options on our list. However, if you are looking for a quality pair of ice grippers and have the extra money to spend, these are an amazing buy!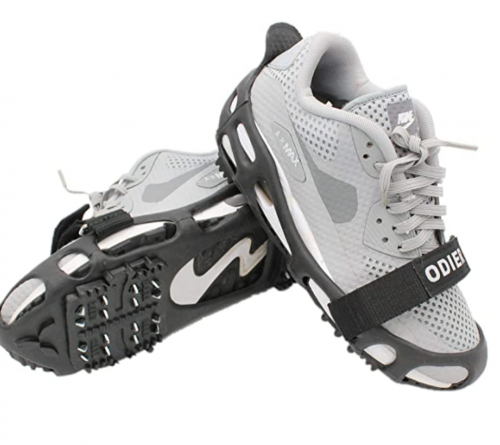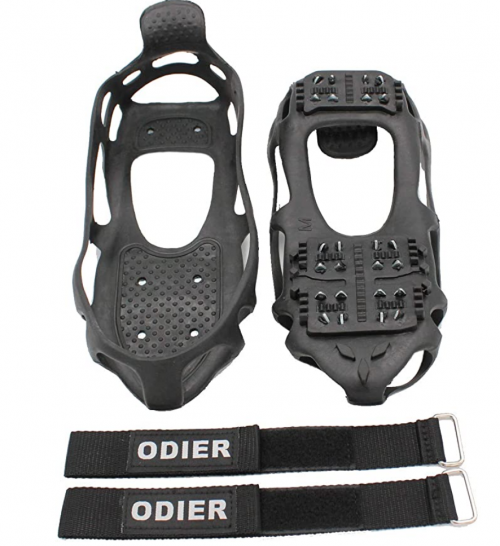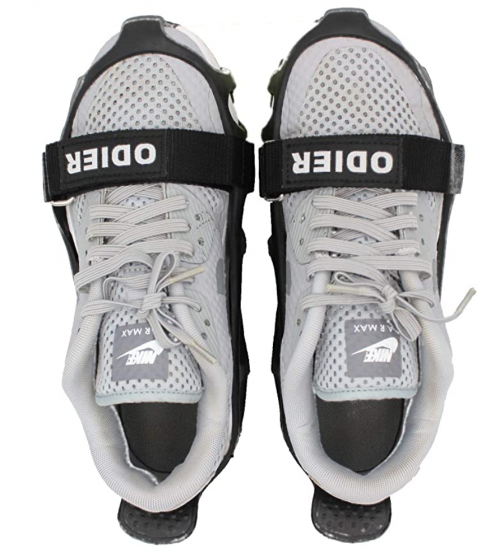 Elastic silicone material
Extremely durable
Choice of 10 teeth or 24 teeth 
Affordable 
The ODIER shoe ice cleats are a fantastic way of preventing you from slipping as soon as you step outside your front door. These are made from an elastic silicone material that wraps around your shoes. The ice cleats fit tightly around your shoes, so you don't need to worry about them coming loose. They also fit different shoe sizes so you may only require one pair per household.
As well as ice, you can wear these ODIER ice cleats on heavy snow, freezing mud, and even along an icy river. They are extremely durable, having been tested in exceptionally low temperatures and harsh snow and ice weather conditions. 
Whether you are wearing sneakers, boots, or shoes, the ice cleats fit easily around them with no difficulty at all. They come in different sizes including Small, Large, and X-Large.
You can also choose between a 10 teeth ice cleat or a 24 teeth ice cleat. These lightweight cleats weigh 100g per pair for 10 teeth and between 330g – 380g per pair for 24 teeth. They are being sold for a low price, making them extremely affordable. 
Criteria Used for Evaluation


Use
Even though ice grippers for shoes serve more or less the same purpose, there are different models, one better suited to a particular environment than another is.
Cleats with long spikes are better suited to surfaces that are drenched in thick snow. Models with chains are better suited for people who would love to take a stroll on the snow or ice.
When winter comes, you should seek out something that will improve your footing, rather than adding to your troubles. It is advisable to know the different types, so you don't waste your hard-earned money, buying cleats you cannot use. By choosing one of the different variations of cleats (chain or spikes) in this review, you will have a better platform to continue having a near-natural stride in wintertime.
Your selection of cleats primarily depends on your particular needs. Consider the frequency and location of usage. If you were to use the crampons more frequently, then durability should be your primary concern. Considering such factors will enable you to make a worthwhile investment. There is no need to buy equipment that will soak up dust on the shelves at a high price.
Some manufacturers in this list offer two options, a lighter version, and a tougher one that's sturdier. How you integrate your chosen gadget into your regimen and environment are the most important factors to consider.
Spiked cleats aggressively penetrate the ice, to provide reliable traction. Cleats with carbide spikes are more durable compared to those made of steel but cost much more. When it comes to versatility, some options featured here have removable spikes. You can tread on an ice-free surface much better without the spines.
Some models featured here also have studs or screws in the bottom for grip. Even though the initial cost is higher, in the end, it is much cheaper. The reason for this is that you can replace the studs, rather than discard the cleats in their totality after the usual degradation over time.


Traction
Evaluate the best grip for you, based on the activities you are engaging in.
When looking for the best ice grippers for shoes, it is imperative that you know what you are looking for. Numerous metal spikes provide enhanced grip on slippery surfaces, improving your stride. Chains let you move around the neighborhood or workplace with ease, without necessarily having to remove them in a communal scene.
For that reason, it is not advisable to invest in heavy-duty brands, best suited for hiking or mountain climbing, unless you're in such situations.
Most athletes who probably look forward to taking their regular runs, regardless of the climate, or say individuals who are passive hikers, probably don't need some heavy-duty artillery. Comfort and versatility of where the chains are used should come first to such people since they won't be undertaking a painstaking trip to the peak of a mountain.
For the average Joe, seek out a pair that will fit most of your winter shoes. The upper structure of the cleats should be easy to install on the protrusions of your shoes while securing them rigidly.
A suitable pair should have good composition, enabling you to walk on inclined, flat, and slippery surfaces effortlessly. Ice cleats feature either micro-spikes or Nano-spikes. The larger and more numerous the spikes, the more traction you get.
Models designed for walking or running in the snow are different from those meant for hiking or climbing. The latter usually has traction on not only the bottom, but on the front, back, and sides.


Durability
Seasons come and go, but you need cleats that are dependable when you need them.
Worthy ice grippers for shoes should be able to take the wear and tear for many years. This characteristic should be obvious, but lately, there is a surge of low-quality manufacturers flooding the market.
In this review, we separated the wheat from the chaff, so you don't have such complaints, more so when considering your safety on slippery surfaces.
Replacing your cleats should come after repeated use of them, rather than after a few cycles. The products in this list are literally able to carry you through several winters, without yielding to the stresses.
If purchasing cleats for hiking or mountaineering, ensure to check the durability of the spikes. Stainless steel is usually good enough, but some of the brands in this list go further than that. By the simple fact that suitable spikes will pierce into hard ice, sometimes similar in hardness to rock, and the points should be able to endure such forces.
Other long-lasting materials are carbide steel and aluminum. These materials are usually durable and sturdy enough to take on tough terrains. Additionally, they are lighter than the norm, so your pace won't be limited as much.


Ease of Use
Winter is hard; try to make it easier on yourself.
In the past, lacing your shoes with chains use to take eons. This norm would make the user dread the moment they fell off, in the middle of a cold, unforgiving trek. Luckily, with new designs and technology, this time is significantly short nowadays. Nevertheless, the levels of ease in wearing grippers still vary from one model, material, and brand.
Look at the webbing holding the traction elements. The parts could be cables, spikes, coils, etc. Consider what they are made of and how workable they are. Rubber, found in most of the crampons reviewed here is flexible to make it easy to lace over your shoe, yet solid enough to prevent the ice grippers from slipping.
When it comes to the design, you will find some with straps going over the top of your shoes, to keep the grippers in place. With straps on top, you will definitely have a secure clamp; however, it takes longer to lace them up.
On the other hand, those not featuring straps are easy to remove and put on. However, such options are less secure. Nevertheless, all options in this list are easy to put on, and it all boils down to how secure you need the crampons to be and your personal preferences.


Portability
Ensure you can move the ice grippers with ease.
Many often overlook this criterion. However, the same people end up ruing their obliviousness to the aspect. Good quality designs are usually easy to take on and off when required. Your chosen pair should fold easily to allow you to store them in your backpack.
Looking a little deeper, you will see that most of the brands featured here, provide an additional storage bag. This accessory makes it a little easier for you to store the products, which might also be hazardous if not stored correctly.
The extra carry bag also prevents the spikes from sticking out piercing your backpack. On a trail, it's probably a good idea to move light, without unwarranted weights.
Expert Interviews & Opinions
Most Important Criteria
(According to our experts opinion)
Experts Opinion
Editors Opinion
Users Opinion
By Default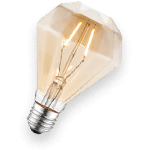 History of ice grippers for shoes
Nowadays, you will find outdoor adventurists, athletes, and workers frequently wearing ice traction gear. Military personnel in the arctic and mountainous regions were the first to adopt ice cleats. They looked so different in the past, compared to their modern counterparts. In the early nineties, you typically found them made of stretch plastics and hardened stainless steel.
In 1873, the first patent design had very little, having pins attaching built-in spikes to a grooved plate. On the wealthy could afford them, since you needed a shoemaker and clobber to create them. The modern models featured here are way less expensive, easy to slide over the shoes, and, most importantly, comfortable.
More manufacturers stepped up in numbers to make them with stretchy plastics and stainless steel in the early nineties. Rising demand came from emergency crews and winter sports athletes. Nowadays, thermoplastic elastomers (TPE) are used instead of stretch plastics. The most significant advantage of TPE is that it can maintain its elasticity in subzero temperatures.
Ice safety: why it's essential
All over the world, many people suffer injuries because of falls and trips, courtesy of ice. A lack of proper grip on your footwear is the primary reason, but some factors also do contribute but not as much. When encountering icy terrains, be prepared. With sensible decision making, you won't be another person to add to the statistics.
There is a reason why you see SUVs with snow chains. If the vehicle has the right traction, it will hardly swerve on the slippery surface, hitting giant snowbanks that mechanics have to deal with.
Conversely, with the right boots and grippers, you won't fall and possibly injure yourself, keeping the doctor away.
Other Factors to Consider


Bottom Line
Nobody would like to slip and fall. It is somewhat embarrassing, painful, and your clothing will stain, or even tear. Ice increases the prospect of such a risk a notch higher. It's almost a guarantee that you will slip on a slick surface if you don't have the right gear. Additionally, if the ice is not thick enough, you might end up submerged in freezing water.
Crampons are more heavy-duty compared to ice cleats. Ice climbing is mostly done with crampons. Here, you will find a combination of such ice grippers for shoes. What you should primarily focus on to know the difference is to look at the terrain you want to use them for, as discussed in the terrain criteria.
All factors considered, you are now in a better place to make a measured judgment in the ice cleats suitable for your distinctive needs. With the options laid out, you won't risk falling and hurting yourself as you tread through slippery surfaces. You may consider other factors, but first, get the basics like terrain and durability. It would be pointless to get a product that will serve you for a short time or one that's uncomfortable.
With ideal traction cleats, trekking on snow or ice will be less challenging. The ice grippers for shoes featured here are of high quality, long-lasting, user-friendly, easy-to-install, and offer a firm grip. The chains and spikes will grip surfaces and prevent you from sliding, slipping, or falling.
When it comes to selecting the correct size, ensure to get the exact measurements of your boots. Some winter boots are quite bulky, and you may need to go a size up when it comes to outfitting them with grippers. Therefore, be mindful of that fact, lest you get something that won't serve your needs.
Frequently Asked Questions
q:

Do shoe ice grips work?

a:

Yes. Ice grips are extremely effective and reliable when walking on icy or snowy surfaces. They provide a great level of traction that gives you enough support and stability, keeping you safe and preventing you from slipping. 
q:

How do I know which ice grippers are suitable for my needs?

a:

First, check the kind of boots that you have. If they are rigid, then a rigid crampon will suit them the most. If the boot is flexible, then a strapped or hybrid option is advised. You cannot switch one for the other and expect to be moving as best as you could.

Second, look at the terrain you will be using your accessories. Consider the types of climbs you will encounter. For more technical and hardcore climbs, then more flexible options are the best to tackle such terrain. Even though strap-on crampons are not the best for technical climbs, they offer versatility for those who are not sure of what to experience on a trail.

If you are not so sure of which size is the best for your shoes, then strap-on crampons will come to your rescue, since they fit almost everything. Besides being suitable for most shoes in their selected size range, they also offer the option to use on different types of boots.
q:

Do I need rigid or flexible crampons?

a:

Most people are probably sorted with semi-rigid alternatives. Unless you're an avid mountaineer, you likely don't require rigid crampons, best suited for technical climbing. Semi-rigid types work well across many sorts of terrains and varying conditions. Because of the popularity of such mixed grounds, including but not limited to snow and ice, semi-rigid varieties are the most popular.

Some grippers have a built-in bar, which goes between the toe and the heel area. This contraption acts as an adjustable linking bear, which you can use to make the crampons flexible or rigid. If you like to switch up from hiking to climbing, then this option will have the added benefit of not having to add on extra pairs to your backpack.
q:

Can I use my ice grippers on other terrains?

a:

You can use the cleats on off-road hikes to get a better footing on the ground. They will come in handy too when you need to hike a steep hill or cliff. Most outdoor terrains can be navigated with the proper crampons. Remember to use cleats on surfaces that they are suitable for.

Most of the listed products we have listed are multi-functional. They can be used on different terrains and still be useful. Consider the type of challenges you are going to face on the trail before deciding on the crampons.
q:

Are spiked cleats better than the coil ones?

a:

Both have their strengths and weaknesses. Some work better on terrains that most cleats would either break on or struggle to perform on. Spiked ones offer more versatility than coiled ones. You can hike on a host of different trails, and they will come out in the perfect condition.

The coil cleats will be useful on pavements or walkways that might be icy. It all depends on where and how you want to use them. Before purchasing a pair, reflect on how you want to use them. For regular walking purposes, the ones that coil around rubber straps are the best.
q:

What is the difference between crampons and MICROspikes?

a:

Crampons are best used when climbing on ice whereas MICROspikes are best used for hiking, jogging, or running on ice. 
q:

How do I clean my ice grippers?

a:

There is no special way to clean them. You need to be careful while handling the long spiked ones while cleaning. You might end up having a nasty hand injury If you are not careful. Some crampons like the one with coils clean themselves because they don't have dirt or snow sticking to them.
q:

Is the size of crampon spikes important?

a:

Size is important if you want to hike on loose ground. The spikes will penetrate the surface and give you stability. On muddy surfaces, it might be tricky to navigate if you have short spikes that only grab the surface of the ground. Short spikes will enable you to walk safely on the firm ground without having an unnecessary height to deal with.
q:

Do ice grippers come with manuals?

a:

It all depends on the store you made your purchase from and the manufacturing company you bought. However, there is no special way of using cleats. As long as you match them to the right terrain you are good to go. If you are trying something new like rock climbing or outdoor hikes, it is advisable to ask a specialist about the type to use.
Subscribe to our Newsletter