Best Expensive Shoes For Your Next Splurge Reviewed
In a Hurry? Editors choice: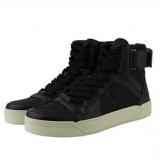 Test Winner: Gucci Guccissima

Certain occasions call for a pricey pair of footwear! Whether it's for a
celebration
, party, or just for the heck-of-it, wearing an expensive shoe makes you feel good, but for most of us, this isn't something we get to do that often. If you're in the mood to treat yourself and feel like splurging on something nice, a luxurious pair of footwear might just be the best thing for you!
Standout Picks
Criteria Used for Evaluation
Brand
When it comes to high-end fashion and footwear, the brand behind the design plays an integral role. Everywhere you turn these days including newspapers, magazines, and on television, we see celebrities and Hollywood's A-listers, wearing exquisite footwear. In music lyrics and rap songs, we continuously hear the artist make mention of fashion giants like Gucci, Prada, and Louboutin. It's all about flaunting your fancy things. So with this sort of influence, it's only natural for people to want to fit in and to be a part of this lavish lifestyle.
The pairs featured on this list are some of the most coveted designs from the biggest brands in the business. They're seen on the runways in Paris and in the trendsetting magazines around the world. Designers like Cole Haan, Armani Exchange, and Coach, are the leaders of the fashion world and you can feel confident while wearing a pair!
Comfort
When you're paying a hefty price for a pair of footwear you want it to be a comfortable one! Which is exactly why the enjoyment of each pair was taken into consideration when choosing the ten for this list. Things like weatherproofing, adequate cushioning, and moisture control, are all aspects that can affect the comfort of a shoe. Without proper moisture control, your feet will sweat excessively and lead to a buildup of odor-causing bacteria. One of the best materials for this is leather because it holds excellent moisture wicking properties. As for cushioning, you want something that offers a supple underfoot padding but is still firm enough to prevent arch collapse and other related problems. If the underside of the shoe is too soft it won't provide the kind of support needed to protect the delicate arch area and can lead to all sorts of aches and pains down the road. Weather-proofing is essential if you're going to be out and about in damp or wet conditions, in which case, a leather or rubber material will suit you best.
The height of both the heel and platform are also a big factor in how comforting a pair is. Anything over four-inches will naturally become more difficult to walk in and should be avoided unless you feel comfortable walking in very high shoes. The platform is also crucial because it's the part of the shoe which stabilizes the majority of your foot when you step down. A raised or narrow platform area will make walking much more uncomfortable and can really make it more difficult walking in a pair of heels. If at all possible try to avoid raised platforms, especially if the heel is thin like a stiletto. If you're dealing with a wedge, it doesn't' matter as much if the platform is raised or flat. A wedge heel provides a stable structure and does not have a gap between the back and front ends of the shoe. This makes walking much more natural and won't cause you much of a problem at all.
Ease of Use
Expensive shoes are an investment, and as such you want to keep them in good condition with care and cleaning. This will allow you to get more time and enjoyment out of them and will impact their overall value. Of course, some materials are easier to keep clean than others.
Leather is a beautiful material that has been used in footwear for thousands of years, but it also can require the most care to keep in good condition. Leather can lose moisture and become dry and crack, which is where conditioning and moisturizing the leather will come in.
Canvas shoes are a bit easier than leather. They don't require special conditioning, though they are more likely to stain than leather is. Most canvas shoes can be easily spot cleaned using a mild foaming soap, and some are even machine washable.
Some of the shoes on this list don't use leather or canvas, or its use is limited. Rather, these styles include things like ribbon, rhinestones, and rope. These may be harder to take care of, as ribbon is easily torn, rhinestones can fall off, and rope can stain or become waterlogged.
Materials
The materials used to manufacture each pair was taken into consideration because high-quality ones can make the world of difference when it comes to the overall look and feel. When it comes to leather, there is quite a difference between grades and the finer hides are quite exquisite, Nubuck, for example, comes to a stunning finish and will hold up quite well with proper care. Using leather for footwear is an excellent choice because it pulls excess moisture away from the skin preventing a build-up of sweat and odor-causing bacteria. It's also a breathable and lightweight material that will keep you cool and comfortable all day long. Rubber is a good choice for the making of the sole because it provides solid traction on any surface, including wet and slippery ones. Latex is a naturally derived and is extracted from trees and offers a supple yet durable variation. Those with allergies to latex need to be careful when purchasing footwear that contains this material though and should consider opting for a different one altogether. Detailing is often made from soft and visually appealing materials like satin, suede, or canvas which adds to the luxurious feel of higher-end footwear.
Style
There are many different styles of luxury footwear that appeal to various markets. Some of the more popular are sneakers, heels, wedges, and boots. Women fawn over pricey heels because they're gorgeous in design and are a coveted piece of apparel. Whereas, men prefer to wear an expensive pair of sneakers or the occasional pair of dress shoes which have a hefty price tag attached to them. This really depends on the individual's lifestyle which will influence the kind of shoe they wear. Current pop culture has put an emphasis on designer labels and has made fancy apparel a must-have for looking 'cool'.
As for sneakers, there are high-top, low-top, and medium-top choice available. One of the more popular is the high-top which has been glamorized by artists like Kanye West and Jay-Z, along with basketball players who can usually be seen rocking a high-top kick. High heels come in many shapes and sizes, with some of the more popular being stilettos, wedges, pumps, and boots. Artists like Jennifer Lopez, Lady GaGa, and of course, Madonna, have all been very influential when it comes to shaping the way we think of heels in general.
Top 10 Picks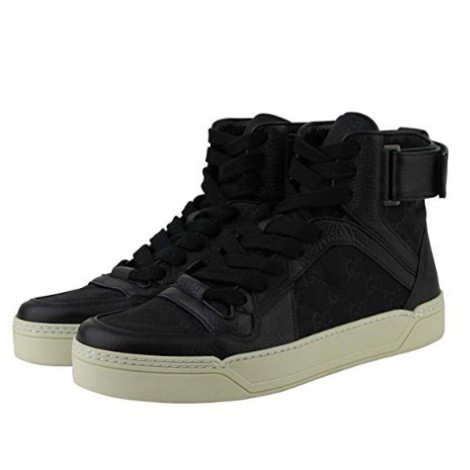 Gucci's Guccissima is made from their signature nylon and boasts leather trim for added style. This pair features an adjustable ankle strap for a customized fit and proudly displays an embossed logo at the rear. This hot shoe hails from Italy and is an authentic choice of footwear that will impress you every time you wear it.
Design Features
The Guccissima is a high-top sneaker that is made in the heart of Italy. It features a breathable nylon upper unit and leather detailing for some seriously stylish appeal. This shoe will have you exuding all the 'right' kind of attitude and can be worn with confidence thanks to its bold and unique s=design.
Adjustable Fit
This shoe offers a one-of-a-kind fit every time you slip them on thanks to its adjustable ankle strap. Forget about accidental slips or falls while wearing these because their non-slip rubber outsole will keep you steady on your feet no matter what the weather outside is like.
Cost and Value
This is one of the more expensive on the list but it's definitely a worthwhile investment! Nothing says 'style' quite like these Gucci high-top sneakers! They are a defining force in the fashion industry and offer a powerful presence which commands attention.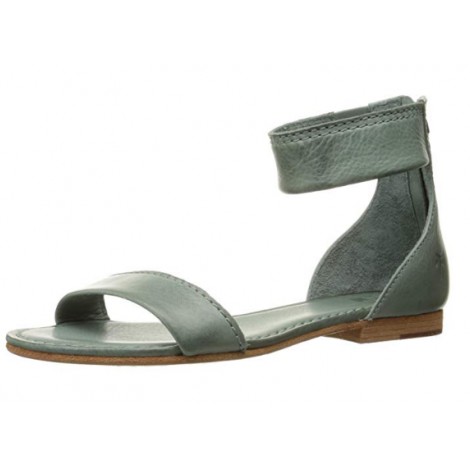 The Carson by FRYE is a stunning gladiator-inspired sandal. It's made from high-quality vintage leather and boasts a stylish wraparound ankle strap. Ladies who are looking to add a little luxury to their wardrobe will fall head over heels for this casual yet inspiring pair. Its low ¾-inch heel and flat platform allow for easy striding and won't restrict the way you move. The Carson is a dual-piece summer shoe with an extra roomy toe and a rear zipper for a secure and stable fit.
Quality Materials
This option is made from luxurious vintage leather that provides a breathable and cooling environment for your feet. The leather-lined footbed pulls excess moisture away from the skin preventing a buildup of sweat and odor-causing bacteria. Its Leather feels smooth and supple against bare skin and keeps your feet feeling and smelling their best.
Versatility
No matter if you're planning on a Sunday morning brunch, or a casual afternoon stroll, this pair is perfect for every occasion. It's both professional enough for work-related activities and relaxed enough for enjoying on your days off. The Carson is available in four colors: sage, camel, gray, and black, which means you'll have no trouble matching them with any outfit that you own.
Cost and Value
You really do get what you pay for and in this case, you're paying for a luxe summer shoe that's made to impress. Crafted from quality vintage leather and featuring a stunning Roman-inspired look this option is ideal for ladies who want to feel exquisite.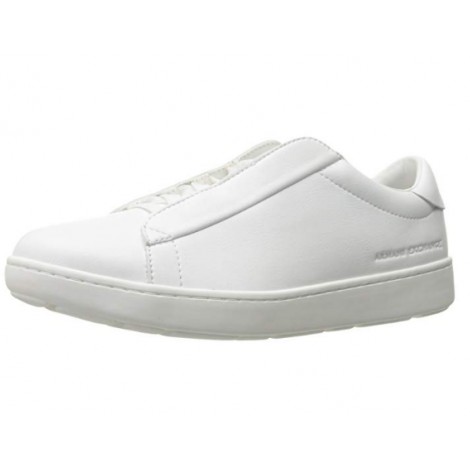 The Hidden Lace fashion sneaker from Armani Exchange is a sleek and symmetrically aligned pair. Their laceless look makes for an effortless appearance that is exceptionally easy when it comes to on-off wearability. It's available in two colors: Optical White or Evergreen, both of which blend nicely with the majority of choices from the color spectrum. Made from 100% polyester this pair is going to keep you comfortable, cool, and light-as-a-feather. It boasts a subtle Armani Exchange logo at the rear so you can show off your high-end sneakers with pride.
Trendy Style
Armani Exchange knows exactly what's in style! This laceless sneaker is streetwear-approved and boasts an urban flair that's right on point. A solid toned upper unit and laceless silhouette make this pair a great option for individuals on the move.
Multi-purpose
This hot choice of footwear is perfect for any occasion! Go ahead and wear it while you're out strolling with friends or even while you're out for a lunch date with the boss. No matter what the event calls for this stunning sneaker is geared up and ready to grab the bull by the horns. Youthful and fashion-friendly is what Armani Exchange is all about and these kicks deliver a powerful message.
Cost and value
Out of every expensive pair featured on this list, the Armani Exchange Hidden Lace is the most accessible and offers incredible value for its price. This option is versatile enough to wear for almost any occasion and will match perfectly with anything from your wardrobe. Go ahead and hit the fashion strip with confidence while wearing a pair of these svelte looking shoes.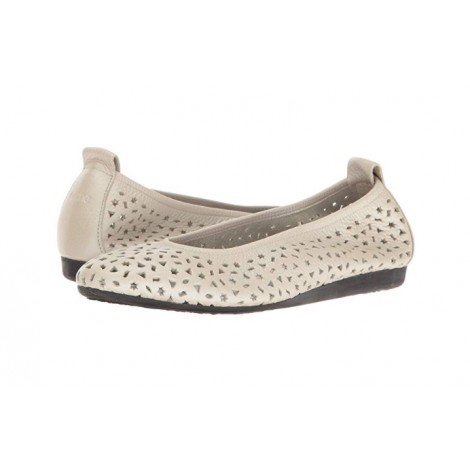 The Lilly Flat from Arche is what luxurious footwear is all about! It is crafted from the finest nubuck leather and is made right here in the U.S.A. Its latex sole keeps you walking comfortably and prevents any accidental slips or falls so you can feel at ease while you stroll. The Lilly is a ballet-inspired piece that boasts a cutout design for a breathable and fashion-friendly structure.
Pull Loop
The Lilly's rear pull loop makes for effortless on-off wear and will make slipping into this pair a breeze. You'll love how quick it is to get your shoes on and go thanks to this handy feature that was designed to make the day that much easier.
Cutout Upper
A cutout upper unit adds an air of mystery to this attractive choice of footwear and makes for a breathable wear. Airflow is important for preventing a build-up of sweat and odor-causing bacteria which is why this option is ideal for wearing during the warm summer weather. Its leather material pulls excess moisture away from the skin and pushes it towards the outer material, further helping to control odors.
Cost and Value
These flats deliver a solid value for their higher price! They're made from high-quality materials and provide a comforting environment for your feet. Forget about sweaty smelly summer shoes while you're wearing a pair of these!

5

. Moral Code London Driver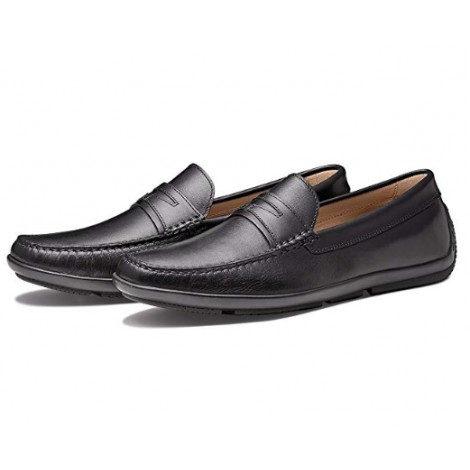 Moral Code's London Driver is the ideal choice for casual wear and was designed specifically to act as a driving loafer. This pair is hand sewn and boasts impressive craftsmanship and delicate detailing. It made from hand-brushed waxed leather that makes for a rich finish and includes a leather-lined insole.
Leather Lining
The Driver features a leather-lined insole that's ultra luxurious. This material is very breathable and allows for adequate airflow around the foot to prevent a buildup of sweat and odor-causing bacteria. Once shoes start to stink it can be nearly impossible to salvage them and odor can quickly ruin your most prized pair.
Grippy Outsole
This pair has a non-slip rubber outsole and heel bumper for additional grip. No more worrying about accidental slips or falls thanks to the Driver's incredibly strong traction that's perfect for gripping the pedals while you're behind the wheel, or for keeping you steady on your feet while you're out and about.
Cost and Value
These Moral Code loafers are a great value for their price! They deliver a comforting wear and are designed for the leisurely side of life. You'll enjoy the luxurious feel and gorgeous craftsmanship of these high-end slip-on shoes that were made to ensure that you look your best.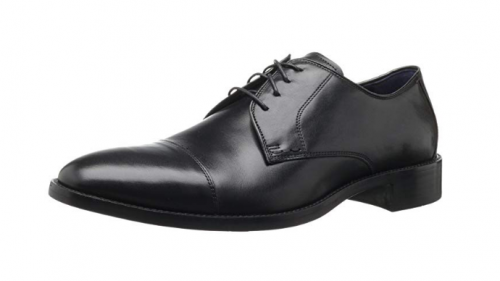 Cole Haans' Lenox Hill is a strapping pair of shoes fit for any gentleman. Its leather construction and careful craftsmanship make this a smooth and professional looking option. The Lenox is perfect for both business and pleasure thanks to its versatile design and gorgeous symmetry. These are a great choice for men who are looking for some seriously stylish shoes.
Blind Eyelets
This oxford features blind eyelet lacing that makes for a sleek and professional appearance. Its streamline leather upper unit and solid color tone deliver a fluid structure that's irresistible to both men and women. You'll love all of the positive attention these shoes bring and how good you feel while you're wearing them.
Non-Slip Outsole
These Cole Haan's have a non-slip rubber outsole that makes for secure and stable footing. Go ahead and walk in rain or shine with these thanks to their solid grip on any surface including wet and slippery ones. Its low heel height makes for easier walking and won't restrict the way you move. This is great for guys who spend their days on the move.
Cost and Value
The Lenox Hill delivers a great value for its price! Made from high-quality materials and featuring a sleek silhouette, this is the perfect pair for both professional and casual occasions. You'll enjoy the sheer sophistication these bring to the table and how effortless they are to stride in.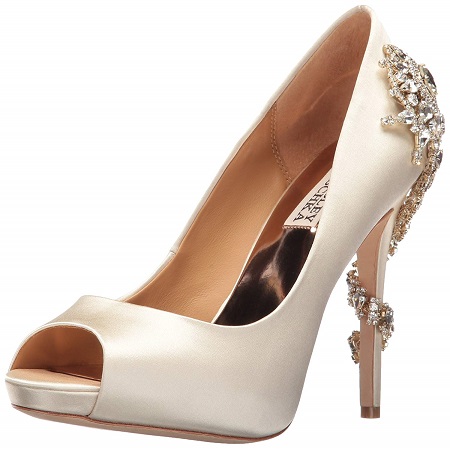 Badgley Mischka is synonymous with elegant and sophisticated styles, and the Royal is no different. These pumps feature a hidden platform and 4" heel, as well as six color options. On the back of the shoe, you'll notice rhinestones winding around the heel up to the top; this is one of the Royal's defining features and is prominent in other Badgley Mischka designs.
Hidden Platform
Heels can be rough on your feet, especially when they're 4". The Badgley Mischka Royal is outfitted with a 1/2" hidden platform, making the heel height a little easier on your feet. This will help reduce fatigue and pain, and you'll be able to wear them for long periods of time.
Rhinestone Embellishments
The defining feature of the Royal, as well as some other Badgley Mischka styles, is the rhinestone embellishments along the back of the shoe. A line of rhinestones snakes up the 4" heel and onto the back of the shoe, flaring out to the sides in a beautiful presentation.
Cost and Value
While prices will vary based on color and size, the price tag on the Royal is similar to that of the Coco, the other Badgley Mischka design on our list. These pumps stand out thanks to their sophisticated color options and the rhinestones running up the heel onto the back of the shoe.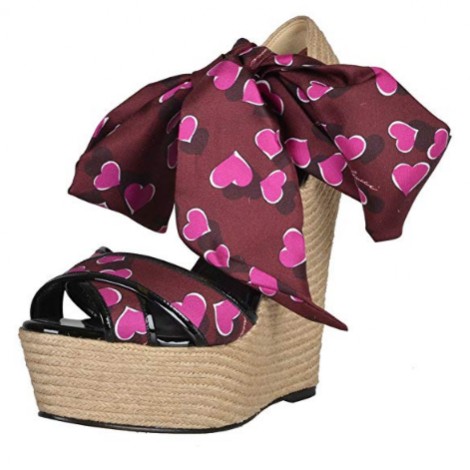 This super-cute pair of Gucci heels is made from high-quality leather and features a breathable canvas upper unit. It's complete with satin trim and beautiful ankle tie accents for a novel and girly look. This Gucci shoe boasts an exciting 5 ¾-inch wedge heel and a 1 ⅞-inch platform for some serious lift. These shoes are ideal for ladies looking to add some girlie fun to their wardrobe.
Trendy Materials
This pair of wedges is made from quality patent leather and features a lightweight canvas upper unit. Its satin trim detailing is the perfect addition to an already stunning pair and delivers a breathtaking silhouette. An espadrille-inspired, rope covered heel makes these summer shoes a hot item that is ideal for any fashion-forward ladies.
Branding
Gucci is one of the most well-known retailers of high-end apparel and footwear worldwide. These shoes are made in Italy and are crafted using high-quality materials and careful attention to details. You won't be disappointed in the look or feel of this pair!
Cost and Value
While they're one of the more expensive on the list, this pair is worth every cent! Gucci is synonymous with luxury and this shoe is a prime example of the powerful fashion designs that hail from this designers collections.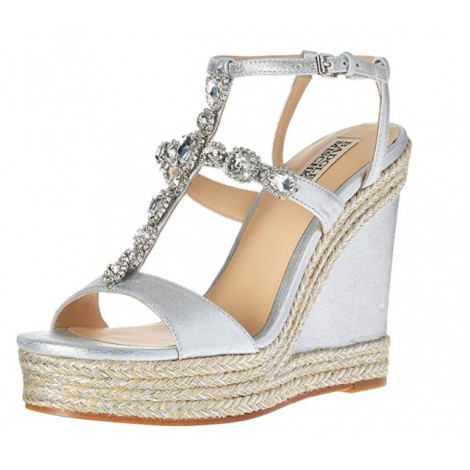 Badgley Mischka's Coco Espadrille is another stunning example of a luxury wedge. This pair is made from 100% metallic suede for an unbelievably smooth and unique vibe. Its gem-embellished accents and dainty straps deliver a lady-like style that is adored by women everywhere. This shoe is ideal for dressy events, celebrations, or friendly get-togethers and is sure to attract all the 'right' kind of attention.
Design Features
The Coco boasts gorgeous espadrille accents and shimmering gem-embellished straps. Its slender silhouette is offset perfectly by a 4 ½-inch wedge heel and 1 ½-inch platform that delivers some serious lift. This t-strap sandal is dressy enough for any kind of party and is the ideal choice for birthdays, summer weddings, dinner outdoors, and more.
Non-Slip Sole
This heel offers a non-slip sole that will keep you steady on your feet and prevent any accidents from happening. No matter is the flooring beneath your feet is slippery, these wedges won't miss a step and will ensure that you're safely on your feet. This makes for a more relaxed walking experience in general.
Cost and Value
While this pair costs more than some of the choices on the list, it's a worthwhile splurge! These stunning heels are ideal for ladies looking to add some glimmer to their look and will deliver utter satisfaction every time you wear them!



The Mavis heel from Michael Kors is a beautiful pair! It features a leather upper and four-inch slender point that makes this shoe look elegant with any outfit. The Mavis has a knack for lengthening the appearance of the leg and was made to match with a skin-tight skirt or a flowing gown! It's cutout upper unit shows just the right amount of skin and adds a mysterious feel to this evening heel.
Wearability
The Mavis has a rear zipper closure for an accessible style that's super easy when it comes to on-off wearability. Its open-concept upper allows for adequate airflow around the foot keeping you cool and dry even after hours of wear. This pair is comfortable and enjoyable thanks to its padded insole that cushions the delicate underside of the foot and alleviates undue stress from the arch.
Design
A slender four-inch heel and gorgeous open-concept upper make the Mavis an irresistible design. Ladies love the feminine look that this pair delivers and the timeless air of classy that it exudes. Whether you're headed to a business meeting or fancy gala this heel is ready to take on any occasion.
Cost and Value
Despite its slightly expensive price tag, the Mavis is an excellent investment! This shoe delivers a timeless and stunning look that will look great with any outfit. No matter the occasion this pair will be the perfect addition to your wardrobe an is sure to steal the shoe.

Subscribe to our Newsletter