Best Driving Shoes Reviewed & Rated
In a Hurry? Editors choice: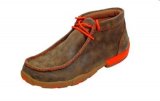 Test Winner: Twisted X Driving Mocs

In an era of automobiles, driving shoes have become a necessity for anyone looking for comfort and functionality during long hauls behind the wheel. These lightweight loafers are both stylish, and essential, in their shoe supporting features while driving. Considering that the shoe is what separates the driver from the gas and brake pedals, it is also essential to find a product that is not only
fashionable
but also maximizes control and adjustability, as to prevent any unwanted accidents.
Standout Picks
Criteria Used for Evaluation
Outsole
The sole of a driving shoe is one of the most important components and is what allows the driver added control. Traditionally, a driving shoe will have rubber bullets at the back end along with rubber gripping on the sole which gives the driver a better pedal grip. There are a few other features to consider when searching for your next pair of car shoes…
Split-Sole
Split sole shoes are made with a two-section sole instead of a single piece which covers the whole bottom of the shoe. The advantage to a split sole is that it offers better flexibility and allows the wearer to feel more in touch with the surface below their feet, this is why a split sole is an excellent addition to any driving shoe.
Extended Sole
A proper driving shoe needs to have a sole which extends from the bottom of the shoe all the way around to the heel. This type of extended sole gives the wearer more grip and control.
Grip
The grip is one of the most important features a driving shoe can offer which is why the sole of your shoe is so important. Soles with rubber traction pads or rubber pellets are an excellent option because rubber offers superior grip when compared to other sole materials.
Fit
One factor that can be offputting when it comes to wearing shoes that are solely for driving in is that you will have to change your shoes every time you get in and out of the car. This is why it's so important that your shoes be easy enough to change into. Moccasins and loafers tend to be the best style of shoe for the car because you can literally slip them on and off. These style of shoes are also good at staying put so you won't have to worry about them falling off your foot just because they don't have a traditional closure system.
When the concept of owning a pair of shoes that were strictly for driving first appeared, one of the main selling points was that these shoes were stylish and were meant to give the wearer an air of distinction. The same is true, to some extent, today. No one wants to look ridiculous in their car shoes which is why style was a contributing factor to the selection of shoes on this list.
Materials
The type of materials used in the manufacturing of a pair of shoes for driving is very important to their overall performance. There are certain materials that will work much better for driving than others…
Leather/Suede
Materials like leather and suede are popular choices due to their ability to conform to the foot while still allowing for proper airflow. Another worthy feature leather offers is that it's lightweight and it's best used to line the shoe as opposed to heavy materials that block air circulation. Inadequate airflow and ventilation can lead to sweaty feet, which are the last thing you want while you're driving. Moisture causes your feet to become slippery and to slide around in your shoe and that means that you have less control and grip.
Suede is a good material for the outsole or lining as it is soft, breathable, and lightweight. Suede does not wick moisture away from the foot quite as well as leather does, which makes it less appealing for a lining material.
Rubber
Rubber is also one of the most common materials found on a driving shoe and for a good reason. Rubber is highly resistant to abrasion, has incredible anti-slip properties, and retains its shape well. These are important features to consider while making the decision of whether or not to purchase a particular pair of shoes.
Comfort
Comfort is important, so obviously, we needed to include that as criteria on our list. All of the options on our list are meant to support your feet while your driving. That means every item on our list has:
Comfort: It will have a soft and breathable insole. Your steps will be cushioned and your time spent driving won't leave you with sore or sweaty feet.
Support: Arch and heel support are essential for stability and balance, and obviously comfort.
Flex: While driving, your feet can be in different positions that while just walking or sitting. We looked at how flexible the soles were to help you get the most comfort.
Value
Shoes can be expensive. Especially when buying a specialty shoe, like a driving shoe, you don't want to have to spend a fortune. When looking at value, we had a few criteria that helped inform our decision.
Durability and Longevity
Versatility
Maintenance
Comfort
Cost
10 Best Driving Shoes
1

. Twisted X Driving Mocs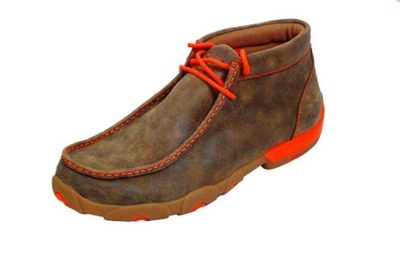 Twisted X Driving Mocs add more than just function to their footwear design in this ankle-high boot. Moccasin comfort with a grippy sole, stylish stitching accents, and leather quality uppers make it ideal for comfort and fashion. Add to this breathable lining, washable, and antibacterial treatment, and they make for a solid new pair for driving or walking about town.
Handcrafted from cowhide leather, Twisted X has been making boots and footwear for work and outdoor activities, inspired by western wear for years. The Driving Mocs keep that comfortable leather feel with a breathable mesh lining, and Cowboy Comfort SD Footbed, so you stay cozy during wear. Contrast stitching brings an aesthetically pleasing appeal to the look of these quality leather boots, and keep them true to that western styled flair.
Along with its appeal, the Twisted X Driving Mocs have oil and slip resistant rubber outsole, allowing you to keep your foot on the pedals, or avoid slips when walking around town. A moisture-wicking XSD footbed insole helps keep you dry and is antibacterial treated to help prevent odors from building up. The insole has a patent pending stability shank, providing stability and comfort for all-day wear.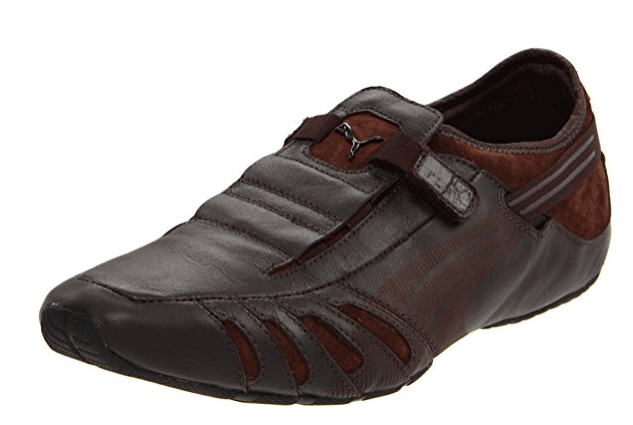 Optimized for fit and feel, the PUMA Leather Vendano is a shoe that was deeply inspired by driving shoes but can blend in almost anywhere. The Vendano is designed to fit comfortably yet look fashionable; a combination that is hard to find. Part of the PUMA Motorsports line, the Vendano also provide an excellent driving experience, allowing good grip and feel for the pedals.
The PUMA Vendano are known for their comfort despite their professional look. These shoes won't pinch or strain your feet and are uniquely designed to withstand longer walking distances. The Vendano are easy to use, as they are slip-on without the hassle of laces, but still, imbue a formal look.
The PUMA Vendano are very durable and can be worn practically anywhere. The shoes can even be used when playing sports such as soccer as they provide extra grip with rubber soles. The Vendano provide a "non-slip" guarantee when used for outside wear.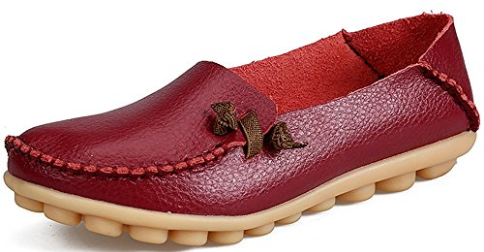 LabatoStyle Leather Loafers are made of cow split leather uppers and a rubber outsole that provides superior grip. These flexible slip-on moccasins are designed with a built-in massage feature to keep your feet feeling comfortable and relaxed while you're cruising behind the wheel. If a casual and stylish low-key shoe for driving is what you are in need of then these are the shoes for you.
This leather loafer has a specially designed outsole which massages your feet while you drive to ensure that you stay comfortable for any amount of time you spend with your feet to the pedals.
The leather is resistant to abrasions, non-marking, weatherproof, and most important, has superior anti-slip properties. These factors combined with leathers ability to wick moisture away from the foot are the reason why leather is such a popular material to use when manufacturing a driving shoe.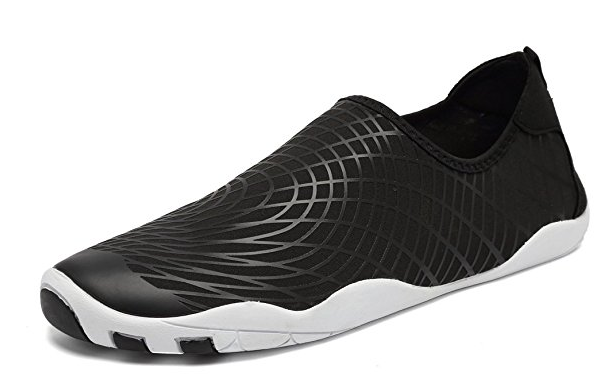 CIOR is the new up-and-coming brand that focuses its line of shoes to fit every part of your personal lifestyle. Their CIOR Quick Dry is the perfect shoe for walking, running, swimming, and—of course—driving. The CIOR Quick Dry have rubber soles specialized for grip while driving, as well as when doing outdoor activities. This non-slip shoe is perfect for anyone looking for an adequate driving shoe while also wanting to do out-going activities such as wind-surfing, cycling, fishing, etc. The CIOR Quick Dry is your most versatile shoe!
Not only is the textile Quick Dry sole adept for driving, but it also has traction on wet surfaces and makes it the best shoe to wear for water-interacting activities such as kayaking or on the beach. The Quick Dry shoes introduce a drainage system that allows water to properly flow out of them so you can wear them all day long.
The shoes also provide exceptional comfort with their breathable and comfortable footbed, allowing the toes to move without restraint.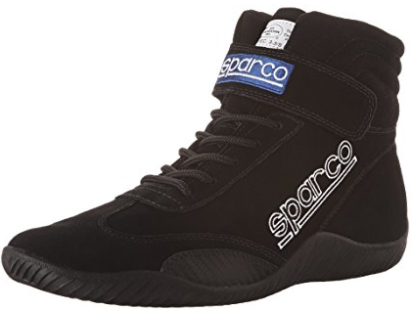 Sparcos' Race driving shoe puts you in control while your feet ride in total comfort. Featuring a wide toe box and a cushioned insole. these shoes are sure to keep your feet feeling good. A comfort cell at the ball of the foot works to absorb shock while the Race driving shoes Velcro closures make for easy on and off wearability. You will also look cool in these trendy shoes thanks to their chic suede uppers paired with an aggressive design, there's no road you can't travel while wearing these shoes.
These Sparco Race shoes feature a bold and aggressive design with Velcro closures, suede uppers, and Sparco side logos. An exciting change from the usual driving shoes, these are sure to turn heads when you drive past.
Complete with a comfort cell built-in at the ball of the foot and an ultra-cushioned insole, this is one driving shoe that is going to keep your feet feeling their best and ready to spring into action when needed.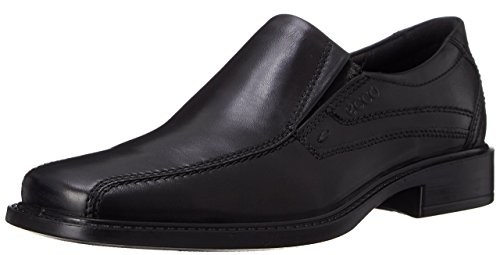 The first product on our list is the ECCO New Jersey Driving Shoes. The ECCOs are not only versatile but provide a synthetic sole that allows digging to provide maximized traction and support. Their appearance is also iconic. The fashionable leather slip-on are a great looking shoe that will help your feet stay comfortable while behind the wheel.
The strong leather exterior provides great durability in this driving shoe that's bound to last for many road trips and work days. For those wanting to bring attention to their shoes, the ECCOs are elegantly designed in their poised, ravishing black to look great on anyone's feet.
ECCO's new Freedom Fit feature is an addition that offers a more roomy toe box with a narrow heel. This combination allows for a better and more versatile fit that also provides a more comfortable walking experience.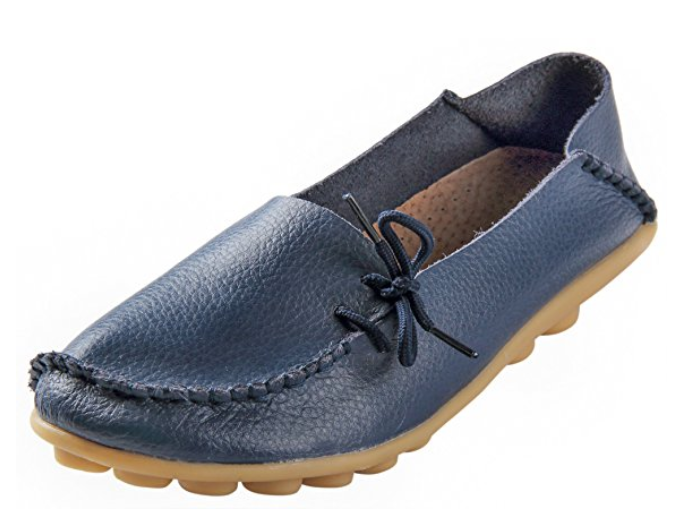 Another affordable and classic driving shoe, the Serene Leather Casual loafers are a lace-up shoe that provide durability and traction in the outsole, and comfort and flexibility in the interior. The imported leather shoe is a great choice for anyone looking for a tremendously affordable shoe that provides a pleasant driving experience.
Great for those that aren't looking for anything too fancy. The Serene Leather Casual driving shoes give an iconic look that's great for all occasions.
These shoes are known for their extreme comfort for a tremendously low price. The footbed has added softness while also providing an anti-slip outsole for safe and pleasurable walking.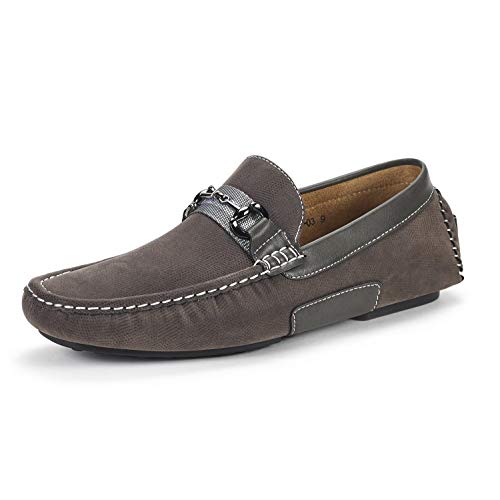 The Bruno Marc Santoni is a beautiful shoe that is affordable for almost anyone. The vintage style is complemented by its lightweight, flexible body and its latex cushioned footbed. As a driving shoe, the Santoni is equipped with a rubber outsole that maximizes traction of pedals. If looking for an affordable, well-designed shoe, the Bruno Marc Santoni is one of the best.
The footbed of the Italian-based shoe is supported by strong latex cushioning. The man-made feature allows feet to comfortably fit and adapt to any style.
From the roots of driving shoes, the Bruno Marc Santoni has embraced its origin and developed the best type of driving shoe; an Italian one. The sleek and beautiful style will draw anyone's attention to the added vamp and detailed stitching, as well as the classic moccasin toe design.




High-quality leather creates the uppers of the Cole Haan Gunnison II, handstitched, soft, and stylish. And in addition to the comfort features packed in this pair of loafers, it's made to be breathable and flexible, for all-day wear. Easy to slip on and off, it also keeps a square toe for some added style, and a moc-top design which makes them suitable for work or driving. With a number of color options to select, you can find several to match any attire!
Breathable fine leather allows the Slip-on Loafer to keep you cool during the day, and with some style options available, additional perforations add to that quality. The moc-toe stitching gives a sophisticated appearance to the design of the loafer, which makes them ideal for work attire, or a night out. With a number of colors of leather, some combining suede with fine leather, you're sure to find one that stands out.
Along the sole of the Gunnison II is a flexible, and durable rugged sole. With some element of massaging that can be felt with each step, it's also deeply grooved to allow flexibility, but sticky enough that you won't slip. Great for walking or driving in any kind of condition! A comfort footbed lines the entirety of the loafer's length, so you'll be staying cushioned all day long.

10

. Polo Ralph Lauren Penny Loafer



The Polo Ralph Lauren Penny Loafer brings together solid traction in a colorful fashion with this pair of driving shoes. Casual design, slip on styling, and a solid rubber outsole makes it a top seller at a very reasonable price. Foot massage function in the form of rubber lugs on the sole makes it great for driving or walking about town. Lightweight and breathable, it's a pair that will surely find its way into your footwear collection.
The grippy rubber outsole allow for ample traction, even on wet surfaces. This will make sure your foot doesn't slip off the pedals while driving, and will be durable enough to wear out and about if you have to.
Lightweight leather creates the uppers of the Polo Ralph Lauren loafers, and they're designed to be flexible as well. A side tie allows for some adjustability of fit, and hand sewn moc toe gussets add to flexible comfort and style. Available in a number of colors, and some styles with a perforated design to increase breathability, they not only function as a solid driving shoe but also look great.

Subscribe to our Newsletter