Best Track Shoes Reviewed & Rated
In a Hurry? Editors choice: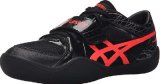 Test Winner: ASICS Throw Pro

When every second in the race counts, the difference between victory and defeat may come down to your track shoes. Finding the right pair depends on the style of event you're doing, the distance you'll be running, and your skill level.

Track spikes will typically feature 5 to 8 spikes, a lightweight and aerodynamic upper, and the tech needed to help you handle curves and blaze through straightaways, as well as tear-out from the starting block with the most force possible. They should have the appropriate cushion and padding for your midsole and a low ankle profile to prevent any irritation.

We have carefully selected the top 10 track shoes currently on the market. Check them out and treat yourself to a brand new pair that will instantly boost your performance!
Standout Picks
Criteria Used for Evaluation
Effectiveness
Choose the type of spikes and overall construction that suits your running distance and style.
Though the range of track shoes may seem broad, the differences in their construction are subtle. Most brands make footwear with every skill level in mind, from the novice to the elite sprinter, and spend vast amounts of time researching their customers' needs so that they can deliver the best footwear possible.
Whether you race a few hundred meters or many more, there is a pair of track shoes that will help you break records and go the distance. All the various features they have are designed around specific events and specific lengths and are in such a way that you can upgrade your footwear as you get better.
When it comes to performance on the track, there are a couple of things you need to consider; the comfort of your shoe, the materials, and the style of spikes of your shoe. Spikes are a lightweight feature that helps you grip the track better, allowing you to get the most out of your stamina by giving you the force for a full range of motion.
The type of spikes you need depends on the events you'll be doing, which are an indicator of the distance you'll be running.
There are entry-level spikes (sprint), mid-level spikes (mid-distance), and long-distance. Now, these distances can vary greatly, so a mid-level spike can be significant for a variety of events because its spikes are designed for use from 800 to 5,000 meters.
Footwear intended for sprinting is stiff, whereas long-distance options have more give and specific materials like mesh fabric to promote breathability. EVA midsoles provide the padding and cushion you will need for putting your feet through so much.
Other considerations in performance also include your style of running; or better yet, the type of race may dictate form, as well. If you run on the forefoot, as typical sprinters do, then you want footwear which pads well in this area to absorb the shock you are getting with each and every step.
Likewise, for longer distance racing, a heel-to-toe stride may be the running preference. In situations such as these, you will find better performance with footwear with a midsole conducive to giving you the best in shock-absorbent properties, such as an EVA midsole.
Fit
Make sure the footwear fits snug, but not too tight. Overlays and straps add to a secure fit.
The best type of fit your track shoes could have would be described as snug. They're not supposed to restrict blood flow or lead to cramps, but they're also not supposed to be loose enough so your heel might slide out. You don't want your toes to feel pinched or cramped in any way because this pressure will cause foot fatigue and may result in injury.
Wherever possible, try on several pairs at a specialty store so that you can get a feel for them. Padded tongues and collars, as well as specific lace closure systems with added velcro straps, can all add to how well a shoe fits.
Also, there is specific footwear with midfoot straps in place to help the design stay a bit more secure. In addition to this, a tuck-away lace system is recommended to not only add to your secure fit but to also add to your safety as well.
A number of models featured above will also feature supportive overlays that ensure that the mesh and knit uppers often used in this type of athletic footwear lock you in securely enough so that your foot doesn't move forward in your shoes. Not only is this important in terms of injury prevention, but it can also greatly influence your performance due to the added weight.
Some manufacturers have started using printed overlays which are a great solution considering that they add the necessary structure, without any bulk or weight that would cause fatigue, especially for long-distance running.
Features
Consider the number of spikes you need, and whether or not you are running a sprint or longer distance.
Since different track shoes are designed for varying levels of skill and various events, they will all function slightly differently.
For sprinting shorter distances, footwear will have a hard, firm sole all along the bottom of the foot, designed for pushing off and generating the most power and momentum possible. For running longer distances, shoes will have more give and will be made with rubber components that are flexible and midsoles that bounce back, giving you the maximum amount of energy return.
The spike plate on will have a varying amount of spikes. The maximum allowed for sprinting is eight, while for mid-distance or long-distance footwear, the count is between five and seven.
Furthermore, when shopping for athletic footwear, you should consider the features that influence your performance in smaller ways. For example, a large number of sprint models are made with a minimal midsole and zero drops, which means that your feet will have to work much harder to minimize the damage that naturally occurs when landing. A feature as simple as a shock-absorbing foam insole can greatly influence your comfort, as well as lower the level of fatigue you feel.
Another thing you may want to consider is whether the spikes on your footwear are removable. If you're expected to use them on more than one surface - track and grass - you may want to have the benefit of adjusting the traction to be more specific.
Breathability
If you're running long distances, breathable materials such as mesh are a must-have.
Proper ventilation in your track shoes is critical if you run for more than a few hundred meters. For sprints, it's not as vital because the time spent on the track is minimal. However, for mid-distance or long distances on the road, perforations and mesh fabric along the toes and uppers allow for better circulation and airflow, decreasing heat friction and preventing discomfort.
In addition to these things, a breathable environment can help prevent athlete's foot and other foot ailments as well.
Track meets can last over multiple days and you may participate in more than one event. So, it goes without saying that proper foot health is vital to making it through to the next day. With this in mind, you should consider breathable footwear environments for daily training, as the hours are a bit longer during training sessions than that of actual meets. In this, you and your feet will be much happier together.
Support
If you are not a neutral runner, make sure you get the footwear that supports your specific pronation type.
With track shoes, support is important according to the type of gait you have. Most of the pairs listed are for neutral runners and, therefore, do not provide adequate support for underpronators and overpronators.
If you are not a neutral runner, then it is advisable to find footwear specific to your pronation type. If, however, you absolutely must have a certain pair that catches your eye but does not support as you need, then make certain the insole is removable. If it is, then you can replace it with an orthotic that will support your feet during your run and will help your overall foot health.
Furthermore, proper support for your pronation type will lower the aches and pains associated with a few hard days at the track meet and/or daily training regimens. Also, you may find your performance time becoming better after inserting the proper support for your pronation type. It is amazing how the right kind of support can translate into precious shaved seconds out on the track.
In addition to these precious seconds gained, you will gain the added benefit of a healthier lifestyle. The wear-and-tear on your feet and ankles may not be immediately noticeable, especially for those who are younger. But as the years pass by, the devastation from wearing the wrong gear will start to rear its ugly head.
Problems will be noticed in the feet, ankles, and hip area. Most of this is in relation to load-rate; the measurable amount of shock endured with each step. Thankfully, however, a lot of these problems can be avoided by simply wearing the proper gear. Healthy training attitudes can go a long way in prolonging the time in which you can enjoy your favorite activities.
Best Track Running Shoes Reviews
1

. New Balance Vazee Sigma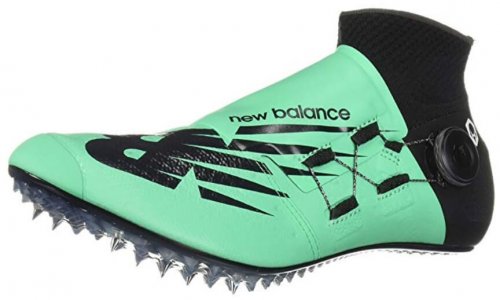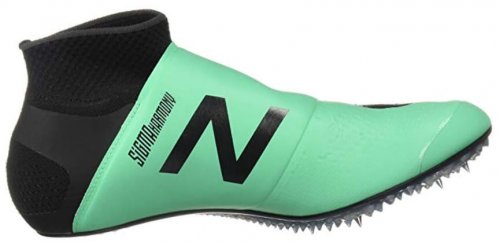 In terms of construction and design, here's something a little different - a runner that is not so much a sneaker as it is a bootie. The Vazee Sigma from New Balance is powerful and aggressive and has a special BOA Fit System that makes sure the design moves along with your foot. Its eight spikes are perfect for sprints and short high-speed races.
The BOA Fit System ensures you will be secure inside the Vazee Sigma, and the stretchy bootie delivers customization and easy adaptation to the shape of your leg and foot. There are no-sew overlays positioned in just the right places to provide resistance to wear and tear and durability, and the mesh parts of the upper ensure your feet will stay cool and dry.
The plate with eight spikes provides optimal traction for up to 400m of the track. This means that the Vazee Sigma is not an option for long-distance running, however, for sprints, you will hardly encounter a design that is better in terms of fit, lockdown, and flexibility.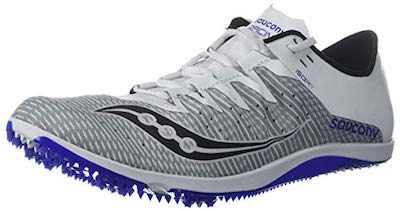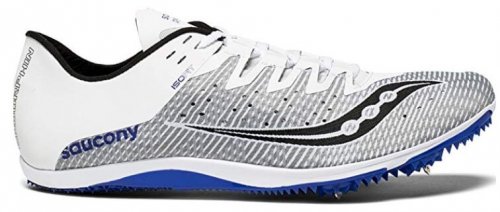 At 91g per shoe, the Endorphin 2 is one of the lightest pairs you will find, and it packs a number of high-performance features to make it so much easier to beat the competition. Thanks to the removable spikes, it can be used on any type of surface, including pavement, while the snug fit of the upper ensures a locked-in feel so that you can focus on the race and not the fit of your footwear.
The upper of the Endorphin 2 is made with a mesh material that's been chosen for its breathability. Allowing fresh air into the shoe and moving moisture out, this helps create a healthy environment for the foot, lowering the risk of chafing and blistering, as well as that of developing bad odors.
Melded to the upper of the shoe, the Flexfilm is a supportive and strong material that ensures the structural integrity of the upper, while keeping the weight of the model down to an absolute minimum. What this means is that you can expect a good amount of durability, little chance of forwarding movement inside these track running shoes, as well as a strongly locked-in feel to help you perform at your peak.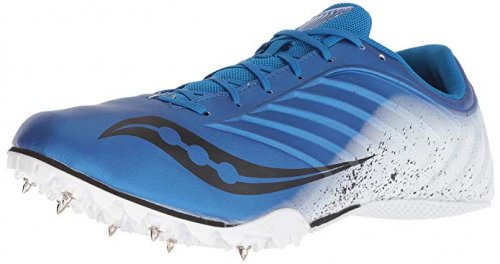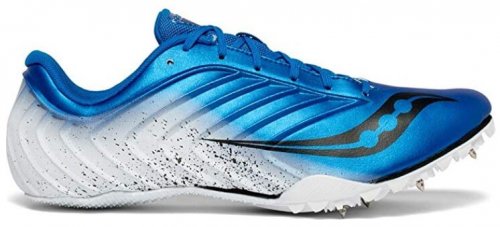 If you are a runner that likes to spend lots of time at the track, the Saucony Spitfire 5 is the trainer you've been dreaming of. The 5 is the latest iteration of the Spitfire and it continues to build on the things that make this product line the first choice by athletes everywhere. This shoe is lightweight and features a welded quarter, lending extra support to even the most accomplished track runners.
The synthetic upper on the Spitfire is a great addition, as it allows your feet to breathe and stay cool and dry even on the hottest days. The perforated design with complementing stripes only adds to the Spitfire's ability to keep your feet cool. Finally, the EVA footbed keeps your feet comfortable while they get you past the finish line.
With a seven-spike design, the Spitfire 5 lends you all the traction and grip you need to succeed. Partnered with a grippy rubber durable outsole, you can't go wrong with the Spitfire 5, as it offers support, comfort, grip, traction and durability, all in one product.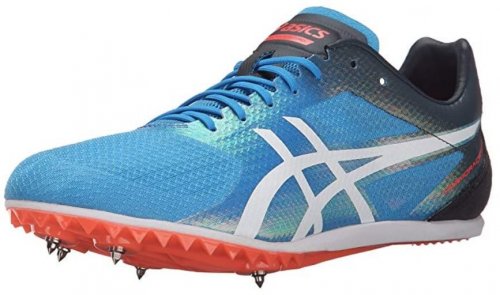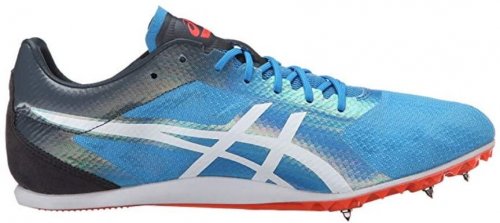 If you're not a sprinter and not really a long-distance runner either, then the Cosmoracer MD from ASICS is a great middle-distance design. It comes with mesh areas for proper ventilation in the upper, a Pebax plate with five spikes and a Solyte midsole that is a special ASICS innovation. This option is all about power and structure, enabling you to cross that finish line without any problems.
The Cosmoracer MD has an upper that is a perfect combination of mesh and synthetic leather. The mesh is there to aid in breathability, while the synthetic parts provide support where you need it most. The Solyte midsole is a special compound designed by the brand that is lighter in weight than EVA. It also delivers more cushioning and has a longer lifespan than standard EVA midsoles.
Finally, thanks to the pyramid spikes on the bottom, you will be able to take on any track you want. The Cosmoracer MD has great balance no matter how fast you go, and you will definitely enjoy this sleek, affordable option.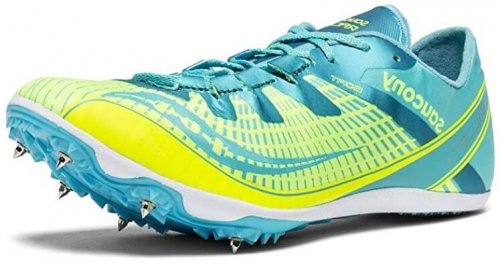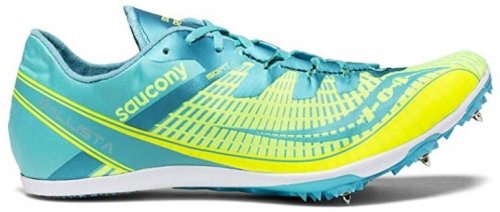 The updated version of the original Ballista includes a woven upper that fits you like a sock and a firmer spike plate that provides an explosive toe-off. This is a design built to run for no more than a mile at a time, with a 6-spike plate that keeps you steady and well-balanced during that middle distance. It is also breathable and its spikes can be easily removed should you so desire.
The materials used in the construction of the Ballista 2 are moisture-wicking, meaning that they keep your feet dry and cool throughout the run. It comes with Flexfilm, which is a strong material adhered to the upper that provides an easy, flexible feel and a design that is wonderfully flexible. For cushioning and impact-absorption, there is the ubiquitous EVA midsole that makes your run so much easier.
The Ballista 2 is made to last and to keep you comfortable for middle distances. The technologies that come in its upper ensure an amazing fit and the fact that its spikes are removable makes them amazingly versatile in terms of what terrain you can use them on, be it track, mud or asphalt.

6

. Under Armour SpeedForm Sprint 2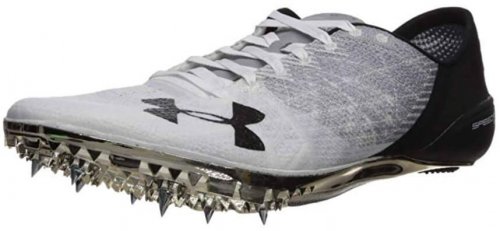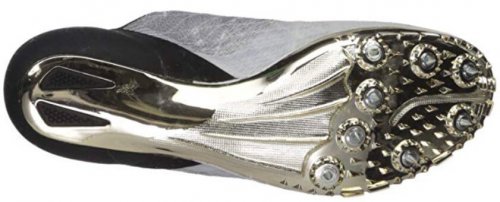 As its very name says, the SpeedForm Sprint 2 running shoes by Under Armour are designed for short distances or sprints. In these hardcore runners, you will gain speed like you wouldn't believe, and absolutely nothing will stop you from crushing your competition. From a special SpeedForm construction to a heel cup with excellent grip, to eight pyramid-shaped spikes - this design is ideal for those who are fast and fearless.
The upper of the Sprint 2 comes with loads of innovative technologies. These include the SpeedForm system which guarantees a precision fit, a Threadborne upper that provides compression and security, and special lockdown in the midfoot area. The front of the design is covered with TPU for durability. The heel cup on the Sprint 2 has a silicone grip that fits anatomically.
We have already established that eight spikes are ideal for sprinting, and the Sprint 2 has exactly that many. They're installed in a full-length Pebax plate that gives you a burst of energy right off the bat. If you're looking for best track running shoes with high velocity, then the UA SpeedForm Sprint 2 is the perfect option for you.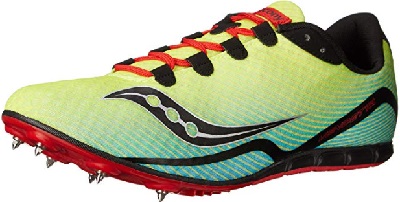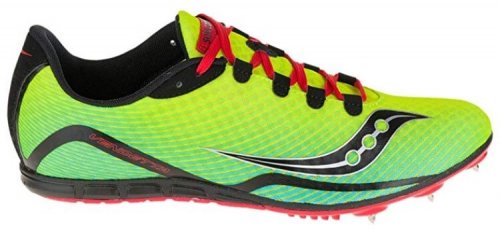 Saucony has done it again with another excellent option. This lightweight shoe has all the features of other beautiful Saucony athletic footwear, but with some slight modifications. It goes beyond entry-level and is intended for middle-distance runners. High-speed performance and durability are part of its design, able to ensure sprinters can do multiple events without worrying about changing footwear. It's a racing shoe that's ideal for the competitive athlete.
This track design has a six-pin Pebax spike plate, as opposed to seven spikes. It has a carbon rubber outsole, making it ideal for those needing a truly aerodynamic design. It also means the shoe is easier to clean. Unfortunately, it doesn't have perforations for ventilation, meaning that for higher velocity speeds, your feet might become overheated quickly. This also may contribute to foot fatigue.
The carbon rubber outsole and synthetic materials in its construction deliver a snug fit, and it has an EVA midsole that delivers extra cushion and padding. Unlike other track options, it doesn't have a padded tongue or collar, however, which may lead to minor discomfort at the ankle. Its lace closure system isn't as adjustable since the laces are elastic, but that does ensure the trainer won't slide off your foot anytime soon!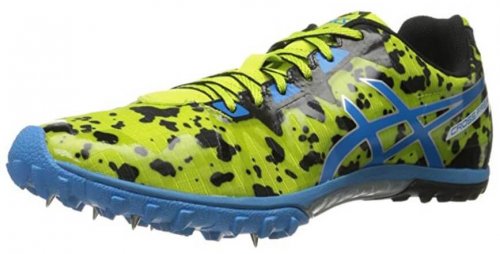 For all those cross country enthusiasts out there, the ASICS Cross Freak 2 is here to meet all of your needs. It has a Trusstic System plate and a rubber outsole for enhanced stability no matter what type of terrain you decide to take on, and it comes with five spikes for good control. Its EVA midsole is a must-have in these types of good track shoes.
The Cross Freak 2 has an upper that is flexible, with a balance of mesh materials and TPU overlays. It is accommodating enough to allow you for a snug, secure fit. The Trusstic Technology we mentioned earlier means that the sole unit of this design is incredibly lightweight, and yet still sturdy and durable to last you quite a while. The outsole is made from rubber, and the spikes help you maintain your momentum even on muddy surfaces, as well as inclinations.
If you're not the type of runner to stick to a track and like to broaden your horizons and explore everything nature has to offer, then don't skip the Cross Freak 2. With its high-tech features and special EVA cushioning designed to soften your landings, this option will keep you comfy and secure as you embark on your next cross country adventure.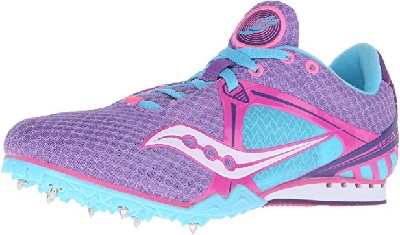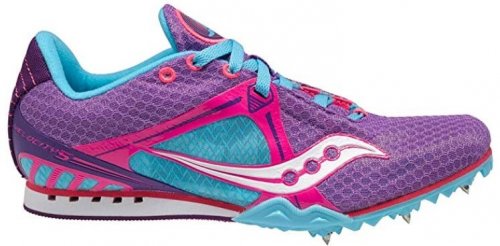 For those that have the need for speed, the Saucony Velocity is for you! With a 7 spike track system and an aerodynamic, well-fitting design, they are the shoes that will keep you focused and staying in your lane. With materials that include top of the line synthetic fabric and textile mesh and a soft rubber sole, they are lightweight enough to make you almost forget you're wearing any footwear at all.
While slightly more streamlined and simplified than other Saucony options, the Velocitys are no less impressive on the track. Though they may be considered an "entry-level" option, they are as high functioning as any geared towards more experienced athletes. Their mesh upper and welded quarter frame won't feel like a lot on your feet but they'll give you the support you need to go the distance.
These sleek trainers have an EVA insole to keep your feet well-cushioned no matter the ferocity of your athletic activity or your rate of impact. Everyone's pace is different, but these were made with a variety of distances in mind. And while they are entry-level shoes, they have been designed to provide the comfort and stability of a more advanced runner's shoe.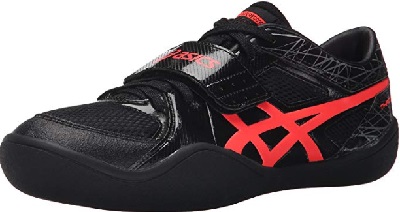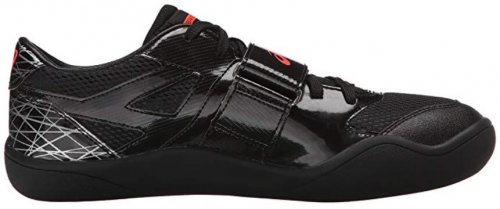 At first glance, the ASICS Throw Pro seems somewhat atypical for track design. It doesn't have any spikes, and its entire sole seems thicker and broader than a regular running shoe. And while it's made out of synthetic and mesh materials, it incorporates other textiles specific to the ASICS brand and athletic footwear technology. The features that make it different from other options may make it better, as it stands toe to toe with the best brands to deliver a design that is both performance-enhancing and functional.
The ASICS brand is known for innovative athletic footwear technology to put you ahead of your competitors. The Rhyno skin leather these use is abrasion- and tear-resistant, giving you extra durability. The synthetic leather they're made from makes them easy to clean and keeps them looking fresh. Finally, their Spevafoam midsoles give you greater energy return and less midsole breakdown over time.
Where most designs have a simple lace closure system, this one has an added velcro strap for customizable comfort and fit. It is adjustable at the instep for greater versatility. The Throw Pro has the patented Rhyno skin technology, which is a rubber that grips like it means business along the sole and outsole. You won't miss a step with these shoes on your feet.

Subscribe to our Newsletter