Best Sprint Spikes Reviewed & Rated For Performance
In a Hurry? Editors choice:
Test Winner: New Balance Vazee Sigma

Sprint spikes are a must for track and field training. Geared towards 100 to 400-meter races, this style of footwear is meant to help accelerate you across the finish line by decreasing your overall times. Which is exactly why we've carefully researched and reviewed to bring you a complete guide to ten of the best sprint spikes available today.

The list below gives you an overview of the best models currently available for purchase, with detailed descriptions of each sprint spike, including a list of pros and cons. Additionally, the Criteria for Evaluation section gives you handy information you'll definitely find useful, especially if you're new to buying sprint spikes.
Standout Picks
Criteria Used for Evaluation
Outsole
If you have to point out the one difference between sprint spikes and traditional running shoes, it will definitely have to be the sole portion. The thing you will notice first is that sprint spikes feature, yes, spikes in the forefoot area, the point of which is to help grip the track. The number of these will vary based on discipline and competition requirements, but it will usually be between 5 and 8 (with 8 being the current maximum allowed). The spike length will be between ¼ and ½ inches, with shorter runs requiring a larger number of shorter spikes.
Seeing that these protrusions on sprint spikes are removable, it is crucial to point out a few facts you should know before purchasing.
Your new pair of sprint spikes may not come with the spikes included. It is also recommended that you have a kit of extra spikes and blanks with you at all times. Not only is it possible that you'll have to change your layout quickly, but it's also important to have extras in case you lose some along the way.
You should never walk or run on asphalt in your sprint spikes. This is both dangerous, and will decrease the lifespan of your shoes.
Another thing you will find makes sprint spikes different from traditional running models is the rigid sole, usually achieved by placing a Pebax plate (or one made out of similar materials) to either the forefoot or the entire length of the sole.
What this ensures is the correct amount of rigidity that you need to achieve maximum speeds, without building up too much weight, and without sacrificing the flexibility you will still need for natural movement.
Advanced Features
Because sprint spikes are made for high-performing athletes who have a very limited time span to achieve top results, it comes as no surprise that brands look for ways to include advanced features that can help maximize athletic performance.
The most important of these is not a single feature, but actually a number of different aspects that all work together to achieve a single thing - minimizing weight. It is a well-known fact that athletes often look for the lightest possible equipment because it allows them to move at higher speeds without being weighed down or feeling fatigued. Sprint spikes are usually three times lighter than regular running shoes, with weights as low as 3 oz.
Another thing you might find included in your sprint spikes is midsole. Although models oriented towards professionals don't use much cushioning in order to maximize power transfer and speed, entry level sprint spikes do sometimes use a low-profile midsole to aid with shock absorption, especially in the heel area. This is a great feature for high school students and those who want to protect their feet from the harsh effects of running.
One notable feature included on the sprint spikes listed above is the BOA closure on the New Balance Vazee Sigma. This type of closure is most often found on cycling shoes, and it provides a secure lacing system that allows micro-adjustments and easy off. It can usually allow adjustments that are as small as 1 or 0.5 mm, which is a great feature for those looking for a tight, performance-oriented fit.
Comfort
One thing that should be kept in mind about sprint spikes is that they are not made to be comfortable. This type of shoe is most often used for short distances, and instead of comfortability, performance and speed are prioritized.
You will find, however, that a good fit is crucial. Although you should get used to a tighter fit, it should not cause painful pressure, rubbing or blistering. If you wear your sprint spikes without socks (like most athletes do), this becomes additionally important.
Because sprinting is such a strenuous activity, you will want to consider the amount of breathability offered by your sprint spikes. Ideally, you will go with a model that is made with an upper that allows plenty of air flow (such as mesh), but that is still supportive enough to ensure your safety. Support is mostly added through overlays, and several models listed above include printed or no-sew overlays in key areas that don't add seams or cause material bunching that could become a problem.
Durability
As with most sports equipment, you will want to get the most out of your investment when purchasing sprint spikes. This can become problematic if you consider the fact that most spikes only last about 200 to 300 miles. For high school students this can mean a couple of seasons, while for professional athletes, it is likely to be less.
One of the most important things in ensuring that your shoes last as long as possible, is to take good care of them. This means logging how much you used them, but also ensuring that you address any issues as soon as they happen. Make sure to regularly check the spikes, to use blanks when necessary, and to avoid asphalt.
As far as cleanliness goes, it is crucial that your footwear is dry before each wear, so you will want to store them properly, in a well-ventilated place away from direct sources of heat. Not only will this ensure they last longer, but it will also deter the appearance of odors, and can prevent foot health issues such as athlete's foot.
Brand
You will find that most models listed above are made by brands that manufacture regular running footwear in addition to sprint spikes. This is because these manufacturers have access to important research that helps innovate and create the best possible product for running track.
Additionally, the brand name you see on a pair of sprint spikes should give you a good idea of what to expect: from quality, comfort and fit features, and even to design and price. While some brands tend to produce shoes that are highly priced, others often offer the same quality at a lesser cost. When shopping, however, it is crucial to go with what works best for you, and not with a logo.
Some of the best sprint spikes available for purchase are made by Saucony, ASICS, Brooks, Nike, Under Armour and New Balance. This does not mean that other manufacturers won't have equally good products, but if you're a first time buyer, these are the ones we recommend looking into.
Top 10 Sprint Spikes
1

. New Balance Vazee Sigma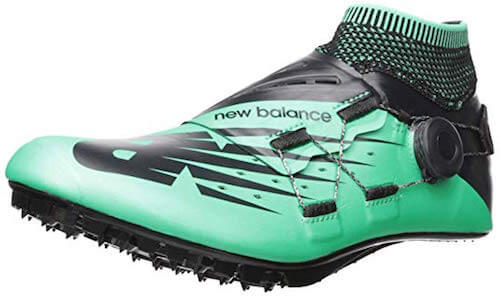 The New Balance Vazee Sigma is definitely a shoe you should check out if you're looking for the best sprint spikes. This high-top model was developed for sprinters, in particular those who run distances up to 400m. It has a unique look that is eye-catching without being too much, and it has plenty of performance features that professionals and those competing at high levels will surely appreciate.
The upper of the Vazee Sigma sprint spikes is made with a synthetic leather upper that provides a snug fit without creating any room for internal movement. No-sew overlays are added in key areas to maximize support, while the bootie construction adds a custom overall fit.
The closure system on the Sigma utilizes a BOA lacing system that is easy to use, and is highly effective in allowing athletes to adjust their sprint spikes. It works like a dial that needs to be turned in order to tighten the fit, and can make adjustments as small as 1mm.
The sole portion of the Vazee Sigma utilizes a pebax plate that is flexible enough for sprints, but durable enough to not lose its shape with use. The outsole is made with rubber and features an 8-spike design that helps grip the track.
In terms of cost association, this is a professional piece of equipment, and is priced like it, but if you're after the best sprint spikes possible, this model is definitely worth checking out.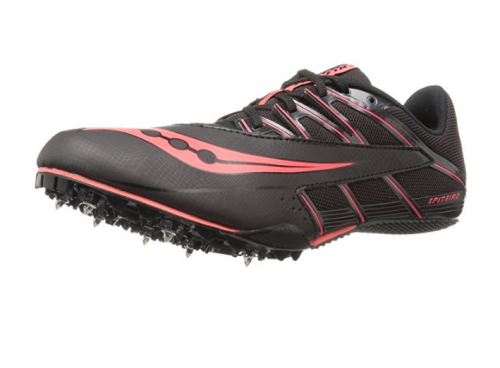 The Spitfire 4 is a speedy pair of sprint spikes that gives you the control and comfort you need for any sprinting event. It features a seven-pin Pebax spiked plate for superior traction when you need it the most. This shoe has a total weight of only 5.4 ounces thanks to its lightweight synthetic upper that firmly holds your foot in place. The Spitfire 4s molded quarter cage provides a featherlight supportive structure that will have you bursting around the track.
The Spitfire is available in four colorways: red, blue, black, and green, so you can choose whichever will make you stand out the most on the track. The upper combines lightweight synthetics for support with breathable mesh, and it features a padded mesh tongue that maximizes breathability, surely a great feature to have on your sprint spikes.
Another notable feature of the Spitfire 4 is the full length EVA midsole that adds some cushioning, although not much in terms of arch support. Nonetheless, this feature is sure to increase comfort, and won't hinder achieving maximum speed.
This pair of sprint spikes is available for an affordable price point that is sure to fit well with any budget and delivers a solid quality that's well worth its selling price.



The Ballista is a lightweight middle distance sprint spike that offers a new two-part plate for the perfect toe-off. Its single-layer mesh upper is supported by Flex Film and weighs just 3.1 ounces, making it the lightest middle-distance spike available today.
Flex Film is a durable and super lightweight material which is melded to the upper allowing for fewer layers of material to be used in its construction. This results in a flexible and seamless foot feel that's perfect for enhancing your overall performance.
The Ballista offers removable spikes that are ready for the track, trail, or pavement for a versatile design. Its breathable material wicks moisture away from your skin preventing a buildup of sweat and odor-causing bacteria for a dry and comforting experience.
The price ranks around average compared to the other sprint spikes listed, and it's an overall good investment for more advanced athletes who need more than an entry-level shoe.

4

. Puma Evospeed Electric 6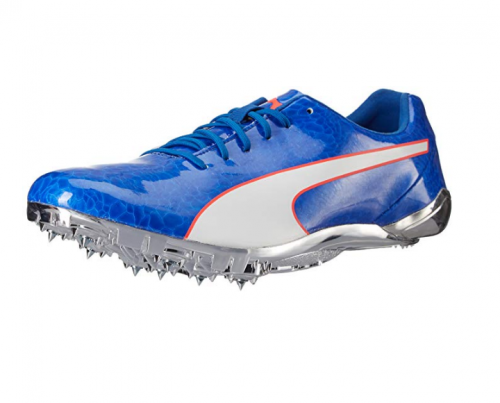 The Evospeed Electric 6 was designed to get you across the finish line in record-breaking time! Its seamless microfiber upper is perfect for using barefoot and its padded insole provides whole-foot support. This pair offers an aerodynamic upper and an internal suede construction that is less irritating on your feet.
This pair has a unique internal system of silicone printed lines that mock the muscles of the foot for added comfort and support.
An eight-pin full-length Pebax spike plate provides the perfect traction and propulsion, while a tapered shape encourages the wearer onto their toes. The Electric 6 delivers a secure fit that's both comforting and performance enhancing for the ultimate experience when it comes to sprint spikes.
This pair of sprint spikes costs considerably less than average, making it the best choice for those on a budget.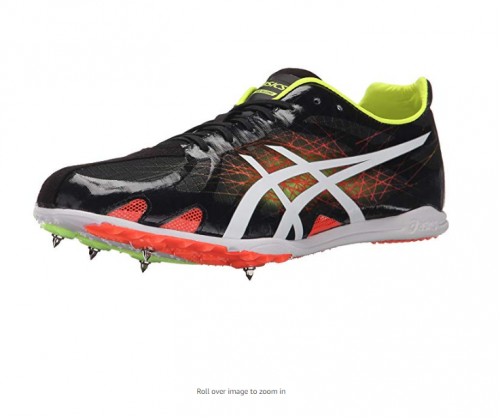 The Gunlap features a lighter midsole made from Solyte material that's lighter than the traditional EVA compound. It features a decoupled Pebax spike plate that's flexible yet firm for the perfect foot feel. This shoe delivers an upper drainage system and is the ideal choice for Steeplechase and other obstacle type races. It's available in eight bold color patterns which will help you to stand out among your competitors while its aerodynamic design sets you up for some serious speed on the track.
The Gunlap comes complete with reinforced perforations which allow for adequate airflow and hotmelt TPU overlays that provide a sock-like fit. Its SharkDuo outsole allows for an unmatched grip and superior flexibility which is perfect for distance runners who are looking to amp up their performance.
This pair of sprint spikes is made ideally for 800m to 3000m and steeplechase events. Its lightweight structure weighs in at only 4.9 ounces making it light enough to allow for maximum speeds.

6

. Puma Evospeed Sprint V6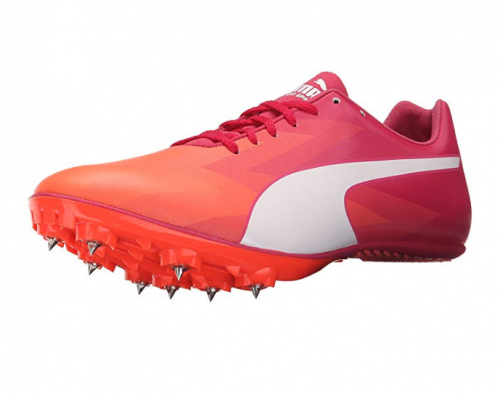 The Evospeed Sprint V6 is a sprint spike that offers a one-piece microfiber upper that keeps you cool and comfortable. Microfiber is excellent for allowing adequate airflow inside of a shoe and pulls excess moisture away from your skin for a comforting foot feel.
The V6 has a die-cut EVA sock liner that fits snugly around your foot like a glove. Its minimal compression-molded EVA midsole will have you sprinting in total comfort and will help to prevent track-related injuries from occurring.
Its eight-pin Pebax plate has cut-outs in place that help to make this shoe even lighter. A long-lasting sharkskin heel and carefully designed structure make this a durable pair of footwear that's perfect for sprint and hurdle events.
This pair of sprint spikes ranks around average in terms of price, making it a great choice for high school students and professionals alike.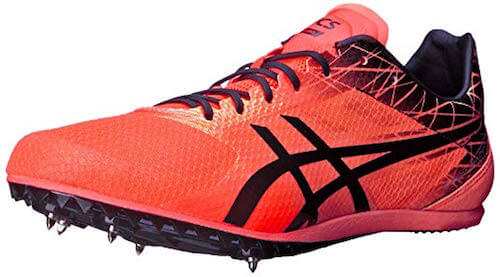 This model was built for middle distances, namely for runs between 800 and 1500m. This means that it features a little more cushioning than your average sprint spikes, but still offers the same grip on the track, as well as a performance-oriented fit in the upper. Being made by a reliable brand, you can definitely count on the ASICS Cosmoracer MD to help you achieve the results you want.
The upper of the Cosmoracer MD is made with a paneled mesh material and printed overlays for excellent support that doesn't sacrifice breathability. Not only does this keep you more comfortable while competing, but it also helps deter odors.
The sole of these sprint spikes comprises of a full length Pebax plate for durable flexibility, and a low profile Solyte midsole that helps absorb shock without adding to the overall weight of the shoe. The outsole features 5 pyramid-shaped 6mm spikes that do a great job at offering surface grip.
Compared to other sprint spikes, this model ranks low in terms or price, and is an excellent investment for highschool students and those on a budget. Being made by ASICS, you can count on this shoe to provide you with the quality, durability and performance you're after.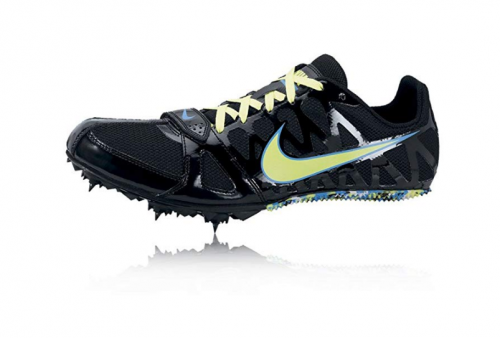 The Zoom Rival S6 is a superpowered pair of sprint spikes that's ideal for short distances. It offers maximum traction and a rigid seven-pin Pebax spike plate for an aggressive composition. Anyone sprinting 60 to 400 m races will find this the ideal option thanks to its excellent power transfer on every step, along with a forefoot strap that helps to keep your foot firmly locked in place. The Rival S6 has a thin layer of cushion for additional comfort and weighs just 7.5 ounces making it light enough to allow for adequate propulsion.
Anyone sprinting 60 to 400 m races will find this the ideal option thanks to its excellent power transfer on every step, along with a forefoot strap that helps to keep your foot firmly locked in place.
The Rival S6 has a thin layer of cushion for additional comfort and weighs just 7.5 ounces making it light enough to allow for adequate propulsion.
The Rival S6 is a comforting pair thanks to its thin EVA wedge that delivers a lightweight and enjoyable cushion. It's designed with a lean stitch-free upper made from synthetic leather for a durable and supportive design.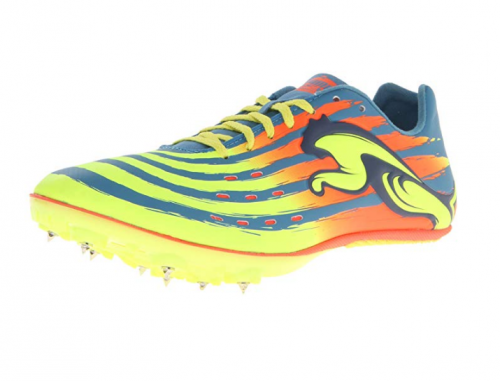 The fourth version of the TFX Sprint Spike is lighter and faster than its predecessors. It boasts a revolutionary Peebax spike plate that's designed for optimized performance on any running track. Its Brazilian inspired appearance and PUMA Cat logos deliver a fierce look that's ready to prowl the track with cat-like aggression. This shoe provides a durable and comforting ride thanks to its compression molded EVA footbed that prevents foot fatigue and lower limb pain.
The tongue is tracked down on the medial side which makes for a better fit, while its microfiber upper unit cradles the contours of your foot locking it down firmly in place. Its eight-pin Pebax spike plate is made to move and will increase your overall speed and form.
This pair of sprint spikes has a long-lasting sharkskin heel and cutouts along the spike played which make for a lighter spike and won't compromise your overall performance.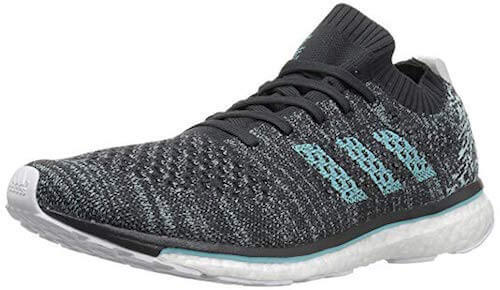 The Adizero Prime SP offers a synthetic, leather-like upper and smooth internal support that delivers a stable fit. Complete with a laser-molded frame that provides superior structure to the mid-foot and a NanoPlate spike plate, the Adizero is one tough sprint shoe. Specially designed carbon nanotubes make for the thinnest plate on the market so you can feel closure to the surface beneath you.
Wearers rave about the stable traction this option delivers thanks to its precision pin placement that makes for a super speedy pair. The Adizero weighs in at just 4.51 ounces and it has a 5.5 mm midsole drop for additional comfort.
Despite not being a sprint spike, this is still a good choice for those who want to work on speed. It is an averagely priced running shoe, great for those in need of a versatile cross trainer.

Subscribe to our Newsletter