Best Sprint Spikes Reviewed & Rated For Performance
last updated
Feb 08, 2019
Sprint spikes are a must for track and field training. Geared towards 100 to 400-meter races, this style of footwear is meant to help accelerate you across the finish line by decreasing your overall times. Which is exactly why we've carefully researched and reviewed to bring you a complete guide to ten of the best pairs available today. On our journey towards finding the best sprint spikes, we've carefully looked through the options, and along the road, we've collected the opinion of the consumers, and the opinion of their manufacturer. Continue reading for a detailed review of each pair, as well as, a breakdown of the criteria used during the selection process.
In a Hurry? The test winner after 19 hrs of research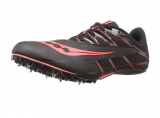 Saucony Spitfire 4
Why is it better?
5.4 oz Total Weight
7-Pin Pebax Spike Plate
Synthetic Upper
Molded Quarter Cage
In a
Hurry? Editors choice: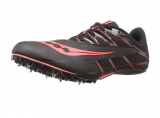 Test Winner: Saucony Spitfire 4

5
Researched Sources
531
Reviews Considered
19
Hours Researching
10
Products Evaluated
Speed
Durability
Fit
Effectiveness
Comfort
By Default
In Depth Review Top 10
Saucony Spitfire 4
Saucony Ballista
Puma TFX V4
Puma Evospeed Electric 6
Adidas Adizero Prime
Puma Evospeed Sprint V6
Under Armour Kick Sprint
Asics Gunlap
New Balance Vazee Verge
Nike Zoom Rival S 6
Table of contents
Criteria Used for Evaluation
Other Factors to Consider
Frequently Asked Questions
Sources
Top 10 Picks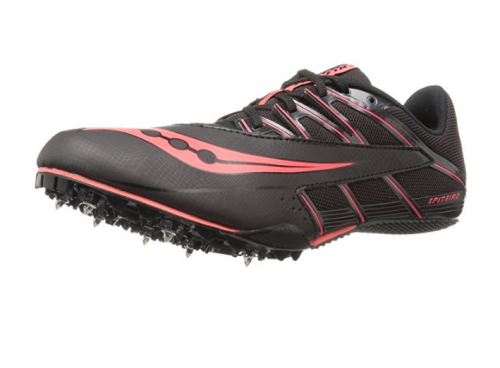 5.4 oz Total Weight
7-Pin Pebax Spike Plate
Synthetic Upper
Molded Quarter Cage
The Spitfire 4 is a speedy track and field shoe that gives you the control and comfort you need for any sprinting event. It features a seven-pin Pebax spiked plate for superior traction when you need it the most. This shoe has a total weight of only 5.4 ounces thanks to its lightweight synthetic upper that firmly holds your foot in place. The Spitfire 4s molded quarter cage provides a featherlight supportive structure that will have you bursting around the track.
Read more
The Spitfire is available in four colorways: red, blue, black, and green, so you can choose whichever will make you stand out the most on the track. This option is available for an affordable price point that is sure to fit well with any budget and delivers a solid quality that's well worth its selling price.



6-Pin Pebax Spike Plate
Two-Part Plate
Single Layer Mesh Upper
Removable Spikes
3.1 oz Total Weight
The Ballista is a lightweight middle distance spike that offers a new two-part plate for the perfect toe-off. Its single-layer mesh upper is supported by Flex Film and weighs just 3.1 ounces, making it the lightest middle-distance spike available today. Flex Film is a durable and super lightweight material which is melded to the upper allowing for fewer layers of material to be used in its construction. This results in a flexible and seamless foot feel that's perfect for enhancing your overall performance.
Read more
The ballista offers removable spikes that are ready for the track, trail, or pavement for a versatile design. Its breathable material wicks moisture away from your skin preventing a buildup of sweat and odor-causing bacteria for a dry and comforting experience.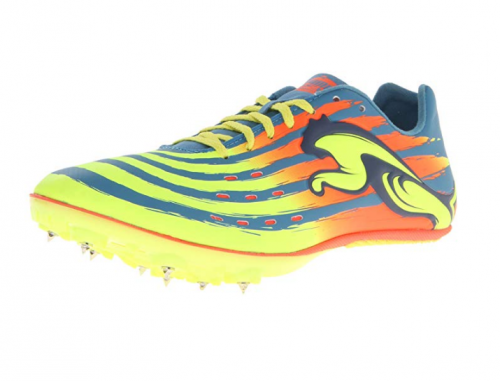 Compression-Molded EVA
Microfiber Upper
Tracked Tongue
Eight Pins
The fourth version of the TFX Sprint Spike is lighter and faster than its predecessors. It boasts a revolutionary Peebax spike plate that's designed for optimized performance on any running track. It's Brazilian inspired appearance and PUMA Cat logos deliver a fierce look that's ready to prowl the track with cat-like aggression. This shoe provides a durable and comforting ride thanks to its compression molded EVA footbed that prevents foot fatigue and lower limb pain.
Read more
The tongue is tracked down on the medial side which makes for a better fit, while it's microfiber upper unit cradles the contours of your foot locking it down firmly in place. Its eight-pin Pebax spike plate is made to move and will increase your overall speed and form. This shoe has a long-lasting sharkskin heel and cutouts along the spike played which make for a lighter spike and won't compromise your overall performance.
4

. Puma Evospeed Electric 6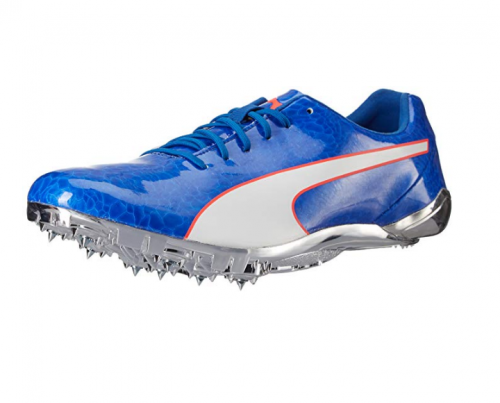 8-Pin Spike Plate
Microfiber Upper
Aerodynamic Design
Tapered Shape
The Evospeed Electric 6 was designed to get you across the finish line in record-breaking time! Its seamless microfiber upper is perfect for using barefoot and its padded insole provides whole-foot support. This pair offers an aerodynamic upper and an internal suede construction that is less irritating on your feet.
Read more
This pair has a unique internal system of silicone printed lines that mock the muscles of the foot for added comfort and support. An eight-pin full-length Pebax spike plate provides the perfect traction and propulsion, while a tapered shape encourages the wearer onto their toes. The Electric 6 delivers a secure fit that's both comforting and performance enhancing for the ultimate in running spikes.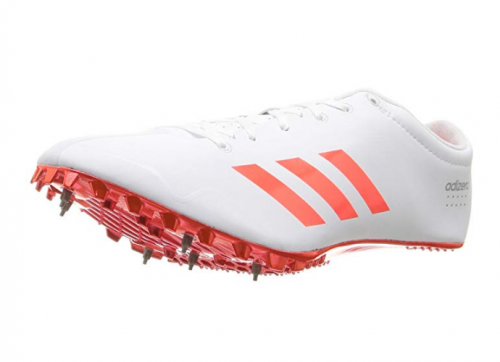 5.5 mm Midsole Drop
Carbon Nanotubes
Laser-Welded Frame
4.51 oz Total Weight
The Adizero Prime SP offers a synthetic, leather-like upper and smooth internal support that delivers a stable fit. Complete with a laser-molded frame that provides superior structure to the mid-foot and a NanoPlate spike plate, the Adizero is one tough track shoe. Specially designed carbon nanotubes make for the thinnest plate on the market so you can feel closure to the surface beneath you.
Read more
Wearers rave about the stable traction this option delivers thanks to its precision pin placement that makes for a super speedy pair. The Adizero weighs in at just 4.51 ounces and it has a 5.5 mm midsole drop for additional comfort.
6

. Puma Evospeed Sprint V6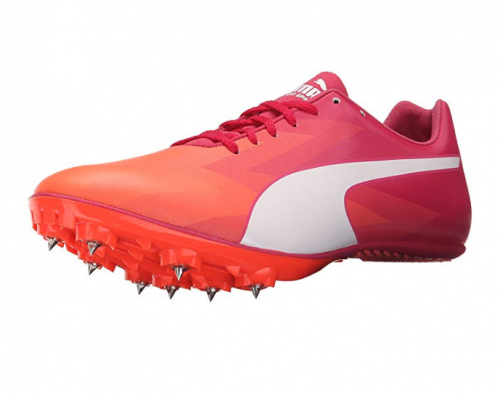 Microfiber Upper
One-Piece
Compression-Molded EVA Midsole
EVA Sock Liner
The Evospeed Sprint V6 offers a one-piece microfiber upper that keeps you cool and comfortable. Microfiber is excellent for allowing adequate airflow inside of a shoe and pulls excess moisture away from your skin for a comforting foot feel. The V6 has a die-cut EVA sock liner that fits snugly around your foot like a glove. Its minimal compression-molded EVA midsole will have you sprinting in total comfort and will help to prevent track-related injuries from occurring.
Read more
Its eight-pin Pebax plate has cut-outs in place that help to make this shoe even lighter. A long-lasting sharkskin heel and carefully designed structure make this a durable pair of footwear that's perfect for sprint and hurdle events.
7

. Under Armour Kick Sprint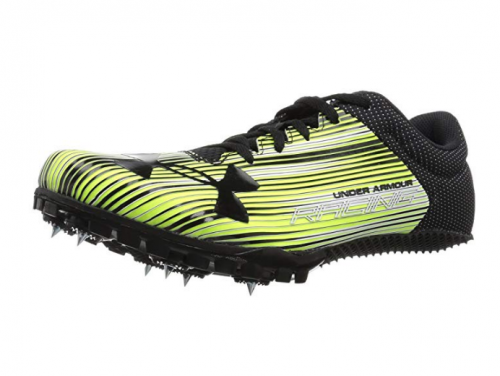 6-Pin Pebax Spike Plate
Intermediate Level
1/4" Pyramid Spikes
6.8 oz Total Weight
The Kick Sprint is an intermediate level track spike. It can easily handle a number of sprint events and delivers an excellent level of traction. This pair offers a structured fit that feels like a glove thanks to its synthetic mesh upper. It features a six-pin Pebax spike plate and weighs just 6.8 ounces for a lightweight ride. Sixteen ¼ -inch pyramid spikes make this shoe the perfect choice for use on the track and ensures that your feet will be firmly planted on the ground while still allowing for super fast speeds.
Read more
The Kick Sprint is available in five colorways including yellow, white, multi, Phoenix, and green, so you'll have no trouble standing out from the crowd. Its available for an affordable price point that makes this pair an accessible choice for anyone on any budget.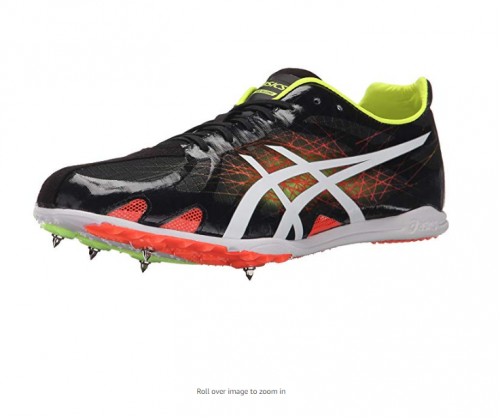 Solyte Midsole
Decoupled Pebax Spike Plate
Upper Drainage
4.9 oz Total Weight
The Gunlap features a lighter midsole made from Solyte material that's lighter than the traditional EVA compound. It features a decoupled Pebax spike plate that's flexible yet firm for the perfect foot feel. This shoe delivers an upper drainage system and is the ideal choice for Steeplechase and other obstacle type races. It's available in eight bold color patterns which will help you to stand out among your competitors while its aerodynamic design sets you up for some serious speed on the track.
Read more
The Gunlap comes complete with reinforced perforations which allow for adequate airflow and hotmelt TPU overlays that provide a sock-like fit. Its SharkDuo outsole allows for an unmatched grip and superior flexibility which is perfect for distance runners who are looking to amp up their performance. This shoe is made ideally for 800m to 3000m and steeplechase events. Its lightweight structure weighs in at only 4.9 ounces making it light enough to allow for maximum speeds.
9

. New Balance Vazee Verge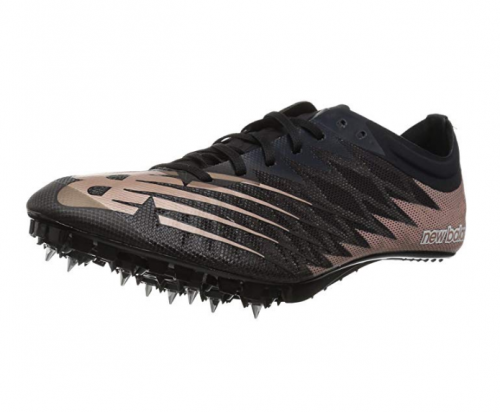 8-Pin Spike Plate
FantomFit Frame
Skeletal Support
Full-Length Plate
The Vazee Verge is built for powerful performance! Its the ideal choice for 200-400m sprinting and delivers maximum power. The Vazee boasts an impressive eight-spike plate and an ultra-lightweight upper. Its FantomFit frame wraps around the structure of the foot to provide superior skeletal support, along with its uniquely constructed collar that offers maximized comfort.
Read more
The Vazee delivers a high-quality design thanks to its full-length Pebax plate and eight-spike structure that helps you to power along the track. Its low-top shaft and comforting foot feel make this shoe a favorite among wearers and guarantee a performance boosting performance.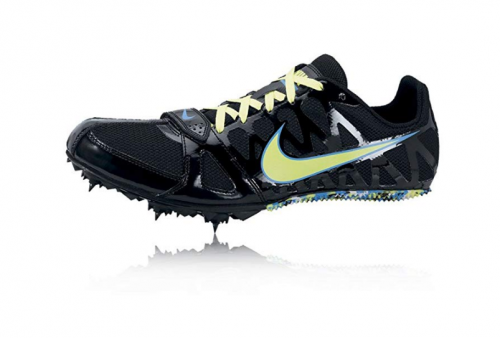 7-Pin Pebax Spike Plate
EVA Wedge
Thin Padding
7.5 Ounces Total Weight
The Zoom Rival S6 is a superpowered shoe that's ideal for short distances. It offers maximum traction and a rigid seven-pin Pebax spike plate for an aggressive composition. Anyone sprinting 60 to 400 m races will find this the ideal option thanks to its excellent power transfer on every step, along with a forefoot strap that helps to keep your foot firmly locked in place. The Rival S6 has a thin layer of cushion for additional comfort and weighs just 7.5 ounces making it light enough to allow for adequate propulsion.
Read more
The Rival S6 is a comforting pair thanks to its thin EVA wedge that delivers a lightweight and enjoyable cushion. It's designed with a lean stitch-free upper made from synthetic leather for a durable and supportive design.
Criteria Used for Evaluation


Speed
What's the one thing that everyone on the track has in common? They all want to be the fastest! But without proper footwear, it is nearly impossible to reach your maximum potential and your overall speeds will be negatively affected in the long run. In order for a spike to help you succeed it needs to provide energy return to the wearer. This is accomplished through carefully designed spikes which do not actually penetrate the track, but rather compress the track and use its reaction force to help with overall speeds. For sprinting it's vital that you use an option with the most amount of rigid spikes possible. It's important that the taper is at its highest and most rigid state in order to effectively transfer energy with every stride so that you're able to reach your maximum speeds.


Durability
Spiked track shoes are designed with a rigid to semi-rigid spike plate that will have between three to nine spike wells. There are both permanent and removable spikes available with each having their ups and downs. Removable options are preferred by some because each individual spike can be replaced if it breaks while you're training, whereas, fixed ones cannot. The pairs featured on this page were chosen, in part, for their durable construction that reduces the instance of malfunction and helps to keep you on the track longer. The material which the spikes are made from is an important aspect in their overall lifespan and was taken into consideration while reviewing each pair. The best materials are metal or ceramic because they are able to better withstand the tough wear and tear of the track.


Fit
This style of footwear needs to fit very well in order to keep you safe while you're on the track. It's important that they have a secure fastening system which won't allow for flopping or sliding because this could potentially put you at a greater risk for injuries. Traditional laces are always a smart choice because they allow for an adjustable fit which the wearer can customize to their own feet ensuring that they're absolutely comfortable in their shoes. With laces, it's very important that they are properly secured inside of the shoe or that they're a no-tie design because if your laces hang over the shoe it greatly increases the risk of tripping. Another solid style of a fastener to consider is the hook-and-loop design because it reduces the risk of trips while still allowing for an adjustable wear.


Effectiveness
In order for a sprint spike to be effective, it needs to enhance your overall performance and increase your speed. In order for this to happen, a shoe needs to provide solid traction and a lightweight structure. Sprint spikes are so beneficial because they provide additional traction even while you're sprinting in wet or harsh conditions. There are many types of spikes available including smaller more sharp ones and larger and heavier cross-country designs. No matter the size of spike you're looking for, it will offer the same effectiveness in terms of gripping the track beneath you, which will help to propel you faster and improve your overall performance. An important aspect to look for is a removable spike because this allows you to adjust the configuration as needed to best meet your needs. This can change from race to race and the adjustable option will make the shoe the most effective for you.


Comfort
It's imperative that a pair of sprint spikes be as comfortable as possible. You don't want to put your feet at any risk of injuries related to your footwear and you certainly don't want to expose them to any more aches and pains. In order for a shoe to be as comforting as possible, it needs to provide an adequate level of support while still providing a protective padding between your foot and the ground beneath it. When you're sprinting you don't want a shoe that too padded because this could weigh you down and negatively affect your overall speeds. Consider an option that has a thin yet effective cushioning, particularly options that have EVA material because it's lightweight and comforting making it an ideal choice for this style of shoe.
Expert Interviews & Opinions
Most Important Criteria
(According to our experts opinion)
Experts Opinion
Editors Opinion
Users Opinion
By Default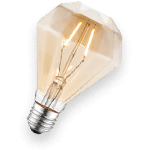 Blister Problems?
Many sprinters tend to go sockless inside their sprint spikes, but is this actually an effective approach? Not wearing socks can increase your risk of blisters which can actually slow you down in the long run. A snug pair of running socks is ideal, with the thinner options being best.
Breaking In New Shoes
It's common knowledge that running shoes shouldn't need to be broken in; and if they do then they probably aren't the right fit. Sprint Spikes, however, don't fall under this same rule and it is important that you break in your shoes prior to competing to help avoid any injuries.
Other Factors to Consider


Advanced Features
A Pebax spike plate offers the longevity and rigidity that's needed from a sprint spike. Pebax® belongs to a group of elastomers that are one of the best in the world. It offers a highly sought after mix of the toughness we associate with polyamides and the flexible movements often associated with polyethers. This material offers a rigid and long-lasting spike plate that's ideal for maximizing performance and reaching top speeds.


Weight
The weight of a track spike is a crucial element. It's vital that it be light enough to allow for faster overall speeds and better performance. Sprint spikes usually range from the lightest, at just over three ounces, to around seven ounces. Anything heavier than that will start to weigh you down and could negatively affect your speed. The lightest to make the list, the Saucony Ballista, has a total weight of just 3.1 ounces. This makes it one of the lightest options available and is the reason why it's so loved among the sprinting community.


Ground Feel
Many sprinters prefer to feel as close to the ground as possible while they're on the track. Though this is fine, it's still advisable to look for a spike that has some form of padding, even if it's very thin. Padding protects the delicate underside of the foot and can prevent foot fatigue and lower limb pain. Padding also helps to prevent blisters by lessening the friction from your skin connecting with the material. An excellent choice of cushioning material is EVA because it's thin and super lightweight making it a great option for speed enhancing footwear.
Frequently Asked Questions
q:

How should I care for my spikes?

a:

Firstly, start off by never running without having inserted a pin or plug into your plate. Doing so can quickly ruin any pair by lessening the traction that it provides. Additionally, wipe your spikes down after each use to ensure that there is no loose debris or stray objects that could slow you down or impede your overall performance. If your shoes get wet don't put them in the clothes dryer! Simply fill them with a newspaper which will soak up the excess moisture and quickly dry them out.
q:

Should I wear socks with them?

a:

Though many wearers prefer the thought of going barefoot it does put you at a greater risk of developing a painful blister and that's no fun! If you really prefer the barefoot feel consider opting for a very thin and sheer sock which will give you that bare feeling while still protecting your feet from the dreaded blister.
q:

Should my spikes fit snug or loose?

a:

That's a matter of choice! Many wearers are uncomfortable in a pair that's too tight, while some actually opt for a whole size smaller then what they would normally wear. Whatever size you choose just be sure that you have adequate airflow and that it doesn't hinder your circulation. It's also important that your shoes aren't too big because this puts you at a greater risk for trips and injuries.
q:

How can I make sure I'm comfortable in them?

a:

It's important to break in your spikes before racing in them. Making sure to train for an adequate amount of time in your shoes will ensure that you're fully comfortable in them. This will lessen the chances of failure while you're in competition because you'll feel more confident with your choice of footwear.
q:

Do I need extra spikes?

a:

It's always a good idea to bring extra spikes and pins with you. This way if you lose one or if one breaks you'll still be able to train or compete because replacing one is very simple.