Best Stall Cleaning Shoes For Mucking Out Reviewed
In a Hurry? Editors choice: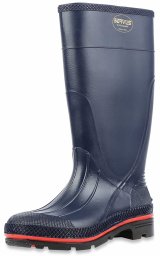 Test Winner: Servus Max

There's no way around it - if you own horses or livestock, if you work on a
farm
of any kind, you will find yourself cleaning out stalls sooner or later. After all, animals need to live in hygienic conditions, and it's not like they can wield a shovel to clean up after themselves.
This is why it's your job to make sure that their living environment is spotless - relatively speaking, of course - and for that, you need just the right kind of footwear. Here you will find a comprehensive list of the best shoes for mucking out stables, which will keep you protected from dirty surroundings, comfortable as you complete your chores, and which are able to withstand extreme conditions for many seasons to come. Enjoy!
Standout Picks
Criteria Used for Evaluation
Water Resistance
First and foremost, a good boot for mucking out needs to be waterproof. And we don't mean kind of waterproof, the type you would wear in light rain but not in heavy snow - we mean absolutely, 100% waterproof, without a chance of even a drop of moisture coming in contact with your feet. Let's face it: working in the stables is a messy business, and there is liquid everywhere - you need every ounce of protection you can get.

Fortunately, all of the options on our list are waterproof. Some are better at it, with their waterproofing abilities remaining intact even after years of wear, while some lose their water resistance after only a couple of seasons. (Which is exactly why we ranked them according to their water resistance levels.)

The way in which water resistance is achieved varies. Most items in our guide rely on their materials, which are neoprene and rubber for roughly 70% of them. Neoprene is what wetsuits are made of, so you know immediately that it is waterproof. Rubber is also impenetrable; it doesn't allow anything to pass through and is always the go-to option for wet conditions.

One of the three exceptions here is the Servus Max, which is made out of injection molded PVC material. This is no less water resistant than rubber and will serve you well over a long, long period of time.

The other two exceptions are the Sperry Saltwater and the Ariat Terrain. These designs have leather in their uppers, a material which isn't naturally waterproof. However, they achieve water resistance through special pre-treating and construction. The Ariat Terrain especially comes with a Waterproof Pro membrane technology which prevents any type of moisture from getting through to your feet.

One thing is for sure: no matter which item you reach for on our list, the water resistance is guaranteed. We can't let you waltz inside a stable in leaking footwear, and whichever option you go for - being that a one with naturally waterproof materials, or a one with a unique technology which prevents moisture from dripping in - you can be certain that you will be outstandingly protected.
Comfort
Sometimes mucking out stables or general barnyard/farm work can take several hours. A whole day, perhaps. And that is a lot of time to spend on your feet, and in your footwear. Even if you are in good physical condition and if your legs are used to the labor, your feet will need all the support and cushioning they can get to not scream in pain at the end of the day. Comfort is of utmost importance when you're doing hard work, and you need your boots to be as easy to wear as possible.

There are several factors which go into deciding the comfort level of a design. If you're interested to find out what makes a good muck boot comfortable and what you should be looking for as you shop, take a look at the list of features we've put together.

Footbed: Footbed is the part of a design which comes in direct contact with your foot sole. This is what you feel when you walk around, and is largely what determines if you find a design comfortable or not.
First of all, footbeds can be cushioned. Extra padding, such as EVA or memory foam, means that the force of the impact of your heel is decreased, and that your joints and your foot don't suffer from repeated pounding as you walk. A cushioned footbed allows you to move about more freely, and makes you feel like you're stepping on something soft and malleable, as opposed to a hard, unforgiving surface.
Secondly, footbeds can also be molded in shape. A contoured, or molded footbed has a distinct form which corresponds to the shape of your sole. It gently cradles the heel and the toes, while offering support and stability where you need it the most.
The downside of molded footbeds is that not all of them are built to suit the shape of your foot sole, so you may go through some trial and error before you find the one which fits just right. But when it does, man oh man, those shoes become irreplaceable in terms of comfort.
Arch Support: Arch support is technically a subcategory of the footbed, as arch support is a part of the footbed. However, it deserves a section all on its own, because a couple of the designs on our list, such as the Servus Max and the Muck Boot Chore Classic come with special steel shanks which support the arches.
Arch support is essential in keeping foot fatigue at bay, in preventing overpronation as you walk, and in reducing the risk of medical conditions such as flat feet. You won't go wrong if you choose a design which has all the necessary arch support for an entire day of work.
Materials: Finally, even though we have an whole section on materials, here we will address them in relation to comfort. The overall construction of the boot should be flexible enough that it molds to the shape of your leg and foot, that the boot is easy to pull on and take off, but that is also not too flimsy. The inside of the boot shouldn't have any seams that dig into your skin, as these will become a nightmare after hours of trudging around the stables and the fields. Try going for a seamless construction, such as with the Servus Max, as this not only means maximum water resistance, but also an easy, chafe-free ride.
Durability
Usually, durability is not a priority when we're looking for regular footwear. It is normal that all designs have an expiration date of sorts, a life that meets its end sooner or later. However, the question of durability is a little different when we're talking about extreme conditions found inside a stable.

Because this is not only about water or mud anymore. Stables are filled with organic compounds such as manure and urine, both of which have corrosive properties and can practically 'eat' through your footwear in record time. When it comes to working in this type of an environment, durability is key.

At the top of our rankings in terms of this quality is the Servus Max. This design is resistant to chemicals and organic compounds, and is virtually indestructible. There is nothing that will puncture a hole in it, no matter how hard it tries. The rest of the rankings are taken by the neoprene/rubber barn designs, which are all also pretty durable. Rubber especially is resistant to stains, and will hold up well in harsh conditions, which is why all foot areas on these boots have an additional layer of rubber over them.

While genuine leather and suede are one of the most durable materials in regular, everyday situations, they may not be the best when it comes to stable work. This all depends on what they were treated with, of course, and, for example, the Ariat Terrain is a boot which can take quite a beating, even though it is made from leather.

As when shopping for regular footwear, keep an eye out for defects. Any thinness of the material, any seams which are falling apart or apparent holes between the upper and the sole are not acceptable when you're ankle deep in slick dirt, and you definitely need to make sure that your purchase is up to par before you decide to try the shoes out.
Upper
Under 'upper' here we categorized the items on our list according to how tall they are. When you're working in a field, a barn or in a stable, low-top, especially open footwear is not a good idea. There is an inordinate amount of liquid, mud, organic waste, hay, grass, dirt, you name it, and if anything below the ankle is exposed you will most certainly get dirty yourself and then spend precious free time later washing everything off. (Not to mention that having dirty feet is not the most pleasant feeling in the world.)

When it comes to stables, it is best to stick with footwear that at least covers your ankles. How high you want the shaft to actually go depends on a number of factors: your personal preference, the season, your tendency to unintentionally splash around etc.

Out of these, the season is probably one of the key things you should consider when picking out a boot of the right height for yourself.

If summers get hot, and if you work up a sweat during your chores, having boots which reach up to your knee will only contribute to your overheating. Of course that there are options which promise breathability and moisture-wicking even if they are tall, but if you're not prone to getting your shins or calves dirty, there is no reason you should sentence yourself to sweating in tall boots in high temperatures. Reach for designs such as the Mudruckers Mid, the Sperry Saltwater, or the wonderful Muck Boots Muckster II, which is foldable! You can roll down the cuff of this boot for even more ventilation as you work.

However, winter is a whole different story. In winter you want insulation and heat retention, and having a boot which also covers your leg is another layer of warmth which you might need. The Noble Outfitters Muds Cold Front, for example, comes with a fleece lining that will keep you warm in low temperatures, and it makes a great choice for sub zero days.

The downside to tall boots is that they may be a little more difficult to pull on, especially if you have wide calves. You can solve this by getting boots with pull-on tabs or holes built into them, such as the Roper Barnyard or the Ariat Terrain, or you can opt for those which have a soft, stretchy shaft, such as the Muck Boot Wetland or the Noble Outfitters Muds Cold Front.

There are many options you can land on, with different heights, different closures and different materials. We do urge you to make sure that you are protected from dirt in all cases, but also equally protected from both catching a cold or suffering from a heat stroke, depending on the weather.
Materials
Lastly, one thing that you might be asking yourself is: what materials are the best for stable-cleaning footwear? Well, as you might have gleaned from all of our previous criteria, this answer is somewhat multifold. After all, the materials of a design are what determine its properties: breathability, flexibility, durability, comfort levels, water resistance, weather resistance, slip resistance and so much more.

The most common combination which you have undoubtedly noticed as you went through our guide, is the neoprene/rubber duo.

We've already mentioned that neoprene is what wetsuits are made of. This material is actually a type of a rubber. It is extremely malleable and flexible, and it comes in different levels of thickness. Generally, the thicker it is, the more water and cold resistance it provides. Neoprene has excellent chemical resistance, as well as flexibility over a wide range of temperatures. It also has great heat retaining properties, which is what you need when it gets freezing outside.

Rubber, similarly, is resistant to a lot of things: abrasion and tear, chemicals, water and stains, and it has the unique ability to bounce back to its original shape after being compressed. Because rubber is firmer than neoprene, this is what keeps your feet protected from stubs and bumps as you walk through the stables.

That being said, other two types of materials which we encounter in our list are PVC and leather and suede.

PVC is similar to rubber, only made of plastic. It is more lightweight and less expensive than rubber, but it is also stiffer and can dig into skin. PVC is weather- and fire- resistant, and less durable than rubber. This is why many manufacturers incorporate rubber into their PVC designs, to balance out these disadvantages while maintaining the low cost at the same time.

Leather and suede, as we talked about previously, are only good for field and barn work if they are pre-treated with waterproofing agents, or manipulated in a way that makes the design waterproof by construction. Leather footwear needs to be properly cared for, cleaned and conditioned, but there is no reason why it won't last you at least as long as the other options on the list, or why it won't be just as protective and comfortable, if not more so.
Our Favorites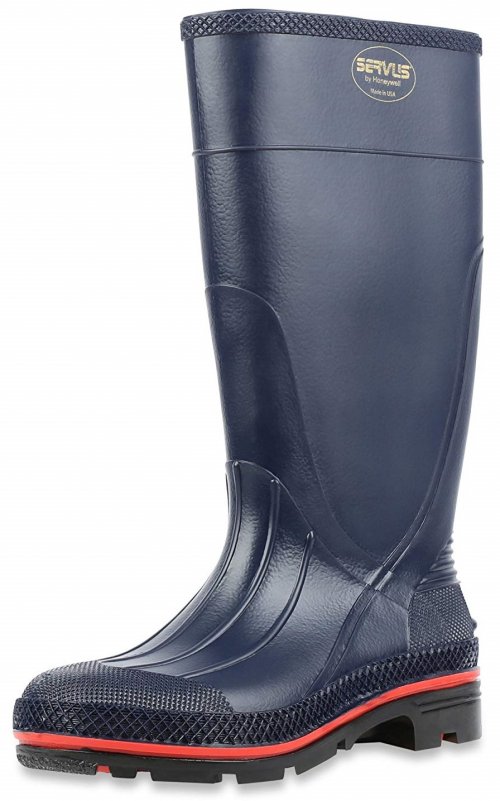 When it comes to agricultural work, farming, or work in the poultry and fish industries, it doesn't get much better than the Servus Max. This tall boot (with a shaft about fifteen inches high) is resistant to chemicals and organic compounds which are usually found in fields, in barns and stables, and it resists degradation for a considerable amount of time, making it extremely durable.
This boot is constructed using a Triple Density Technology (TDT), which makes it 100% waterproof and seamless. Not only that, but the Servus Max is comfortable, with a Foot Form insole that provides cushioning as well as arch and heel support. This insole is removable and easily washable. When it comes to comfort, there is also a wide steel shank which supports the arch inside the boot.

The outsole of the Servus Max is self-cleaning. It has the ability to eject liquid and debris which finds its way under your boots, improving traction on wet and slick terrain. This boot is lightweight due to its soft toe construction, and it reduces the risk of both leg and foot fatigue after a long day of labor.

We are in awe of the wonder that is the Servus Max. This boot is long-lasting, protective, and comfortable to wear for extended periods of time. It even has higher kick-off lugs which allow you to remove them easily at the end of the day! Its design truly covers everything a solid, reliable muck boot should have, and all of that comes at an amazingly low cost.

2

. Noble Outfitters Muds Cold Front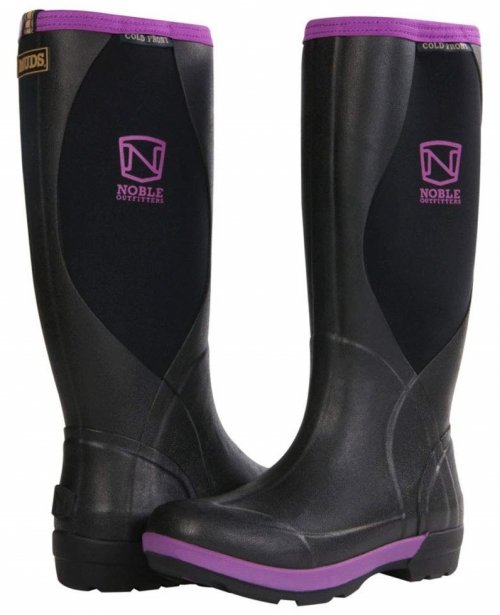 Noble Outfitters is in large part the go-to brand for equestrian equipment and wear. The Muds Cold Front boots have been specially designed to withstand the muddy, slick conditions inside a stable, and to protect you from getting splashed as you work. They come in several different color options, and while being trendy is not your priority in the stables, you might appreciate the touch of style they offer.
The Muds Cold Front is made out of a combination of rubber and 5mm thick neoprene. It is completely waterproof, and thanks to the neoprene it fits snug to your calf, preventing anything from falling down the opening of the shaft. The neoprene also makes the boot incredibly flexible and a little bit stretchy - think wetsuits - and thus allows a calf of any thickness to slide into it.

The inside of the boot is lined with fleece, which offers insulation for cold weather and keeps your feet and legs toasty. In terms of comfort, the Muds Cold Front comes with a shock-absorbing insole, as well as a contoured foam interior for a secure fit. The insole of the boot is also anti-microbial, meaning that it prevents the development of bad odors and bacterial infections.

The Noble Outfitters Muds Cold Front is that boot that you wear day in and day out, that keeps you warm and comfy, and which holds up well against the harsh environment of working in the stalls. There is also an option to get it in a cute pattern which will make you feel stylish as you take on the challenges of your day. Overall, a great deal!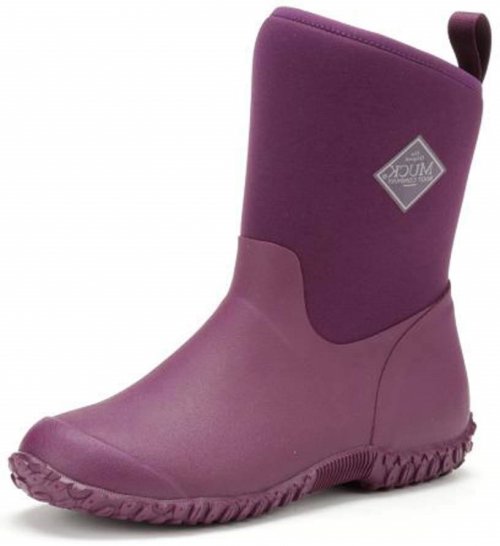 In our list, we have a mix of tall and mid-high boots, and the Muckster II is a rare option which is actually both mid-high and ankle-high. The trick is in the soft, flexible upper which can be folded over in case you are too hot in the boots, or if you simply don't need them to be that high. When you fold them over you expose the lovely, colorful pattern the boots have inside, for a touch of whimsy while you work.
The Muckster II is made out of a combination of 4mm neoprene and rubber. As all other boots in this guide, it is 100% waterproof, because we can't imagine going into the stables without waterproof footwear. The last of this design is specially constructed to conform to the shape of a woman's foot, and it is lined with Airmesh. Airmesh is a breathable material, which allows air to easily flow through, keeping you sweat-free in all seasons.

The outsole of the Muckster II offers amazing traction on all surface types, and it also has that self-cleaning feature, which keeps out dirt and liquid from under your boots. In case you are someone who has difficulties getting in and out of their footwear, you will be pleased to know that the Muckster II has a pull-tab in the back for an easier on and off.

We can't help but point out how cute this bootie is! It is lightweight and fun to wear, and yet it is no less protective or water resistant than any other option on our list. The Muckster II is a great choice for any number of outdoor activities, from stable cleaning to gardening, and you will surely find a place for it in your collection.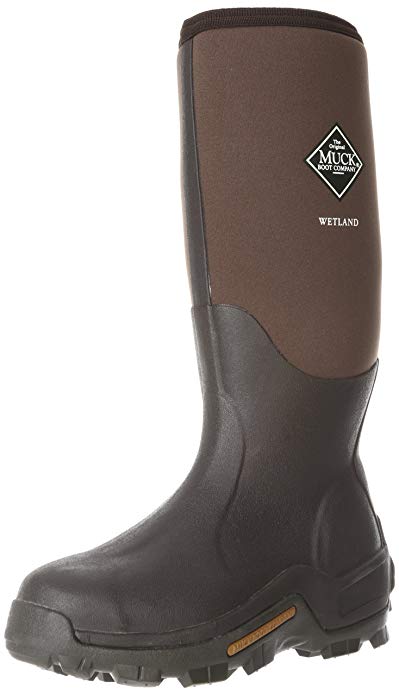 If you get a thinner boot, you will be able to wear it comfortably in spring, summer, and fall, but it may not be insulating enough for winter. The Muck Boot Wetland, however, is a design which will keep you comfortable and warm all year long, in temperatures ranging from - 20F to 50F. It is made out of the well-known combination of 5mm neoprene and rubber that many other options on our list are also made from and is carefully constructed to provide the ultimate protection.
The Muck Boot Wetland is a tall, waterproof boot, perfect for traipsing in muddy, unfavorable terrain, for hunters and bird-watchers alike. The flexible, stretchy neoprene is covered with an overlay of rubber which protects your feet and ankles from outdoor hazards. The top line is soft and meant to fit closely to your leg, but it can be rolled down if you wish to cool off in warmer weather.

The inside of the Wetland is lined with Airmesh, a breathable material that keeps your feet dry and comfortable even in summer. There is a contoured EVA midsole which follows the natural shape of the foot for tailored comfort, and the outsole is ribbed for optimal stability and performance no matter what environment you find yourself in.

If you're working all year round, from sweltering summers to freezing winters, and would like to avoid spending extra money on several pairs of shoes, then the Muck Boot Wetland is the perfect solution. It is designed specifically to help you endure all sorts of weather conditions, and you will not regret investing in this lovely option.

5

. Ovation Mudster Comfort Rider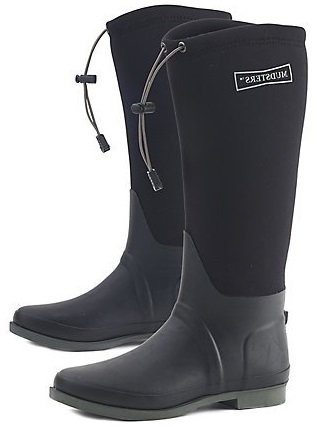 The Ovation Mudster Comfort Rider is an option that looks like most others, at first glance, but which actually has a couple of neat features that set it apart from the rest. Firstly, it comes with a riding heel with a spur rest, making it a great choice for riding as well as cleaning. And secondly, there is a drawstring closure on top of the boot. This allows you to adjust the opening to your liking, and make it as tight or as loose as you need it to be.
The Comfort Rider is made from neoprene for the leg part and rubber for the foot part, complete with a grippy rubber outsole. It is a three-season boot, meaning that you may want to choose a different, more lightweight option for summer when the days get really hot. Nevertheless, in other seasons, the Comfort Rider will keep you comfy and just the right amount of warm with its self-insulating properties.

It is a given that the Comfort Rider is waterproof. Thanks to the drawstring at the top, you can customize the fit around your calf, as well as limit the debris which might find its way inside your boot. Thanks to the carefully crafted heel, with this boot you can go from your regular barn chores to horseback riding without changing footwear!

The Ovation Mudster Comfort Rider is a fine choice. It may not offer anything revolutionary, but it does have a trick or two up its sleeve which makes it a good option to consider. If you feel like you need the additional adjustability, or if you'd like to be able to ride right after completing your chores, then the Comfort Rider is a no-brainer!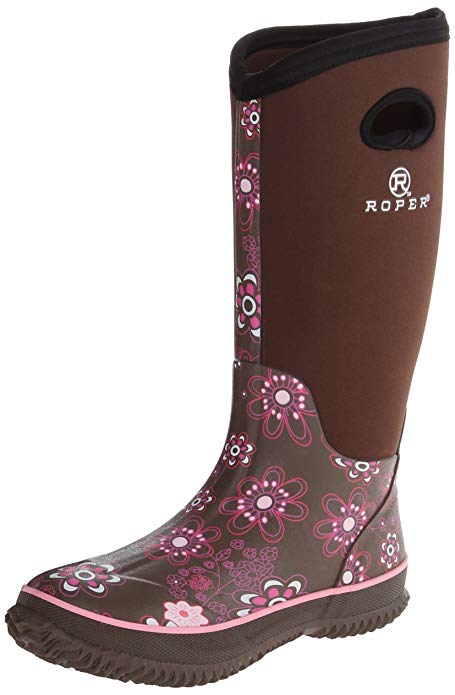 It's time to leave behind the dreary, unattractive muck boots and reach for something more interesting, that you will enjoy wearing as you go about your work. Roper introduces the traditional barn boot silhouette in a new and fun print that will brighten your day. The Barnyard comes in either black or brown, with a corresponding flower motif adorning the rubber foot area. A splash of spring wherever you go!
The Barnyard is constructed out of the already familiar neoprene/rubber combo and is entirely waterproof. It is designed to fit loosely, like a barn boot, so if you are the type who doesn't like the confining feeling of a boot shaft around your leg, this is a great option for you. Additionally, the Barnyard comes with pull-on holes in the shaft, which make it ridiculously easy to get into this design.

The inside of this boot is outfitted with a molded EVA sock that provides cushioning and shock absorption, allowing you to stay on your feet for as long as necessary. The sock is also removable, for easier cleaning and in case you need more space inside the boot.

The Roper Barnyard doesn't have any outrageous features on it, but we don't really need it to. It is cute to wear, which is what we can't say for almost any of the other items on this list, and it will keep you sufficiently protected both from the muck of the stable and from the chillier weather conditions outside.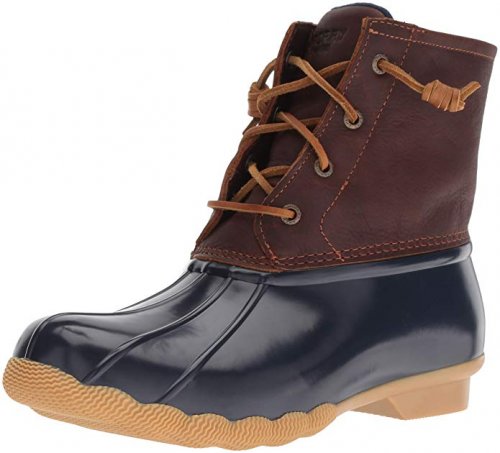 We realize that this is a somewhat extravagant choice. After all, when someone thinks 'stables', they don't automatically associate it with Sperry and their hand-crafted heritage footwear. Indeed, the Saltwater duck boot may be a little more fashionable than your average mucking option, but we actually ran into quite a few people who said they wouldn't trade their Sperrys for the world when it comes to stable work.
The Sperry Saltwater has a waterproof rubber shell all around the foot area. The ankle and leg part is made from genuine leather, meaning that it is breathable, durable, and ensures a customized type of comfort. The lace-up system is there for maximum adjustability, with the rawhide laces and rust-proof eyelets offering security and durability.

The Saltwater comes with a micro-fleece lining for heat retention and a cushioned insole for a comfortable ride. There is a non-marking rubber outsole on the bottom which is outfitted with wave-sipping, for traction on both wet and dry surfaces. The side zip closure enables you to easily slide in and out of this design.

If you're tired of the same old muck boot designs and wish to try something new - something more comfortable maybe, and maybe a bit more visitor-friendly, then the Sperry Saltwater is the obvious option. It has all the hallmarks of a good muck boot but is a notch above the most common silhouettes you will find in this guide, in terms of both material choice and style.

8

. Muck Boot Chore Classic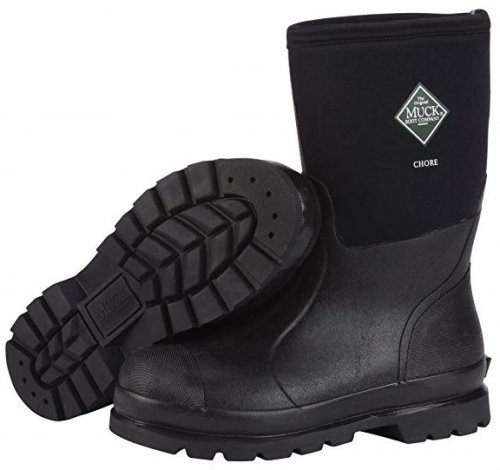 Out of the three Muck Boot options that we have in our guide, this is by far the most popular one; a verified best-seller. The Chore Classic makes it easy for you to do any type of work you want in the great outdoors - landscaping, tending to animals, working in the field, you name it! This easy-to-wear design will become irreplaceable in your work gear closet, and you won't be able to imagine a single day without it.
The Chore Classic has an upper made out of 5mm thick neoprene, which provides waterproofing, shock-absorption and heat retention. It takes on the shape of your foot and leg and thus reduces the chance of any chafing or blisters. There is a high-grade rubber outer shell that covers the ankle and doubles down on that waterproof effect. It also has a durable outsole on the bottom that is quick-cleaning.

The inside of the Chore Classic is lined with Airmesh, a standard breathable option for all Muck Boot products. This lining wicks away moisture and humidity, and thanks to it you will be able to wear the Chore in temperatures that go as high as 65F! There is a steel shank for support, and a triple toe and a quadruple heel reinforcement for even more safety and durability.

Truly, when one thinks of the best option for cleaning stalls, the Chore Classic is what comes to mind. It may not work for absolutely everyone, but it is a good design to start, one which won't let you down even when you are ankle-deep in muck and dirt. If you want something well-rounded and simple, the Muck Boot Chore Classic is that go-to option everyone loves!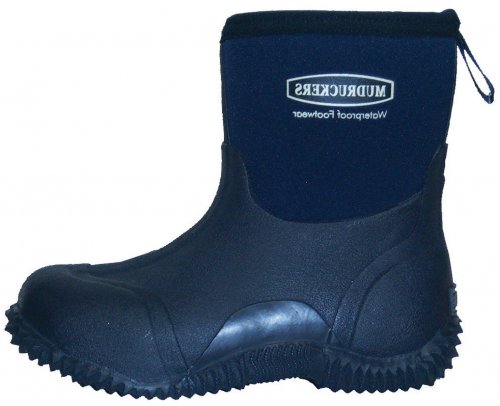 Mudruckers Mid is that perfectly versatile bootie that you can wear on any outdoor adventure! Whether it is in the field, in the garden, the barn or the stables, this cute ankle boot will make sure that your feet are dry and dirt-free. It is lightweight and flexible with its neoprene construction, complete with a rubber outer shell for an added layer of protection. The top opening of the shaft is soft and stretchy to accommodate calves of all sizes, and there is also a pull-tab in the back for easy entry.
The beauty of the Mudruckers Mid is that it is stain-resistant. Not only is this a plus when working in a muddy, sloppy environment, but it also means that these boots are a breeze to clean! After you're done with work, simply wipe them down with a damp cloth, and they'll be as good as new!

When it comes to comfort, the Mudruckers Mid comes with an EVA sockliner, which provides necessary impact absorption. This protects your ankles from long-term damage, and the sockliner is removable as well, making it easy to wash separately. The outsole is made out of rubber with a super grip tread to keep you on your feet at all times.

In terms of technologies or materials, the Mudruckers Mid doesn't stand out at all. However, that is precisely the beauty of this design! It is simple and straightforward, and it gets the job done. When it comes to working in the stables, what more could you possibly ask for?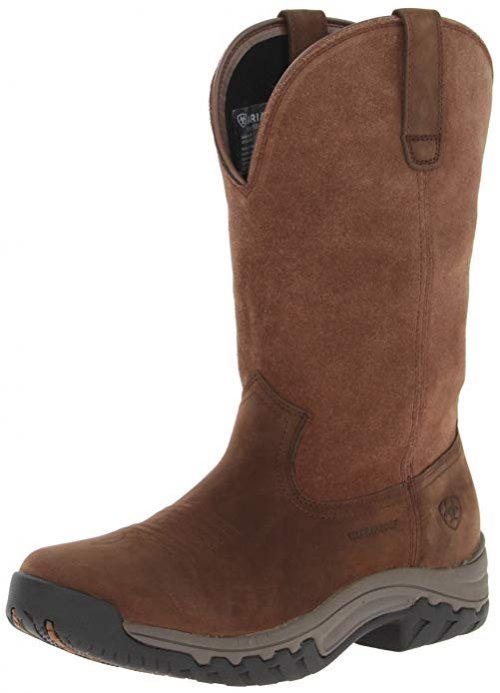 Ariat is a brand for untamed spirits, and thus it shouldn't come as a surprise that they have a great option for barn work as well. The Ariat Terrain is similar in silhouette to the classic neoprene/rubber items here, but it is made entirely from genuine leather and suede, waterproof of course. It combines a western style with a work boot style, and it is pretty hand to have for all sorts of outdoor adventures.
The Terrain is waterproof thanks to its Waterproof Pro membrane construction, which combines waterproof full-grain leather and suede and moisture-wicking lining. This means that the interior of the boot is at the same time dry and properly ventilated, keeping your feet sweat- and odor-free.

This boot sports the ATS technology, unique to Ariat. This technology means that the Terrain comes with a gel-cushioned footbed with a heel stabilizer, a shock-absorbing EVA midsole, an extra-wide shank for stability in the forefoot, and a Duratread outsole which is both oil- and slip-resistant. To complete the easy wear experience, there are pull tabs in the sides, for a fast way in and out of the design.

We understand if you're a bit apprehensive about giving the Ariat Terrain a try. After all, if the classic barn boot works, why replace it? However, Terrain's leather upper and construction is amazingly comfortable and natural to move around in, and we guarantee that Ariat's comfort technologies will leave you wanting for nothing at the end of a long, tiring work day.

Subscribe to our Newsletter