Best SAS Shoes Reviewed & Rated
last updated
Apr 11, 2019
Are you looking for that shoe that will conform to the contours of your foot? That won't be uncomfortable for hours upon hours while the shoe is in use? Well, SAS or rather, San Antonio Shoemakers have that in mind with every pair of shoes that they make. Their shoes are known for giving the wearer a pleasurable experience, not only through the cushioning that can be found in the shoes' design, but also through the individual technologies that are present.
With those beautiful remarks about SAS shoes being said, we have looked through all of the products to bring you the ones that are the most attractive.
In a Hurry? The test winner after 5 hrs of research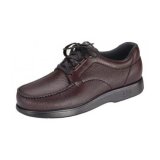 Bout Time
Why is it better?
Comfort Technology
Moisture Wicking
High Level of Support
Highly Cushioned
Leather Upper
In a
Hurry? Editors choice: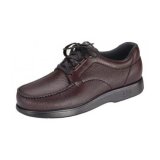 Test Winner: Bout Time

6
Researched Sources
11,010
Reviews Considered
5
Hours Researching
10
Products Evaluated
Comfort
Support
Style
Fit
Midsole
By Default
Our Favorites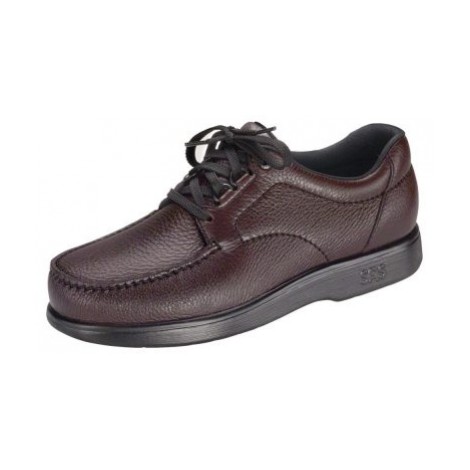 Comfort Technology
Moisture Wicking
High Level of Support
Highly Cushioned
Leather Upper
High Price
Not for Formal Occasions
The Bout Time is an option that provides something that many working individuals need. These have a design that helps the wearer get from point A to point B (and beyond) without causing discomfort due to either lack of support or lack of cushioning. Available in brown and black leather, this is a great choice for anyone looking for their next pair of work footwear, seeing that it will look great with any business casual or everyday outfit.
As mentioned, the Bout Time has several features that are meant to increase its level of support. With things such as the dual density insole and the moisture wicking properties found within, the Bout Time is built to provide absolute comfort to your foot. It also has an EZ lacing system which, as the name suggests, makes the lacing and the removal of the design easy as can be. The inner portion of the shoe is equipped with a system that SAS has incorporated into many of their footwear designs; it has the incredible foot shape last technology which allows the design to adjust to the contours of the foot.

While priced on the higher side, the Bout Time is definitely backed by the various technologies that are present. The comfort provided by the design, as well as the support and moisture-wicking technologies, really makes the Bout Time worth the higher price tag.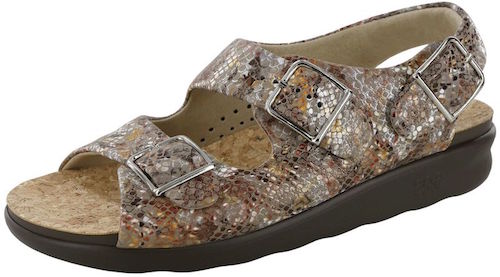 Three Point Adjustable Closure
Leather Upper
Contoured Footbed
Good Energy Rebound
Breathable
High Price
Not Water Friendly
These sandals are the perfect pair of summer footwear for anyone who likes a cool, comfortable style. Available in several color options, from single colors to patterns, they are going to look great when the weather gets hot. In addition to the open style, the Relaxed features perforations that add to the air flow, allowing your feet to remain cool and dry even on the hottest of days.
The upper of the Relaxed is made with genuine leather that's breathable and flexible, and that's been padded in order to be soft to the touch. The three-point closure allows for maximum customization when it comes to fit, making this a great choice for anyone with wide feet, bunions or even sensitivity issues. The insole of the Relaxed is made so as to follow the contours of the foot, adapting to the arch and supporting it in the best way possible. Additionally, it aids the midsole in shock absorption, making it easier to walk great distances, providing good energy rebound with each step taken.

With a price that's comparable to similar sandals by equally quality and comfort-oriented companies, the Relaxed is a great choice for casual summer wear that is adjustable and pleasant to wear, while looking nothing like your regular pair of orthotic footwear.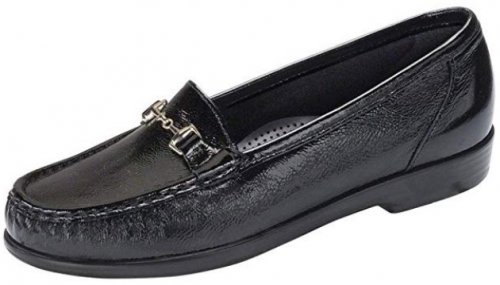 Premium Soft Leather
TRIPAD Technology
Shock-Absorbing Contoured Footbed
Flexible PU Outsole
Classic Moccasin Design
Not Enough Arch Support
Not for Wide Feet
The polished Metro loafer is what we all need when we want to look sophisticated and business-appropriate. This soft leather design has a moccasin silhouette and a metal bit across the front for a touch of interest. It goes well with more casual outfits, but also with a pantsuit or a pencil skirt, and it is undeniably comfortable, too, thanks to its supportive footbed and shock absorbing insole.
The genuine leather Metro loafer is outfitted with the TRIPAD Technology. This is a SAS-specific comfort system that supports the inside ball, the outside ball, and the heel of the foot, reducing the pressure put on these key areas. There is also a thick cushion for a footbed, contoured to the foot and wrapped in SuperSuede. Finally, the outsole of the Metro is made from polyurethane which is flexible and durable.

If you're all about that classic style, and if you like to experiment with more menswear-inspired pieces, then the Metro loafer is a perfect option for that. It is not only made from high-quality materials, but it also comes with technologies designed to make your life easier. An elegant, well-rounded choice!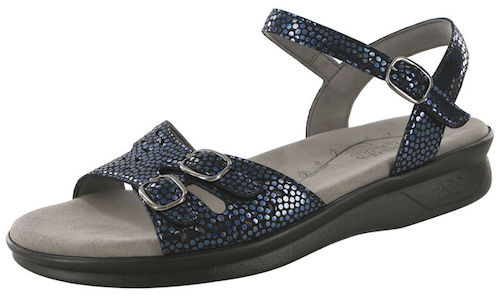 Three Point Adjustable Straps
Suede Lining
Lightweight Supersoft Sole
8 Color Options
Great Energy Rebound
If you want something to wear in the summer that will look stylish, and will even be appropriate for the office or on fancy occasions, then the Duo should be your top choice. It's a beautiful sandal that is available in 8 versatile colors, meaning that you can get the one that fits your wardrobe the best. In addition to looking great, it also features all of the SAS technologies that make footwear by this brand so well loved.
The best comfort feature in the Duo is located in its sole which is made with lightweight polyurethane that has a lot of air bubbles in it, enabling excellent cushioning without bulk. When walking, this allows the sole to compress, absorbing the shock that is otherwise put on your heel. As you take a step, the bubbles expand, giving you some extra energy to propel you forward. In addition to using leather in the upper, the Duo features suede lining both on the straps as well as on the footbed. Not only is this an incredibly soft material, but it is also a natural option that allows good airflow and breathability, eliminating the odor that may happen when you wear synthetic footwear.

The Duo is a pair of sandals that are priced incredibly low compared to other models in this guide. This makes it a great choice, especially if you haven't tried out the footwear made by this company before, as it will give you a good idea of what to expect, without breaking the bank.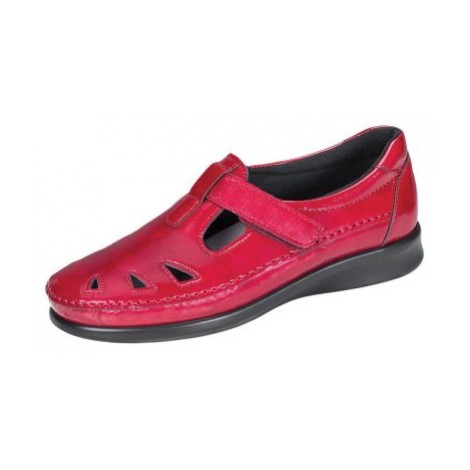 Adjustable Leather Strap
Removable Footbed
Diabetic Shoe
Odor Resistant
Excellent Cushioning
Runs Slightly Narrow
Lacks Traction
With the Roamer, you are not only getting a versatile option but a comfortable one as well. The design has added cushioning and extra support, both provided by the insole, as well as ample air flow provided by the upper. This moccasin style choice is great for those who like a no-fuss on and off experience thanks to the hook and loop closure strap on the top, which can be a really welcome edition for those who prefer laceless footwear.
Many designs are perforated, but they typically end up equating to a flimsy shoe that lacks structural support. With the Roamer, you receive everything you could need in terms of airflow, without giving up any of the necessary structure that keeps this option durable and long-lasting. The perforations in the design don't take away from the look, and actually, add to the overall appearance. The cut of it, and the structural elements found within lead to a versatile and attractive design that will fit in at a variety of events.

This option works to provide you with a comfort that goes above and beyond, while remaining understated and attractive. Overall, it is averagely priced, and you should find yourself extremely pleased with your purchase. The fact that it features a removable footbed in addition to everything else means that it's a good choice for those looking for footwear which will fit their custom orthotics.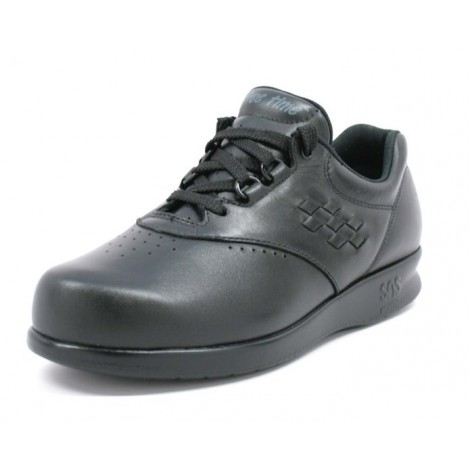 No Break-In Period
Good Arch Support
Room for Orthotics
Excellent Fit
Medicare Approved for Diabetics
Sizing Runs Large
Color White Is More Beige
It's hard to enjoy your free time if you have painful feet. This option will allow you to do all the things in life that you want to do and do it in comfort. The Freetime will truly keep your feet cool and dry as it is packed with technology that will ensure it. They will also help eliminate the odor that tends to build up over time with their Tri-pad cushion. In addition to all of this, they are great for those that suffer from diabetes, giving all-day comfort and support to the parts of the feet that need it the most - the instep, ball, and heel.
The bottom of the Freetime is made to wick moisture away from the foot. In addition, it gives you a cool surface underneath which ensures you stay comfortable even in hot conditions. Lastly, they use an anti-friction lining which stops a ton of heat build-up and gives added coolness and comfort. When it comes to true comfort, people suffering from diabetes need it the most. The fact that these have been approved by Medicare when it comes to meeting strict criteria regarding foot health can keep you confident that this is a pair that will feel good on your feet. The padded tongue and collar, lightweight synthetic sole, and breathable design all help these in their quest for superior comfort.

The Freetime is quite pricey and your budget may need adjustment to fit them into your collection. If you do decide to try them out, know you will be getting a top quality, supremely comfortable, and reliable pair. They are certain to keep you out there and enjoying the world rather than sitting at home nursing sore feet.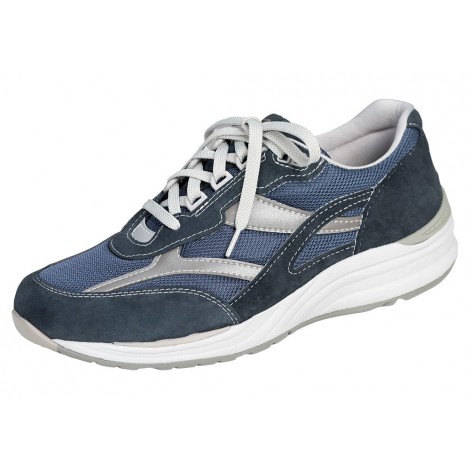 Exceptionally Breathable
Great for Everyday Wear
Quite Flexible
Top-Quality Materials
Mesh Version Available
This option is perfect for those that love to walk. Superior traction and grip will help you stay secure on your feet no matter what terrain you decide to transverse. They offer a breathable upper and a quick lacing system to have you on your way easily. On top of all this, they also add extra cushion and support for hard heel strikes. Available in black and white, these walking shoes are an excellent choice for both activewear as well as for running errands or all-day wear.
Shock absorption is the key to keeping your feet, legs, and ankles feeling great. The superior shock absorption comes from the materials used in this choice. When you decide to go for a long walk, keeping your feet in the correct position will help you avoid pain and possible injury. The CradleFit Heel Stabilizer gives support and comfort to your feet. Heel striking causes a lot of problems for people and the use of this type of heel cup makes them all but disappear.

These sneakers are quite expensive, however, they will provide you with support and stability that is unparalleled. If you are able to make the adjustment to your budget you will not be disappointed with the comfort and versatility found in this option.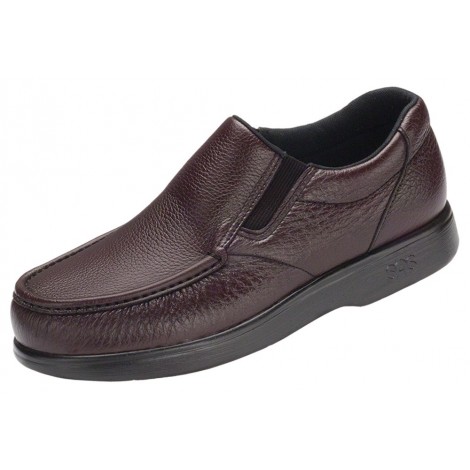 All Day Comfort
Super Supportive
Easy On Easy Off
Versatile Wear
Removable CoolStep Footbed
This slip-on has everything you need in the category of a comfortable walking shoe. The elastic inserted at the sides allows it to stretch as your feet swell throughout the day. This leads to better comfort overall for the wearer. It has a one-inch heel that helps absorb and distribute shock evenly to ensure your feet and body continue to feel great. The upper is made out of soft leather that's a great choice for most weather conditions as it is both protective and breathable.
While tying footwear may not seem like a big deal, for many people it can be harder than expected. Arthritis or other ailments can make laces difficult and frustrating. The simple slide structure on the Side Gore keeps you moving comfortably without the trouble of laces. The fabric lining helps to wick sweat and moisture away from the feet. This reduces fungal and bacterial growth which is often the leading cause for bad odor. In addition, it helps to keep your feet cool and comfortable throughout your entire day.

The superior comfort and versatility of the Side Gore do warrant a higher cost. When you look at all of the features that are built in to keep you supported and comfortable, you can see the value of this design skyrocket. While some budgets may need to wiggle to fit them in, they will be a great option for everyone.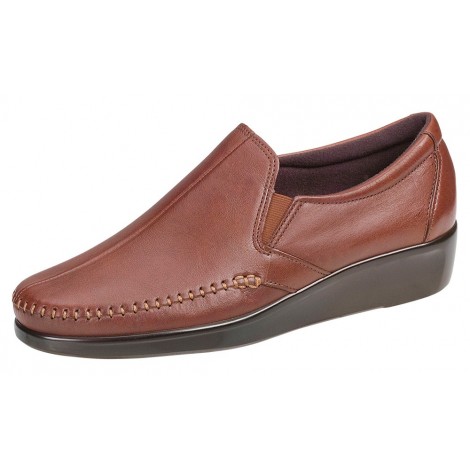 Excellent Detailing
Easy On Easy Off
Superior Shock Absorption
No Break-In Period
Affordable
The Dream slip-on is genuinely a dream while wearing. The design has a construction that genuinely allows the wearer to achieve what individuals would call comfort; the materials, as well as the comfort provided by the upper work to give the wearer what they would need in order to really enjoy this model.
The sole of the Dream comes with a one-inch heel. This helps to absorb shock easier and keep you in ultimate comfort. The sole also provides great traction and grip to keep you firmly on your feet regardless of the terrain. The cushioning for this option is not only seen in the insole. The outsole, as well as the upper, provide you with superior comfort. All of the cushioning is strategically positioned to allow good flexibility and superior feel.

For the features and comfort provided, the Dream is definitely something to consider. It has a price that falls on the lower end of the spectrum, especially when considered alongside the other models on this list. Let's not forget to mention that the comfort that the Dream delivers is something that simply isn't found in various other designs.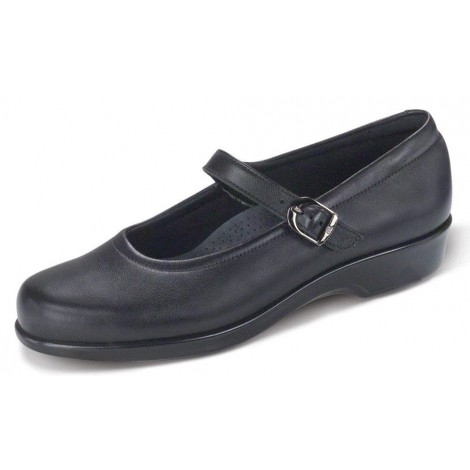 Exceptionally Versatile
No Break-In Period
Easy to Dress Up or Down
Simple to Care For
Affordable
This design offers a Mary Jane style that goes with virtually anything. These flats are exceptionally comfortable. With a strap closure, you will be able to adjust them if you find that your feet swell at the end of the day. The soft upper is durable and classic looking. You will be able to wear the Maria for work or in any activity of your day to day life. The color named "Black Snake" is especially stylish, and will even be appropriate for special occasions.
Mary Janes have been popular for centuries and continue to be so even today. This style will go with all of your outfits. In addition, it is appropriate for a variety of dressy or casual events and will surely become a favorite for weekly wear. SAS really knows how to make a fantastic sole. Superior shock absorption and a comfortable flat help keep your feet comfortable. The sole of the Maria offers support and longevity in wear. They will transition well over various terrains and hold up to long hours and extended use.

These are some of the more affordable options in our guide. While they still cost a bit more than others, they will last and offer you the superior comfort that you have come to expect from this brand.
Criteria Used for Evaluation


Comfort
The majority of shoes on this list are what one would most likely call "Orthopedic" shoes. For this reason, it is imperative to judge these shoes on their ability to provide wearer's with ample comfort for the various parts of their feet; from the arch to the room available for toe splay, each and every one of these shoes will provide wearer's with something that they'd need in order to get through the day. For instance, take the various slip-ons that are on this list. Each and every one of them has copious amounts of comfort providing features, features that wearers wouldn't be able to go without had they not been incorporated into the shoe's design.
Each and every one of these shoes is highly padded; they must be. From the entrance of the shoe to the sole unit, they all have ample coverage for various parts of the wearer's foot. Again, for an orthopedic shoe, it is of the utmost importance that this feature is incorporated into the design; they must provide the wearer with comfort while in use, and the padding that is found in the design really helps with that. The insole's that are found in these shoes, for instance, provide wearer's with a bit of the padding that they'd need to really be able to make it through the day.
If a SAS shoe scores high on this criterion, you can be sure it will keep your feet happy, dry and supported all day and night long!


Support
Many shoes nowadays have a rather hard time providing the foot with both a high level of stability as well as a decent level flexibility; these are just two things that seem to find a hard time being present in a shoe's design at the same time. Many of the designs that make this list have features (such as the materials that they are made of) that allow them to have both a decent level of flexibility while not reducing the movement that is felt by the shoe. This is something that Sas just manages to incorporate into their shoe designs rather easily.
Another support providing feature that a shoe must be judged on is its ability to reduce the buildup of moisture during its time being used. This means that we must ask the questions, "Do they provide enough airflow?" and "Do they work to reduce smells that stem from the shoe's design?". If so, then that's another check that is added to that particular shoe's value. Many of the shoes on this list do not have immediately noticeable breathability features incorporated into their designs, but they still work to give wearer's what they'd need in order to really enjoy the shoe for extended periods of time and do not have to repeatedly clean out the inside of the shoe. It's both a discomfort preventer and a time saver.


Style
Many orthopedic shoes are not known for being both on the comfortable side of things and for providing the foot with a certain level of class; San Antonio Shoemakers manages to do just that with several of the designs in the repertoire. Many of their slip-ons feature a classic design which allows them to be worn for various occasions and to consistently provide wearer's with a sense of style with whatever (with reason) that they have on.
While style is often a matter of personal taste, we've checked thousands of online reviews to see what people are saying about each of the products on our list. Some things, such as sleek design, seamless construction and overall weight and shape of the shoe, were common likes or dislikes among buyers of each product.
To evaluate style, we considered everything from the design, color, shape, weight, lines and overall construction of the shoe in question. While no one wants to wear an uncomfortable shoe, they also don't want a comfortable shoe to be ugly on the eyes. We've selected all of those on our top 10 to be not only stylish, but also comfortable, true-to-size, supportive and durable.


Fit
We all know how hard it can be sometimes to find the perfect pair of shoes that we not only love, but that also fit snugly and comfortably. With so many styles, brands, colors and models, how can one compare hundreds of supposed "size 10s"?
To assess for trueness-to-size, we considered the opinions of thousands of wearers from across the globe to find out the answer to the ultimate question: do these 10s fit like a 10? While some things can give you a hint as to whether they will fit true, small or large; like brand name, shoe type and year of make; we believe that the opinion of buyers cannot be wrong. If they say the shoe doesn't fit the way it's supposed to, then you won't find it in our 10-best list.
You will find that a pair of shoes or boots or sandals that score high on this metric tend to experience a trueness-to-size that was verified by our large community of sampled buyers. Just don't forget to take into account the factors above to also make sure your favorite pair will fit you perfectly.


Midsole
The midsole is designed to provide cushioning and shock absorption to the shoe, nestling the foot in comfort. Whereas running shoes tend to have thick midsoles, flats and thinner shoes not designed for high-impact activities often have thinner midsoles.
The reason for this is simple: you need more shock absorption and vibration dampening during high-intensity movements or activities to maintain comfort and prevent foot injury than you otherwise would with a regular shoe, flat or sandal. Midsoles are often made from EVA (ethyl vinyl acetate), a synthetic plastic also used to make insertable orthotics. A firmer type of EVA for the midsole will make the shoe heavier, but more durable; whereas a softer type of EVA, like those found in running shoes, improve shock absorption, but wear much quickly.
Podiatrists tend to prefer firmer midsoles for those suffering with orthopedic conditions, such as plantar fasciitis. A higher score on the "midsole" criteria means that the midsole is of a firmer nature. Whether or not this is beneficial for you depends on your foot type and orthopedic issues!
Expert Interviews & Opinions
Most Important Criteria
(According to our experts opinion)
Experts Opinion
Editors Opinion
Users Opinion
By Default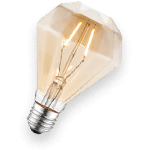 Leather Care 101
Caring for leather shoes can keep them from cracking, splitting, and extend the life of the shoe.
A shoe protectant helps leather ward off water stains or damage from the elements.
Leather shoe polish can help repair any scuff in color to the materials, while leather conditioner helps to keep the leather supple, and prevent creases or cracks from damaging the shoe.
Color Adds Fun!
While it's always great to have basic colors in your footwear, getting a pair with brighter colors can really make an outfit pop! Try out brighter blues or reds, as these colors can go with many neutrals as well as similar hue tones, like pinks and purples..
Other Factors to Consider


Bottom Line
There you have it – our top ten favorite SAS shoes, all reviewed for their strong points. With technologically advanced features such as the Tripad cushioning, CoolStep footbed, special last that allows the shoe to mold to the wearer's foot, etc., it comes as no surprise that these are some of the most comfortable pairs of footwear available for purchase at the moment.
As we have seen, SAS has some rather fine shoes in their collection. From the top of this list, all the way down to the bottom, each and every one of these shoes has something about them that gives wearer's what they would need in order to enjoy wearing them. Keep in mind though, that the shoes on this list tend to stray to the orthopedic side of the market; this is why comfort providing features are so prevalent in the list and style is not.
If you wish to find out more about what makes SAS shoes special, as well as if you want to know what to look for when choosing a pair from this maker, make sure to read the Criteria for Evaluation and FAQ sections, both of which are sure to help you make the best possible purchase.
Frequently Asked Questions
q:

Does this brand repair, refurbish, resole or dye footwear?

a:

At this time, SAS doesn't handle any shoe repairs. If one needs a shoe to be refurbished, it's best that they go to a cobbler or something of the like.
q:

My lacing continues to come undone. Help!

a:

If the lacing on your shoes is becoming an issue, it probably means that you need to try a different method of tying them. This guide has detailed instructions on how one can go about tying their shoes so that they won't/ are unlikely to come untied in the future.
q:

Is the color I see on the website the actual color of the design?

a:

Generally, yes the colors that are on the site, and any site that the shoes are sold on, are the ones that the actual shoe will come in. Now, keep in mind, that not all cameras are created equal and that a bit of distortion is bound to come into the picture if a subpar camera is used.
q:

What does "SAS" stand for?

a:

SAS is an acronym for San Antonio Shoemakers. This is the general term that most people refer to the company as.
q:

What's the proper way to pronounce it?

a:

It's pronounced as: es – Ay – es