Best Exercise and Stationary Bikes Reviewed
In a Hurry? Editors choice: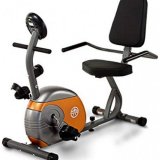 Test Winner: Marcy ME-709

Cycling can be a great cardio option for mixing things up during training and attaining enhanced results. Indoor exercise bikes are a great way to train from the comfort of your home. The current market has a variety of exercise bikes, each with its learning curves and training perks to better suit your fitness goals.

Matching your training needs to a particular bike is vital to getting the most out of every workout session. Ensuring that your machine matches all necessary stats like speed, distance, time, and calorie expenditure is the first step to kick up your training.

There is a host of additional features to look out for when getting an exercise bike, such as a user-friendly display and a heart rate monitoring system. This handy guide of the best exercise bikes will take you through these and other factors to consider when getting a machine of this type.
Standout Picks
Criteria Used for Evaluation
Style
Exercise bikes have versatile designs and applications.
Exercise bikes make an excellent choice for your home gym cardio training. They are cost-effective, take up limited space, and allow you to multitask during workout sessions. Exercise bikes fall into different groups according to their versatile applications. It is vital to understand how each type of exercise bike can help in attaining your fitness goals before committing to one.
Upright bikes are also known as stationary bikes. You can find them in nearly every home gym. The positioning during exercise is similar to regular commuter bikes. They are an entry-level option that's both cost-effective and compact. The low-impact training they offer makes them an excellent choice for those that don't work out regularly or if you are just getting started. Regular use provides great cardio feedback while improving muscle tone and strengthening the legs.
Recumbent bikes provide the same type of cardio response as upright bikes. However, they give back support, which allows you to sit at a reclined angle. Recumbent exercise bikes center on maximizing your comfort: that's why they come with a chair instead of a saddle. They make the best choice for people recovering from back or knee injuries. Training on recumbent exercise bikes reduces stress to joints, strengthens lower stomach muscles as well as the glutes (the bottom).
Studio bikes are also as known as indoor cycling bikes. These exercise bikes come highly recommended for bicycle commuters and those who train with bicycles regularly. They simulate a more diverse range of resistance training when compared to standard exercise bikes. The handlebars and saddles are set to the same height; this intensifies the cardio feedback.
Self-powered bikes have generators and dynamos inside them, which produce all the power required for your workout. This specification makes self-powered bikes more expensive than other options that require a power source.
Air or fan bikes are also referred to as assault bikes. Their design layout features two upright handlebars set chest high and a huge fan that's driven by the pedal power of a user. The harder you peddle; the more resistance the fan generates. They feature in most CrossFit gyms and are a way to add some challenge or intensity to your workout.
Smart or interactive exercise bikes look and work like studio bikes but feature a built-in screen that has a range of interactive programs and apps. You can use these apps to participate in group cycling sessions or to interact with other users as you work out.
A watt bike simulates road-cycling conditions while collecting concise riding data, including techniques used. They record your power output in watts, your heart rate, calorie expenditure, and a variety of other performance metrics. They have a dual braking system and do a great job at simulating both flat and inclined riding conditions.
Features
Consider features that maximize your workout while enhancing your comfort.
Modern exercise bikes come with so many bells, whistles, and tickers when compared to the bare bone models from the past. The best way to settle on a particular model is to try it out before you buy. If you're thinking of making an online purchase, a visit to a local fitness center can shed some light on what you may or may not prefer.
The following features are what you should look out for in exercise bikes.
Display - The display needs to be clear and have user-friendly controls. Find a machine that shows speed, time, RPM (revolutions per minute), level of resistance, distance covered, and other vital metrics. You can also look into a model that offers an interactive display that can show motivational messages or virtual courses.
Programming - Look into highly programmable exercise bikes. Get one that allows you to gauge your level of fitness and adjust your routines accordingly. You should also consider a machine that lets you have heart rate controlled workouts and to change resistance and other factors based on your weight, gender, and age.
Heart-Rate Monitor - Knowing your heart rate while you work out is one of the best ways to get the most out of every session. Exercise bikes with chest strapped heart rate monitors are the best. You also have the option of getting a standalone chest strap or wrist heart rate monitor.
Resistance - As you progress, you will want to make your workouts more challenging. Go for exercise bikes that have an easily adjustable resistance dial or bar.
Storage - When shopping for an exercise bike, consider the amount of space you have in your home or premises. Look at the floor space the machine will take up. You can opt for a foldable model if you live in an apartment or you lack the space for a permanent set-up.
Safety - The moving parts featured on exercise bikes make them a safety hazard, especially if you have children. Getting a bike with a safety lock is a great idea. If you cannot find a lockable option, consider storing it in a place where unsupervised children have limited access.
Body Positioning - The style of the device determines the body position you will assume when on the machine. The various styles and their aerodynamic profiles have been discussed in the previous criterion.
Pedals - They add a touch of realism to your work out. Pedals are dual side (one for the left, another for the right foot). Some feature either a toe strap to fasten your feet or an SPD clip that can secure your shoes.
Handlebars - When scoping out a desired exercise bike, look at the ergonomics of the handlebars. Can you easily reach them? Do they have comfortable handgrips? These are the types of things to ponder before settling on a particular model.
Flywheel - Some exercise bikes feature a flywheel to create magnetic resistance. Electromagnetic induction slows down the wheel while you push and pull on pedals, resulting in a consistently smooth resistance.
Additional Features - These are elements that have little impact on your fitness goals but enhance your comfort or allow you to do other tasks during workouts. They include things like a bottle holder, a book rest, laptop stands, etc.
Effectiveness
Better physical fitness and health are just a few of the benefits that exercise bikes have to offer.
Exercise bikes are perfect for toning up your legs and have great results for those looking to shed some pounds. There are many other benefits of using exercise bikes.
Here are some other benefits that you might not have been aware of until now:
Improved Cardiovascular Response
Training on an exercise bike at least three times a week for 30 minutes strengthens the heart. Stronger heart muscles mean your heart will beat less frequently. A lower heart rate lessens the chances of suffering from cardiovascular disease since your heart ejects more blood in every contraction.
Stronger Legs
Training on exercise bikes tones your legs, buttocks, thighs, and has some minor effects on your arms, back, and abdominal muscles. You should note that training on exercise bikes refines the targeted muscle groups. Cardio training improves your endurance, allowing you to do training that is more intensive for you to gain muscle and mass.
Reduces the Risk of Type 2 Diabetes
Diabetes is characterized by an increase in the levels of blood sugar. Training on exercise bikes or any cardio workout you can do uses the glucose reserves in your muscles. It also makes your body more sensitive to insulin by reducing the amounts needed to lower glucose levels in your blood.
Lower Cholesterol
High levels of bad cholesterol increase the risk of cardiovascular diseases. Cardio workouts promote the levels of good cholesterol while lowering bad cholesterol.
Improves Your Mood
While you get some cardio workout on an exercise bike, your body secretes a cocktail of hormones. These hormones include serotonin and endorphins, which bring a heightened state of well-being. These hormones regulate anxiety, stress, and mood; that's why they are aptly named happy hormones. When you cycle for an hour or so, your body gets a shot of these hormones, and there's that unmistakable euphoric feeling.
Comfort
If your exercise bike is uncomfortable, you will use it less often.
For a workout bike to make an impact on your training regimen, you have to use it as often as possible. If you cannot be comfortable, then you'll probably use it for a limited time and not as often as you should.
Avoid exercise bikes with uncomfortable seats and handlebars as they make for awkward and ineffective positioning. A model with a strong base will give you a feeling of security as you crush those fitness goals.
When looking at reviews on exercise bikes, note what other users say about the design and the materials used. These two factors are vital in establishing how comfortable you'll be on the model. Comfort is a subjective matter; some people may prefer a studio to an upright option; some may prefer a hard seat to a cushioned one. What matters is that you find the comfort level that works for you.
When you take aspects like the handlebar or seat padding and the general design of a model, it suddenly becomes easier determining the level of comfort exercise bikes can offer.
Size
The space you have in your home determines the size of the exercise bike you can get.
As you can see from this list, exercise bikes come in all shapes and sizes. Some are compact, others are foldable, and this makes them ideal for studio apartments and smaller homes.
Many manufacturers spare no expense in making their brands as durable and comfortable as possible. This build quality makes them cumbersome and at times too heavy to move around the house.
If you have a dedicated workout area, like a home gym, where you can permanently station your machine, then space is not an issue. However, if you have less space to work with, it might be better to consider a foldable model or something you can move by yourself without the need for assistance.
The weight of a particular product inherently determines its portability and durability. It makes sense that heavier exercise bikes feature stronger materials in their construction and last longer than lighter products. They also offer a sturdier base than lighter options. These are all factors to debate in your mind before committing to a purchase.
Before you buy a model, the best practice is to measure the space you want to assign for it in your home. Ensure that there is at least 18" of space around the machine for easy access and to allow you to stretch before or after you take a few spins on the device.
Our Favorites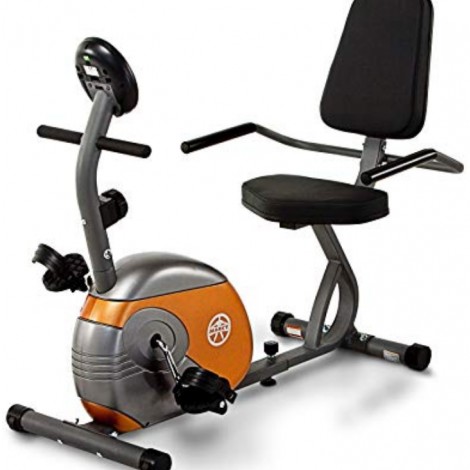 The ME-709 from Marcy is the go-to exercise bike for those looking to improve their cardiovascular system, getting a full-body workout and toning some muscles all while shedding some pounds. This low impact recumbent stationary bike has a compact design, uses magnetic resistance, and doesn't take up too much floor space. The Marcy is utterly silent as it works with electromagnets instead of noisy motors or clunky gear mechanisms.
The body of the machine features heavy-duty 14 gauge steel tubing with an elegant powder coated finishing. However, it is sturdy enough to take the beatings of daily usage. The step-through body design maximizes the machine's portability and makes mounting and dismounting easy.
The contoured handles are comfortable, and your back portion and knees get optimal support. Therefore, you can train for extended sessions without getting a sore back and joints. The seats on this workout bike come with high-density foam padding, which furnishes an ergonomically sound saddle. For that reason, saddle sores won't ever factor in your training.
The magnetic resistance mechanism has an easy-to-adjust tension knob that offers eight levels of resistance. As a result, you can simulate a variety of terrains. The counterbalanced pedals featured on the Marcy offer maximum foot support as well as control. There is also a foot strap to keep your feet in the proper position as you ride.
The monitor featured on the Marcy has multiple functionalities like an odometer. You can also keep track of other handy stats like speed, distance, and total calorie expenditure. The only drawback is the lack of a heart monitoring system. Marcy offers total customer satisfaction, and their recumbent exercise bikes come with a 2-year warranty.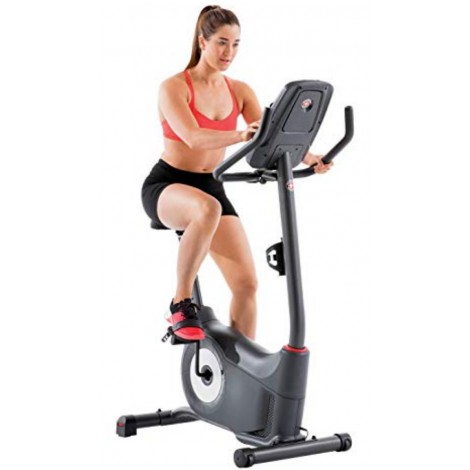 The MY17 130 exercise bike is an updated version of the MY16 from Schwinn. This version comes with a backlit display and Bluetooth connectivity capabilities. It also comes with 22 exercise programs, 20 resistance levels, and two crystal clear LCD screens that you can use to track your progress while monitoring your vitals. Additionally, you can use the upper display as a rack for your handheld devices.
The MY17's seats are padded, contoured, and adjustable in two ways for optimal comfort. The angle of the handlebar can also be adjusted to your liking. The Schwinn 130 has a handy 3-speed fan to keep you cool as you ride and built-in speakers with USB charging and data transfer. Therefore, you can listen to your favorite tunes as you work out on these exercise bikes.
The programs on this stationary bike have two user profiles where you can enter your age, name, gender, weight, and height for a meticulous record of your progress. This model also has a handy set of wheels for easy transport and a bottle holder. It's good to note the 58-pound weight and 41-inch length profile of the Schwinn 130 make it quite portable.
The handle also comes with integrated pulse sensors. Unlike most exercise bikes featuring belt mechanisms, this one runs silently. Schwinn offers a 10-year warranty on the frame, two years on mechanical issues, one year on electrical and 90 days for labor.

3

. Sunny Health & Fitness SF-B901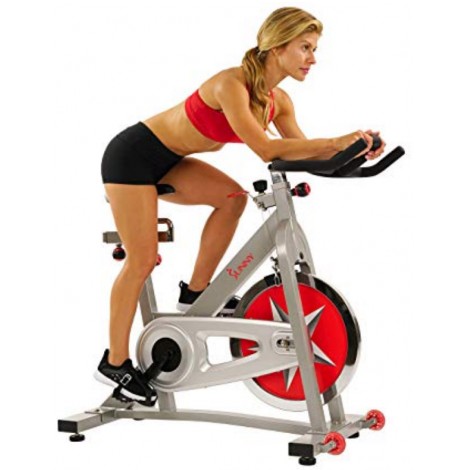 The Sunny Health and Fitness SF-B901 is an entry-level exercise bike best suited to the needs of beginners. It features among the most popular exercise bikes as it is affordable and provides the rider with a smoother and more stable spin experience that most of the rival brands. More experienced road cyclists can also benefit from using this model at home, especially during the night or on cold winters, to maintain their conditioning.
Despite being a beginner level bike, the SF-B901 features quality construction. It has a sturdy steel frame and durable padding on the handlebar. The 40-pound flywheel offers an ideal amount of resistance for novice and experienced users.
The resistance knob is conveniently located below the handlebar. Therefore, you don't have to get off this stationary bike to adjust the amount of resistance. The pedals have toe cup straps with 9/16 threading that you can adjust to fit a variety of shoe sizes.
This exercise bike is a bit noisy, but you can listen to music or watch the TV without raising the volume too high. You may also want to switch the default seat with a more comfortable one.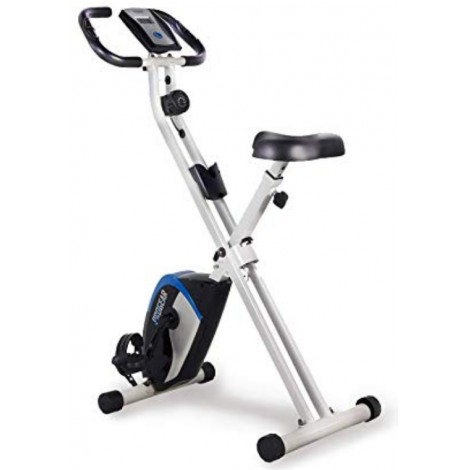 The ProGear 225 is an ideal exercise bike for homeowners with limited storage and workout space. This machine has a unique foldable design that fits perfectly. Its lightweight profile also allows you to move it around with relative ease. The flywheel has a dual transmission backed by an upgraded 3-piece crack system to provide a consistently smooth pedaling motion.
The ProGear 225 comes with a magnetic tension system with eight levels of control to regulate the intensity of your workout. An LCD also lets you keep constant track of your movements, distance covered, time, and other factors. Its seat cushioning features an ergonomic design that is easy to adjust. There are also adjustable stabilizers for the stationary bike's legs to prevent it from moving while you are working out.
This workout bike also features a little accessory holder, which provides a handy place to stash a water bottle or a phone, so you can stay hydrated and listen to some tunes as you get your workout going. The pedals featured in these exercise bikes are large and come with safety straps to prevent your feet from slipping while in full gear. Furthermore, this machine runs silently.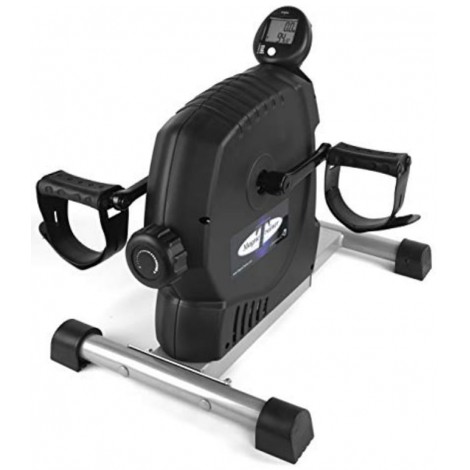 The MagneTrainer ER is a mini exercise bike primarily designed for medical application. It is ideally suited for rehabilitation therapy clinics and adult home care. It is compact, lightweight and features a sturdy steel base. This steel base and the machine's patented magnetic resistance system gives the device twice the resistance range of the usual exercise bikes.
The MagneTrainer ER runs silently thanks to its proprietary touch-free resistance system, which features a dual pulley and seven precision sealed bearings. This system also allows for a smoother pedal motion, vital for physiotherapy. The flywheel weighs 39 pounds, which smoothens the pedaling pace, making the use of this machine less taxing at lower levels of resistance.
The MagneTrainer ER also features a step-less resistance dial, which allows for more precision in setting the resistance. The LCD on this screen, powered by a single AA battery, has the required accuracy and automatically turns off when not in use. Another unique feature in this model is the fact that you can pedal it either backward or forward. The MagneTrainer ER comes with a 30-day money-back guarantee and a full year warranty on all parts, labor, and shipping.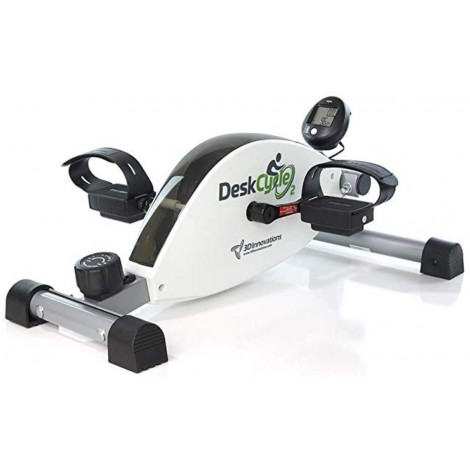 DeskCycle is a mini exercise bike that comes without the saddle and handlebars. It's at the center of the new "desk exercise" craze that's swept across offices around the globe. The DeskCycle 2 is ideal for countering the negative effects of sitting at a desk all day. It also has vast applications in recovery from illnesses and injury rehabilitation.
The DeskCycle 2 has a sleek low profile about 10 inches in height; thus, you can comfortably use it under the desk without bumping your knees while pedaling. It runs silently, meaning it won't distract your workmates. The pedal motion on this exercise bike is smooth, thanks to an innovative mix of precision flywheel calibration and magnetic resistance. It also features an LCD unit that records data for up to 1000 minutes.
Unlike most mini exercise bikes, its height accommodates persons taller than 5'11": although taller people would need a taller desk or an adjustable one. The bidirectional pedaling feature of this workout bike targets both major and minor muscle groups while going easy on the joints. The wide pedals come with velcro straps that fit any shoe size.
With a weight of only 23 pounds, it's easy to transport for use and store. The DeskCycle 2 also comes with a security lock slot that can house a Kensington type computer lock. This bike is easy to assemble with a simple manual included with your purchase.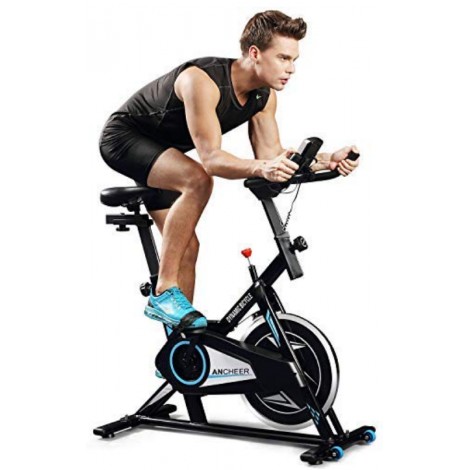 The ANCHEER M6008 is an excellent entry-level exercise bike. It is highly customizable and easy to use. This model features a magnetic flywheel with a smooth RPM. It also features a small but accessible screen, which shows your pulse, calorie burn rate, time, distance, speed, and other essential workout statistics.
The pedals run silently without any screeches thanks to a belt drive mechanism and precision flywheel balancing. There are built-in emergency brakes to halt the workout bike instantly if necessary. The ANCHEER M6008 has a conveniently placed tension knob as well as adjustable pedal straps. The seat is padded with leather and adjustable in four ways, for smooth movement in any direction.
The handlebar featured on these exercise bikes is made of HDI rubber, which is firm yet soft on your hands and arms. The ANCHEER has a phone bracket that can hold even a mini-tablet so that you can stay updated and entertained as you ride through your fitness goals. This exercise bike comes with a 12-month warranty and free replacement parts.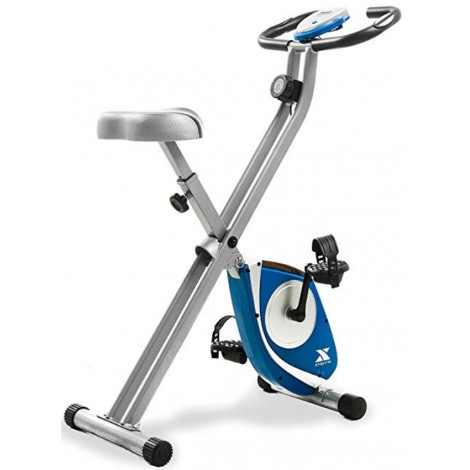 The XTERRA fitness exercise bikes are sturdily built machines with a fold-up architecture. The FB150 features a large seat designed with anatomical considerations for enhanced comfort. This model also comes with multi-grip fitted handlebars. The LCD is large and remarkably graphic: it shows your speed, distance covered, and other data.
A heart rate pulse grip is conveniently located on the handlebar. This feature measures your pulse rate to warn you if you overwork your heart. This model has a maintenance-free 3.3-pound precision-balanced flywheel for optimally smooth pedaling and silent operation. The XTERRA offers eight levels of resistance, and it has a large dial for adjustment.
The seat height is also adjustable to accommodate users from 4'10" to 5'10". It's also handy to note that the XTERRA FB150 has a robust X-frame design that folds to a slim vertical profile. This x-fold design makes the bike easier to store. It also comes with transport wheels, which add to the simplicity of moving these exercise bikes from storage to your workout station.

9

. Exerpeutic Folding Magnetic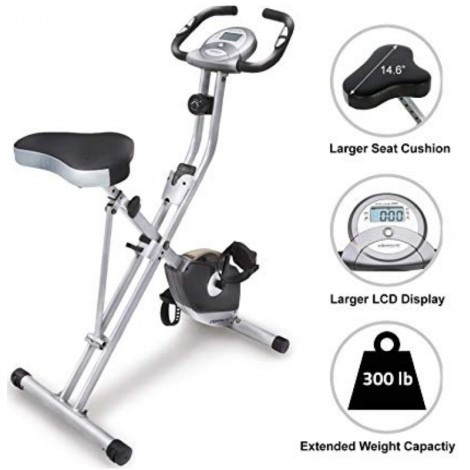 The Exerpeutic belongs to the category of heavy-duty folding exercise bikes that have a simple, almost barebone design. It has a maximum weight capacity of 300 pounds. Note that the Exerpeutic's closest competitors, with similar architecture, support 75 pounds less. It comes with a large LCD screen that's easy to read and displays workout data like speed, time, distance, etc. There's also a handgrip pulse sensor to help you keep track of your heart rate.
The Exerpeutic has a large, well-cushioned seat that has a height adjustment functionality, which enables the stationary bike to accommodate persons from 5'3" to 6'1". This model has a three-piece high torque cranking system for smooth and consistent pedaling. The bike folds to half the original size, and you can move it using the transport wheels that feature on the base.
The workout bike has a magnetic tension system with eight levels of control and an easy to use conveniently located knob. The Exerpeutic Magnetic is silent and won't come between you and your TV or music. These exercise bikes also come with a detailed reference manual with a handy troubleshooting guide for any problems you may encounter.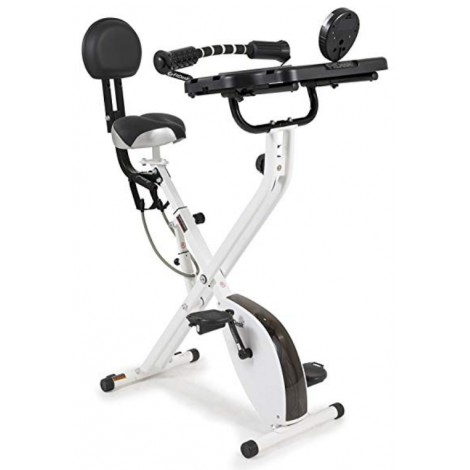 The FitDesk exercise bike is the ideal cardio fitness platform for attaining your fitness goals as you work on your laptop. It has a bench cruiser-styled desktop that features a non-slip rubber surface. The desk also has a storage tray and a tablet holder. The adjustable backrest featured on this model has an integrated massage bar for optimal comfort.
The FitDesk has an extendable forearm roller that you can rest your arms on to relieve stress while you type or surf the internet. A resistance meter is also on hand to help you track progress with relative ease. The pedals run on a high-velocity flywheel with a twin belt mechanism, which runs silently so you can exercise and carry out your job in peace.
This stationary bike has eight levels of tension, and the seat can be adjusted to a semi-recumbent position. The performance meter keeps track of vital exercise data like mileage, time, calories, and many others. The FitDesk can be folded in a simple one-step action to assume a slim shape, and built-in wheels make it easy to haul these stationary exercise bikes into storage.

Subscribe to our Newsletter