Best Workout Equipment for Your Home Gym
In a Hurry? Editors choice: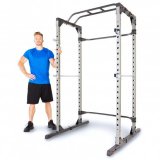 Test Winner: Fitness Reality Super Max Power Cage

Investing in various types of exercise equipment is a great way to ensure your workouts don't become stale. Running on a treadmill is a great way to burn calories and build muscle, but sometimes you just need a change. From battles ropes to plyo boxes, there are tons of tools out there to spice things up!

Remember the first time you tried a new exercise? You were pretty sore the next day. However, after a week of the same workout, the soreness went away completely. This is because you aren't challenging new muscle groups! By incorporating new gear, you constantly challenge your body.

Whether you are looking for a bodyweight exercise or you want to add some weights in your training, we have found gear to fit your needs. In this guide, we have hand-selected some of our favorite pieces of workout equipment to make keep training exciting!
Standout Picks
Criteria Used for Evaluation
Ease of Use
We wanted to make sure that we selected products that were easy to use.
Not only did these include products that make you exercise easier, but also products that were easy to assemble. There were a few things that we took into consideration when determining if a product was easy to use.
Clear instructions: While many of the exercise equipment that we selected for our list did not require any assembly, there were some that did. Workout equipment such as weight benches, power tower, and power racks requite a little bit of assembly.
We wanted to keep the assembly process as simple as possible. Gear such as power towers are designed to keep you safe when lifting heavy without a spotter, so it is absolutely imperative that they are assembled correctly. This means we looked for brands that had easy to read instructions, included hardware, and few pieces that requited assembly.
Simple design: The fewer pieces and parts there are to a product, the less that can go wrong. We looked for exercise equipment that has a simple design that would not take up all that much room in your home gym, as well as make it easy to use. Workout equipment such as power racks has a very slim and simple frame. This means your movements will also be simple- yet effective.
Ease of adjustments: Exercise equipment such as weight benches are beneficial when you can adjust the height and pitch of the bench. We wanted to keep these adjustments simple and easy. For the benches that we selected, adjusted the level of the bench involved raising and lowering the unit on a set of pegs. It also does not require any fastening for quick and easy adjustments.
Equipment such as adjustable dumbbells was also something that we took into consideration. The Bowflex adjustable dumbbells were one of the easiest adjustment options when compared to other adjustable dumbbells out there on the market.
Materials
The materials used dictate how well it will hold up over time.
No one likes replacing their exercise equipment over and over again, so we made sure to select materials that were built to last. Below, we listed some of the materials that we looked for.
Powder-coated finish: A powder-coated finish offers a few distinct advantages. First of all, it looks great! Powder-coating to steel provides a shine to your workout equipment. This means it looks sharp like something out of a commercial gym.
Another great practical feature of a powder-coated finish is that it protects the steel alloy from outside contaminates. If your exercise equipment is in humid basement areas, the humidity from the air causes rust over time. Rust weakens the steel material over the years and can break down and become brittle. A good powder-coated finish is designed to protect it from rusting.
Steel frame: A steel frame is one of the sturdiest options out there on the market. We made sure to try and find workout equipment constructed from steel frames. Steel makes it quite a bit heavier than other options such as aluminum, but it holds up very well over time.
There is a reason that you often find old 1970's exercise equipment at yard sales! It's because it is virtually indestructible, and quite a pain to lug around from place to place due to its weight. However, if you plan on working out until the day you die- steel frames are the way to go!
Knurled grips: When discussing barbells and dumbbells, there is a lot of talk about knurled grips. A knurled grip is little tiny diagonal grooves carved right into the metal. These grips are designed to really help you hold on to the bar without any added materials that will break down over time (such as foam or EVA).
Knurled grips are imperative if you intend on really pushing the limit when it comes to weight. Using an Olympic barbell with a deep knurled grip with the help of gym gloves or grip chalk is a great way to ensure you have full control over the bar in your hands so that you don't drop it in the middle of a set!
Effectiveness
At the end of the day, you want to select workout equipment that yields results.
Home gear is made to help you push your exercise routines to the next level. There were a few things that we looked at to ensure that these products would work for you.
First of all, simplicity is key. When it comes to exercise equipment to change up a boring cardio routine, you don't need something that is overly complicated. We were drawn to simple staples that you can use in a myriad of ways.
The humble weight bench is a perfect example of simplicity being key. Adding a simple weight bench to your workout area is a great way to complete straight bench presses or any type of dumbbell work with a stable surface. However, even if you don't have plates or barbells, a weight bench is still a great way to fit in bodyweight exercises.
By adjusting the incline of the bench all the way back and hooking your feet in place, you now have a great place for decline sit-ups. Decline sit-ups are an excellent way to achieve a full range of motion in your core to engage not only your upper abs but your lower abs as well!
A power tower is another great bodyweight tool to build and sculpt muscle. What we loved most about the power tower is that the movements such as chip ups, knee tucks, and forward dips are really brutal bodyweight movements! Many users can only achieve just a few reps when just starting out.
For workout equipment that is designed to get your heart pounding and your body moving, sometimes the simplest options yield the best results. Take plyo boxes or battles ropes, for instance. It doesn't get more simple than a box! However, plyo boxes serve up quite a challenge, and there are various sizes to increase the intensity to build muscle in your legs and glutes. If you are an avid runner, plyo boxes are a great supplements tool to increase your time and stamina.
Brand
There are some brands that just stand out from the rest of the pack.
While brands such as Bowflex are household names, there are some other brands that you may not have heard of before. However, these brands do not mean that they are not trusted brands within the fitness world.
We made sure to research each and every brand before selecting it for our list. Many brands may not have immediate brand recognition as BowFlex, but they are well known in other circles. CAP Barbell is one of those brands.
When it comes to weight lifting exercise equipment, CAP Barbell is one of the most trusted brands out there on the market. They were founded in 1982, and have a long line of exercise equipment made for the home. Users love that their products are made with high-quality materials that are commercial grade, but made to use at home.
Another brand that is worth checking out is Weider. This company has been in business for over 50 years, and they strive to make innovative products. Many options out there on the market use traditional features in their gear, but Weider tries to make innovative designs that work muscles in unique ways.
Other brands such as Gold's Gym and Bowflex really need no introduction. They are a few of the leading names in residential and commercial exercise equipment. When you select a product from these brands, you know the materials used are of commercial grade and made to take a beating!
Size
We realize that not everyone is working with a lot of room in their home for exercise equipment!
The good news is that companies that make residential home exercise equipment knows that space can be a bit of an issue. Home workout gear often serves the same function, but it just a little bit smaller than what you use at your local gym.
If you don't have a lot of space to work with, we suggest starting off small. Workout equipment such as dumbbells and plyo boxes are a great way to burn calories and build strength without taking up a lot of room.
Power tower and power racks generally do not have a large footprint, but they are very tall. Before you make a purchase on a rack or a tower, be sure that you measure your ceiling to ensure that it will be tall enough.
When we talk about size, we are also talking about weight. Workout equipment that is made from a steel construction can be very heavy. For instance, the Weider Ultimate Body Works bench is made from a solid steel frame and weighs in at just over 70 pounds. While it makes claims that it is easy to store because it is compact, be aware that those back muscles need to be strong enough to actually carry it into storage!
Workout Equipment and Exercise Machines Reviewed
1

. Weider Ultimate Body Works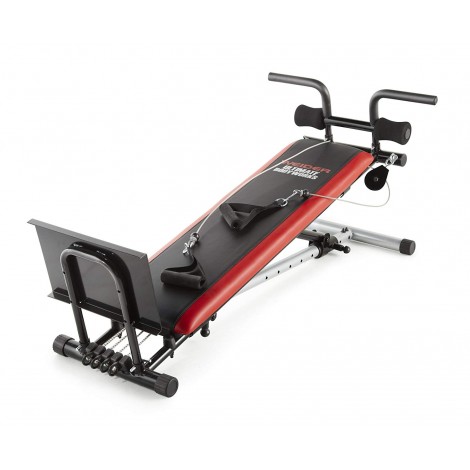 The reason that we selected this tension bench from Weider as our number one sport is that it is a really great tool to work almost every muscle in your body! By simply using tension lines of varying degrees, you can sculpt muscles in your arms, legs, back, and core without lugging around heavy plates or dumbbells.
What we love most about this design is the adjustability. You have the option of adjusting the tension in the line up to 4 levels, and you can also adjust the pitch of the bench. By adjusting the bench, you will target different muscle groups that you would not ordinarily hit.
Another thing that we really loved about this exercise equipment is that it lives full time in your home gym, but you can also fold it up and tuck it into your closet just like an ironing board! It is important to keep in mind that it weighs in a just over 70 pounds, so moving it around will not be as easy as your ironing board!
If you are in the market for a great way to tone and shape your body with a humble piece of workout equipment that doesn't dominate your indoor space, we love this tension option from Weider! Due to the fact that it triggers muscles in your whole body, it is a great way to improve your speed the next time you hit the trail for a long-distance run.

2

. Bowflex Weight Benches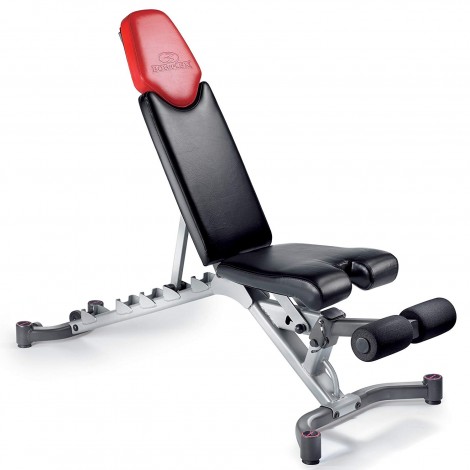 A basic and sturdy weight bench is a staple for any workout space in your home! What we love most about this piece of exercise equipment is that is a great tool for building muscle. Even if you skip the plates, it's a perfect place to conduct dumbbell work or even bodyweight exercises.
What we liked most about this weight bench from Boxflex is that it is comfortable, incredibly sturdy, and adjustable as well. By adjusting the incline of the bench, you can target different muscle groups in your upper body by engaging in decline, straight, and incline bench presses with a bar or just with dumbbells.
It comes from the trusted brand of Boxflex that has been bringing high-quality workout equipment to home gyms since the mid-1980s. It is made from commercial quality steel for the frame that has a load capacity of an impressive 480 pounds! This bench gives you all of the quality of gym exercise machines while offering a narrow frame that is perfect for small spaces in your home.
What we love most about this weight bench is that it is one of the best pieces of exercise equipment to have in your home if working with weight is something that is important to you. Its frame is also ideal for bodyweight exercises such as elevated push-ups or decline sit-ups as well.

3

. Fitness Reality Super Max Power Cage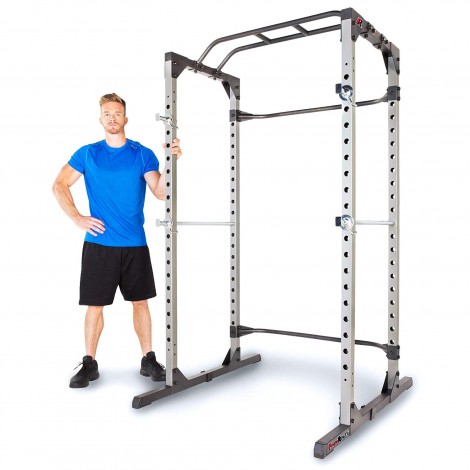 If you want to push yourself with heavier weights, you will need a spotter with you to ensure you do not injure yourself when you train to failure. However, not everyone has the luxury of having an extra pair of hands when working out at home. A power cage is a perfect way to train heavy, even if you are by yourself.
A power cage works by placing a barbell onto the hooks at the base and then adding an additional pair of hooks where you want the bar to land when and if you fail. This piece of exercise equipment from Fitness Reality is a great choice because it is made from materials to keep you safe.
One thing that we really loved about this option is that it has a few additional features that other Power Towers on the market simply do not have. This unit has a pair of pull-up bars that run along the top. These dual bars also have a pair of parallel bars to switch up your grip to activate multiple muscle groups.
For those that really want to engage in heavy lifting, a power cage is a must to keep you safe. The reason why we selected this piece of workout equipment from Fitness Reality is that it is made from strong materials that are easy to use, and it has a few extra features to help you build muscle in a multitude of ways.

4

. Gold's Gym XR Power Tower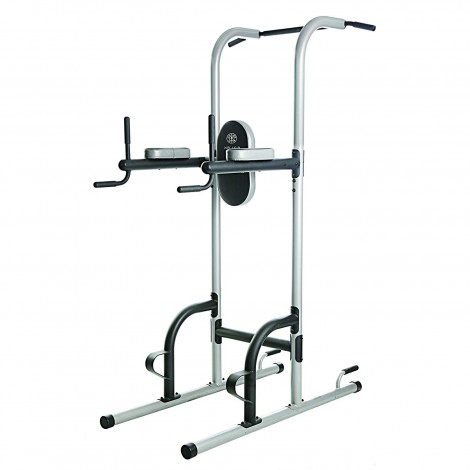 Golds Gym is a brand that really needs no formal introduction. When you purchase a piece of exercise equipment from Golds Gym, you know it is made from high quality and strong materials. What we liked most about this Power Tower is that it is made to sculpt and build muscle in a myriad of ways.
This power tower has four different places to help users build muscle using their body weight. It has a wide grip pull-up bar to work biceps and lats, and it also has a vertical knee raise pad that builds muscle in your entire core. A pair of handles on the front of the unit also works to build muscle in triceps with difficult forwards dips.
What we liked most about this piece of exercise machines is that it is made from high-quality materials that have a sharp powder-coated finish. The pads on the back and the elbow pads are comfortable but durable enough to hold up well over time.
The movements of dips knee tucks, pull-ups, and forwards dips are pretty simple but deceptively difficult! If you want a great way to build lean muscle without the use of cumbersome weights or dumbbells, a power tower is a great piece of exercise equipment to get you there!

5

. Bowflex SelectTech Adjustable Dumbbells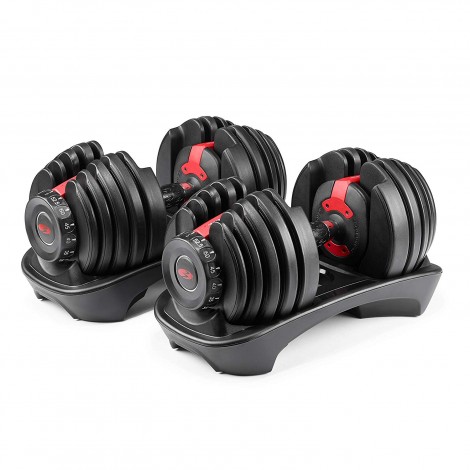 Dumbbells are an awesome contribution to your workout equipment at home and they are a great way to build muscle and get stronger, and they can be used in a myriad of ways. The downside to dumbbells that users feel like they need to buy quite a few sets to ensure that they have enough room to grow. The reason we selected these adjustable dumbbells from Bowflex is that they have all of the different weights that you need in a small frame.
What is great about these dumbbells is that they do not take up much room in your home gym at all. They provide weights that start at a humble 5 pounds and are able to be adjusted up to an impressive 52.5 pounds! This makes it perfect for low weight flys, or heavy dumbbells rows.
To make your adjustments, simply turn the dial on the front and back of the dumbbells until the arrow is pointing to your desired weight. It is so easy to turn that you can do it with just one hand. Once it is placed on your desired weight, lift it up off the base to begin your workout.
If you are interested in getting into dumbbell work and, but you don't want to make the investment in pairs of dumbbells that start at 5 pounds and go up to 50- this is a great investment! Plus, it won't take up as much room in your home as the 10 pairs of dumbbells that are housed inside this singular unit.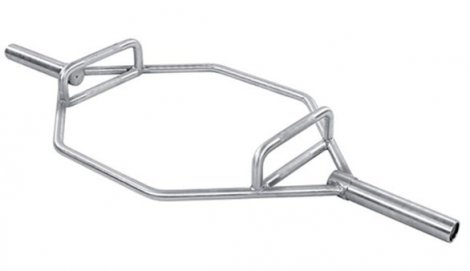 When it comes to something like deadlifts, purists will usually have a straight bar lying in their garage. However, those with smaller spaces looking to train will love the Hulk Fit Hex Bar, shorter than the regular barbell, it's suitable for deadlifting, as well as shrugs. Available in both open-back and regulars designs, this may be an essential piece of exercise equipment for your place. Read on for a few specs on the Hulk Fit Hex Bar, and you may just make this a new addition to your existing exercise equipment.
Regular plates are easily fitted to the bars, which are just under the 2 inch hole width weight plates have. When you purchase this kind of exercise equipment, you're looking for something heavy duty, that can last, and stand up to the wear and tear you'll be putting it through. The Hulk Fit Flex Bar is made with steel that will stand more than a 1000 pound load. And at a weight of 45 pounds, those beginners starting out with deadlifts will find it super easy to use.
Handles on this exercise equipment are versatile, where raised or regular grips can help with individual's unique flexibility and range of motion. Grips are textured so you'll be sure to keep your hands firmly put, and longer load sleeves will take extra weight so you can push your limits. Step into this piece of exercise equipment for a pain-free experience with deadlifting, as the design helps train a proper form when executing the move. If you've not tried one yet, get your hands on the Hulk Fit Flex Bar for a try!

7

. Power Guidance Battle Rope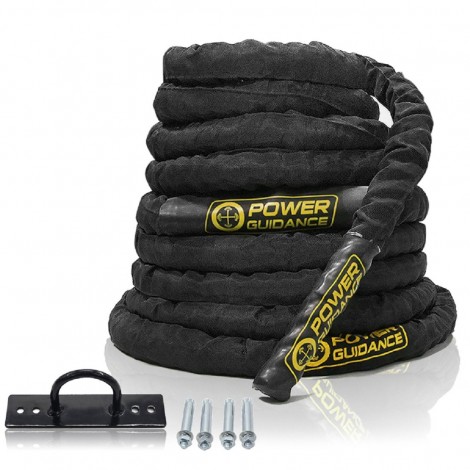 Battle ropes are a great piece of exercise equipment to have in your home gym because it offers a full-body workout without taking up a whole lot of room. Battle ropes work arms, legs, and core at the same time that it burns calories.
What we liked most about the battle ropes from Power Guidance is that they are made from materials that hold up quite well no matter how hard you pound them upon the ground. We like that these ropes are coated with a nylon sleeve to protect them from moisture and dirt, and are easy to wipe down.
These battle ropes from Power Guidance also come with a high-quality anchor to ensure that it is mounted properly to the floor. It's important to note that to mount it to the flooring, you will need to drill pretty deep holes into your floor to install the mount.
If you want something that offers a great cardio workout while working to build muscles in your arms, legs, and core, a power rope is a great piece of workout equipment for your home gym. Plus, it is simple and easy to roll up and place it into storage, or take it with you on the go for an outdoor workout!

8

. CAP Barbell Power Rack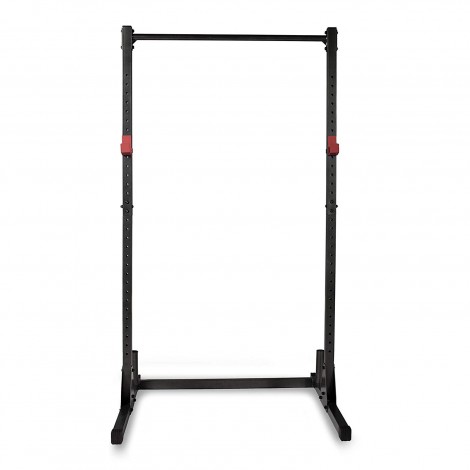 What we liked about this power rack from CAP Barbell is that it is simple and will not take up much room in your gym. If you love your pull up and want a free-standing option rather than other door-mounted designs, this piece of exercise equipment is a great choice. Plus, it keeps you safe when lifting heavy alone.
Simplicity is the name of the game when it comes to this power rack. The rack that catches your barbell is capable of holding up to an impressive 500 pounds, and the sturdy pull up bar at the peak of the unit can hold up to 750 pounds! While the rack is a great feature for compound lifts, many users love the free-standing pull up bar that doesn't take up that much room in their home gym.
The frame of this piece of exercise equipment is made from a high quality powder-coated steel frame, and it uses durable zinc J-hooks that catch and hold your barbell. It also comes in a wide variety of bright colors that include red, yellow, green, white, and orange, as well as basic black.
For those that need a good power rack that doesn't take up that much room in their home gym, this option from CAP Barbell is a great choice! It is made from high-quality materials that hold up quite well, and it also comes in a lot of fun and bright colors as well.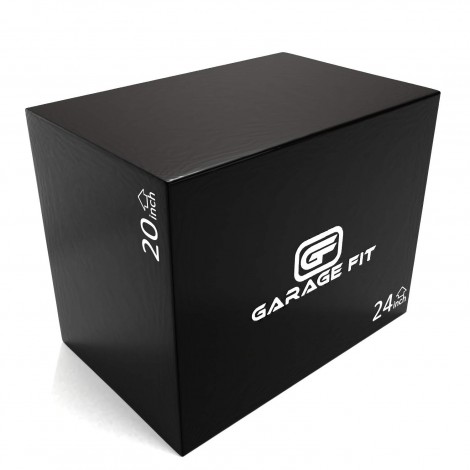 Looking to spice up your old, tired cardio routine? We love plyo boxes because they are a great way to burn calories, slim down, and build strength in your legs, glutes, and core. Plyo boxes may seem simple, but it is actually quite difficult! We love this exercise equipment from Garage Fit because it gives you various options to work up to.
You may think you can jump pretty high in the air, but you may be surprised! What we liked most about this plyo box from Garage fit is that it comes in a variety of heights to increase the intensity as you get stronger. Plyometrics is a really great way to raise your heart rate and burn calories in a relatively short amount of time.
The corner of this box is smoothe to prevent injury to your shins if you botch your landing. The wood frame is able to take quite a beating, and it can hold up to 350 pounds. The top of the box is strong and rigid to prevent you from losing your balance when you land upon the top.
For those that want a piece of workout equipment that helps burn calories in a little amount of time while building strength in your lower body, this is a great tool. Plus, due to the swinging of your arms as you reach for taller heights, it actually builds muscle in your arms as well.

10

. CAP Barbell Dumbbell Weight Set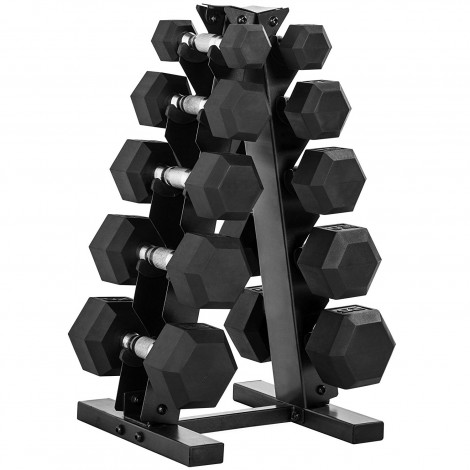 A good set of dumbbells is essential for any home gym, whether you are engaging in fat-burning cardio or working to build muscle. What we love about this set from the trusted CAP Barbell is that it also comes with a hex frame that stores them for easy access. Plus, it comes with an organized hex stand.
Dumbbells offered in this set include 5, 10, 15, 20, and 25-pound dumbbells. What we love most about these dumbbells is that the edges are coated with a rubber finish. This means that you can throw them on the ground after failing a set without worrying about them chipping your floor or breaking your dumbbell.
The knurling on the grips is very similar to what you would find in on an Olympic barbell. Users love that they are comfortable and secure without digging into their palms. This set of exercise equipment also comes with a vertical hex stand that doesn't take up that much room in your home gym.
For those in the market for a great set of dumbbells, we feel that this set from CAP Barbell is one of your best options. We love the rubber coating along the edges of the barbell to protect your flooring. The included hex rack also keeps them your home gym from looking cluttered.

Subscribe to our Newsletter