Best Workout Water Bottles Reviewed
last updated
Aug 15, 2019
We all know how extremely important it is to stay hydrated throughout the day. From health benefits such as improving cardiovascular health, lubricating joints and muscles, flushing out bacteria and maintaining an ideal body temperature, water is also beneficial in keeping you look and feel youthful and comfortable. Unfortunately, we don't always have access to clean drinking water, which is where water bottles come in.
A trusty flask or bottle can make a huge difference on your spending habits and ecological footprint, as it will prevent the need to shop for bottled water on the go. Most designs hold around 32oz of liquid, with special features such as insulating properties, comfort nozzles and non-slip coatings being readily available at affordable prices.
The list below looks at the best water bottles currently available for purchase, ranking them based on materials, size, style, product purity and advanced features.
In a Hurry? The sports water bottle winner after 6 hrs of research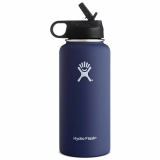 Hydro Flask
Why is it better?
Food-grade Stainless Steel
Vacuum Insulation
Two Size Choices
Three Compatible Lids
Non-slip In Hand Experience
In a
Hurry? Editors choice: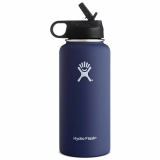 Test Winner: Hydro Flask

3
Researched Sources
78k
Reviews Considered
6
Hours Researching
10
Products Evaluated
Materials
Product Purity
Size
Style
Features
By Default
Criteria Used for Evaluation


Materials
Hands down, the materials that were used to make each design was the very first thing that we considered.
From our research, we found that there wasn't one material that was considered to be superior by users. Each material that was used to make up these water bottles had its own very specific set of advantages and disadvantages. We wanted to break down what the benefits (and pitfalls) of each type of material that we selected for our list.
Plastic: The benefits of using plastic are pretty simple- it is virtually indestructible. While glass can shatter and different types of metals can rust or become dented, plastic is able to outlast all of them. When you opt for plastic, you can expect to get something that is might lighter than many of the other designs out there on the market. Weight matters because if you spend a lot of time outdoors hiking, camping, or just going for a run on the trails, you aren't going to want to be weighed down by heavy gear. That's why we selected plastic materials to sit at the top of our list because they are lightweight and easy. However, they aren't without their disadvantages. Most plastic options aren't going to be able to be tossed into the dishwasher to be cleaned (although there are some that are considered to be dishwasher safe). Plus, plastic is a little more porous than materials such as glass or steel, so they are going to hang onto odors more than steel. This means that if you infuse your drink with a little bit of pineapple, be prepared for the next few fill ups to have just a ghost of pineapple flavor!
Stainless steel: Stainless steel- it can often do no wrong! We were really drawn to stainless steel options because they were able to do a few more things that regular plastic or glass. Stainless steel is an excellent material for insulation, which means that it will keep hot beverages hot and cold beverages cold for longer periods of time. A hot beverage that stays hot can be a real blessing for cold weather activities! The design we saw from Contigo claims to keep drinks cold for up to 28 hours! Plus, you won't have to worry about the materials cracking or breaking when you accidentally drop it (which can happen during those intense workouts)- but you will have to worry about it becoming dented. Due to the fact that steel is incredibly nonporous, you can fill it with coffee one day, wash it out, and fill it with Pellegrino the next without any coffee after taste. The downside to stainless steel is that it can get a little on the heavy side when you compare it to plastic. While this may not be a dealbreaker for those that are simply looking for something that they can sit on their desk at work, it could be a problem for those heading out camping and want to pack light.


Product Purity
We wanted to make sure that each product was free of any harmful chemicals.
When it comes to products that are made from plastics, consumers are becoming increasingly cautious of what types of chemicals go into them - and for good reason. Chemicals found in plastics have a tendency to seep into the liquids placed inside, and when you take a drink you are essentially consuming those chemicals. That's why we made sure that all products on our list were considered to be BPA free to keep you healthy.
BPA-free is something you have probably seen a thousand times, but what does it actually mean? BPA is a chemical compound that was discovered in the late 1800s but it wasn't until the 1950's that companies started using it in the manufacturing of their household products. It was primarily used to fortify plastics to make them much more resilient. However, it has been noted in recent years that this chemical, when exposed to it over a long enough timeline, can actually have some pretty bad side effects on your health. When you break it down into its basic chemical form, it mirrors what the estrogen chemical looks like. When ingested, this chemical can latch on to estrogen receptors and make some pretty bad and ill-informed calls about cell growth and repair.
That's why we wanted to make sure that the products that we selected were free of this type of chemical. While there are some experts out there that claim that the quantity that seeps into our products is so minimal that it can't do any damage, we always feel that it is better to err on the side of caution!


Size
Size of the product is important because you want it to be big enough to ensure that you get enough water to fuel your very active day.
There were a few things that we considered when we made our decisions to find what size would work best for everyone.
First, we didn't want the product to be so big that you wouldn't want to carry it around all day. Our lives are so hectic and it feels that we are constantly adding new pieces of gear and gadgets that we simply cannot leave the house without. Before you lace up your sneakers for a run, consider how much you will need while you are out. That's why when we considered the size, we wanted to make sure that it was going to be something that would be easy to carry. A long, slim design was one of the most popular sizes out there on the market because it was able to fit into most size cup holders. However, if you are looking for something that you can throw into a backpack or suitcase, you make find that the smaller and shorter designs may work better for you.
Second, we looked at how much liquid it was going to be able to hold. Of course, you want to ensure that you hit your daily intake goal, but you also don't want something that is going to be so big and heavy that you won't want to carry it around. We were drawn to brands that gave users options on what size they wanted to select. On the smaller end of the scale were options that carried about 17-ounces, which is just a little bit more than your standard can of soda. On the higher end of the scale were options that carried about 32-ounces. From what we gathered, the 32-ounce options was the standard size for most products out there on the market, and mirror what most experts suggest your intake should be every day.


Style
Of course, we always want to make sure that we select designs that also look good as well.
Just like when you are picking out a new pair of sneakers, style is always going to be something that you take into consideration. The same principles apply to this type of gear. We wanted to select products that were functional and made from high-quality materials, but we also wanted to give you a lot of color choices and designs to select from.
Bright, fun colors are a great way to express your personal style and get excited about something as simple as upping your daily fluid intake, but there are a few things to keep in mind if you are selecting a colorful design. If you opt for something that has a solid color finish (this applies to stainless steel designs as well), you aren't going to be able to see how much you have left in your container. Plus, if you opt for a dual layer stainless steel model, it is going to feel more full than it actually is. If you want to keep tabs on just how much you can consume throughout the day, we suggest that you select a clear design. If you want something that has a little more color to it over a boring clear design, many companies offer clear matte designs that are infused with a tint of color- typically blue or pink.


Features
Additional features in these products are going to help you get the most out of your workouts!
We have come a long way from the standard plastic design that you mount to your bicycle. There are a lot of additional features that can be added to these designs that are going to be a real benefit to you. We have compiled a list of some of our favorite additional features.
Dual stainless steel layer: We are quite certain that everyone knows the specific frustration of filling your container with ice and popping it into your gym bag for a nice refreshment after your workout, only to find that the container sweat all over your clothes, leaving them a soggy mess. A dual layer is designed to cut out any condensation, so the outside is always going to remain dry. Plus, it works double duty for insulation, so hot beverages will stay hot longer, and colder beverages will stay cold longer.
Straps and loops: Carrying around a slim metal tube all day can prove to be a little cumbersome, especially if you have a lot of tools or gear to carry. Selecting an option with a wrist strap or a paracord loop that hooks to your pants will allow you to carry your daily dose with you while keeping your hands free.
Foam roller: This is the best marriage of two items since peanut butter and chocolate. Most users purchase these products to carry along with them at the gym. After a long workout of the treadmill, it feels great to replenish your fluids. It also feels great to give those tired muscles a roll as well to loosen them up, so it only makes sense that these two products to be paired together!
Expert Interviews & Opinions
Most Important Criteria
(According to our experts opinion)
Experts Opinion
Editors Opinion
Users Opinion
By Default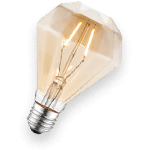 Keep it Cold
The reason why stainless steel is the best option to keep drinks cold is that is has a dual layer. This means the first layer absorbs the hot or cold temperature, and the second layer keeps it from escaping.
BPA
BPA has existed in products since the 1950s, but it has been considered to be a problem until recently. Most manufacturers eliminate this chemical completely from their plastics, and the FDA ruled in 2012 that it is illegal to product baby bottles made with this chemical.
Hangry?
If you think you are hungry you could actually just be thirsty. Sometimes, our brain cannot differentiate between hunger and thirst. Before reaching for that bag of chips, drink some water first!
Other Factors to Consider


Bottom Line
At the end of the day, you want to select a product that is going to work for your needs. If you simply want something to carry along with you wherever you go, a larger design that measures to carry around 32 ounces may be your best bet. Plus, it doesn't require that you refill it as often.
If you are out on the trails and don't want to be weighed down by heavy gear, opting for a lighter plastic design is going to take a little bit of weight off of your back!
No matter what anyone tells you- there is no such thing as too much water! If you want to keep your body in tip-top shape, staying hydrated is half the battle. Ensuring that you always have a container of crisp cool water at hand is going to make meeting your daily intake quote that much easier, which means you will be able to train twice as hard!
Frequently Asked Questions
q:

Why do I need a water bottle?

a:

Your office has a cooler, your kitchen has a sink, and your gym has a fountain- so why do you need one? Sure, you may think that they are drinking enough throughout the day, but do you really know how many ounces?

If you want to get the most out of your training and you want to ensure that your body is properly nourished, it is going to be important to know just how much your intake is per day. With one of these products, you will know exactly how much you are drinking each and every day. Some designs even have a suggested level based upon the time of day so you can have a steady intake all day long.

Plus, you aren't always going to have easy access to water at all times throughout the day. If you love going on outdoor adventures, it is important that you stay hydrated, especially on those super hot summer days. If you don't like the idea of carrying around a container, we suggested a design that has a wrist strap that will keep your hand free and your body hydrated!
q:

Which is better: stainless steel or plastic?

a:

The answer to this question is just a matter of personal preference. All plastic designs that are considered to be BPA free are going to have a distinct set of advantages over their stainless steel counterparts.

First of all, you are going to be able to see through plastic, which means you will have a general idea of how much you have drank throughout the day. Stainless steel is solid, and there is no way of gauging how much you have drank. Plastic is also considered to be a lot lighter than steel, so it is something that isn't going to weigh you down.

Stainless steel, however, has its set of advantages as well. While it may be a little heavier than plastic, it is great at insulation. This means that if you pack it full of ice, that ice isn't going to melt as quickly than if you put it inside of a plastic container. Stainless steel washes up better than plastic, and because it isn't very porous, it isn't going to hold onto odors the way plastic can.
q:

How much should I drink per day?

a:

Your mother probably told you that you need to drink at least 8 glasses per day- but that may not actually be true. While it is a great baseline to lay down for pretty much everyone, this number can change based upon a few factors.

If you are incredibly active and sweat a lot, that number may be higher. When you sweat, you lose fluid at a quicker rate than if you were sedentary, and it is important that you always replenish fluids that you lose.

Also, if you insist on punishing your body by getting those giant burritos that your body has stated in no uncertain terms that it cannot digest very well (and punishes you in the bathroom a few hours later), you are also going to need to up your intake to replenish those fluids that you flushed away.

Some experts have boiled it down to this basic principle: when you are thirsty- you should drink. Also, if you are hungry you should drink as well. There are some studies that suggest that the brain sometimes cannot tell the difference between hunger and thirst, so it is always better for your body (and your waistline) to give it fluids before you head down to get yet another burrito.
q:

How can I ensure that it stays nice and cold all day?

a:

If you love your icy cold beverages (who doesn't?) there are some designs out there that are made to keep beverages cold for an entire day.

The material that you are going to want to keep a look out for is stainless steel. This metal is great at holding in temperatures. However, it is important to note that you want to get dual layer stainless steel. From what we have gathered, stainless steel in just one layer isn't very insulating and sweats much more easily than even plastic.
q:

Can I use it for other types of beverages?

a:

Yes, but there are a few things that you are going to want to keep in mind. If you opt for plastic designs, swapping out different beverages every day can be a little problematic. Plastics are a little more porous than stainless steel, and that chocolate protein shake that you made the day prior may still linger a bit- no matter how hard you wash it.

We suggest that if you opt for plastic- stick to water. If you want to switch it back and forth from protein shakes to lemonade to coffee- stainless steel is going to be one of your better choices because it isn't very porous and it washes up quite well (and most designs can even be tossed into the dishwasher).