Best Home Gym Machines Reviewed in 2022
In a Hurry? Editors choice: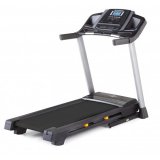 Test Winner: NordicTrack T Series Treadmill

Some days it's just really hard to muster the enthusiasm to pack a gym bag and head to the gym. When you work out from home, you can play your favorite music as loud as you want, and the travel time is short and sweet. Most exercise machines for home are a lot more compact than the larger commercial units, which means you can fit more types of workouts in a smaller space.

In this best home exercise machine guide, we listed some of our favorite exercise machines for home to help you fit in a quality workout, even on those days that you are short on time or just don't feel like interacting with fellow gym-goers!
Standout Picks
Criteria Used for Evaluation
Materials
When selecting any type of exercise machines for home, the very first thing that we looked at were materials that were used.
You want this to be the last exercise machine you will ever need to buy, so it is important that it is built to last. Below we have listed some of the most important things that we took into consideration.
Frame: The frame of each exercise machine really takes quite a beating. Whether you are racking up the miles on your treadmill, or burning out your muscles on your Bowflex, it needs to stay firmly in place. Placing an exercise mat at the base is a good way to keep it from shifting, but a sturdy frame will ensure it won't move around at all.
That's why we stuck to frames that were constructed from a steel alloy. Steel is the best material to use for frames because it won't bend or crack. Plus, it holds up quite well to many different temperatures. That means that if you have a musty basement or a cold garage in the winter, these machines will be able to hold up without skipping a beat.
Seats: You won't have to worry about seats when it comes to your treadmill, but most exercise machines for home have some type of seat. We wanted the seat to be comfortable, but it also has to be durable.
Hard, curved plastic seats are one of your best options. You may be more inclined to go for something soft and squishy like foam, but foam compresses down over time and can become very uncomfortable. Plus, softer materials have a tendency to rip and tear with continued use.
One of the best reasons to select a hard plastic seat is because it doesn't absorb sweat and odors. Once you are done using it, simply wipe off the sweat with a wet cloth and it is good as new! It will not hold on to odors, and it will last for as long as your steel frame.
Handles: All exercise machines come with some type of handle in some form or another. While we wanted the seats to be hard and durable, handles could be a little softer. You want something that you will really be able to grip comfortably in your hands to prevent blisters and calluses, as well as slipping.
To ensure a secure grip, foam is the way to go. Not only is foam comfortable in your hands, but it wicks away sweat from your hands. The very last thing you want is to face-plant on a treadmill belt because your sweaty and tired hands slipped off of the grips! To really increase your grip on all handles, a reliable pair of gym gloves isn't a bad idea.
Ease of Use
Keeping exercise machines simple will decrease the chance that it will become a secondary clothes hanger.
While we love designs with a lot of extra features, some can become a little overly complicated.
To keep things simple, we opted for designs with large displays that were easy to read while in use. One of our favorite features were those that would hook up wirelessly to your phone so that you can keep track of your progress via a simple app on your phones such as iHealth or MyFitness.
We liked when companies not only provided detailed instructions on how to get the best use out of each exercise machine, but we also liked it when they provided additional tools such as free workout videos. On many of the strength building machines, there are detailed diagrams directly on the unit to show you what muscle groups each lift would activate.
To get the most out of your exercise machines from home, it is important to know exactly what muscle groups you are targeting to see speedy results and success!
Another thing we found while conducting our research had to do with the initial assembly. These exercise machines for home are often shipped to your door in a few pieces. Some are shipped in more pieces than others! To keep you from pulling out your hair, we opted for designs that were shipped in the fewest pieces as possible.
We combed through hundreds of user reviews to weed out the exercise machines that were overly complicated to assemble, or that came with instructions that were a little unclear. It is super important that they are assembled correctly to ensure that they hold up through long workouts to keep you safe.
Features
When working out from home, you are completely on your own!
A few key features help keep you on track, monitor your progress, and help you push past your personal goals without the support of the community of a gym. We have gone into a little bit of detail of all of the features that we made sure to include in many of the models found on our list.
LCD screens: There is no better feature of modern exercise machines for home than the humble LCD screen. We were drawn to screens that are able to deliver basic information such as time used, calories burned, and distance traveled.
However, many of the higher-end exercise machines come with an LCD screen that delivers so much more! One of the most popular features on some of the more modern designs was a screen that was Bluetooth compatible. This means that you can sync your phone or tablet to communicate directly with your machine.
With Bluetooth compatibility, you have the option of selecting one of your favorite workout videos from your personal library to watch as you workout. Many have a stand to place your tablet so that you can burn calories with a full-color screen. If you don't want to train to workout videos, you can also elect to watch old episodes of Seinfeld as well!
Adjustability: We loved devices that gave you the option to change up the tension on the line, or increase the incline for a little bit of a challenge. If you are running short on time and want to burn more calories in a single session on your treadmill, adjusting the incline is a great way to burn calories and build muscle!
Another great way to increase the intensity is found on many of the weightlifting exercise machines. Most designs out there on the market come with weight stacks that accommodate anywhere from 150 to 210 pounds! This means that as you start to build strength, you have the tools on hand to increase your personal max on a small and compact machine!
Effectiveness
At the end of the day, you just want to see results.
Many users worry that exercise machines for home just don't have the same quality or functions to deliver results like the machines at the gym. However, that can't be further from the truth! There were a few things that we looked at to ensure you will see results.
First of all, we combed through hundreds of users reviews to get a feel of how well each machine performed. There were some exercise machines that just didn't have the same tension levels or weight capacity to grow with you as you become stronger. In those instances, we often moved on to another product.
Another thing that we also considered in looking for exercise machines that deliver results was the brand. Companies such as Bowflex, Nordictrack, and Nautilus have been around for a long time for a very good reason. These brands know exactly what users want from their exercise machines for home.
In fact, many of these brands also make machines for commercial use in gyms as well. When they manufacture an exercise machine for home, they use a lot of the core mechanisms that make their machines popular at the gym. The difference between home and commercial machines often boils down to a matter of size.
Size
Size plays a big part in exercise machines for home.
Many of the machines at your local gym are quite large because space isn't much of an issue. When you are at home, you want something that will not take up as much room.
We wanted to make sure that we selected designs that were really able to perform, but we also didn't want to transform your living room into Gold's Gym. This meant that when we considered a product for our list, we looked for a few key features that would help free up space as needed.
Some folks want gear that they can pull out of a closet when they want to fit in a workout. Others are building a home gym in their basement. No matter what you are building, clearing up space simply means you will have more room for furniture or more room for various exercise machine!
One of our favorite features of any exercise machine was foldability. We love gear that you can fold in half and tuck behind the couch. Or, if you have a workout room in your basement, foldability means that you have more room for free weights or for more equipment! Plus, if you decide that you want to live out the rest of your days as a couch potato, it will fit snugly in a closet or in storage until you finally come to your senses!
Generally, most exercise equipment for home has a smaller footprint than many of the other commercial models. Machines such as ellipticals and treadmills typically take up the most space. Exercise machines such as rowing machines and bikes are usually quite a bit smaller.
Best Home Workout Machines Reviews
1

. NordicTrack T Series Treadmill


When you think of exercise machines for the home, there is no better place to start than the humble treadmill. This home workout machine allows you to fit in a great walk or run, even when the snow is up to your eyeballs outside. What we loved about the NordicTrack T Series is that it has a lot of innovative features without taking up a lot of room.
The most impressive feature of this design is that it is Bluetooth capable and allows you to sync your tablet directly to the device. With a subscription to the NordicTrack workout channel, you can workout with personal trainers that have routines for all fitness needs. Plus, the workouts actually adjust the incline and speed for you!
If you aren't subscribed to the channel, that's ok too. The blue backlit LCD screen indicates how far you have traveled, calories burned, and distance. You can adjust the incline of the track up and down, as well as adjust the speed with just the touch of a button. When you are done, fold the track upwards to create more space in your home.
These exercise machines for home help you fit in a quick walk or run without taking up all that much room, and the personalized workouts give you the benefits of the gym without the annoyance or hassle. If a treadmill is your favorite piece of equipment at the gym, the NordicTrack T Series Treadmill is worth checking out!

2

. Nautilus Elliptical Trainer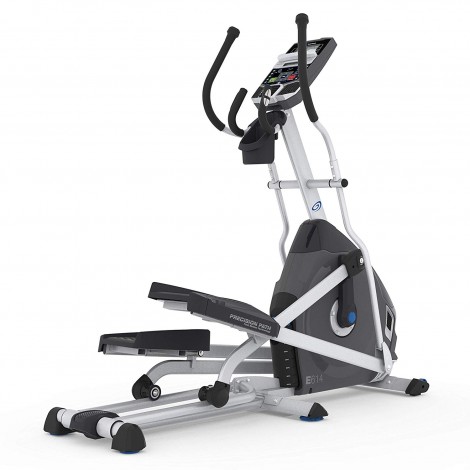 What we love about Elliptical Trainer is that you get all of the cardio benefits of running or walking while being kind to your joints. The movement of these exercise machines for home is smooth and easy, like running along the water. It's a great way to really get that heart pumping without your knees throbbing.
The reason that we selected the Nautilus E614 is that it comes from a trusted brand that is known for making durable and high-quality home gym machine. It has an LCD display on the control panel that allows you to set the resistance and speed as well. The display also shows you time and distance traveled, as well as calories burned.
One of the things that users really love about these exercise machines for home is that it is able to sync with your MyFitness App. This means that all of the workouts you fit in at home are listed on your app so you can monitor calories burned for the day to stay on track to your fitness goals!
While it takes up just a little less space than your treadmill, it is unable to fold up when you are finished like some models of treadmills. However, some users opt to use ellipticals for their preferred method of cardio, making these home workout machines a great tool for all of your cardio goals.

3

. XTERRA Folding Exercise Bike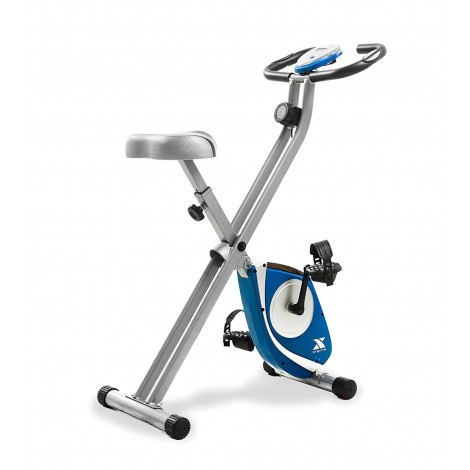 No home gym would be complete without an exercise bike! Much like the elliptical, this is an incredibly low impact workout that really builds up a sweat while being kind to your joints. What we liked most about these exercise machines for home is that they are very compact and do not take up all that much room.
The XTERRA Fitness Folding Exercise Bike is great is that it is equipped with all of the things that you want from an exercise bike in a small and compact design that even fits inside of a closet! The LCD screen on the front tells you how long you have traveled, calories burned and distance traveled.
The frame is made from high-quality solid steel and folds up the exact same way that you would fold up your ironing board. One of the things that users liked most about this option is that it has a soft, oversized seat that is incredibly comfortable on those long rides. The handles are also equipped with pulse grips to show your heart rate on the LCD screen to help you hit your target heart rate.
If you are in the market for a great exercise bike to add to your home gym machines, this is a great option. It folds up compactly if you are running low on room, or you just need more space for more equipment! Don't let its small stature deter you, however, because it is still able to perform just as well as the larger models.

4

. Concept2 Model D Rower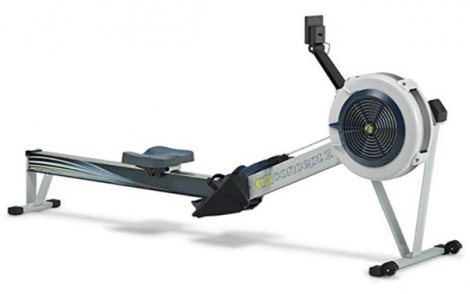 It's pretty well known that rowing is truly and all-body workout, and this exercise machine from Concept2 packs a punch. Rowing not only is an upper body workout for your arms, back, and shoulders, but also for your quads, glutes, and hamstrings. And, stabilization using core muscles brings in the ab workout as well! With some seriously great features and fit, the Model D Rower will make an excellent exercise machine to add to your home gym.
With a 14-inch seat height, this exercise machine is made to fit most, however a longer rail may be needed for those with longer legs, or greater than a 38 inch inseam. To help monitor your progress, this exercise machine comes with the Performance Monitor 5 from Concept2. It has preset workouts, wireless connectivity for those who have heart rate monitors they want to connect. It also has the ability to self-calibrate for quality results when you train.
This exercise machine is just under 9 feet long, so you'll need a little space in order to use it. However, it's easily stored by either standing up on its flywheel, or simply separating into two pieces. Base wheels help make it easy to maneuver around should you need to. Having a rower as your exercise machine is guaranteed to get you a full body workout, without high shock impact like some other forms of exercise. It's a great investment, and you'll have a 5 year warranty as well!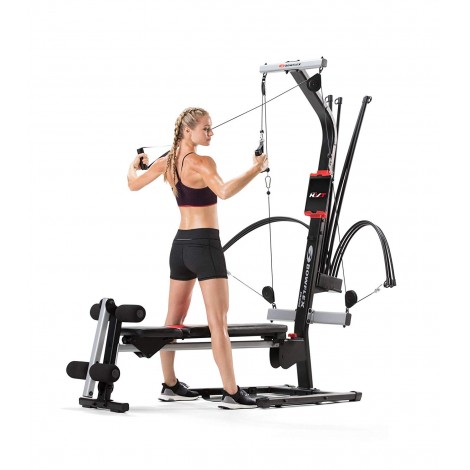 Looking to build muscle all over your body? These all-in-one exercise machines for home are a great tool for building muscle using Bowflex's power rod system. What we liked most about this design is that it is a great tool for not only building muscle but burning fat as well.
The base of the unit has a rowing track that you can use to fit in a great low impact cardio workout on your off days. When it is time for building muscle, this home workout machine hits every single muscle group effectively! Using a series of pulleys, this machine offers an impressive 25 different exercises to hit your lower body, back and arms!
Unlike other building tools, this design does not come with a weight stack. However, that doesn't mean that you can't adjust the weight in the line! In fact, this machine is able to achieve weights up to 210 pounds, which is far higher than many of the weight stacks out there on the market. This means that overall, this home workout machine is much lighter than other all-in-one options out there on the market.
For those that want something to help build muscle and burn fat as well, these exercise machines from Bowflex are a great option! It comes from one of the leading brands in the industry, and it is made from high-quality materials that will hold up quite well for years to come.

6

. ANCHEER Vertical Climber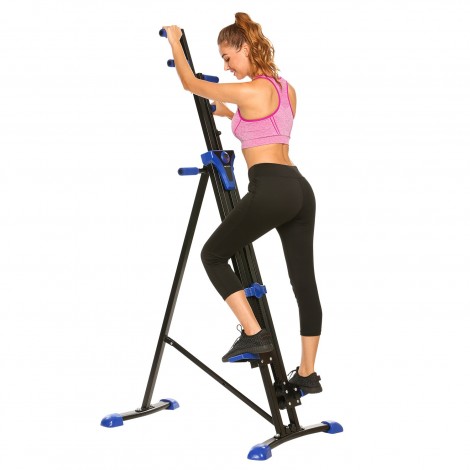 A vertical climber is one of the best exercise machines for home due to the fact that it takes up very little space. It is a great tool to have to work out a sweat and burn a lot of calories in a short amount of time. Plus, it is a great way to build and tone some of the bigger muscles in your lower body!
This option from ANCHEER is great because it is incredibly easy to use and set up. What we liked most about this design is that it also has a pair of handles that move along with so so you can also tone the muscles in your arms as well. It has 6 different tension settings to help you crank up the intensity.
The entire unit is made from a high-quality steel alloy that is capable of holding weights up to 220 pounds. The grips are coated in a thick and durable blue foam that absorbs the sweat on your hands to keep your grip strong and secure at all times. One of the things that users love most about these exercise machines for home is that they fold up compactly to store when not in use.
If you are in the market for a great way to fit in a very challenging cardio workout while also working to tone muscles in your arms and lower body, this vertical climber from ANCHEER is worth checking out.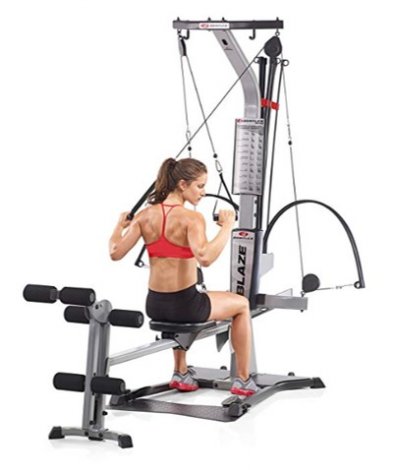 We all recognize Bowflex as a name that stands behind quality multi-functional exercise equipment. The Bowflex Blaze allows you to perform over 60 weightlifting and cardio exercises, all in one easy to use machine. It's ideal for those who are looking for a weightlifting system, or perhaps don't want to spend the yearly fees for a gym membership. Let's check out a few key specifications below around this versatile exercise machine!
Include in this system is a squat bar, and lat bar, so you'll be able to do both key exercises for your legs and back. The Power Rod included has a standard 201 pounds of resistance, but you can upgrade this to 310 or 410 based on your ability or needs. As with most Bowflex systems, the power rod is what supplies the 'load' for your muscles, instead of plates or weights. As it bends, the resistance becomes harder, and more effort is required on your part.
This exercise machine also has a sliding seat rail, so not only can you perform leg press movements, you can also row! Hand grips and ankle cuffs are included in your purchase too, so you'll have most accessories you'll need for a full body workout. With different positions you're able to place the pulley system in, you can work any muscle group. Bowflex also includes 7 free workouts to get you started. It's really a solid exercise machine to consider purchasing!

8

. Sunny Health Row-N-Ride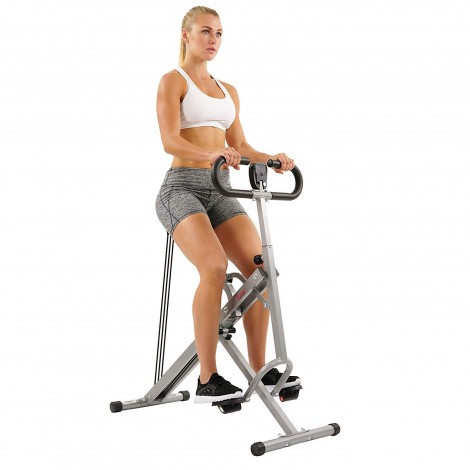 What we liked most about the Sunny Health & Fitness Row-N-Ride exercise machines for home is that they are small, compact, but able to really work up quite a sweat! This machine lands somewhere between a rowing home workout machine and a vertical climber. It helps build lean muscle while also burning quite a few calories in a short amount of time.
This device uses a tension cable found below the seat to make the rowing motion just a little more difficult. It has a small and compact frame that fits perfectly even in some of your smaller spaces in your home. Plus, when you are finished using it, it can be folded completely to be stored in a closet or even behind your sofa!
It has a small LCD screen on the front of the unit that indicates how many strokes you have completed, as well as the calories you burn and the length of your workout as well. The seat and the foam coated handle grips are able to be adjusted to find the perfect position to get the most out of this very unique movement.
For those that want something that offers a little bit more of a challenge over your standard treadmill, these exercise home workout machines for home are a great way to burn calories and build muscle at the same time. What we liked most about this design is that it is small and compact to fit into some pretty tight spaces.

9

. Sunny Health Magnetic Rowing Machine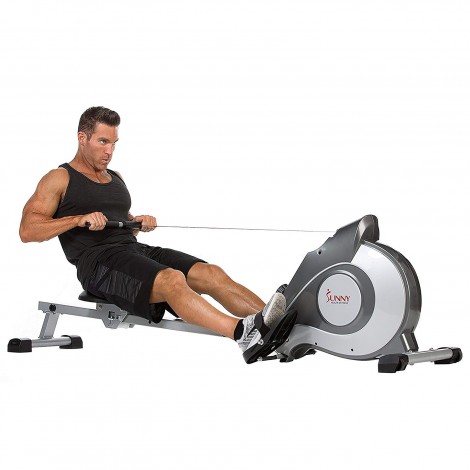 A good rowing home workout machine is one of the best exercise machines for home due to the fact that it is kind on your joints. Rowing is one of the best ways to really burn calories and tone muscles in your legs, arms, and upper back without the same impact as running on a treadmill.
What we liked most about this design from Sunny-Health-&-Fitness is that it uses magnetic tension on the wires that hold up well over time. It has 8 different resistance levels to increase or decrease the tension on the line without even getting up from your seat!
The central LCD display indicates how many calories burned, time traveled, and your row count. What's great about this model is that it has a long and narrow frame that will not take up that much room in your home gym. However, if you want to create even more space, it is able to be folded in half and tucked away in storage when needed.
We love rowing machines because they are a great way to burn calories without putting a lot of strain on your tired joints. These exercise machines for home from Sunny-Health-&-Fitness are made from high-quality materials that will stand up very well over time. It is something that is also incredibly easy to tuck away into storage as well.

10

. Schwinn Recumbent Bike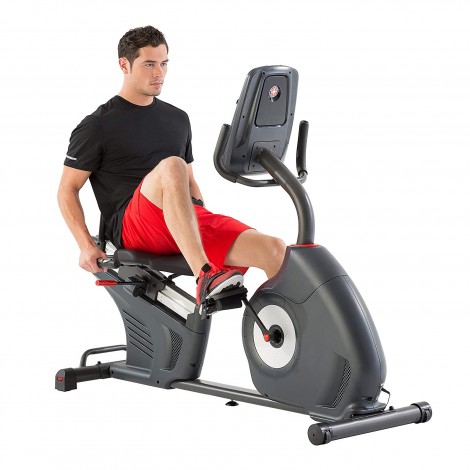 If you suffer from lower back pain but still need to fit in a good cardio workout, a great recumbent bike will help you achieve this. These exercise machines for home are incredibly comfortable to use, and they are great for working up a sweat while being kind to your body in the process. Schwinn started making bicycles in 1895, so it is no surprise that they are one of the most popular stationary recumbent bikes currently out there on the market.
What we loved most about the Schwinn Recumbent Bike lies in the central console. It has an easy to read backlit LCD screen that indicates important information such as distance traveled, time used, and calories burned. It has an impressive 29 different fitness programs of varying levels of intensity, and it has 25 different levels of resistance.
The great thing about these home workout machines lies in a comfortable seat. If you have had a long week of training and want to fit in a cardio workout, this is one of your best options. The seat on this model has a high back that really cups your body. You can also adjust the height of the seat by sliding it up and down on the track.
If you are in the market for something that is easy to use and kind to your back, these exercise machines for home are a great way to burn calories!

Subscribe to our Newsletter