Best Badminton Shoes for Men and Women Reviewed
In a Hurry? Editors choice: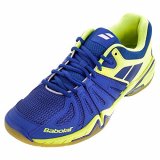 Test Winner: Babolat Shadow Spirit

What do you think of when you think badminton? A court? Racquets? Hitting a birdie over the net?


Have you ever thought about your shoes? Probably not. Just like any sport, badminton requires shoes that can withstand certain actions: shortstops, quick direction changes, jumps, etc., while offering the best support possible. When your shoes aren't designed for these actions you are more likely to trip, roll your ankle, or simply have a bad game. No matter how competitive the game is everyone wants to have the best one they can, and that starts with having the best badminton shoes for the job.
Standout Picks
Criteria Used for Evaluation
10 Top Rated Badminton Shoes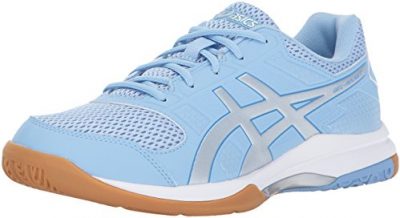 One of the best Badminton shoes on our list is the Asics GEL-Rocket 8. This design allows the sneaker to be lightweight while still maintaining good structural support and cushioning. It means that you will be able to move around quickly and easily while also keeping your balance and avoiding any stumbles or falls. The Gel-Rocket 8 Badminton shoes provide good ankle protection and reduces the risk of injuries making them one of the best Badminton shoes on the market.
With gum rubber on the outsole, this sneaker provides excellent traction on indoor court surfaces, particularly those made of wood. The design of these Badminton shoes will prevent you from slipping when moving swiftly.

The cushioning on this model will lessen the shock impact created when jumping to take a smash. This will enhance your performance by reducing fatigue in the feet and legs.

What's great about the Asics GEL-Rocket 8 is that it is high quality, yet still reasonably priced. It has everything you need - support, cushioning, stability and traction - and all of that comes at a wonderfully low cost! What a great deal!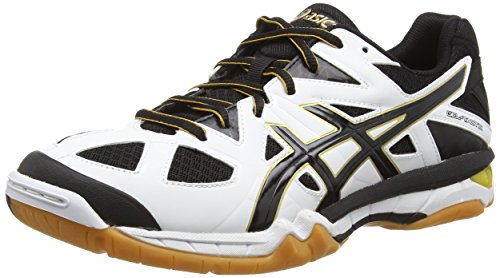 Play to win - and look good while you're doing it, too. These sneakers by ASICS are designed for volleyball but are amazing for badminton players as they provide excellent shock absorption. These Asics Badminton shoes are extremely durable and are ideal for those who train hard and play frequently. Combined with its cushioning and structural support, the Asics Gel Tactic 2 is a good choice for beginner, intermediate, and advanced players alike.
This indoor court sneaker features Trusstic System technology. It is a special system which reduces the weight of the sole, while at the same time not compromising the structural integrity of the design. This means that the Asics GEL Tactic 2 is wonderfully lightweight while being sufficiently supportive as well.

A supplemental toe guard on this model ensures durability. These Badminton shoes will serve you well through all the thicks and thins you encounter. Additionally, they are made out of seamless materials. A seamless construction makes sure that you don't suffer from any irritation or blisters that are otherwise caused by traditional stitches and seams.

The Asics Badminton shoes GEL Tactic 2 is an option that has it all! The shock absorption, the durability, the lightweight, and comfort - you will most definitely want for nothing when you step on the court in these well-rounded babies.

3

. Mizuno Wave Lightning RX3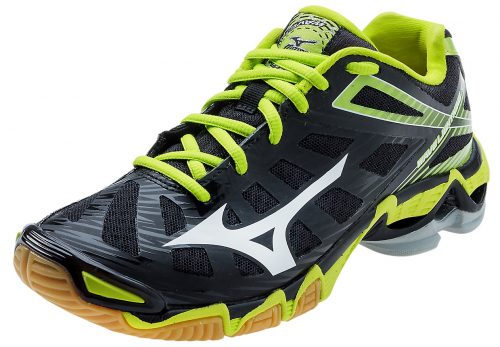 Simple yet practical, this model by Mizuno redefines the concept of minimalism. Its clean design features a rubber outsole designed for maximum stability. Shock is absorbed equally throughout the sole to cushion your jumps and help you keep your balance when transitioning from move to move. These Mizuno Badminton Shoes will prevent injuries and maximize performance, rendering them a good pick for players of all level.
A seamless upper keeps the Mizuno Badminton shoes Wave Lightning RX3 light while also providing a comfortable fit. You'll be able to move around quickly and freely so that you can focus on the game instead of on your feet.

The midsole ventilation system in this model reduces the build-up of heat and humidity. These badminton shoes greatly reduce odor and will prevent the discomfort (and embarrassment!) of sweaty feet.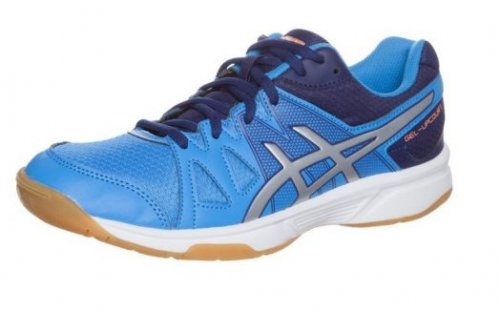 Next on our list is a pair that's perfect for beginner or amateur players. The Asics GEL-Upcourt 3 provides a balance of different features that are designed to enhance your every move. Its versatility renders it great for many other indoor activities as well. A wide range of color selections is available so that you can pick what best suits your preferences.
A full-length gum rubber outsole on this sneaker provides superior grip on the court and will prevent slips and injuries. Perfect for rapid footwork, the Asics Badminton shoes GEL-Upcourt 3 will ensure that you step onto the court with confidence. Moreover, it comes with a rearfoot GEL cushioning technology that disperses shock and enables a smooth transition.

The upper on this sneaker is made of synthetic leather and mesh that keep it nice and light. These materials also provide ventilation by allowing the air to freely flow in and out of the design. Additionally, it is outfitted with a padded collar and tongue for added comfort.

The Asics GEL-Upcourt 3 is admittedly designed for volleyball, but you won't have any issues using these sneakers for a good racquet game as well. These Asics Badminton shoes come with superior traction, a cushioning technology that ensures your comfort and a flexible, breathable upper that will keep your feet sweat-free. What more could we possibly ask for! Get these best badminton shoes by following the link above.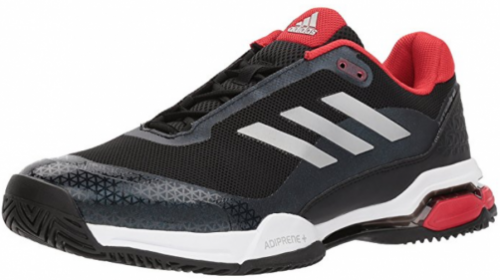 If you're looking for something comfortable and versatile, the Adidas Badminton shoes Barricade Club is definitely worth a try. Designed to ensure ease of intense lateral movements, these sneakers will prevent injuries and help you move around quickly. What's more, a sleek design makes these excellent for everyday streetwear, so that you can look fresh and stay comfortable at the same time.
In these Adidas Badminton shoes, a synthetic upper with mesh inserts ensures maximum breathability. The air-exchange helps to manage moisture and will keep you comfortable when the game gets intense.

The toe area of these Adidas Badminton shoes is reinforced with a durable material meant to prevent foot drags during sports like tennis. In badminton, this translates to more endurance against excessive wear and can also protect your feet from injuries.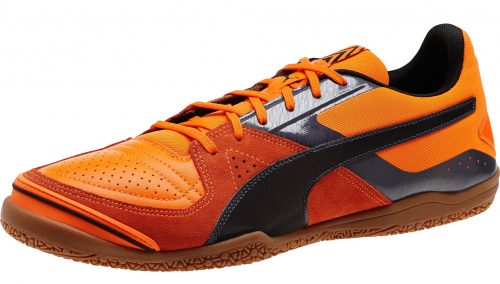 If you're looking something that's versatile and durable, the Puma Invicto Sala is for you. These Puma badminton shoes are light, agile, and provide amazing structural support that reduces both power loss and the risk of injuries. On top of that, Puma offers a variety of colors and styles for this model, ranging from yellow to mint green to red. This ensures that you'll never have to sacrifice style for performance.
A flexible upper made of suede, leather, and mesh will keep you swift on your feet. The low-profile rubber outsole also provides great traction and allows players to stay close to the floor.

This Puma badminton shoe features a removable sockliner that keeps the sneaker nice and light. Additionally, it provides cushioning for shock absorption which will keep your feet comfortable and protected.

The Puma Invicto Sala is a quality option. It is made out of high-grade materials that are comfortable and ensure a healthy climate for your feet, and it also looks good, aside from feeling good as well. Despite its slightly higher price, you won't regret investing your money in this elegant design!

7

. Adidas Performance Ligra 4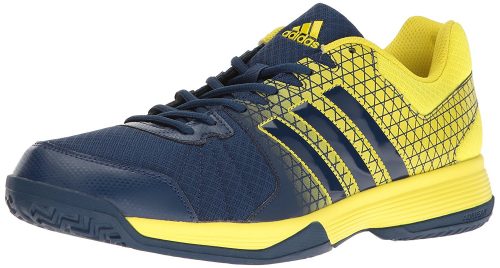 The Adidas Performance Ligra 4 is by far the most underrated design by this brand. With rubber on the outsole, these sneakers provide a solid grip that will keep you steady on your feet. The material of the insole is soft and comfortable, and a mesh material ensures air-exchange so that your feet can remain fresh throughout the season. Additionally, its versatility makes it an ideal pick for those looking to save money - or who just can't be bothered to go shopping.
As they are originally designed for volleyball, these sneakers provide excellent shock absorption. The rubber soles will boost your jump and cushion your landing when making jump smashes.

The beauty of the Adidas Performance Ligra 4 is that it is adaptable to pretty much any other indoor activity. A pair of these can double as running footwear or even gym footwear, and can even be worn as an everyday street option thanks to its sleek design.

The Adidas Performance Ligra 4 may be the underdog here, but it is a design which offers everything you need to play badminton, and more! You can take these sneakers with you anywhere you go, and you will enjoy every second of wearing them!

8

. Yonex Pro Cushion Eclipsion 2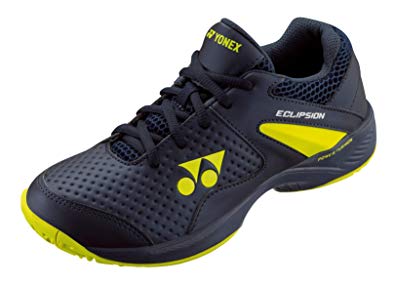 Ideally, a comfortable pair of badminton sneakers should fit snugly enough that there is no extra space, but not so snugly that it prevents air-exchange. With its asymmetrical fit, this pair by Yonex badminton shos provides just that - a great fit to allow ventilation, along with superior structural support and attractive design. The balance of features of these Yonex badminton shoes will keep you swift and stable with every step you take. Overall, this is a good pick for comfort that will also enhance your performance.
The Yonex Pro Cushion Eclipsion 2 cuts down the amount of extra space in the toe and the midfoot area. This increases stability and minimizes power loss so that you can move around with maximum speed and explosiveness.

Made with an ultra fine mesh that is light and durable, these sneakers provide excellent breathability. The promotion of air flow allows moisture to be released and prevents odor from accumulating.

Unlike most other options on this list, the Yonex Pro Cushion Eclipsion 2 is a badminton specific design. It provides amazing lockdown and stability, as well as peak ventilation, and you will feel both comfortable and stylish as you take on the court in these badass Yonex badminton shoes.

9

. Yonex Power Cushion Aerus 2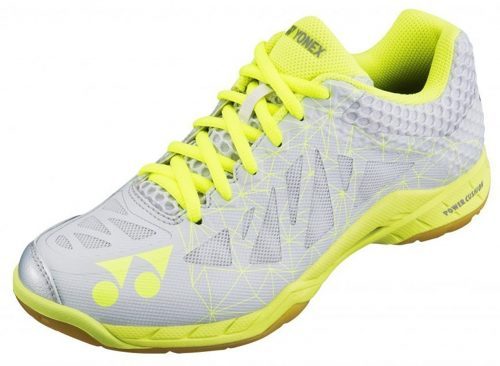 When an egg is dropped from 7m above a Yonex Power Cushion sheet, it will bounce back 4m in the air without any damage. Not only can these Yonex badminton shoes reverse shock energy for use in the next movement, but their design also provides excellent ventilation and structural support for maximum performance. Weighing at 270g, they are also Yonex's lightest option. They are guaranteed to literally - and figuratively - put a spring in your step.
When receiving a shock load, the soft middle layer of this sneaker will quickly return to its original shape. This uses the energy of the impact to aid the player in his or her next move.

Compared to the previous model, the Yonex badminton shoes Power Cushion Aerus 2 features nearly double the amount of see-through mesh. This provides superior breathability that ensures comfort and prevents smelly feet.

Reasonably priced and with such a wide range of features, these sneakers are guaranteed to be worth your every penny.

10

. Babolat Shadow Spirit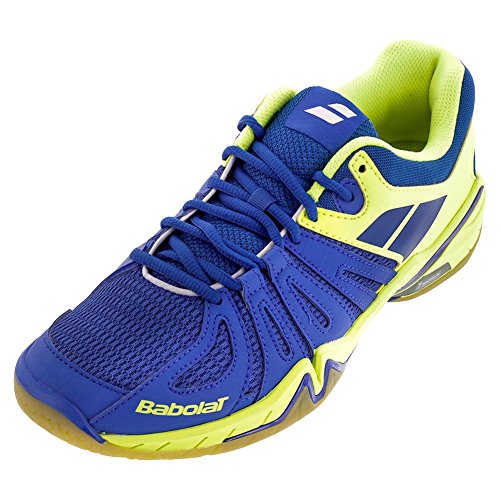 The Babolat badminton shoes Shadow Spirit come equipped with a number of features to make sure you get the most out of your game. From the Active Sculpture technology to its ergonomic structure and the ability to adapt to you and your style, this is an excellent sneaker for the court.
Developed in partnership with Michelin, the Active Sculpture technology in the Babolat Shadow Spirit provides premium grip and exceptional shock absorption. Whether you're into those explosive changes of direction or suddenly stopping altogether - these Babolat badminton shoes will follow your every move without fail.

The Babolat Shadow Spirit will last through game after game, giving you the reliability you need to focus on your playstyle. Thanks to its lines that are designed to correspond with the shape of your foot, you will want to play in these sneakers over and over again throughout your badminton career.

For a mid-range price, you are getting durable, reliable Babolat badminton shoes that will improve your performance and support you no matter how fast you move. Not only that, but the Babolat Shadow Spirit will last for quite a few seasons of regular play, as well.

Subscribe to our Newsletter