Best Running Shoes For Knee Pain – 2022
In a Hurry? Editors choice: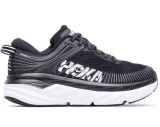 Test Winner: Hoka One One Bondi 7

If you suffer from knee pain, you must wear the correct shoes when running. Giving you the right level of support, cushioning and breathability is essential so you can enjoy going for a run without being in pain.

Below we have carefully researched and selected some of the best running shoes for bad knees on the market. That way, nothing will stand in the way from you going running. 
Standout Picks
Criteria Used for Evaluation
Support
The first thing to look for and consider when knee pain starts to arise is the type of support your current pair of running products offer and whether it is enough or actually too much.
Yes, there is such thing as too much support, and a lot of the times people actually have a running shoe with too much and don't even realize it. There are generally two types of runners, and they both need very different things when it comes to running.
Neutral Runners
Runners with a neutral stride will maintain balance throughout their run which prevents any sort of misalignment that can potentially put unwanted stress on muscles and joints. If you are a lightweight runner, you do not need a lot of support and want an almost barefoot feel. A shoe with too much cushioning and bulk is what could possibly be causing your pain because it is providing you with unnecessary support and altering the way your foot lands when you run.
Runners With Pronation Problems
Pronation is when the ankle rolls either inward or outward when running; overpronation and underpronation. The first step is to determine which you are; if your foot rolls inward you overpronate whereas outward means you underpronate. If this affects you, it important to purchase the proper footwear that will correct the problem and alleviate any pain you experience while running.
If you have switched running shoes to ones that better accommodate your running style, and knee pain yet still find issues that arise throughout a run, it is important to evaluate your overall strength and level of fitness. One of the best ways other than the proper pair of shoes to alleviate pain is to have good hip and core strength. When your entire body is in alignment and strong it takes the pressure off of specific body parts and prevents painful injuries.
It is also imperative to listen to your body and not ignore signs that there is a potential issue. If at the beginning of your run you instantly feel a sharp pain, or pressure, something is not right; whether that be your posture or your footwear. Evaluate if you should continue your run or not, knee issues are serious and are not something you should "push through".
Comfort
When you go for a run, you may think that you're doing something great for your body; getting in shape and being healthy; however, without proper ones and cushioning you can potentially cause long-term damage to your body.
Running is a very high impact activity and every time your foot strikes the ground you are transferring up to 3 times your body weight onto your joints. You may not notice pain right away, but after time with incorrect ones, you will.
Investing in the right pair of running products is crucial to ensure you are getting a satisfying workout while not putting pressure on your knees. Most think that the more cushioning, the better; that it will absorb all shock and alleviate any possible pain, however, this has been proven to not always be the case.
Running Barefoot
--You run on the balls of your feet
--The arch of your foot flattens to provide stability and a spring to your step
--Your feet and toes splay naturally
Cushioned Runner
--Elevated heel causes you to run heel first
--Transmit the shock back up your body and joints
Rather than investing in a pair of running shoes with an unnecessary amount of cushioning, try running with your regular runners but on softer surfaces like tracks, trails or grass. Most runners think they need that extra cushion to absorb the shock from their feet striking the hard ground; however, if you swap out that hard ground for something much softer, the impact is much smaller.
That isn't to say you do not need cushioning and should scrap a shoe with soft foam insoles altogether, it just means you should analyze what truly feels best for you and leaves you pain-free. A lot of the time if you are in need of proper support determined by a doctor, medical orthotics are given to prevent injury and can be slid into most.
If you are unsure of the type of insoles you should have, and how much cushioning is right for you, consult with your podiatrist about potential orthotic options.
Heel
As your shoes become more and more worn, they are less able to properly cushion your feet and absorb impact; always keep an eye on yours and keep in mind how long you have had them.
If you start to notice your feet or legs are sore after a run, it may be time to invest in a new pair. Running shoes have an expiry date and for your overall health, they should not be worn past it.
Running shoes with quite a bit of cushioning are best suited for those with a higher arch in their feet that need extra help with shock absorption. You will notice right away if you are wearing a running shoe that does not offer you proper arch support because you will feel the brunt of the impact in your heel and toes; as there is less surface area for the entire foot to absorb impact. If you are not sure what type of arch you have, the easiest test is to dampen your foot and step onto a piece of paper or paper towel.
Natural Arch
If about half of the arch area is filled in you have a natural arch, which is the most common and means your arch and foot naturally absorb the shock caused by your body weight while running, and most types should fit well.
Flat Arch
If you can see almost the entire surface area of your arch, you have "flat feet" meaning your feet roll inwards when you run, this can be good for shock absorption, but negative for your knees.
High Arch
If your print has a thin line or no arch area at all you have high arches and are in need of extra cushioning.
Traction
The sole of a shoe is one of the most important aspects and should be a key factor when looking at new options.
Depending on how and where you will be wearing your new ones, the sole can affect performance and keep you stable and injury-free. This is where shock absorption and motion control happen and picking your shoe based on style or design and not if the features are specific to your needs or not can be harmful.
Know the difference between soles, and that some are not made for certain terrains for a reason. Trail ones commonly have a soft rubber sole; this allows for optimum grip on slippery, rocky and muddy terrains. This sole is not made of cement and therefore it will wear out much quicker than normal.
You may think your running shoes have more life left in them, and try to drag out the use of them way past their shelf life; however, replacing them when the time is right is the best way to keep your performance strong, and avoid injuries.
Runners should be replaced generally after about 400 miles, or when you begin to notice wear and tear.
The best way to determine whether or not yours are still wearable is simply by listening to your body and recalling if everything feels right when you wear them, or if you notice unusual pain throughout your run, or your feet are sore afterward.
Stability is key to ensuring you stay injury-free, and if the soles of yours are not designed for the terrain you plan on running on, you will not grip the surface properly and can easily slip and fall.
Fit
Choosing the best running shoes for knee support that fits your foot perfectly is crucial, and not always the easiest task.
First and foremost, take trends and style out of the equation and focus on what will feel best for you. Just because a shoe looks nice does not mean it is going to do anything beneficial to you, and what use is a stylish pair of runners if you can't even wear them due to pain and discomfort.
The first place to start is your size; this may seem simple, you always buy the same size but you shouldn't because all options and brands fit differently.
Running shoes require no break-in period and should feel great instantly. If for whatever reason you notice irritation or your toes being pinched, they are not fitted properly.
Never try to make a pair of running shoes fit by tying the laces as tight as you can, or hoping after a few uses they will stretch out. Depending on the material, yours may expand slightly, but not enough to alleviate major discomfort.
The top of your foot also has a lot of tendons and nerves that can be easily damaged when tight unnecessary pressure is applied there throughout intense physical activities.
Although tenderness and pain in the knees can be caused by a lot of different things, the easiest and first thing you should look at changing is your shoes. If after being certain you have the proper fitted running shoes you still experience discomfort, you need to take a break from running and get to the root of the problem.
When slipped on and tied properly, your running shoes should fit nice and snug, but not tight anywhere throughout the shoe. Your heel should stay firmly in place and not rise with each step; this will affect your stability and cause irritations and blisters on your heel.
10 Best Running Shoes for Knee Pain
1

. Brooks Adrenaline GTS 21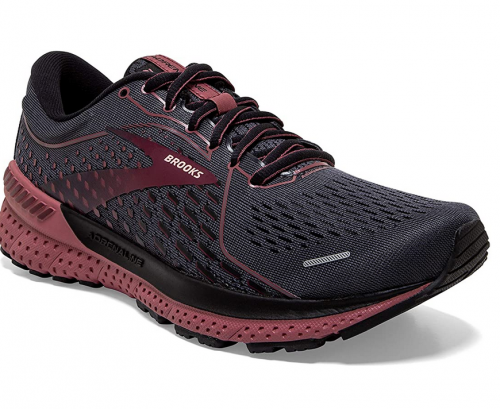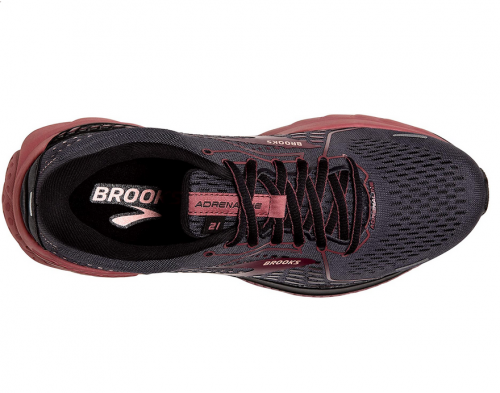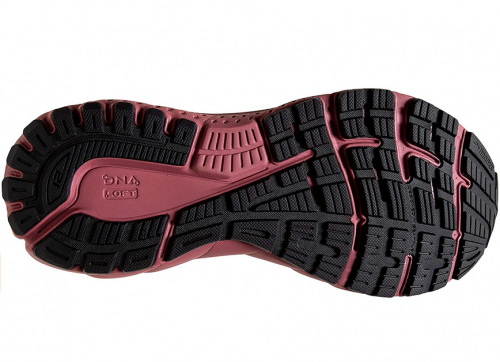 This stability running shoes by Brooks is a great choice for anyone who has knee problems and needs additional support. The latest editions of all their footwear have seen tremendous improvements in terms of fit and comfort, which means that the 21st iteration of the Adrenaline includes all the features that made it famous in the first place, with great improvements, especially in the upper.
Perfect for those with flat to medium arches who tend to overpronate, this shoe was even designed to focus on the knees, so you surely won't go wrong.
The GuideRails Holistic Support system was developed in order to address the pain certain runners seem to experience when training. It's a system that puts a stabilizing component on the lateral heel and midfoot, locking you in and preventing overpronation.
With the correct alignment, your knees won't have to suffer from the excess shock, seeing that the force from the impact will be absorbed where it should - in the midsole and arch. The DNA cushioning takes care of that, without sacrificing responsiveness, which makes this model feel great for runners of all sizes and shapes.
The upper is made with engineered mesh for maximized breathability and a sock-like fit that won't irritate, even if you prefer to run barefoot. The segmented crash pad accommodates all landings - heel and midfoot, and the blown rubber outsole provides plenty of grip and traction on both concrete as well as the light trail.
The price is slightly higher than the average model on this list; however, if you're after the best running shoes for bad knees, it's a great choice. It comes in several color options as well.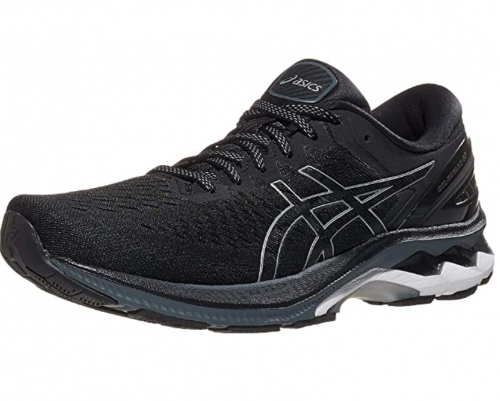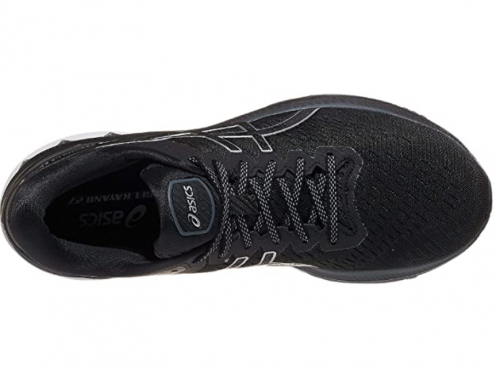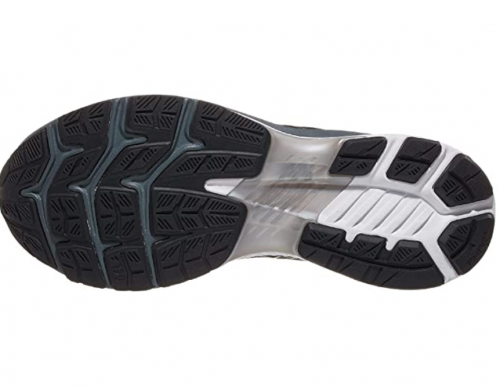 The ASICS GEL-Kayano is a shoe that's been around for almost a quarter of a century, and it improves with every new version. The 27th edition of the shoe continues in what the line intends to do - supporting feet with low and flat arches for runners who tend to overpronate. In addition to ensuring proper alignment (and thus less pressure on all the joints in the body), ASICS does an excellent job of providing you with lightweight, responsive cushioning that won't flatten even with everyday wear.
The GEL-Kayano 27 uses a Dynamic Duomax system to correct overpronation by placing a more supportive type of material on the inside portion of the shoe, thus preventing the runner from rolling inwards toward the big toe. Coupled with the FlyteFoam Lite midsole, you get an incredibly lightweight model that ensures excellent bounce back. Added impact protection is ensured through the rearfoot and forefoot GEL units, and the outsole uses AHAR Plus rubber compounds that are resistant to abrasion.
In the upper, you'll benefit from a stretch jacquard mesh material that completely molds to your foot, providing it with all the breathability it needs. The padded tongue and collar prevent irritation, and an Internal Fit System uses no-sew underlays that will support the foot without creating any bulk.
The price of the GEL-Kayano 27 is quite high, but if you want some of the best cushioned running shoes for bad knees ones can get, it's a definite winner.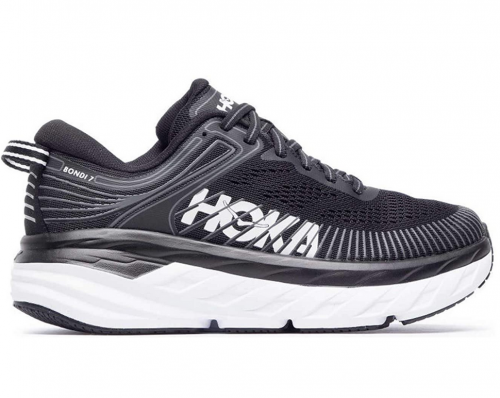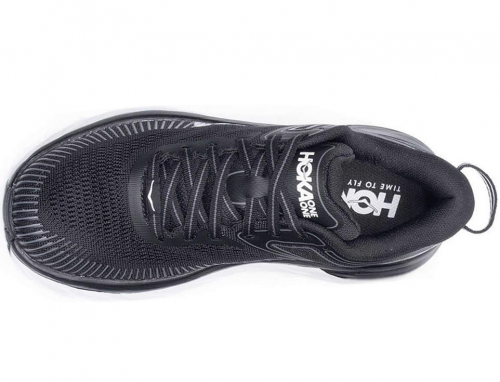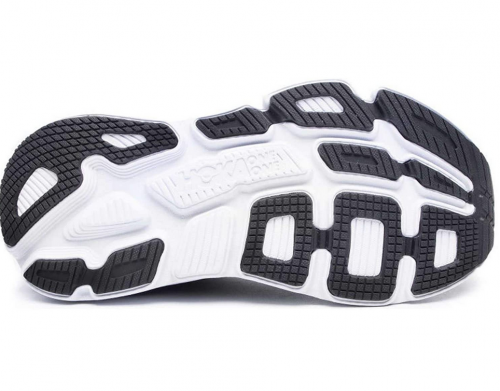 A maximalist road runner with a low drop of only 4mm, the Hoka One One Bondi 7 was developed for providing premium shock absorption for those who need extra impact protection (or just prefer a more cushioned ride). It's a shoe made for neutral pronators, and it does well for everyday wear or even marathons.
The upper uses open-air mesh for a higher amount of airflow, while the heel is lined with soft lycra that's both comfortable to the touch and has moisture-wicking properties. Reinforced eyelets ensure durability, and a pull tab at the heel makes on and off easier than ever.
As for the midsole, it is made with soft EVA foam for a good amount of shock absorption, while the entire unit is made with an Early Stage Meta-Rocker Geometry which ensures quick and smooth transitions. Lightweight rubber is used on the outsole to prevent wear and provide traction.
Keep in mind that the Bondi 7 doesn't exactly come cheap, but if you want a maximalist model by a brand that specializes in this type of running gear, then it's definitely worth checking out.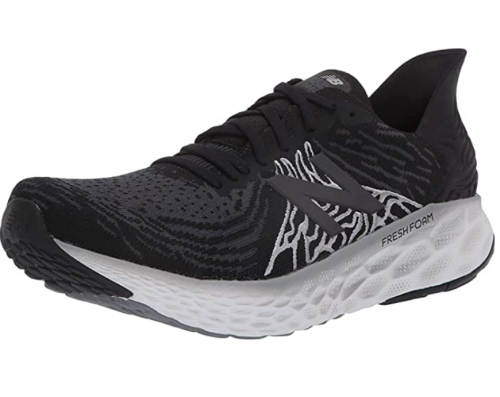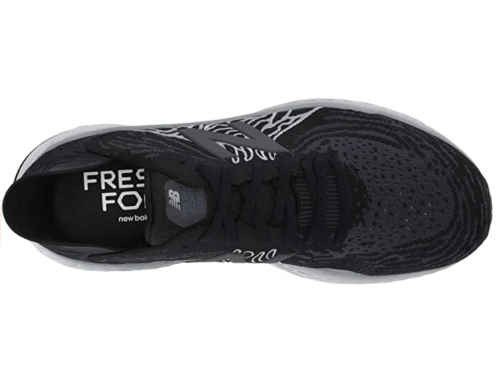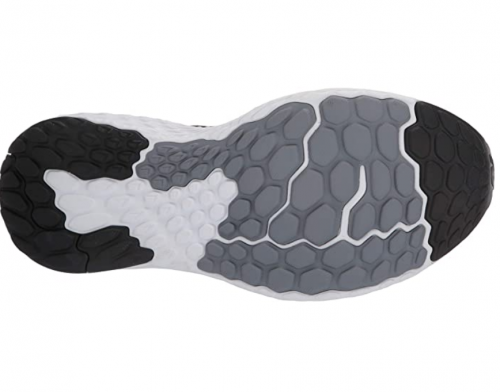 Made with the New Balances signature Fresh Foam cushioning, the New Balance Fresh Foam 1080 V10 running shoe will help you complete your run in pure comfort. 
Featuring an ABZORB midsole, this soft underfoot cushioning works by absorbing any impact through a combination of resistance and cushioning.
The shoe leather/mesh upper has a stitched-down tip and foxing detail that provides flexible support as well as durability. The shoe's rubber outsole is also extremely durable, reducing the amount of wear and tear.
It comes come in a range of colors varying in shades. The size choice is extensive and includes narrow, wide, and x-wide options. Sold for a high price, this price reflects the quality of the shoe.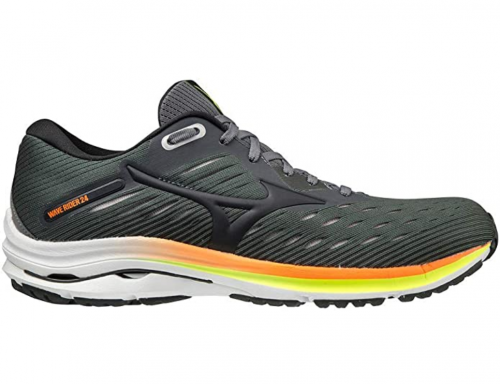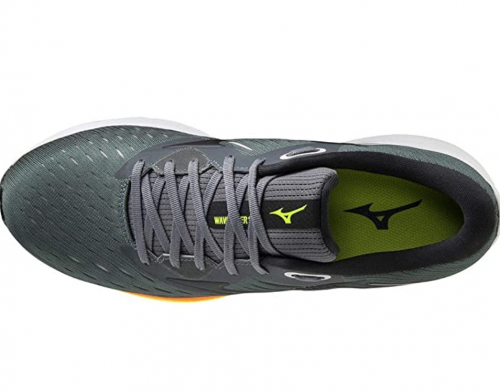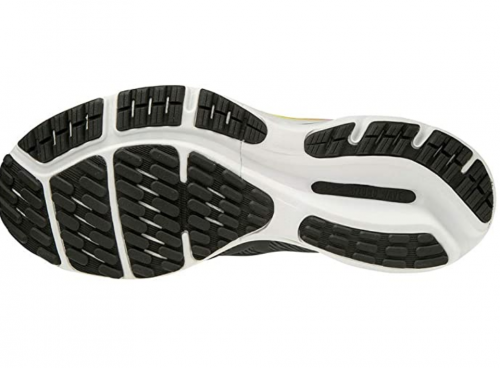 The thing that's special about Mizuno running footwear is that the brand uses its patented Wave plate technology to absorb shock and provide guidance to runners who need impact protection or simply suffer from pronation issues. The Wave Rider 24 is a neutral model made for road conditions, which means it will work best for those with a medium arch who need a little bit of guidance to ensure proper push off.
The upper utilizes a Dynamotion Fit system which actually uses stretch fibers in the forefoot to ensure flexibility and unrestrained motion, while still providing a good amount of support in the midfoot area. The Cloudwave plate runs from the heel to the midfoot and absorbs and disperses shock, preventing it from traveling up your legs and causing knee or muscle pain.
As for the insole, it's anatomically shaped, which means you'll still get a bit of arch support, without going overboard, and the entire midsole uses U4icX which is both soft, flexible and long-lasting. The outsole combines blown and carbon rubber for the best combination of shock absorption and durability.
The inside uses moisture-wicking materials to keep odors at bay, and the model is reasonably priced so you won't have to spend a fortune on a pair of running products that will work well for your needs.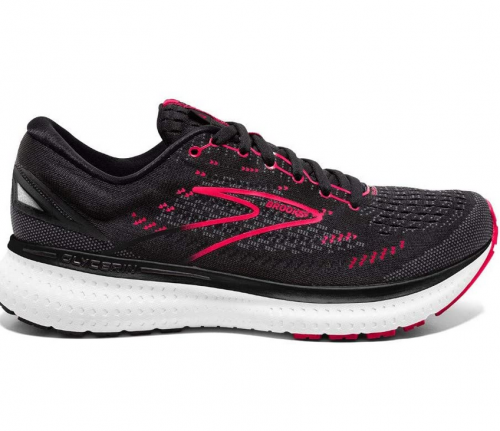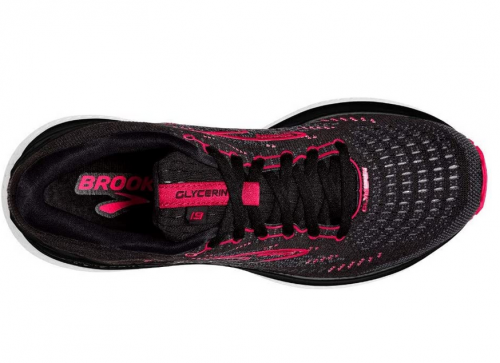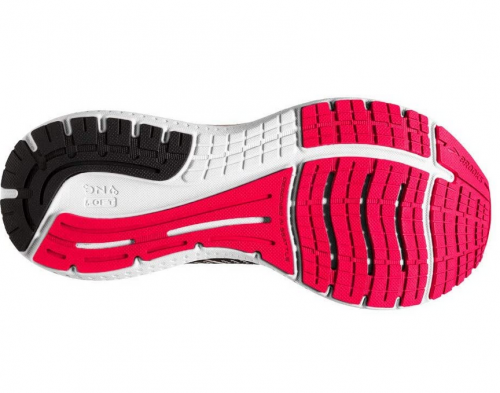 Made to cushion instead of fixing pronation issues, the Brooks Glycerin 19 has received stellar reviews from all those who need a maximalist shoe for neutral pronation and medium to high arches. Incredibly soft without packing too much weight, making it a great choice for longer runs in urban conditions.
The upper still uses the same jacquard mesh as the previous edition, but what makes it truly exceptional is the internal stretch bootie that will completely mold to your foot, giving you an unparalleled fit that's both supportive and flexible. 3D print overlays ensure support in the midfoot, and plush cushioning in the tongue and collar prevents chafing or blistering. The outsole uses flex grooves to maximize flexibility, while still providing plenty of grip through the small lugs.
As for the midsole, this is where the magic happens with the Glycerin. It uses a DNA Loft shock absorbing system in the heel that will prevent that shock from traveling up your legs and causing discomfort in the muscles and joints, while the IDEAL Pressure Zones disperse impact and evenly distribute it over the entire foot. The insole is made by OrthoLite for added cushioning, as well as for moisture management and odor prevention. It's removable, making these best running shoes for knees a good option even for those who need custom orthotics.
In terms of price, it will set you back more than most options listed here, but that's to be expected from flagship models by brands with such a good reputation as Brooks. If you are looking for the best cushioned running shoes for bad knees, these are a really good choice.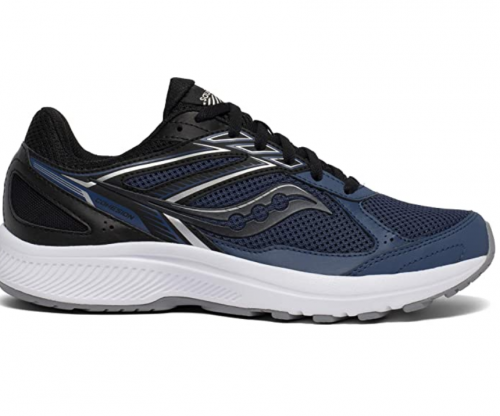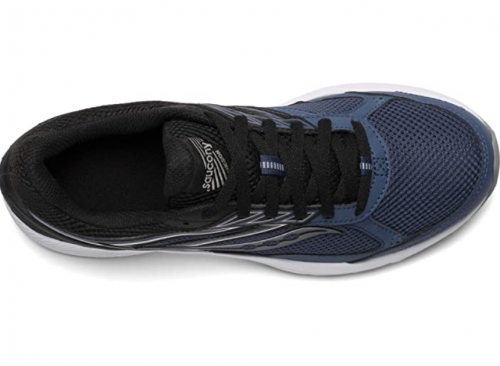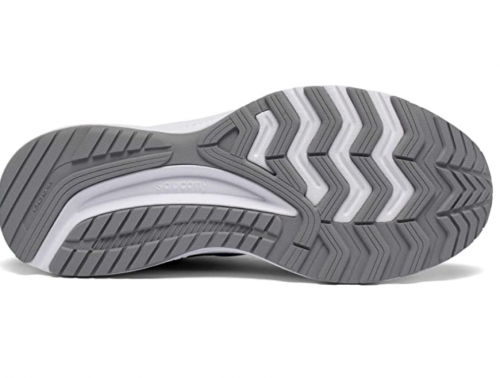 The updated model of Saucony's Cohesion 13 is making a statement for those who require support, cushion and want a pain-free run. With technology that stabilizes the heel, comfort to wrap the ankle and arch, and breathable mesh uppers, it's sure to have you stepping out ready to tackle that long run of the week.
Ideal for longer distances with a plush sole, and stylish with its color options, there are so many reasons why it hits our list of best running shoes for bad knees!
Designed for the neutral runner, the Cohesion 14 boasts of breathable mesh uppers, making it lightweight and comfortable for longer periods of wear, and loads of technology for cushioning. An injection-molded EVA midsole helps to give support and underfoot comfort during your run. GRID technology provides Hytrel filament impact absorption in the heel of the shoe, to help cushion each heel strike.
A plush tongue and collar help minimize rubbing or irritation from movement. Definitely one of the more budget-friendly options on our list, it still packs all the quality comfort and stability needed for those with knee pain who enjoy running.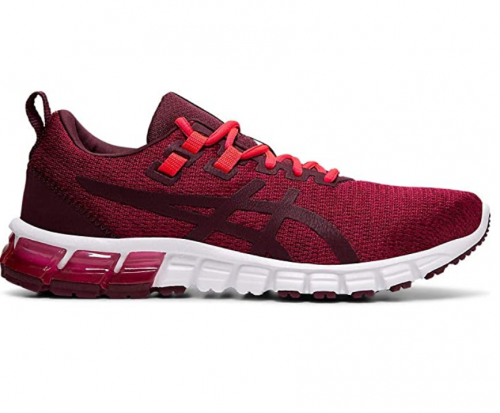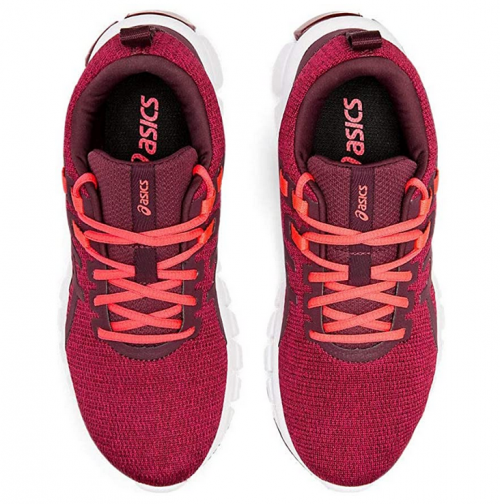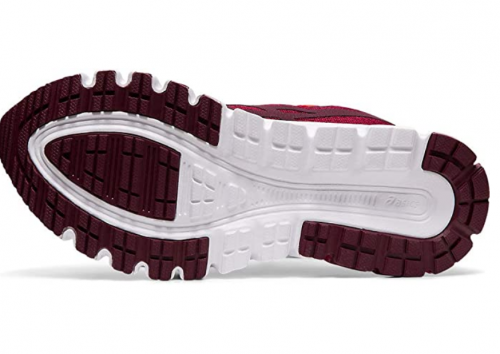 Known for their distinctive heel GEL unit and iconic midsole shape, the ASICS Gel-Quantum 90 will get heads turning when out on your run.
These feature rearfoot GEL Brand technology that works by absorbing shock and protecting joints and feet from impact. The shoes feature an EVA midsole that delivers a light and bouncy feeling underfoot when running. They are best suited to runners with high arches and those who tend to under pronate/ supinate when running.  
These sporty style shoes have a durable upper that is made from a synthetic material, reducing the risk of friction and irritation when wearing. The shoes also have an ORTHOLITE sock liner that offers a cushioned step-in feel and helps by wicking sweat away from your feet, keeping them cool and dry. 
This option comes in a variety of shades and sizes, so you have plenty to choose from. They are available for a low to mid-price, making them one of our more affordable running shoes on the list.

9

. Nike React Infinity Run Flyknit 2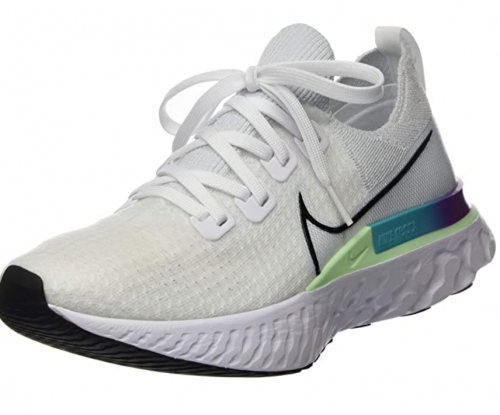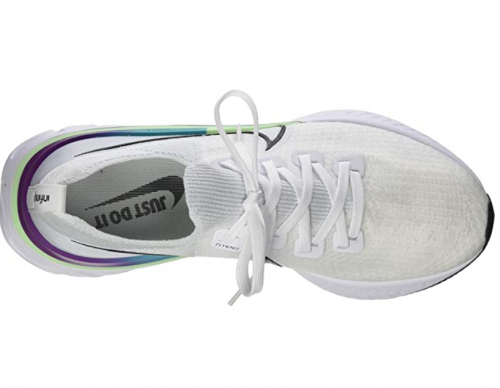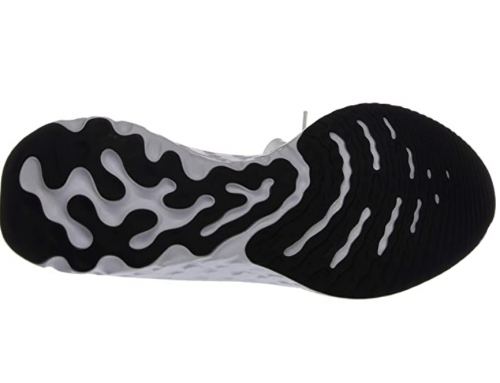 The lightweight and extremely eye-catching Nike React Flyknit 2 are guaranteed to improve your running performance the minute you put them on! The running shoes have been built using Nike React Technology that provides a soft but responsive underfoot. It also features React Foam that is ultra-soft, lightweight, and elastic.
The foam works by responding to your movement so the more energy you take, the more you get in return. The shoe is also designed to be extremely supportive, particularly if you suffer from knee pain. 
It has a lightweight Flyknit upper that is highly breathable, allowing air to flow freely through the shoe when running. The upper is also stretchy, allowing your feet to move easily. The shoe's heel is molded, creating a secure and stable feel when wearing. The outsole features clear rubber along both the forefoot and heel area, providing durable traction. 
The shoe design comes in a number of colors, giving you options to choose from. It also comes in a range of sizes including narrow and half-size options. Available for a high price, this Nike shoe has plenty of features in return for its higher price tag. 

10

. Sketchers Elite-Performance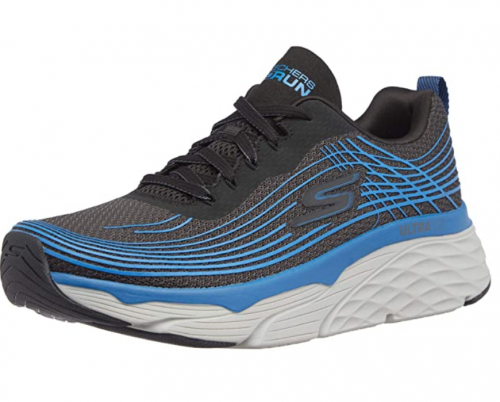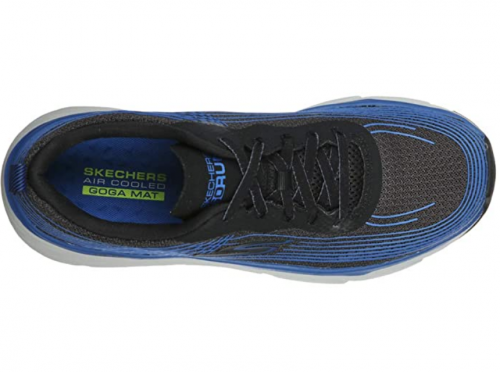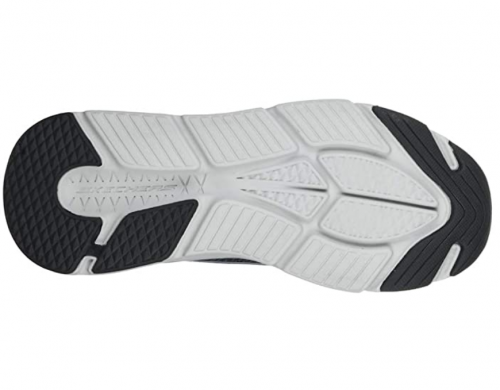 This option features a striking ULTRA GO cushioned platform, guaranteeing a cushioned and responsive run that is extremely comfortable. These sneakers have an Air Cooled Gogo Mat insole that provides support and shock absorption when running. The shoe has an engineered mesh upper that is extremely breathable and comfortable.
The upper also features contrasting colored grid overlays along the front, side, and heel that are extremely eye-catching. The lace-up front also contrasts nicely with the colored midsole trim detail. 
The running shoes from Sketchers have an extremely durable parametric web outsole that provides multi-surface traction. The striking outsole may look heavy, but it is lightweight and flexible, allowing plenty of quick movement. The forefoot flex grooves on the outsole also encourage flexibility and smooth transitions. The mid-foot strike zone also promotes efficiency in each stride you take. These sneakers are a fantastic option if you suffer from pain in your feet because they offer plenty of cushioning and support. 
The running shoes are machine washable and come in 4 color variations. They are available in a range of sizes including X-Wide options. The price is mid-range.

Subscribe to our Newsletter