Best Anti-Chafing Cream Reviewed
In a Hurry? Editors choice:
Test Winner: Chamois Butt`r original

Tired of having workout sessions ruined by chafing? To make things worse, using creams that don't work as they should? We know how tiresome it can be trying to find the right ointment, going through bottle after bottle.

After carefully considering the ingredients, value, approval by relevant authorities, and durability of the ointments, we believe this list will be useful to you. Similarly, if you have sensitive skin or allergies, don't worry, we put that into consideration too. These products consist of high-quality ingredients that are not harmful to the user.

A lot of companies have come up with options to deal with the chafing problem, therefore, making it difficult to choose. Some will work while others won't give you the desired results, and that's where we come in. We researched and found out the best brands for you to use and get back to enjoying your exercise.
Standout Picks
Criteria Used for Evaluation
Product Purity
Since a lot of companies have come up to produce anti-chaffing creams, we made our list based on brands that use quality ingredients. It is dangerous to consume or use products on your body without knowing what it consists of entirely. Some companies are known to cut corners when it comes to materials in order to maximize their profits.
The list we have is meant to make sure you use safe products. Companies that appear here have been around for many years and manufacture products based on extensive research. We prioritized product purity because we know people react differently to certain types of chemicals. And, with the different skin types available, we did not want to put you at any risk.
In whatever form you buy your product in, cream, gel, or powder, if it's going to be in contact with your body, be careful. We chose products that were 100% natural and those that had additives. During our research, we found that not all compositions work the same. Some are highly effective than other brands, go through each product before settling on one.
If your skin is sensitive, read the ingredients listed on the packaging. Although our list doesn't have products that have side effects, it better to be thorough. Also, consider how long you want to work out with the cream on for better results.
Brand
A brand with positive reviews will give you an idea of what product you are getting.
It is always important to know which company you are dealing with before purchasing any product. Though the brand is not usually that important, dealing with recognized brands is essential. Companies with a positive track record will help you choose a useful product.
A reputable brand will give you confidence and peace of mind as you embark on that journey. Moreover, it will come in handy as you try to invest your money in their product. It is better to make a wise investment than to end up using the cash on something worthless. And, you also save time from using bogus products that don't work as they should.
We took the time and looked at both the product and the company it originates. Most of the companies on our list may not be familiar to people, but you can rest assured that we have done research. The ones that have made this list have great products and an excellent reputation. Retired athletes, mostly endurance athletes, started many of the companies.
We picked their companies because we believe that they know exactly how you feel during workout sessions. They gave us much confidence in their products and how they came to choose their ingredients. As always, we insist that you take into consideration the environment and elements you work out before the purchase.
Comfort
Anti-chafing creams are meant to keep athletes comfortable as they exercise.
Proper cream should be able to offer relief from any pain and discomfort you might be experiencing. The cream that absorbs quickly and leaves you feeling fresh should be what you are after. Some ointments tend to keep the user feeling sticky or slimy.
The perfect anti-chafing cream should allow you to be comfortable as you engage in your physical activities. As you are going through the list of creams, it is essential to choose one that won't make your skin feel irritated. It should allow you not even to feel its presence as it protects you from friction and other elements. Our list has proven products, products that are effective and will let you hit your targets.
Some athletes tend to ignore creams that have petroleum jelly in them. Products that have petroleum jelly tend to feel uncomfortable. They have a greasy feel and are difficult to remove. Also, they stain clothing but don't worry, and our list doesn't include such products.
You should correspondingly consider the thickness of the ointment. We realized that the thicker the cream, the longer it stays on you. If you don't mind having thick cream, then there is no problem, but if you do consider durable light options. We have provided brands that are light, comfortable, and sustainable for you to choose from.
Durability
Consider the intensity of your workout before choosing an anti-chafing cream.
Some of the ointments we have mentioned stay on longer than others. Some can be worn for not more than an hour, depending on the intensity. If you know your workout routine involves high levels of energy, choose a brand that will suit your activities.
It can be annoying to have to stop every time to re-apply the ointment. Moreover, it will ruin your morale and concentration each time you have to stop to re-apply the lotion. Choosing a cream that will hold up to your use will help you get the most out of the exercise session. And, you won't have to worsen your affected areas when the paste wears off during use.
We considered the durability of these anti-chafing creams as we made this list and included the best brands. These are quality products that will last. Some last longer than others due to the difference in formula each company uses. Keep in mind that the thicker ointments are the ones that have better durability.
Carefully choose what you pick because some cannot stand low-intensity workouts. Make a wise investment by going for a useful and functional paste. The only thing that matters is what works for you.
Protection
The main reason why you decided to go for an anti-chafing cream is for protection.
It should be able to protect you against pain and discomfort that occurs from friction. These products should be able to protect you from the embarrassment that chaffing causes. You can rely on our list to provide you with the best protection anti-chaffing creams can offer.
We carefully looked into every ingredient used in the manufacture and how important they are. People with sensitive skin can also take a look at the products we have mentioned that are suitable to them. The ingredients of some of these anti-chafing creams offer more than skin protection. They can rejuvenate your hair, skin tone, among many other benefits.
We know how important protection is to you as you hit the road. As you battle the elements of the outdoors and trail, you need a certain level of security. Before deciding whether to go all-natural or synthetic, consider what your use requires. Knowing the level of protection you need will guide you to the most effective cream.
Not everyone suffers the same level of chaffing. If suffering from severe chaffing, you should go for creams that also help the skin heal. This feature will be beneficial to them as they get to work out and recover at the same time. Furthermore, you can go for creams that have anti-fungal and anti-bacterial properties if you have broken skin.
We recommend going to all-natural products because they have the best protection rate. They have no known side effects and offer great value for money. With the all-natural creams, your whole body benefits from using them. Allow yourself to be protected and nourished at the same time while you enjoy doing your exercises.
10 Top Rated Chafing Cream Reviews
1

. Chamois Butt`r original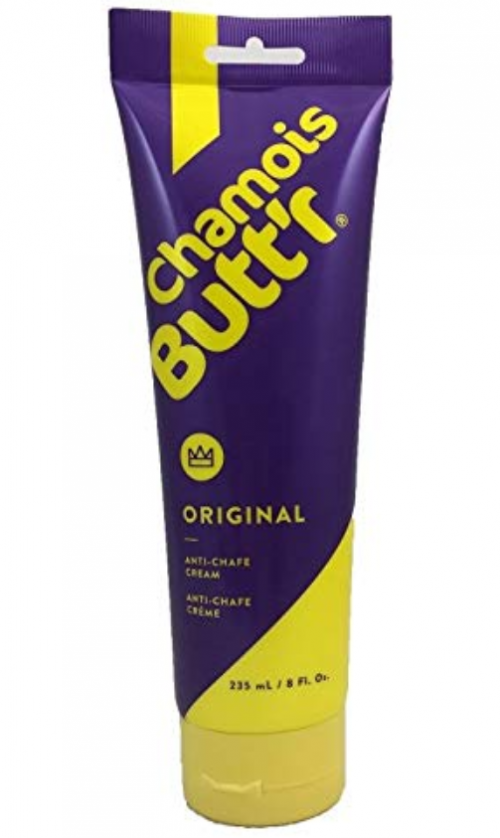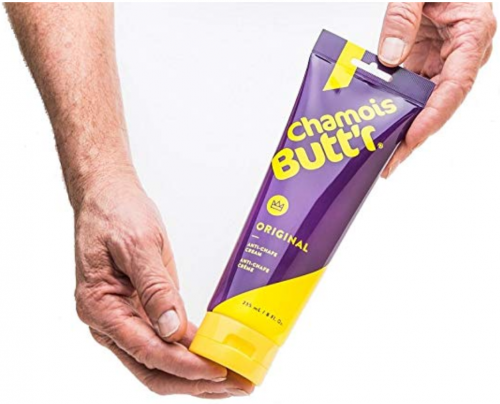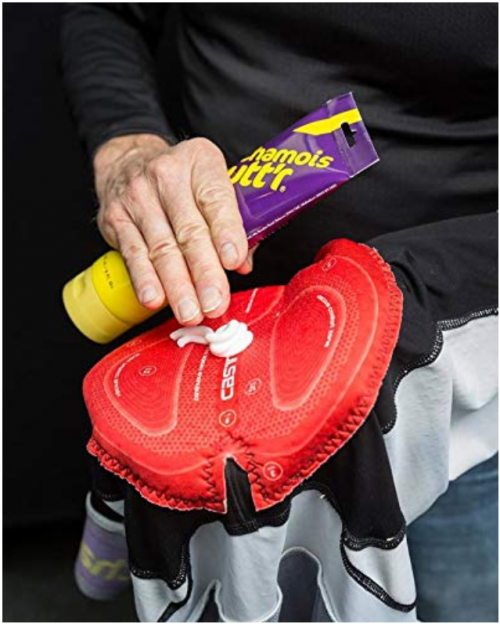 Packed in an 8-ounce colorful tube, Chamois Butt`r is a cyclist's dream. Whether you are a professional cyclist or enjoy cycling as a hobby, this is the perfect cream to use. It is non-greasy and easy to use.
It is a versatile anti-chafing cream that can be used by a wide range of athletes. This ointment helps keep you comfortable from the distractions of chafing. Athletes who prefer all-natural products should stay away from this brand because it has chemical additives. However, the chemicals are safe and useful, so you don't have to be scared of any possible side effects.
The Chamois is meant to reduce the effects of a bicycle saddle rubbing against the cyclist. Moreover, it increases riding comfort, and because it is non-greasy, it washes off easily. You can use soap and water to get it off your clothing and skin. Besides, it is easy to use just by applying the paste on the saddle or your affected area.
Athletes who've tried using all-natural options that have not worked can try using this brand. For acute chafe relief and comfort, anyone can use it. You can go over your budget a little and get this valuable product.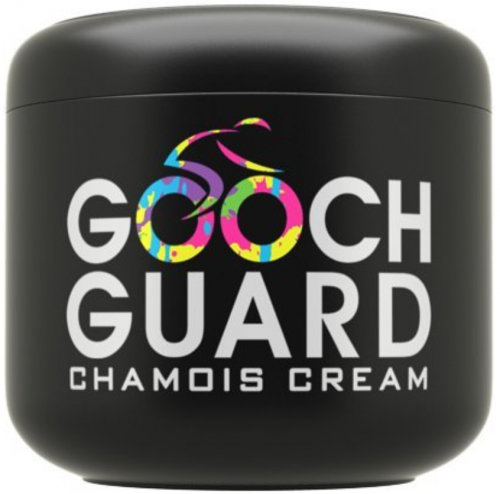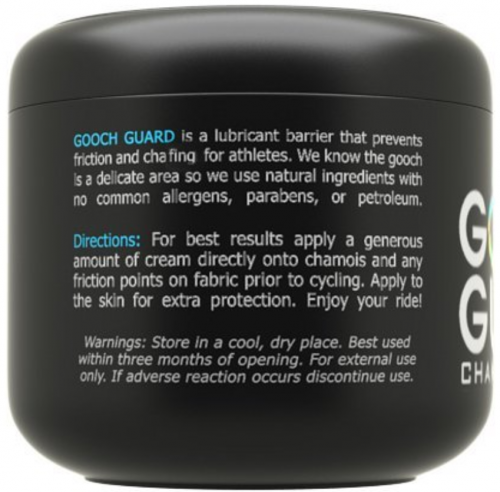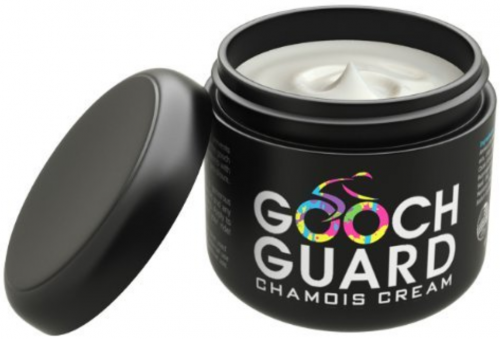 Athletes who don't want to use synthetic products can use Gooch Guard Chamois cream. This anti-chafing cream is an all-natural ointment that has a lot of benefits. And, it is easy to put on requiring little application time.
The natural ingredients nourish the skin as it protects you. With Aloe Barbadensis leaf juice in the cream, your skin stays hydrated all the time. Moreover, with the availability of Helianthus Annuus, the skin is able to fight off irritations and inflammations. Some of the other natural components include castor sea oil, Shea butter, Vitamin B5, and Tea Tree oil.
Shea Butter helps to moisturize dry skin and reduce friction from clothing or skin to skin. In addition, tea tree oil helps with acne and blemishes. Athletes can exercise, knowing that they are getting protected from harmful elements.
Vitamin B5 labeled as Panthenol on the can absorbs moisture from the air and keeps your skin quenched. Moreover, it stimulates the healing process of the skin while also helping to produce red blood cells that help in oxygen supply. With this product, you get more than you pay for thanks to the components it comprises.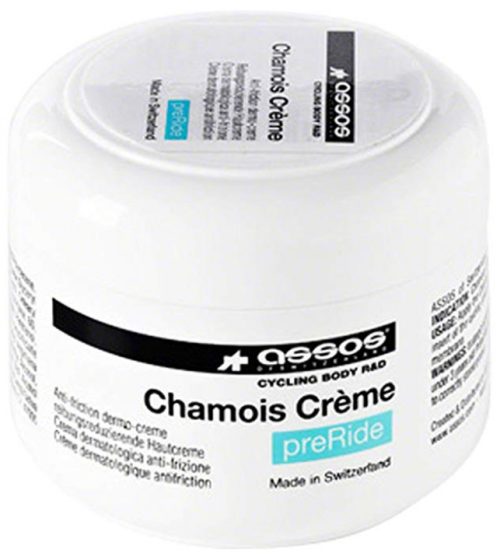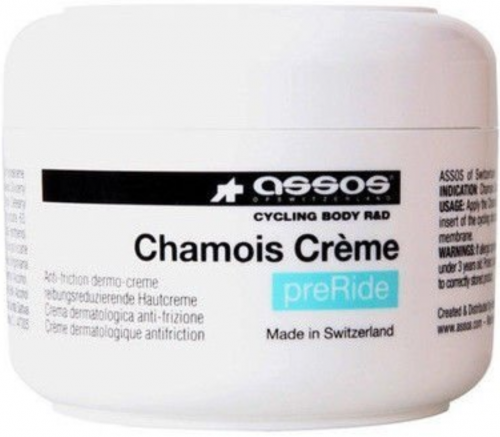 Assos Chamois Cream is a high-value product that is very versatile. Athletes using this cream get their money's worth due to the many benefits it holds. Additionally, this brand can be used with both natural and synthetic fabric.
Other than protecting your skin from inflammation, this cream keeps your skin fresh as you enjoy your workout. Apart from reducing friction, it also works as an anti-bacterial cream protecting the wearer. To use the cream, apply it directly to the skin before going on a cycling exercise. Also, you can rub the ointment on your clothing inserts.
Keep in mind that the paste is Mentholated and not suitable to use in sensitive areas. The cooling effect of the cream comes from the presence of Menthol and Witch Hazel. Menthol has a cooling effect that takes place by blocking the nerves that detect temperature. Witch hazel assists in reducing skin inflammation.
Furthermore, witch hazel works well with sensitive skin and fights Acne. Almond and Oak Bark oils keep your skin cells healthy and also protects from harmful UV rays. It keeps your skin smooth and soft, plus vitamin A reduces Acne. The manufacturers use Methylparaben to preserve the product, and it works as an anti-fungal creams.

4

. Lanacane Anti-friction Gel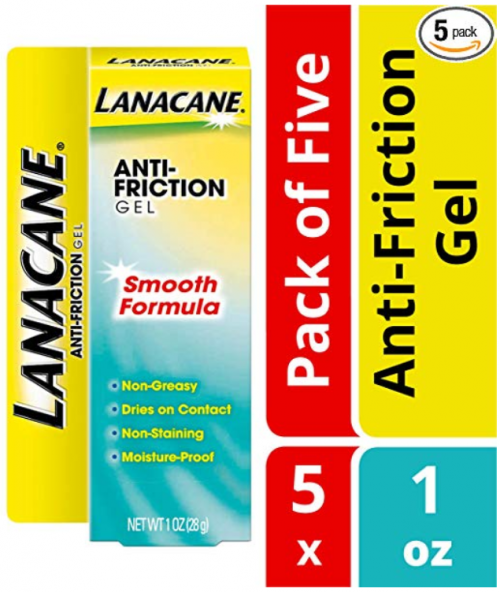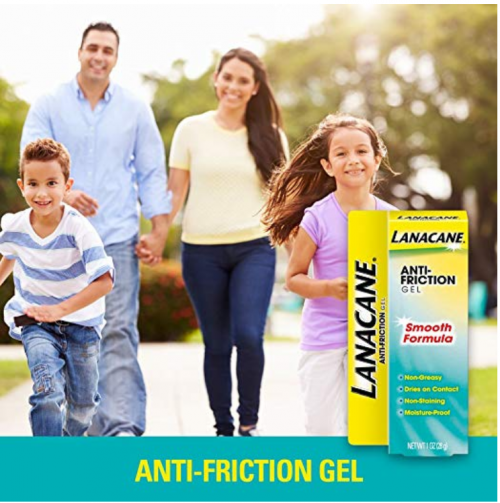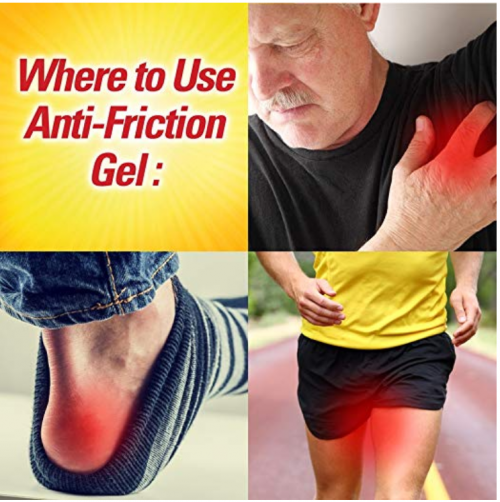 A lot of athletes claim that this is the best cream they have ever got to use. It is silicone-based with no natural ingredients, plus it dries quickly after applying. Lanacane Anti-friction Gel is perfect for athletes who like to use products on the go.
This gel lasts long enough after applying, eliminating the need for re-applying as you work out. Being on the market for many years without any reports of side effects shows how good it is. Some users were worried about the gel form staining their clothing and being greasy. However, that is not the case with this fantastic brand.
Thanks to its quick-drying nature, that slimy feeling won't distract you. It comes off quickly after use with soap and water. If you are looking for an efficient product, then this should be your first choice. Make yourself comfortable and have fantastic training experiences.
Another added bonus is that the gel is fragrance-free and moisture poof. Getting rid of painful irritation and possible blisters in easy steps are now possible. The lasting silkiness will protect you from any form of friction and can be used anywhere. You can rub it on your waistline, shoulders, underarm, chest, and inner thighs.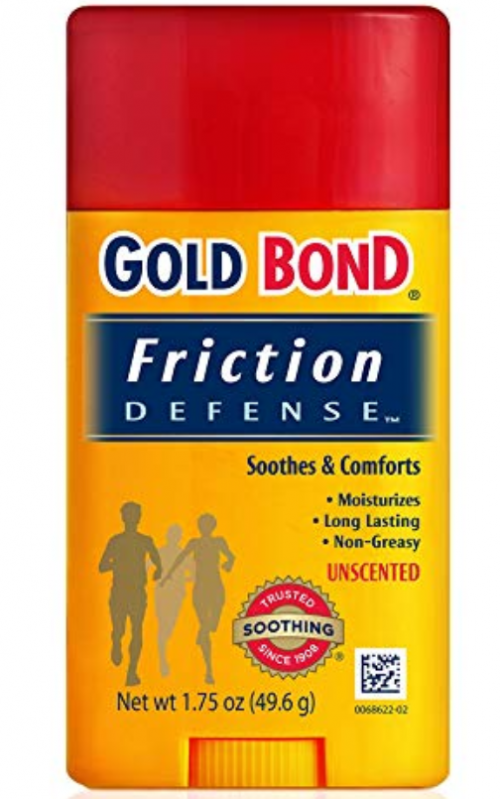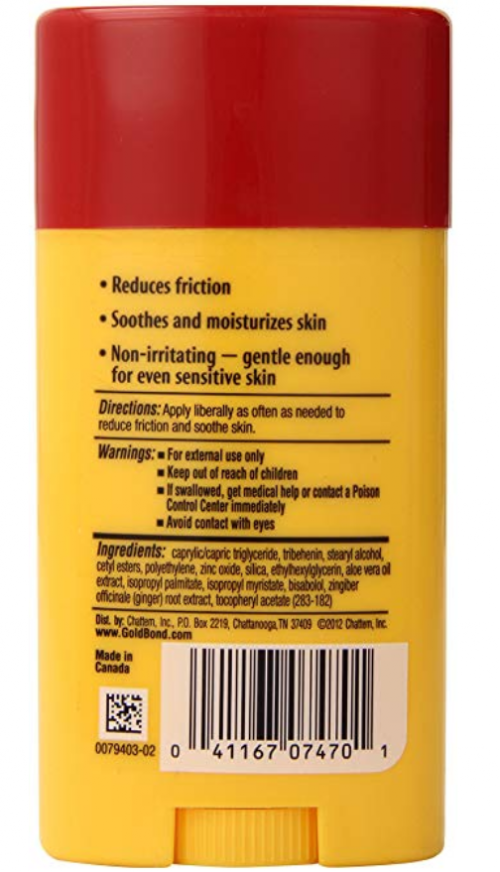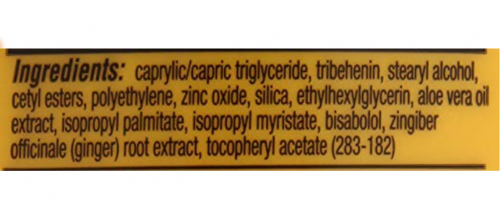 Gold bond was first invented as an anti-blister stick when it first entered the market. Athletes fell in love with how easy it was to use. The compound it consists of, leaves your skin feeling fresh and free from irritation.
Gold Bond has been around for many years, making products that provide relief. With intensive research on their products, they have produced one of the best anti-chafing creams available. Other than it being odorless, it does not stick to clothing. And it is perfect for people with sensitive skin.
Thanks to its gentle formulae, it has numerous advantages on the skin. The added Aloe Vera keeps away sweat and friction but also hydrates the areas where it is applied. Moreover, when used on skin that is already damaged, it helps to quicken the healing process. There is a version that has artificial fragrances added for those who would like to smell nice.
Ginger extracts are also added to the ingredients of the Gold Bond stick. Ginger is well known for skin toning and anti-aging benefits. It helps fight blemishes and Acne by killing bacteria on the skin. Additionally, having radiant skin is an aftereffect of using this product.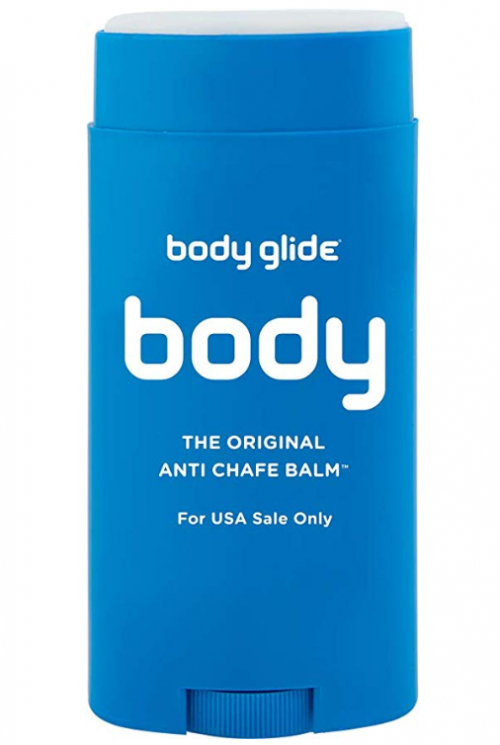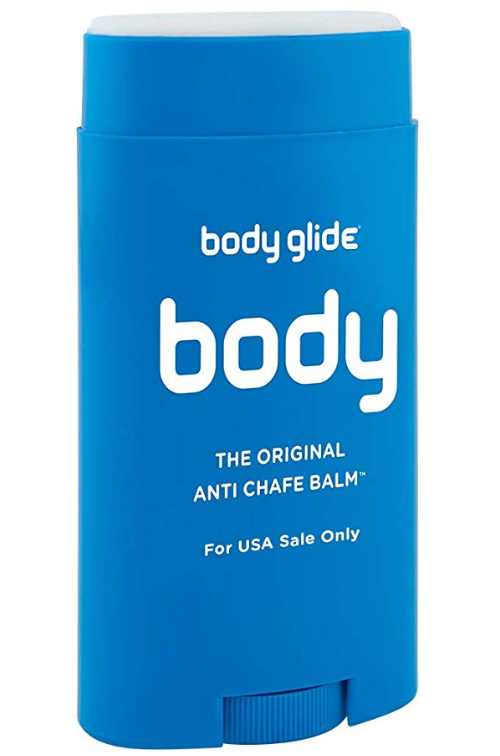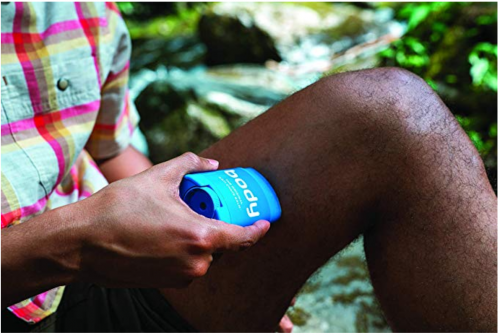 Body Glide is ranked highly among athletes and regular users. They have made formulas suitable for men, women, and children. It comes in a portable size that makes it easy for you to carry it around. This cream is a product that will always be inside your bag.
It is child-friendly, and the ingredients are all plant-based. If you are vegan, then this is definitely the cream for you. In addition, the parts contain no allergenic components, so it is safe for everyone. Compared to most creams, this one has no petroleum products.
Body Glide is gentle on the skin due to the absence of lanolin or mineral oils. And, it wasn't tested on animals before market release. This product is affordable and would make an excellent gift for the whole family. Keep in mind that the women's version of the stick has a different formula to avoid irritation and moisturize the user.
The other advantage that comes with purchasing this product is its durability. You don't have to keep re-applying the ointment as you exercise. As the name suggests, you glide the stick over your skin to apply the anti-chafing stick. We recommend using this brand for athletes on humid or dry climates.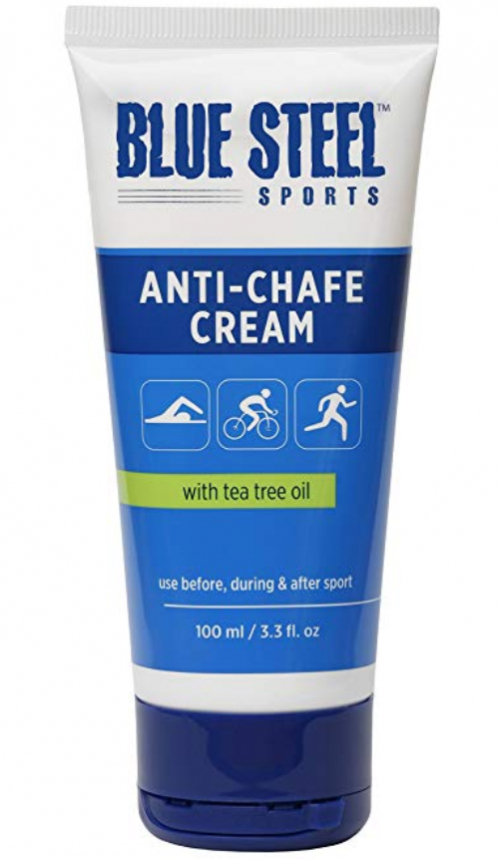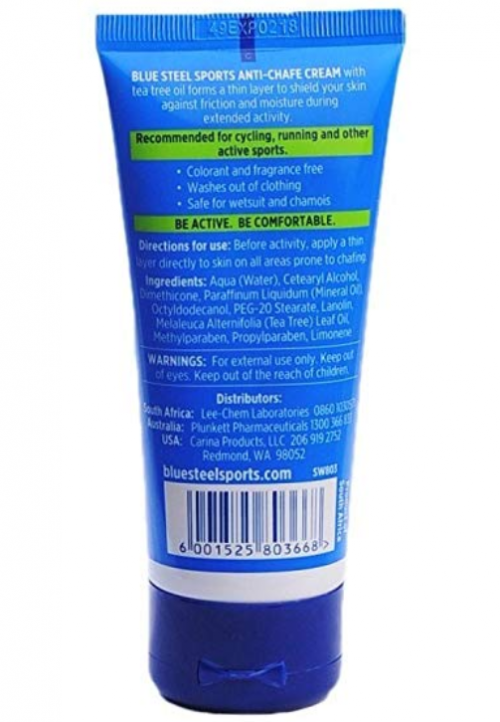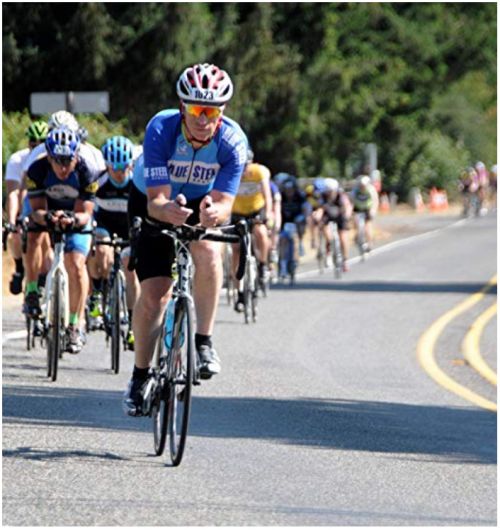 Blue Steel Sports anti-chafe cream was created with the sole intention of providing relief for athletes. People who engage in vigorous training activities can settle for this fantastic product. It offers excellent value for money, and it is useful.
Female athletes can as well use this brand as it is not gendered restrictive. However, when used on sensitive areas, a tingling sensation can occur. The new formula has been tweaked, and results may vary with different skin types. Nonetheless, it is still a silicone-based cream with natural tea tree oil.
Blue steel sports cream has anti-fungal and anti-bacterial properties. You can likewise apply it on any spot you feel inflammation has occurred. If you are a beach person, then you should know that it is a swimsuit safe. Triathletes can similarly use it as it protects against blisters and friction very well.
Silicone-based creams have an advantage over other creams. The ointment acts as a second skin protecting you from the harmful elements of the environment. However, some people avoid silicone-based products because they tend to attract dust particles. Also, the composition of the ingredients helps skin-burn healing to happen faster.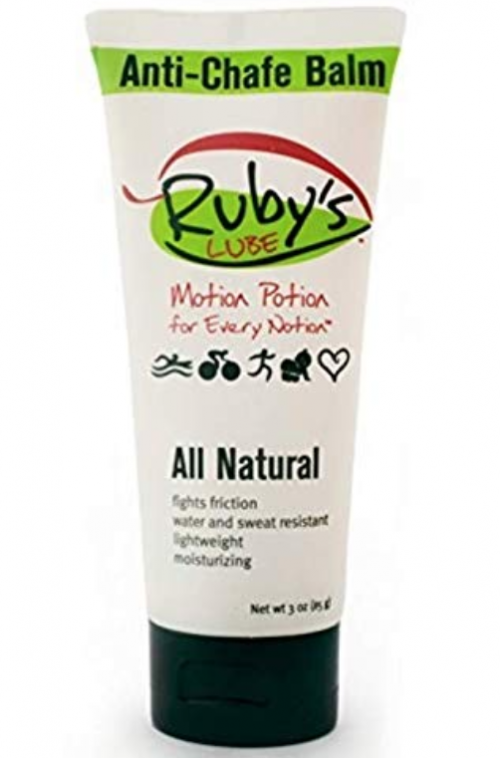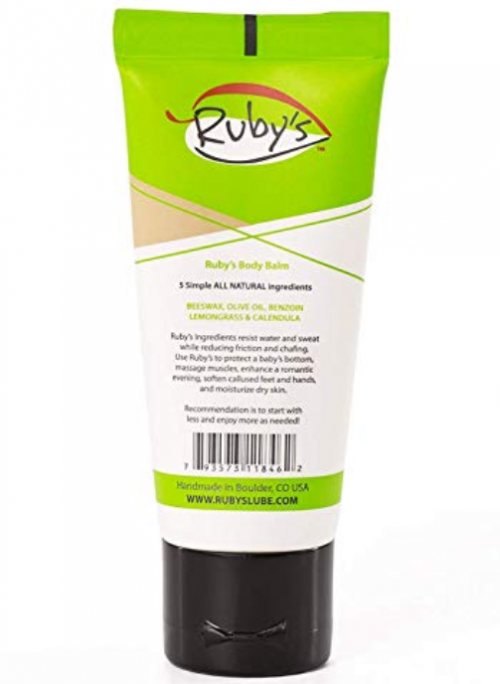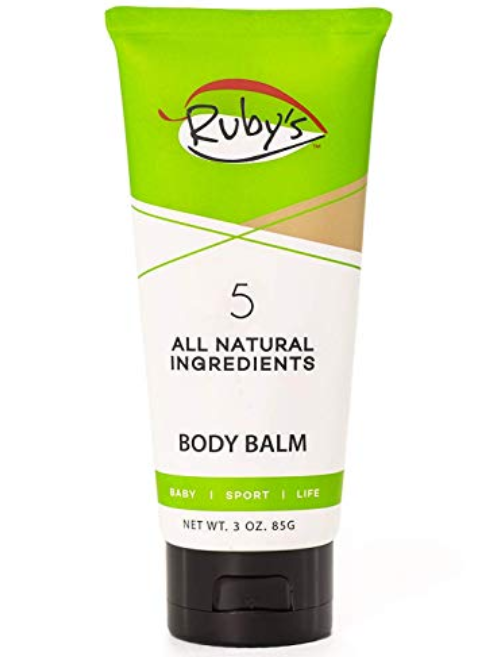 This lube is an award-winning product that is highly beneficial to athletes. People engaging in triathlons and ironman events will appreciate this brand more. An Ironman winner created the formula, so you know it is the real deal.
This company is so confident in their product they offer a 100% money-back guarantee if you are not satisfied. The manufacturers have kept it simple, using only five vital natural ingredients in this product. Also, it is safe to use on different skin types and all ages. It works so well with varying levels of rashes, and you can use it to relieve the runner's rash, diaper rash, among others.
The five main ingredients that this product consists of are olive oil, lemongrass, calendula, beeswax, and benzoin. Olive oil acts as an antioxidant and when applied to the skin. Moreover, it helps to protect the skin against the harmful effects of UV rays. Some research suggests that it fights off cancer-causing cells.
Lemongrass gives the cream some of its anti-bacterial properties, and, as a natural remedy, it helps to heal wounds. It likewise has anti-fungal properties that deter at least four types of fungi, and it has anti-inflammatory properties. Calendula similarly provides the anti-fungal and anti-inflammatory features of the cream. Beeswax acts as a protective layer that seals in moisture without clogging up the pores. Benzoin kills germs and reduces swelling.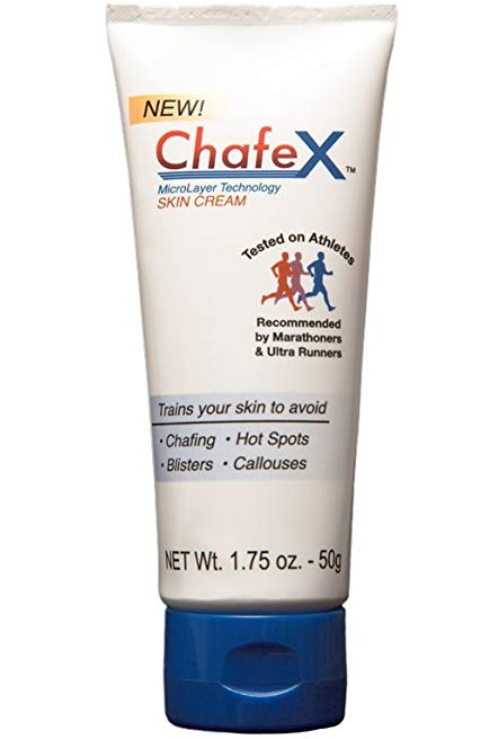 ChafeX has been tested on marathoners and ultra-runners to make sure you get the perfect product. It comes in a cream-like form to make it easy to apply. Additionally, it is not tested on animals, and it is gluten-free.
Made from natural ingredients, you are sure to get the best out of this product. The company understands that not everyone wants a roll-on type of application, so they came up with a different solution. The cream application sits close to the skin to provide maximum protection.
ChafeX is fragrance-free with no odors that may distract you as you exercise. It, too, doesn't contain any wax in the ingredient giving it that light feeling. And, it is not silicone-based so that anyone can use it without the worry of allergens. One of the best features of this cream is how it's water-resistant and sand resistant.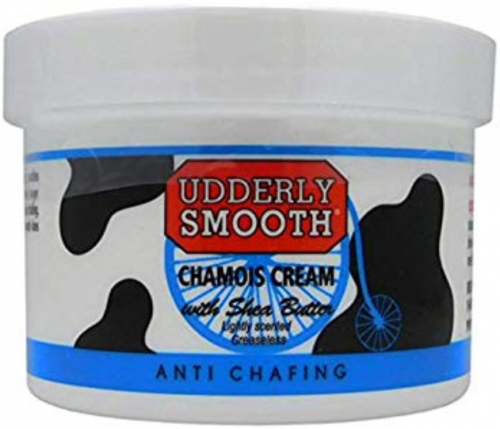 If you engage in active sports, then this cream will be your go-to option. It is perfect for cyclists who suffer from saddle sores by providing a smooth ride. Furthermore, you can use it for other sports too, with excellent results.
Designed by a pharmacist, the company has created the perfect blend to protect sore spots. As the name suggests, this product leaves skin feeling as smooth as an udder. It is ideal for everyday use without giving any adverse side effects. Besides, it is non-greasy, and it is budget-friendly compared to most chamois creams.
Elite female athletes were consulted to give their opinion, and the result is a beneficial cream. It is light to the skin and doesn't wear off quickly. However, it should be noted that it will stay on depending on the climate condition you exercise in. Besides, it is a water-based moisturizer.
Athletes looking to avoid parabens should avoid this brand. Parabens are a type of preservation compound that skincare companies use in their products. Some athletes avoid paraben products because of the said side effects they are rumored to have. Shea butter is present in the ingredient to allow your skin to be nourished and protected.

Subscribe to our Newsletter