Best Adidas Collaborations Of All Time Reviewed
In a
Hurry? Editors choice: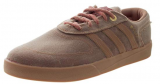 Test Winner: Silas Baxter Neal ADV

In case you forgot, Adidas are on trend right now. When they released their resurgence of Originals, designers, celebrities, and skaters alike were clamoring to come together with the brand to make unforgettable footwear. Their profiles are classic, their sneakers comfy, and their inspiration aplenty. The cushioned insoles and iconic stripes make for a sneaker that is coveted by all, young and old. When they cornered the market on athletic performance shoes, they branched out. Focusing on fashion and function, they have become a staple shoe for every trendsetter's wardrobe. That's why we've collected their most amazing pieces and made a perfect list of sneakers which are a must for achieving an urban look.
Standout Picks
Criteria Used for Evaluation
Materials
Wearing a designer collaboration doesn't mean much when the manufacturing is of low quality. We have come to expect rich textures and sturdy fabrics from Adidas, so selecting this list we kept that standard in mind. Luxurious suede, supple leather, and unique texture uppers set these apart from other sneakers.
On the skate shoes here, we valued the suede construction with leather side paneling, because this improves durability and longevity of the shoe for the wearer. For the Jeremy Scott options, we picked materials that were wearable, but still very standout.
The tennis shoes are all made of canvas, knit, or other breathable fabrics, to give you that light summer feeling no matter the heat of the day. What the shoe is made of is just as important as who is making the shoe. So we made sure that both matched each other in perfection.
Style
This one is a no-brainer. Of course when we are talking collaborations, just like when they're talking collaborations at the Adidas headquarters, style is a huge factor. We chose multiple upper styles to hit all your favorite features. We also chose bold and subdued options, which gives you a little more wiggle room when it comes to what Adidas you will choose.
Clean lines like in Pharrell's pairs, and chunky silhouettes like Rafael Simon's are mixed up takes on the regular old athletic sneaker. There are so many to try that you won't even know where to start!
Versatility
If you're shelling out money for a pair of designer sneakers, you have to be able to wear them, right? We agree. There is no point in paying extra for a fabulous update on an old classic if you won't ever wear them.
The farthest we ventured out in wild styles were the Rafael Simons, which have a serious edge but are still easy to incorporate into multiple different outfits. Jeremy Scott has winged options from the brand, as well as teddy bear adorned sneakers and casual wear. While these are definitely cute and quirky, they just don't have enough utility or function in everyday wardrobe. We want you to get the most out of what you purchase.
Support
These are Adidas, and if there one thing this company knows it's comfort. Their cloud foam update made to their Originals transfers over to Pharrells picks here. The ADV by Silas Baxter Neal has bouncy cushioning that will help you walk off gracefully from a knockout. The Rafael Simons give amazing arch support,
A sneaker wouldn't be much use with no support, skating shoes even more so. You want to be stable and firm in your standing. A good ground feel has a lot to do with the inner construction of the shoe oddly enough, not just the sole.
Heel cups are in the tennis and skating picks to stabilize the foot while in the shoe and give that comfortable, no-frills feeling. PU midsoles enhance every shoe, a light way to put some spring into the wearer's step.
Value
While many Adidas collaborations go for 500 dollars to actual thousands (ahem - we're looking at you, Yeezy), you don't have to go broke to obtain them. If you wait until a big after their release date, sometimes private sellers will scoop them up and resell them at a greater value. We didn't want any of that here, so we found options that are affordable.
Sneakerheads aren't necessarily made of money, but their hobby can become extremely expensive. The solution is to get some reasonably priced additions added to your already thriving collection. Seems simple enough, right? It actually is. Just a pick from our curated list and you will be good to go.
Top 10 Picks
1

. Pharrell Williams Tennis Hu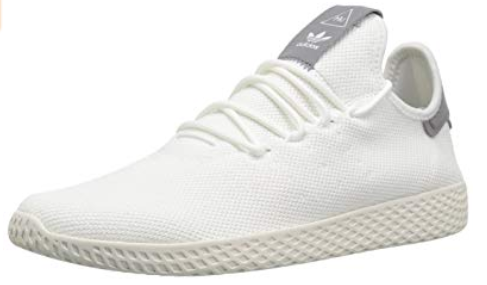 Once again another Pharrell collaboration makes the list. The man has a long career in streetwear, you may think he looks young, but he has actually been designing for almost 15 years for his own label, and fashion favorites like Louis Vuitton. Even Chanel has taken note from the flamboyant and over the top style. This shoe is a breakaway from his usual bold colors and outrageous proportions
The Tennis Hu is a knit pair that hugs the foot, giving a true sock feel. Nothing is better than kicking your shoes off at the end of the day, but with these, you won't even want to because they are so effortless to wear. Their Pharrell accents on the heel and tongue make them a unique pair of the standard Adidas tennis. The silhouette is similar to the Yeezy, the sneaker that skyrocketed to popularity due to its creator, a fellow musician, and the hard to obtain price point.
These won't make you go bankrupt though. The style is ultra comfy and classy but remains an accessible choice for lovers of the brand or of Pharrell himself. The EVA midsole gives lightweight, reactive cushioning, which absorbs shock. The lattice sole provides excellent traction, and this shoe overall is a great, light simple tennis style.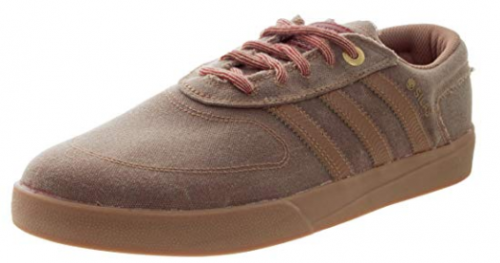 Silas, known as Goofy in skating circuits, is an American Skateboarder from Portland, Oregon. He is sponsored by brands such as Adidas, Spitfire, and Neff, and his street skating has propelled him into the public eye. Adidas isn't often thought of as a skate brand but they actually are heavily involved with street skating and competitive endeavors.
A geofit tongue offers a natural, no slip fit, which moves with you no matter the activity. Any skate shoe wouldn't be complete without a double layer ollie zone, and the eyelets are cold pressed for maximum staying power regardless of tricks and skilled skating. The outsole is equipped with geoflex, which gives a great board feel and grip and helps the shoe to flex naturally with the foot.
The cushioning is super bouncy! Which is great for skaters and non skaters alike. A shoe that can offer support and resistance with your steps is integral for comfort, and this delivers. This Silas ADV has a colorway collab with Spitfire wheels, and the Vector traction outsole gives ultimate control while on your board. The PU molded sockliner is additional goodness into this low-profile sneaker. The price is reasonable and great for skaters starting out or getting back on their boards after a hiatus, and the colors are muted and match most outfits, from khakis to denim.

3

. Dennis Busenitz The Busenitz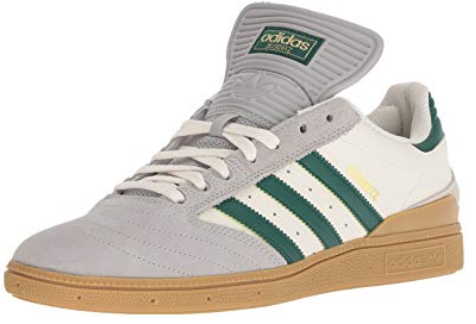 From San Francisco, California, Dennis is a street skater sponsored by the likes of Spitfire, Volcom, Adidas, and several others. His Adidas collaboration has been one of their most popular high-performance skate shoes in recent years, and the look is only part of what makes the shoe so desirable. You may think they look similar to a soccer cleat, and that was actually the original inspiration of this sneaker!
This suede Busenitz is made with a high-quality suede for durable wear, and it is reinforced with a leather quarter panel to protect the foot even more. The molded sockliner offers support and comfort, and it contours to the foot for a snug and secure fit. The anatomical, Geofit tongue also guarantees that this shoe feels custom despite not coming at the custom cost of time and extra money.
The rubber sole comes up a bit on the heel to protect the stitching and integrity of the shoe while skating, but also makes the shoe more durable overall. The cupsole construction will make you feel like you're walking on air whenever you slip the Busenitz on. Built for all-terrain skating, an added Geofit collar keeps your ankle firmly in place and supported even with the most technical moves. This is a favorite of the brand and is priced at a medium cost, really a great value for any skater.

4

. Undefeated X Consortium Superstar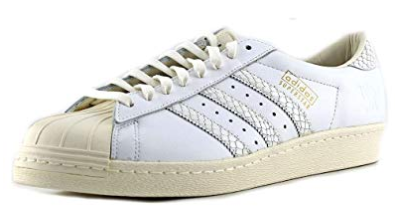 You may have never heard of Undefeated if you haven't lived in Los Angeles. The boutique is a sneaker lovers paradise. With premium and limited edition shoes for the fanatics and collectors, this store has branched out to do multiple collaborations with your favorite streetwear and shoe brands. Their mission is providing gorgeous collaborations and curating only the best, and you know a sneaker made by sneakerheads will be the best of the best.
The Superstar has become the pinnacle of Adidas style. The shell toe is as recognizable as their three stripes, and the rubber addition to the shoe makes it durable but also adds an interesting element to its appearance. This all leather 10th anniversary limited edition collaboration is adorable from toe to heel. The off white shell toe blends into the outsole and contrasts against the white leather.
Snakeskin stripes are edgy and fun, and these memorialize their Consortium division and its 10 years in operation. The tan snakeskin also adorns the heel guard. Beginning in basketball, these have a cup sole that nurture the foot of the wearer and a memory foam sole for additional, bounce back movement. These are definitely retro with an updated edge, and will soon be your favorite accent on any outfit. Priced at a higher price point due to being an anniversary edition, these are one of a kind but maybe not for the faint of heart price wise. A great choice for Undefeated loyals and Adidas fans.

5

. Pharrell Williams Holi Stan Smith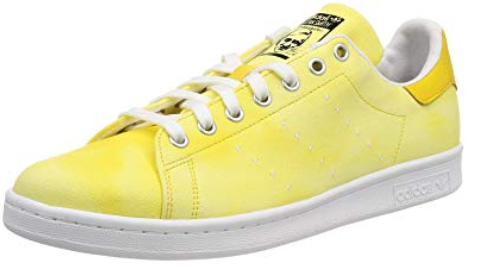 You could call Pharrell a jack of all trades. With credits in singing, producing, rapping, performance art, fashion design, and songwriting, there isn't much this young mogul can't do. Pharrell is one of the minds behind brands Ice Cream and Billionaire Boys Club, so his style sense is indisputable. If you have seen any items from either brand, you can peg Pharrell's style as funky, relaxed streetwear with a twist. His take on the 1971 favorite, the Stan Smith, is one you don't want to miss.
The Stan Smith is one of the most popular styles of this brand on the market. Lowkey and slim cut, the Stan Smith is as clean as it is cool. The stripes are normally perforated, but on this option they are hinted at with little white stitching,so this is a much more subtle option and can be worn in multiple different ways. These colorful faded shoes can be worn with cuffed trousers, colorful shorts, or even joggers. Named for a tennis superstar, the Stan Smith still has that preppy court feel.
With breathable lining and a padded upper, this shoe is surprisingly cozy despite looking bare bones. The insole is cushioned with memory foam, and the upper is accommodating and soft despite how slim the lines are. This is a simple choice with splashes of muted colors that would make any wearer "Happy". The price is at a higher point for canvas sneakers, but the personality of the collaborator really comes through in a one of a kind offering from the brand.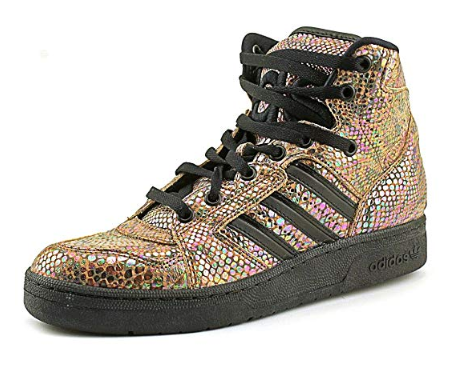 Another option from Jeremy Scott's line of collaborations with Adidas, it just shows how important this designer is to the brand and the creations they are heralded for. Scott has made outfits for Bjork, so if that isn't any indication of his keen artistic eye that has become famous for truly revolutionary fashion sense, I don't know what is. His look is about decadence, gold, and extravagance. Not interested in the ideas of neutrals and practicality, Scott has an exciting concept for every drab article of clothing you can think of.
This Instinct is no exception. The color is high rainbow, and the pattern is a metallic snakeskin that evokes the look of 90's club kids and high fashion shows. The black contrasting outsole and Adidas stripes bring the overall shoe back down to earth, familiarizing the wild pattern to be accessible enough for everyday wear. Made with premium Italian leather, this material is as rich in feel as it is in look.
A basketball style retaining the style of the 80's basketball high tops, these have a high ultra padded collar. To accent, Scott used the Adidas name scrolled across the tongues in all caps to bring brand recognition to an already iconic design. The collar also has extreme padding, and fans out from the back of the foot, making these a cool way to top off relaxed fit jeans or a skinny option. Another fully designer option, these have a high price point, but are still reasonable for fans of the fashion

7

. Raf Simons Ozweego III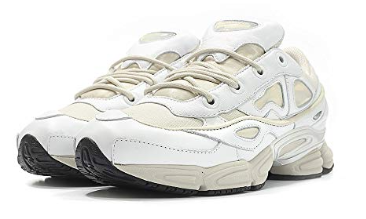 Also by the Belgian designer, this slightly less modified Ozweego embodies the European style of his background. Inspired by many genres of music, New Wave, Punk, and Post-punk, his looks are modern, vintage, and clean. Recently, his design has taken an extremely artistic standpoint. Simons looks at shapes and forms and how to integrate them into a cohesive standard. His limited edition run with Adidas has featured five designs that show off the brand's keen eye.
The Ozweego III is equipped with a super breathable lining, letting your foot air out and not perspire when wearing. A lace front closure gives you a custom tie fit that you can adjust to your own taste. Leather on the upper is accented with mesh detailing with gives it a vintage look like sneakers of the retro past.
Additional ankle support allows for a great all day build. These are also outfitted with a toe guard and durable stitching to hold up to regular wear and tear, even if excessive. The layered upper has transparent windows, a style choice that is unique for this casual, sporty look. This is at a high price point as a collaboration from this specific fashion house, but well worth the fashionable accessory you're getting.

8

. Pharrell Williams Adizero Ubersonic III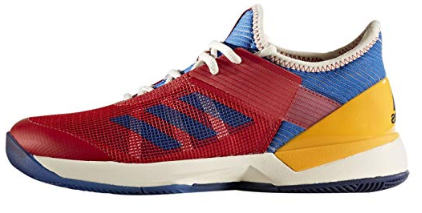 Pharrell is currently a household due to his role as a judge on a hit talent reality show. Others may know him from his breakout solo track "Happy" that was played on all airwaves since its release. I personally know him from his work in the group N.E.R.D., and have loved him since. Regardless of where you recognize this hip artist from, one things obvious: he reinvents style with every outfit he throws on. Pharrell is a musical and fashion genius, so it is no surprise to see him putting out great collaborations with staple brands.
This Adizero Ubersonic III is as colorful as it is high performance. Made with a lightweight interlocking fabric system, the Adizero Ubersonic is a tennis shoe that outperforms the competition. The chassis has extra support to be there for you even with the toughest serves. The responsive midsole gives you that bounce back you need every move you make.
An Adiwear 6 outsole offers some of the top outsole durability on the market. Whatever the surface, this tennis option won't disappoint. Adituff wraps around the medial forefront and toe for abrasion resistance. This protects during all your courtside moves, whether it be serves, lateral movements, or volleys. Priced at a moderate price point coming under that of other sports performance shoes, this is actually a great deal for a nearly professional grade tennis shoe.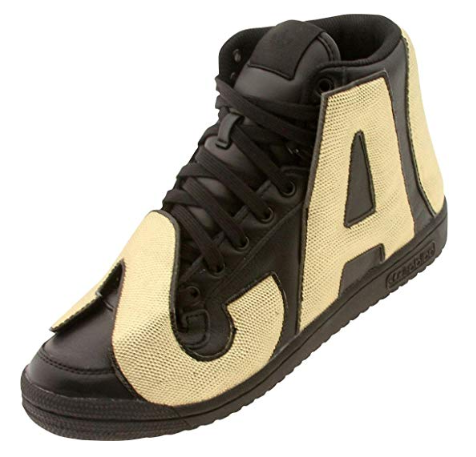 You may know Jeremy Scott as the creative director of the fashion house Moschino. Also owning his own namesake label, Jeremy Scott first got attention by working with Adidas to develop his signature "winged" sneakers. With inspirations ranging from the Mayans to mythology, his designs are bold and his usage of color and texture rich.
This Jeremy Scott by Adidas has its namesake brand spelled out from the back heel to toe. This design is graphic and eye catching, turning heads and calling attention to its bold gold appliques and cool high top silhouette. A well padded tongue and collar make the shoe wrap around the foot comfortably, but the breathable fabric lining won't let you get hot or uncomfortable while wearing them.
The J and S that cross over the toe of both shoes can velcro up or down, so you can show off your love for the brand with a full flaunt, or let the profile remain. Great traction and rubberized soles absorb shock and allow for you to wear this style casually wherever you go. These are a little pricey because they are a fashion house collaboration, but fashion unfortunately often comes at a higher price tag. However, these will last and feel great throughout long term wear, due to Adidas super cushioned combination insole that makes this feel as dreamy as they look.

10

. Rafael Simons Replicant Ozweego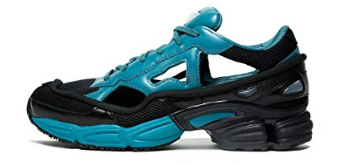 This Belgian designer has a long history in fashion, but he first began with furniture, creating unique statement pieces for homes. After a long career in the industry, he was named as a creative director for fashion house Christian Dior, a French label known for their fragrances, gowns, and overall elegance. He then moved to Calvin Klein, cementing his influence on the industry with his streamlined, electronica-inspired clothing.
Straying from the traditional Ozweego, this black and blue chunky style has cutouts that make it a true standout. With all the standards of a running shoe, this has futuristic updates that look like they're fresh out of Bladerunner. This sneaker is made with mesh and leather and looks almost deconstructed aesthetically. The Poron performance sockliner keeps the foot dry and contours to the foot.
Divets in the sole allow for maximum movement when running, and their full contact base also gives great lift off when hitting the street. Not only do these look cool and wear easily, but they also have a PU midsole that bounces back as well as you do. Their style is sure to become well known in Adidas history for standing out against other, slimmer running options. This limited release is pricey, but the cost is half of what other Ozweego Simons collabs go for, so don't hesitate on this sneaker.

Subscribe to our Newsletter