10 Best Nike Skateboarding Shoes Reviewed & Rated
In a Hurry? Editors choice: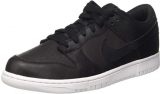 Test Winner: Dunk Low Pro

You have recently taken a liking to a new sort of sport -
skateboarding
. So you set out to find a perfect pair of skating shoes. They should be flexible, so your foot can bend naturally, durable too, no one wants to waste time choosing a good pair if they get ruined after just a few rides around, and comfortable, so you don't feel the shock when you hit the ground, and so your feet don't suffer. After a lot of research and digging, we took it upon ourselves to make a list of the best of the best, and it is up to you to choose your treasure!
Standout Picks
Criteria Used for Evaluation
Comfort
Comfort should be, without a doubt, one of the most important factors to consider when buying skating footwear. Properly padded shoes make it much easier for you to board, alleviating pain and prolonging the period of time you can spend riding around in them. Also, the pads can lessen the chances of callouses, corns and blisters appearing, and everyone knows how painful and unsightly those are. Lastly, it can help your knees and back, and save you from possible future problems. But, how can you be sure that your new pair is properly padded?
First, we should mention the type of tops this kind of footwear comes with. There are low-tops, mid-tops, and high-tops, all with their benefits and bad sides. Nike opted out for mids and lows, as you can see since there are no high-tops present here on our list. The difference between the two is in the stability and padding. Mid-tops offer more stability and have more padding around the ankles. The laces fall just around the ankle, so you can tighten them up as well to secure your joints even more. Also, they are a good transitional shoe, as they offer protection and warmth. Low-tops, however, lack the padding around the ankles and thus do not provide as much stability and comfort. But they have a better range of motion, they are lightweight, and are the most popular. Don't worry though, more cushioning in the footwear exists because of the lack of padding around the ankles.
Padding inside the shoe itself should also be thought about. There are many ways one can cushion their shoes and can be done through midsoles, insoles or liners. Most Nike SB's have EVA midsoles, which are less dense, weight less than regular midsoles, and cushion your feet very well. Nike Zoom is one way they have solved their problem of cushioning, and it does the trick quite well - it is implemented in most of their footwear. Also, cushions should be responsive and shock-absorbing, so the blow from landing on the ground is softened, saving your joints from pain and wear!
Materials
Which materials are best for those shoes, and how can you choose the right one for you? These are just some of the questions that may pop up in your mind, and we are here to help you answer them. A lot of materials can be used to create this type of footwear, and it can all affect the quality of skating, one way or another. Which material you choose, depends on your personal preference, and on what you look for in a skating shoe.
The first type of material we should mention is suede. Suede is created from the softer underside of animal leather. Suede is very though, so most skating footwear has a suede upper, as you can see on the list as well. In addition to that, it stretches quite easily and becomes softer and softer with frequent use. That means that if your shoe is tight and uncomfortable, give it a chance, it is just trying to mold to your foot!
Patent leather is also a common choice. Unlike suede, patent leather is taken from the top layer of an animals skin. It is thinner and less durable. But this type of leather takes color very easily and has an artificial coating on it, so you can see it in many various styles. Canvas is a great choice for those who are against harming animals. It can't be compared to leather when it comes to durability, as it tears much faster. Still, it is wear resistant and much lighter and easier to break in, so you should give it a chance too.
Ground Feel
Ground feel, or board feel, is how much of the board you can feel while you skate, which is also something many skaters consider to be important. There are various degrees of board feel and are achieved through various constructions of the soles. You have all probably heard the terms cup soles and vulcanized soles. There is a difference between the two, and there are no true benefits of one over the other, what you choose is solely based on your preferences. Nevertheless, we will explain what they are, and how they affect the amount of board you can feel through them.
Vulcanized soles have a much lower weight than cup soles, and are much more flexible, thanks to a thinner sole. This type of construction offers you the best kind of board feel you can dream of. Compared to the cup soles, the small rubber parts in the vulcanized soles are only glued together, and after that is completed, they are attached to the upper via a thin rubber strip. What that means for you is that the break-in period is quite short, almost non-existent and that you can wear them without stopping straight out of the box. This all sounds so perfect, there must be a downside, right? Well, the one big flaw of vulcanized soles is that they wear through very quickly. Also, they do not take abrasion too well, so you will end up with banged up shoes very fast.
Cup soles, on the other hand, consist of three main parts: the insole, midsole, and the outsole, and they all work together like a well-oiled machine to bring you the best kind of feel possible. The outsole is made out of a single piece. First, it is glued to the midsole, and ten the midsole is attached to the upper. Those two are then sewn together, using regular or reinforced stitching. The insoles is only glued in, or cna be removed and put back whenever you like it. Because of the thickness and extra seams, cup soles offer more stability so you will be better at doing jumps and sliding down steps. However, they are stiffer and much heavier, so you will have trouble breaking them in, and your feet might get tired much faster!
Flexibility
Flexible shoes allow you to bend your foot the natural way when you jump, run, or try to align with the board, which in turn makes it easier to skate and perform various tricks. Nikes skating apparel is mostly made out of suede, which we noted earlier for its flexibility. But, why should flexible shoes be important in the first place?
While you walk barefoot, your feet make a natural motion - they roll from your heels to your toes, with the foot making a bend at the ball. If, however, your footwear prevents that, your ankle and shin muscles will have limited motion, and you might end up being tired quicker, and will not perform so well, or you will be sore for much longer than usual. Skating footwear should have most of their flexibility concentrated at the ball of the foot - as that is the part that will bend the most when you land and will take in most of the shock while you jump and hop about.
If you are unsure about the flexibility of your pair, you can take three steps to confirm if they are flexible enough. First, you can twist them, from one direction to another. If the shoes form a spiral, they are best used for running. You need something that is not as flexible, as you can injure yourself if your foot bends the wrong way! You can try bending them, push the heel and toes together. If they bend completely in half, congrats, you found your new companion! You will need that middle bend there, as you will land on the ball of your foot, and if you are unable to flex your foot where you can tear your tendons or end up falling!
Be sure you have not taken a pair that is too flexible - too much can hurt just as much as too little!
Style
It is very apparent that Nike likes to create shoes that are very stylish, and that is on trend and popular with youth. They produce footwear that combines materials to create contemporary pieces fit for runways, and that can spruce up just about any outfit. The colors they use can be neutral, dark, vibrant, or the canvas can be decorated with various patterns and details. All of that makes for a shoe that is very versatile and can be combined with any outfit.
But, why is style important for skating shoes? The answer; it's not. You should always look into footwear that is functional first. Even if they are ugly and the pretty ones offer much less, choose the ugly ones. Health is a high price to pay for beauty! And many skateboarders today believe stylish skating apparel is important, and will always look for style when they shop - this is their mistake and you should not repeat it.
Unless, of course, you just like the way chunky urban shoes look and are not interested to use them for skateboarding. In that case, buy the most stylish pair you can find, and flounce it around town! Many children and young adults today choose skating brands even though they really do not use them for skating, because they are a great way to make a statement and express their rebellious spirit!
Our Favorites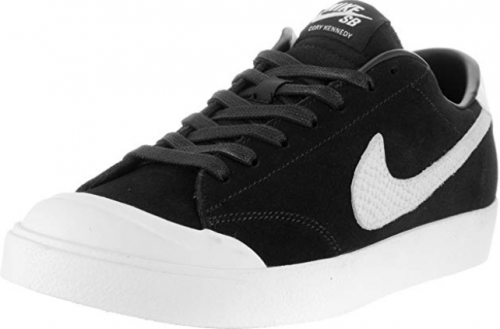 You might start to feel a bit puzzled when you first look at this pair - what is a tennis shoe doing among all these skating products? You see, Nike decided to experiment again, and has completely redesigned the classic tennis sneaker, with the help of Nike Team Rider Cory Kennedy, and they did a great job! The durable upper combines fabric and synthetic materials, offering the best of both worlds.
The interior features zero stitches, so nothing will rub your skin raw and make you perform worse than usual! Nike Air Zoom makes sure you get enough bounce when you hop, and also cushions the blow when you land. The outsoles have a herringbone pattern, increasing traction and improving the grip.
The rubber they are made out of is vulcanized, so it will not crack, and will last much longer. The toes have a rubber cap, protecting your fragile toes from injuries and other kinds of accidents.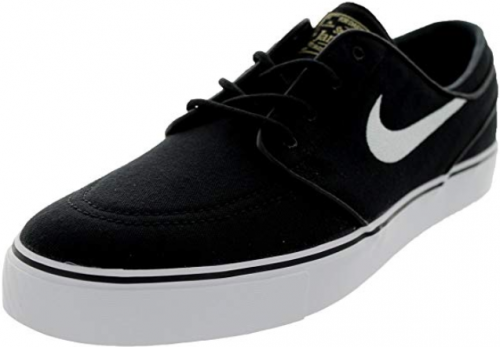 Stefan Janoski is a famous American skateboarder, musician, and artist - it was only logical to call him up to create skating shoes, and it is even more logical that one of his skaters is the most popular one. What makes this pair interesting is that the midsole and the outsole are completely fused, using autoclave construction. Why is that exactly interesting, or beneficial? Besides a streamlined style, the fit is low-to-the-ground, which means that you will have a better connection with the board and perform better.
The Zoom is a canvas skater -the upper made out of premium suede and nubuck, for a sharp feel, and for prolonged durability in areas that get high-wear. The soles are rubber, so you will have a proper amount of traction and grip, without falling from the board. An overlay is present on the toes, called Nike Hyperscreen, which makes them even more durable - no peep toes!
The forefoot has perforations, so your feet will not suffocate in your own sweat and heat. A sock liner is molded into the shoe, with a Nike Zoom unit in the heel, which provides excellent cushioning, and so much board feel that you could feel every line of the pattern that is drawn on it.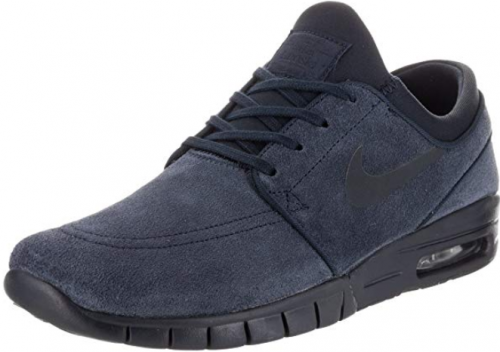 One more addition from the great Janoski himself, the Max L. The upper is a combination of suede and synthetic materials, colored in various bright and neutral colors. And the colors are combined marvelously and with care, so you can be your best when you perform! These skaters are special because many users have noted that they feel like they have already been broken in even when they first put them on!
What we can see very easily is the extra air added into the soles, which has the sole purpose of softening the blow on your feet and joints when you skate or walk. The suede upper is also reinforced, so it is durable, and will not tear even after repeated bending and flexing. The well-made construction helps them last longer, and it's lightweight, so you won't feel the extra weight dragging you down while you jump and run around.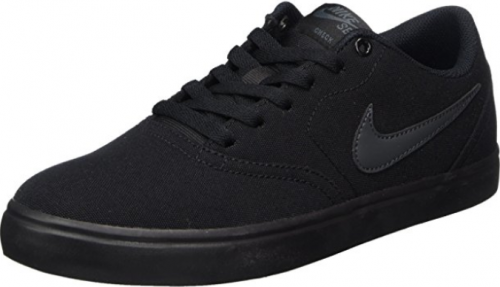 The Check Solar has a canvas upper, like many Nike SB shoes, because it can give them the chance to decorate them with vibrant colors and interesting patterns, made to fit everyone's tastes. In this case, the upper is usually colored in dark and neutral colors, although there are some exceptions, so you can match them up with pretty much anything.
Their height and cut is standard, so they are pretty versatile and offer a good amount of protection. A sock liner exists, called Solarsoft, and it gives you enough air, and a soft touch to your sensitive skin. The liner also absorbs shock, and lessens the damage from ground impact, without sacrificing flexibility or durability.
The outsoles feature an interesting design - a solid circle with arrows scattering around in all directions, making it look like the sun was shining from your shoes. But it has a purpose, besides looking nice - it's a flex-wrap, so it will make your sneakers flexible without sacrificing their weight!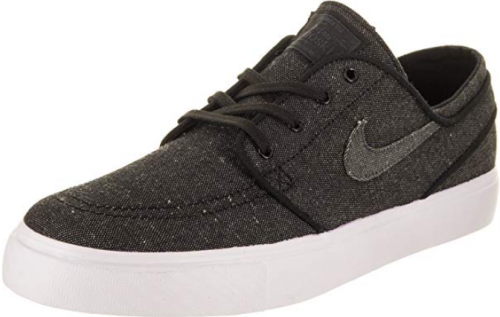 This addition from the famous athlete Janoski features an upper made out of pig leather combined with synthetic, lightweight materials. Such a combination helps you have a more flexible fit, with enough air and with a sharp, trendy style. The low-profile cut is cushioned, so nothing will cut into your ankles, and will hold them in their place, preventing you from rolling them and injuring yourself. Responsive impact protection does what the name suggests - keeps you safe and sound from the shock when you hit the ground.
Many small perforations give you breathable comfort. This helps with odor and bacteria prevention and keeps you safe from nasty wounds and dangerous infections. A sock liner with Nike Zoom makes the cushions smaller, less bulky, which makes the shoe lighter and it doesn't make them very tight.
They are also colored like a checkerboard, which makes an eye-catching detail! But it is still just enough to absorb shock and to provide enough bounceback. Autoclave construction strengthens the bond between different parts of the skate shoe, making sure you will not need to replace them any time soon. The soles are rubber, and have a herringbone pattern, that delivers enough traction and flexibility, even for the pros!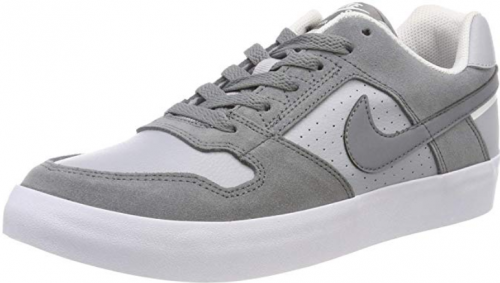 These skaters enforce the heritage Nike style, made to fit the skating design, making them look refreshed and urban. The upper comes as a combination of different materials, depending on which model you choose. They will either be leather or suede, combined with synthetic details, so you will get enough air and they will last you a long time! The profile is low cut, so be prepared to ride your board in style.
The tongue is mesh, covered with laces, so you can adjust it the way you like, tighten it as much as you dare, and all without losing air! The insoles are foam, so you will stay properly cushioned and dry - goodbye smell producing bacteria. The sock liner is also foam, so you get a cushy hug throughout the sneaker, and also suffer from zero bad smells!
A rubber traction design decorates the outsoles, for proper grip and better control, and the rubber is vulcanized, so it won't betray you mid-skate sesh. Small perforations on the side expel warm air and let the cooler air chill you down, properly ventilating your feet and helping you regulate your temperature better.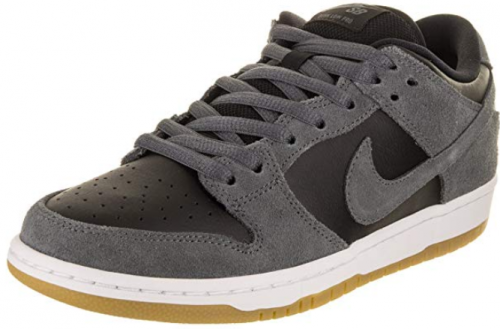 The Dunk low TRD is an iconic style, modernized for today's world. The upper is crafted out of leather, which will make them a little bit heavier, but they will be much more durable and will mold to the shape of your foot. The toe box has added perforations, letting air break its way through to eliminate heat and wipe away sweat and bad odors.
The midsoles are EVA, spanning throughout the whole sneaker. EVA midsoles have low density, a lower weight and follows your foot shape perfectly. It also makes it less possible for you to feel hard and sharp objects when you step on them, so in essence, the EVA midsole acts like a shield. And most importantly, it provides stability!
A Nike Zoom unit sits at the heels, softening the blow they take, and lessening the amount of time you need to spend recovering from tougher tricks or longer durations of skating. It helps your joints feel relaxed and aligned, so you can skip the pain meds this time around. The outsoles are rubber, with a circle that acts as a pivot - helping you to control your board better. The multi-directional traction improves grip and durability, helping guide you to the top of the skating world.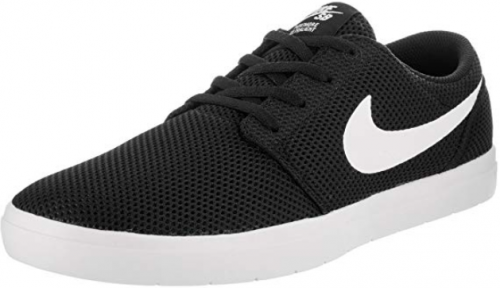 The very first thing that we notice about this particular skater is that it has a mesh upper. What that means to you is that the pair will be ultralight, as the name suggests, and that you will get enough air no matter how much you are pushing yourself. The outsoles are rubber, and they have a special pattern called herringbone, which is made to help you have a better grip, and better board feel - all in all, it helps you board better!
A low-top profile makes them great for warmer weather, and also gives you the chance to wear ankle socks, so you'd get more air and better temperature control. The insoles have enough cushioning for even the most sensitive of feet, so be sure you won't feel the impact force of the ground, or that all familiar burn! They are lace-up, so you can easily adjust them any time you like, accommodating your feet even when they swell up.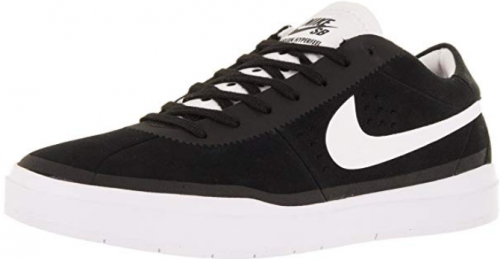 This intriguingly colored sneaker features a suede upper, in combination with synthetic materials. The change in materials offers us interesting patterns to look at, and it also makes you look trendy and urban. The stitches also reside where they usually do not, and they reinforce the construction, and also are a welcome change from the regular everyday stitches we see. The oversized logo makes sure everyone knows whos brand you are sporting!
The midsole has a honeycomb construction - when you jump and run and do everything a skater does, the midsole eases the stress your feet and joints take. It lessens the impact force, makes them more comfortable, and even adds to the board feel, so you get a complete skating experience.
The sock liner is Nike Zoom, which, as you may already know, offers a soft feel, low-profile cushioning, and is very lightweight. The outsoles have an urban pattern and are vulcanized, so you get improved traction, grip and durability!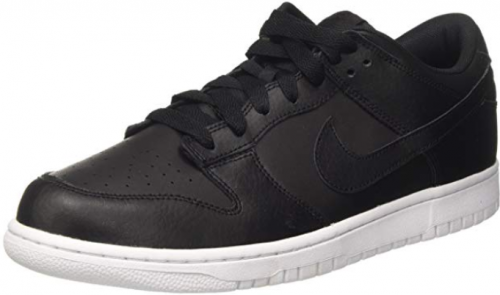 The Dunk Low Pro has an upper made out of suede, which is uniformly colored, but comes in a big array of different colors, so you will always have something to choose from. They have been slimmed down, so they don't give off that chunky oversized tone skating sneakers usually do. In addition, the padding is also reduced, so be careful, as that may affect your performance.
Extra holes for the laces allow you to tighten the fit even more, so you may never worry about them flying off your feet anymore. The mesh tongue and perforations at the toe box are the perfect combinations for plenty amount of air and breezy ventilation, so you will be dry and fresh no matter how many hours you devote to your craft.
A full-length EVA midsole makes them super lightweight and comfortable. Responsive cushioning in the heel helps you land better and alleviates foot pain! If you are looking for a skating shoe that provides more style than functionality, then these are the choice for you!

Subscribe to our Newsletter