Best Brown Shoes of Varying Shades Reviewed & Rated
In a Hurry? Editors choice: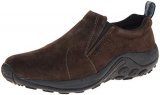 Test Winner: Merrell Jungle Moc

Finding a pair of chocolate-colored shoes that are genuinely worth the money is no small feat. While this is a color that's neutral, meaning that it will pair exceptionally well with almost any other color, there are, of course, a lot of things to consider before spending your hard earned money. What is the style you're after? How do you plan on wearing your shoes? Do you have any special requirements in terms of material, lining, waterproofing? Footwear is so much
more than its color
, and to ensure you make the best possible purchase, you will probably have to spend some time thinking about these aspects.
Standout Picks
Criteria Used for Evaluation
Comfort
There are several important things to look for when shopping for shoes, and how your pair feels on your feet is probably the most important of all the factors. To ensure maximum comfort from your next pair of footwear, you will need to find the best possible fit, which means purchasing the correct size.
If you're shopping online, then your best bet is to carefully measure your foot at home, and look at the manufacturer's size chart. Additionally, you may want to read customer reviews to determine whether a certain model runs large, small, narrow and wide. Furthermore, it's a good idea to consider contributing factors such as the socks you will wear with your shoes, whether you need custom orthotics, or if you have any special preferences.
Once your shoes have arrived in the post, you will need to check whether they are in perfect condition. If there's any visible sign of manufacturer's defects or damage that was done in the shipping process, the best option is to file for a return. If everything looks OK, put on your new babies, and try to take a few steps. If they are the correct size, you can go ahead and wear them for a few hours indoors, until they're pleasantly broken in. This will not only prepare the shoes to be worn for long periods of time, but will also let you know if there are any hidden issues such as seams that may cause rubbing, or insufficient arch support. It is our advice that you only wear your shoes outside if you're absolutely certain you will be keeping them.
Durability
To assess each of the products on our list for durability, we not only read through thousands of customer reviews on our recommended products, but we also looked for some of the hallmarks of quality construction. From brand name reputation to their initial smell out of the box, there are a few ways of identifying a well-built, made-to-last product.
The Details
A zipper that doesn't zip? Poor threading technique? A smelly, chemical residue on the shoe when you open the box? All these details were looked for an evaluated when assigning a score for durability.
Materials
Certain materials last longer than others, even if that comes at the expense of a higher score in the "comfort" criterion. Materials that are synthetic, thicker and firmer tend to score higher on durability.
Product Purpose
A shoe made for running and high-impact sports will not likely last as long as a good pair of general activity shoes, and that's okay. Being aware of the shoe's purpose is critical for you as a reader and for us as a reviewer. Although shoes that will last longer score higher on this criterion, you might also see high scores to shoes with more limited durability, if that product was specifically designed for certain purposes that involve high-impact and high-stress motions. We take into account the type of shoes you are trying to purchase when assigning scores to shoes in this criterion.
Features
But how do you know, just from looking at photos online, that a pair of footwear will be good for you? Well, there are a few features you may want to look out for:
A Soft Upper
Much of the fit of your shoes will come from the upper. Try to choose ones with soft materials used in the upper, such as leather, canvas or mesh. If you know that you've got sensitive feet, you may want to invest in a pair that features padding in the collar, tongue, or even in the entire upper. Natural leather and suede are always a great choice, seeing that they will mold to your foot with wear, giving you that personalized fit that makes a shoe feel and look great.
Cushioning and Support
Underfoot, you will need a soft but supportive feeling that will comfort your feet, providing firmness under the arch, and stabilizing the heel. A good sole is usually the result of a combination of materials in the midsole and insole. You need to be aware of the fact that what may work for one person, may not be the best choice for another, so before making a purchase, determine whether you prefer more arch support, whether you need help with the alignment of your feet, and whether you prefer more or less cushioning on impact – while runners will want a soft shoe to absorb shock, cyclists need something firmer that will help with power transfer.
Breathability
Last but not least, it's quite likely that you will be wearing your shoes for long periods of time, with some people even spending up to 12 hours a day in them. This means that you'll be walking, standing, working and sitting in this footwear, and through all of this, your body temperature may fluctuate either due to physical exercise or due to changing outside temperatures. When your feet get hot, they will sweat. The best shoes won't allow this moisture to build up, as it's the main cause of bacterial and fungal infections, as well as bad odor. Instead, a good pair of footwear will be breathable, wicking moisture away from the foot, keeping you dry and cool no matter what you do.
Materials
The issue with most footwear on the market is that it's made to look and feel cheap. When spending your hard earned money, you want to get a quality product that will not only serve its purpose, but will also last for a long time, feel good while wearing it, and look good.
To ensure the best possible performance, you will want to look into the types of materials used in the construction of your chosen pair. Whether you prefer natural or synthetic, it's paramount that the product you go with is made with care and conforms to high standards. For the best possible results, we suggest that you go with either leather or canvas footwear that'll feel good on the foot, and will stand the test of time.
Another thing to consider is the method in which the shoes have been put together. Are they glued, stitched or welted? Do they have exposed seams, or are they made out of a single piece of material? If you're purchasing in a brick and mortar store, inspect your favorite model for any signs of poor quality control such as loose stitches. If buying online, a good indicator of the shoe worth are reviews left by existing customers, so take the time to read those before checking out.
Last but not least, consider how durable a pair of shoes is before you've made your final decision. Are you shopping for a single event, or do you need something to wear daily ? The better a shoe is made, the more it will last. Sometimes, it pays off to spend 30% more on footwear that'll last you two years, than saving that same amount of money, just to have to purchase new shoes within three months.
Style
The style of the shoe itself is also a very big deciding factor for how it will end up looking. Shoes in this color are an excellent choice of footwear to have on hand as they will, generally, go with almost anything. From jeans to a navy suit, nothing will make a look more complete than a good pair of chocolate-colored shoes. However, in addition to just color, you may also want to think about the type of the shoe to determine whether it's the best possible choice for you. There are a few styles that you may want to consider:
Loafers
Slip-on formal shoes that look great with a suit or jeans, loafers are a no-fuss way of including a bit of elegance in your everyday life. They're appropriate for almost all formal events, offices, and casual wear, and will do wonders to elevate the look of your simplest outfits.
Sneakers
If you're more into casual than elegant, and you need a pair of shoes to wear on the weekends, for running errands, or to your laid back office, then a good pair of sneakers is an excellent choice. You can opt for wide varieties in terms of style, shank height, upper material, as well as performance features such as waterproofing, cushioning and traction. An added bonus is that they'll generally be slightly less expensive than lace-up shoes or boots.
Boots
For those who need protection, be it from the weather or from their working environment, a pair of boots is a must-have. You can opt for a huge variety, from ankle boots to 8-inch work boots, and even more fancy styles such as Chelseas or dress boots. A quality pair of leather boots should last you a solid couple of years, and with the right care, they'll only look better with every wear.
10 Best Brown Shoes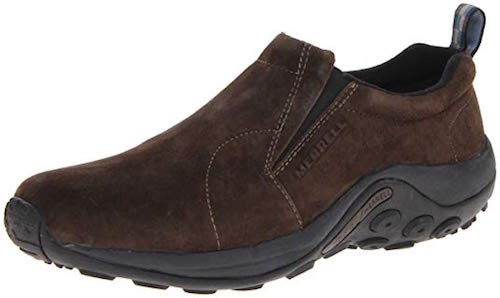 An all-around favorite slip on, the Merrell Jungle Moc is a great pair of footwear for everyday, professional, casual, or even athletic wear. It's a low maintenance shoe that is constructed from quality and durable materials, and that boasts an M-Select Grip outsole that's slip resistant, and works great both indoors and outdoors thanks to the steady 3mm traction lugs. Considering that Merrell is famous for making excellent hiking footwear, you can rest assured that the Jungle Moc is going to be a comfortable pair of footwear for everyday use.
What makes the Jungle Moc a suitable option for all-day wear, as well as for longer hikes, is the air cushion that is located in the midsole and that works to provide you with excellent shock absorption through all your steps. It will prevent fatigue, muscle pain, and can even eliminate the ache you feel in your joints and back after hours of walking.
To ensure that you receive a pair of shoes that can stand the test of time (and rough wear), the Jungle Moc features a pig suede upper that's both soft and flexible while remaining very resilient. It's also a breathable material, so you won't have to worry about foot odor, which is a huge plus.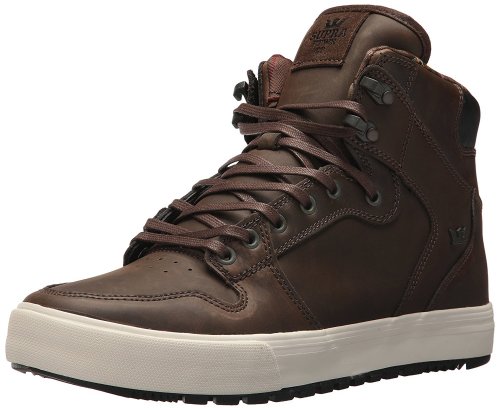 Made for winter use, the Supra Vaider is a pair of skateboarding shoes that work to keep your feet warm, while still allowing you excellent board feel. This high top is a great option for those who prefer a bit more ankle stability, but wish to stay away from boot styles, foregoing them for more casual sneakers.
The upper of the Vaider is made with PU leather that's been treated to keep water from entering the shoe, and the bellow-gusseted tongue keeps dirt and debris out. The midsole on this sneaker was designed to prevent the cold from entering the sneaker while trapping body heat inside to ensure a comfortable wearing experience even in low temperatures. In the upper, the padding both warms the upper side of your feet and protects it from any accidental hits.
Supra is yet another brand that designs quality, comfortable shoes. The price tag is low enough to make these affordable to anyone, while the shoe itself is a comfortable pair of sneakers appropriate for cold weather use.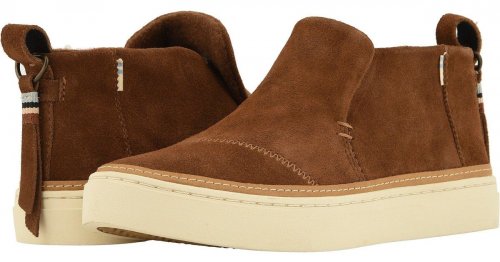 The perfect combination of dressy and casual, the TOMS Paxton is a shoe that changed dressy footwear for good. Combining a casual slip-on with an athletic outsole, it is the perfect pair of shoes to wear with jeans or chinos. It will make you look polished but will provide you with an unparalleled sense of comfort and cushioning underfoot that simply does not come with regular lace-ups.
A good construction means more than just quality materials. The TOMS Paxton is stitched with care so as to give you a well-made pair of footwear that will definitely stand the test of time. With the removable cushioned insole, and the custom-molded rubber outsole you'll be able to wear these shoes for quite some time.
TOMS shoes are typically on the higher end of the spectrum in terms of price. The quality materials that are incorporated into their designs aren't very cheap and, so must be factored into the price. On the other hand, for every pair of shoes purchased, TOMS gives a pair of shoes to a child in need. So you can feel good about this possibly extravagant purchase.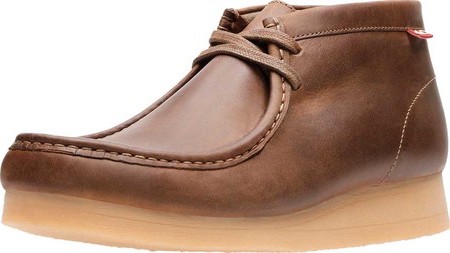 Somewhere between a moccasin and a chukka, the Clarks Stinson Hi is one of the best fall boots you can choose if you're looking for a polished casual shoe. It features a height that just about covers your ankles, giving you a good amount of weather protection and stability, but isn't lined with heavy materials that would make it uncomfortable for wear once the weather becomes hotter. Pair this shoe with jeans and a T-shirt, or add a smart blazer, and you've got yourself a look that'll stand out in terms of appearance, comfort, and quality as well.
One of the most durable shoe outsoles you can get is the crepe sole which is made with natural rubber materials and is processed in a way that allows it to be more durable and cushioning than outsoles made with traditional methods. Paired with the high-quality leather, your Wallabee will last you for years to come, becoming more and more comfortable as the years pass by.
The thing about the inside of your shoes is that it's usually the first thing to succumb to daily wear. With shoes that are leather lined, you get more wear time, while also ensuring that the material in contact with your foot is soft, supple and breathable. The Clarks Stinson HI is the most expensive pair of footwear on this list, especially if you go with a pair that's made with cola leather tanned in Chicago's Horween tannery. However, this is a fall boot that's a great investment for anyone looking for a comfortable ride, and it's incredibly versatile, ensuring that you get your money's worth.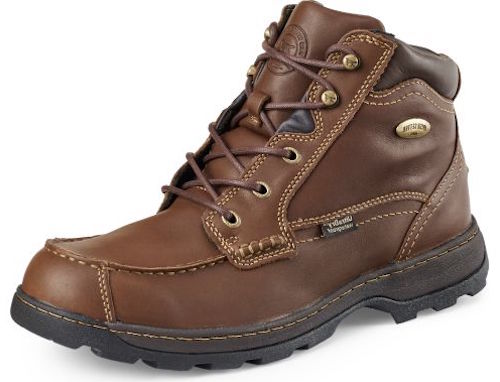 Made for camping, outdoor use, as well as professional wear, the Irish Setter Soft Paw is an advanced pair of boots that'll keep you completely dry even in wet conditions. With UltraDry construction, the Soft Paw combines a moisture management lining with materials that prevent water from entering your boots, in order to provide you with boots you'll wear worry free, even when the weather takes a turn for the worse.
A customized insole is one of the best things you can get in a pair of shoes, and the Irish Setter Soft Paw gives you exactly that. With a footbed made out of memory foam, it will completely mold to your foot, providing support where you need it, while giving cushioning under the entire length of the foot.
The outsole on these boots was made so as to prevent you from picking up dirt and mud, no matter where you go. This means that your shoes won't lose traction in muddy conditions, and will be much easier to clean once you're done with walking for the day.




Everyone loves a cozy moccasin, especially if it's lined fleece to keep your feet toasty even in the coldest of winters. The Old Friend Washington is a house slipper with an indoor/outdoor outsole that enables you to quickly run to the store or get your newspaper without having to change shoes. The adjustable tie ensures a secure fit that can be tightened or loosened up on the go, without the hassle of laces or buckles.
If the softness of the fleece lining isn't enough to make your feet happy, then the cushioned midsole should do. It provides you with just the right softness so that each step is an enjoyable experience, making these slippers a great pair of shoes to spend the day in.
Traditional moccasins are made with leather uppers, and that's one of the things that still make them a popular choice among those looking for comfort. A soft shoe such as the Washington will mold to your feet with wear, without being too flimsy, or lacking in terms of warmth or protection.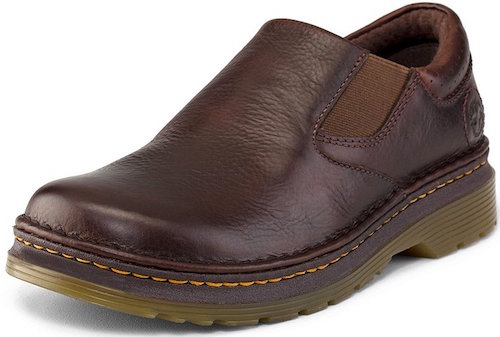 For those who prefer heavy-duty footwear that's got style, the Dr. Martens Orson is an excellent choice. This loafer is a great option both for casual and professional wear, seeing that it will look great with a huge variety of outfits, from jeans to more dressed up ensembles. Built on the iconic Dr. Martens sole, this is a sturdy pair of footwear that'll do well with most surfaces, and that's sure to keep you protected from slips while standing up to the test of time with just a bit of care.
With natural uppers such as that found in the Orson, you don't have to do much to receive a lot. Simply keep your shoes clean with a damp cloth, and treat them with a clear colored wax polish for a soft, shiny upper that'll look smart and well taken care of.
As with most other Dr. Martens footwear, the Orson will need a little bit of breaking in, but once that's done, you'll have a pair of loafers you'll be tempted to wear absolutely all the time. The sole of this slip-on is cushioned for the best possible shock absorption, making these a great buy if you tend to walk a lot during your day.

8

. Sperry Authentic Original



If you want something to wear on your summer holiday, or just around town when the heat is high, then you can't get much better than the Authentic Original by Sperry. This is the boat shoe that started it all, providing wearers with excellent wet/dry traction, a hand-sewn upper that's incredibly stylish, as well as a comfortable inner that's completely adjustable thanks to the 360° lacing system that allows you to wear these as tightened or loosened as you need.
The upper of the Authentic Original is made with full-grain unlined leather that's appropriate for wear near water, as it won't be damaged either by fresh or saltwater. The razor-cut outsole provides excellent traction in wet conditions, making this the perfect boat shoe.
When you're out, enjoying the weather, the last thing you want to think about is pain in your feet. The Sperry Authentic Original features Ortholite technology to provide you with the best possible shock absorption, ensuring you can walk for longer periods, without experiencing any discomfort.

9

. Thorogood American Heritage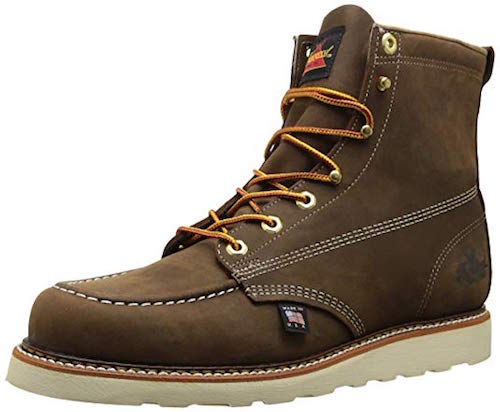 There's a lot of things you may expect of your footwear, but if you're shopping for something to wear to work, then you need the absolute best. Thorogood American Heritage boots are some of the best work boots you can purchase, and they come in so many variations that you're sure to find the pair that suits you perfectly. Whether you prefer a high or low shaft, a moc or round toe, or even if you need the added protection of a safety toe, Thorogood boots have got it.
Shoes with a Goodyear storm welt are a great option for several reasons. First and foremost, they can be resoled should the need present itself. Secondly, they provide excellent moisture protection, meaning you can wear your boots even in wet weather without having to worry about getting soggy feet. Just make sure to treat the upper with the correct weatherproofing products.
Sure, we all love a dual density footbed that both supports our arches and cushions our steps. However, not all feet are created the same, which means that some people may need a custom orthotic to make standing all day a less painful experience. Luckily, the Thorogood American Heritage takes this into consideration and provides you with a footbed you can swap out for something more customized to your own needs.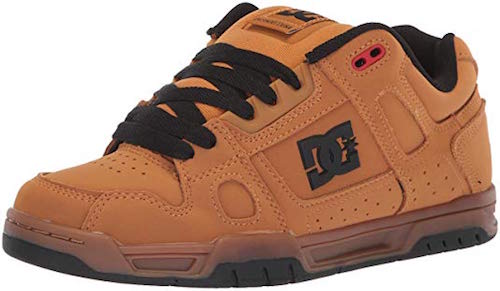 If you want to skip the boots and the loafers, but still need a pair of footwear that'll look good with most of your outfits, then a pair of skateboarding sneakers may just be the way to go. The Stag by DC is a solid, chunky shoe made for skaters whose footwear takes a beating with every ride. The stitched toe ensures that your soles don't come apart, while the layers of protective material in the upper give you the comfort you require.
The collar and tongue of the Stag both feature foam padding which serves the purpose of protecting your feet from the board. But even if you wear these shoes for purposes other than skateboarding, you'll appreciate this soft cushioning as it will keep you comfy and blister free.
Skateboarding shoes have to be made with durable materials, which often results in shoes that are too hot to be worn in summer or for prolonged activity. The Stag solves this problem by incorporating two features. The first is a mesh lining that wicks moisture away from the foot. The second is the perforations on the side of the shoe which let that same moisture escape the shoe, allowing fresh air in.

Subscribe to our Newsletter