Best Denim Shoes To Wear Anywhere Reviewed
In a
Hurry? Editors choice: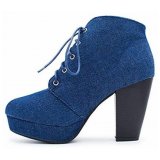 Test Winner: Forever Camille-86

There's nothing better for a casual style than denim. Jeans come in all different colors and styles, ranging from black ripped jeans to light blue mom jeans. When it comes to denim jackets, there is an equal amount of variety. Besides their appearance, this material is also super sturdy, comfortable, and versatile, resulting in a perfect combination of style and practicality.
To help you find the pair that's ideal for you, we've made a list of ten of the best denim shoes. We've taken everybody into consideration – there are options for both men and women, as well as a unisex pair in the mix as well. Their styles range from
flats
to
sneakers
to
high heels
.
Standout Picks
Criteria Used for Evaluation
Style
At first, denim footwear may sound weird or tacky. But in reality, if you know how to dress them up (or down) properly, they are one of the most fashionable types of footwear you can have. For example, a pair of frayed blue heels may appear too odd on their own, but pair them with black pants, a black shirt, and a jean jacket, and watch the magic happen! The same goes for the pairs for men. The jean material adds a different kind of texture to the upper that renders them unique from the countless canvas, faux leather, and suede footwear you usually see. However, they definitely tend to be more eye-catching than most shoes. If you won't want to jump straight to the classic blue color and attract too much attention to yourself, there are more neutral colors to choose from as well, such as black or dark blue, which would keep you inconspicuous while also adding a unique accent to your overall attire.
Color
Jeans come in all kinds of different colors. Sometimes you encounter some unique ones that are white, red, pink, and other bold colors. However, most of the time they are in various shades of blue, as well as black. The color of the material can change your overall look, so it can be worthwhile to look into which shade would fit you best.
If you've ever stopped to wonder why most jeans are blue, we'll have to take a trip into the past to find the answer. As most people know, Levi's is one of the best jeans brands out there. In fact, the founder, Levi Strauss, was the one who made major changes to the fabric for it to become what we know it to be today. Back then, the material was already used for laborers, but he decided to add a twist to the design to improve them. He chose to dye the material with blue dye because this color of dye does not penetrate deep into the fabric and make the color stick completely, which happens with most dyes.
The blue dye they used, on the other hand, only stuck to the outside of the thread so that when they are washed, a bit of dye is washed away along with the thread. Though this may seem like a flaw, as the only effect appears to be fading jeans, it actually allows the material to soften with washings, resulting in the comfortable and worn-in feeling.
Versatility
Nowadays, blue dye isn't used for this prime purpose anymore, though it is a huge advantage. Through time, blue jeans have been synonymous with classic American fashion. They have a casual yet stylish appearance that no other kind of material or clothing item can achieve.
In footwear, of course, making the material softer with washings doesn't really apply. However, blue denim footwear is still commonly found simply because they have that classy look. They are easily recognizable amongst other pairs and are laid-back and unique. As a result, they are probably the go-to type of denim footwear. However, their disadvantage is that their color really makes them pop from the crowd, so some attention will likely be drawn to your feet.
If you want something more low-key, however, there is black denim footwear as well. It's not as obvious that they are made of the jean material, but if seen closely it can still be noticed. The benefit is that you don't attract too much attention to yourself, but you still add a unique accent to your attire. Plus, they are easier to match an outfit with, as their color won't clash with any others. Overall, black is perfect for people who are more inconspicuous or would like a pair that's more versatile.
Size
No matter if you're playing sports, walking, running errands, or just looking nice for some photos, it's crucial to choose the right footwear that keeps you comfortable. This could mean different features depending on the purpose of your shoes – for example, a hiker would prioritize a thick outsole while a ballet dancer needs a flexible upper – but one trait that's universal is the size of the footwear. Without the right size, you can't stay comfortable and truly be present in what you are doing.
What makes sizing so difficult is that many manufacturers produce footwear that runs large or small, meaning they are larger or smaller than they should be according to the size indicated. You then have to do the calculations and order a pair that's not the size your foot really is. Good companies will provide a sizing chart, with which you can compare the measurements of your foot, reducing this issue and the risk of getting the wrong size.
However, many companies do not provide charts. In this case, we recommend you turn to other customers' reviews, where the fit of the footwear is often discussed. You can get a general idea of what might be the best choice for you.
There are some other tips to keep in mind. It is always recommended to leave a bit of room for socks. This is especially true for boots, as during cold days you'll want to be able to wear thick socks without cutting off the circulation in your feet. As well, you'll need room to accommodate for swelling, which will occur naturally as the day goes on. It may seem to be too little of a difference to care about, but especially after a day of sitting, it can determine if you're left comfortable or with aching feet. Also, if the pair has laces or buckles, going up is better than going down. In case they end up too large, you can always tighten them up a bit, but you can't loosen them up if they are too snug.
Brand
When we think about some of the hottest and most luxurious brands in the fashion industry, ones like Prada, Gucci, Louis Vuitton and Jimmy Choo might come to mind. A product is a promise made, but a brand is a promise kept; generation after generation. A brand and its label are a statement of quality, craftsmanship and service found in each of its products.
When assessing the products on our list for "brand", we took into account the quality of its products, its attention to detail and style, its reputation within the fashion industry, its commitment to customer service and its perceived luxuriousness and exclusiveness, to create an overall score for brand equity. Brand equity can loosely be defined as the pricing power a brand has in the marketplace due to each of the aforementioned factors.
So, while a product that scores high on this list may be gorgeous and exclusive, you can also bet it will much pricier, as well. After all, if everyone could afford it, it wouldn't be exclusive or luxurious, would it? Be prepared to look amazing, but feel the pain at the bank, if a product scores high on this metric!
Top 10 Picks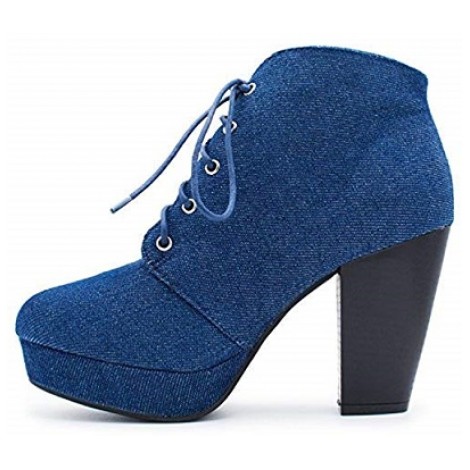 First off is an adorable pair of chunky heels. The uppers are of a dark and rich blue denim that doesn't bring them too much attention but makes them gorgeous with nearly any outfit. If you don't usually like to wear heels, they are the perfect pick. Thanks to the thickness of their heel and the protection over the ankles, they are surprisingly comfortable and can even accommodate walking for long distances (that is, only if you have to... athletic shoes still do the better job, no doubt.) In addition, though they run half a size large, the laces allow them to be tightened or loosened as needed to ensure a better fit. Suitable for both dressing down and dressing up, there's nothing you won't love about this pair.
Balance
The reason why heels can be so uncomfortable is mostly due to your lack of stability when wearing them. Thankfully, that's different with the Camilla-86, because the chunky heel improves stability and keeps you balanced on your feet.
Sizing
The sizing is fairly simple; since they run slightly large, you can order half a size down and expect a good fit. Or, you can stay at your usual size if you'd prefer to have room for socks since the high profile of the heels does allow for no-show socks to be worn.
Cost and Value
Not only are they gorgeous and comfortable, they are fairly cheap, too. Of course, you can't expect them to be of extremely high quality, but they are great for their price. Purchase them with no guilt for your next big even or Friday night out.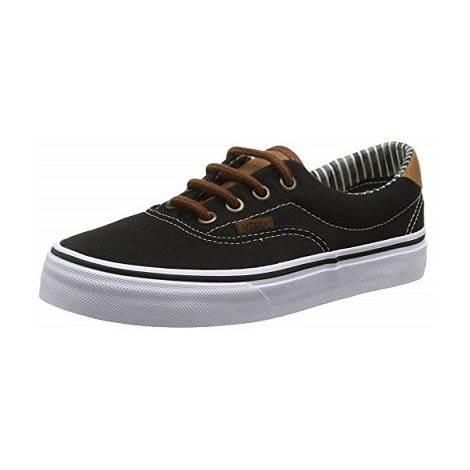 Vans has been one of the most popular shoe and clothing brands in recent years. Though their items are technically designed for skating, their style has become synonymous with street style, and their footwear is perfect for casual everyday wear. This unisex pair, with their stripes and black denim design, has a low-key yet super fashionable look. The stripes are actually on the inside of the shoe, but it can peek out a little to add an extra unique touch. It also has a brown accent, with its laces and Vans tag on the side, as well as a white stitching. Featuring a padded collar and a soft footbed, they're also very comfortable and suitable for everyday street wear. The only downside would be its price, but you can't really have high quality without a high price, after all.
Low-profile
Despite being lace-up, these shoes are low-profile, allowing your ankles to move freely. This way, you can stay agile and comfortable wherever you are.
Durable
These were manufactured with durability in mind. The heel cap is double-stitched, and the outsole is made of sturdy rubber with a waffle tread pattern preventing grip. Wear them every day without worrying about ruining them too soon.
Cost and Value
We'll just get it out of the way - these are the most expensive ones on the list. They aren't as budget-friendly as the typical shoes, but if you've got enough to spend, they're a great choice that blends practicality with comfort and style.

3

. Sketchers BOBS Plush-Powwow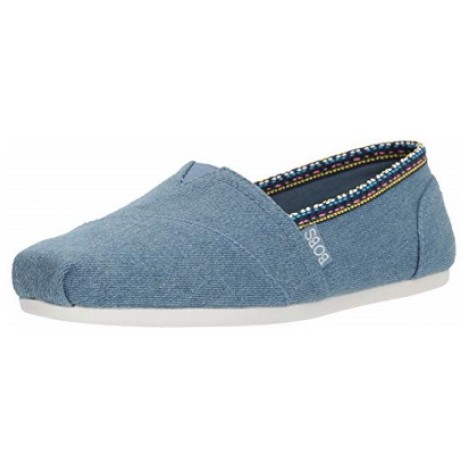 BOBS by Sketchers makes some of the best footwear for spring and summer. This particular one is made of a classy blue denim that can be paired with anything from ripped jeans to shorts to dresses. The slip-on alparagata design allows for easy on and off, saving you the time that would otherwise be spent on tying laces or struggling with straps. With a tucked toe pleated from and diagonal stitched seam details on the front, they are kept simple and minimalist. The trim detailing at the collar, however, adds just the right amount of style to the mix. On top of that, they've got a memory foam cushioning on the insole and a shock-absorbing midsole that makes every step nice and easy despite their thin outsole.
Bohemian Style
Despite being made of blue denim, these have a boho style thanks to their unique stitching that lines the opening of the shoe. It's not too eye-catching, but just enough to bring them out a bit from the crowd.
Comfortable
Flats are a super snug and comfortable type of footwear. These have a flexible upper material that gives you agility when walking around. As well, the material is thin so that sweating is kept to a minimum, keeping the feet feeling fresh and dry.
Cost and Value
Floating in the middle of our price range for this list, consider them of excellent value. They are a simple shoe that can be worn in all types of occasions and paired with all types of outfits while always providing the same satisfaction.

4

. Polo Ralph Lauren Vaughn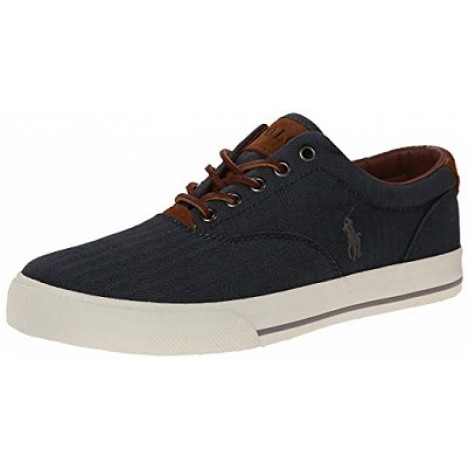 As one of the global leaders in apparel, accessories, and other lifestyle products, Polo Ralph Lauren is a brand that you can count on to provide quality and good taste. Their products have been designed and improved since 1967 to obtain the flair they have today. One look at this pair says it all. These sneakers have a suede trim and a durable twill, yarn-died to create their rich color. The toe is rounded to provide comfort, while the padded insole and treaded rubber outsole with its minimalist stripe detail render them comfortable on any surface, especially the hard concrete of the city. On the side is the polo logo that stamps the brand onto the sneaker.
Insole
The lining is made of cotton to ensure a snug fit. As well, the footbed is padded, providing a subtle cushioning that goes a long way in preventing foot fatigue and aches when you're going about your day.
Handsome Appearance
Though simple, you can't help but be drawn to its clever aesthetic design. Dark denim is contrasted with the brown of its laces and interior, then with the ivory of the heel and the black polo logo on the side. The result is a low-key, unsophisticated, yet handsome appearance that every man needs in his closet.
Cost and Value
This pair is quite pricey, we admit. However, that's to be expected. This is a brand that's been up and running for decades, after all, constantly improving their designs to provide ultimate satisfaction, and the price is nothing compared to the hard work put into creating the pair on your feet.



We get it, you love denim. You've got the jackets and pants... but why not take it to the shoes, too? These wedges have more of a jean look than all our previous choices. They've got a frayed collar and toe, along with a frayed detailing down the front of the foot as well, which truly makes them original. As well, the cork-wrapped wedge is high enough to boost your height but not too high or unstable to make them too impractical. Pair them with a pair of jeans of the same color, or with a maxi dress or skirt for an adorable 70s inspired look. Step out onto the streets with confidence!
Stable
They may be 3 and a half inches with an additional 1-inch of platform, but thanks to the wedge-style heel, they still allow you to stay fairly stable on your feet, making it easier to walk and stand compared to when wearing other styles of heels such as stilettos. However, the width of the heel when looking at it from the back is quite thin, so they're not completely balanced but are as much as can be.
Unique Sole
Despite being stylish heels, they've got an outsole that is athletic-inspired. It adds to the retro appearance while also providing more balance, cushioning, and shock absorption, making them more comfortable as a result.
Cost and Value
The York wedge sandals are on the slightly more expensive end of the range. It may not seem worth the money, but it is for a good reason - Minnetonka is an American brand that's been around since 1946, and their products are all quite expensive because of their great construction and design.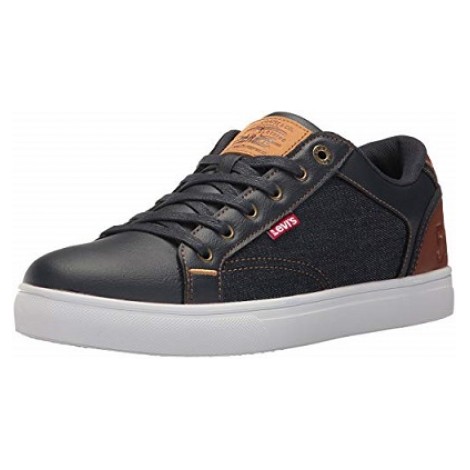 Levi's is perhaps the most well-known jean brands on the globe. They make high-quality jeans, but what's less well-known is that they manufacture fashion sneakers, too. If you're still getting used to the whole denim shoe thing, this next pair is an excellent choice because the material adds an accent that is subtle yet effective. The Men's Jeffrey 501 sneaker boasts a fairly simple, yet sleek, design. With black denim on the sides, a faux leather toe, and brown at the heel, they are modest and inconspicuous but are still noticeable enough for others to know you're a fashionable man. The Levi's logo can be found on the side as well as on the outsole at the heel. Wear them with jeans, joggers, or any other casual attire to stay laid-back yet attractive.
Padded and Cushioned
If you're going to be walking a lot, such as running errands or just on a day to day basis, your footwear has to have the appropriate features. These feature a padded collar and tongue, as well as an insole that is comfortably cushioned. With every step, your foot is supported.
Faux Leather
Though the sides are made from black denim, the toe, tongue, and the back of the foot are made of faux leather. This combination results in a sleek and fashionable appearance that's not overly complicated but is nonetheless attractive.
Cost and Value
For their high-quality look and construction, they are an amazing bargain. Wearing these, you can look handsome when going about your everyday life without paying a ridiculously high price.

7

. Cambridge Select Bootie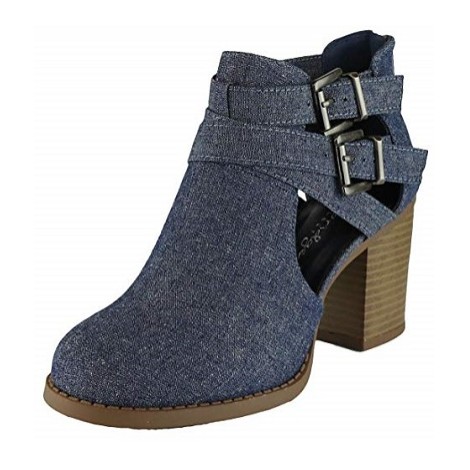 What's fall fashion without a pair of chunky booties? This type of heel/boots goes perfectly with leggings or jeans and a winter coat. This particular pair is of a dark blue shade that can be paired with all kinds of different colors to look great, and are a fairly neutral last touch to any attire. A snug fit is nearly guaranteed thanks to their adjustable buckle straps on the sides (yes, the buckles are more than just decoration!). Plus, they are easy to put on and slip off because of the zipper at the back, saving you time and effort before going out the door. If you like this pair, you'll be glad to hear that the model is offered in other colors and materials as well. Some of the colors include camel, pink, burgundy, and khaki, all of which are perfect additions to your autumn fashion palette.
Unique Design
Chunky heels are already a step up from regular thin heels, but if they are beginning to bore you too, you can always turn to this pair. With a cut-out and buckles design on the sides, they switch up the look and give you something different to work with.
Walk Comfortably
With a chunky heel that measures approximately 3 inches, you are sure to keep your balance and stay stable with a pair of these. What's more, their non-skid sole reduces the risk of slipping on wet floors, and the lightly padded footbed keeps your every step cushioned.
Cost and Value
These are fairly affordable. Their comfort means they can be worn often without risking foot fatigue or pain, so one purchase is sure to bring you maximum satisfaction. Just keep in mind when ordering that they are slightly narrow in size, and may not be ideal for those with wide feet.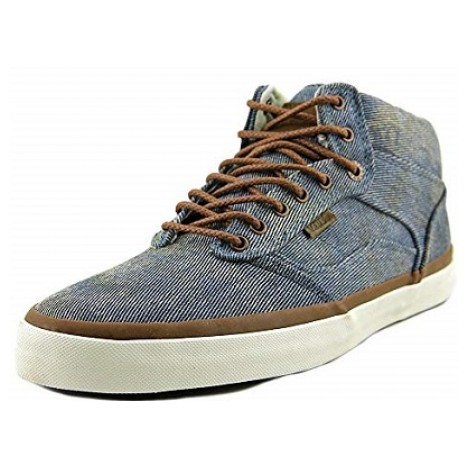 Vans is such a great and trendy brand that we can't just have their products on the list once. This second pair differs from the first in the fact that they are high top, so more protection is given to the ankles. As well, they are warmer and more suitable for colder weather, making them the perfect pick for autumn. With the classic Vans style waffle outsole, the risk of slipping is minimized. The V shape of at the back of the ankle ensures you can move around without feeling too constrained regardless of the high top. All in all, they are the ideal everyday street footwear.
Rugged Appearance
The acid wash gives the denim on the uppers a more classy look. Combined with the simple brown laces and line around the outsole, they have a casual and almost rugged air about them. They give you a laid-back, yet still put-together look.
Laces
Not only does the color of the laces add to their style, they add to their practicality, too. The lacing system was designed to help them stay tied in place with frequent walking or moving around, so you won't have to worry about bending down all the time to fix them.
Cost and Value
Falling in the middle of the price spectrum, we think they are of a great value. Their laid-back style may not be suitable for professional or semi-formal occasions, but it's perfect for a laid-back and casual look for everyday occasions. And after all, those are the occasions that come up more often.

9

. Forever Link Heeled Booties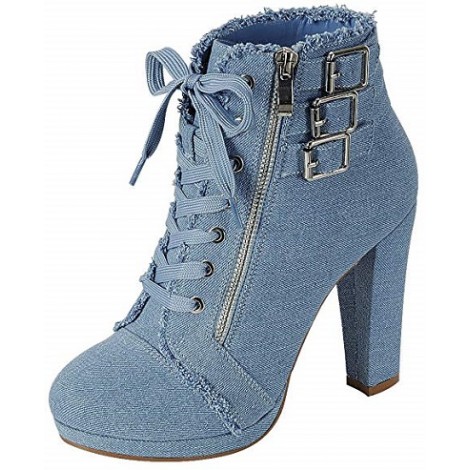 Is there anything that screams modern style more than these heels right here? They've got an upper and laces made from pale blue denim, as well as three silver buckles at the side for decoration. Even the heel is covered in the material, which ensures a look of cohesion. The result is a clean, simple, yet chic high heel that can be paired with neutral colored outfits - like a black dress or a white blouse - as an eye-catching finishing touch, or to a more vibrant attire for a more outgoing style. They are quite high, so it's not easy or comfortable to walk in them for long periods of time, but at the very least the heel is chunky to provide more stability than thin heels.
Zipper Closure
Don't let the laces fool you; these are actually very easy to slip on. Thanks to the zipper on the side, you can simply unzip, slip in, zip up, and be all good to go. The convenience ensures you take less time getting ready so that you can have more time to party.
Versatile
Pair them with all kinds of different clothes, and they will still add the same touch of originality to the overall attire. Some examples are with casual black pants, leggings, or a bright-colored dress for a fun outfit, but be creative and experiment for yourself!
Cost and Value
You won't believe it, but these are one of the cheapest pairs our list. Not only do you get to look good, you can feel good knowing you haven't just sacrificed this month's food money for a pair of heels... win-win, right?

10

. Nike SB Dunk Low Trd Qs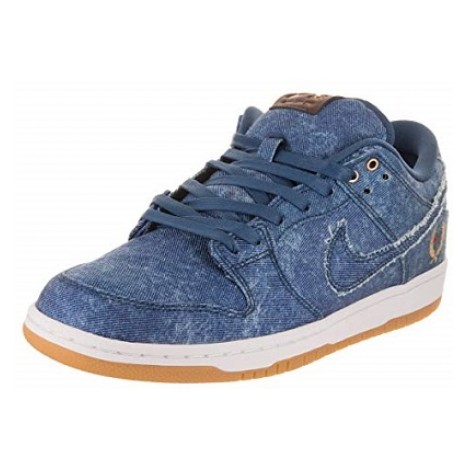 To end the list is a pair of skate shoes by Nike. If you're into the 2000's look and want to go all out with jean, these are the ones to choose. With their blue color, they are classy yet eye-catching, and will definitely make you stand out in the crowd. The Nike logo on the side is also of a frayed blue denim. The Nike Zoom unit is used in the heel of the shoe for responsive cushioning, absorbing the impact of every landing. For skating as well as for street wear, pick these skate shoes by Nike.
Cushioning
Full-length EVA is used in the midsole to cushion the impact of every step. However, thanks to their light-weight, they also keep the shoe light and avoid bulkiness.
Outsole
Not only is the outsole made of durable rubber, it has a pivot circle that allows for multi-directional traction. stay stable when skating, or just in daily life.
Cost and Value
We won't lie, these are quite expensive. Their price tag might make you hesitate on your purchase. We won't pressure, but you do have to consider the fact that they are by the brand Nike, a renown sports apparel brand, and that a good shoe rarely comes at a low cost.

Subscribe to our Newsletter