Best Unique Shoes & Unusual Heels Reviewed
In a Hurry? Editors choice: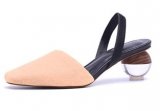 Test Winner: Fericzot Spherical

Necessary to protect our (somewhat) delicate feet from the elements and other hazards, footwear has been part of human history for nearly as far back as we can trace it. But long gone are those times, the days where the primary directive for shoes was a simple command: be functional. For centuries now, shoes have been an expression of self and art; a statement to the world. And no matter what that statement is, there is more than likely a shoe that can accommodate it.

Yet today, the yearning to be fashionably free is often dampened by mainstream fashion trends that spawn hundreds of cookie-cutter shoe styles. In a world with this many options, it shouldn't be difficult to find something that's not like the rest, right? Unfortunately, reality begs to differ, which is why we've compiled a list of some of the most unique pairs on the market.
Standout Picks
Criteria Used for Evaluation
Materials
As a shoe material, leather is so ubiquitous that there's probably more than one pair of leather shoes in your closet (unless you're vegan, of course). Genuine leather isn't expensive by default; instead, the time it takes to cure and the source of the leather is what determines the price point. The most common leather shoes are made of either cow, sheep, pig, and — surprisingly — goat. In that order.
Cow
Cowhide accounts for approximately 65% of all leather goods, making it the most common shoe material of all. This is partially because of its availability due to industry by-product (meat and dairy), and partially because of its natural density and durability. Regardless of the treatment of the leather, however, such as the processes that turn full-grain into suede, cowhide is bereft of uniqueness.
Sheep
Second in broadest use is sheepskin (or lambskin), making up 15% of all leather goods. Sheepskin is most often found in the lining of shoes as it is soft, though some shoes feature uppers made of it as well. The popularity of lambskin leather is related to its naturally insulating, moisture-wicking, and generally hypoallergenic properties. Sheepskin is a sustainable resource, a fact that also contributes to its popularity as a shoe material.
Pig
Pigskin is the third-most popular leather material available, capturing roughly 11% of the leather goods market. Shoes made with pig leather are especially durable, owed in part to the natural density and water-resistance of pigskin. Due to its thinness, however, it is primarily used in shoe linings rather than uppers.
Breathability
In the shoe world, the terms 'fabric' and 'textile' are used interchangeably to describe shoe uppers made with certain materials. Textiles include knit, woven, and non-woven materials of any origin (synthetic or natural).
Canvas
Canvas, which is simply woven cotton (modernly), is one of the traditional materials shoes are made out of. What makes canvas popular is that it is one of the sturdiest cotton weaves available, created to be dense and durable and that it can be woven tightly enough to be waterproof in some cases. It's also easy to wash and care for and is cheap. Canvas is found mostly on sneakers and athletic shoes, but any kind of shoe can be made of it these days.
Nylon
Being the world's first fully synthetic textile makes nylon a standard choice for shoemaking. Whether woven or knitted, nylon is found in shoes across the style spectrum, from slip-ons to flip-flops. Nylon became popular amongst shoemakers once it was known not only to be a strong and breathable fabric but to also weigh much less than prior materials. Eventually, nylon gave way to the other synthetic fabrics we see shoes commonly built from today.
Denim
Still used more for clothing than anything else, denim is simply a woven fabric with an extra-sturdy dual stitching. Though the durability of denim is hard to match, it is a less common shoe material. What denim has in toughness it lacks in give and flexibility, which is what contributes to its dearth of popularity. Nevertheless, as denim cements itself further into the collective fashion conscious, you can expect to see more shoes made of it.
Style
Sometimes, the unique thing about a shoe isn't its material or some kind of lavish adornment. Sometimes, the uniqueness of a pair of shoes is found in strange and uncommonly patterned uppers. And as is expected, there are some shoe patterns that are far more prevalent than others.
Solid
The most common and most basic of all shoe upper patterns are solids. To be clear, a solid is a single color; however, Colorblocking is seen frequently as well when viewing shoes. Colorblocking is when two or more solid shades are worn together.
Floral
Shoes can have a floral print through several methods. The print, or pattern, can be cut directly into the upper of the shoe, similar to the Mona Flying Oxford that we reviewed. Or, the fabric used for the shoe can be printed or dyed into a floral pattern. The 20th century made floral print footwear popular; now you can toss a rock into a shoe aisle and hit a flower-patterned or flower-adorned shoe.
Animal
One of the most prominent patterns to ever grace fashion, animal prints can be found on pumps, sandals, boots — everywhere. Having cycled through highs and lows, leopard print is the most used animal pattern for shoes and reigns supreme. Nevertheless, snakeskin (and other reptile skin), cheetah print, zebra print, and giraffe print are also seen often. Lesser known animal prints can be seen as a daring alternative to the everywhereness of leopard print.
Comfort
Let's face it. Any pair of shoes that you intend to purchase are going to range from that super comfy pair you use daily, to some that perhaps have better style but should be worn for sit down dinners or events with little walking around. So when we picked our list of unique shoes, we factored in both kinds of footwear, from those you can walk around in for hours, to those where their style and particular appeal will get heads turning, but perhaps not made for standing or walking a few miles.
Flats are usually the most comfortable, whether these be a sneaker style shoe, oxford, or ballet flat. The stability of a flat is what makes it more comfortable. With little raise in the heel, you can lessen forefoot pressure and comfortably walk throughout the day. Kitten heels, or chunky heels are second in line for comfort in terms of height, as a small raise in height will still allow for better stability than sky scraper heels. Chunky heels usually range from a couple inches to four inches, but provide a wider base creating less wobble. Stiletto heels that raise about 3.5 inches usually are the least stable, but they certain pack an appeal punch when worn!
In terms of toe shape, this can also factor into your comfort depending on the shape of your feet. The least comfortable kinds of toe shapes are pointed toes, as sometimes these don't have the width we'd expect from other toe shapes, and can pinch the foot. An almond shaped toe box will have a little more wiggle room for toes, while rounded or square toes provide the most width to help with creating room for feet or swelling. If you do choose for a toe shape design that could pinch your feet, opt for a half or full size up to create more room.
Versatility
Many specially designed shoes that have some sort of unique or flashy element to them may or may not be versatile for casual, formal, or work attire. We've included options on our list that are meant to be show stoppers for that pair of statement shoes, which will turn heads and gather compliments when worn. But, we also wanted to include other options which could be paired with ensembles for work without being over the top, or even some options that will spruce up a casual outfit for a polished look.
When you're looking for your next pair, consider how you will be using your unique shoes. If you want something flashy, it's likely best suited to formal occasions, or events where wild attire and taboo outfits are expected and desired. However, there are options out there which have become quite trendy, like a pair of heels which utilize some structural or architectural element in the design of the heel shape. Things like an angled heel, spherical, or even more obscure shapes like tapered metal or cylinders are becoming more trendy in fashion.
If having a flashy kind of heel isn't quite your thing, other elements such as color, patterns, or textures can also create a unique look, that can be quite versatile. Shoes that combine bold color patterns can turn heads, but still be paired with neutral attire for a work appropriate look. Others that utilize hair or some kind of textural element create a more sophisticated look without going over the top, and can be worn both for casual or work events. It's all up to you just how you want to exemplify your fashion sense, and unique style!
Top 10 Picks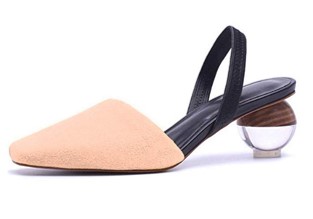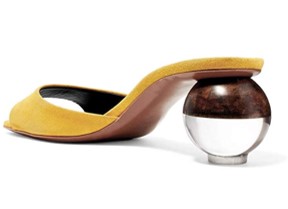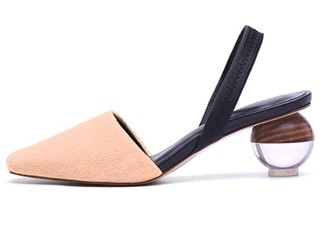 Looking for that glass slipper you can wear in everyday life? The Fericzot Spherical is a unique heel that combines a structural element in the heel to give it a flashier appeal, while keeping a clean, simple upper suitable for work attire. With options available as a slide on mule, or a slingback for added security, it's one pair that will have onlookers taking a second glance. What makes this pair unique is the large spherical heel, created from wood and acrylic, that creates not just a stylish statement, but also a rather stable little heel!
Uppers of the Fericzot Spherical come in a variety of hues and materials but are synthetic in make. They range from a softer textile toe, to clear PVC, in hues like yellow, blues, and neutral tones as well. You can choose from either a slip-on mule with open heel, or for a more secure fit, select options with a slingback heel strap to help settle you inside the shoe when walking around. Toe box on the uppers are square and allow for a little more room than usual.
The heel of this pair is what really give is a unique appeal. Crafted from hand-carved wood and paired with sturdy acrylic, the heel is a large spherical ball of both elements that creates a sophisticated look. It's lower heel height also creates for better stability and comfort when walking or standing. A lightly padded footbed adds to the cushioning for better comfort, and its airy open design makes it quite breathable. A great option for business settings or casual, it will add a pop of sophistication to whatever outfit you pull together.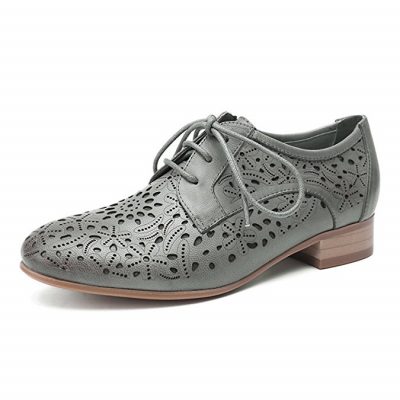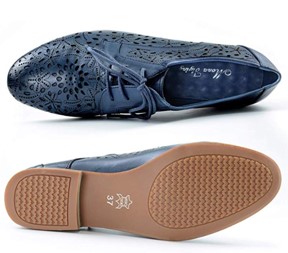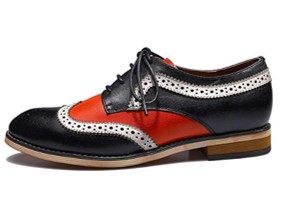 Okay, we know: by itself, an oxford-style shoe isn't unique. However, there are few that are like the Oxford from Mona Flying. These shoes are a vibrant nickel grey and feature a 1.1" stacked heel, an almond-shaped toe, and three-eyelet lacing. The sole of the Mona Flying Oxford is textured for slip resistance and is made of genuine rubber. Additionally, the Mona Flying Oxford is handmade — no two pairs will be exactly the same.
The laser-cut brogue design is where the appeal lies for the Mona Flying Oxford. Though traditionally more broguing is considered to make a shoe look less formal, the Oxford defies convention and manages to retain an air of vintage formality. The broguing spans across the upper and sides of the shoe and, interspersed with light stitching, creates an uncommon floral pattern.
Genuine sheepskin leather is used for the first layer of the Oxford's upper, lining and insole, giving these shoes a supple and smooth feeling. The other layers of leather aren't sheepskin but they're still genuine and will mold to create the ideal fit over time. Though that doesn't mean that you'll have to wait for these shoes to feel good; they're comfortable right out of the box. Plus, the Mona Flying Oxford is stitched end-to-end for durability.
For a handmade, genuine leather shoe, the Mona Flying Oxford is moderately priced and fits well into a budget with a little wiggle room. If you are looking for a formal shoe that won't just blend in with everyone else's, these are the shoes for you.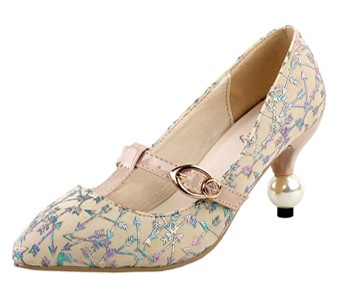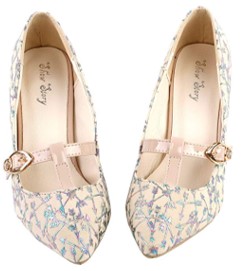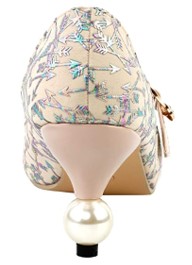 One of the newer trends in high heels is a design element to the heel which utilizes a unique architectural element, whether it be an off-angle, or something a bit more flashy. What caught our eye with this pair, is how the heel of the shoe is a large white pearl! Not only that, but uppers are decorated with shimmering arrows, multicolored in hue against a neutral tan background. It's a pair that brings some very unique elements to your footwear without appearing gaudy or too over the top, making it a great option for work, evening events, or just an ensemble statement boost!
Uppers of the Pearl Heel are synthetic, but lightweight and breathable so feet will stay cool during wear. A slightly pointed toe box also has a T-strap buckle closure, which helps provide a bit of adjustability for fit, and better security to keep the foot inside the shoe when walking. Iridescent arrows are placed throughout the uppers giving it a shimmering quality and compliment the neutral beige background of the upper material. The gold T-strap buckle adds a little more sophistication, but what really brings this shoe to life is the unique pearl heel at the back.
With its lower kitten heel height, the Pearl Heel is quite comfortable for wearing during the day, even for longer time periods and walking. This also allows better stability, letting you flaunt your new pair for onlookers to appreciate. Inside, you'll find a padded insole for added comfort, and at the base is a synthetic sole with a bit of patterned tread for traction and grip. It's a pair of shoes that can be worn with many kinds of wardrobe pieces from business like, to flashy cocktail dresses, without stealing the spotlight from your look.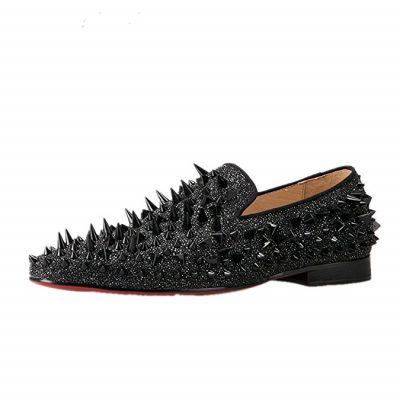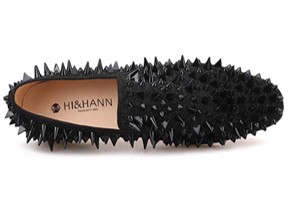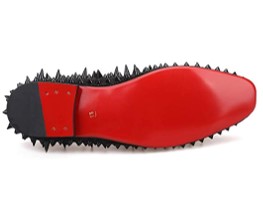 Loafers, too, are a pretty common shoe style. They weren't always considered fashionable; in the not too distant past, loafers were bourgeoisie yet boring. A quintessential corporate office shoe. The Rivet loafer from HI&HANN throws all of those stereotypes out of the window. Like the Mona Flying Oxford, the Rivet is a handmade shoe; each pair is made to order. Also, these loafers come in three colors — black, red, and a grey-gold multi.
The HI&HANN Rivet is where prep meets punk and punk mostly wins. The Nubuck suede upper of these loafers have a sparkly texture that is amplified by the spiky studs decorating it. Through varying the side and shape of the studs, the Rivet has a wild, untamed look that's sure to turn heads. The collar of the Rivet features smooth and solid contrast stitching, while the sole is painted red in the style of high-fashion designers like Christian Louboutin.
Most genuine leather shoes are made just with leather from cows, but not the HI&HANN Rivet. Instead, these loafers are made with a pigskin (pig leather) lining, which is just as durable but softer. The pigskin lining is quilted and designed to keep feet dry, while the lightly padded footbed provides comfort.
There's no getting around it: the HI&HANN Rivet is a fairly expensive shoe. However, it's the perfect statement shoe to give any outfit a dose of edginess. Not to mention that it uses two types of leather, and is handmade. The HI&HANN Rivet loafer is a splurge purchase that can't steer you wrong.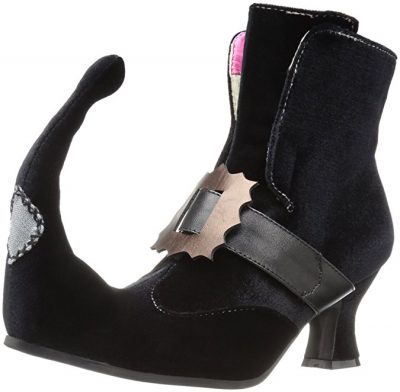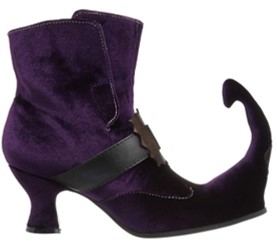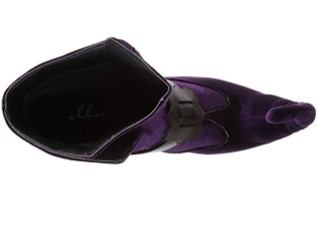 Are you the type of person that wishes Halloween were every day? Or maybe you're just feeling witchy in general? Either way, the Irina from Ellie is likely the ideal match for you. The Ellie Irina is a slip-on ankle boot with a slightly elasticized opening. Originally intended to be a costume shoe, the Irina is available in black and a plush royal purple.
From the retro hourglass-style heel to the foam copper-tone buckle, the Irina sets a gothic mood and tone — which is then somewhat curtailed by the bubblegum pink-topped shoe lining. Still, these boots feature a stereotypically witchy deeply curved toe and 2.5" heel. And with being made primarily of velvet, the Ellie Irina becomes a soft boot inside and out.
A lightly padded insole, under-3" heel, and flexible ankle shaft make the Ellie Irina an ankle boot that is easy on your feet. The Irina has a roomy toe box, despite its upward curl, and the velvet uppers allow for wiggle and stretch. In comfort, the Irina is comparable to CLARKS brand shoes.
At half the price of the Mona Flying Oxford, the Ellie Irina ankle boot is as affordable as it is unusual. The Irina is versatile enough to be both a costume and fashion choice, so it's worth stretching your budget for if it's still more than preferred. And no matter the event, you'll bring the creepy with you while wearing these boots.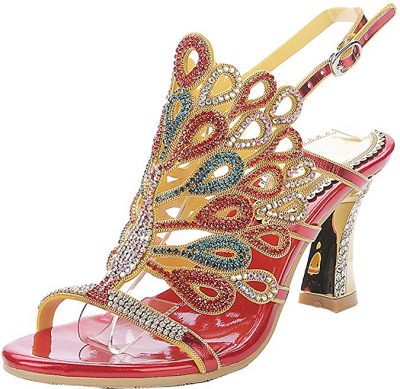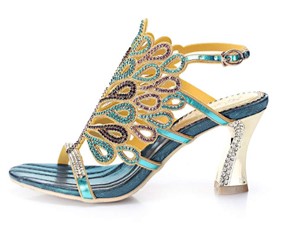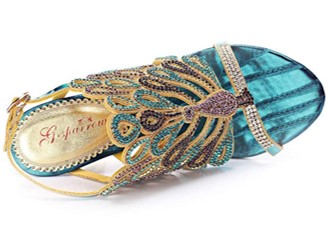 Making a striking entrance has never been easier with the Abby Peacock sandal. Just like its namesake, the Peacock from Abby Footwear is a bright and boisterous shoe. These sandals feature soft, suede lining underneath the straps alongside a tapered, medium-thick 3" heel. The Peacock also comes in five hues, including marginally subdued black and white versions.
From heel to toe, the Abby Peacock is loaded with shiny, multicolor rhinestones. Three rows of stones across the toe meet to create the pattern of a feathery peacock tail (hence the shoe name!) up the vamp of the shoe. Dual rows of rhinestones also adorn both sides of the heel, which also happens to have a glamorous, mirror-like finish.
It's common for rhinestone-laden shoes to come with a few extras in the bag, just in case some fall off. For the Abby Peacock, extra rhinestones of all available colors do come packaged with the shoe — that's just not all. Also packaged with the Peacock are gel foot support pads, replacement heel caps, and a small complimentary hand mirror.
Though significantly cheaper than the HI&HANN Rivet loafer, the Abby Peacock sandal is still a bit of a stretch on the wallet. The extra goodies that ship along with the Peacock may help offset that further. However, if you are in need of a party shoe filled with personality, the Abby Peacock fits the bill.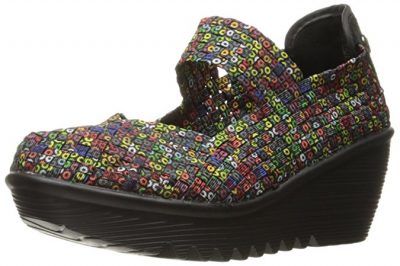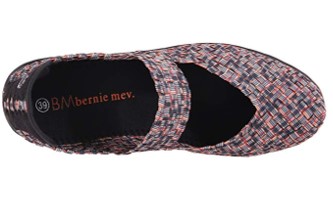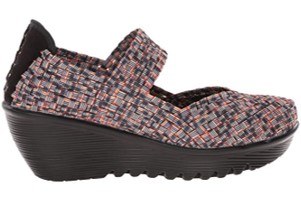 While another wedge heel may not be remarkable on its own, the Lulia from Bernie Mev is a fun, noteworthy shoe that is almost guaranteed to spark conversation. The Lulia is a canvas, Mary Jane-style pump with a prominent basketweave pattern. The platform heel clocks in at an easy-to-wear 2.25". Also, 'Dazzle' is the name of this version of the Bernie Mev Lulia; it's very apt.
A measure of the appeal of the Lulia comes from the basketweave upper, made all the more visible with an overall pattern of small, rainbow-hued circles. The rainbow pattern connects at the heel, threading through solid black for a lively and significant 'pop.' Furthermore, the 'jagged' texture of the synthetic sole gives the Lulia a sprinkling of modern edginess.
Right out of the box, the Bernie Mev Lulia wedge is comfortable. The handwoven fabric used for the upper is stretchy and elasticized for a fit that instantly molds to the contours of your foot. The woven upper is also lined with Ultrasuede, a durable and breathable synthetic suede. Additionally, the insole is padded with plush memory foam for enhanced cushioning and comfort.
The Lulia wedge pump occupies the space between cheap and inexpensive. Flexible overall, these wedges bring with it a characteristic style as well as a custom shoe fit and feel. If you are looking for a bright, eye-catching pump with the cushioning of a sneaker, you need search no further than the Bernie Mev Lulia.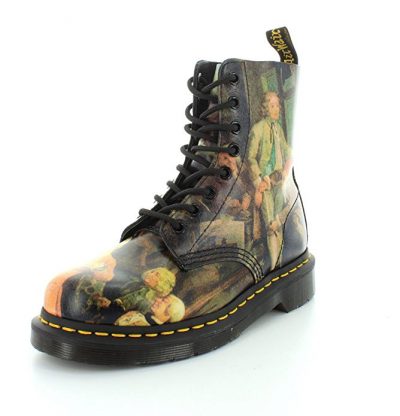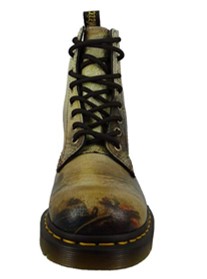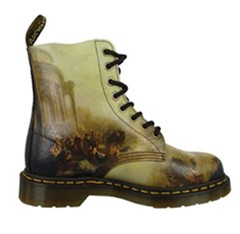 Doc Martens boots are a staple shoe in some communities and the Pascal is one of Dr. Martens classic boot silhouettes. Reminiscent of an afternoon spent at an art museum, the Pascal boot is familiar with a touch of unusualness. You'll be sure to garner attention from curious onlookers and Art History majors alike.
What separates the Pascal from even other Doc boots is the intricately detailed artwork on the upper. For this boot, in particular, the upper is printed with multiple parts of the series of paintings by William Hogarth was known as 'A Rake's Progress.' The artwork is printed on Softy T leather, a waxy, full-grain leather used by Dr. Martens to create a soft and smooth feel. Then, the Pascal boot is finished by hand.
Another feature that makes Doc Martens boots generally well-loved is the durable Goodyear welting technique that is used to stitch the boot together. Then, further solidifying the Pascal as a long-wearing shoe, the sole — flexible and slip-resistant — is heat-sealed. Also, a pull-tab is stitched onto the heel for easy on and off wear.
Marginally less expensive than the HI&HANN Rivet loafer, Dr. Martens Pascal is an expensive boot. However, it's a shoe that you can expect to have for years. Even once the hand-painted finishes begin to wear away, the Pascal is guaranteed to show off the history of a well-worn boot.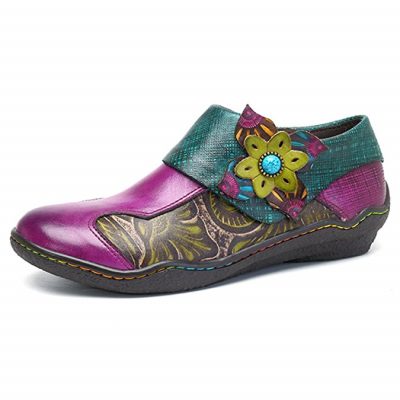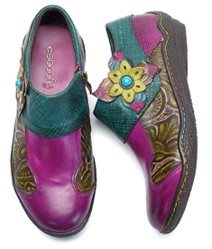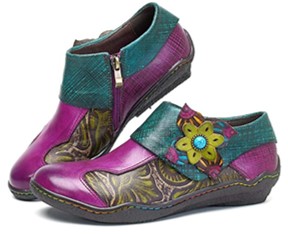 The Werty from Socofy is the true definition of amalgamation. Though advertised as an Oxford, the Werty is more in the shape of a shootie and lines right up with the ankles. Smooth genuine leather uppers and a treaded rubber sole are the only features the Socofy Werty has in common with other shoes. It's only available in one "color", 'Claret', and has a sub-1" wedge heel for subtle lift. Intended to be a marriage of modern and vintage, the Socofy Werty is a shoe with a lot going on.
What makes the Socofy Werty an especially unique shoe is the unusual pattern mixing that comprises the upper. Vivid purple cross-hatching makes up the toe, vamp, and rear sides of the shoe, while the sides of the forefront have a yellowy, floral-esque print. Then, overlaying the vamp is a teal crosshatch-patterned leather, folded like a slouched-over boot. Finally, a solid green flower with multicolor leaves adorns the side of the Werty.
Adding to the novelty of the Socofy Werty are its unconventional detailing. For example, the yellow floral print portion of the upper is stitched to look as though it is an inset of the purple pattern. The center of the shoe features a turquoise-colored bead, plus the stitching along the outsole is rainbow-coloured. Finally, the insole is a matching, hand-painted purple.
Equal in price to the Abby Peacock, the Socofy Werty isn't a completely budget-busting shoe, but it may stretch it a bit. A personalized touch through a handmade construction, like many of the other shoes in this guide, makes the Werty is a solid and sturdy shoe. On top of being the coolest, brightest pair of oxford-shooties you could ever own.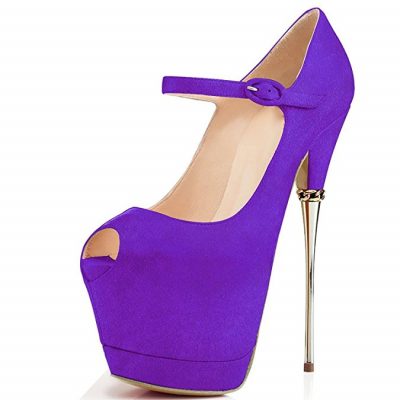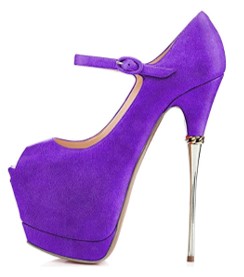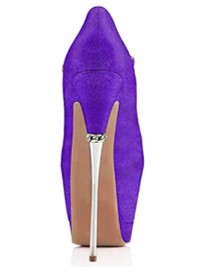 The Sky High from FSJ is not the type of high heel you see every day. While the average stiletto tops out at 5", the FSJ Sky High has a whopping 6.5" heel. Thus making 'Sky High' an apt name for these heels. In addition to its unusual height, these shoes are handmade and can be customized similarly to the Mona Flying Oxford.
The FSJ Sky High is the true definition of a stiletto in both rise and shape. The lower half of the Sky High heel is metal and tapers to a thin, neat point that is then capped with non-slip rubber soling. A small chain-link charm delineates the metal portion of the heel from the rest of it. Luckily, the impact of these skyscraper heels is blunted by a 2" platform; that gives the Sky High a wearability closer to a standard 4" heel without sacrificing the look.
Available in 11 colors — including an extra-sexy leopard print — the FSJ Sky High has all the makings of a trendy shoe. The upper for the Sky High is either faux suede or leather, depending on shade, though all pairs retain the soft, nude lining. A small peep-toe boosts sexiness, while an adjustable ankle strap gives the shoe a playful Mary Jane-style touch.
Similar in cost to the Abby Peacock sandal, the FSJ Sky High stiletto will also be a budget stretcher for some. Nevertheless, for both its sexy style and quality handcrafting, the Sky High is a unique shoe to add to your wardrobe.

Subscribe to our Newsletter