Best Hiking Pants for Men Reviewed
In a Hurry? Editors choice:
Test Winner: 5.11 Taclite Pro

Most people overlook the importance of wearing the right pair of hiking pants. The pants are also an essential part of your gear alongside your
hiking sticks
or
trekking poles
. Hiking pants offer you protection, and comfort, among other benefits. A good pair will also give you the support you need to make the most out of the outdoor activities you choose to pursue. They are also versatile to provide you with the freedom to move as you please.
Thanks to the advancements in fabric knitting technologies, more durable, lighter weight and super absorbent cloth have dominated the market, leaving us with more quality options to choose from. You can also get a pair for different seasons and select from a variety of available styles. Here we will cover the best hiking pants for men in depth, so you can make the right choice for you.
Standout Picks
Criteria Used for Evaluation
Fit
The perfect fit will not restrict your mobility
When picking out a size, you have to try to strike a balance between comfort and agility. If you are used to wearing tight-fitting clothing, you may want to reconsider your preferences for this attire. The same applies to people who prefer wearing baggy types of clothing. Tight clothes will restrict your movement, and your crotch area will feel somewhat constricted.
A tight-fitting pair will cause chaffing. The worst part is that the glutes, crotch, and knee areas will wear out quicker compared to a regular sized option. On the other hand, baggy clothing also has its disadvantages. If it's too loose, you may end up struggling just to keep it on. At times, the attire will also feel heavy whenever there's some wind.
Before making your order, make sure you first take your measurements. Once you do, check if the brand has any sizing guidelines or charts for buyers. Comparing their measuring standards to yours will help you take the guesswork out of the process. Remember, the two areas that you need to take seriously are the knee and crotch areas. You can always order a size up if you find the fitting a little too small for your liking.
The size you opt for will also depend on the season that you are planning your hike. If you are planning a summer hike, a slightly bigger option is preferable: as long as it will not flap in the wind. Since its hotter during the season, having room in your attire will help add some more ventilation. Off course, this also depends on the material that you have purchased. Winter hikes are the opposite since a snug kind of fit will help keep you warmer.
Materials
Excellent materials make things easier for you
The worst fabric you could choose to wear is denim. You also want to avoid any cotton, especially if you suspect that the weather is going to be hot. Cotton has water retention properties. The fact that it can hold on to water means that it can easily hold on to your sweat. So, you will continuously feel sweaty and uncomfortable. It gets worse once the weather changes and you end up feeling excessively chilly.
If you are new to hiking, make sure you always opt for clothes that have synthetic materials. A few examples of such materials include merino wool, polyester, and nylon. Polyester is breathable, so you will always feel cool and comfortable. Merino will help keep you dry because of its moisture wicking properties.
Another bonus is that it also prevents odor. Meaning, you could sweat all day, but the chances of you producing any odor will be almost non-existent. That is why most people use clothes with the fabric as base layer clothing. Also, make sure that you choose an inner garment that has quick-drying materials.
Features
Identify what you want in your attire
Pockets are essential because they not only improve on clothing aesthetics, but they help store valuables. You should make sure that your selection has a minimum of two pockets. Some brands offer up to twelve pockets or more. They come in handy when you want to keep your phone away but within easily accessible proximity. Other people keep snacks in their pockets, wallets, and pocketknives, among other things.
You should remember that not all pockets are secure. It depends on the brand's design and whether zippers and similar controls can secure it. The next common feature is the elastic waistbands. They are so convenient because of their flexible nature. However, not everyone is a fan. In case you would prefer a different type of waistband, make sure you check out what the model you want uses first before you buy it.
Other features you should keep an eye out for include color, attached belts, and convertibility, design, versatility, and length, to mention a few. Always get as much information on the product before spending your hard-earned money. There are also some options in the market that have bug resistant properties, which could come in handy for people planning to head into a forest or jungle-like settings.
Comfort
You can only have a good time if you are comfortable
As previously mentioned, there is no way you are going to feel comfortable if you are continuously sweating and burning up from the heat. Always select breathable attire so that you can be relaxed enough to enjoy the hike. Some apparels have ventilation zips, which help increase the airflow in such areas.
Your clothes should also be in line with the weather conditions of the location that you are going to hike. Wear lighter clothes if the place is hot and select compatible clothing for colder climates as well. Your luggage should also be of reasonable weight; a heavy bag will have you tiring out quicker and even finish the hike early for you. Make sure you also wear the appropriate shoes for the trek: to avoid getting blisters or injuring yourself.
Water Resistance
Seeing, as hiking is an outdoor activity, it makes sense that people should try to shield themselves from the elements. Regardless of the season or weather, you cannot fail to get a solution or two in terms of clothing. The only thing that should come in between you and your plans are dangerous weather situations that are far beyond your control.
1. Water resistance
Some of the attires have water-resistant materials. Their waterproof nature ensures that you will be dry regardless of any sudden weather changes. Some have durable water repellant coating. Such models can easily shield you against light rains. Most of them are fast drying, offering a lot of conveniences. These kinds of models are definitely worth investing in.
2. UPF
Some garments have Ultraviolet Protection Factor ratings. They help shield wearers from direct impact/contact with harmful UV rays. Not all gears have this rating; however, it's highly recommended for people who plan to hike in sunny areas such as locations close to the equator.
3. Windproof
If you're going to hilly and windy places, the logical thing to do is to get windproof clothing. You don't want the winds and cold getting to you. Make sure you purchase attire that can hold their own no matter the weather.
10 Top Hiking Pants for Men


Both outdoors enthusiasts and well-known survivalists adore this prAna alternative. This is one of the best hiking pants on the market, thanks to its excellent comfort and versatility. The best thing about prAna stretches is that you can wear them anywhere you please, even on semi-formal occasions. They have a simple design that doesn't feature too much decorative hemming like other apparel.
These men's hiking pants were designed with all the technical specifications for climbing as well as backpacking. The pair features dual access zipper cargo pockets, a gusseted crotch for a broad range of motion and lest we forget that perfect semi-slim fit. They also have a handy low-profile adjuster on the right of the top button.
Their fabric is stretchy and water resistant with a soft-shell like look to them, making them outlast many similar products in the market. The only drawback to this is that you will feel a bit warmer when you wear them in summer. This capability is a decent trade-off, especially when you consider they feature DWR coating, which makes them sturdier and better able to tide you through inclement weather.
For hotter climbs, you can convert your prAna hiking pants slacks to shorts with zipper features. Their trim cut and straight leg version are a good fit for guys who are fashion forward. You will also be pleased with the wide selection of colors available; though one can never go wrong with the standard khaki and charcoal that are quite popular with the outdoor crowd.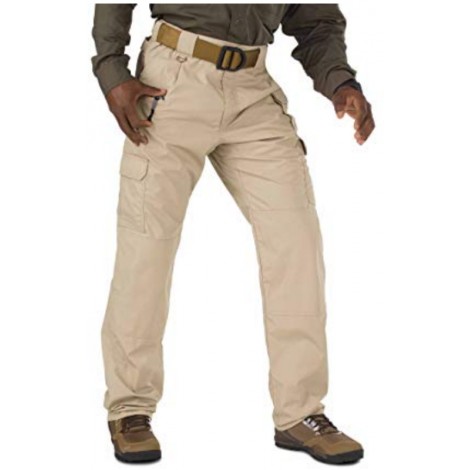 Made out of a 65% - 35% polyester-cotton fabric blend, these tactical hiking pants are durable yet lightweight. They feature a functional design that is ideal for both outdoors and recreational activities. The pair is also an excellent choice for people that work in such conditions. They also come in a variety of colors for those who like to express themselves boldly even when they're outdoors.
The Teflon fabric blend will keep you protected from dirt, stains, and spills, making them ideal for everyday activities. Instead of wearing out and fading, they look just as good as new every time you take them out for a spin.
They also feature double-reinforced knees and seat to allow you to sit, kneel, bend, or crawl through any terrain with comfort and added ease. You will also have plenty of storage thanks to their multiple pockets. They are tactical sized pockets and have YKK zippers for securely storing your valuables.
The Taclite pair feature a triple stitch on the high-stress point for extra reinforcement. This feature means you can even parkour in them if you wanted, without worrying about your slacks coming undone. They are also very comfortable and warm; the only drawback is that you won't feel as cozy in hot weather.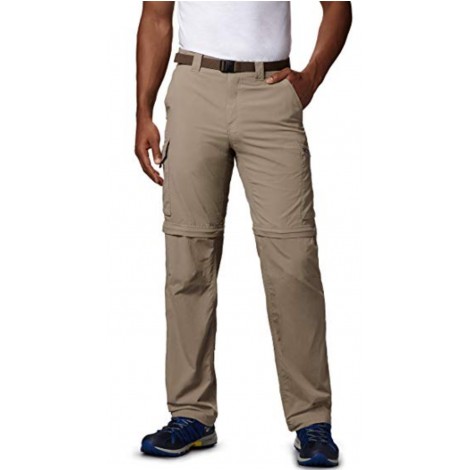 The Columbia Men's Silver Ridge hiking pants is for guys who like to keep it casual regardless of whether they are traveling or outdoors. Don't let the price tag fool you; their performance is exceptional. For instance, their breathability makes them wick moisture at a fast rate and use up less time in the hanging line. This feature is thanks to the 100% nylon material and composite polyester mesh panels.
They feature two bottomless and easy to access zippered pockets, for securing your possessions. You won't need to take a fanny pack or carry-on bag when you walk around. Thanks to their zippers, the pair can be converted into shorts in warm weather, meaning they can serve you in different climatic conditions. They also have a gusseted crotch, elastic waistband and come with a wedding belt for that fine-tune fitting and an extra level of comfort.
Despite having sturdy material, these pants are not tough enough to get through snowy and alpine conditions. The zippered-off feature for articulating them at the knees is also not as intuitive as most products on this list. That is why it is advisable to give them a trial run before you take them out.
They may have a few drawbacks, but they remain one of the most popular 2-in-1 models in the market with plenty of colors to choose from.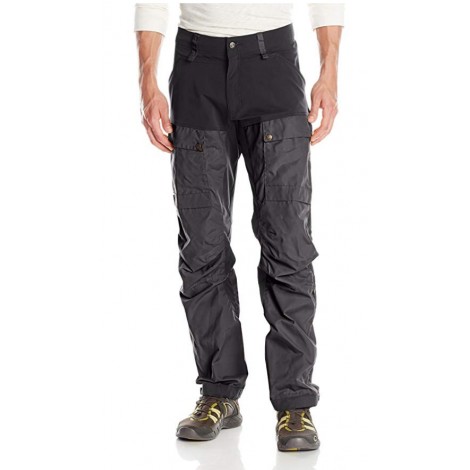 This Swedish pair's best hiking pants for men consists of advanced technical specifications, plus features needed for an optimized fit and trekking. They are built to make you feel at home in mountain conditions where mobility is paramount. Users love their extra-tough nature, which helps protect them from hard surfaces and sharp rock formations. The Fjallraven Keb trouser seat and knees are also shaped with additional seams for extra strength.
The hiking pants feature proprietary fabric on the inside bottom of the legs, knees, front legs and back, making them even more durable. There is also a secondary layer of textile to protect the pair from being worn out: at the point where they are exposed to the boots.
To counter chafing, there are no seams on the inner thigh area: connecting fabric panels are used instead. To circumvent heating and for ventilation, you can use the zippered openings found along the calf, knee, and hips.
There are two deep leg pockets with cover flaps, a zippered one, and a mesh pocket. You can also use a high hand compartment to stow your personal effects when sitting. The pair also has a strap for loosening your trousers. Buyers also get a hook, which comes in handy when securing ski boots or anything you might not want to carry or drag around all day.

5

. Helikon-Tex Urban Line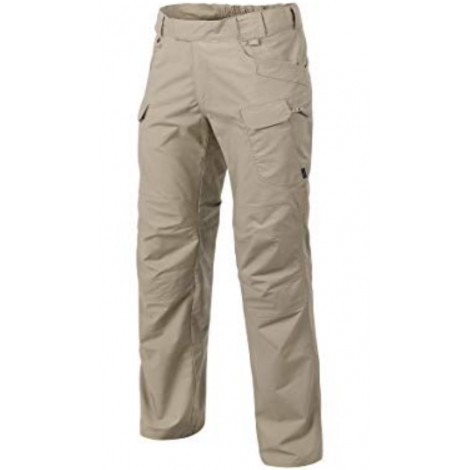 Helikon-Tex's tactical men's hiking pants are ideal for hunting, backpacking, trail riding, and para-military assaults. If camouflage is your favorite color, then you will find their military-grade and all-so-comfortable design impressive.
Expertly stitched from a proprietary and premium "ripstop" blend of 60% cotton, 37% polyester, and 3% spandex fabric; they take strength, flexibility, breathability, and staying power to a higher level. They also have a DuPont Teflon coating for added water resistance and quality stitching to make them withstand extreme conditions and activities.
The pair has a stretchy waistband and plenty of pockets, including internal ones for covertly stashing your personal effects. Let's not forget the kneepads that are vital for going prone or kneeling to take a shot when hunting.
They also have 12 easy to access pockets that are conveniently and proportionally distributed on the thighs, back, and front. The side pockets are easily secured with zippers, and the front mag pockets feature a flap with Velcro that you can fasten to keep your essentials safe. If you are particular about colors, then you are also in luck since they come in 12 color variations.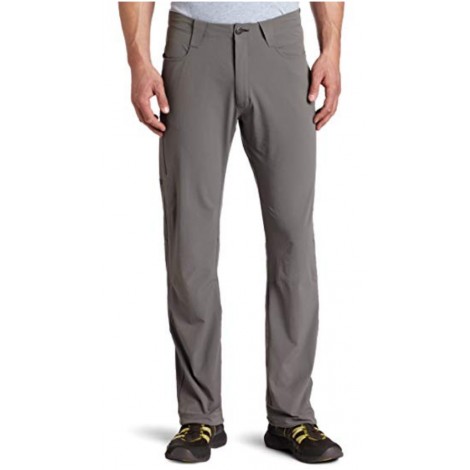 As you would expect from a Seattle-based company, Outdoor research men's hiking pants offer alternatives, not just for alpine-like conditions, but also for all year round activities. The Ferrosi options are one of the best rated all-purpose outdoor activity alternatives. They provide users with great support and comfort, regardless of what you use them for.
The Ferrosi's are quite light in weight but still resilient to wear and tear, thanks to the 86% nylon and 14% spandex shell. They have heat retention and windproof properties that you will find quite beneficial. They will also offer you adequate cover when you face light rain showers.
The pair of hiking pants is cozy and snag when the temperatures soar thanks to the breathability of the fabric. The only apparent drawback they have is that they look too much like hiking attire. As such, they are not as versatile as other brand options. However, you can trust that they will always be reliable whenever you want to hit the trail comfortably.



From members of the police force to wilderness survivalists, these men's hiking pants come highly recommended. They feature a ripstop fabric blend of; 65% polyester and 35% cotton as well as a military-like design. The pair also has special adaptive and protection features. Their excellent all-around performance in severe outdoor conditions will fascinate you.
The cotton allows them to breathe since it is lightweight. On the other hand, the polyester is what makes them comfortable, durable, and adaptable to how you move. For additional protection and water resistance, the CQR tactical slacks use Duratex (a compound similar to Teflon). This fabric gives them a higher resistance to abrasive surfaces and resistance to tough staining agents like mud, oils, and beverages.
For extra protection, you can easily insert kneepads using the lining featured in the CQRs. The seaming is impeccable, and they have high-quality zippers and a high-density metal snap button to hold them up securely. They also have ample belt loops capable of accommodating any belt size. There's also a D-ring made of black-plated nickel that you can use to hang keys, identification tags, or gate passes.
There are eight cargo-style pockets, two sizable and deep-seated in the front, two front Velcro sealed pockets, two more Velcro pockets to the back and two cargo pockets on the side. They also cover a wide range of sizes for every body type.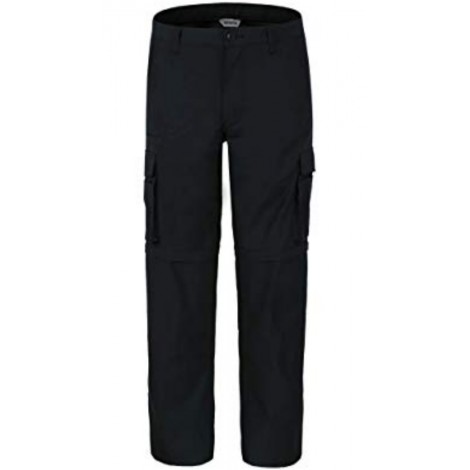 These quick-drying, waterproof options are expertly constructed from a blend propriety rip-stop of polyester and cotton. You can rest assured that you will still be comfortable if you go out on a rainy day. Some people in the sailing and fishing community have even gone as far as vouching for this product's water resistance.
The legs can also be zippered off thanks to intuitively designed and placed zippers. Converting them to a pair of shorts will only take you a matter of seconds. All the zippers are YKK branded, so they will never fail or disappoint you.
They also offer some UV and sun protection. The pair is easy to clean and maintain. All you will need to do is take them through a cold machine-wash when they are soiled. Care should be taken when ironing as well. Make sure you read the instructions to get the correct heat settings, and iron while inside as a cautionary measure.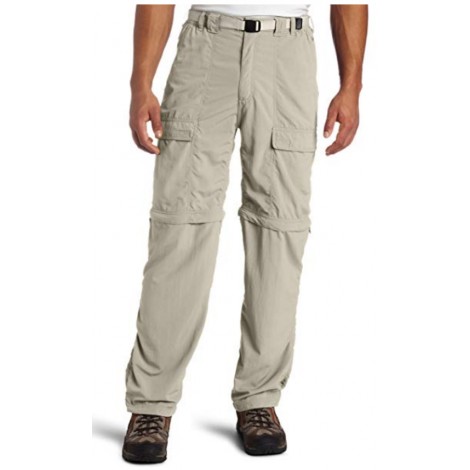 The white sierra pants are also fishing or sailing pants, but they can serve you well when surrounded by wet conditions. They consist of water repellent nylon fabric that remains dry even in the most humid conditions.
The pant legs also taper off into shorts, thanks to a pair of zippers just below the knees that you can use to take the bottom part off. They are also very breathable and comfortable. The pair can also block out UVA and UVB rays effectively, saving you from the adverse effects of the sun.
They feature five pockets, two front hand pockets, one cargo back, one thigh pocket, and one you can use to stow your phone. You will also get a nifty loop enclosure. Make sure you are cautious when it comes to sizing. Otherwise, your crotch area will not be too comfortable. You can always purchase a size up if you don't want a tight-fitting option.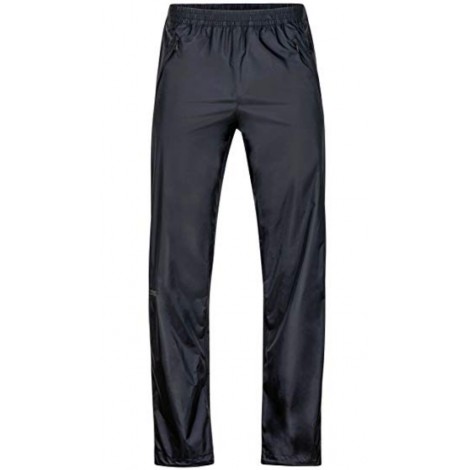 These pants come from the same trendy line of raincoats and jackets by Marmot. You can mix & match both jackets and pants to get full protection from the rain while hiking. They feature a proprietary NanoPro construction and absolute seam tapering to keep you drier than any other pair featured on this list.
Thanks to the nylon and NanoPro waterproof membrane, the pair are a top choice for outdoor enthusiasts in wet and temperate regions. The only downside is that you won't be as free and comfortable wearing these slacks in dessert-like condition or while commuting through hot areas. Reason being, when worn for extended periods, the PreCip won't move well or conform to your body once it gets hot. This drawback happens because of all the nylon featured in the materials that compose this product.
You can always take refuge in the fact that they are still instrumental in a variety of climatic conditions and applications. They also come in a comfy fit. You can layer in as many articles of clothing and gear and still be able to move around freely.

Subscribe to our Newsletter