Best Sunscreen for Runners Reviewed
In a
Hurry? Editors choice: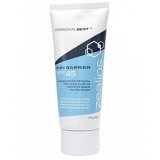 Test Winner: Zealios

Did you know that out of everyone, athletes are at a higher risk of dangerous exposure to ultraviolet radiation?
They spend most of their time outdoors
, compared to other professionals. Additionally, they often train when the sun is at its peak. Both amateur and professional runners form a part of this group of people: that is why you need the best sunscreen for runners.
Sunscreen for runners will provide you with the protection you need against harmful UV rays while allowing you to meet your training and fitness goals. Their unique formulation makes them useful even during the
sweatiest activities
. Sunscreen will not only shield you against sunburn but also cancerous UV rays, and so much more. That is why we have compiled a list of the best the market has to offer and some guidance to help you get an ideal match.
Standout Picks
Criteria Used for Evaluation
UV Protection
Select the ideal level of UV protection
People use sunscreen to help protect them from harmful exposure to UV rays. The end results of such exposure range from; skin cancer, premature aging, weak immune systems, and eye problems, to mention a few. That is why you have to ensure you purchase sunblock, which offers an appropriate amount of UV protection. The two types of rays we are going to look into are the UVA and the UVB rays. We are also going to look at the meaning of some of the terminologies used when describing or shopping for suntan lotions.
UVA rays comprise 95% of the sun's radiation, which reaches the earth. These rays cause skin cancer and skin aging. They can easily penetrate deep into your skin and are present throughout the year. Any damage they cause is long term, and they can even pass through glass windows.
UVB rays are also dangerous but are mostly attributed to sunburn. They are also, what people use when tanning since they ordinarily affect the upper layer of the skin. You can shield yourself against such rays because they cannot pass through objects. Unlike UVA rays, they are only intense during summer and certain times of the day.
SPF is another common term that you'll come across when shopping for sunblock. SPF stands for Sun Protection Factor: which is an indication or measure of the sunblock's ability to protect your skin from harmful UVB rays. The higher the SPF rating, the more effective the sunblock is.
The lowest dermatologically recommended SPF is 15. Although it sounds inferior to the level of protection it offers, this type of sunblock provides 93% percent protection against UVB rays. SPF 30 products will protect you from 97% of the rays, SPF 50 are 98% effective, while SPF 100 are 99% effective. It's not possible to block UVB rays completely, but as you can see, you can still equip yourself properly with the right sunblock.
Most of the options in the market focus on UVB protection. To ensure that you also get protection from UVA rays, you have to buy a broad spectrum alternative. According to the FDA, a product's SPF rating is roughly proportional to the UVA protection level- if it's a broad-spectrum sunblock. What this means for such products is that the higher the SPF, the greater the protection it offers from UVA as well. So for the ultimate UV protection, ensure that you always check the SPF rating and buy a broad-spectrum option.
Product Purity
Remember to read the label
Not all brands adhere to FDA approved or safe ingredients when making these products. When looking at product purity, we fundamentally have a detailed look into the ingredients mainly found in sunblock.
The first ingredients we are going to look into are fragrances. Fragrances are optional: some people like them, while others do not. It all comes down to personal preferences. If you don't like using such sunblock options, just make sure you thoroughly read the label before you make any purchases. That way, you won't accidentally buy a scented option.
Parabens are also common in beauty-related products. Brands use them to prolong products useful life. They act as preservatives and boost the longevity of the product. Parabens are not safe. They affect people adversely and increase a person's risk to breast cancer. Their compounds have also been linked to coral reef bleaching. Avoid brands associated with parabens and go for paraben-free options.
Oxybenzone is another commonly used ingredient in suntan creams and lotions. It is effective in the absorption of both UVB and UVA rays. You should avoid such sunblock's and if you cannot; ensure that you use the smallest quantities possible. Some of the side effects of using it too much include; skin irritation, rashes, acne, Contact Dermatitis, and Hair follicle inflammation.
Although these side effects are rare, there are still people who experience and struggle with them. More studies have found it to cause hormone disruption. The cell damage that Oxybenzone causes puts someone at a very high risk of skin cancer as well. Environmentally, it is also known to harm coral reef systems.
Para Amino Benzoic Acid, or PABA, is not as common as Oxybenzone, but it's still found in some sunscreens. One of the key concerns about it is that it increases people's sensitivity to allergic reactions. Further studies by Dr. John Knowland- a researcher at the University of Oxford showed that PABA could potentially damage the user's DNA. The biggest concern of all was that it could promote the forming of cancerous cells. As mentioned earlier, most manufacturers have stopped using it. However, a few products in the market still contain it.
Lastly, we have Zinc oxide and titanium dioxide. These are some of the main ingredients in the safest sunscreens. Mineral-based sunblocks are now more popular than ever. They efficiently block ultraviolet rays and are referred to as organic or natural alternatives. The two ingredients are non-toxic. Zinc oxide helps prevent irritation, photo-aging signs, and burns, while Titanium dioxide; is excellent for sensitive skin. These are just but a few of the benefits that they have to offer. However, you are definitely in safe hands with such sunblocks.
Water Resistance
Athletic options must be water resistant
It is impossible to avoid sweating as you run. How much you sweat will depend on; the intensity of your workout, the duration of time you spend running, the distance, time of day, and even the season. If you do not want to limit yourself as a runner, the best thing you could do is to purchase sunscreen, which will handle whatever you throw at it.
You want to be able to enjoy your summer runs or any sporting activity during the day, without having to suffer from sunburn. Better yet, you want to know that you have protection from harmful UV rays. Water or sweat resistant alternatives are ideal because they won't disrupt or restrict you.
The average sunscreen comes off when a runner sweats. Once the sweat gets to the eyes, it has a stinging sensation and interrupts one's vision. There's no way you can continue running peacefully when all you can do is squint your eyes. You'll have no choice but to stop or slow down: which can really be a nuisance if you're timing yourself.
Water resistant options don't run, they stay on longer and won't interfere with your performance. Some of these options are water resistant for lengthier periods. You can get one that can last for 80 or 40 minutes. Some are so effective, making them useful for water sports and activities. To enjoy the benefits of such sunblocks, make sure you re-apply them as instructed.
Advanced Features
There are mainly two types of sunscreens, that is, organic and inorganic. The ingredients discussed above consisted of both categories. Organic options include carbon-based compounds. They are also known as chemical sunblocks. Alternatively, inorganic alternatives comprise of minerals and are also known as physical sunscreens.
Each of these types of sunblocks has its pros and cons, which is vital for you to be aware of. Mineral sunblocks have more pros than cons. They effectively shield people from UVA and UVB rays, since they are broad spectrum. These kinds also offer immediate protection, immediately they are applied.
You won't have to worry about skin irritation, they will last longer under direct sunlight, and work impeccably with diverse skin types. People with acne can use them as well because they don't clog pores. The mineral sunblocks also deflect UV rays and have a longer shelf life. The downside to these kinds of options is that they need constant re-application. You should also be keen on choosing one that matches your skin tone.
Organic/chemical options consist of those with oxybenzone and avobenzone, to mention a few. They absorb UV rays, which are then released as heat from the skin. You will need a minimal amount during your application, compared to their counterparts. They are also easy to apply because they spread thinly. Aside from these few pros, they have several cons that we will look in to.
These kinds of sunblock need about twenty minutes to start working after they are applied. People with oily skin may end up with clogged pores when using them. In fact, if you have rosacea-prone skin, you should stay away from these options. Sensitive skin types are also at a higher risk if they use these types of sunblock.
They also need frequent re-application, because they get used up much quicker under direct sunlight. To achieve a broad spectrum, brands tend to combine many ingredients. As a result, some sunblocks are highly likely to cause skin irritation.
Being aware of what the two sets of sunscreen offer puts you in a better position to make an informed purchasing decision.
Ease of Use
Find out what works for you
Sunblock often comes in different forms of application. The best thing you could do for yourself is to make sure that you choose one that's convenient for you. You should also keep in mind that each of them has its pros and cons.
Sprays:
Some people prefer using them because they are the easiest to apply. However, the FDA has spoken against their use, especially when it comes to infants. Sprays are easy to inhale and may expose someone to chemicals and respiratory issues. They also offer a thin layer of protection compared to other types of sunblocks. Their effectiveness is questionable, and they pose a significant risk to people's health.
Lotions:
Lotions provide superior coverage because you will be more thorough during the application. Their downside is that some of them leave you with residue, which you can accidentally transfer to other items or surfaces. However, their moisturizing nature is beneficial to people with dry skin. You also have to rub it in properly, which may be troublesome in hard to reach areas.
Sticks:
One of the reasons why people love sticks is because they don't need to be continuously rubbed in like lotions. Sticks are often multipurpose as well. Some of them are not only useful for facial application but also have a special formulation for the lips and eyes as well. They are often compact and highly portable.
Other forms of sunblock include gels and creams. Everyone has his or her go-to style of application. If this is your very first purchase, you can try out different alternatives until you find the one that works best for you.
Top 10 Sport Sunscreens For Runners
Subscribe to our Newsletter