Best Men's Vitamins Reviewed
In a Hurry? Editors choice: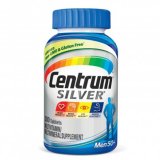 Test Winner: Centrum Silver

When asked, most adults will claim that they have healthy eating habits. The reality is that a large percentage don't incorporate vegetables and fruits into their diets. Given that men require more quantities of specific nutrients, the gap in their daily nutritional requirements may be even higher. Poor dietary choices, constituting of large sugar intakes, and refined grains have put them at risk of contracting
lifestyle diseases.
The best multivitamins for men can help bridge this nutritional gap and have you well on your way to reclaiming your health.
Standout Picks
Criteria Used for Evaluation
Product Purity
Natural is the best way to go.
Not all vitamins for men are trustworthy. The worst thing you could do is purchase any random option you come across. You should be critical of whatever you plan to ingest whether you're getting them online or at your local drug store. Doing so will help you avoid nasty side effects or accidentally messing up your health. Some brands use either ingredients that are banned in some countries or elements that will slowly kill you. It may sound exaggerated, but the fact remains that once the damage is done, you won't always be in a position to reverse it.
Good examples of such ingredients are synthetic vitamins. If you were to take supplements that have synthetic B6 pyridoxine, you would be at a high risk of suffering from liver damage. Such effects are conversant to people who take long-term dosages, with the assumption that they are taking therapeutic quantities. However, when taken in its natural form the same vitamin is non-toxic and completely safe. Synthetic B-3 will raise the user's sugar levels significantly if taken in large doses as well.
Another synthetic vitamin with astonishing side effects is vitamin A. This puts specific individuals at a high risk of contracting cancer. Excess synthetic vitamin D can lead to the accumulation of calcium in the blood, leading to hypercalcemia in user. Such users may experience irregular heart rhythms, kidney failure, and bone loss, to mention a few. Artificially synthesized vitamin E may cause increased bruising in some people and interference with anticoagulant medication.
Not only do some of the products contain synthesized vitamins for men, but you are likely to find toxic ingredients such as parabens as well. If you have allergies, you may end up with skin irritation, rashes, and blisters. The worst part about ingesting parabens is that they have been associated with breast cancer as well. Even though men form about less than 1% of breast cancer cases, they are still at risk of contracting it. Approximately 2,670 men are anticipated to be analyzed with the disease this year. It won't hurt to take precaution and avoid ingredients that threaten your safety.
There are tons of other ingredients that are detrimental to your health. You should make a habit of always confirming if the multivitamins have FDA approval. Make sure you go through the list of components that make up your supplements, and that they all come from trusted sources. Additionally, you should give priority to brands that take their ingredients and products through thorough testing and uphold quality standards. Brands that take a whole foods approach are also worth giving a try.
Compatibility
Make sure the supplements are right or you.
The market has a lot of variety, and that is why you should take your time and select a suitable option. Some supplements have tailor-made formulas for specific conditions, while others are specific to individual lifestyles, not to mention the difference in ingredients. There are a few things you can look at to gauge whether you've chosen the right set.
1. Age restrictions:
Some vitamins are for people of ages, while others will restrict you. You always need to check the description and labels to see if the manufacturer has put such restrictions on the product. It won't do you any good to purchase supplements that are not within your age group. For instance, what benefits will a 50-year-old man derive from supplements, meant explicitly for youth below 20? Granted, he may slightly benefit from some of the nutritional value that the supplements offer, but it would be to a very inadequate extent.
He is most likely going to gain more if he were to choose supplements made for a man his age. Reason being, such supplements contain the vitamins, minerals, and formula that will help counter some of the deficiencies he's facing at his age. Hence, he will be able to get that boost he needs and probably get back to feeling like his old self again.
The same applies to younger people. Taking supplements not meant for your age may have adverse effects on you. Whereas older people need that extra pick me up when it comes to certain bodily functions, a younger person's body can still function optimally. That means that you may end up promoting an excess of components that your body already has, by taking supplements that aren't appropriate for your age. Always make sure that you properly read the labels to avoid such inconveniences.
2. Your Dietary needs:
It's a bit far-fetched to assume that your dietary needs are equivalent to somebody else's. As previously mentioned, vitamins for men consist of different blends of vitamins, minerals, and other healthy ingredients. For instance, you may be lacking a sufficient supply of vitamin D, while someone else may need a little extra vitamin B in his diet. It is essential that you have full information on your nutritional needs, to get an idea of what you may be lacking. That way, you won't ingest supplements that may increase the vitamins or minerals that your body may already be getting in sufficient amounts.
You should also choose an option based on the kind of lifestyle you lead. Athletic people have needs that regular person may not. They workout continuously and are often training in one way or another. Such individuals need specific types of supplements, especially those that promote recovery and increase in energy levels.
Other things to look at include; your health condition and any potential side effects that the supplements may have.
Ease of Use
Taking your supplements should not feel like a hurdle.
Taking continuous vitamins for men sounds easy, but it can be quite hectic. Not everyone finds it easy to stick to routines, especially one that involves swallowing pills every now and then. One of the things you could do to avoid this is to confirm their potency as you're making a purchase. If you have used vitamins before, you might have noticed that some of them have a higher daily intake. For example, there are those that you would need to take several times a day, while others need only be taken once a day. The main difference between the two sets of supplements is often their potency levels.
Potent supplements cannot be consumed as much because they would end up dangerously increasing your vitamin or mineral levels. On the other hand, less potent ones would require continuous intake to help you attain your daily nutritional requirements. One thing you should note is that; you can't blindly settle for a potent alternative. You have to confirm that it is compatible with your dietary needs and it will not have any adverse effects on your health.
If pills still give you a hard time, you could consider purchasing your supplements in another form. Multivitamins are often available in the form of tablets, capsules, soft gels and gummies. Gummies often serve as the best solution for people who don't like dealing with the rest. They are chewable and usually have a delightful taste. You won't dread taking your supplements anymore when they're in such a form.
Size
Always consider price and quality before making your decision on quantity.
When deciding on which supplements to buy, you also need to check the quantity the brand is offering. Off course, that does not mean that you should sacrifice quality for quantity. You need to look at a few things first before you make up your mind.
1. Budget:
First, you have to gauge your pockets and determine the amount of money you can comfortably spend. It would not make sense to purchase small quantity supplements that you can barely afford. You could effortlessly get quality options, at reasonable quantities that are well within your budget.
2. Convenience:
Some people prefer buying supplements in large quantities because continuous purchases can be hectic. Some brands offer high quantity options, which would be fit for you if you were such an individual.
3. Quality:
Ultimately, quality is what matters the most. Some brands will offer quality options in lesser quantities. Such supplements are worth purchasing. In such cases, you will be investing in the effectiveness of the product, and the results you will eventually get. Alternatively, low-quality products sold for high prices are not worth purchasing if they come in small quantities.
10 Top Men's Vitamins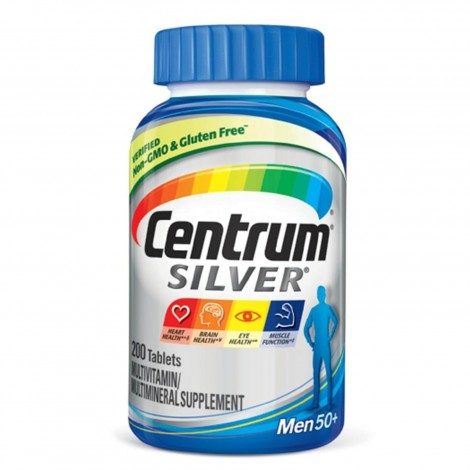 We become more prone to various health conditions, as we grow older. Centrum offers the ideal product to support older men's health. These are adjusted and specially engineered for men aged 50 years and above. The tablets are incredibly effective, and some of the best vitamins for men in the market.
They contain vitamin B-, which promotes better heart health. When coupled with zinc, this also helps support brain functionalities. The other key components of the supplement are; lutein, Vitamin A, C, and E. Their function is to enhance the user's eyesight and ensure that their overall eye health is at its best. After taking them for some time, you will also realize that your muscles are functioning better as well. Each dose also ensures that you will get Vitamin B6, D, and magnesium that are responsible for the improvement of muscle function.
You can trust that Centrum is among the best, just by looking at their track record for the past few years. 2017 was a massive year for the company, as they topped the list of doctor recommendations throughout the US. They were among the preferred adult brands and featured in Pharmacy Times Survey of Pharmacists' OTC Recommendations.

2

. Evlution Nutrition VitaMode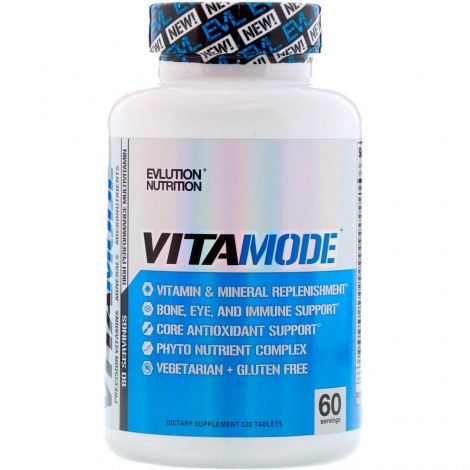 The Evlution Nutrition VitaMode is an excellent alternative for people who love to work out. These are also an excellent option for anyone seeking a vegetarian brand. They have sufficient mineral quantities that outrank those of average brands in the market. Not only do they support overall body health but they also help manage stress levels, and provide a ton of other daily benefits.
If you often undergo intense training, each serving will help replenish the water-soluble vitamins you lost. You will also get about 10,000 IU worth of vitamin A. Such quantities of Beta Carotene help promote cell growth, immune system, and enhanced vision. The vitamins C and E in the complex will also boost your immunity, but they have other functions as well. Your cardiovascular system, skin, and eyes will never be the same again.
This option will also support; your thyroid system, nervous system, metabolism, heart health, bones, dental health, collagen production, and muscle performance. Each serving also comprises of a blend of four enzymes. They will help promote better digestion, and conversion of food to fuel. As you can see the high-performance complex, has everything that an active guy would need in terms of supplements. That also includes a blend of 22 phytonutrients.
One container will provide you with 60 servings. It should last you for about two months before you run out. These vitamins for men are FDA approved, so you should feel confident adding them to your daily routine. The fact that they are from a GMP Certified Facility is also a bonus.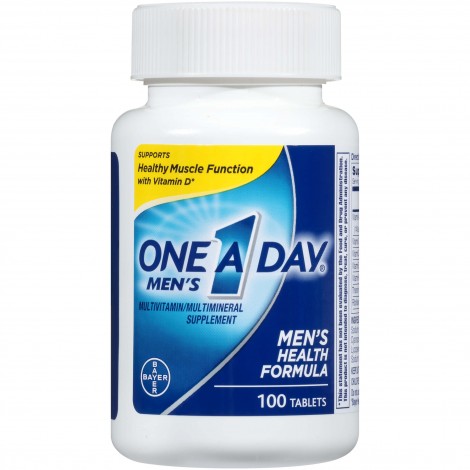 Men are energetic, and One A Day helps them retain such high energy levels. You never have to worry about feeling drained if you have that much-needed boost to help kick your physical energy up a notch. The chromium and the B-vitamins in the blend are what provide users with additional energy. The complex has twelve essential ingredients that will help you meet your daily nutritional requirements.
Muscle function is essential, regardless of what stage in life you're in. Each tablet has sufficient vitamin D quantities to see to it, that your muscles are continuously functioning as they are supposed to. If you have blood pressure issues, these will help regulate your blood pressure levels. However, you should note that they would only work if your blood pressure were within a healthy range. As for your heart, the Folic acid, Vitamins B12, B6, C, and E will help ensure that it's as healthy as it should be. The brand, however, advises users that take heart medication to continue with their dosage. These are not in any way replacements for prescription medicine.
Being in the industry for over 75 years has provided the brand with the expertise and knowledge to create the best vitamins for men complex. As such, this option is quite popular among men who have health concerns. You will also be glad to know that they do not contain fish allergens, gluten, wheat, dairy, artificial colors, artificial flavors, and artificial sweeteners. So, if you have been holding yourself back because you had allergies relating to the listed ingredients, you can go ahead and purchase these and start experiencing what you have been missing out on.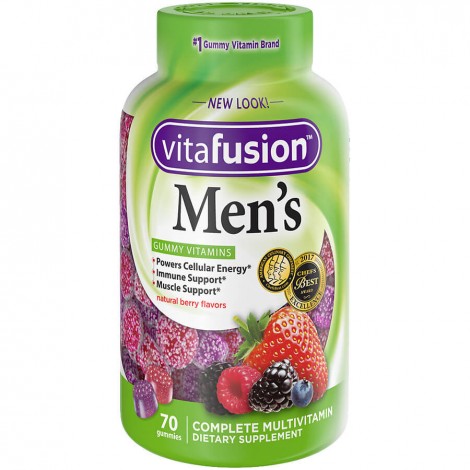 Some of us find tablets and capsules tough to swallow. Consequently, we end up not taking our doses as we should or are utterly ignoring the medication after a while. Gummy options are the best vitamins for men that have difficulties swalloing. You can chew them as if they were ordinary gum, eliminating the hurdle of having to deal with large pills. Vitafusion will help you solve two problems at once. First, you will take care of your daily nutritional intake. Second, your hate for tablets and capsules will no longer limit you.
The gummies are some of the best tasting, tasty options in the market. In fact, the brand won the ChefsBest Excellence Award in 2018, for that reason. They have proven to surpass the standards set by the industry by offering exceptional quality. To give you some peace of mind, you should be aware that they only contain healthy and recommended ingredients. They don't contain any high-fructose corn syrup, synthetic dyes, gluten, dairy, or artificial sweeteners.
Compared to other blends, this particular one has the highest potency of the 5 B vitamins. The other main ingredients in them are; Vitamins C and E, which are ideal for fighting free radicals. Vitamins A and D are also part of the blends key components. You will notice a healthier, happier you as you continue taking them. Your body will continuously have all the antioxidants, muscle support, energy metabolism, and immunity boost that it needs.



NatuRelo is another brand that offers Vegan multivitamins. What makes the company stand out is their whole food approach. Their blend doesn't only consist of the best vitamins for men, but herbs and minerals as well. The company prides itself in the premium ingredients they use, since they are all natural and not synthesized in the laboratory. Additionally, they undergo third-party testing. The test ensures that there are no traces of heavy metals in the ingredients. You can rest assured that you won't be accidentally ingesting any arsenic, lead, mercury, or cadmium. Their thoroughness is part of why their consumer base trusts them.
These have a high level of purity. The brand ensures that they have no peanuts, caffeine, dairy, soy, corn, or dairy, among other common allergens. Some of the fruits and vegetables included in the ingredients are; blueberry, broccoli, organic beet, black currant, cranberry, pomegranate, raspberry, spinach, kale, and carrots. Using natural components is part of the reason why the blend is potent and rich.
The benefits associated with taking these include; Reduced stress and inflammation, heart health, prostate health, brain health, healthy immune responses, better vision, bone strength, improved digestion, and metabolism. Users also experience higher energy levels as well. You can purchase them in two quantities. They come in a 120 count and 240-count bottle. If you are not sure that they are a good fit, you could purchase the smaller portion and see how you respond to them.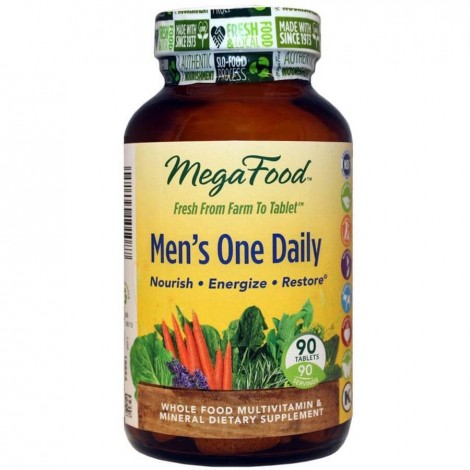 MegaFood also has thorough testing processes for their ingredients. The brand tests them for over 100 herbicides and pesticides to ensure that no detectable traces are left. They not only test raw materials that they consider high risk, but the final products as well.
All their supplements have Glyphosate Residue Free certification by the Detox project. They are a certified kosher alternative and members of the Non-Gmo project. Having information on the brand gives you better insight into what to expect. They are GMO-free, toxin-free, Gluten-free, dairy, and soya free as well.
Each tablet will equip you with age-defying anti-oxidants, and many carotenoids. These are specifically tailored to support men's stress responses and energy levels. They are excellent for people who often get anxious; as they will help you to keep cool through such situations. Your bones, mood, and prostate functions will also benefit from taking them.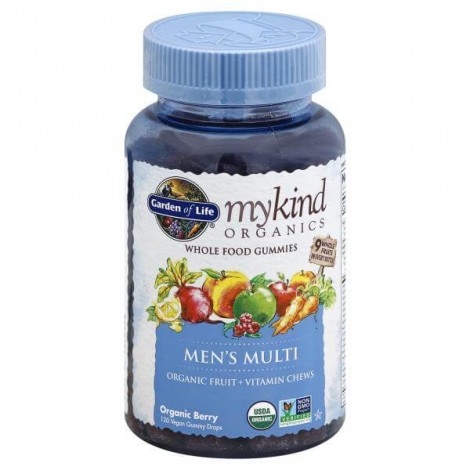 Garden of Life uses their patent-pending Clean Tablet Technology and water extraction, to get minerals and best vitamins for men from real foods. The process is vital because it doesn't make use of chemicals like silicon dioxide or magnesium stearate. No corn or soy-derived ingredients are used as well. They employ over thirty herbs, vegetables, and fruits, to make the vitamins. Some of them include; ginger, broccoli, amla berry, and parsley.
These have no synthetic, fillers, or binders. You will get 1,000 IU of vitamin D3, which is the highest that most blends have. The quantity amounts to 250% of the body's daily minimum requirement. The B12 quantity is also as high at 300%. All the essential quantities in the supplement are available at 100% or higher. The supplements potency is one of the reasons why users take only one tablet daily. A tablet is more than enough to meet your body's nutritional needs.
This alternative is also an excellent fit for people who need prostate support. It has high selenium levels derived from organic guavas, which work wonders for prostate health. No animal testing or animal ingredients were used to make these. They are certified vegan alternatives and Certified GMO as well. To top it off, the brand also has USDA organic certification. What this means is that they only use clean ingredients from the start to the end process.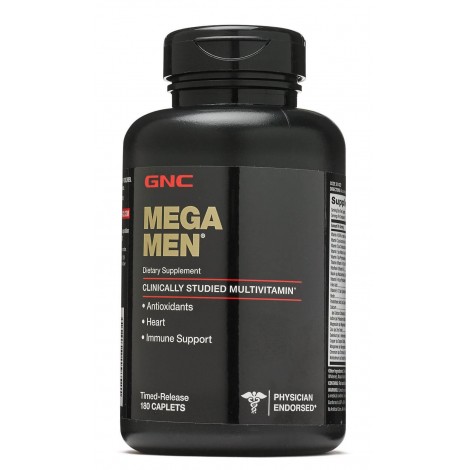 GNC claims that it produces superior vitamins for men. Their formula consists of 30 ingredients that underwent clinical studies. The study comprised of 112 healthy volunteers, a different multivitamin formula, a placebo, and a six weeks duration. The conclusion of the study showed that the serum levels of certain essential nutrients had improved in the GNC subjects. The subject's Mental Health scores and SF-36 Vitality had also improved significantly compared to those of the placebo subjects. It is safe to say that the brand's claims have been tried and tested.
The supplement consists of a sports formula as well. As such, it would greatly benefit you if you love to work out, train, or lead a generally active lifestyle. You will eventually notice a difference in your performance levels. This brand also has BCAAs, which will help fuel your muscles and enhance your muscle functions. They also have a sufficient quantity of B vitamins to support your energy production. Your cardiovascular health will also be in top shape.
One of the significant benefits of this multivitamin is the fact that it caters to your sexual health as well. The formula contains L-arginine, which helps maintain the tone of your blood vessels for that purpose. Additionally, the supplements also have selenium, lycopene, and saw palmetto. The combination of such ingredients makes the supplements capable of supporting your urinary and prostate health. You will be in a much better position to handle any conditions related to the areas mentioned, even as you continue to age. The blend also has antioxidants, which will help your body fight free radicals. Some of the ingredients are also thermogenic making them capable of burning calories.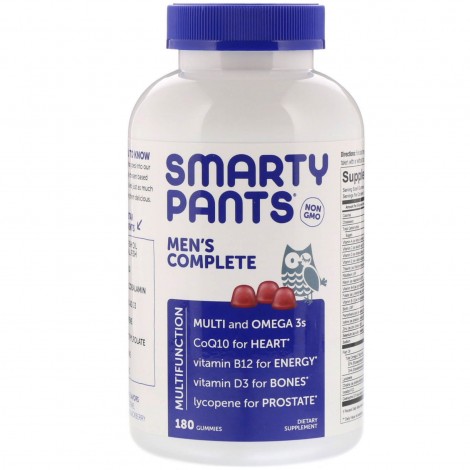 Just like Vitafusion, SmartyPants offers gummy alternatives. The brand's nutritional approach is science-based, and they only use premium ingredients. The supplement's formulas come from the recommendations of the brand's Scientific Advisory Board and the Health and Medicine Division of the National Academies of Sciences. Additionally, they also research dietary patterns in the Western diet, to ensure that they have what it takes to fill the required nutritional gaps.
The Gummies have Omega-3 that has balanced DHA and EPA. They source it from mackerel, sardines, herring, anchovies, and other small wild fish. The supplements are also excellent for cardiovascular health; they contain CoQ10 for this purpose. As most people grow older, they tend to produce less CoQ10. As such, the supplements will help make up the difference. Your bones and teeth will also be stronger, after a while thanks to the vitamin D3 in the formula. The D3 vitamin will also help boost your immunity.
The brand utilizes the vitamin E found in sunflower oil to ensure that you get sufficient antioxidant support. Other essential nutrients in the supplements include; Zinc, vitamin B12, folate, and lycopene. The lycopene in the blend makes the vitamin for men a good fit for prostate health support. The company is transparent with their ingredients, and they also list the components that are not contained in their products. The blend does not contain any; shellfish, eggs, tree nut allergens, soy, milk, peanuts, gluten, fish allergens, and wheat. It also has no artificial sweeteners, synthetic colors, or artificial flavors.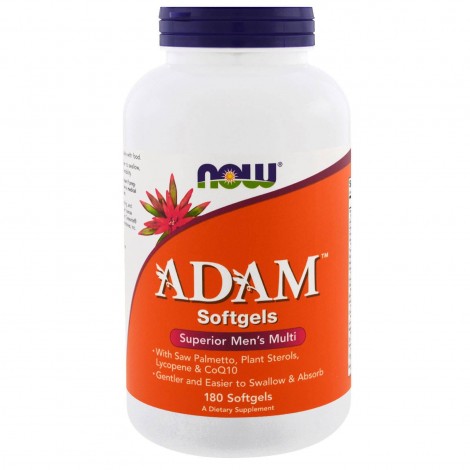 This brand has quality GMP assurance. What this means is that they consistently adhere to quality standards when manufacturing the supplements. Therefore, if you have never heard of them before, you can trust that you are in safe hands. They offer their soft gels in 60-count, 90-count, and 120-count bottles. You have the option of choosing either based on your budget or the level of convenience you are looking for.
If you often have trouble ingesting vitamins but don't want to opt for gummies, you could try out these Now Adam soft gels. The brand formulated them to be comfortable and gentle to swallow. Your body is also going to have an easy time absorbing them into your system. Some of the main ingredients in the blend are; lycopene and saw palmetto, for prostate health support. The CoQ10 and plant sterols also play significant roles in the mix, in addition to the essential minerals and vitamins in the ingredients.
The supplements have no traces of sugar, shellfish, wheat, gluten, milk, salt, yeast, egg, or preservatives. The brand also condemns the use of parabens, unlabeled allergens, steroids, artificial flavors, and synthetic vitamin E, to mention a few. You can easily access the list of the non-included items during your purchase.

Subscribe to our Newsletter