Best Boots for Rucking & Resistance Training Reviewed
In a
Hurry? Editors choice: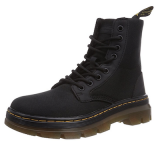 Test Winner: Dr. Martens Combs Nylon

If you are reading this article, you probably already know what rucking is; however, for all those that have stumbled upon this article by accident, rucking is the act of walking or hiking with a sack filled with weights. With origins in the military, it's an activity designed to build strength, endurance, and toughness in soldiers, but it is quickly being adopted by those looking for an effective, high-intensity workout.

Rucking, like running or biking, requires a boot that will support the motion of your body and the gait of your foot. Nothing is more frustrating than completing a great workout, only to find your feet are swollen and blistered. Although typically performed in combat boots, there are alternative boots that can lend similar support and superior comfort and style.
Standout Picks
Criteria Used for Evaluation
Durability
When it comes to rucking boots, one of the first features to evaluate is durability. Durability, in short, is how long and well a boot will perform for. Considering the amount of stress and weight you are placing on your feet and boots, you'll need something that can stand this upwithout breaking down.
How to determine whether or not a design is durable? There are several ways to go about it, and we will list some of them here.
Materials: We will go into more details about the materials in our next section, but if you want durable footwear, it stands to reason that you should look for durable materials. Natural leathers and nylon are at the top of the list here, as they can take quite a beating and still hold their own. On the other hand, avoid porous and lightweight materials such as canvas and mesh. These fray easily and develop holes with hardcore use.
Construction: The way a design is built is also an important factor. If you want the absolute best in durability, look for what is called a Goodyear welt construction (which you will find in most Dr. Martens designs, for example). This guarantees that your shoe will last for years to come, not least because it can easily be resoled without damaging the upper.
Sole: One more factor when it comes to durability is the sole of the design. Rubber soles, especially those made from vulcanized rubber, are extremely durable and can endure a lot in terms of mileage and wear and tear. Rubber also has the added advantage of being slip-resistant, which is all the more reason to opt for this type of a sole.
Materials
The materials that a boot is made of determine many of its characteristics: durability, as we've seen in our previous section, waterproofing, comfort levels, breathability, flexibility, and more. Choosing the right type of materials for your type of rucking may make or break your experience.
With natural materials such as leather, either full-grain or nubuck or any other type, you basically can't go wrong. These are comfortable because they mold to the shape of your foot over time, provide ample breathability, and are quite durable. The downside to leather is that it is not naturally water-resistant, so you would either have to get a specially treated design, or do it yourself, with special waterproofing agents.
Synthetics are not a bad choice, but it all depends on what type of synthetics you go for. Nylon, for example, is extremely durable. It is abrasion and heat resistant, resilient, and it finds its place in many military applications.
Synthetic leathers, on the other hand, are not as durable. They crease and flake easily, tend to be stiff and unyielding, and are generally not as breathable as their natural counterparts. However, synthetic leather is less expensive, which is a plus.
When choosing the right type of materials, take into consideration how often you'll be wearing this type of footwear, in what sort of conditions, and whether or not you need them to last for a long time or just a season or two. When you answer these questions, you'll have no trouble picking out the right pair of shoes for yourself.
Weather Resistance
If you're passionate about rucking, it's a given that you will be participating in the sport at any opportunity you get. Rain, shine, mud, water, perhaps even snow - nothing will stop you from strapping on that backpack and venturing out into the open!
Whether you're rucking through the city or down nature trails, you should look for waterproof constructions, in case you're caught in the rain or encounter muddy, puddle-ridden terrain.
When summer rolls around, you want to make sure that your footwear is breathable enough that your feet don't start sweating. Sweat not only leads to bad odors, but it can also increase the risk of a bacterial or fungal infection. Dry, cool feet are happy feet. Additionally, make sure that your boots can take the heat of asphalt if you're taking on the city streets at the height of summer.
If you plan on training during the winter, too, choose designs that are insulated, and that can keep your feet warm without causing them to sweat too much. Lightweight insulation is key, as it won't drag you down and will still keep you cozy and toasty.
Definitely keep in mind which season you're shopping for, and choose a design accordingly!
Protection
Ensuring you are protecting your feet and ankles during your adventures is crucial. Let's take a look at the different aspects of protection to make sure you buy the best boot for your feet.
Shaft Height
Shaft height is the length of the boot from the arch to the top of it, measured in inches. This is one way to determine how much of your ankle will be covered, supported, and protected. Rucking boots tend to come in 6" or 8" shaft heights; 9" shaft heights are seen less frequently, and 5" shaft heights are rarer still.
A 6" boot shaft reaches the top of the ankle and provides basic ankle support. An 8" boot shaft rests above the ankle to provide moderate support, and the 9" boot provides the most support by rising to the bottom of the shin.
Outsole
There are a lot of terms you will come across while researching rucking boots that may be unfamiliar, especially about the sole of the boots. Slip-resistant, abrasion-resistant, increased traction, and shock absorption are some of the details you will see, often for the same shoe.
Knowing what is meant by these descriptions will help you make an informed decision on your next (or first) rucking boot. Below are the two most common descriptions you will see:
Slip Resistance: Likely self explanatory, slip resistance helps prevent falls on slick surfaces. Slip resistance and traction are sometimes used interchangeably; the most important detail is that slip resistance increases traction. If you plan to ruck on uneven terrain, the significance of a slip-resistant sole cannot be overstated.
Abrasion Resistance: Rucking is a hard-hitting sport, and thus your footwear takes quite a beating during it. It is exposed to any number of potential scuffs and stubs and abrasions, regardless of whether you're braving the streets or the trails. If you want your footwear to last for as long as possible, and want your feet safe from injury, definitely opt for an abrasion-resistant sole.
Comfort
The high-intensity workout that is rucking demands your footwear to be comfortable, as well as supportive. Your foot should be cushioned and in place, and your rucking boots should support your feet and joints while helping maintain proper alignment.
Many of the boots on our list were selected because they have features that create a proper gait and keep the feet clean, free of moisture and smelling fresh. Look for footwear with an EVA insole or midsole, which is a special material that conforms to the foot and keeps the feet fresh. You can always find a boot with a removable insole, as well, so that you can insert your own pair of orthotics if you need to.
The high-impact shock that comes from your foot hitting the ground can wear down joints over time. Footwear with shock absorption built in the sole is designed to minimize this wear and tear. As a result, shock absorption will reduce foot, ankle, and knee pain.
When you're looking at comfort, it is important to mention that if a design is comfortable for one person, it doesn't necessarily mean it is comfortable for another. Make sure to choose what feels good to you, and if a highly reviewed, peer-recommended option doesn't work - don't force it. It is better to find what is comfortable for your personal foot shape and size than to risk blisters or joint pain in the long run.
Our Favorites
1

. Dr. Martens Combs Nylon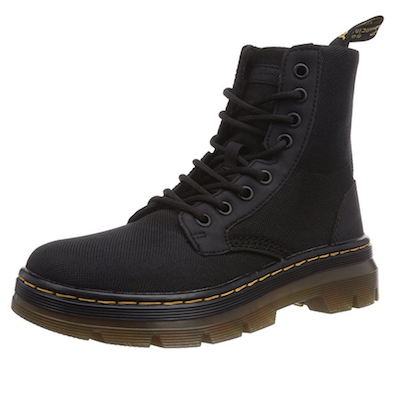 Dr. Martens, or just 'Docs' to longtime fans, are a brand known for their stylish fashion boots. Though these lack the steel toe that would make them part of the Doc Martens Industrial collection, the Combs Nylon is expertly crafted with the signature, high-quality Doc Martens Goodyear welted stitch. Combined with a grooved lug sole, this is a solid dry terrain rucking option.
Crafted with nylon and synthetic leather, the Combs Nylon is unlike most boots of a similar caliber. The nylon construction enhances breathability and reduces heaviness. Boasting a lighter build and an air-cushioned sole, Dr. Martens Combs Nylon can be worn right out of the box. Less time is needed to break them in due to the flexible synthetic materials, giving these boots an edge over leather and hybrid boots. Furthermore, the tall 7" shaft fits snugly to ankles yet can be folded down for added freedom.

The Dr. Martens Combs Nylon is a fairly durable boot for a reasonable price. These are also cheaper than typical fashion Dr. Martens yet they feature a similar style. Why is that important? Easy; it means the Combs Nylon can do double duty as your rucking and your casual boot.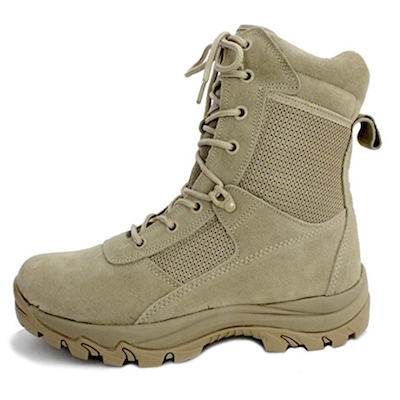 The Ryno Gear Tactical is a comfortable, good looking, but basic rucking boot. Foregoing the fanciest bells and whistles, the Ryno Gear only comes in beige and features a simple contrast stitching detail. Ballistic nylon and leather construction adds durability, while a padded collar improves comfort.
Though primed and ready for maximum shock absorption, the insole for the Ryno Gear Tactical is removable. It sets itself apart from other rucking boots with this feature, as it opens the door for those who may need orthotics or are keen on having a custom fit. Made of mesh, the CoolMax lining promotes breathability and provides the water resistance the Ryno Gear Tactical is known for. CoolMax is a soft technical fabric designed to wick moisture away from your feet and keep them as dry as possible.

The Ryno Gear Tactical is the least expensive option on this list thus far. It doesn't quite compare to the comfort of some others, nor is it as durable as them. However, it is perfectly priced for a new rucker or a those on a budget.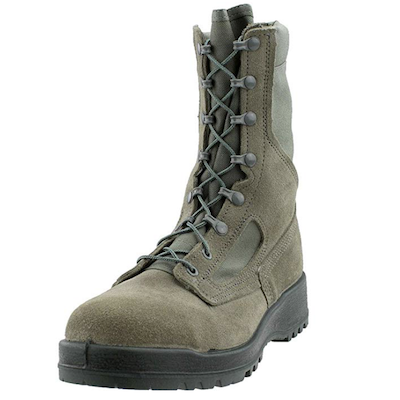 The Belleville 600 Steel Toe is a unique, mid-calf design for rucking. It uses Vanguard technology to provide a fit similar to a running shoe. It's lightweight and breathable, the nylon fabric keeping your feet comfortably cool. 100% full-grain leather gives the Belleville 600 a rugged durability.
With a thick, 1000 Denier nylon weave and flesh-side out cattle hide leather upper, the Belleville 600 Hot Weather Steel Toe is built to last. The nylon is also abrasion resistant, meaning that the build of the shoe is tougher and is slower to wear or crack. First, to provide extra shielding, the Belleville 600 features a steel toe that meets ASTM standards. Then, the 8" mid-calf supports and protects the ankle. Finally, a rubber Vibram sole provides stability over rocky, smooth, and slick or wet surfaces.

This option is on the expensive side but, given the sturdy construction and its ability to take you easily through difficult terrain, the Belleville 600 is a great investment. You can expect them to last for at least a year, even with heavy use.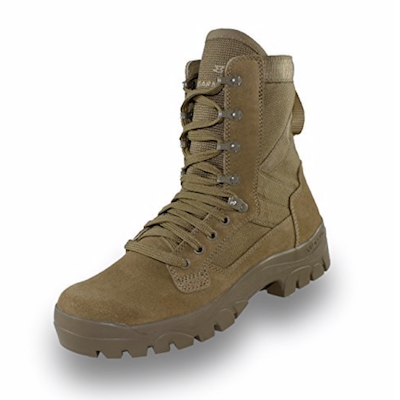 As a brand, Garmont only focuses on outdoor footwear. You can expect a well-fashioned, comfortable, and rugged pair of boots from them. Particularly, the T8 Bifida. It is a heavy yet versatile rucking option that can help you conquer the muddiest trails and the steepest of slopes with ease.
Due to its focus on breathability and ventilation, the T8 Bifida is unfortunately not a waterproof design. Instead, with an upper made of nylon mesh and suede, these are crafted to be quick-drying. These boots are designed for use in amphibious conditions such as rain and mud. The lacing where the foot meets the ankle, as well as the ball bearings beneath the instep, apply tennis shoe-like pressure to provide better ankle support and circulation. It's not entirely clear why this feature is called 'Zero Optical Refraction,' but it is useful for ruckers in need of extra stability.

The Garmont T8 Bifida is a significant investment for the new rucker. Nevertheless, the ability to perform in multiple terrains is an important detail and makes the T8 Bifida worth its price.

5

. Smith & Wesson Breach 2.0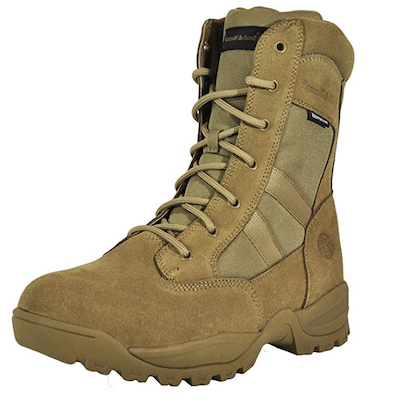 While Smith & Wesson is a name better known for weapons than footwear, the Breach 2.0 is built with the same attention to quality and detail, thus, making it a great compromise between price, durability, and comfort. Available in 6" and 9" mid-calf heights, these tactical boots also get extra points for versatility, as they can be used for rucking and for more mundane, everyday tasks.
Featuring a midsole made of EVA material, these offer a lightweight cushioning that will last a full day of rucking. The tongue and collar of the Breach 2.0 are foam padded for breathability, while the leather and nylon hybrid upper further improves foot comfort. For added comfort and durability, the Breach 2.0 has a traditional steel shank, a thin, flexible piece of metal that rests between the insole and outsole. The steel shank reduces foot fatigue during long rucks, provides arch support, and enhances balance across rocky and uneven terrain. Having a steel shank also helps the boot retain its original shape; that means less warping over time.

If you aren't ready to fully invest in rucking or are looking for the most ruck for your buck, the Smith & Wesson Breach 2.0 is an extremely affordable boot. It is cheaper than both some other options on this list, yet just as durable as them.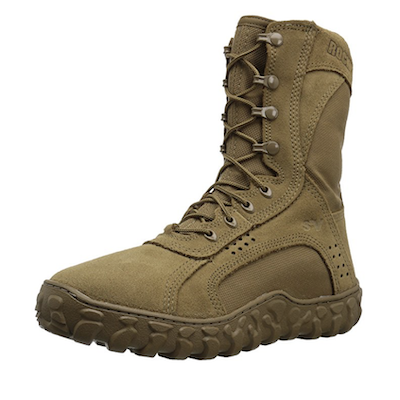 The Rocky S2V Tactical is built with die-hard military professionals in mind, making this the perfect rucking boot for the experienced adventurer. Considered to be combat ready, it's easy to see why the Rocky S2V can hold up in the roughest terrain.
Despite not being completely waterproof, the Rocky S2V Tactical is equipped with several features that still make this an ideal option in wet climates. It starts with water-resistant leather and a rubber sole, and then adds drainage ports that are designed to expel water from the boot as you ruck. Next, the Rocky S2V is treated with Aegis Microbe Shield to inhibit bacterial and fungal growths. On the inside, there is a moisture-wicking Dri-Lex lining working to keep feet drier and more comfortable.

Using proprietary technology, the Rocky S2V Tactical boasts a high-walled Vibram sole to keep your feet stable and comfy. Vibram soles are built to be flexible, lightweight, abrasion and slip resistant, and high performance.

More expensive than all other options on this list, the Rocky S2V Tactical is a considerable investment. As stated previously, it is best for experienced ruckers that are dedicated to the exercise.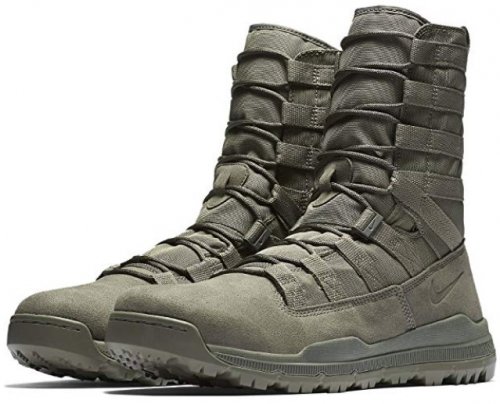 The Nike SFB Gen 2 is a tactical boot that is meant to be fast and flexible even over rough terrain. There is a hardcore pattern in the sole for a solid grip in any direction, as well as a rock shield which protects from punctures. The SFB Gen 2 is inspired by Nike Free technology, and you know that with this brand you will only get the best of the best when it comes to high-performance footwear designs.
This option has an upper made from nylon and synthetic leather for ventilation and longevity. It has dual-zone lacing which ensures a good lockdown, and metal screen vents in the side to keep air freely circulating for cool feet. In terms of comfort, there is a foam midsole for light padding and an internal rock shield which both minimizes pressure put on your feet and protects against punctures. Lastly, the outsole on the SFB Gen 2 has a reinforced heel for durability and great traction.

We are honestly having a hard time finding a flaw in the Nike SFB Gen 2. It is secure, it is protective, as well as comfortable and lightweight, and there's nothing more we could possibly want out of a good rucking boot. So treat yourself to these babies as soon as you can!

8

. Salomon X Ultra Mid 3 Aero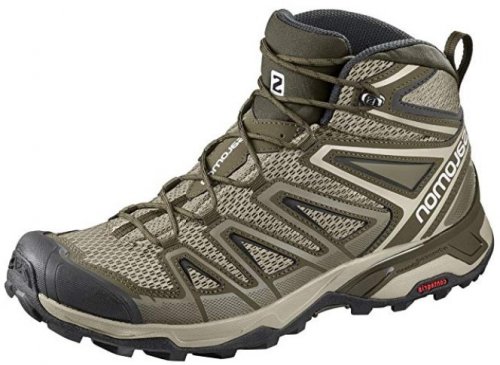 Salomon is a brand well-known for its durable sports footwear meant for exploring the great outdoors. The X Ultra Mid 3 Aero is not a combat or tactical boot, but rather it is a hiking shoe, one which has all that you need for a good ruck and more. This design includes amazing grip features, as well as special stability and cushioning systems, not to mention that they'll keep you well balanced no matter if you're going up or downhill.
The Aero has a refined upper with reinforced areas, ensuring an amazing lockdown regardless of how you're moving or what terrain you're taking on. There is an Advanced Chassis which stabilizes the heel, and also provides ample cushioning so that you feel comfortable on the trail. Finally, the Aero comes with two different rubber compounds in its outsole. This delivers an outstanding grip, and a specially patterned heel area grabs terrain like you wouldn't believe.

If you're iffy about considering this option because it is not a military boot - don't be. The Salomon X Ultra Mid 3 Aero can keep up with the best on this list, and hold its own on any type of terrain and pretty much any weather. You will not regret investing in this comfy, sporty design.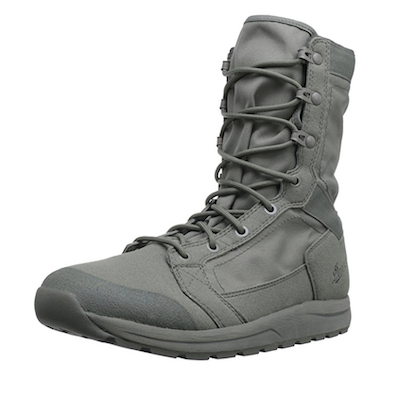 If you're planning to ruck across flat, fairly even terrain, the Danner Tachyon 8" GTX may be the design for you. Built to be lightweight, fast, and flexible, these boots are ideal when rucking for speed instead of endurance.
Made of completely synthetic materials for the upper, the Tachyon GTX only weighs 26 ounces. It requires very little in the way of breaking in. Furthermore, it fits snugly against your feet, giving the familiar feel of an athletic shoe in the shape of a boot. Having a 100% rubber sole, rather than a composite rubber sole, is what sets the Danner Tachyon GTX apart from other lightweight rucking boots. 100% rubber provides better traction and grip, especially when combined with the large, pentagonal lugs featured on the bottom.

While the Tachyon GTX's price varies depending on size and color, they are cheaper than most in our guide. The difference in price is seen most in the durability; the Tachyon GTX is not built for overly rough environments.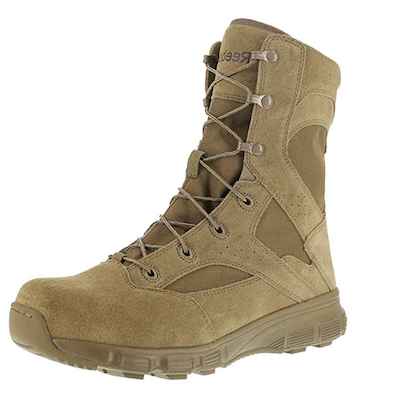 Reebok is another brand better known for its fashion footwear rather than combat boots. The Reebok Dauntless is part of the Reebok Work collection and features the same great quality you would find in a Reebok sneaker. However, this design is less sturdy than others reviewed thus far, so the recommendation is that the Reebok Dauntless is best for dry climate rucking.
An ultralight entry into rucking boots, the Dauntless is a great option for those looking to combine the protection of a boot with the style and feel of an athletic shoe. With only a 5" shaft, the Dauntless looks closer to a high-top sneaker but has a grippy rubber sole to keep you stable and upright on uneven terrain. Made of leather and micromesh, you won't have to worry about the Reebok Dauntless falling apart at the seams during a ruck because there are none. This also gives this design a versatility to keep feet warm on cold rucks and cool on hot ones.

The Reebok Dauntless settles somewhere in the middle when it comes to price. Good for ruckers of all experience levels, it is a snazzy mid-range option for the fashion inclined.

Subscribe to our Newsletter