Best Underwear for Hiking Reviewed
last updated
Jul 12, 2019
Underwear is the unsung hero in our clothing artillery. You might not have thought about it much, but that's precisely what you want. However, while partaking in any strenuous activities, you need a good pair of functional hiking underwear. If you do not, then you will experience sweating and painful chafing, which is magnified by you moving a lot.
While out on the hike or any sporting activity, you need to enjoy yourself and not keep changing your undies ever so often. You need hiking underwear that will be forgettable. The first five pairs are for men, and the rest are women's, ranked in order of their comfort, features, durability, and more.
In a Hurry? The test winner after 9 hrs of research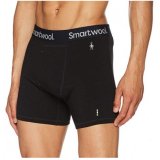 SmartWool Merino
Why is it better?
Naturally antimicrobial
Slim fit design
Flat-lock stitched seams
Functional fly design
In a
Hurry? Editors choice: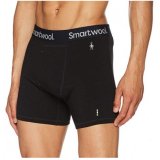 Test Winner: SmartWool Merino

5
Researched Sources
17000
Reviews Considered
9
Hours Researching
10
Products Evaluated
Materials
Comfort
Durability
Breathability
Features
By Default
In Depth Review Top 10
SmartWool Merino
Adidas Sport Climalite
David Archy
Under Armour Boxerjock
SAXX Vibe Boxer
ExOfficio Women's Give-n-Go
Boody Body EcoWear
Balanced Tech
Kalon Underwear
Runderwear Women's Briefs
Table of contents
Criteria Used for Evaluation
Other Factors to Consider
Frequently Asked Questions
Sources
Top Rated Underwear for Hikers



Naturally antimicrobial
Slim fit design
Flat-lock stitched seams
Functional fly design
For over 20 years, this brand has captured a core market, with the best innovations using merino wool, like their excellent hiking socks. With these briefs on, you can ride, run, and hike all day in comfort. For those who use Merino wool fabric, they understand what justifies the high price. For starters, it's naturally antimicrobial: therefore, you will persistently be fresh as long as these hiking underwear are still in one piece.
Read more
The fabric breathes freely and has excellent moisture wicking properties, ensuring you remain dry in your nether regions. The SmartWool briefs are super soft, yet tough enough to withstand rough use. There are five sizes available to choose from; as a result, you can get a size that forms well to every man or boy.
Even though this soft hiking underwear lingers on your body, you won't experience undue friction, thanks to the flat-lock stitched seams. The wide elastic waistband, which reduces abrasion and cutting, also has the plush merino wool on the inside. The nylon core provides a consistent stretchiness.
With the right blends of mostly natural, then synthetic fibers, SmartWool has struck a good balance in this underwear for hiking. Additionally, the excellent designs- like the unique fly design and wide elastic waistband, means you're in prime position for comfortability on your travels. These briefs are durable, resist odors, and manage moisture and regulate temperature well, no matter where the road takes you.
2

. Adidas Sport Climalite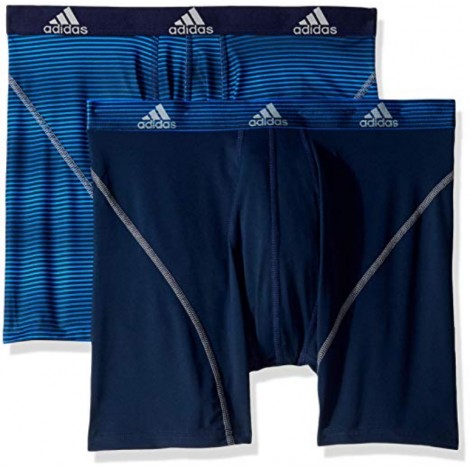 Many color options
Reputable brand
Micro-mesh fabric
Adidas is an unparalleled sporting apparel manufacturer. For that reason, this review hiking underwear would be incomplete without their Sport Performance Climalite briefs. The well thought out design, like the outside, smooth, non-chafing stitching, and no ride-up construction; ensure you remain comfortable in them throughout the day.
Read more
The combination of polyester and spandex makes them suitable at wicking moisture as they fit snug onto your body. The soft fabric used is stretchy, dries up fast, and wicks sweat effortlessly. The micro-mesh fabric offers exceptional breathability.
They do not ride up on the leg, like many other briefs with similar materials. This feature is essential to a hiker, where they will be moving a lot. Hiking underwear that pushes up on the leg can cause undue stress and creases that stimulate chafing, right under your justly fitting hiking pants.
The outside seam design adds to their aesthetics and durability. You can do all manner of sporting activities in them, or unwind with them on their own since they look so cool. There are up to 17 different color combinations to choose from, and the different size options are just too many to mention.
With all the sizes available, you can find a pair of underwear for hiking that fits you tight but not constrictive. When they are on your skin, they will wick away moisture better, than when loose, so that your nether regions stay dry. Should you wash them by hand or machine, they will dry out fast and ready for the next day's adventure.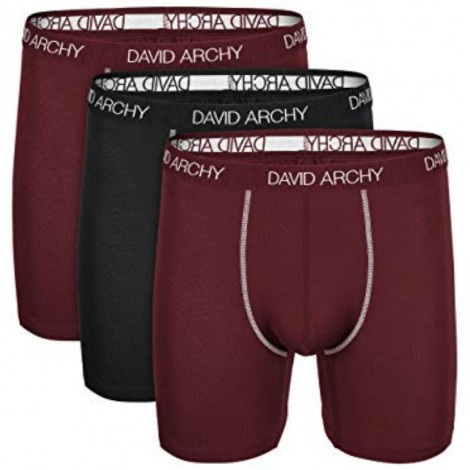 Tear-off tags
Many variations
3D pouch design
If planning to move light, then these quick drying and breathable hiking underwear will do the trick. You can wash a pair late in the evening, and voila, they're ready to be worn in the morning. This property also gives you an advantage over many others on a hot day, since the sweat dissipates faster to the outside fabric.
Read more
The David Archy underwear for hiking is made mostly of polyamide, which wicks sweat rapidly, leaving you dry and fresh. The manufacturer also added a mesh design on the elastic and durable material. The 3D pouch design guarantees no chafing on your sensitive areas. You won't experience any scratching with them on because of the flat-locked stitching all through.
The design gives the user a high level of flexibility, essentially making these briefs inconspicuous. They still look appealing even on their own, thanks to the 3D cutting, which fits snug to your body. You can choose a set from five different colors and a wide array of color options. There are three variations available with and without mesh or fly: so choose carefully.
4

. Under Armour Boxerjock



4-way stretch fabric
Reputable brand
Working fly
Under Armour has made many strides to become a household name in the sporting world. They have made a name for having some of the best shoes to take on many types of terrains, plus many other apparels. Therefore, it is only natural to find them in the hiking underwear field as well. There are seven different size options suitable for the brand's massive fan base.
Read more
The UA Boxerjock work exceptionally well as hiking underwear, with their six-inch inseam, excellent materials, broad waistband, and many more features. These UA briefs combine 90% polyester and 10% elastane, making them light and stretchy. They won't add extra unnecessary weight to your travels because of the fabrics.
The synthetic fabrics in this underwear for hiking are treated to prevent odor-causing microbes. Additionally, the articulated mesh promotes breathability. The four-way stretch ensures you move as naturally as possible. Besides wicking moisture, they also accelerate evaporation. It has a working fly, which makes them easy get on with your business, as fast and as easy as possible.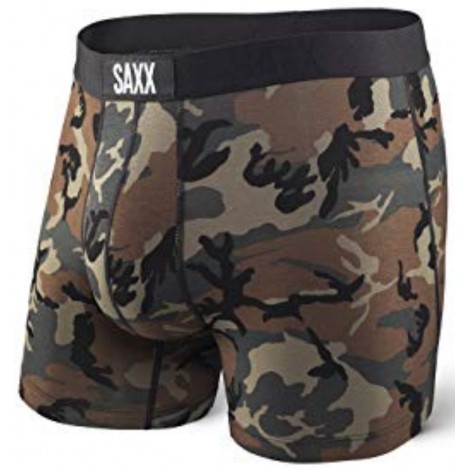 Mesh on pouch
Viscose fabric
Outside stitching
These briefs have many features, meant to keep you comfortable no matter your surroundings. They have a distinctive mesh on the pouch to reduce the likelihood of chafing while keeping everything centered. The fabric is 95% viscose, which wicks moisture away fast and regulates odor well. These and many more features make them suitable as hiking underwear.
Read more
The viscose feels weird at first if you're used to conventional fabrics like cotton. However, after getting used to it, you will appreciate how it feels and fits on your body. The 5% spandex keeps it tight to your skin so that the smooth, silky viscose texture can do its work without a glitch.
SAXX did away with the fly to ensure the mesh is incorporated into the design of this. The unique mesh in this underwear for hiking also feels awkward on the user and takes some getting used to. Nevertheless, this feature keeps everything neat while promoting breathability.
When it comes to drying, they take longer than other variants in this review. We attribute this to the mesh, and the thick waistband, which also takes some time to dry up. All the same, if washed late in the evening, they will be ready for you in the morning.
6

. ExOfficio Women's Give-n-Go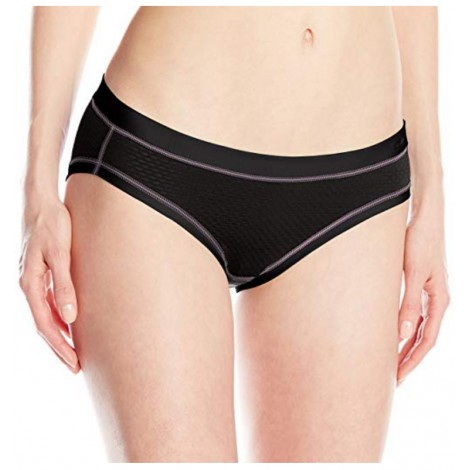 Versatile use
Very breathable
Quick drying
These briefs take the top spot, in the women's hiking underwear category. Its material is ultra-light and smooth. The mesh fabric design allows ample airflow: thus, you remain comfortable, cool, and fresh throughout the day. Additionally, they have flat-locked seams to keep it all together and antimicrobial treatment to reduce odor in the fabric.
Read more
This hiking underwear is a must in your wardrobe if you like to travel light. These briefs wash quickly, and the fabric, made mostly of nylon, dries in a couple of hours. There are five sizes available to give you the best possible fit. They look just as good on their own, and you can choose a pair from up to ten different color combinations.
The ExOfficio Women's Give-n-Go looks just like any conventional thongs: therefore, you can wear them just like a bikini. You can cool off in the summer beach more comfortably, and not just hide them under your hiking pants. By being so versatile in use, you will appreciate its features, even more, justifying the relatively high price.



Natural fabric
Seam-free
Versatile use
The highlight of underwear is the 80 percent rayon fabric, made from bamboo. The material makes it great for those with sensitive skin since it's natural. Additionally, rayon wicks moisture efficiently, breathes easily, and is naturally antimicrobial all meant to keep you dry, comfortable, and fresh. The other 20 percent fabric constitutes spandex and nylon, to improve on elasticity and durability.
Read more
These classic looking undies, work well as hiking underwear. You can comfortably wear them on their own since they do not show too much or too little. They dry up quickly, but you have to take special care not to wring them too much or hang them out in direct sunlight. If you take proper care of these pants, then they will serve you for an extended period.
By the fabric being so soft, you can even forget you have them on. This underwear for hiking is suitable for many types of hiking activities, where you may need to swim or run. The seam-free mechanism curtails the chances of chafing.
There are five sizes and seven color options available. After getting a feel of these eco-friendly bamboo undergarments, cotton alternatives will be obsolete.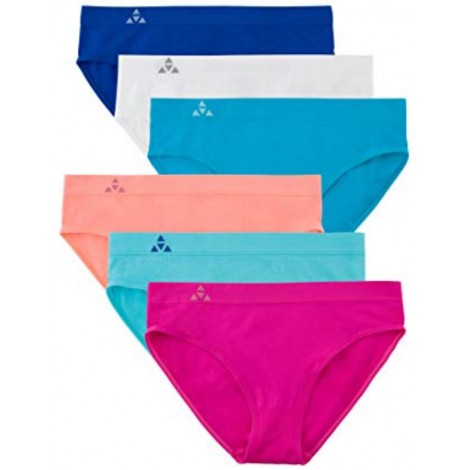 Four-way stretch
Seam-free design
Quick drying
This hiking underwear is designed to keep the active woman focused and comfortable. You will hardly feel the disruption of chafing because they are seamless. Additionally, thanks to the four-way stretch design of the multifaceted materials, you will move freely. Nylon is the primary fabric used, making them ultra-light, and giving these undergarments many suitable properties for a hiker.
Read more
The fabric in this underwear for hiking is super soft, breathable, moisture wicking, and quick drying. The tag-less and seamless design ensures comfort while hiding panty lines. Balance tech aims at continually improving on their products, and the latest version of these pair hosts many unique features, like reinforced edges to reduce the odds of them rolling up.
There are five different sizes available. You can choose an economical pack with six undies, having different or similar assorted colors. You can take on all manner of errands in this trendy and comfortable hiking underwear.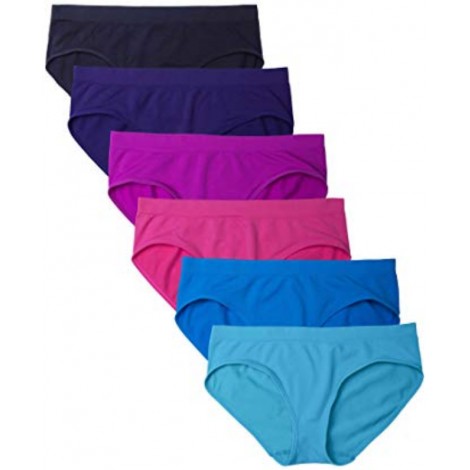 Reinforced openings
No side seams
Full bottom coverage
No antimicrobial treatment
Functionality and aesthetics are what Kalon achieves with these panties. They are designed by women- for women. Just like many other products in this review, this one is also made of synthetics in the form of 92% nylon and 8% spandex. The synthetics bring about excellent features so that you can move in comfort, all day long.
Read more
They are seamless, thus reducing chafing and irritation when used as hiking underwear. The openings are reinforced to prevent them from riding up. There are six different sizes available, which are sold in packs of six, having the same or diverse colors. They are also true to size, have a low rise, and offer reliable posterior coverage.
These hiking underwear stretch comfortably, ensuring they work faultlessly as they fit snug on your skin. These pants cover your whole bottom, to maximize on the benefits it offers. They have a modern look and feel so that you can wear them on their own. The only downside to them is that they do not have antimicrobial treatment. Because of this, you might feel a stench, unlike in other underwear for hiking in this review.
10

. Runderwear Women's Briefs



Full bottom coverage
Award-winning
Tag-free
These award-winning hiking briefs are designed with runners in mind. They are seamless all through, breathable and wick moisture efficiently. All the features in it guarantee your comfort while undertaking any strenuous physical activity. They sit higher on the waist, sacrificing on aesthetics, but maximizing on the functionality, comfort, and support.
Read more
These hiking briefs were designed for runners, by runners. Their design makes them comfortable by having a functional shape and huge waistband. You won't experience them digging into your skin. The fabric is unique, as it's not entirely synthetic. However, it is very plush and highly breathable.
By having a seamless design, chafing doesn't occur. Additionally, the flat-lock fine stitching on the soft fabric eliminates irritation and rubbing. The technical fabric wicks moisture and sweat effortlessly, leaving you dry and comfortable. Micro-perforation in this underwear for hiking encourages airflow so that you are cool and fresh all day long.
After use, the lightweight technical fabric dries quickly after wash. There are five sizes and only three color options available. These briefs are quite durable, justifying the high price tag.
Criteria Used for Evaluation


Materials
The right fabrics contribute a lot to comfortability on your trail.
You need to maintain your temperature, as well as prevent against rubbing, chafing, and reduce friction. For all these features, you need the right type of fabrics. Manufacturers combine synthetic blends like nylon and polyester, to give your hiking underwear the right characteristics. Here are some of the materials used and how they affect your experience in the hiking underwear of choice.
Merino
This fabric has many excellent features. It is lightweight, breathable, and has natural antimicrobial properties. An advantage merino wool has over many other treated synthetic fabric is that its antimicrobial attribute remains, regardless of the wash cycles. However, this material is pricy, compared to synthetic types, and it dries out slowly when washed.
Synthetic
Synthetic materials are inexpensive, durable, good at moisture wicking, and dry quickly. However, the odor control mechanism is weak and may irritate some wearers.
Cotton
This material is the go-to for most people. Cotton is comfortable and doesn't irritate sensitive areas. However, it retains moisture, promoting chafing, rubbing, friction, and increasing the potential for infections. Moreover, it takes ages to dry out. For these reasons, you should avoid cotton, because you are prone to sweating on a long, strenuous trek. Even if you could continuously switch up your cotton base layer, you'd have to carry many of them, further adding to your luggage.
Each material has its pros and cons. It all boils down to ensuring the right fabric is breathable, quick drying and wicks moisture well. Synthetic fibers and merino wool do an excellent job at that.


Comfort
If you don't notice your undergarments, then you're set for a hike.
If you're not comfortable in your undergarments, then change them up. Any issue is increased tenfold when on a trail, compared to an average day in your life. On the long trek, you will feel any potential chafing, elastic digging, the irritating fabric, or pants riding up even more. A good pair of underwear is comfortable by being unnoticeable.
Hiking underwear should have a comfortable cut, because of the persistent activity on a trail. Moreover, your undergarments should be close fitting to promote breathability while preventing chafing. There are numerous styles in underwear in the market, but boxer briefs designs are efficient for hiking underwear.
For women, being minimalistic with something like a thong is ill-advised, because your outer garments don't provide sufficient properties on areas not covered by the hiking underwear. Briefs increase the skin surface area covered, to keep you dry, fresh, and comfortable since chafing is reduced. Nevertheless, there are some low cut styles, which still give of a modern type of look in this review.
Look out for flat-lock seams, which cover a smaller surface area, as a result, reducing irritation from chafing. Vertical seams stand out, by rubbing on a select area of your skin. You could withstand loose seams on you, if you are not as mobile, but not while you're taking long walks. If you're using multiple layers, then the rubbing and chafing will be noticeable because of the added compression on protruding seams.
Other than selecting a style you are comfortable in- you need to have the right size. Your garments should be close fitting to give off suitable features. If your underwear is loose, then some creases might form, persistently rubbing a particular region. Fortunately, the brands in this list have a wide range of sizes, and all you need to know is your waist size to get the right pair. Hiking underwear must also be light at all times, and not weigh you down.


Durability
Why buy underwear that cannot withstand the rigors of a demanding trek.
If your undergarments lose their properties, they will be of no help, and may even make things worse for you. It is okay to spend more than usual, for something that will last much longer. It's okay to spend two times more, for something that will last three times longer. Sewing quality matters a lot in these garments besides the fabric.
Synthetic fibers withstand rough and extensive use much better than other fabrics. However, you need to maintain them properly, especially the treated type. Merino wool needs special care too, for you to get the best and extensive service from it. Merino wool is softer than standard wool, but it isn't cheap.
On a hike, you need to carry as light as possible, and that includes your hiking underwear. You won't have the privilege of tossing your undies into a washing machine in some of the most remote places you venture. Note that you can still wash most of the undergarments in this review with a washing machine. However, you have to follow the direction on how to maintain them because the treated fabrics might lose their properties in some cleaning agents.
Other than that, the materials used in hiking underwear only need a good old hand wash. Besides, they dry out fast, so you can wash them late in the evening, and have them ready to wear the following day, making them suitable for long trips.
If you take proper care of your undergarments, then they should serve you well for a long spell. Hiking underwear in this list use synthetic fibers, merino wool, or a combination of both. They have thick waistbands that don't wear quickly, and the sewing is of high quality.


Breathability
Your skin needs to breathe.
Breathability is essential for your skin, more so when on a hiking expedition. On the trail, you will do vigorous physical activities, making you sweat even more. Added to the fact that you may need to pile thicker clothing on you, the sweat surges even more. That's why you also need breathable hiking pant.
If air passes through, your undergarments will dry faster. When your skin is soaked, that creates an uncomfortable feeling and gives rise to many risky health problems.
Merino wool beats all other variations in breathability, and synthetic fibers win over cotton in the same scope. Some brands have designs with ventilation holes in them to promote breathability. No one appreciates being drenched in his or her sweat.


Features
Take stock of where you will be traveling to and what to expect.
What makes a hike fascinating is the thrill of not knowing what to expect. However, you can be sure of sweating a lot, making your undies soggy. This moisture creates many problems, which these products try to counter in various ways. Below is how some of the different attributes and properties affect your experience in your chosen hiking underwear.
Odor control
A prerequisite for hiking underwear is to be antimicrobial. This feature prevents the buildup of bacteria that might cause itchiness and bad odor. Germs thrive in moist conditions, and countering the vice will keep you fresher for longer.
Merino wool is naturally antimicrobial, so it doesn't need treatment like other fibers. Even though wool eventually takes up the scent of what it's covering, the smell doesn't build up fast. Additionally, this smell dissipates when the fabric is dried out and disappears when washed. Merino wool is covered with lanolin, an antimicrobial substance and it's rough on a microscopic level, making conditions inapt for bacteria to breed.
Synthetic fibers lose antimicrobial properties after many cycles of washing. Nonetheless, you can improve the duration of these properties by cleaning the treated synthetics as per the manufacturer's guidelines.
Drying time
While on the trek, it's best to be agile. In this case, you could do with only two pairs of underwear. Because of this, you need each pair to dry quickly after washing them in succession of use. You should remain dry around your nether regions, to prevent chafing or nappy rash.
Moreover, a pair that dries quickly will dry up comparatively fast even when on your body because of it still being a bit wet. However, synthetic fibers are usually uncomfortable on you when moist. Merino wool dries slower when compared to synthetic fabrics. Synthetics also wick moisture efficiently and are the fastest drying fabric when used for hiking underwear.
When in tropical environments, rains are unpredictable. Moreover, humidity is high in the tropics, and this affects the dampness in your undies. Merino wool handles a bit of moisture much better but takes ages to dry when exceedingly wet. You need to clean synthetics after use, but take solace in the fact that they dry up very fast.
Moisture wicking
As mentioned so many times in this review, you should try to be dry in your nether regions while on a hike. Moisture wicking is whereby the chosen fabric pulls sweat from your body towards the outer surface of the cloth. On hot walks, this can do you a lot of good. The synthetics and merino wool fabrics used, typically promote this flow of moisture.
Expert Interviews & Opinions
Most Important Criteria
(According to our experts opinion)
Experts Opinion
Editors Opinion
Users Opinion
By Default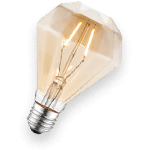 Do I have enough?
While hiking, it's best to have only the most essential gear. You definitely don't want unnecessary luggage inside your backpack weighing you down. Seasoned hikers usually only need one pair, during their stay. Some like to have two pairs, one to wash, and the other to wear.
Always layer your clothing on the hike
Temperatures change depending on your environment. These hiking underwear are not supposed to assist you in regulating your temperature since they are breathable and don't offer sufficient coverage. Nevertheless, their properties ensure your sensitive regions breathe, as they should so that you remain untroubled. The first line of defense on your skin is essential, though often overlooked.
Other Factors to Consider


Bottom Line
Nothing beats a pair of anti-microbial, fast drying, moisture wicking, odor resistant, durable, and breathable undergarments in remote locations. These are the exact features you require when you're far away from civilization, and resources are scarce. It would be difficult to enjoy nature if you have to change your clothing frequently.
Each of the hiking underwear in this review features some similarities, all geared towards making them unmemorable and comfy. On a hike, you need to be focused on what you see, hear, and experience, and not what you're wearing.
Frequently Asked Questions
q:

What is the best material for hiking underwear?

a:

Only choose synthetic fabrics like nylon or polyester. The only exception to synthetics would be merino wool, which offers similar excellent properties and much more. Some synthetic materials in your pair might include, but not limited to, polypropylene, rayon, and spandex. You will find spandex on most of the fabrics, to bring about some stretchiness to your hiking underwear.

Synthetics, as has been said many times in this review, are quick drying and durable. The only downside is that these materials retain odor, sometimes even longer than cotton, which you should steer clear off. Manufacturers use chemical treatments to synthetics, which inhibit the manifestation of odor-causing bacteria in your hiking underwear. However, the finish wears off after numerous cycles of washing.

Merino wool is the crème de la crème material for hiking underwear. It's ultra-soft and naturally antimicrobial, unlike synthetics. However, the initial cost is high but well worth it in the end.
q:

Which style of underwear is the best for hiking?

a:

Women or men, all have a preference when it comes to their underwear. For women, you will find full-cut briers, thongs, bikinis, boy shorts, or hipster briefs. For men, there are boxers or briefs. There's no exact correlation that whichever type of hiking underwear is the best for everyone. Therefore, choose a style that you are already used to having.

Here, you will find many styles, with a general bias toward the common types of undergarments. For men, you will unearth boxers mostly. This style is customary for men, and they provide a more extended cut, which covers the inner thigh. This design also reduces the probability of chafing in the thigh areas.

For women, you will find bikinis or briefs. With bikinis, women can wear them as swimwear too, and appreciate how fast they dry up. For women, using boxer briefs like the Kalon Underwear or Runderwear Women's Briefs will offer similar advantages like men's briefs.
q:

How fitting should underwear for hiking be?

a:

A good fitting undergarment should fit snug on your skin, without causing a tight discomfort of course. However, if your pair is loose, then you won't experience the benefits like moisture wicking, which is essential on a trail. Additionally, a size that's too big will cause the hiking underwear to bunch and rub against your skin, becoming an irritant.

It is counter-intuitive to worry about breathability in your hiking underwear while sacrificing on moisture wicking. A loose-fitting undergarment won't effectively wick moisture. Besides, the fabrics used in this review have suitable properties to offer both features. Choose a longer cut like briefs, which add extra coverage to your thighs, maximizing on moisture wicking.
q:

Is cotton bad for hiking?

a:

Sure, cotton is cheap, comfortable, and readily available for use as underwear. However, when used as hiking underwear, it will cause more problems, rather than solutions. The price of alternatives with fabrics like merino wool and synthetics might seem exuberant. But then again, you don't want a pair that will keep you slacking on the trail or have you visit your medic.

The main reason why cotton is a big no is that its moisture wicking capabilities are non-existent. Moisture on your skin is a breeding ground for bacteria and makes your skin softer. Because of these reasons, you increase the chances of you getting an infection in your nether regions.

Cotton absorbs and retains a lot of moisture: as much as 27 times its own weight. Comparatively, polyester holds only less than half its weight of water, whereas merino wool holds only a third.

On high-intensity activities on a hike, you will sweat profusely onto your hiking underwear. Consequently, this will add undue weight and reduce the warmth of cotton, required in cold regions. Actually, you will feel the effects of ambient cold more, because of induction as your garments are soaked in sweat.

Cotton also takes ages to dry. While on a trail, two pairs of hiking underwear should be more than enough in most cases. After washing cotton, there's no guarantee that the washed pair will be ready to use in a convenient time. For all these reasons, the disadvantages of cotton for hiking underwear overshadow the advantages many times over.