Best Gloves for Hiking Reviewed
last updated:
Apr 03, 2020
Hiking is one of the best ways to experience the outdoors. If you love to hike, then you already know the importance of wearing gloves for hiking. The gloves help keep you warm and help avoid things like frostbite. They also provide some level of protection, so that your hands are not vulnerable to injury.
Despite their benefits, the reality remains that you cannot use the same hiking gloves you used in winter, for summer. A single pair of hiking gloves cannot do everything. Owning several gloves will give you a chance to fine-tune your hiking experience.
It is also imperative that you keep your hands comfortable because of drastic weather changes. This guide consists of some of the best gloves for hiking in the market. They are versatile and useful for different activities and weather conditions.
In a Hurry? The test winner after 10 hrs of research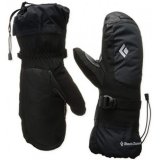 Black Diamond Mercury Mitts
Why is it better?
Extremely warm
Replaceable liner
PrimaLoft insulation
In a
Hurry? Editors choice: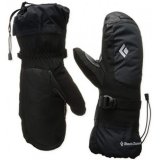 Test Winner: Black Diamond Mercury Mitts

5
Researched Sources
11000
Reviews Considered
10
Hours Researching
10
Products Evaluated
Fit
Insulation
Style
Water Resistance
Features
By Default
Top 10 Picks
1

. Black Diamond Mercury Mitts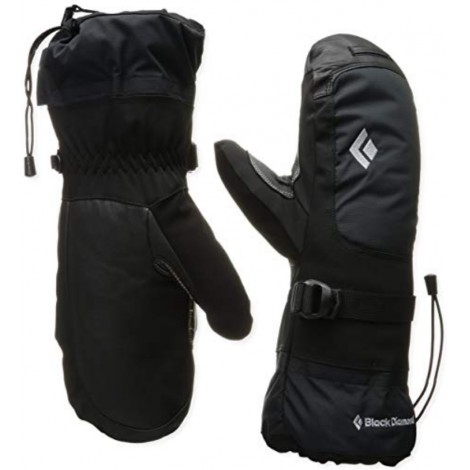 Extremely warm
Replaceable liner
PrimaLoft insulation
You can use these Mitts all year round. They are lightweight, functional, and sturdy, thanks to their Kevlar stitching. The hiking gloves also have a high-quality fleece lining and goat leather palms.
The inserts help wick away moisture as well as prevent water from penetrating the gloves. The Velcro attached inserts are removable, making them quick and easy to replace. Their shell is also 92% nylon; therefore, liquid cannot penetrate easily. In essence, your hands will stay dry under unforgiving wet conditions.
Their 8 percent spandex composition, gives them a somewhat tight and snug grip. These Black Diamond Mitts gloves for hiking are also surprisingly flexible, considering that they have multiple layers. They also have a four-way stretch fabric that promotes natural mobility.
The gloves' leather palms help improve your grip, in case you are lifting something like logs or skis, or simply scrambling through rough terrain. Next time you plan to face winter-like conditions, you should definitely consider purchasing a pair for yourself. They are available in five different sizes, accommodating even the youngest one in the household, with an X-small size.
2

. Outdoor Research PL400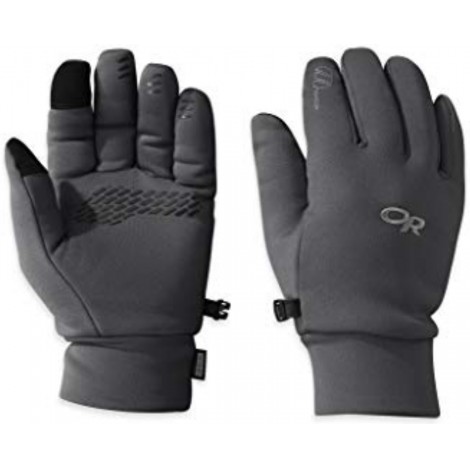 Machine wash
Shell or inserts
Excellent grip
OR's fleece lined hiking gloves guarantee your comfort thanks to its wide range of features. They are so warm, despite being very thin. What makes them stand out is that they are touch screen compatible. With a pad on the index finger and thumb, you can control your droid or iPhone without having to take them off.
Furthermore, the silicone grip dots and padding on palms assist in grabbing and holding on to objects. Polyester blends enable them to dry quickly and wick moisture as fast. As usual, it's hard to fault Outdoor Research, since they have so many excellent and practical designs.
These hiking gloves are available four sizes, suitable for everyone, from kids to adults. You can also choose from three different colors, namely; black, charcoal heather, and coyote. They are ideal companions for long days on the trail. Their stretchiness gives the user a more technical fit.
These are warm and lightweight, breathable fleece gloves. They are suitable for mildly cold days, but not on snowy like conditions. They wick moisture from your hands, leaving them dry and warm.
Even though they are not usable in extremely wet conditions, you can use them as inner liners, since the fabric used is quite thin, yet so warm. The brushed material on the outside of the hiking gloves enables larger waterproof gloves to slide over them effortlessly.
Overall, the PL400 does an excellent job of keeping your hands warm. You can tend to your phone and stroll through tough terrain easily.
3

. FREETOO Tactical Gloves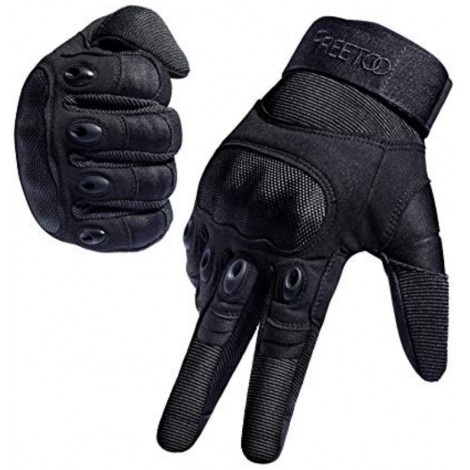 Excellent dexterity
Breathable
Durable construction
Not touch screen compatible
The FREETOO gloves for hiking are designed, with the military in mind. You can confidently scramble through the toughest of terrains when you have them on. They have a sturdy and abrasion resistant outer shell, while still enabling dexterity. You can shoot, archer, hunt, train, or hold onto ropes with these Tactical Gloves.
The hiking gloves consist of spandex and elastic materials, which provide an excellent fit. Great fitting gloves are essential for your safety when climbing and holding on to surfaces during the hike. The dual synthetic leather palms provide a superior grip. The Velcro straps securing them around your wrist can be adjusted for a customizable fit.
The odor free and breathable design ensures your hands are clean, comfortable, and fresh at all times. They also have a reinforced palm, double stitching, and knuckle padding, that shelters your hands from falling debris. The reinforced knuckles also make the FREETOO tactical hiking gloves suitable for mountain biking. They will shield you from twigs and shrubs that you will hit with your hands on the trail.
They are available in seven different color options, which can match well with your other gear. You can also choose from four different sizes: able to serve most adults comfortably. The gloves are useful in cold or hot weather, but they won't be sufficient in winter.
Army men go through some of the toughest terrains, taking on different activities. As such, it is not an exaggeration to say that the gloves are ideal for numerous applications. The manufacturer gives a 3-month warranty: which is unique since the product is for occasional usage.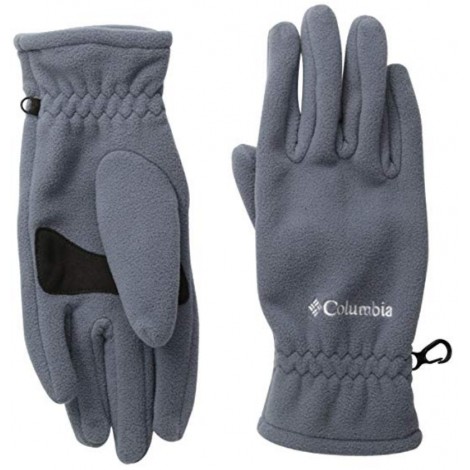 Security clip
Machine wash
Many size options
These gloves are meant to keep your hands warm while being functional. Losing a glove is a common occurrence while on the trail. With the Fast Trek alternative, that will no longer be a problem for you. You can clip the gloves onto your backpack or clothing when you're not wearing them.
Columbia is a big brand, which has to satisfy a large market. Because of this, they have six different sizes, whereas most have three to five size options. The abrasion resistant palm improves their durability, despite its soft materials.
Even though it's not waterproof, its polyester fabric dries out quite fast after getting wet. Alternatively, you could layer the Columbia Fast Trek under a waterproof glove to solve the waterproof issue. These hiking gloves are also sweat-absorbent, so your hands should stay warm and dry if used in proper environments.
The Columbia Fast Trek breathe freely and are super light. Your hands could never be more appreciative. They stretch well in all directions, and the five-finger design improves mobility. The gloves also have an elastic wrist for a reliable and comforting fit. You can purchase them in either graphite or collegiate navy colors.
5

. Mountain Made Outdoor Gloves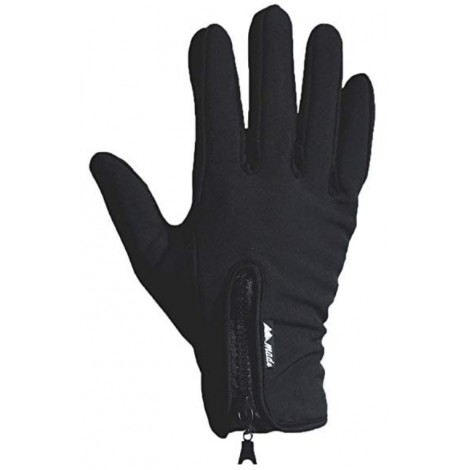 Touchscreen compatible
Anti-bacterial treatment
Exceptionally versatile
Uncomfortable seams inside
This brand has a large pool of skilled mountaineers who act as advisers. For this reason, you can be confident that the gloves were made with professionals and hiking enthusiasts in mind. You can use these hiking gloves for many activities like shooting, cycling, riding, and even driving. You can as well use your smartphone if need be.
The level of warmth they provide surpasses expectations. With wind stop technology and a multidirectional fit, you can do almost anything using these gloves. They are not only meant for hiking, but they also look fashionable enough to be used for casual activities.
These hiking gloves are available in four sizes, and the anti-slip zip design lets you adjust the fitting and comfort. The zipper helps you adjust the grip level and the warmth levels in one go. The anti-bacterial fleecing and breathable materials help eliminate foul smells from microorganisms.
The gloves also have a full palm rubber grip, to help you get a handle on things. They provide a remarkable fit, such that you would forget that you have them on. Some users even claim that they feel like a second skin. You'll wonder how you managed without them.
The manufacturer is also confident in their hiking gloves that they offer a one-year warranty.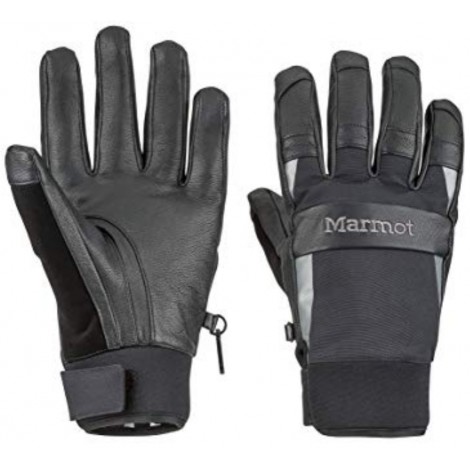 Nose wipe
Waterproof
Clip to attach
Not touchscreen compatible
The Marmot brand has been in business since the seventies. They are well above the competition in terms of quality. The spring gloves are breathable, lightweight, and suitable for all seasons and terrains. They are also surprisingly warm, considering how light and thin they are.
The soft shell on the back of the hand provides excellent flexibility and stretchiness. Some reinforcement and padding across the knuckles, adds to the durability of the product. They also feature a soft nose wipe fabric on top of the thumb.
They provide a snug fit, and you can also secure them using Velcro straps. These gloves also have waterproof leather material on the gripping surface. They are excellent for grasping tools and equipment like ski poles.
When the hiking gloves are not in use, you can clip them together, so that they are not separated or lost. Some gloves will come and go, but this pair will last longer. You should have nothing to worry about as long as they don't get lost. They come in five different sizes and two different colors.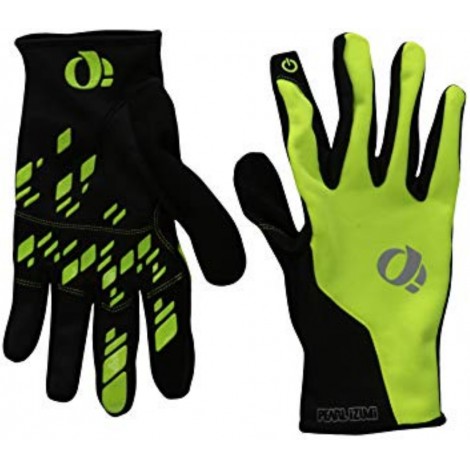 Odor resistant
Touchscreen compatible
Handle sweat well
It would be hard not to like these gloves if you take all their features into account. Their P.R.O thermal fabric ensures optimal insulation, quick dry time, moisture transfer, and odor resistance. Synthetic leather is also strategically laced in high wear zones, to maintain the hiking gloves' durability.
The silicone-screening palm provides an excellent grip. The top of the thumb also has soft fleece, which you can use to wipe the sweat off during the hike. You will also find it easy to swipe through your smartphone with the Pearl Izumi Thermal gloves for hiking.
Even though these gloves for hiking are not the warmest, you can also use them as inner liners, since they have excellent moisture wicking properties and the fabric is thin. They guarantee that your hands will stay dry regardless of how strenuous the activity is.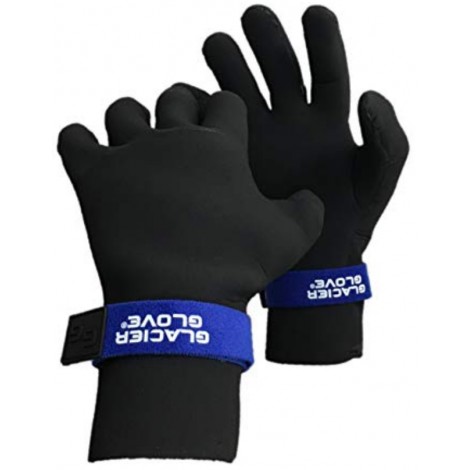 100% waterproof
Pre-curved fingers
Seamless palm
These hiking gloves are an ideal choice if you plan to go out for a hike in icy and wet conditions. They are waterproof, and the design makes them suitable for kayaking and similar activities. The glued stitching, seamless palms, neoprene material, are among the features that alleviate any chances of water penetration.
The pre-curved fingers and seamless palms minimize fatigue. They also come with pro straps that help lock your cuff tightly. The close-fitting lock guarantees that moisture does not drip from your elbow to your hands. The outer fabric also offers excellent grip so that you can have better control of your equipment and tools.
Do not take these gloves for hiking lightly because of the neoprene fabric, especially since they are quite robust. You can even ride a mountain bike in snowy conditions while clutching tightly onto the handlebars.
You can choose from six different sizes, so you have to be keener when making your pick. Size is more critical when it comes to these hiking gloves since they are not stretchy like others are.
9

. Carhartt W.P. Waterproof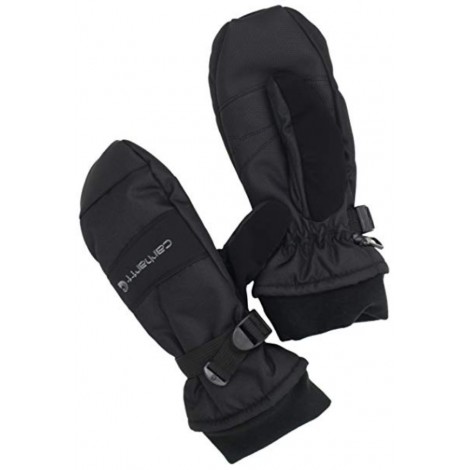 Nose wipe
Security clip
Pull on closure
These Carhartt alternatives were designed with the extremes in mind. If you are planning to hike higher up the mountains, then you have to add these pair to your gear. These hiking gloves are your ticket to the top. Given that they can breeze through the coldest of hiking conditions, they will also manage to withstand winter conditions.
They feature a removable inner liner, which you can switch out. The outer shell is 100% polyester, which makes them waterproof. The reinforced polyethylene palm will not rip easily while offering a reliable grip. The hiking gloves also have fast drying technology, which leaves you dry and comfortable after a sweaty workout.
The wrist cuffs are elasticized to offer a secure fit. They will also shield you from cold air and moisture. The gloves also have a pull-on closure mechanism that enables you to get a more customized fit. The glove design allows your fingers to touch, making them warmer as you continue wearing them.
The Carhartt gloves for hiking are also available in four sizes and three different colors.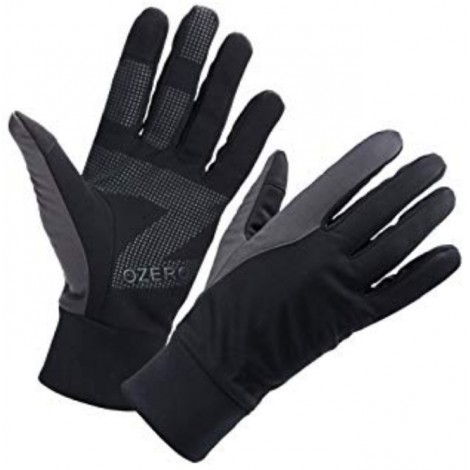 Touch screen compatible
Non-slip palm
Responsive customer service
These waterproof hiking gloves will take you through the toughest of habitats. They have non-slip silica gel particles, which improve your grip on the items you hold. The gloves also allow you to use your droids and iPhones, without encountering any lags.
However, you shouldn't place them in water for too long, since the stitching holes can let in moisture. If you use them correctly, you will enjoy the benefits of the warm, moisture-wicking fleece fabric inside. The hiking gloves are available in three different sizes. The only downside is that there are no versions for kids.
OZERO provides a 90-day return policy. Therefore, if you are still skeptical, you can get a pair and test it out. If you are not happy or satisfied, you can return it to the manufacturer and get a replacement or a full refund. Thus, the entire purchase is risk-free.
Criteria Used for Evaluation

Fit
A balance between dexterity and warmth
While hiking, you'll need your hands for several things. Obviously, a glove that is too small won't fit you, and one that's too large will keep sliding off. That is why having an appropriately sized hiking glove is essential.
You don't want a glove that's has a tight fit since you will feel as though your fingers are restricted. Moreover, you risk cutting off the circulation to your hands if the wrist is too constricted. As such, your hands will end up feeling numb.
Sharing gloves is not very advisable. A hiking glove might fit your friend, but fail to do so on you. It is also unhygienic to share gloves with others.
In this review, hiking gloves are categorized as extra-large, large, medium, small, and extra-small. When it comes to gloves meant for scrambling, you will find that small sizes are non-existent. After all, it's not recommended to have kids engaging in such activities. However, it can be a walk in the park for adults using sturdy griping hiking gloves.
Not all sizes are the same. For example, one brand's large might be medium in another. An excellent way to gauge your size would be to check your hand measurements as per the manufacturer's guidelines. A good brand will usually have several size options.
Most of the hiking gloves in this list can be adjusted to suit various needs. A rise in temperature will call for a more loose fit. A significant drop in temperature will require you to have a snug fit.

Insulation
The more the layers, the more the insulation
Layering helps you keep warm and dry. You need to insulate your hands from harsh winter-like conditions. Synthetic materials are better than organic ones because they retain heat longer and dry out faster. Even though wool is efficient at keeping you warm, it takes ages to dry after getting wet.
Use different fabrics to get the perfect mix of properties. The outer layer is usually water resistant or even waterproof. The more robust the materials, the longer your hiking glove will serve you. However, you might find it constrictive to use a harder shell.
The inner layer is typically a soft liner, with heat retention properties. The ideal liner should also have moisture management properties as well. Insulation creates pockets for warm air; thus, your hands remain warmer for longer. Inserts made of polyester make the warmest hiking gloves.
In cases where you don't need insulation, then natural fibers will work well for you since they are lighter. With less weight, then you can move your fingers effortlessly. Some hiking gloves may not have removable layers, but feature an insulating fill between the outer weatherproof layer and soft inner fabric.

Style
It all depends on your setting
There is a wide range of hiking gloves in the market. Some have five fingers while some are mittens. Aside from the traditional types of gloves, there are also hybrid options that comprise of the glove designs mentioned above. Such models often come in a three-finger design.
Mountain bikers like the three-finger design, since they are warm and functional. They also make the braking process effortless. While on the trail, you want to feel as natural as possible. That is why your hiking gloves shouldn't hamper your freedom and dexterity.
It can be frustrating when you have to take off your gloves continuously whenever you want to do something. Hiking environments also differ; therefore, no single glove works best for all the different settings. What you can do is use a layering system. In such an arrangement, you can wear each glove on top of the other.
The typical hiker needs two or three different pairs of gloves for extreme environments. For warmth, use a fleece glove on the bottom layer. The fleece glove in direct contact with your skin will provide warmth, and they dry out fast when in contact with sweat. Modern fleece gloves allow you to use your touchscreen devices without taking them off.
The second type of glove should be waterproof for insulation purposes. The main objective of waterproof gloves is to keep your hands as dry as possible in wet conditions. There is a wide array of such hiking gloves, each offering something different. Some waterproof gloves provide more insulation and warmth, while the others offer better grip and dexterity.
The last layer should be the gripping glove. The gloves will help you grasp on to things, and when scaling a steep slope. Griping gloves are useful during the day. At such times, the temperatures are more favorable, and you can explore your horizons.
The gloves will help you gain better control over your tools. They are also useful in helping you handle the terrain better. Your hands will also be less prone to injury when you wear them while on a treacherous outdoor setting.

Water Resistance
Find a decent solution to for moisture management
The outer layer of your hiking gloves, also called the shell, should be breathable and waterproof. The shell will take the brunt of the weather; however, a small puncture on its surface might hamper the gloves usability. For this reason, it needs to be sturdy and durable.
An exceptional waterproof shell should protect your hands from physical harm, and if possible shield you from the wind as well. Some shells can be effortlessly separated from the lining glove. In that way, you can choose a different lining, after the durable shell continues to serve you through many trails.
A good lining should wick moisture away as well as retain heat. Even if the lining becomes wet, water shouldn't penetrate it easily. The lining materials are usually less durable than the shell. Therefore, a filling that works separately from the shell is easy to replace and clean. Use one pair inside your tent where it's warmer, and add the other for when you are outdoors.
The more the layers you have, the less you'll be able to move your fingers. Your ability to grasp and grab objects efficiently will reduce with additional layers. On the other hand, you won't be mobile that much in icy conditions. Therefore, it's up to you to find the right balance.
Most hikers use an outer layer for water resistance, having an inner layer for moisture wicking and warmth. For extreme conditions, some use up to three layers, to keep their hands warm in harsh environments.

Features
All modern features are meant to make your hike bearable
Gone are the days where a typical glove could pass off as a hiking glove. You could opt to stack many ordinary gloves like back in the days, but you won't get the same benefits as current options. These products are now updated to meet the needs of current users. Some have removable layers, carabineer loops, nose wipes, zippered pockets, palm grips, single-pull adjustability, heating systems, wrist cords, and clips.
Nowadays, hiking gloves have a ton of useful features. Most people now have smartphones. It is not practical to have to remove your hiking gloves all the time, especially in extremely cold environments. Luckily, most of the hiking gloves in this review have touchscreen capability, ensuring continuous use of your phone.
Some outer shells are made of fabric enabling you to use your smartphone. Others have silicone palms to ensure your phone does not slip off easily. In the future, there might be even more enhanced features, thanks to technological advancements.
Expert Interviews & Opinions
Most Important Criteria
(According to our experts opinion)
Experts Opinion
Editors Opinion
Users Opinion
By Default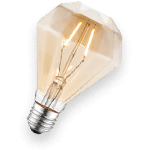 Caring for hiking gloves
The cellular lining is paramount for your handwear. The component fades away after a while, but proper care can make the lining last for a long time. Waterproof garments have laundering instructions most of the time. Always avoid using regular detergents as you wash, there are commercial detergents recommended for use.
Selecting the best hiking glove
The hand wears vary in terms of material, insulation, lining, and mobility. The season and place you intend to use them play a significant role in determining the pair you own. Lightweight gloves are meant to be worn in warmer areas or periods while the heavier ones are better placed in cooler temperatures and locations. Consider such aspects before purchasing to avoid regrets.
Other Factors to Consider

Bottom Line
While hiking, your primary goal will be to enjoy the scenery while you're on the move or relaxing. In both scenarios, your hands will require protection. There are two types of hiking gloves. One is meant for use when you unwind, and the other for when you're on the go.
Fleece gloves are a great choice for exploration since they offer dexterity. On the other hand, mittens are an excellent choice when you are relaxing. They are the best way to stay warm in a reduced physical state.
You can take the mittens off when you feel they are too warm, or layer a thinner hiking glove. Layering is the best way to regulate your hand's temperature. Therefore, always remember that one pair of gloves doesn't work best for all your excursions.
Frequently Asked Questions
q:

Why do people wear hiking gloves?

a:

Hiking is always fun, but sometimes the weather gets daunting. Hostile conditions during winter expose you to several health risks. Hiking hypothermia creeps in slowly; some people laugh it off or even fail to recognize the signs and symptoms. Hiking gloves are considered a preventative measure for such conditions.

Cold, stiff, or numb fingers are very uncomfortable. They come in handy when grasping surfaces like small tree branches and rock surfaces for support as you ascend on your trail. Hiking gloves ensure you stay warm, avoiding the numbness.

The gloves also offer protection since these surfaces may be too rough leaving you with blisters. Hiking gloves keep your fingers scar-free and frostbite-free. You should always carry a pair with you every time you hike in cool places. Make sure the pair you select is sturdy and will not rip easily.
q:

Which hiking glove designs are available?

a:

Gloves are basic attires, which can go unnoticed most of the time. The designs range from winter and regular hiking gloves, mittens, lobster gloves, 3-in-1 gloves, and waterproof gloves. Features are the niceties that set aside the different models in this industry.

Some designs are pleasing; they can even make your hiking experience better. They offer aspects that make them recommendable to your friends. Others will only inconvenience someone; you wind up paying extra money for gloves that will not serve the purpose.

There is no harm in trying to look fashionable; just keep in mind that the gloves' ultimate goal is to keep you safe against cold weather, wind, and rain. If the pair doesn't offer much protection from these, then it's not worth the price.
q:

Do I have to wear layers under my hiking gloves?

a:

Achieving the balance between keeping your hands warm and maintaining dexterity is challenging. Some hiking gloves offer warmth, preceding flexibility, and mobility. Other models provide the finesse, with very light material that isn't warm enough.

Hunting for a perfect blend is not an easy task. A bit of improvising can help you out with this though, that's where layering becomes essential. You should buy a flexible pair that is a size larger than your usual, and then wear regular lightweight gloves under your hiking gloves. Your typical sized gloves tend to get too tight when you have layers under them.

Models with adjustable wrist cords allow you to change the fit at your wrist. As a result, you can wear as many layers as you wish. However, layering is only imperative, depending on the amount of protection you require. If you hike in warmer areas, layering may be off the table.
q:

Are gloves for hiking better than mittens?

a:

Mittens are confining compared to hiking gloves. The fingers are not separated by fabric, making it hard to carry out tasks in them. You cannot grip onto surfaces as you ascend uphill; giving the hiking gloves an edge over them.

Mitts generate more heat, since your fingers touch each other, sharing the warmth inside. They are a better choice when you are indoor with little to do. Putting them on and off every time you want to grab something will be pointless. You lose the warmth, and heat buildup starts from scratch each time.

Hiking gloves offer finger dexterity: you don't have to remove them at any point once you wear them. They may not be as warm as the mittens, but these are the pairs to scale up a hill. They occupy minimal packing space, so carry as many as you can.
q:

How important is the lining in these gloves?

a:

The lining is an essential aspect of hiking gloves. The lining draws sweat away from your skin, keeping you dry. The insert also makes the handwear waterproof and prevents conductive loss of heat. Hiking gloves with moisture-wicking lining is highly recommended because they reduce the chances of your fingers getting painful and numb.
q:

How should my gloves fit?

a:

The first and most essential criteria you ought to evaluate before buying hiking gloves is the fit. The fit determines your digit's comfort throughout the hiking journey. The handwear should fit moderately, not too tight or too loose. Forget about layering if you wear this.

A cramped pair is a health risk. The gloves will temper with the circulation of blood in your fingers, which exposes you to the risk of frostbite and escalated cold-related illnesses. The tightness restricts your movement and grip to a certain extent.

Loose fit has a downside too. Functionality is disappointing because the hiking glove will have extra space, so it won't keep you as warm. The gloves can eventually slip off your hands at an inopportune moment, making it necessary to keep adjusting the glove every so often.

Well, you can wear layers under a loose fit; however, it's better to get a perfect fit to avoid such inconvenience. You will definitely move at a slower pace facing such challenges.
Subscribe to our Newsletter