Best Trekking Poles Reviewed
In a Hurry? Editors choice: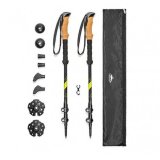 Test Winner: Cascade Mountain Tech

You might be an experienced hiker who is looking for a new challenge like getting off the beaten trail and blazing one of your own. You might want to walk into remote locations where the natural beauty is unmatched and worth every bit of the extra effort it takes to get there. On the other hand, you might be a beginner in need of a little extra help as you get used to climbing those steep mountain trails or
walking on uneven rocky ground
. Whatever your situation, trekking poles are a great tool for you to use in furthering your enjoyment of the great outdoors. Whether you are into extreme outdoor activities or just looking for something to help you balance and keep you safer on the trail, these products are a great place to start.
Standout Picks
Criteria Used for Evaluation
Accessories
Oftentimes with these kinds of products, accessories are not optional. You simply must have certain accessories to use the product in certain conditions. For example, if you are hiking in muddy conditions, you will need accessories called mud baskets. These are like a rubber or plastic skirt that fits around the pole to prevent it from sinking deeply into the mud. If you are hiking in the snow, you will need snow baskets, which look a little different from mud baskets, but act in a similar way and serve a similar purpose.
You will also need different kinds of tips and tip covers. The tips need to be replaceable since they inevitably wear out. But you can also change the type of tip for different kinds of conditions. Tip covers are another option. These are usually simple rubber covers that save the hard metal tip from wear and also provide more grip. We looked for products that included extra rubber covers because these also wear out and need to be replaced. Some rubber covers are shaped like a little foot and are sometimes called a rubber boot. This type is often best for use on hard man-made surfaces like asphalt or sidewalks.
With all this information in mind, we looked for products that included at least the most basic and essential accessories. Some products included all the accessories you could possibly need, and we counted that as a good thing. But we also kept in mind that some people might never use some of these accessories and would want a more basic product with everyday accessories. So we included some of those on the list as well.
Adjustability
Since people come in a variety of heights, it is essential that these products are adjustable. We only included products that have at least some adjustability. Many of them can be adjusted across a very large range. Many of our choices can also collapse down to a very small size. And this is considered a benefit for two reasons. One was that they would be usable by a child. This way you can take your whole family with you on trips to appreciate the outdoors. But the second reason this is such a good thing is for storage and travel. At their full length, these products take up quite a bit of room. So being able to collapse or fold them is a very helpful feature. Not all products can be collapsed to a small size, but most of them can.
We examined the adjustable systems since they tended to be an area for potential problems. If you have the ability to adjust the product up and down, the locks need to be extremely strong to hold it in place to prevent it from collapsing when you are using it. We looked for fail-safe locks with good designs and sturdy builds. We also looked to make sure users were not reporting product failures at crucial times. Whenever there were some who mentioned problems with the lock or the adjustable system, we looked to see if this was a major product defect, the gradual wearing out of the product after much use, or if it was a rare problem that could potentially be fixed.
We also looked at the strap to see if it was adjustable. This is good for being able to find the right tightness. Some choose to wear the strap in such a way so that they do not need it to be tight, and some experts recommend this method of wrapping the strap over and through your hand. Whatever you decide to do, being able to adjust the strap to fit your wrist size and your method of wearing it was very important on our list of criteria.
Comfort
There were three main areas that we examined when it came to comfort. One was the handle. Another was the shock absorption. And the third was the wrist strap.
For the handle, we made sure that every product we chose had a comfortable grip with cushioned materials that were designed to reduce strain on your hand and to prevent blisters. Some of the products we chose have an angled handle, while others have a straight one. Different kinds of handles are more comfortable for different people. But our most important criteria for the handles was the material and the design. Many of our choices feature foam or cork, both of which are comfortable. As for the design, we looked for handles that had contouring and places for your fingers. This makes them easier to grip which means you will not have to grip them as tightly.
The second area we examined, the shock absorption, was something that we found was liked by some and not by others. Since this comes down to personal preference, we decided to include some of each type. Many users prefer one or the other for different types of terrain. We did include a model that has the ability to turn the shock absorption on or off depending on what terrain you are on.
Finally, while not a major issue, we did look at the wrist strap to make sure it was wide so it would not cut into your wrist, and we also looked for padded wrist straps for additional comfort.
Durability
When researching the durability of each product, we went straight to the users, especially those who had owned the particular model for years and had used it in a variety of situations. Those were the ones best qualified to comment on whether or not the product was durable. We only kept the products that users consistently ranked high in durability. For the ones we chose, it was not uncommon to hear stories of how a hiker had used theirs for years in their travels all over the world.
Another thing we researched was the different common material types. We wanted to find out which materials were the most reliable and what each one's strengths and weaknesses were so that we could find the products that would hold up under a lot of use. We learned that tungsten carbide is a common material for the very tips of the products. This material is very strong and can withstand a lot of pressure. It is also good at remaining durable under varying temperatures. Steel is another common tip material The poles themselves are usually made out of one of two materials: aluminum or carbon fiber. Aluminum is often of a heavier weight but is a bit more durable, although it can bend. Carbon fiber is lighter weight but has a tendency to shatter under too much pressure. Either type has its own strengths and weaknesses.
Traction
This might be the single most important criteria for trekking poles. Traction is basically the whole point of them. It is their main purpose along with stability. When we were considering the traction of each model, we looked at the tip to see if it would be too slick or if it would grip the surface of the ground. But we realized that most of the time users will probably have a rubber cover on the tip. This greatly improves the product's traction.
We also considered how well the product supports users and how much weight it can hold. And we also looked for products that were good for all kinds of terrain. Finally, we made sure that each model we chose was stable and not flimsy or unreliable in any way.
10 Top Rated Trekking Poles
1

. Black Diamond Trail Ergo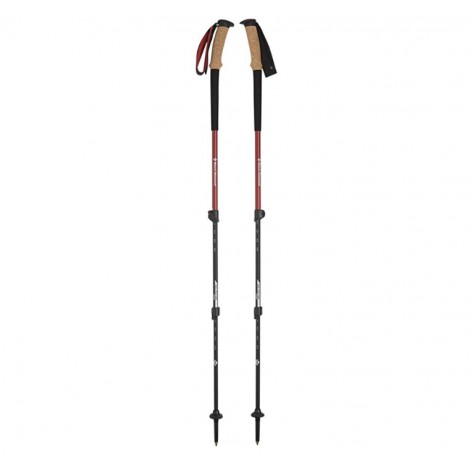 The Black Diamond Ergo trekking poles has flick locks that allow you to adjust the length of the product to work for your height. It also telescopes from 74 centimeters up to 140 centimeters in length.
The Black Diamond Trail Ergo has handles made of natural cork which is both soft and durable. This serves two purposes. One is that it gives the handle some padding and makes it much more comfortable which will help prevent blisters. The other benefit is that cork is good at wicking away sweat. This ensures that you will not be hindered by sweaty hands which are both uncomfortable and potentially dangerous since they can make things slippery. This product also includes padded straps so that you will not accidentally drop one of the poles.
The Black Diamond trekking poles include snow baskets which you can put on the product if you plan to be hiking in snowy or icy areas. This model designed for versatility and this allows you to use it for a variety of different situations and environments. There are a variety of accessories included, and yet still others that you can purchase separately that will adapt the Black Diamond to different types of ground coverings. This way you can customize it for rocky terrain, sandy ground, slick surfaces, leafy forests, or any other kind of place you plan to travel to. The Black Diamond is good for the weather and conditions at any time of the year.
These poles for trekking are made out of aluminum which means they do not weigh much but are still strong. One of the biggest disappointments that users had with this product was that it does not come with rubber tips. This is surprising and disappointing since high-quality products usually do come with tips of some kind and many users expect it. Of course, this can be remedied by buying some rubber tips separately, but it would have been nice if they had simply come with the product. On the other hand, users did like the angle of the handles. Many said that the angle is just right for comfort and practicality. The angles help reduce the strain on your wrists.
All of these features make Black Diamond Trail Ergo one of the best trekking poles on the market and why it's at the top of our list.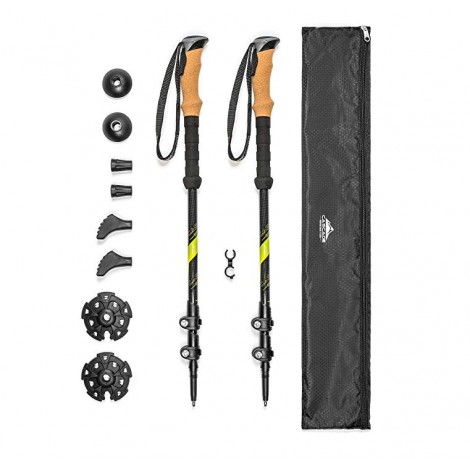 This product from Cascade Mountain Tech is exceptionally strong and durable since the poles themselves are made out of 100% carbon fiber. The tips are also extra strong and are made out of tungsten carbide. It also comes with a range of accessories for an added boost to its value.
One of the most exciting features of the Cascade Mountain Tech is that it comes with a whole accessory kit. The kit includes a zippered carrying case, snow baskets, rubber tips, boot tips, and mud baskets. That is just about everything you need for hiking in any kind of terrain including natural ground or paved roads or sidewalks. The Cascade Mountain Tech weighs 7.8 ounces, and it is adjustable from 26 inches high to 54 inches high. It is also completely collapsible which allows you to store it in a small amount of space or, more importantly, to easily take it with you when you are traveling.
Cascade Mountain Tech's product features a quick locking system that allows you to adjust while on the go. To adjust the poles you simply open a tab, change the height, tighten a thumb screw, and then close the tab. Unfortunately, there is a slight downside to this system according to some users. The thumb screw can't be tightened enough by hand. You need to carry either a flathead screwdriver or a coin along on your hike to properly tighten the thumb screw enough. Otherwise, the system is very intuitive.
The handles are available in two different material types. One is cork, the other is EVA material.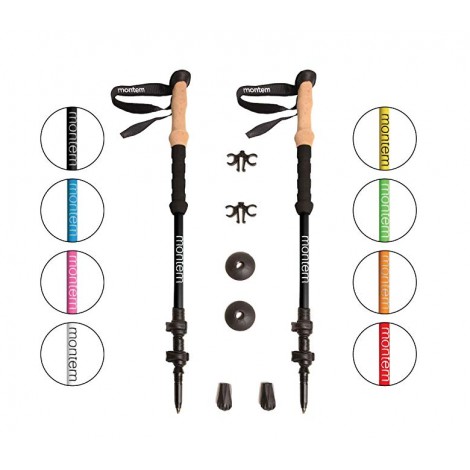 The Montem Ultra Strong trekking poles are adjustable from 24 inches to 53 inches and the poles weight 9.6 ounces. The handles are made out of EVA foam which prevents the absorption of odors and also prevents chafing on your hands. These poles come in a range of colors and are not specific to a person's right or left side. They also come with interchangeable rubber tips and a warranty, though warranty coverage is limited.
The Montem Ultra Strong supports a weight of up to 350 pounds. It is made out of the same grade of aluminum that is used in building aircraft. Even so, some people had trouble with the trekking poles bending or bowing under the weight. Most claimed that they did not put much weight on it for it to have this problem, but others mentioned that this happened when they used the product to catch themselves from falling. Either way, users were not happy about this tendency. Furthermore, the warranty is limited to factory defect, and if the product bends under use, this is not considered a factory defect. The brand claims to offer a free lifetime replacement, but users did not seem to be able to get the brand to keep this promise.
The Montem Ultra Strong comes with several interchangeable rubber tips so you can replace them as they wear out. Each product in the pair is the same. They are not specific to your right or left side. The product is available in several different colors including pink, blue, white, regular black, or black matte.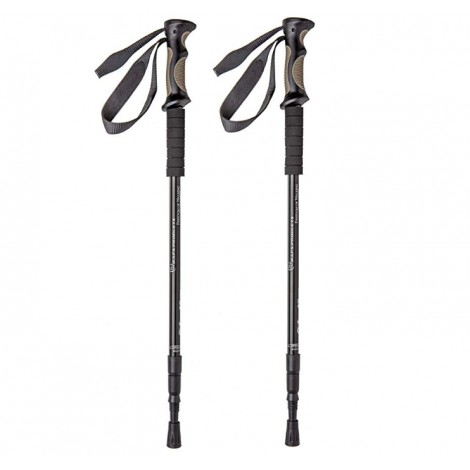 The BAFX can be adjusted for people ranging in height from 3 feet 6 inches to 6 feet 4 inches. The corresponding trekking pole heights are 26.5 inches up to 53.25 inches. This product can be small enough for a child or long enough for a tall adult.
The handles on the BAFX trekking poles are contoured like the shape of your hand for better comfort. They are made out of a rubbery material called TPR. This material does not wick or absorb sweat and can be washed off. The wrist strap is extra wide and provides additional comfort. And the BAFX comes with four rubber tips which equate to two sets. Each product has a spring toward the bottom. This acts as a shock absorption system. The springs are covered so that they do not get dirty or wet and do not become rusty from exposure to the elements. The cover can be pulled back to reveal the springs but you should make sure that they are fully covered before using the product. The shock absorption system can be turned off if you decide you do not want to use it in certain situations.
The locking mechanism of the BAFX is of the twist lock type. Some users reported the lock unlocking itself a few times and they had to re-lock it while on the trail. This could be a serious issue especially when you are relying on the product on difficult or uneven ground.

5

. Mountainsmith Halite 7075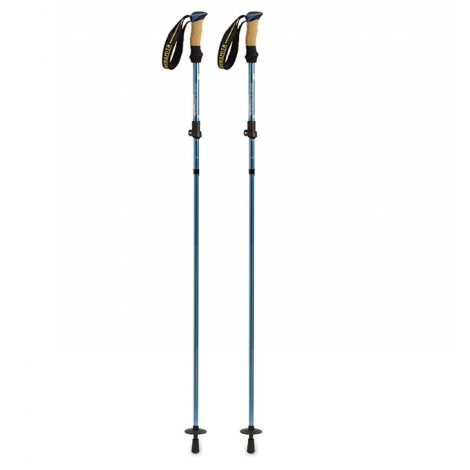 You can take apart the Mountainsmith into three pieces to collapse it for storage or travel. The three pieces are all connected by a vinyl-coated steel cable so they won't get separated. This design is the same kind of thing you see with a tent pole and it provides convenience by allowing you to collapse the product into a much smaller size than would otherwise be possible without losing a piece.
There is a pin lock holding the wrist straps on to the Mountainsmith. The wrist straps can be removed so that you can wash them if needed. These poles can be adjusted from 48 inches to 54 inches, which is an unfortunately small range compared to other models. Another downside is that the maximum weight capacity is only 160 pounds, which is not nearly as much as some products can handle. This means that this product is going to be best for lightweight users of a very specific height range. Often these lengths are recommended for fairly tall people, but users have reported that even though they thought the product would be too tall for them, it turned out not to be, but other users have said it would be nice if the product could be shortened some more. Whether or not this product is the right height for you largely depends on how tall you like these products to be for your ideal comfort level. Users have said that one of the good things about the Mountainsmith trekking poles is that it is quick and easy to fold up and pack away and then unfold when you are ready to use it.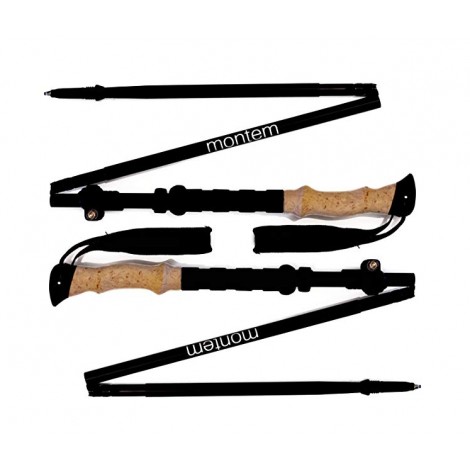 The Montem poles can be folded down to 16 inches in height. It comes with a storage bag that is also that height. The Montem is a great option for travel since it is easy to fold and takes up very little space. It is also extremely durable and comfortable, thanks in part to its ergonomic handle design.
The handles on the Montem are comfortable and ergonomic. Users have said that the Montem is extremely long lasting and durable and that even after many hikes in all kinds of difficult conditions, it withstood the use perfectly. The locking system on the Montem is one of the best-designed options available on the market. It has a twist lock that is very safe and prevents the product from collapsing unintentionally when in use. The Montemtrekking poles supports a lot of weight, and users report that it is very stable and provides great traction in all terrain.
The one downside that users have mentioned is that the product does not come with instructions. If you choose this product, you might have to experiment with it a bit to figure out how to use it. But you can also find some good tips and advice online or by contacting the brand's customer support line.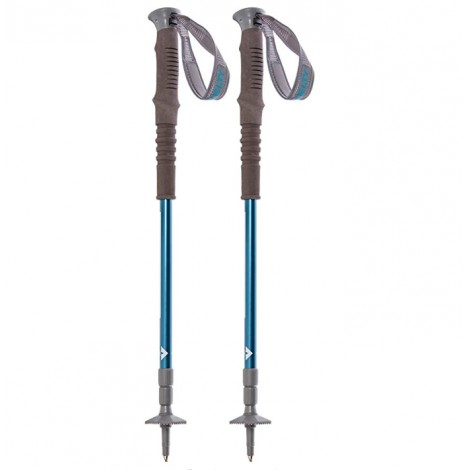 The Kelty Upslope 2.0 is a bit heavier than some other models, but it is built more strongly, too. Despite the extra weight, users still thought that the Kelty Upslope was still plenty light. The product has quite a wide range of adjustable heights, and it has two separate locks to hold it at the height you choose.
There are three different sections of the Kelty Upslope, and each one is adjustable. Two of these sections are in the pole itself. This way you can decide which portion of the product to adjust, or you can adjust both for maximum or minimum height. Even the wrist straps are adjustable, which accounts for the third point of adjustment. You can tighten them or loosen them depending on what you prefer. This is done with a black wedge at the bottom of the straps. It holds them in place and, by loosening it, you can adjust their tightness.
One thing that users noticed and did not like was that when you put mud baskets or snow baskets on the product, this part of the product has a tendency to wear out and then the baskets will not stay up. This isn't a huge problem for people in temperate climates. But those that deal with a lot of mud or snow may want to be wary.
The tips of the Kelty Upslope are made to be grippy and non-slip for better traction. Users have warned that the locking mechanism should not be loosened too much or you will have trouble tightening it again. This is a fixable problem if you take apart the lock, but it can also be avoided if you simply do not loosen the lock fully.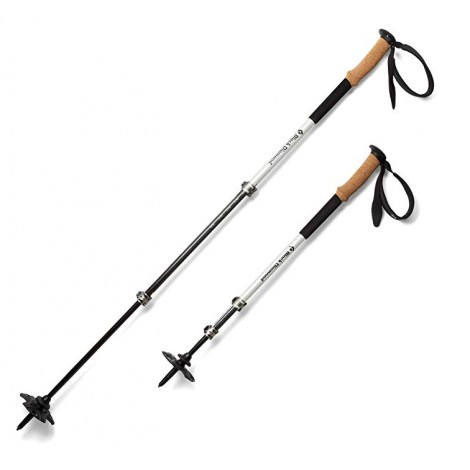 The Black Diamond Alpine trekking pole brand features a wrist strap that swivels 360 degrees around the product. This prevents the strap from twisting and it helps make sure that you will not have to turn the pole to get to the strap. The Black Diamond also comes with a few accessories to increase its versatility. And it is designed for comfort and safety while on the trail with the company's own patented locking system.
These trekking poles come with snow and mud baskets that are small and minimal so they do not get in your way. The locking mechanism is the brand's patented "FlickLock Pro" and is designed for safety. These locks are made out of metal and are a no-fail lock that prevents the product from collapsing while in use.
The handles are designed to be comfortable and users have reported that the handles are easy on your hands and do not cause blistering or swollen hands. The tips on the very bottom of the product can be taken out and changed to a different type or simply replaced if worn out. This not only increases the versatility of the product but also its lifespan. Instead of replacing poles with worn-out tips, you can simply replace the tips and keep on trekking.
Something users noticed was that after using the product for a while, the clamps tend to loosen. You might need to check them after every few uses and then tighten them back up if they need it.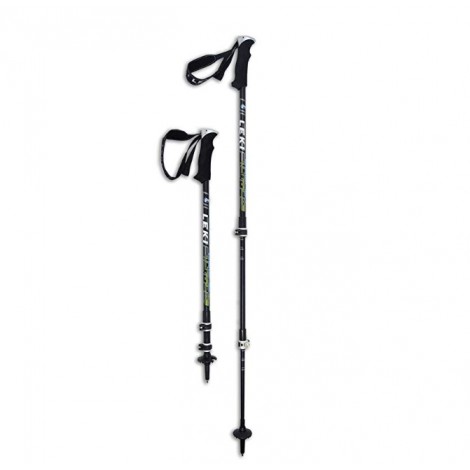 The LEKI Legacy trekking poles are well-liked by many users for their reliability and long lifespan. The tips are designed to be more precise than other models, and some users have even reported that if the product is taken to a LEKI location, the tips will be replaced for free. It also has a special safety-release feature in the wrist strap which will improve not only your safety but the longevity of the product as well.
One of the best and most unique qualities of the LEKI Legacy is the grips on the handles. The grips are made out of a special thermal material that recycles the heat of your hands to help keep them warm. Furthermore, the straps are lined with fleece so that they are extra warm as well. These two features make the LEKI Legacy excellent for use in cold conditions, especially snowy or icy weather. On the flip side of this, they may not be quite as well suited to warm weather since you won't want warm hands.
Another great thing about the strap is that it has a safety release. If you happen to fall and the product gets wedged into a rock, the straps will come off which prevents you from hurting your wrist and may prevent the pole from breaking as well. The straps can then be reattached to the product once it has bee freed.
Users have said that the locks on the adjustable sections of the product tend to stick out and are a little bit in the way especially if you have a grip lower down on the pole.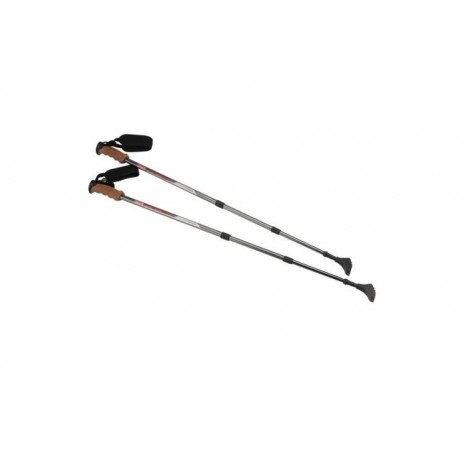 Coleman has one of the coolest features of any trekking poles on this list: a compass built right into the top of the handle. This way, you can easily see it while you are walking. This saves space since you this is one less piece of gear you will have to bring with you and a quick glance is all you need to stay on track.
The handles Coleman's product are contoured to fit the shape of your hand. It also features an anti-shock system to avoid tiring your hands and arms. Users say that Coleman's pole grips the ground very well and that it has no problems at all with traction.
One thing some did not like was that the product is pretty heavy. Quite a bit heavier, in fact, than most models. But on the bright side, this means that they will be extra stable and will not bend or break. After using them a few times, you will probably get used to the added weight and you'll only be left with reliable trekking poles.

Subscribe to our Newsletter