10 Best Shoes for High School Students Reviewed & Rated
In a
Hurry? Editors choice: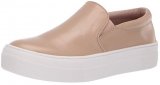 Test Winner: Steve Madden Gills

Before you buy, make sure your choice passes the test of versatility, style, and comfort as these are going to be some of the most important facts that affect whether or not a shoe is
good enough for high school
. Something else you may way to keep in mind is that trendy and fashionable shoes are fun, but well-known favorites are timeless and have stood the test because they're cool and
comfortable
. The best shoes to wear to school are stylish, comfortable, versatile and flattering.
Below we are going to delve in to ten of the best shoes for high school, and help make it a little easier on you when you go to select that perfect outfit for the first day of classes. From sneakers to flats, and even some boots mixed in, this list has a little bit of something for everyone.
Standout Picks
Criteria Used for Evaluation
Comfort
Buying new shoes for the school year can be stressful; you want a few quality pairs of shoes for your child that is going to last the entire year and also be able to be worn on the weekend, and in everyday life outside of school. When deciding what will best suit your child's needs and their school's potential dress code, comfort should be one of the most important things.
Fit and comfort go hand in hand, so you want to make sure that nothing about the shoe is too loose or too tight, and that it will remain comfortable on their feet all day without the chance of causing irritation or blisters. You don't necessarily want the sturdiest shoe because they tend to not be very flexible or offer much movement, however, support is essential.
Where fit is concerned, it is important to know that some shoes require a break-in period whereas others do no. Take this into account when purchasing a stiffer material shoe like booties, or certain sneakers. This doesn't mean that with time they will not form to your feet, but at first, you may want to take them off after only a few hours, and that is not always a possibility when at school all day.
Know your size, and know that not all brands and styles will fit the same; try all shoes on before deciding to wear them out or to school for the first time to ensure that they either feel great, or you are prepared for the potentially painful day ahead of you. There are certain things to avoid when wanting to buy a comfortable shoe, firstly any type of high heel. Heels shouldn't even be something you consider wearing to High School anyway, however, if the thought has crossed your mind, save those pumps for dances, and prom because they are the last things you will want to be running to class in.
Fit
Depending on the type of shoes you want, most should offer some type of cushioning in the footbed and midsole, so that your child's feet are not sore and tired by the end of the day. A good amount of cushioning is generally more so found in sneakers, or running shoes, however other styles can be as well.
Sneakers are the best choice for wanting to be comfortable and carefree all day. They have the most comfortable footbed, and due to the fact they have no break-in period, they will fit your feet right out of the box, and ensure no irritations occur. If orthotics or any added support is necessary, sneakers or running shoes are also the easiest shoes to add insoles into.
-The fit of the shoe plays a strong role in comfort. It can't be too tight or too loose as to avoid any blisters, irritations, and problems with walking. There must be flexibility and any break-in period must be accounted for as well.
-Try on different pairs to adjust for size and fit. Also, make sure you choose footwear that is proper for the high school environment. It's best to avoid heels as those should be for special school occasions only such as the prom.
-The footwear should provide plenty of cushioning, especially in the midsole and footbed. Athletic shoes usually have more cushioning but it can be found in non-athletic footwear too. If needed, add orthotics or any other supportive insoles.
Style
Every teenager will start developing their own style and care more and more about how they look and dress as the years go on. So even if the shoes are not the most comfortable, if every kid in class has them, chances are your child is going to want to too. There is nothing wrong with wanting to follow trends, however, try to encourage your child to keep in mind that there are trendy, yet comfortable shoes as well, and those are a better option.
From rain boots to sneakers and everything in between there is a style and shoe for your teen but it is important to find the right one. Through trial and error your teen will find what works best for them, and what they prefer to wear to school, although every now and then that may change and they may want to switch up their style, this should be encouraged, High School is where you are beginning to find yourself, and that can sometimes start with something as simple as personal style.
When your child is a baby you shop for them and dress them how you think looks cute, now is their time to embrace their inner style and express themselves as they please, so something like choosing their own footwear can be a big step. Start by narrowing down the types of shoes they will need throughout the year and different seasons and then try to allow them the choice, keeping in mind certain points.
The shoes should be comfortable and properly fitted so that they stay on all day. Rain boots are great for the fall and winter months, but if they are not super lightweight they can be an annoyance to have to lug around on your feet all day. Find a lightweight pair that feels good and look chic, shockingly enough rain boots can be quite stylish and easily made to be fashionable.
At this point your teenager, of course, knows how to tie their laces, so opting for velcro is not really an option anymore, however, laces even as a teenager can be irritating if they do not stay tied, or need to be untied to switch into other shoes for a specific class but the knot is too tight. Slip-on shoes or flats are a great option when you want convenience. These although at times can be stiff at first, they can be easily broken in and will feel like a slipper every time you wear them.
Durability
By this point in your teen's life, they should be set in their shoe size and it shouldn't be changing anytime soon, so investing in more expensive, quality shoes that will be durable, and last for at least the entire school year is crucial. From running between classes to hanging around outside during lunch, their shoes will be enduring a lot, so make sure they can withstand it all. That isn't to say that you need to go out and splurge because whichever shoes you do decide on probably won't make it past the school year anyway, but taking the time to carefully pick their footwear to ensure that it lasts the full year is important.
As cute, or stylish as a pair of shoes are, you need to consider how practical they will be for school. Depending on which grade you're in, and which courses you've chosen, yes most of your time will be spent sitting at a desk in a classroom. However, there are a lot of physical classes such as PE, or extracurriculars that require you to be running around, either indoors or outdoors and that's where the durability of your shoes comes in.
As they grow and move into High School their needs with change, and this is when you will begin buying sport specific shoes such as soccer cleats, golf or basketball shoes. These are not shoes that you will want or need to be repurchasing as often, so these are where money should be spent to ensure great quality, and in turn, your child will be sturdy on their feet during their sports activities and leave less room for possible injuries.
All they really need is a few pairs of solid shoes and boots that they can switch between throughout the weeks and seasons. Depending on your general climate, and how your seasons change one good pair of winter boots should last more than the year and should thoroughly keep you teenagers feet warm all day, without making them feel hot and sweaty.
Weather Resistance
The purpose of a rain boot is to keep your feet dry, not even necessarily warm or exceptionally comfortable but to ensure that absolutely no water gets in the boot. One pair will last for years, and shouldn't need to be repurchased often, as long as they, like any other pair of shoes in your teenagers closet are breathable.
Breathability in shoes is crucial, you want to make sure that regardless of the shoe type, the material is one that will allow air flow, and let their feet breathe, so they either do not feel uncomfortable all day or embarrassed by having stinky feet. Leather and mesh are great for keeping feel cool all day, whereas synthetic or nylon can be a little stuffy.
Keeping shoes clean is one of the easiest ways to ensure their closet life, so taking the time to wipe them down carefully every now and then will do wonders. Not as common in young adult – adult shoes but if you can find a pair of sneakers that are machine washable that is a huge bonus, and worth buying. Most materials can be sprayed with a protectant, the easiest being leather and canvas. This extra step will ensure they do not get too stained, and if they do it should be easy to wipe away with a damp cloth.
10 Best Shoes for High School Students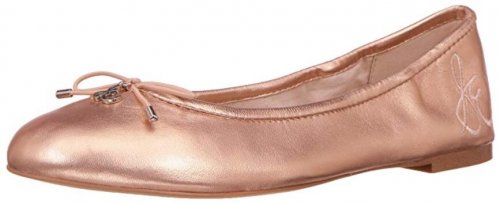 Sam Edelman is a synonym for affordable luxury, a designer who loves to combine youthful aesthetics and chic comfort. All of this is apparent in the Felicia, a Sam Edelman classic option which withstands the test of time and is absolutely always on trend. It is a simple ballet flat that you can wear anywhere, including school, and it comes in so many different color options that you are bound to find the one that you love. Like the rose gold from our picture, for example!
The Felicia is made from a leather upper that is buttery soft to the touch, and has an elastic topline which ensures a perfect fit. There is a padded sole inside to make sure that you are comfortable all day long, even if you decide to stay behind in your favorite coffee shop after class. There is a dainty bow accent in the front for a touch of romance, and the rounded toe ensures that you have enough space inside to feel more than comfy.

The Sam Edelman Felicia is a staple design that everyone needs in their wardrobe. It is easy to wear and easy to match with both jeans and dresses, and in warm weather - when spring hits - it is absolutely essential for when you're not allowed to expose your toes but need something lightweight and breathable to get you through the day.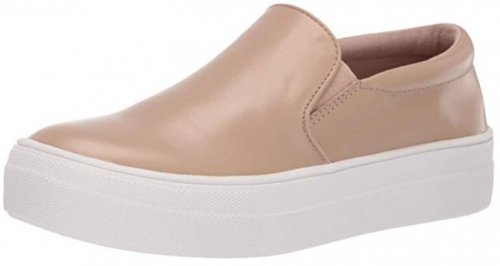 Steve Madden designs are inspired by rock and roll and New York, and the goal of this designer is to always deliver fashionable products that are both daring and inspiring. The Gills flatform - flat platform - is a slip-on sneaker that every fashion blog is talking about these days, largely thanks to its versatile, smooth upper and comfy urban aesthetic.
The Gills is made of leather, suede or man-made materials, depending on your preference, and it comes in several different color choices for your convenience. It has a simple upper without any embellishments or closures, and there are elastic inserts for a stretchy fit. The collar of the design is padded for extra comfort, and the sole is a 1.25-inch thick platform that offers that laid-back, street style.

The Steve Madden Gills is a go-to design for when you're in a rush to get out of the house. It is easy to wear and even easier to fit with all of your outfits, and it will definitely make you one of the trendiest people in the entire school. Don't hesitate to pair it with leggings, jeans, even a skirt and a sweater to mix up your style!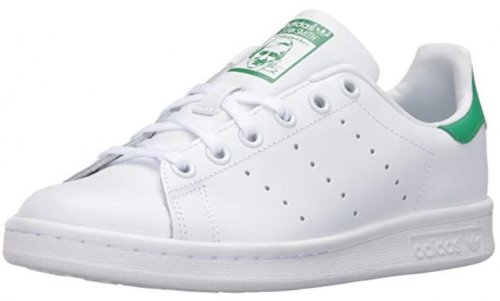 Since hitting the courts in 1963, these legendary sneakers are enjoying something of a renaissance these days. Featuring a premium upper leather, three perforated stripes and the instantly recognizable heel tab, Adidas delivers a street-style high fashion look. Why do they keep showing up on celebrities and trendsetters 50 years on? Because they look cool on everyone.
White leather sneakers look sleek and sexy, and there's something about the luxuriousness of soft leather combined with the casual low top sneaker that looks great without trying hard. These are clean-cut, classy and can be incorporated into just about any style of dress. The simple yet chic white design really pops when paired with virtually any outfit. They look especially great with cuffed jeans. Or wear them with tailored gym pants, denim skirts or cut-offs. Their lean and flat silhouette make a cutting fashion statement.

The Adidas Stan Smith is a good investment if you're looking for fashionable leather kicks. White footwear invariably scuffs easily, however, so they're not ideal for heavy outdoor use.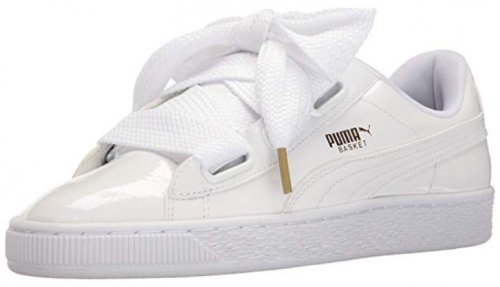 The Puma Basket Heart is part of the brand's Futro collection - where the future and the retro collide. The Basket Heart, therefore, is a version of a basketball classic, but made for everyday street style, and softened with satin laces (though it also comes with regular laces, as shown in our picture). It has a patent leather upper with a high gloss finish that is all the rage this season, and it is comfortable enough to wear all day long, from class to hanging out with friends after.
The Basket Heart has a wide basket silhouette and a choice of two types of laces - you can easily make it more dressy with the satin ones. There is a padded collar and tongue for cushioned comfort and a rubber sole that provides good traction on all types of surfaces. Of course that the design wouldn't be complete without a metallic branding on the side so that everyone can know and appreciate the iconic sneaker that you're wearing.

The Puma Basket Heart is that easy option that goes well in all weather conditions - barring the harshest of winters - and with all types of outfits. It is easy to wear with jeans and skirts, shorts and dresses, and it is versatile enough to be worn in and out of school. There isn't anyone who wouldn't fall in love with this sneaker!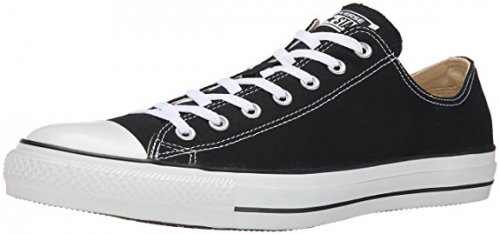 A staple in anyone's wardrobe is a pair of casual sneakers to hang out in. Nothing fancy, just a simple pair of canvas kicks. And, of all the varieties in this class (such as Vans and Keds), Chuck Taylors deliver the best bang for your buck. These sneakers debuted in 1917, so it's safe to say they are always going to be in style. Pair them with your favorite jeans or even with a summer dress for instant street cred.
Canvas uppers, a white toe cap, and vulcanized rubber soles add up to effortless style. The Converse brand exploded during the '80s and remains hugely popular, offering a seemingly limitless variety of color and design. "Vulcanization" in vulcanized rubber outsole refers to the chemical treatment of rubber into a polymer. The result is a material with greater resistance than untreated rubber. In other words, a vulcanized rubber sole lasts longer thanks to its greater impact resistance.

Cons are a good bet if you're looking for a casual design you can wear every day. They're inexpensive and easy to keep clean. Everyone needs a pair of basic sneakers and choosing Chucks is basically a no-brainer.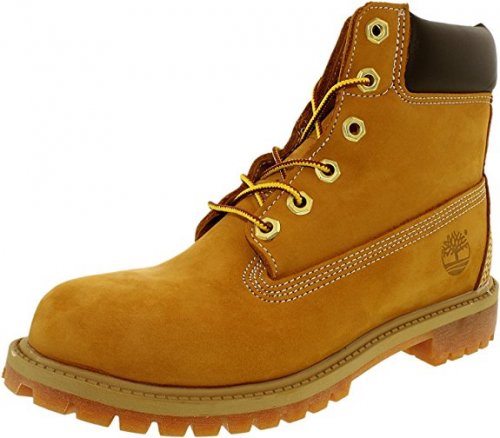 If you only buy one pair of boots it's hard to go wrong with a pair of Timbs. These rugged and dependable boots are guaranteed to keep your feet dry any time of year. The signature work boot style combines a yellow waterproof leather upper with thick rubber lug soles for maximum durability. First manufactured as a waterproof hiking boot during the '70s, the brand fairly exploded in the '90s when they began to take hip-hop culture by storm. They're extremely durable - a pair can last you for years without showing wear and tear. In addition to being extremely versatile, they're also unisex.
How do Timberland boots keep your feet dry come rain or snow? By impregnating their leather uppers with waterproof properties in the tanning process of course! Additionally, the stitch line is heat-sealed to the rubber lug sole for keeping water out. The problem with many waterproof boots is that the heavy material can create what feels like greenhouse conditions inside. However, since hitting the market forty years ago the Timberland company keeps tweaking the original construction as newer, lighter materials become available. The lightweight, anti-fatigue insoles are made with inverted cone foam for shock absorption and support. A padded collar cushions the ankle for extra comfort. Also, the rubber gum sole provides traction on all terrains.

Unlike most popular footwear companies, Timberland designs, and hand-crafts its products in the USA. Buying a pair helps ensure they'll be around for many years to come.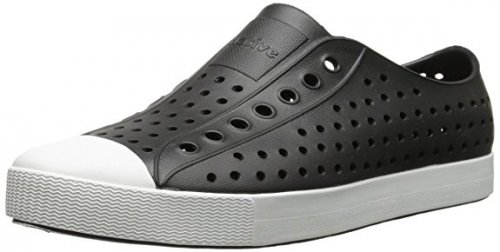 What a concept: slip-on sneakers that actually stay on your feet! Fashioned after classic sneakers, this injection-molded EVA footwear is not only sturdy but also anti-microbial, breathable and easy to wash. Inspired by a classic sneaker design (see Chuck Taylors) Jeffersons are slowly but surely cornering the slip-on sandal-style sneaker market.
The EVA upper, lining, and sole and the all-over perforations make for one of the lightest designs you'll ever own. They're like wearing air socks. Great for stashing in your backpack. Feet stay dry and cool - the perforations allow feet to "breathe." Also features antimicrobial properties to reduce foot odor. And a bonus: Jeffersons are a breeze to clean. It's likely no coincidence that footwear like Doc Martens, Converse, and Birkenstocks have dominated the industry for decades on account of their gender-fluid appeal. Footwear that looks great on men and women, like the Jefferson, is a good bet that they'll stay in fashion.

For a slip-on, easy-to-wear sneaker style, the Jefferson may be the best product on the market. Unlike flip-flops that can put a strain on the ankle, knee and back muscles, the Jefferson can be worn all day strain-free, making them good value.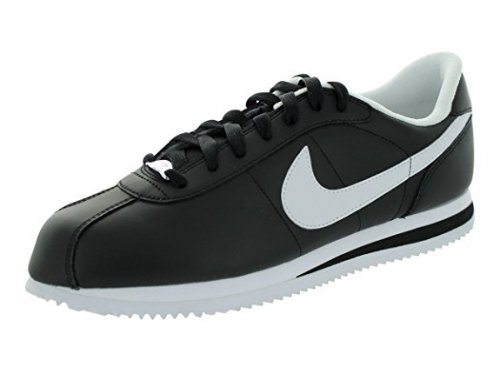 The Cortez design kick-started the Nike company when they were introduced for the 1972 Olympics and endures to this day. The running-style footwear is always fashionable and comes in a dazzling variety of color combos. The laser-perforated leather and cored-out sole make it light and airy. The round toe box is a welcome feature if your feet run wide.
Everyone loves a classic; these vintage style kicks are a sure way to look fly and be comfortable at the same time. The simple Nike swoosh seems to hold up to changing trends and will probably always look current. The Cortez comes in over a dozen styles - choose a color that complements your wardrobe. The black and gold trim look great with black leggings while the black and white style is a sure bet to pair with jeans. For superior traction, the soles have the classic herringbone pattern. The low-cut collar gives maximum flexibility and range of motion while every step you take is cushioned by the lightweight EVA wedge outsole.

You can almost always find a pair on sale - but even at the full retail price, the Nike Cortez is an affordable sneaker. Buy an extra pair, because you'll want to have these in your wardrobe for a while.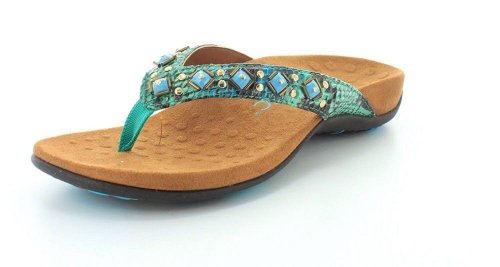 All day comfort plus style is possible with the Vionic Floriana. These decorated thong sandals have an upper that is man-made with style accents and beads. Easy slip-on/off, the lining is smooth and the footbed is an orthotic that is podiatrist-designed. The heel cup is deep for support and the midsole is flexible for shock-absorption and pressure reduction.
A lot of sandals have a flat sole with little to no support. However, the arch support in the Floriana is podiatrist-created, meaning you'll have support that actually does its job and not a teeny wedge that does nothing. This will help relieve all kinds of pain such as in the ankle and the knee. The midsole of the Floriana is made from EVA and it absorbs shock and reduces stress. The outsole is durable with a wave-patterned tread for a good grip on all kinds of surfaces. This is great to wear when walking across campus and crossing different kinds of floors and terrains.

The Floriana might seem odd for a high school design but if it's warm out and open-backed sandals are allowed, why not wear something that is stylish and supportive? Going from class to class, building to building, and step to step can be a lot but it can be pain and problem free with this pair of jeweled sandals!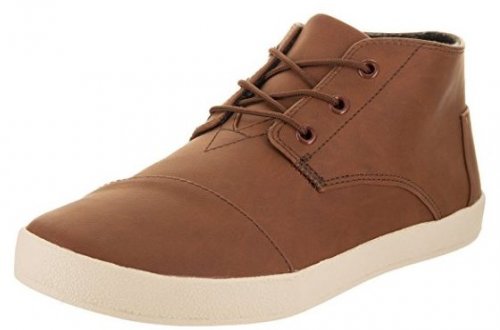 The casual yet smart tailored look of these low-profile sneakers means they can be paired with virtually anything. The rubber midsole and woven textile materials offer excellent scuff resistance and around-the-clock comfort. Dressy enough to pair with chinos and a blazer yet casual enough for jeans and a t-shirt. Brown leather is a good neutral color to pair with a range of outfits. They're also easy to clean and extremely comfortable.
The upper of the Paseo is soft and flexible which means you can wear them without the painful breaking in period. Leather is considered a premium material not only because of its comfort levels, but also because it is breathable, and promotes a healthy climate for your feet. The Paseo also has a durable rubber outsole for slip-resistance. There is a textile lining and a molded breathable insole for cushioned comfort.

The TOMS Paseo is definitely worth having as an all around dressy lace up sneaker style that you can wear both to class, to fun night out with friends, and even to grandma's house!

Subscribe to our Newsletter