Best Cheap Hiking Boots & Shoes Reviewed
In a Hurry? Editors choice: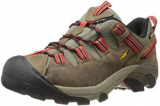 Test Winner: Keen Targhee 2

All athletes know that having great equipment is essential to a good workout. Most of the time, athletes have blown their budgets to get the best sports gear the market has to offer. We have decided to make a list of the best cheap hiking boots that you can get. They will provide you with longevity and functionality at a favorable price while you get to enjoy your exercise.
In addition, we know that some of the products we have mentioned will work better than others. Some are stylish, while others may look monotonous, but their level of quality will get you through any activity you engage in. Having the best gear and accessories is vital for comfort and safety. We have selected the top 10 cheap
hiking shoes
that will be a great companion on the trail.
Standout Picks
Criteria Used for Evaluation
Materials
Fabrics are the soul of any apparel.
We understand how important it is to have excellent material on a hiking shoe, and we decided this list with that in mind. The boots we have selected are made of quality material that will give you value for your money. Depending on the type of use you intend to put your shoes too, we considered essential factors that athletes put at the top of their list.
The material used on some of these boots is waterproof, which is suitable for athletes on wet climates. Some are highly breathable to allow athletes in hot climates to have a chance to cool their feet during exercise. Additionally, the inside of the shoes has a lining that wicks sweat from your feet to keep you dry and healthy. Other shoes have stretchy fabric to help those that have trouble fitting into shoes.
The list we have compiled also consists of materials that can handle severe conditions. You can use these shoes in harsh conditions and still have your boots in perfect shape. We recommend picking shoes with leather uppers if you want longevity and protection to your feet. They may not be highly breathable, but they will keep you safe and secure at a reasonable price.
Durability
Get products that offer value for money or better.
We understand how essential it is for you to have footwear that will last after a couple of hikes. Most people won't give budget-friendly hiking boots a chance because they assume that the boots won't last. The shoes we have selected will last when used against dirt, rocks, uneven terrain, and weather elements. You can rest assured that the durability of these products have been tried and tested to make sure you get the most out of your product.
Some products have special stitching techniques on the upper to reduce wear on pressure areas. The style of the upper is an essential factor to consider. Each company has a unique way of designing its product. Some companies apply leather overlays on the top of their product for durability.
The thicker the upper is, the better. Lightweight uppers usually don't handle rough terrain well, and they end up being destroyed by rocks and trail elements. Additionally, the shoes we have mentioned have a strong upper that can withstand dust, rocks, and dirt. The outsoles have been constructed from heavy-duty rubber to last for a couple of miles.
One vital part of durable hiking boots is the outsole. An excellent outsole will lead to a lifelong shoe that will serve you for years. The outsoles we have chosen will work on different types of terrain. Additionally, the outsoles of these hiking shoes are thicker than those found on sneakers.
Additionally, the type of foam used on the midsole also adds to the durability of the shoe. Polyurethane foam is dense and lasts longer than others. Ethylene-vinyl acetate is the most commonly used midsole. It is also easier to walk on than PU. Besides, some brands have toe caps that have been covered by rubber for durability purposes.
Breathability
Your feet need to cool down as well.
Having shoes that allow your feet to cool and dry during exercise is essential. As we made our list, we put this into consideration and choose brands that have the best breathability. The uppers of the boots we have mentioned have a mesh that allows airflow to your feet. The design used in constructing this product allows your feet to be fresh and dry at all times.
Additionally, the linings are synthetic and have sweat-wicking abilities. Some of the shoes have a midsole that helps absorb the sweat and keeps the boots free of bacteria. The overlays have also been strategically placed to allow airflow inside your boot. Also, it is essential to remember that waterproofed shoes restrict the amount of airflow to your feet.
Having boots that are made of leather upper will provide you with protection and slight breathability. If you are looking for full breathability, we advise you to go full synthetic. Synthetic fabric provides the best airflow. It is essential to consider the type of environment you want to use your shoes on before purchase.
Fit
The wrong sized shoe can ruin your experience in them.
Properly fitting shoes are essential for athletes to avoid injuries and discomfort. A shoe that doesn't fit accordingly can be a distraction on the trail. It will end up ruining your track time and, in the end, targets you had set to achieve. We chose boots that are cheap and fit exceptionally well at a friendly price.
The lacing system of the listed brands works well to ensure that your fit is comfortable and secure. A proper fit will make you go for miles without having any discomfort in your shoes. Also, a snug fit keeps debris outside your boots as you exercise. Adequate toe room is also a sign of an excellent fit and will result in comfortable wear.
Adding a pair of socks is also a sure way of making sure your shoes fit. Always check the sizing chart to make sure you get the right size of shoes. You can still order a size higher or lower with certain brands to be on the safe side. Also, a properly fitting shoe avoids having blisters or skin irritation to your feet.
Style
As you try to decide on which pair of shoes suit your needs, the type of design put into it is a factor to consider. The type of boots we have listed are mostly low-cut shoes. They work well with most terrains and have been constructed to combat the elements and challenges athletes face. With exclusive features and designs, we are sure you'll get a pair that covers your needs.
An excellent pair will provide protection and comfort. The style used to construct the upper and outsole should guide you into picking the right shoe. Your chosen pair should also be able to combat the elements you encounter on the road. Additionally, the level of insulation should be adequate to enable you to enjoy the product.
A well-fitted pair will be able to provide adequate support and stability. The arch should also have proper support. In addition, the width should also be considered before making a final decision.
Top 10 Cheap Hiking Boots Reviews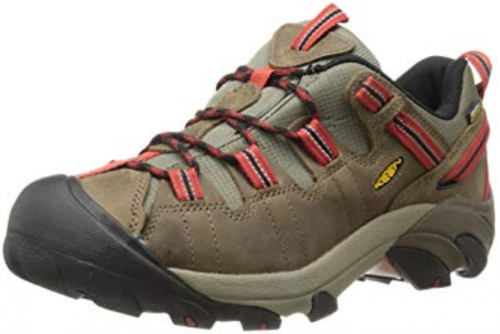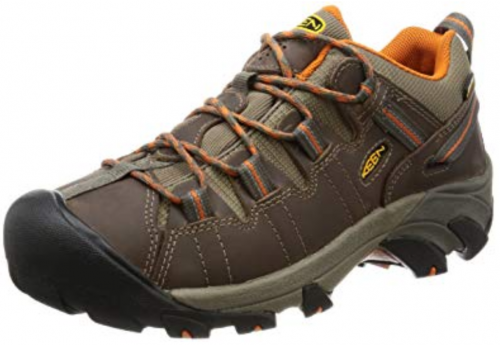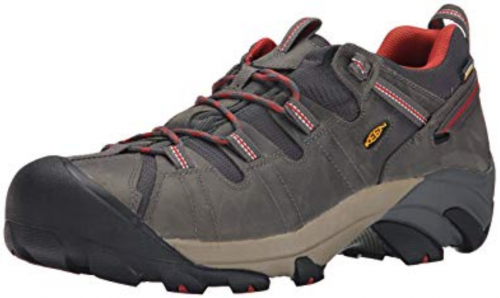 Athletes looking to spend a fair amount on a budget-friendly pair can count on these boots. They are strong and durable, plus easy to maintain. They will work through any terrain without giving you any problems. The upper consists of leather material to provide maximum protection to your feet.
The Targhee 2 comes in a variety of colors to choose from, giving you a chance to wear your favorite color. It is versatile and can work well on hiking exercises or as casual footwear. You can use it on a wet climate because it is waterproof or on slippery surfaces thanks to its lugs. The lugs provide excellent grip on the trail to give you support and balance.
The insole includes a dual-density EVA footbed, which is removable. In addition, it is metatomical, meaning the manufacturers have constructed it to provide arch support. Moreover, it cradles the foot's contours that occur naturally. EVA is a dense foam that comfortably shapes into the foot`s form for comfort.
Ethylene-vinyl acetate or EVA also acts as a shock absorber. Most brands use it in their insoles, it was strictly for athletic use, but now it is found in most shoes. It also protects your foot`s sole from the impact of the trail. Additionally, it is removable to allow the wearer to wash it or air it out after use.
The collar of the boot is padded and thick. This design provides excellent ankle support, and the tongue of these cheap hiking boots are also padded for comfort. The shoes are also lightweight, and no break-in period is required. In addition, the outsole has multi-directional lugs to provide traction on the trail.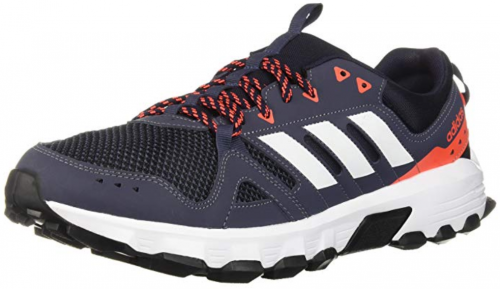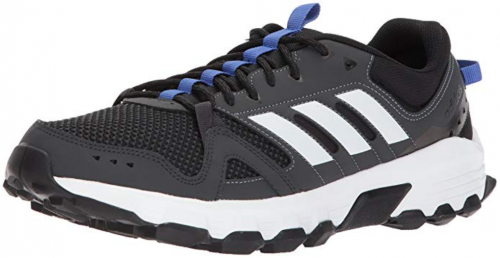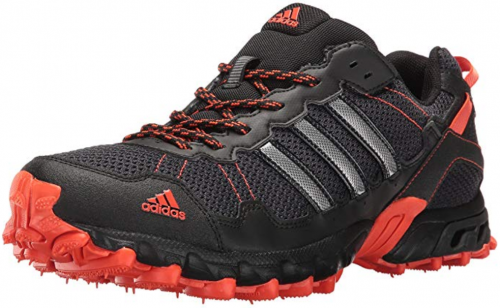 Many athletes don't consider Adidas as a brand that makes budget-friendly gear. Now entry-level athletes can look stylish and be functional at the same time. This product is a sturdy outdoor shoe that will make any athlete achieve their goals.
Adidas has put Traxion outsole on the shoe for a better grip on the track. This outsole consists of a tapered shape that has no studs. The design allows you to have a secure footing on the ground. Additionally, the sole design doesn't allow you to slip even on slippery surfaces and trails with obstructions.
The treads have intricate flex grooves, deep chevrons, and textured lungs that follow the foot contours. In addition, Adidas has put its unique Adidas Mud release system with rubber nips for maximum traction. And, the insole consists of their Cloudfoam technology constructed from a new EVA compound. The heel pad, along with a connected heel system to the midsole, provides much-needed arch and heel support.
The cell structure of the Cloudfoam adapts to your foot as your exercise. Rockadia`s midsole is unique to other brands because it will compress to your foot`s shape. Additionally, the molding process makes the breaking in process easier giving you step-in comfort. Moreover, the uppers are lightweight and very cool.
The rugged mesh design of the upper has thicker synthetic yarn, and it is almost rip-proof. Additionally, the overlays consist of stitched leather for durability and brush protection. This overlay design doesn't affect the breathability of the shoes. Moreover, thanks to the vents strategically constructed alongside the toe box.
Quarter overlays also provide airflow to the feet. The lacing system with dual heel lock gives stability in any terrain. An Ortholite liner removes the need for inserts and adds to the boot's excellent breathability. When it comes to weight, this shoe is lightweight, preventing premature fatigue.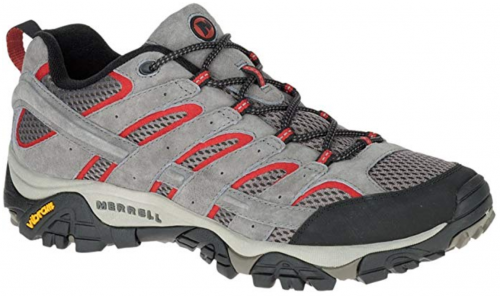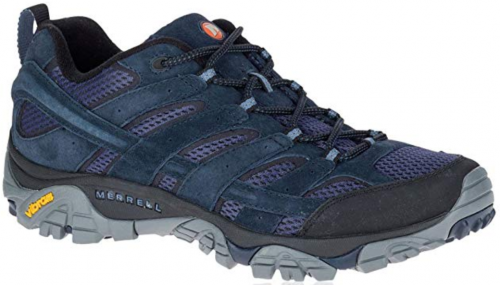 Athletes looking for a shoe that offers comfort, support, and is pocket-friendly can look no further. This company has provided athletes with a versatile shoe that can handle any terrain. Additionally, it is durable with a great aesthetic. It is also breathable allowing your feet to stay cool as you train.
The outsole offers excellent traction giving you much-needed balance and safety. Its versatility allows you to use it off-road or even on walks around the city. The boots offer excellent foot protection, and they are comfortable. Additionally, the shoes fit true to size, so you won't have to worry about any sizing issues.
This brand has a shoe that has the stability of a hiking boot with a fit of a trail shoe. Thanks to its lightweight, users found it easier to transition from a hiking shoe to a trail boot. Additionally, they offer better breathability compared to its previous version, and it dries faster. The shoe has mesh panels that enhance its breathability.
The toe and heel are padded for protection. And, they have protected the midsole area by applying a nylon shank same as in a hiking boot. The shank protects the foot from shock and bruising as you exercise off-road. Additionally, there are leather straps that also provide protection to the foot.
Athletes can use this shoe for a long time thanks to its durability. Moreover, the Vibram lugged sole has little torsional flex to reduce the chances of twisting your ankles. Additionally, the heel area is narrow to prevent the heel lift covered with a softshell lining for absorption. The size is true to fit with no break-in time required.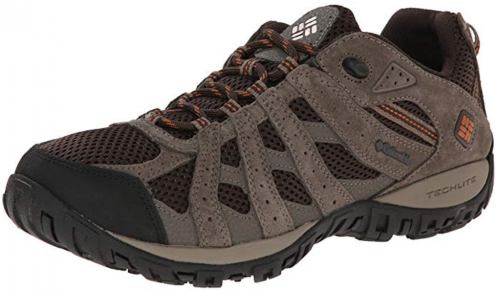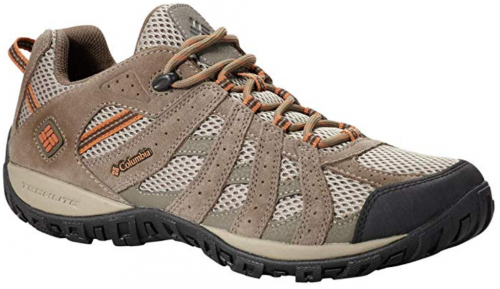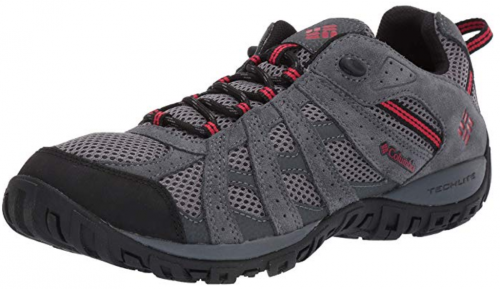 Minimalist athletes will have a great time riding in these shoes. Their primary focus is to be lightweight and offer you comfort and breathability. They come at a reasonable price and can be worn to run daily chores around town.
Athletes can opt for the waterproof version if their needs require them to have one. The upper has a mesh design for optimum breathability. Your feet will not overheat as you put them in use. The lightness of the shoe will allow you to go for miles without feeling fatigued due to weight.
The suede leather offers protection to your foot. And, Techlite technology provides more exceptional support and cushioning. Additionally, the Omni-grip that has non-marking rubber gives you traction on any terrain you choose to use these cheap hiking boots. Also, the midsole is constructed from lightweight material that will provide you excellent comfort.
This product is durable due to the web and meshes upper that blends with leather fabric. Its stability comes from the rounded heel design that holds your foot in place. The toe area also consists of a mesh that increases airflow. No break-in period is necessary for this brand.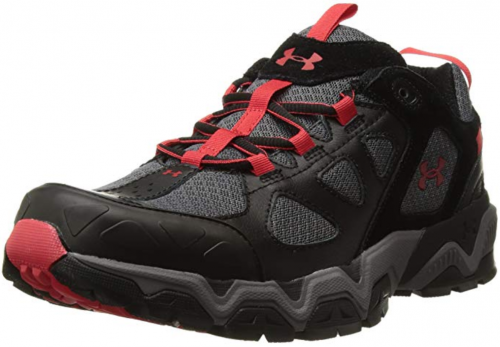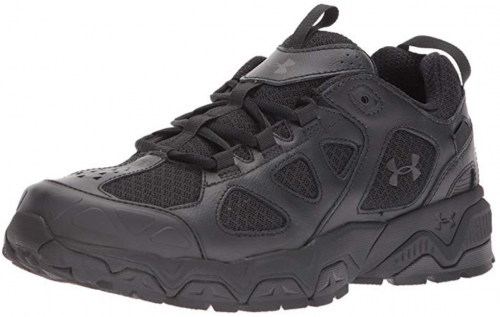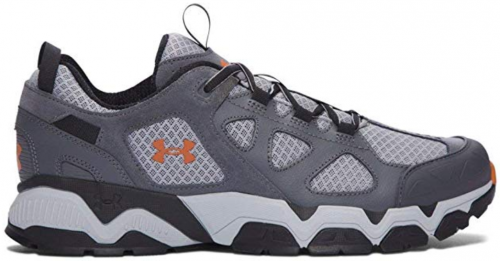 A lot of people know this company for the beautiful sports apparel they make for athletes. From making excellent undershirts and underwear, they have come up with exceptional cheap hiking boots. These shoes are highly functional and stylish. They are very versatile and can be used for various sports.
The Mirage 3.0 is the perfect companion for any athlete running or doing hiking exercises. It is comfortable and will protect you from the elements athletes encounter outdoors. Additionally, the outsole is designed to provide maximum protection to your feet. The outsole consists of a hard rubber that is resilient to any condition.
The hard rubber makes the shoes a bit heavy for some athletes to use. Also, the tread pattern of the sole runs from the back to the midfoot, giving you excellent stability. The design also provides perfect comfortability to the forefoot thanks to the flexibility of the rubber. Safety was the primary intention of the design put into the sole.
Additionally, the upper of the shoe continues with the safety and protection team. It is sturdy and offers breathability during exercise or warm-ups. A synthetic mesh is included as a base layer to provide more cushioning and airflow increment to the wearer. Leather straps have been placed on the synthetic mesh to increase the level of protection on your upper foot.
The straps also help in providing stability, plus the rear foot heel cap is also protected. As we mentioned earlier, the shoe is heavier than most hiking boots due to the outsole and multifaceted midsole. TPU and mesh upper design also add to the weight of the shoes, but because it is well balanced, the mass isn't felt much.

6

. Sketchers Terrabite Oxford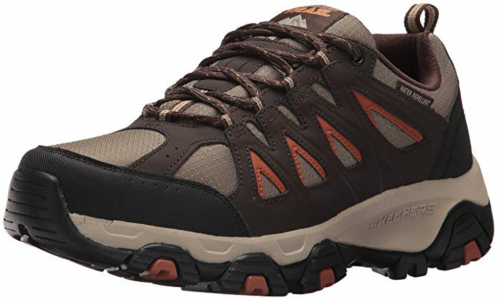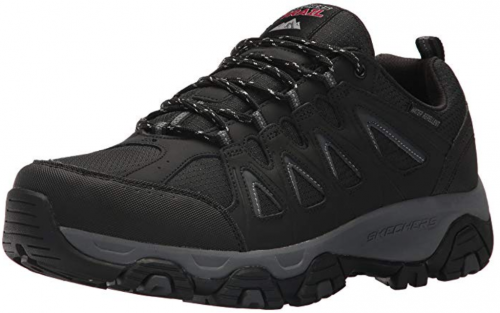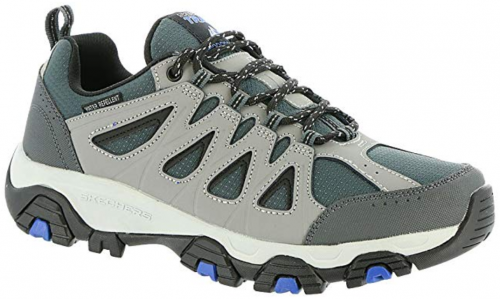 Sketchers have been in the market for decades making high-quality sneakers. Athletes have been using this brand for walking, running, and other kinds of exercises. After years of significant research, they have designed cheap hiking boots that will take you from the road to the trail.
The shoes come in two colors to choose from, and it is light like a sneaker. Sketchers has maintained its fashionable style to make you look stylish as you exercise. It is versatile and excellent on different types of terrain. Additionally, the lacing system offers a snug fit and comfortable wear.
The upper has smooth, durable leather that gives it a stylish look. It also provides protection and is water repellant. Mesh fabric is also included to help in cooling your feet as you train. The stitching accents are unique and give it a sneaker-like look. Additionally, the side cutout panels have a contrast colored trim.
The insole has an air-cooled memory foam that provides comfort and cushioning to the footbed. In addition, the insole also reduces the number of shock experiences during impact with the ground. It also gives the wearer stability and support during workouts and training. The midfoot also has a stabilizing panel.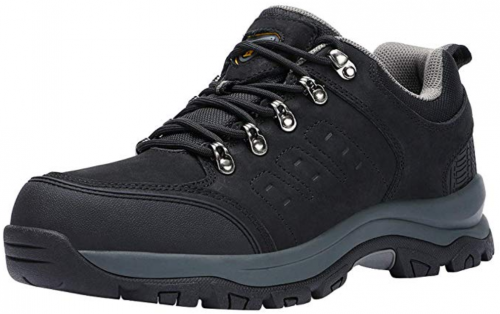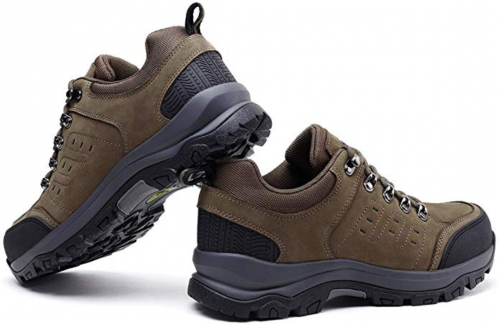 Camel Crown Company has come up with a product that will serve athletes and can also be used for casual work. You don't have to go over budget to get such a functional pair of boots in your possession. You can use it to train in any terrain of your choice, and it will hold correctly.
The upper is easy to maintain thanks to the first-layer of nubuck leather. It is also wear-resistance and breathable with a double stitching design on stress areas for durability. Also, the forefoot is protected by a sturdy rubber sheet. The lace area has a gusseted tongue to ease pressure on your upper foot.
A padded collar protects the ankle area, and the midsole is movable. Additionally, the outsole offers excellent traction. The rubber outsole has lugs that are 5mm in depth to grip the ground firmly. Multi-directional lug patterns provide the wearer a multi-directional grip and traction.
The outsole works well in rough and wet surfaces. Also, the lining consists of breathable fabric. It wicks sweat from your feet, keeping you dry. The boots are suitable for all seasons.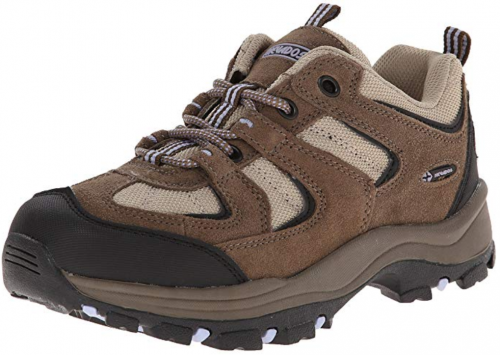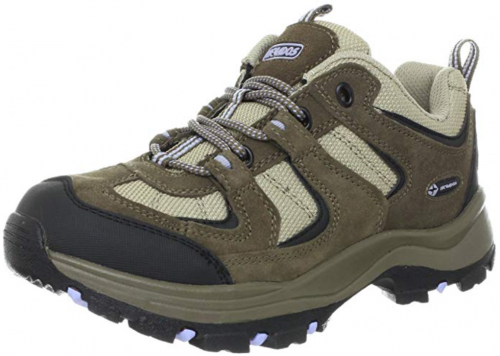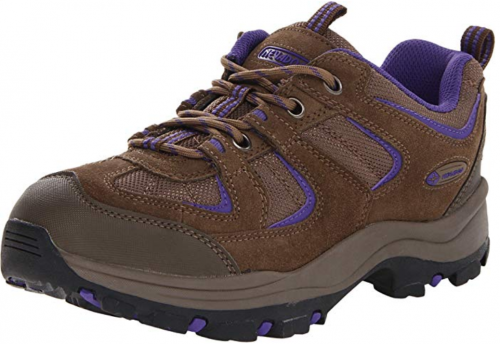 A lot of female athletes have taken up hiking as a sport. This has brought the need for companies to manufacture gender-specific sports gear. The Nevados Boomerang is designed to give women footwear that will cater to their needs. It is sturdy and rugged for every outdoor activity.
The boot is designed to offer protection on outdoor hikes. Additionally, the heel and toe area is reinforced for stability and added durability. It is also made to prevent ankle roll that may be detrimental to the trail. The midsole consists of a removable ethylene vinyl acetate that allows you to change it when it gets worn out.
The upper part consists of breathable fabrics that allow airflow inside the shoe. This design allows the shoe to stay fresh and bacteria-free. Additionally, they fit true to size, so you don't have to order a size higher or lower. In addition, they have excellent arch support thanks to the midsole that mimics the foot`s shape.
The collar and tongue are thick for stone protection and comfort. It comes in a variety of sizes to pick from, but remember, it fits wide to the foot. Aggressive lugs on the outsole provide excellent traction on the ground and stability. In addition, the sole is made from heavy-duty rubber that is durable and highly protective.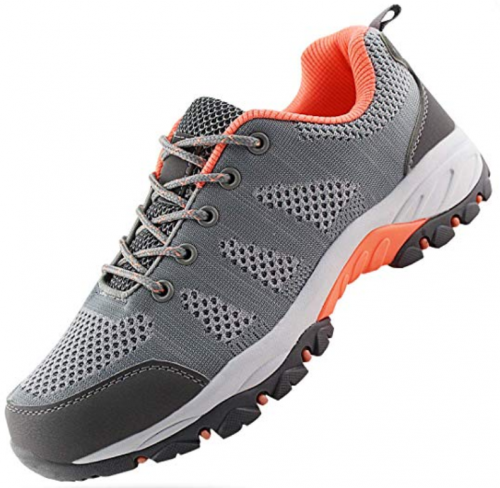 Women athletes can be satisfied with this fantastic product from Jabasic. It is lightweight and has excellent features to keep them going for miles. You can also use it during your daily chores as you look stylish in them.
Made in an ultra-lightweight design, you can enjoy various activities without your feet being burdened. The upper contains a knit mesh design that offers breathability and relief. Additionally, they are fashionable, allowing you to look stylish as you train or do chores. The shoes are comfortable, thanks to the thick cushioning of EVA foam insole.
This hiking shoe comes with a protective toe cap to protect your feet against rocks. The cap is made from TPU rubber that reduces external damage and can handle the pressure. Additionally, the outsole consists of rubber material that has lugged and ridged design. The lugs and ridges provide grip on the terrain and protect against slippage.
Additionally, the lacing system provides a snug fit to your foot. In addition, the EVA foam also provides stability to your foot and heel support. The skid-resistant outsole consists of a TPR Anti-skid patch design for traction. It also allows the sole to conform to your motion.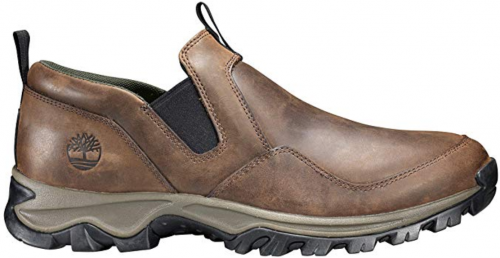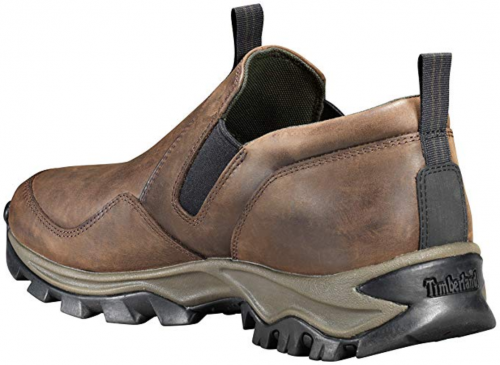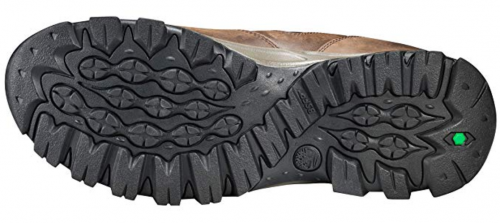 Timberland always makes great sports gear for athletes. They have put in time and research to give the best products in the market. Recently people have decided to stray away from shoes that have laces. And, Timberland has come up with these excellent slip-on shoes to cater to that market.
These cheap hiking boots help you save time from tying your laces when you are in a hurry. Also, they take away the destruction caused by laces when they come loose during exercise. Additionally, they are safer because they don't carry the risk of you tripping and falling over from untied laces.
The upper is made from sturdy premium full-grain leather that is durable and easy to maintain. Also, the anti-fatigue footbeds make sure your legs still stay fresh after a long day on your feet. Additionally, the rubber lugs on the outsoles help to keep you stabilized on the ground.

Subscribe to our Newsletter