Best Sneakers For Women Reviewed & Rated
In a Hurry? Editors choice: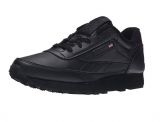 Test Winner: Reebok Classic Renaissance

Whether you're shopping for an athletic pair or for a cool looking high-top for casual get-togethers, there's something for everyone's tastes in this kind of footwear. Some of the most popular choices are slip-on pairs, high-tops, low-tops, and canvas lace-up designs which are always a vogue way to go. With so many high-end sneakers to choose from it can be a daunting task choosing the ones that best suit your style. Which is exactly why we've carefully researched and reviewed to bring you a guide to ten of the best options available. By carefully going through the items which were our editor's choice, provided by considering the opinion of many, as well as the latest trends, there is no doubt that you will be able to achieve a glamorous look once you combine them with the perfect outfit.
Standout Picks
Criteria Used for Evaluation
Versatility
The great thing about this style of footwear is the sheer versatility it delivers which is why sneakers are such a loved design. They can be worn with blue jeans, slacks, skinny pants, skirts, and even dresses, all the while looking as stylish as ever. Athletes and casual wearers alike all benefit from this easy-wearing kind of footwear that's ready to carry you wherever you need to go. Urban streetwear, which holds a dominant sway over the fashion industry, centers heavily on this kind of shoe and has sensationalized sneakers more than ever.
Style
Sneakers come in all sorts of styles which vary in popularity. Some of the most popular are low-top, high-top, and athletic designs. Athletic sneakers are commonly manufactured by brands like Nike, Adidas, and Puma, while Nike also produces both high and low-top styles which are always a popular choice of footwear. High-top looks are often associated with the streetwear look and very trendy among younger wearers. With this kind of footwear, it's important that it be considered vogue which is why certain brands are more coveted than others. The options on this page were chosen based on the popularity of their style, as well as, the design aspects attached to it.
Materials
The material a shoe is made from is an important aspect when it comes to the overall comfort and enjoyment you get from wearing it. Some of the most popular choices are canvas, leather, and mesh, which all offer unique benefits and properties. Canvas is a lightweight choice of material that's regarded as being very stylish and is usually a popular choice for this form of shoe. Leathers are breathable and lightweight for all over comfort and wick excess moisture away from the skin preventing a buildup of sweat and odor-causing bacteria. This keeps your shoes and feet feeling as cool and fresh as possible. Mesh is an excellent choice of material for the warmer months because its open-weave concept maximizes airflow inside of the shoe and around the foot. Mesh is often used as an overlay to another material such as leather or canvas and can often be found in the lining or footbed area.
 
When it comes to the sole of the shoe, rubber is always the best choice because it provides excellent traction on top of its waterproofing properties. Rubber will keep you dry during the rainy months and will prevent any accidental slips or falls thanks to its grippy texture that's perfect for wear on wet and slippery surfaces.
Fit
In order for a shoe to be comfortable, it needs to fit well! There should be adequate room in both the toe and heel so they don't pinch or rub. Rubbing leads to friction which causes painful blisters and pinching can cause all sorts of discomfort. You should be able to slide your finger between your heel and the shoe with ease and your toes should be able to wiggle freely. If you have wider feet it's important to look for a pair with lots of room in the toe box like a Reebok or Skechers which are made wider. Many brands offer a wider option to their normal size of a shoe which is advisable to broad structures.
Comfort
Sneakers are one of the most comfortable pairs of footwear you can wear, though not everyone offers the same kind of enjoyment. There are various aspects which can affect how comforting a shoe is like the kind of support and cushion that it has. In order for the shoe to be comforting, it should supply a supple cushioning that protects the delicate underside of the foot. EVA is an excellent material for the midsole because it offers a soft and lightweight padding that is still firm enough to provide a supportivestructure. This is important to prevent foot fatigue and lower limb pain that's associated with poor support.
Breathability is also a consideration because a shoe that is too warm inside causes sweating and can quickly end up smelling foul. When sweat builds up inside the shoe it leads to the growth of odor-causing bacteria and makes your shoes and feet smell bad. Once this happens it can become very difficult to eliminate the odor and can ruin your shoes.
A padded tongue and collar are also excellent comfort-enhancing features because it provides additional padding for the ankle and prevents rubbing and friction related problems like blisters.
Our Favorites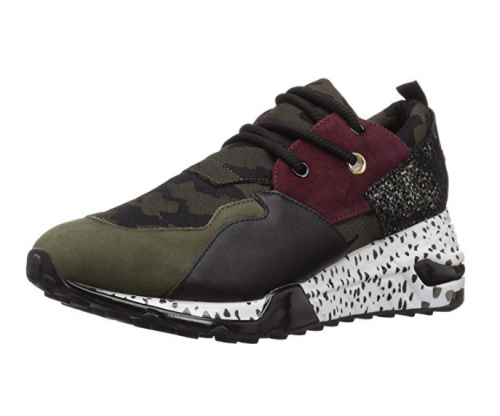 Steve Madden's Cliff is a hot looking sneaker that's available in four uniquely patterned colorways. Choose from bright, camo, olive or silver multicolored looks for an original twist on your everyday streetwear. This option is as stylish as it is functional and will have you looking sharp no matter where you're headed.
 
This shoe is made from breathable leather and synthetic materials that allow for adequate airflow to keep your feet feeling fresh and cool. A nonslip rubber sole provides solid traction on wet and slippery surfaces making this a safe choice of footwear for any weather conditions. Its 2.5-inch heel gives you some added lift while still maintaining a functional structure which is why wearers love this gorgeous choice of sneakers. Steve Madden has blown us away yet again!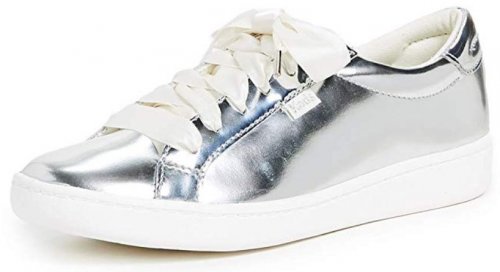 The Ace tennis shoe is a Keds classic. This minimalist design gets a gleaming metallic makeover thanks to the famous Kate Spade brand, and we can't be more in awe with it. It is sleek, it is polished, and its edginess is beautifully contrasted by feminine, satin laces. Sneakers are usually reserved for casual, everyday events, but there is no reason you can't take the Ace out even for a fun night at the club!
The Ace is made out of specchio leather, which means 'mirrored' leather, and is definitely aptly named. This means that the shoe conforms to the shape of the foot over time, and is amazingly breathable and durable. Added padding in the upper and the collar provides cushioned comfort.

Speaking of comfort, the Ace is outfitted with an Ortholite insole, one that is moisture-wicking, 95 to 100% breathable, lightweight, and compresses far less than regular insoles over time. It is truly a legendary type of comfort, and you will have a hard time parting from it at the end of the day.

The outsole of the Keds Kate Space Ace is every bit as flexible and lightweight as the rest of the design.

We can't rave about this option any more than we already have. We love everything about it - from its silver metallic shine to its romantic satin laces, to the comfy round toe, to the addictive cushioning inside. The Keds Kate Spade Ace is a game-changer!

3

. Reebok Classic Renaissance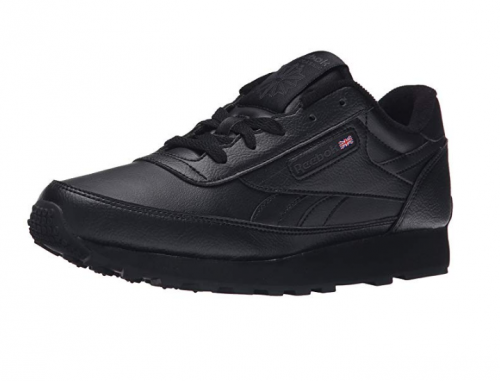 Reebok's Classic Renaissance is a hot, on point pair of sneakers that are ready to take on any occasion. It's available in seven colorways, making it an easy and versatile option of footwear, that you can match with practically anything in your closet. Its synthetic sole provides non-slip wearability while its man-made upper material keeps your feet cool, comfortable, and dry all throughout the day. This shoe delivers a high-quality design and super stylish appearance that wearers can't get enough of! Its classic lace-up structure and tonal overlays, paired with brand logos at the tongue, sides, and counter, make this no-fuss shoe stand out from the rest.

A padded tongue and collar provide additional comfort and support while preventing friction and rubbing that can lead to painful blisters. Its comforting Memory-Tech footbed makes the Renaissance a desirable option while its low-top design allows for free range of motion so you can move whichever way you choose.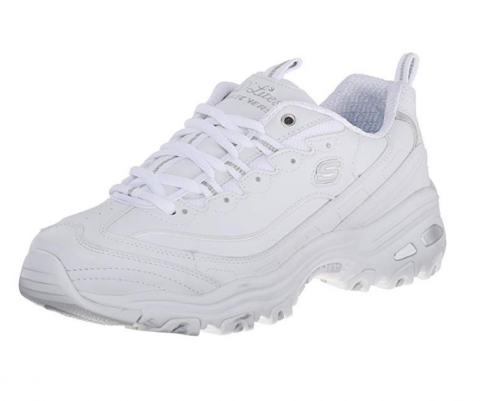 Skechers is one of the biggest names in footwear and their D'lite sneaker is one cool and refreshing pair. Made from synthetic nubuck leather and featuring a nonslip rubber sole this shoe provides a breathable and comforting environment for your feet. Its lace-up structure and cushioned memory foam midsole allow for an adjustable fit that can be worn for hours on end with ease. Memory foam is a unique material that retains an impression of your foot's structure for a completely customized fit that hugs every contour in a supportive cradle.
 
A padded tongue and collar make for additional support and prevents friction or rubbing that can lead to painful blisters making this a great choice for walking and other outdoor activities. The D'lite is available in over 20 color variations including black on black, bright white, navy on white, and gray. You'll love the different colorways and variations that this sneaker is available in which makes it so effortless to match with nearly anything in your wardrobe.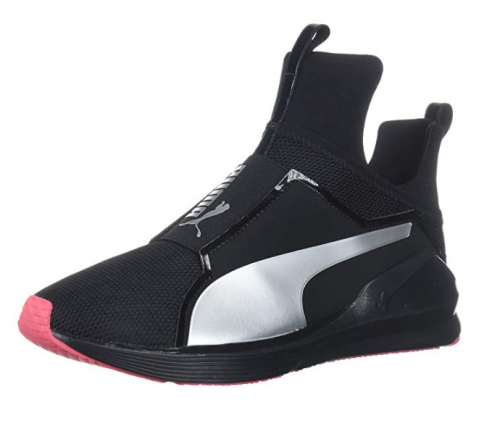 The Fierce Core is a laceless high-top that features breathable mesh inserts and secure no-slip gore across the top. It's available in 15 colorways making it an effortless pair to match with nearly anything in your wardrobe. Choose from options like paradise pink, Puma black, and quarry blue, for a look that's unbeatable in design.
 
This pair of Puma sneakers features pivot points at the heel, toe, and sole that allows for 360° of movement so you can twist and turn exactly how you want to. Its grippy sole provides sturdy traction on any terrain while its padded tongue and collar provide additional support for the ankle and prevent rubbing or friction. Easy pull loops at the rear make for effortless on-off wearability so you can get your shoes on and go quicker than ever.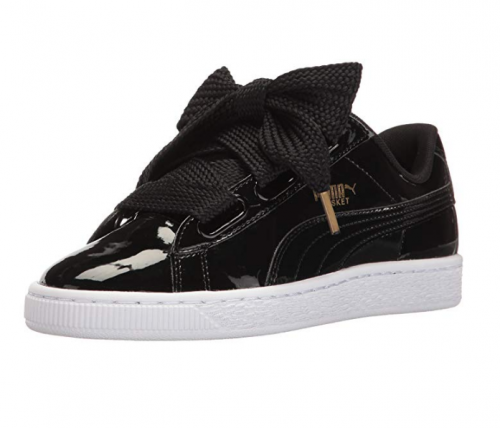 The Basket Heart is just too cute! It features a patent leather upper and basket lace heart design that women adore. It synthetic sole provides excellent traction on any surface so you can forget about accidental slips or falls when the weather outside is dark and rainy.
 
This shoe offers a low-top design that's ultra-trendy and is available in two colorways: Puma black and Puma white. Originally designed for wear on the court, this style has evolved through the decades while still maintaining its athletic roots. The Basket Heart has been adopted by the hip-hop culture and has transcended from the court to the dance floor making this a pop-culture legend in the making. Oversize laces and a patent leather upper add to this pairs finesse for a style that leaves the competitors in the dust.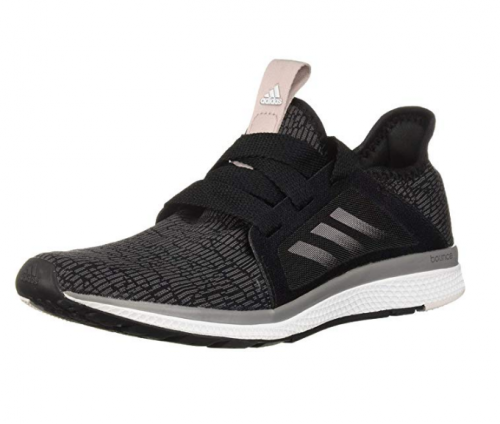 The Edge Lux is a desirable pair of athletic-inspired sneakers that will keep you looking as sharp as possible. Its available in over 20 color and pattern variations making this shoe a great addition to any wardrobe that will easily match with all your favorite apparel. Choose from options like crystal white, bold pink on coral, and tactile green on white, for awe-inspiring looks. These are just a few of the amazing colorways available that make this shoe a much-loved choice among wearers.
 
The Lux offers a mid-top shaft and BOUNCE technologies that deliver an energized form of comfort perfect for sports-related activities. This shoe offers a sock-like fit that feels perfectly conformed to the structure of your foot and will keep you comfortable all throughout the day. Its supportive mesh overlays help to keep your foot stabilized inside of the shoe for a comforting experience that will leave your feet feeling refreshed. This pair was designed to look good and to feel even better! It is a trendy option that will keep you a step ahead of the game when it comes to in-demand footwear.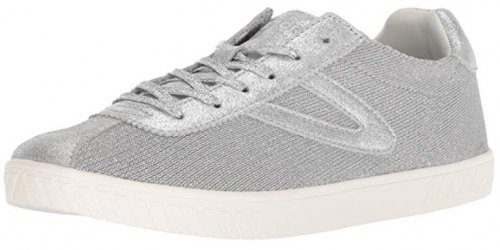 In case you are not familiar with the name, Tretorn is a Swedish footwear brand which was founded astoundingly long ago, in 1891. The word 'tretorn' means 'three towers', and the towers of this label are founded on trend, tales, and tradition. The Camkn4 low-top is a design which brings all-day comfort and sleek, straightforward stylishness that we all know and love.
The Camkn4 is actually a knit version of the classic Tretorn Camden design. The knit means that the upper is flexible and lightweight, and it basically fits like a sock. You won't suffer from any blisters or abrasions, and there is zero breaking in necessary!

The Camkn4 comes with a non-marking rubber outsole; it is slip-resistant and you won't have to worry about losing your balance any time soon, and it also doesn't leave any marks on smooth floors.

The Tretorn Camkn4 is not a shoe for bad weather, given that it is made of mostly textile, but it is perfect for dry spring and summer days. It is comfy, accommodating, and its simple, minimalist design will go well with absolutely everything you throw on.

9

. Converse Chuck Taylor All Star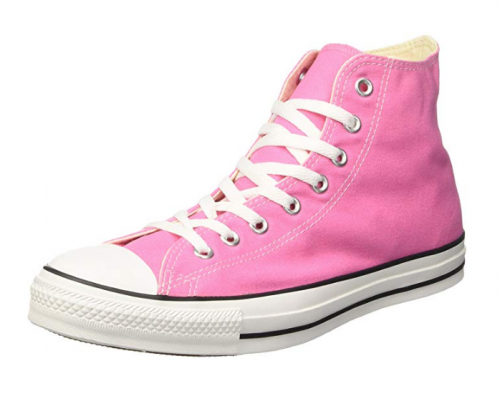 The Chuck Taylor from Converse is the true defining pillar of the sneaker design. This high-top features a lace-up closure system and medial eyelets for additional airflow. Its canvas upper makes this a relaxed option that's always cool and will look good with nearly anything. Its available in over 20 colorways ranging from pink to black and everything in between. These laid-back kicks are super lightweight and ultra-comfortable and have been a favorite among wearers since 1917.
 
This shoe offers the same classic construction and unmistakable ankle patch that helped to skyrocket it to popularity over a century ago. It's an athletic choice that's perfect for casual occasions too and it will certainly keep you comfortable thanks to its Ortholite insole that provides an ideal cushioning.

10

. Vans Sk8-Hi Platform 2.0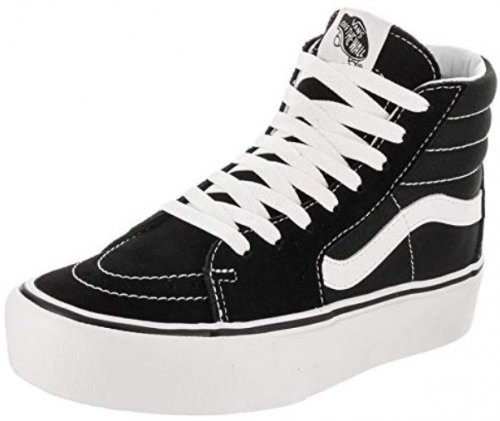 While Vans designs are created largely for the skater crowd, to help the wearer perform better on their board, you absolutely do not have to be a skateboarder to enjoy this cool, laid-back shoe. The Sk8-Hi Platform 2.0 has the already well-known silhouette of the Sk8-Hi, only reinforced by a platform sole, for both a boost in height and a boost in confidence.
The Sk8-Hi Platform 2.0 has a sturdy canvas upper, which makes it easy and comfortable to wear. It is a high top, meaning that it provides ample ankle protection in case you decide to break into a run, and there is also padding in the collar for both support and flexibility.

The toe area of the Platform 2.0 is reinforced to stand up against wear and tear, and the outsole bears the signature Vans waffle pattern. This is meant to increase board feel and grip, but in case you are not hanging out at the skatepark, it also means that you have a better grip on all types of surfaces.

The Sk8-Hi Platform 2.0 can be somewhat tricky to style, especially if you are leaning more towards trendy and flirty than urban casual. But the fact of the matter is that no matter what outfit you match it with, this design will provide that refreshing street vibe that might just be what you're looking for!

Subscribe to our Newsletter