Best Reflective Running Gear Reviewed
In a Hurry? Editors choice: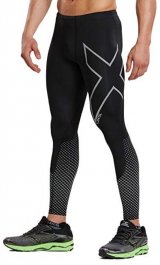 Test Winner: U Reflect

Not everyone can or likes running during the daytime. There are plenty of runners who enjoy the quiet tranquility of the night, who take refuge from the sweltering summer days and opt for a good run when the sun sets. If you are one of those, then you definitely need best reflective running gear to keep you safe.

The key point here is that you both have to see where you're going and what you're doing and that you also have to be seen. Reflective running gear helps with the latter, so that other runners, pedestrians, cyclists, and cars can easily spot you on the road or trail. So take a look at our top ten choices when it comes to this nighttime equipment that will protect you and yet aid your performance, too!
Standout Picks
Criteria Used for Evaluation
Features
Decide what amount of reflection you need based on the conditions you're running in.
By 'features' here, we mean reflection. This is the ability of a material or a color to reflect light back to its source in low visibility conditions. This feature is used in a variety of situations: in sports such as running and cycling, in protective equipment for road workers, airport workers and similar, for hunters who may need to wear this type of gear to avoid accidental shooting, etc.
When the sun sets and darkness descends, having a piece of equipment or several that keeps you visible is an important safety measure when venturing outside. This is especially true if you are running along a road where you expect there will be traffic.
So how is reflection achieved? What makes a garment or a piece of equipment reflective?
As we mentioned above, this is done either through a reflective material or a reflective color.
When it comes to clothing, reflective materials are layered over the regular ones, or reflective yarns are woven into regular material fibers so that the garment doesn't lose its performance features but still reflects light. This can be done with jackets, tights, socks, tops, bottoms, whatever you feel comfortable wearing.
Aside from clothing, there are also special accessories that you might not wear in your daytime runs that increase your visibility. These are special skin spreads, bracelets, backpack covers, vests and similar.
There are different levels of reflection. Some clothing and accessories make you quite visible in the dark, while others either aren't as noticeable or don't reflect light as much. This is why we ranked the items on our list according to how well they reflect light and how visible they make you appear at night time.
If you are interested in the most reflective running gear, sort the options according to this criterion and choose off the top. If you are just looking for a tiny bit of reflection to complement your already existing outfit, then the ones at the bottom will work just fine, too.
Ease of Use
You can choose between reflective clothing and/or footwear and reflective accessories.
Another aspect that we considered when building our list was how often you can wear these items and how easily you can incorporate them into your workout gear. Some of them you already wear regularly on your runs, such as shirts/tops, shorts/tights, socks, and footwear. Others, such as jackets, you may only wear in special conditions. There are even items that you don't normally wear during the daytime, but that is quite useful during night runs.
This is why we will divide the reflective running gear in our list into two categories.
Regular: Regular gear is, quite simply, normal running gear. As we mentioned above, this is the clothing and footwear that you wear anyway. And if you wear it anyway, why not simply opt for a reflective model so that you can also wear it during night time as well?
You can find a reflective version of pretty much anything: running socks, tights/shorts, tops, jackets, shoes, compression sleeves, even hats. If you are dedicated enough, you can build your entire outfit out of reflective garments, so that you are covered from head to toe!
Accessory: Reflective accessories are items such as special bracelets, backpack covers, vests that you wear on top of your outfit, sports tape, and others. These could also be things that you usually wear, such as sports tape, but more often than not, they are an addition to your regular gear.
If you're looking at some of these, take time to consider whether or not the accessories are easy to use and easy to wear. If you are not used to the feeling of a bracelet or sports tape, or if you mostly forget about your vest or your backpack cover, then there isn't much point to these items.
Your nighttime running gear should be something that is easy to put on and easy to take off, and that doesn't distract you from your focus as you go the extra mile.
Comfort
Reflective running gear should be comfortable and not limiting your movements or hindering your performance.
The aspect of comfort may not apply to absolutely every item on our list, but it does matter in the majority of them. After all, your number one priority when going on a run, regardless of what type of run, should be that you're comfortable. Any itching, chafing, rubbing, or pain will cause a distraction and will prevent you from wrapping up your workout successfully.
If we're talking about reflective clothing, then comfort features are pretty obvious: make sure that the fit is right, not too tight and not too loose; pay attention to the seams, that they aren't round or poking you or leaving markings on your skin; the materials shouldn't be itchy or causing any type of irritation. You should be able to move in any direction you want to without any restrictions.
When it comes to reflective footwear, these aspects remain largely the same. Your toes shouldn't feel pinched or cramped and you should feel no uncomfortable rubbing or blisters forming. Cushioning for shock-absorption is paramount in having a good run unless you're opting for minimalist or barefoot-like running.
Reflective accessories are varied, and you should consider their comfort accordingly.
If they are applied directly to your skin, such as reflective skin spreads and/or kinesio tape, it is important that your skin doesn't have a negative reaction to these. There should be no redness, no swelling, no itching, and removing these items shouldn't be too difficult or causing you pain.
In much the same manner, a reflective bracelet shouldn't be too tight or cutting off your blood flow wherever you decide to put it. It would be ideal if you don't even feel it while you're running.
The best idea would be to try out the reflective item you'll be wearing before you embark on your next run, just to make sure that there will be no problems with wearing it for a longer period of time.
Support
Support is not crucial, but it can definitely improve your running experience.
We talked about comfort and how this is essential in having a good run, and now we will address the subject of support.
Compared to comfort, support may not be absolutely crucial. However, a little help in certain areas, such as having supportive footwear or compression socks or leggings, may increase your performance exponentially and propel you to new levels of running and fitness.
Again, as with comfort, not all items in our list can or should be supportive. Skin spreads, bracelets, vests, rucksack covers - these really can't be supportive since that is not their role. However, running footwear and apparel, as well as accessories such as kinesio tape, are all about making you feel better, keeping your body healthy and pushing forward while making you more visible at the same time.
Footwear is supportive through its arch and metatarsal support features. Look for cushioned and contoured footbeds made of supportive materials such as EVA and/or memory foam. Stability shanks and special technologies that have supportive elements are also useful.
Clothing is most supportive through compression. Compression tights and/or compression socks are a great way to help your muscles save energy during a run and recover faster after it.
Finally, kinesio tape is a supportive accessory that reduces the pain that can be a result of overexertion or a past injury or simply of deterioration of a joint. It increases your mobility and eases discomfort, and you will be able to run farther thanks to its supportive features.
Again, when it comes to reflective running gear, support is not the most important thing. But if you run into an option that is both reflective and supportive, you should definitely go for it.
Durability
You can go for gear that is reusable or gear that has short-term reflective effects. (Or both.)
Because running is a high-impact sport, and because you probably run frequently, several times a week if not every day, it is expected that running gear doesn't last too long. Footwear lasts maybe through one season, clothing can last through perhaps two, depending on how many different sets you have and how often you wash and wear them.
The same is true for reflective running gear as well. However, given the nature of some of these items in our guide, we thought it would be best to divide them into two groups.
Reusable: Reusable gear is everything you can wear several times. Clothing, footwear, vests, bracelets - all of this is reusable gear. They can be washed and cleaned and then put on again without any problems, and worn until they fall apart or break down in some way.
Look for sturdy stitching, for durable materials such as synthetics, for strong closures and high-quality constructions. There are no guarantees that an item you purchase will be durable even if it looks sturdy, but it definitely won't hurt to check and make sure everything is in its place before you commit to it.
Disposable: Disposable items are those such as the skin spread and the Kinesio tape in our list. These can't be worn forever and should be taken off after activity. Durability, in this case, is a reflection of how quickly you spend the item. If the Kinesio tape peels off after half an hour, then it's obviously not a good choice. If you empty the skin spread container after only a week, then it wasn't worth the money.
Durability is a tricky subject. However, giving the product a thorough once-over before you purchase it and making sure that it is well-built can mean the difference between enjoying it for a long time to come and going back to square one too quickly.
Top 10 Reflective Running Gear Reviews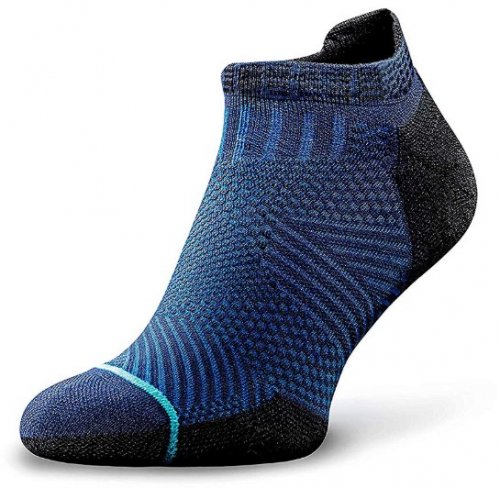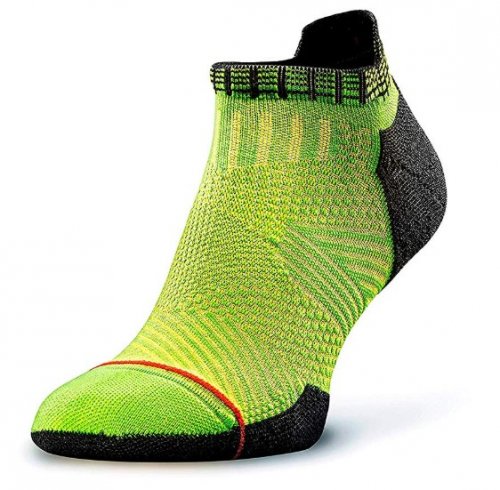 The first on our list is a design that helps not only in making you visible in the dark but also in keeping your feet fresh, light and carefree as you pound the track. The Accelerate from Rockay are no-show socks that have all the performance features you need: cushioning, arch support, breathability, a seamless construction, and on top of it all, it features a reflective logo on the side to make you safe.
The Accelerate is made from partly recycled materials. In it, you will find polyamide for durability and colorfastness, organic Merino wool which is famous for its moisture-wicking properties and breathability, and elastane for stretchiness. There are also breathable mesh zones on the top of the sock to keep the air flowing in and out and keep your feet cool and dry.
Performance cushioning provides shock-absorption and arch support staves off foot fatigue no matter how long you run for. The Accelerate has a seamless toe area, which means that there will be no painful rubbing or chafing on the run.
If you're looking for perfect running socks that don't hinder your mobility and pairs well with running footwear of any kind, the Rockay Accelerate is it. It is easy to wear and easy to love, and its spot of reflectiveness will be just what you need to complete your nighttime gear.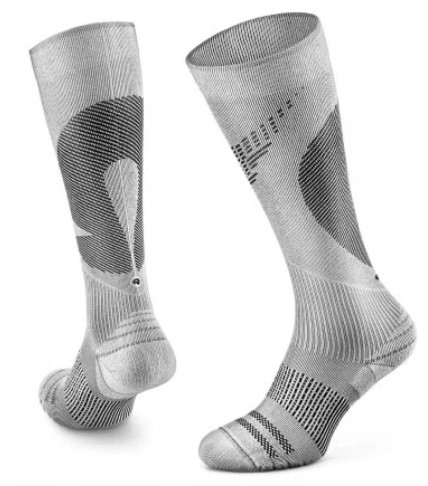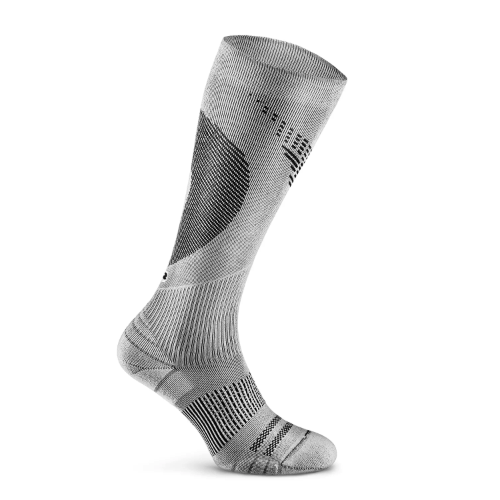 If compression is what you're after, then a no-show sock won't cut it. Instead, try going with a knee-high compression design, one which has the comfort and support features for a good workout, but which also adds muscle containment into the mix. The Rockay Vigor is in the category of compression socks made from completely recycled materials. It has much the same features as the Accelerate, with the added benefit of graduated compression of 16 - 23 mmHg.
The Vigor is made from Econyl regenerated nylon, recycled polyamide, and recycled elastane. These materials are 100% recycled (as their names suggest) and thus environmentally-friendly for those of you who are conscious about what you're leaving behind on this planet. It comes with a seamless toe, performance cushioning, and arch support to keep you going for longer.
Compression is an advantage in high-impact sports such as running because it increases blood flow through the muscles. This, in turn, increases the flow of oxygen, and as a result, you have more energy to complete your workout. Compression also speeds up the recovery process, reducing inflammation and pain which comes from a grueling training session.
The reflective aspect of the Rockay Vigor is the logo in the back of the design which glows in the dark. This makes the Vigor a great supportive element, but also one that keeps you safe during a night run and protects you from getting injured if you run in a high-traffic area.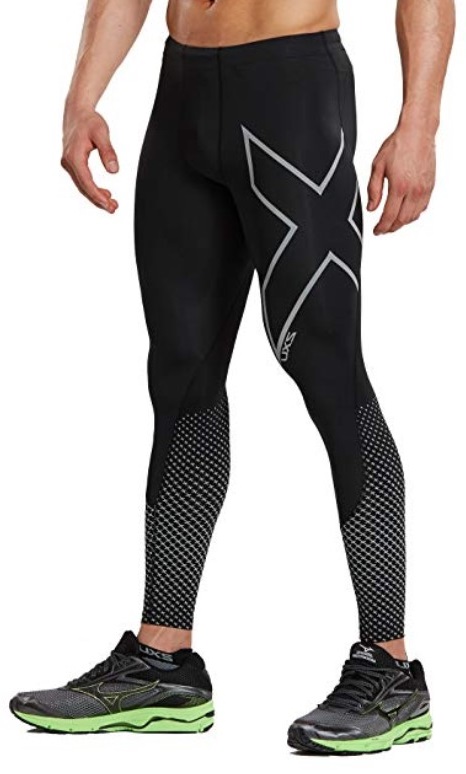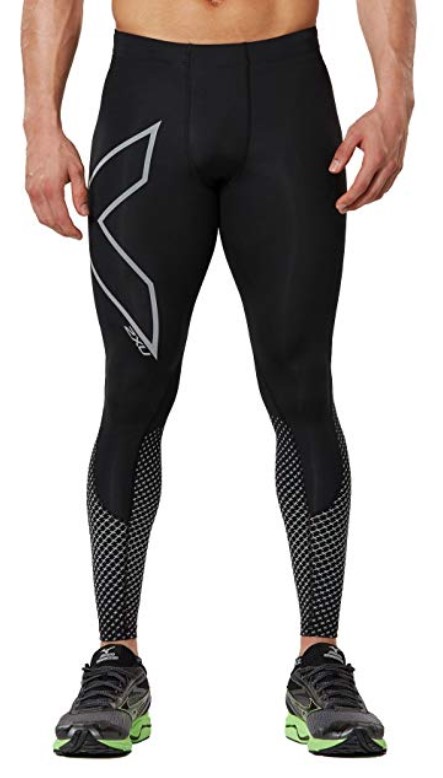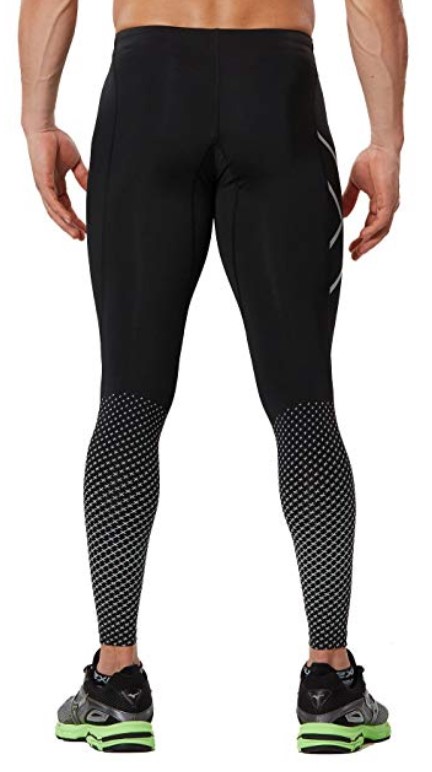 Adding more to the concept of compression, the 2XU Reflect is a pair of compression tights that are designed to improve your performance and recovery and keep you visible in the dark at the same time. The Reflect features a 360-degree detail around the calves which is highly reflective, as well as graduated compression for support to all areas of the leg and glutes. A drawstring waistband helps keep these up, and they're incredibly stretchy so that you can easily move any way you want to.
The 2XU Reflect is made from nylon and elastane for durability, wear and tear resistance, and flexibility. It provides compression to your entire leg and backside and reduces the vibration of your muscles. This keeps them from overworking themselves and saves you energy for a longer, faster run.
The seams on these tights are flatlock, meaning they don't lead to chafing, and the yarns used in their construction will outlast any other tights on the market. These yarns are also moisture-wicking to keep you dry even when you work up a sweat. They're coated with an antibacterial agent to prevent the development of bad odors and infections.
The 2XU Reflect is a champion when it comes to compression gear, and it is one of the best items in reflective running gear as well. If you're serious about your running and want to help your leg muscles as much as you can during those hard sessions, then you won't hesitate to invest in these for maximum comfort, support, and visibility.

4

. ASICS Gel-Cumulus 21 LS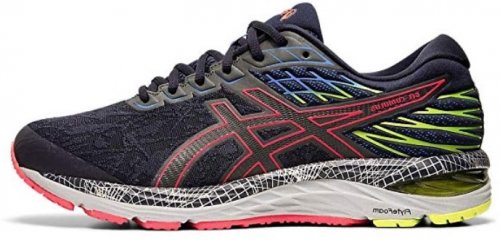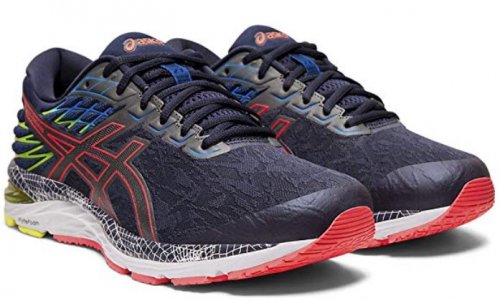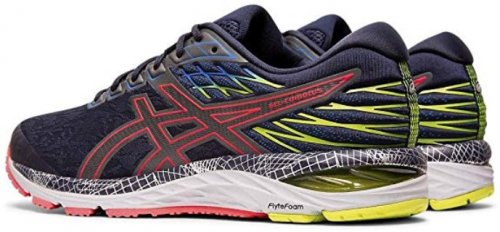 The LS in the ASICS GEL-Cumulus 21 LS stands for LITE-SHOW, which is a technology that includes reflective detailing all along the upper of this design. On top of that, this sneaker comes with the Impact Guidance System technology, FLYTEFOAM, and AHARPLUS, which all sound like strange names but are in fact systems that serve to help you be faster and cover greater distances. If you're looking for the ultimate reflective footwear, then you've definitely found it with ASICS.
The upper of the Gel-Cumulus 21 is made from jacquard mesh for ventilation that resists bad odors. The FLYTEFOAM Propel and FLYTEFOAM Lyte technologies are there for optimal bounce and shock absorption that will protect your joints from long-term damage as you pound the ground with your heels.
The I.G.S technology we mentioned above is all about making sure that you have a correct, well-balanced gait. An internal heel counter and the GUIDANCE LINE system make you more stable and increase your efficiency, which means you will have more energy to cover more miles.
AHARPLUS is an abrasion-resistant material that is added to the outsole of the Cumulus 21 LS to prevent long-term wear. With all these innovative and hi-tech features, you may feel a little overwhelmed with this sneaker. But we assure you that all that means is that the Gel-Cumulus 21 LS is high in performance and support and that you will be at your absolute best whenever you throw them on.

5

. Salomon Fast Wing Aero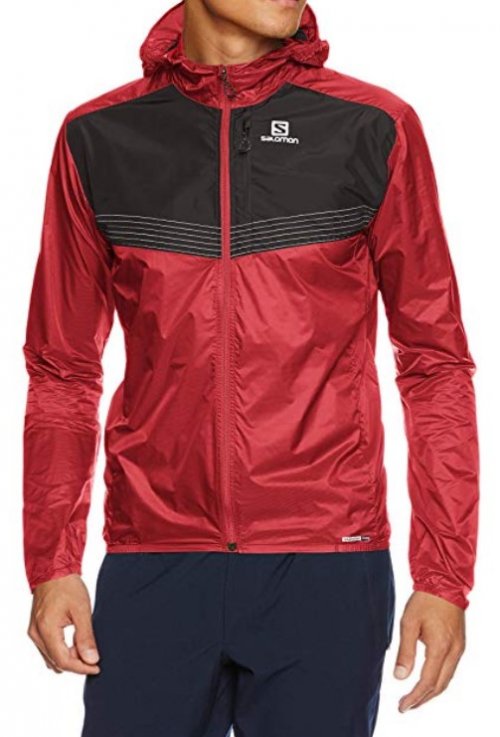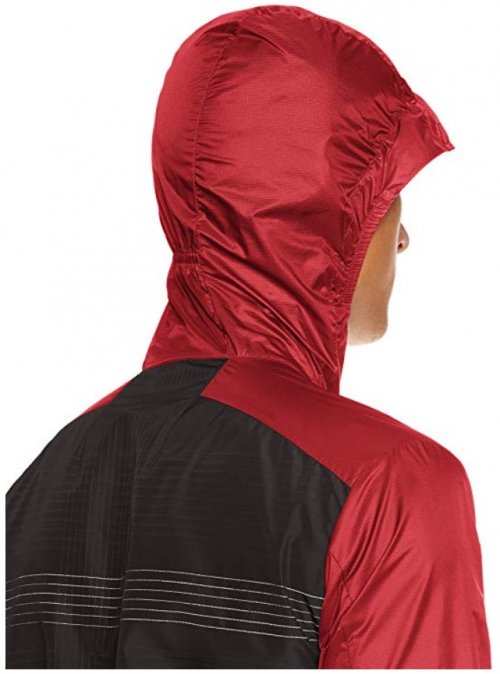 Salomon is a sportswear brand that originated in the French alps in 1947. They are dedicated to nature and playing outside, as they declare, and they're all about simplicity, innovation, and lightweight that doesn't hold you back on your next adventure. The Fast Wing Aero is just such a design, a jacket that will keep you protected and warm but that won't hinder your speed or movement. On top of that, it will also make you clearly visible in the dark thanks to its reflective fibers.
The Fast Wing Aero is the perfect option for when the temperatures drop and the winds pick up. It guarantees 360-degree visibility due to a reflective thread which is woven into the regular fabric. This means that the reflection is not a result of any additional seams or sections. The Fast Wing is also breathable because of the micro-perforations down its back. They let the air out, but don't let it come in.
This jacket is constructed using MotionFit technology, which means that it effortlessly keeps up with your every move. You won't feel slowed down or constricted, and it will be a barely noticeable weight on top of your regular gear. The Fast Wing Aero has a fixed hood and two pockets for all your most important belongings.
It is important to make a distinction that this option is water-resistant but not waterproof. Meaning it will do just fine in a drizzle, but you will need a sturdier option for a downpour. However, the Fast Wing Aero will still keep you warm and protected in dry, cold weather, not to mention in traffic in poor visibility. Which is all we're asking for from a design of this type, really.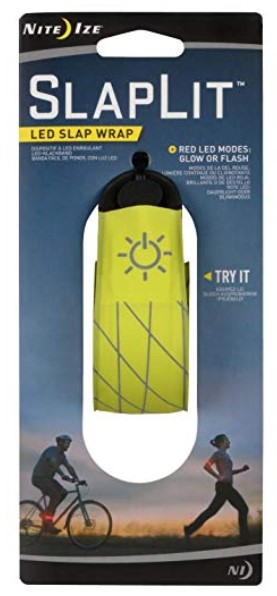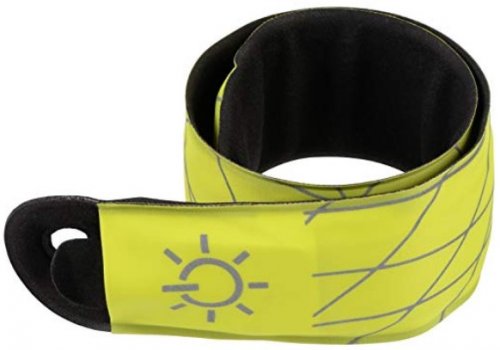 Another bonus accessory, the SlapLit is a bracelet from Nite Ize which is incredibly easy to slap onto your wrist or arm or even ankle and take with you on your next run. This bracelet isn't exactly reflective as it is an actual light source - it is essentially a strip of LED lights that keep you visible even in the poorest of conditions. The SlapLit comes in three color versions: yellow, red, and pink, and you can also choose between an option with a replaceable battery and one with a rechargeable battery. When it comes to ease of wear, the SlapLit is unmatched!
The LED lights on the bracelet can be switched on with a simple button push, and they can also be set to either glow or flash for a more attention-grabbing mode. If you choose a replaceable battery, it will last for over 100 hours, and if you choose a rechargeable one, it is incredibly easy to plug in and charge via a micro USB cable (that is, unfortunately, not included in the purchase).
The SlapLit is made from nylon that is resistant to all types of weather - rain, wind, and snow. You can choose to wrap it around your wrist or your ankle, or your arm if you feel like it'll fit, and you'll be good to go in a matter of seconds! Despite being an extra accessory, the SlapLit is refreshingly easy to wear and maintain!

7

. Proviz Reflect 360 Backpack Cover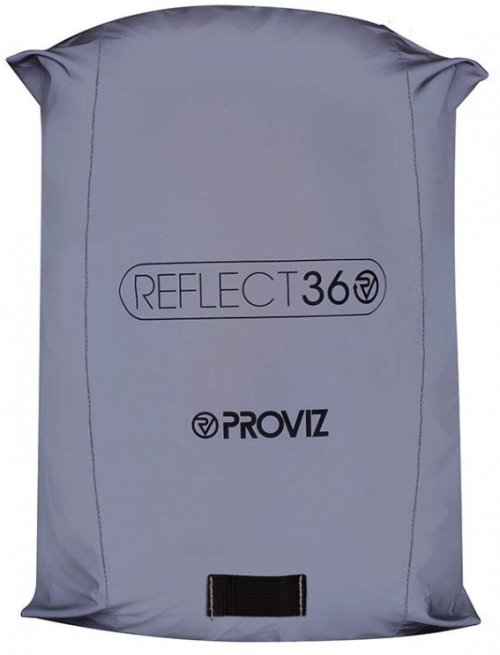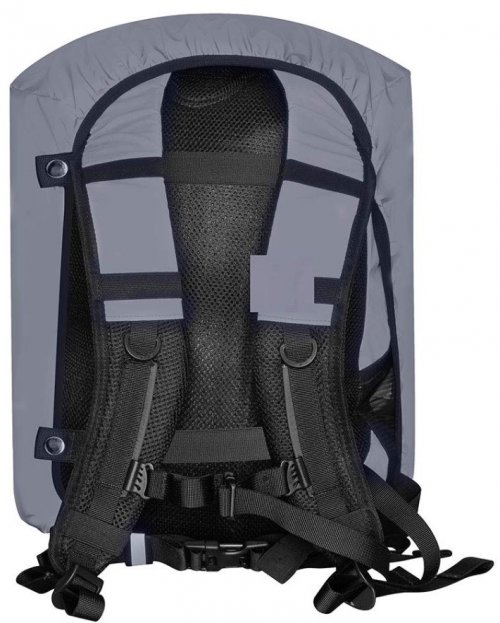 If you are carrying a backpack on your run - either because of extra weight to increase your endurance or because you need to carry additional gear - then there is no better way to enhance your visibility than by using a reflective backpack cover. The Proviz Reflect 360, to be exact. This is a technical design that fits over all standard rucksack sizes. It is waterproof and adjustable. During the day it is an unassuming grey color, while at night it lights up to make you safer and worry-free during your run.
The Proviz Reflect 360 is made from 100% CE EN471 material that is synthetic and highly reflective. It is dual-layered for an intense waterproof effect, and it will protect you from accidents but also will keep the contents of your backpack safe from moisture. The edges of this cover are elastic for security, and there are stud fasteners and stretchy cords that help you adjust the fit to one that works for you.
One more detail on the Reflect 360 is the fact that it has a light loop so you can easily attach an additional LED light if you so desire.
You probably won't have much use of a rucksack cover on your every run. However, if you are venturing out with a backpack and the day is drawing to a close, you will definitely benefit from the reflective features of the Proviz Reflect 360. It is simple to put on and take off, and it will provide a beacon of reflection so that your run goes by without a hitch.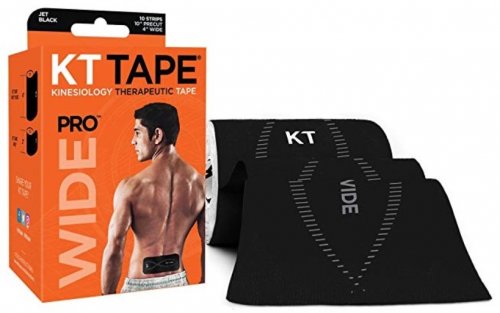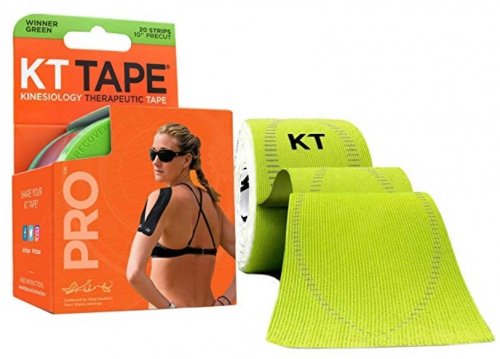 Too often our muscles and joints suffer from overexertion during exercise. Pain can flare up in the shoulders, knees, in our back, wrists, elbows, any part of the leg or even ribs. This is exactly what the KT Tape Pro Synthetic aims to eliminate. This synthetic tape is meant to be applied to the skin, where it reduces the pressure put on the strained/injured tissue and thus reduces pain or discomfort that you may be feeling in this area. It is meant for all kinds of sports, as well as for simply getting through a rough day at work.
The KT Tape Pro Synthetic is easy to apply to the skin. It comes with special instructions on which position to assume for the tape to adhere better, how to cut it, and how to activate it through heat by rubbing the tape. It doesn't absorb moisture but rather wicks it away for a comfortable workout, and is quite flexible and durable, not to mention hypoallergenic and breathable.
Other brands of this type of tape retain their elasticity and support features for a maximum of 3 days, while the KT Tape Pro is supportive for up to a week! This tape comes with a protective case and also a reflective print so that you are easily spotted during your night run if you choose to wear it.
In terms of support and pain relief, it doesn't get much better than this. Even though its effects aren't 100% guaranteed, studies have shown that the KT Tape Pro Synthetic has a good chance of reducing your pain and helping you perform better. It is used by professional and Olympic athletes all over the world, and thus there's no reason why you shouldn't give it a go, either.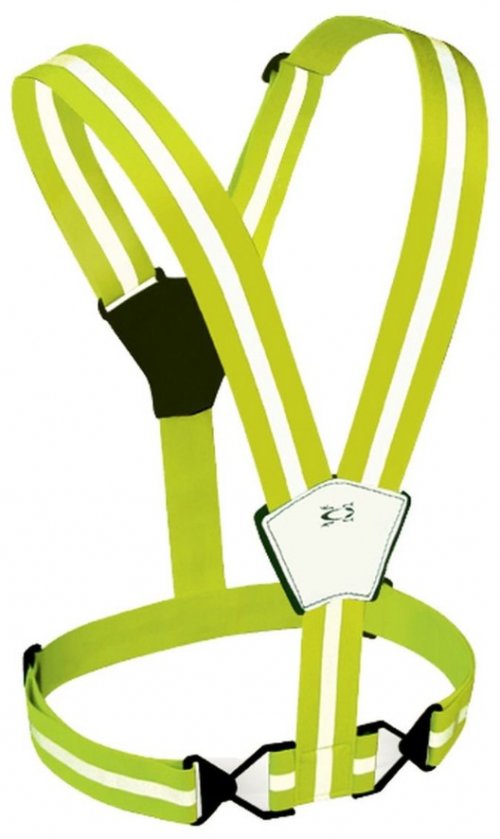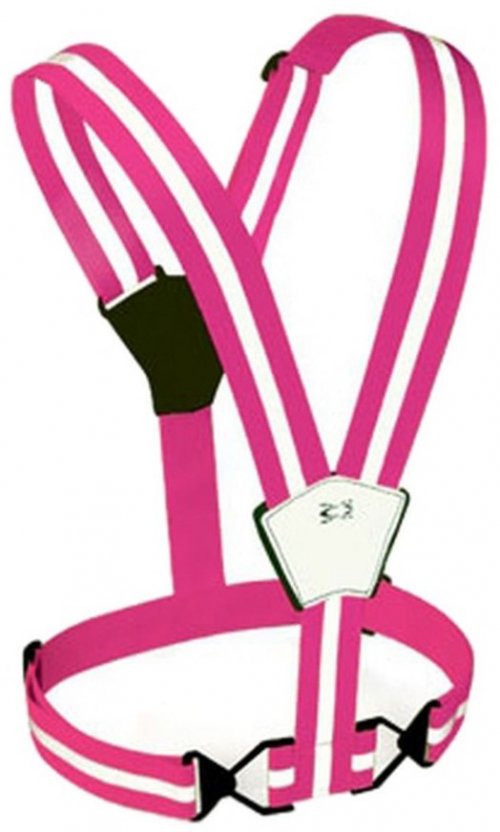 An accessory that you wouldn't normally wear with your daytime running gear, the Amphipod Xinglet Vest is a must-have during the night. It is essentially a vest made of straps that you can slip on over your shirt or jacket and that provides you with intense 360-degree reflective coverage. It is adjustable in terms of shoulder and waist straps and it comes in several color versions, such as the neon yellow, the pink and the gray.
The straps of the Xinglet Vest are made from a chafe-free stretchy material that breathes and doesn't restrict your range of motion. It is super comfortable and lightweight, despite being an added layer that you wear on top of your standard outfit. Its adjustment buckles provide you with the fit that you need to feel comfortable.
The key point of the Xinglet Vest is that it features reflectivity from top to bottom, front to back. It reflects the light back to its source in low visibility conditions, and thanks to it, you won't have to worry about accidents or injuries during your run.
The downside to the Amphipod Xinglet Vest is that it is an accessory, meaning an additional item that you need to remember to bring on a night run. However, at the same time, it is amazingly easy to wear and it greatly increases your safety, so having that extra level of protection definitely won't hurt.

10

. Safety Skin Skin Spread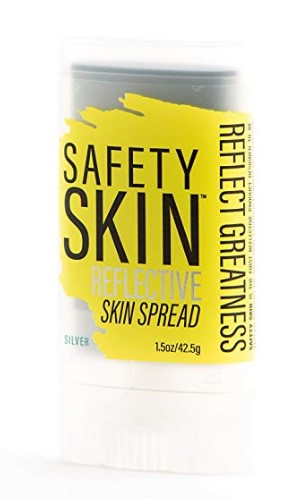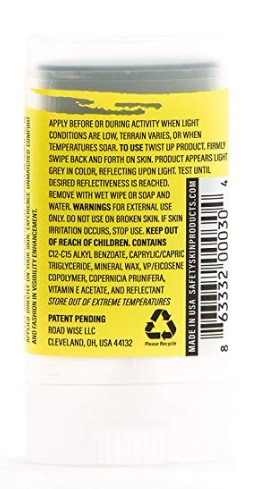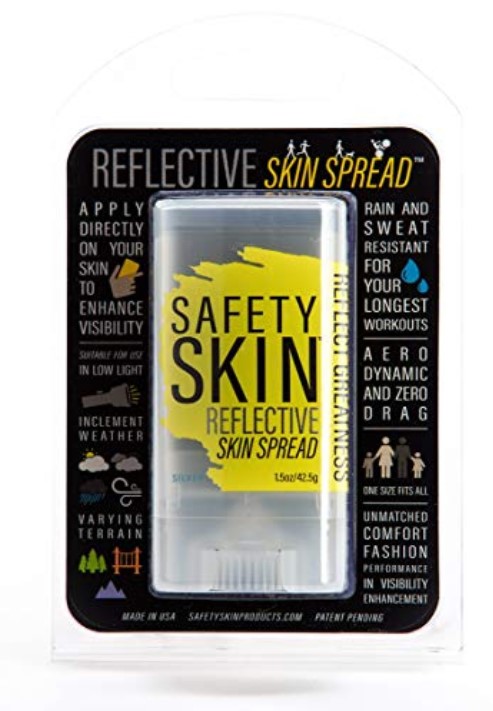 You must have seen this on Instagram already: that strange stripe of a glowing cream-like substance that runners and other athletes swipe onto their legs and/or arms to achieve reflection at night time. The Reflective Skin Spread from Safety Skin is a specially engineered formula that is applied directly onto your skin and that has the sole purpose of making you easily recognizable as a human in low visibility situations. It is hypoallergenic and won't cause any skin irritations.
This Skin Spread is a wax-based formula made from natural ingredients that are scientifically proven to be safe. It doesn't hinder perspiration and is resistant against rain and sweat regardless of how long you train for. It features no billowing and it won't slow you down.
This formula is great for running, riding, hiking and similar in all sorts of environments, from inclement weather to low light to varying terrain. It is a great choice for when it's hot and humid outside and you would like to avoid excess layers of reflective clothing but would still want to be safe on your run.
The Safety Skin Skin spread is truly unusual and probably the only product of its kind currently on the market. If you're tired of putting on additional clothing and want to feel free and light and yet still be reflective, this wax stick is the solution to all your troubles. Simply swipe it on and forget about it!

Subscribe to our Newsletter