Best Gloves for Winter Running Reviewed
In a
Hurry? Editors choice: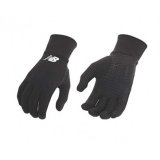 Test Winner: New Balance Lightweight

Running in the winter can be a challenge, but it can also be extremely rewarding and can feel like an accomplishment to be proud of. But if you are going to go for a jog in the cold, you need the right equipment, one of which is a good, warm pair of the best winter running gloves. These are usually thin and lightweight so that they keep out the cold but do not add a lot of bulk and weight. Often they have some
cool features
like touchscreen compatibility so you can use your phone without taking them off—convenience and necessity in low temperatures. We are going to look at what you need to know before making an informed buying decision.
Standout Picks
Criteria Used for Evaluation
Breathability
One thing we found out when researching was that a lot of runners tend to start out with cold hands, but as they get moving and run awhile, their hands start to get too hot and start to sweat. If you are wearing regular kinds of gloves, you will have to take them off and store them midway through the run. This is an inconvenience, but it is also impractical since a lot of running gear does not come with very big pockets for storing things like gloves. The solution is to find a product that is breathable, yet warm. That is a tough requirement to meet, and that is why only the best products made this list. It is difficult for a product to do a good job of both retaining heat and being breathable, and sometimes even keeping wind and water out. Those are all things that work against each other. Some products have found some good solutions.
When it comes to breathability, WalkJogRun knows that the material type is very important. A lot of these products are made out of a high percentage of polyester, which is great for breathability and staying dry. Others have a patented material that they designed for the product. Another way products have compromised between warmth and breathability is to have certain areas of the product that are breathable and other areas that are not. This allows the product to vent without making you feel like the wind is rushing right through the product.
Comfort
The two most important factors related to comfort are flexibility and warmth. Some of these kinds of products are very stiff and bulky and do not allow you much range of movement. That severely cuts down on comfort and was something we tried to avoid when choosing products. Instead, we opted for products that are made out of flexible, lightweight materials and that are constructed in such a way as to give you free range of motion. These need to feel like a second skin, like an extension of your hand.
For warmth of winter running gloves, we looked at three different factors. One was material type. Another was layering. And the third was sweat-wicking capabilities. All of these affected the warmth. Material type is an obvious one. We found that some fabrics were more effective at holding in warmth than others were. Some products are designed to reflect your own body heat back to you which is an efficient way of keeping you warm. Others are made out of naturally warm materials like fleece or merino wool.
Layering is an excellent design element because it helps regulate temperature. It can hold in the heat but still feel breathable. Layering works just like a thermos which is often double walled to hold in heat. Finally, sweat-wicking properties were such a big thing because of the very nature of sweat—it is meant to cool us down. By drawing sweat away and then allowing it to evaporate, these running winter gloves help keep you dry, which in turn keeps you warm.
Durability
The good news is that since you will not be using your hands too much when running or jogging, these gloves for winter running do not have to be extremely tough and durable. That allows them to be more lightweight, soft, and comfortable. If you were going to be using them for lifting weights or doing yard work, for example, they would need to be much more reinforced and durable since they would be doing a lot of work. Their main job in this case, though, is to simply keep your hands warm and to protect you in case of a fall. We still tried to find products that were durable, however, but less in a tough, reinforced way and more in a well made, long lasting way. We wanted to make sure that the seams were strongly made and that they would not come apart after months of use or several trips through the washing machine.
We looked for products that are machine washable, whether or not actually doing that is really the best idea. As long as they are capable of being washed in a machine, that allows you to wash them by hand most of the time but if once in awhile you simply do not have time, you could toss them in the washing machine and it would work out okay. But for a lot of these products, washing them by hand most of the time might be a good idea to preserve durability.
Fit
Fit is so important with these kinds of products that it has to live up to the saying, "fits like a glove." Some of the factors involved in determining how well these products fit are stretchiness, design and construction, and placement of seams. Seams can make or break the fit. If they are not done right, they will take up too much room inside and will be both uncomfortable and tight. We researched how the seams were designed in these products in order to make sure that they would lay flat and would not cause you to notice them or be bothered by them.
Stretchiness was another big thing. We looked to make sure that each product included some good quality stretchy material like elastane or spandex. This helps the product mold to the exact shape of your hand. Finally, the design and construction was a factor because it determines how the product will feel. You don't want a product that pinches and sticks up in some places. Some of the products we chose have a four way fit which is more precise. Many have a paneled design which works together with the stretchiness to fit to the shape of your hand.
Protection
This is a product that has the main purpose of protecting your hands. If it does not do that job right, it is not a product worth buying. When researching, we asked questions like: Does it completely cover the hand and wrist? Does it fit well enough to provide adequate coverage and protection? Are the fingers extra warm to protect you from cold fingers or even frostbite? Protection is inevitably related to fit and durability. Although many of these are quite thin and light, we wanted to make sure they could still protect you against possible scrapes if you were to fall on the pavement or the sidewalk. Another factor which is directly related to protection is reflective print. Not all products have this, but some do, and we tried to include at least some that did. This is a valuable feature that greatly increases protection. One final factor we considered was protection from the elements. We included some products that are wind resistant, water resistant, or both.
Top 10 Gloves for Winter Running
Subscribe to our Newsletter