Best Winter Running Shoes Reviewed
In a
Hurry? Editors choice: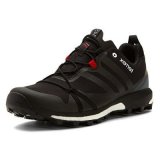 Test Winner: Adidas Terrex Agravic

Since we believe having proper shoes is essential for winter running, we've compiled a list of the top ten best winter running shoes available.
We looked at the features and ratings for a whole range of shoes and narrowed what we found down to the ten shoes that will provide what you need to make the most of your runs this winter. Have a look through our list and the descriptions we've included, and make sure to read through our "Criteria" and "FAQs" sections where we list the criteria we looked for when we put together our list of
winter shoes
for running and answer some frequently asked questions about winter running.
Standout Picks
Criteria Used for Evaluation
Traction
The most important feature we want from a running shoe is traction, the ability to grip the surface we're on. The driest, warmest, most supportive shoe won't ultimately help you run in cold and icy conditions if it isn't able to stand up to harsh, often slick terrain. So, before you look for any other features in the seasonal shoe, make sure the shoe you're buying has good traction.
Because you'll be active in them, you don't need to consider buying crampons or shoe spikes and attaching them to your regular fitness shoes. You won't need anything that heavy-duty for these cold conditions. You'll usually be on sidewalks or roads, so you won't need to look for shoes with spikes or cleats either. A shoe with soles that have ample grip will be sufficient for giving you the control you need when you're running on a cold or icy surface. The big name in grip right now is Vibram, so any shoe with those grips is a safe bet, but many shoe manufacturers have their own line of traction grips that will do the job as well. Just make sure your shoes have good grooves or a raised-pattern outsole designed to give you a good hold when you run.
Traction is the ability to grip the surface.
Traction must grip all surfaces, especially slick and wet surfaces.
Ample grip is good enough in winter activities.
Vibrant is a top choice but a grip with grooves and raised-patterns will do good.
Stability
You'll also want to look for shoes that provide good stability when considering which shoes you should buy. Because activity in these seasonal conditions carries with it the potential for slipping and/or rolling your foot, you'll want a shoe that will keep your foot stable. Stability options are designed for runners with a normal arch who wants to help prevent mild pronation (a term used to describe how your foot rolls for impact distribution, particularly when you run). They are designed to reinforce the arch and will have features that provide additional support for your foot.
The majority of these is designed to provide stability when you run, so it won't be hard to find a stability shoe for activities in ice and snow. If you suffer from over-pronation or under pronation (also called 'supination'), then you may want to look into buying a shoe that offers a higher level of stability. These are called "motion-control shoes," and while they are often heavier and not as flexible, they will provide more support than the standard stability shoes. These are a good option for runners with flat feet as well.
Stability is needed to reinforce the arch.
Higher levels of stability helps with overpronation and under-pronation.
Motion control shoes are heavier and not flexible but are the best for pronation issues and flat feet.
Support
In addition to stability, you will want to look for a shoe that provides good support. A shoe that supports your foot will give you a more comfortable run and will help prevent you from experiencing negative effects from activity in your feet or back. A shoe with proper support will help keep your foot and ankle from twisting when you run, and because the risk of this twisting increases when you're active on slick terrain, having a shoe with great support is essential. The two main areas where you'll want to check for support in your shoes are the midsole and the heel counter. The midsole should be rigid and should not easily twist. You can test your shoe by grabbing it by the ball and the heel and twisting it as though you were trying to wring water out of a cloth. If the shoe twists up and doesn't resist, then it is not a supportive shoe and isn't a good option for this type of exercise. Look for a shoe with a rigid, supportive midsole.
The other part of the shoe you will want to check is the heel counter. The heel counter is a small, plastic insert that helps reinforce the shoe's heel cup. While you can't see the heel counter, you can test its rigidity by pressing into the heel cup and seeing how much it gives from the pressure. If the heel cup easily folds down and doesn't resist, then the shoe likely won't offer the support you need. Look for a shoe with a rigid heel cup/counter to ensure you're getting the support you need when you run in the snow and cold.
Supportive shoes give a comfortable run and prevent negative effects such as a foot or ankle twisting.
The most important support is needed in the midsole, heel counter, and heel cup.
The midsole should be rigid for optimum support.
Insulation
Because we're talking about activity in the ice and snow, we recommend looking for a shoe made from materials that will help keep your feet warm. You don't need to go to the extreme of looking for shoes lined with fleece or wool, but you will want to look for a shoe that provides some protection from the cold and will help keep your feet from freezing while you run. Look for shoes that provide an inner liner designed to retain some of the warmth from your feet. Your feet will be producing a lot of heat (and sweat) when you run, so you don't need anything excessive. And because your feet will be sweating, you will want shoes made from materials that are breathable. That may seem counterintuitive, especially since we're talking about keeping your feet warm, but you don't want to keep all the heat and moisture your feet produce inside your shoe. Bottom line: a shoe with a heat-retaining liner and breathable construction will help you strike the balance you need between keeping your feet warm and keeping them well-ventilated.
Choose an inner liner to retain warmth.
Make sure the shoe is still breathable.
Water Resistance
Most of us probably won't be trying to run through feet of snow, but because of this often involving wet conditions, you'll want to look for shoes that are water- and weather-proof. Our best runs can be ruined if we end them in wet feet, so look for shoes that will help keep moisture out. Remember that there is a difference between water-resistant and water-proof shoes. Water-resistant products will be suitable for most road or track running, but if you plan to encounter a lot of snow or puddles, a water-proof shoe will offer better protection and help ensure your feet stay dry throughout your run. Gore-tex offers great protection for your feet from the elements, so look for shoes that utilize it in their construction. Other waterproof materials include polyurethane (PU), rubber, neoprene, and polyvinyl chloride (PVC). Just make sure your shoes are also breathable. There's no sense in spending money to keep moisture out if your shoes are going to trap all the moisture your feet produce inside them.
There is a difference between waterproof and water-resistant.
Water resistant is best for road or track running.
Waterproof is best for snow and puddles.
Waterproof Materials:
Polyurethane (PU)
Rubber
Neoprene
Polyvinyl Chloride (PVC)
10 Best Winter Running Shoes in 2020
The XA Pro can stand up to every distance, terrain, and weather. This durable pair can withstand every demanding trail and it's waterproof built will keep your feet comfy and dry. Its new tread pattern keeps your feet gripped to the ground.
The quick lace system provides lacing that is fast and precise. Your fit will be stable and the adjustment easy. All you have to do is pull the laces and slide the buckle tab down to tighten. What easier prep before your run could you ask for? The membrane, constructed with GORE-TEX, provides a waterproof barrier. The interior of the shoe will never be breached and you'll have a wet and damp free run.
The cost varies from mid to high but for this brand, it's well worth it. No other brand can match the protective features that keep your run safe and easy.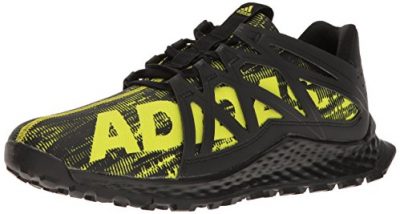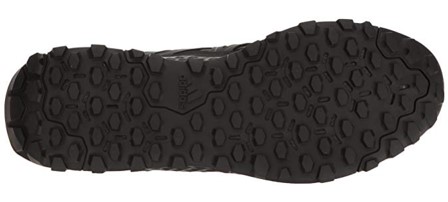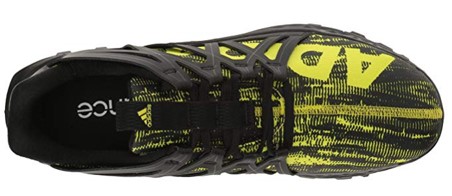 Our first entry from Adidas is the Vigor Bounce Trail Runner. It's designed to hold up in bad winter conditions and will give you the control and comfort you need to have a successful run. It has been outfitted with an impressive rubber outsole that will give you grip on slick surfaces and a breathable mesh upper to make sure your feet stay ventilated.
The folks at Adidas didn't decide to name this shoe the "Vigor Bounce" for no reason. It's designed to provide support and comfort to help your feet stay energized and invigorated during your run. The Vigor Bounce comes fitted with an ATR outsole that essentially acts as a winter tire for your feet. Its grippy texture will help you maintain control over your winter run.
This trail runner is the most affordable shoe on our list. Considering all the features Adidas has packed into this shoe at such an affordable price, you have no excuse for not giving it a try.

3

. Brooks Cascadia 14 GTX
Brooks makes some quality running shoes, for road and trail alike, but they've recently added some Gore-Tex technology to help make the most recent version of the Cascadia more water-resistant. This pair not only has a lugged pattern sole for traction during active sessions, but also a breathable, waterproof upper! It's ideal for snowy conditions, and also has a lace-up guard to keep them from slipping in fit when it's wet outside. With loads of Brooks technology for a comfortable ride, this pair is worth a closer look.
The Cascadia 14 GTX is suitable for those runners with mid to higher arches and weighing in at just over 10 ounces for a trail shoe, it's also considerably light, helping to reduce foot fatigue. One interesting design element is the Pivot Post system that lies along with the side outsole, which allows the foot to level during push-offs and footfalls on rocky or uneven terrain. Inside, you'll find Brook's BioMoGO DNA technology, providing the midsole with a dynamic cushion to keep you comfortable during training extended timeframes.
The base of this winter Gore-tex running shoes has Brook's TrailTack technology rubber sole, giving it a tacky grip for better handling, along with a lugged pattern base for traction. Similar to its predecessor, the Cascadia 14 GTX has a lockdown system that prevents any in-shoe slippage when in use. Lastly, they've also added an additional mudguard, redesigned to help keep dirt and debris away. For those messy, wet winter runs, this pair certainly has the technology to back up performance when it's cold out!
The Terrex Agravic from Adidas is one tough winter running shoe. It's been outfitted with waterproof Gore-Tex and durable rubber to help you tackle any winter terrain. Its lightweight construction helps your feet stay energized, which means you can extend your runs without worrying about getting fatigued. It's a great all-around option to get you where you're going this season.
This shoe is made with Gore-Tex, the top name in waterproofing, so you can wear them knowing your feet will stay dry this winter, even when you're going through snow or mud. In addition to the protection provided by Gore-Tex, this shoe also utilizes a continental rubber bike tire outsole to not only give you grip but also to protect your feet when you hit tough winter terrain.
These shoes are on the high end of our price range, but considering they're made with materials like Gore-Tex, EVA, and continental rubber, they definitely give you a lot of bang for your buck.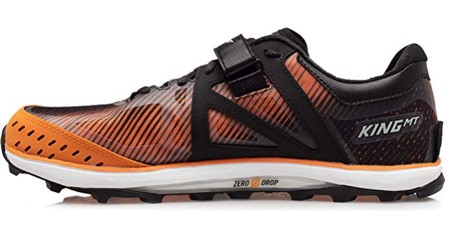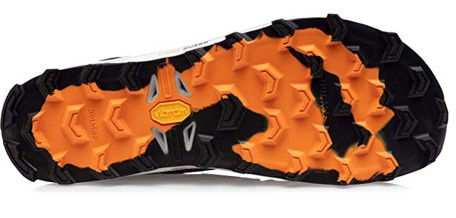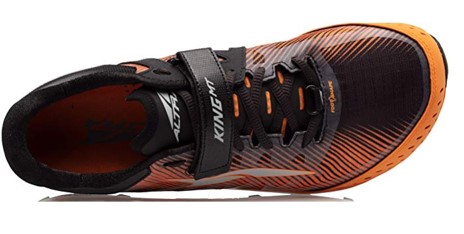 If you're a fan of zero-drop sneakers, the Altra King Mt 2.0 is the newest version of a superior trail shoe, with a few upgrades from its predecessor. With a grippy lugged sole for added traction in light snowy trails or the occasional ice patch, this pair certainly can handle what old man winter throws at you. We'd suggest using this pair in light dry snow or icy conditions, however, as the uppers are quick-dry but not waterproof against heavy wet snow.
Quick-dry uppers will allow the foot to breath better during strenuous training runs, and with a good pair of wool socks will keep you quite warm. Inside the King Mt. 2.0 lies the Altra EGO midsole, with a dual-layer to help return energy to your footfalls when active. A specifically designed toe box allows for proper toe splay and in-shoe grip. One great feature we love about the lace-up vamp is the Gaitertrap hook and loop closure that won't let wet or snow affect your fit.
At the base of the King Mt. 2.0 is a grippy Vibram Megagrip sole, which is a bit more traction than regular Vibram soles, with better durability as well. Specifically placed lugs are designed for superior grip on trails, whether dry or wet and will help you keep your traction during winter runs. With the zero-drop toe to heel ratio, this pair can also help strengthen foot muscles and lengthen the Achilles over time for better flexibility. A solid pair to consider for your next pair of winter running shoes.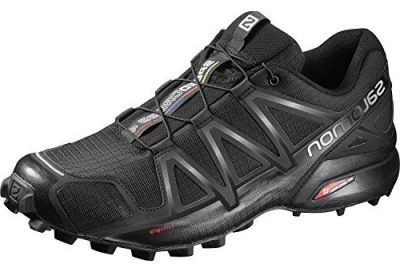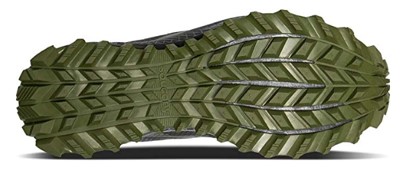 If you're looking for a product that can handle tough icy and snowy terrain, then look no further than the Salomon Speedcross 4 trail. This lightweight, the highly-cushioned shoe is designed to give you a custom, comfortable fit and comes equipped with the legendary Speedcross lug-pattern outsole, meaning you'll be able to grip and go on the harshest surfaces during your winter runs.
One of the greatest dangers we face when we run in winter is hitting a slick surface and injuring ourselves. The lug pattern on the bottom of the Speedcross 4 will you give you the edge over winter hazards. The EVA-shaped footbed, molded EVA sock liner, and Sensifit design help give you a custom fit for your foot that will provide the comfort and support you need to get the most out of your winter runs.
Depending on the style shoe you want, you can snag a pair of the Speedcross 4 trail runners for a great price. The quality and features of this shoe make it a great bargain!

Staying true to its legacy, the Altra Lone Peak 4 is a modest update from its predecessor. This zero-drop has become a fan favorite of road and trail runners alike. A wide toe section ensures a comfortable fit without feeling too loose or clunky, while the lack of drop allows it to better mimic the natural shape of your foot.
The "drop" of a shoe is the difference in height between the heel and the toe sections. The average running shoe has about a 12mm drop, though zero-drop shoes have exploded in popularity in recent times. A zero-drop shoe better mimics being barefoot, which allows your feet to strike the ground in a more natural manner. This can reduce the likelihood of pain or discomfort, as well as provide some additional support.
While ventilation may be one of the last things on your mind when looking at winter-friendly options, it can play a major role in your comfort and performance. When you run, you often generate a lot of energy in the form of heat. If this heat becomes trapped in the shoe, it will quickly cause your feet to sweat. This can actually make them feel colder in the winter, similar to how you might feel a slight chill after taking a shower. The mesh panels on the upper allow this energy to escape, keeping your feet from overheating or sweating.
Hitting the pavement is pain-free with the Peregrine 8. On-road or off-road, the outsole has traction that is dialed in which means you can run on virtually every terrain possible and it makes for good snow running shoes. Will it hurt? No, the Everun sole is going to protect your feet with the best responsive cushioning possible.
There is nothing more distracting or annoying when the upper bunches or creases. ISOFIT technology helps to eliminate that problem by using what is called a "floating support cage" to let supportive elements react to movements of the foot. This will help to reduce blisters, pressure points, and other irritations.
Slippage will not be an issue with this outsole. The PWRTRAC is constructed with a sticky-rubber compound that will give you an amazing grip on all surfaces. Even better, this outsole provides grip when ascending and descending on all kinds of hills and slopes.
9

. Hoka One One Speedgoat 2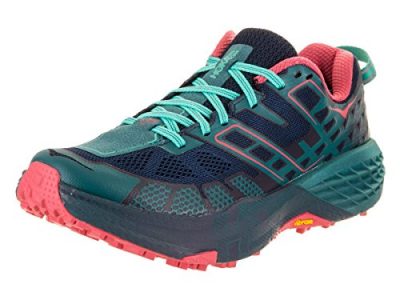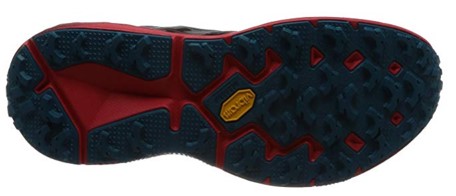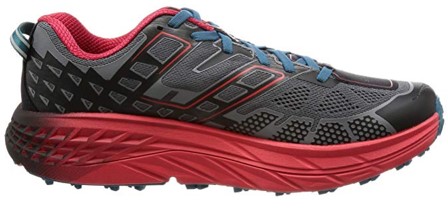 The Speedgoat 2 has been redesigned and improved to provide better fit, stability, and durability than its predecessor. It comes with a wide platform and toe box that will give you greater stability when you're on uneven surfaces. These shoes are designed to help you "go everywhere" and "run everything" and provide the stability and durability you need to tackle all kinds of tough terrain. These are just a few reasons that it falls in as good snow running shoes!
The outsoles on the Speedgoat 2 have multidirectional 5mm Vibram MegaGrip lugs, so you'll be able to maintain grip whether you choose to run on the road or on the trail. The Speedgoat 2 has also been given a wider outsole and toe box. Having a wider platform increases the amount of contact you make with the ground, thereby providing more stability when you're out and active this winter.
These shoes cost a little more than the average shoe on our list, but Hoka is known for providing high-quality shoes, so they're well-worth a bigger investment on the front end.

Starting off our list is the Brooks Ghost 11, which in our opinion is a great shoe that just keeps getting better and better with each iteration. This latest refresh boasts features that everyone will enjoy, from newbie runners to veterans prepping for a marathon. The biggest changes are in the midsole, which was redesigned to be lighter without compromising on energy return.
When we talk about energy return in the context of shoes, we're referring to the so-called "spring in one's step" you feel with a good pair of shoes. The midsole is designed to absorb shock and return that energy back into your feet, all in the split second it takes for your foot to strike the ground.
With winter comes snow, and with snow comes the need for strong traction. Even light flurries can make for slippery runs, and the last thing you need is to lose your footing as a result. The outsole on the Ghost 11 is the same as its predecessor. This outsole sports deep treads, making them ideal for a wide range of conditions.
Subscribe to our Newsletter