Best Trending Shoes Reviewed For The Style You Crave
In a Hurry? Editors choice: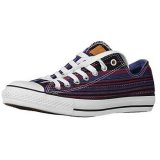 Test Winner: Converse Chuck Taylor Low-Top

In the search for the most fly shoes on the market, it can be quite a challenge to find a specific focus. To find the shoes that have the highest level of quality, as well as the coolest designs can be quite a task. I mean, think about it: There are so many shoes on the market nowadays that it can be kind of difficult to find just what you want. With all the new designs, there are also various different "new" materials that are used to give one all of the added comfort and style. We searched for best trending shoes on the market and found the top 10 to review and rate, so keep reading and find the one for you.
Standout Picks
Criteria Used for Evaluation
Brand
Brand power is a big driving force behind fashion trends. Barring the occasional underdog story, most trending designs and products come from brands like Nike and Converse that are embedded in the public consciousness. These powerhouses have been a major part of the fashion world for years, so it makes sense that they would be the ones setting and reinforcing trends. While these brands are often more expensive, you're paying this price because the products are both stylish and innovative in some capacity.
Comfort
A major contributor to a shoe's ability to provide one with any level of functionality is the comfort provided. I don't know about you but, it can be a major challenge to wear shoes with designs that don't allow for any level of comfort. Things such as a lack of coverage for the various parts of the foot as well as cushioning are things that can result in an utterly uncomfortable feel being achieved by a shoe. This is something that we seek to eliminate with this guide; we only wanted to introduce you to the most comfortable latest shoes on the market.
Durability
This is a major contributor to the shoes' ability to be functional; if it isn't at all durable, it will likely not last long enough to be worn on various different surfaces and for different activities. The longevity of the sneaker itself actually depends on a few different things such as the quality of the materials in the design and the actual nature of the materials used. You can't fully expect a shoe to be functional if the way it's designed doesn't make use of things that allow for functionality. For instance, it doesn't make the most sense to try to wear and use a shoe made of plastic for arduous activity; it won't work.
Style
Many trendy shoes are trendy for a reason. They either have state-of-the-art designs that allow them to provide one with an incredibly functional usage period, or they are stylish. In our search for the trendiest shoes on the market, we found that it was incredibly important to make note of the shoes with stylish features. The overall style was very high on our list of things to weigh new trending shoes against.
Trendy shoes don't always come in a recent package though; as of late, many of the shoes that have been blowing up have designs that stray back to the style of shoes from the retro, 80s days. We wanted to make sure that each of the shoes that were presented to you was presented to you had designs that were easily recognizable and wearable; that's what makes them trendy.
Versatility
While this isn't the most important thing to pay attention to with a sneaker, it is important to make note of a shoe's ability to switch between different areas of use. For instance, many shoes have designs that allow them to be worn for both sporty(athletic) activities as well as for casual use. Shoes with this quality tend to provide one with what they need in terms of value due to their ability to provide one with more than one type of usage type.
10 Top Trending Shoes in 2020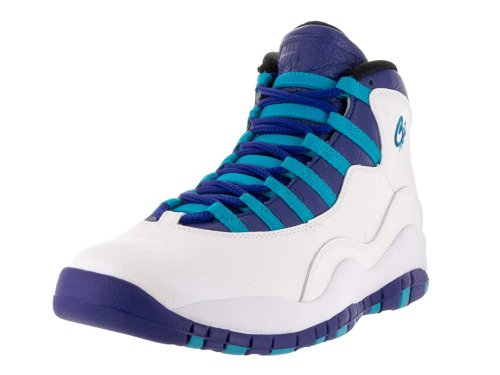 Now, for a pair of shoes that many individuals probably wish were released a bit earlier. The Air Jordan Retro 10 is a shoe that many have been scooping off of the shelves due to their inherent stylish and trendy design. The use of fantastical color schemes as well as the various different features such as their leather upper and the Ankle support they provide are what qualify these shoes for this list.
The upper shoe part of this sneaker is designed from a combination of materials. The main material used in the design of this sneaker is patent leather. This material allows the shoe to provide one with what they need in terms of security and durability because it tends to be a bit thicker than the average material. In addition to this, the design of these sneakers has what it takes to provide one with long-lived user experience.
These are basketball shoes by nature. This means that they have a design that allows for a higher than average level of support to be provided to the ankle of the wearer. This means that, when used for the sport itself, they provide one with the functionality they would need to adequately make use of the shoe itself. If your ankles get broken, you won't have to worry about strain with this pair.
These shoes aren't that expensive, to be honest. Their price may be a bit higher than average but, when compared to the other models on this list, they come off as actually being affordable. With that being said, these shoes also make use of things that allow them to be highly functional. Despite being stylish, they can be worn to play basketball in.

2

. Nike Air Vapormax Plus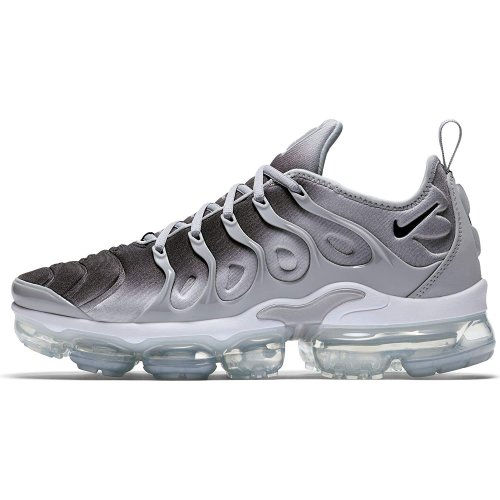 If you haven't seen the hot new style of the Nike Air Vapormax Plus, then you'd better get to check them out. These shoes are on this list for obvious reasons; their constant reinvention makes them something that stays out and on people's minds. The features that make them qualify, on the other hand, is their use of TPU material and the 3M that runs the length of the shoe itself.
If it weren't for the addition of the TPU cage in the upper of this shoe, there would likely not be any type of security being felt by the wearer while these shoes were worn. The TPU material secures the foot by wrapping around it and limiting the sideways motion that one would likely experience while in these shoes.
This is one of those features that we tend to overlook for the simple fact that it's just there. We don't tend to notice the protective elements incorporated into the design of a shoe and what they provide us with. With that being said, the design of the Vapormax Plus makes use of various different features which work to give one what they need in terms of security when in use; the 3M lining is one of those things.
These shoes that are trending are definitely nowhere near cheap. Their price range makes them something that many would turn and around and completely disregard if seen. With that also being said, if you don't mind spending a bit of money on a pair of sneakers, these may just be the right pair for you. With their use of Air Max technologies as well as the secure feel they provide, you couldn't really go wrong with purchasing these shoes.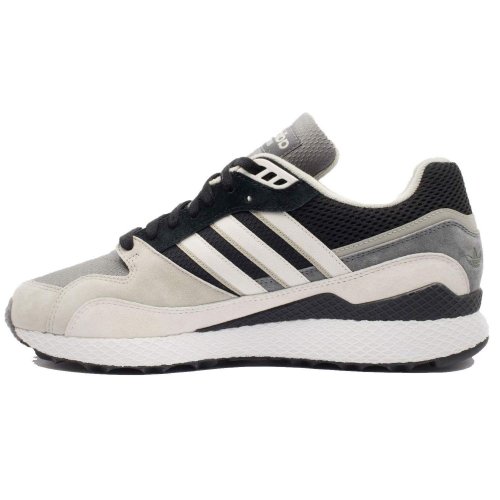 The Adidas Ultra Tech features a below ankle design as well as comes in various different colorways which allow it to provide one with what they need in terms of support when worn for use on a skateboard. Not to mention, these shoes have a design that allows them to adequately provide one with what they need in terms of style; that deep purple color makes them pop. The reason they are on this list is mainly due to their vulcanized outsole and the EVA sockliner they are equipped with.
The EVA sockliner is a feature that's typically overlooked in the design of the sneaker. The cool thing about the design of these shoes is that the sockliner is one of the main reasons they can provide any level of comfort to the foot. Since the outer portion of the sneaker is designed from canvas material, it makes sense for there to be something in place which cushions the inner portion of the shoe; the canvas won't do it.
These are skate shoes; this means that they must provide one with some level of grip when worn. With that being said, the design of these sneakers allows one to easily stick to their boar during use; this is one of the redeeming qualities of vulcanized rubber.
These shoes are pretty pricey. They aren't the most expensive on our list, but they aren't something to buy without ding a little research first. Their lower price (compared to some on our list) makes them a much more attractive purchasing option than a shoe that is priced at a higher level; this is where some of that functionality stems from.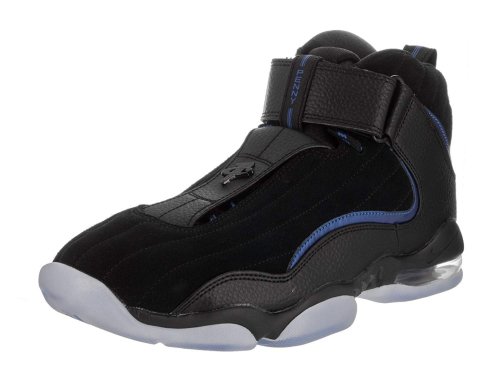 The Nike Air Penny has always been a line of Nike's that's caught people's eyes. This shoe and it's the use of simple yet complex layering makes it a state of the art basketball powerhouse as well as a fashionable piece of footwear. The Penny is on this list because of its use of a Bootie design as well as the fact that they make use of an ankle strap around the heel of the shoe.
The Bootie construction of these basketball shoes does several things for the foot of the wearer. For starters, it allows the sneaker to give one what they might need in terms of stability; the lack of moving parts in the upper does a great job of keeping the foot secure. In addition to this, the bootie construction of the shoe also keeps the various other parts of the shoe hidden, such as the lacing system. This means that it's much easier to keep the laces tied while using the shoes in a game.
This is, by design, a basketball shoe. This means that it's built to provide one with what they need in terms of stability and support when used on the court. This is highly important considering the reasons the shoes are used in the first place. The ankle straps act as a way to secure one's ankles to provide one with what they need in terms of security during a highspeed game of basketball on an actual court.
The best thing about these shoes isn't the fact that they're cool looking, nor is it the fact that they make use of technologies that keep the ankle (foot as a whole) secure. The thing that makes these shoes stand out is the fact that they are incredibly inexpensive. Seriously, the price on these bad boys is so low that the technologies incorporated simply have to pop.

5

. Converse Chuck Taylor Low-Top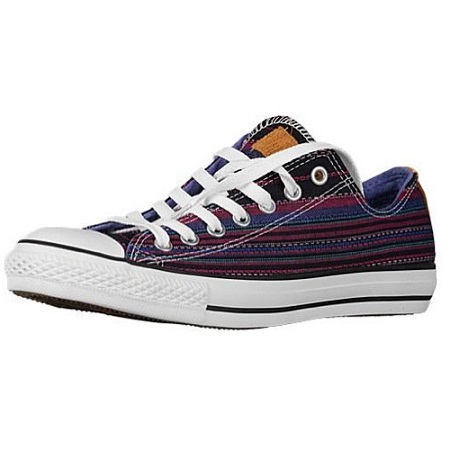 We can't talk about trending shoes without talking about Converse. These basic kicks have a simple design that goes with anything and will never go out of style. The medial eyelets, ortholite insole, and canvas upper ensure that these shoes will feel as great as they look.
Converse first got its start in 1908, over a century ago. The iconic Chuck Taylor style has been around since 1932 and has since then become a household name the world over. Converse has done many collaborations, from Dr. Seuss to Pride to Korean boyband BTS. The Chuck Taylor shoes were also prominent in Doctor Who and Back to The Future. The Doctor favored the red and cream colorways, though Converse shoes are offered in almost every color of the rainbow.
I love talking about the different technologies that go into high-quality shoes, and ortholite is a personal favorite. Ortholite is a lightweight and airy foam that is designed to support your feet and wicks moisture away from you. These insoles also have a compression rate of less than 5%, making them incredibly durable.
Prices will vary based on size and color, but these are right in line with the majority of products on this list. High-quality and stylish shoes often come with a price tag to match, so this is something you should be prepared for when it comes to fashion.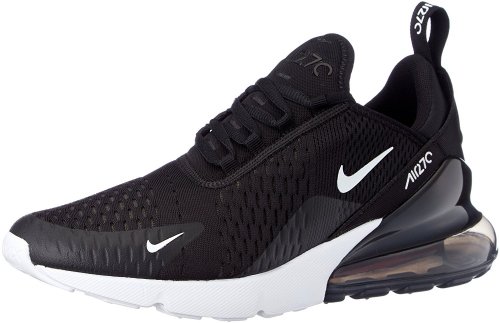 If this isn't a shoe that's considered to be stylish, then I seriously don't know what is. The Air Max 270 is a shoe that makes use of both comforting features such as the extra-large airpod located in the heel of the shoe and, as well as the inclusion of dual-density foam in the midsole region, well as the inclusion of dual-density foam in the midsole region are why these shoes had to be featured on this list.
The 270 features a dual-density foam midsole aside; a cushioning feature that does a great job of complimenting the heel's Air Max cushioning in the heel. In addition to this, the dual-density foam in the forefoot area supports the forefoot area of one's foot rather nicely; these shoes feel amazing because they decided to add this material to its design.
This was already touched upon but, the design of these shoes does allow for an adequate level of comfort to be experienced in this region of the foot. Many already know this but, the heel is one of the trickiest areas of the shoe to "get right". It's hard to make it so that this part of the foot is adequately protected. With that being said, these shoes and their use of airpods in this area does a great job of adjusting to the pressure one might place in this area.
These shoes, being a relatively new release (as well as having various, higher quality fabrics) have a somewhat higher pricing point. This isn't the worst thing in the world considering that they are relatively new as well as incredibly stylish. When it comes to lifestyle shoes, these are definitely up there. The value of this particular model of shoe is one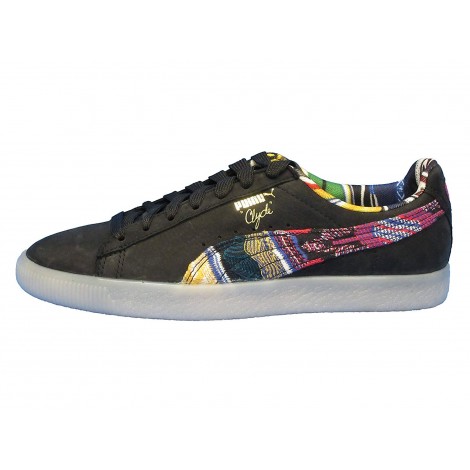 I know you all remember that period when Coogi sweaters were to thought to be the hottest thing out. All we could remember seeing were multi-colored sweaters every day and everywhere. These weren't bad times. To bring back that feeling, Coogi decided to partner with the shoe designer Puma. Their creation, the Clyde Coogi FS Puma is a sight for sore eyes. These shoes were decisively featured on this list because of both their custom knit upper as well as their use of 18k premium gold branding on the tongue.
If you've ever seen a Coogi sweater and the multi-colored designs they're likely to have, then you probably understand what their knit upper actually provides you. While they don't have the interior design to match the knit exterior, they do still provide one with the custom look. It isn't often that one finds a pair of shoes such as these with such an eccentric, yet fashionable design.
To make these shoes appear to be even more premium than they already do, the 2 collaborators decided it would be a good idea to give them an 18k gold emblem on the tongue. The use of this design aspect actually allows these shoes to give one a bit more style than they would otherwise have.
While the price of these premium sneakers may a bit higher than average, it's actually pretty much worth it. The design of these Puma sneakers makes use of materials that allows them to be both stylish and comfortable while in use. Another very important thing to consider when looking at these shoes is the fact that they look absolutely amazing if worn with the right thing. This where their value stems from, their inherently stylish nature.
Key Features
18K gold tongue
Knit upper
Rubber outsole

8

. Nike Epic React Flyknit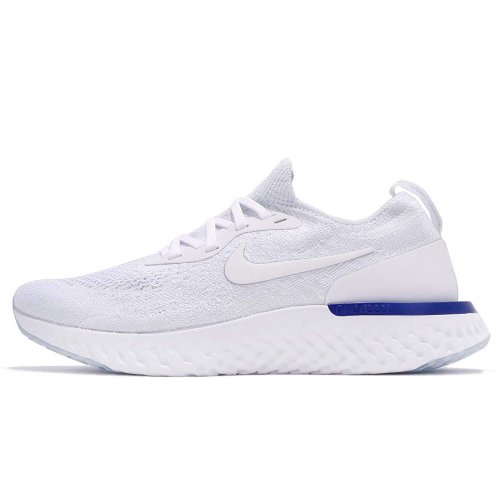 The Nike Epic React Flyknit appears to be a favorite among various different individuals, and for good reason. The design of this sneaker is one that makes use of all of the stylistic elements that one would like as well as the functional aspects one would need to remain comfortable while worn; these are one of the hottest pair of shoes on the market today, which is one of the reasons they are featured on this list. The other reason it was imperative to make note of them is because of their Flyknit exterior and their lightweight design.
While it may not seem like the most important thing to mention that this shoe is designed to be incredibly lightweight, it is something that should be noted. The Epic React Flyknit has a design that allows them to literally feel almost weightless while on foot. The thing to make note of though, is the fact that they do aren't the lightest shoe on the market; they weigh about 8.4 oz when on foot. The fact that they do have a bit more weight to their design yet still manages to be moved easily signals that the composition of the materials is above average; these shoes are amazing.
Flyknit isn't your everyday run-of-the-mill material; this mesh is one that's meant to provide one with what they need in terms of both breathability and comfort. Aside from the qualities inherent in the material, the Flyknit hide in these shoes also adds a level of style that, when compared to the style provided by other types of shoes, is simply above average.
When you initially look at the pricing point of these shoes, you may start to doubt your thoughts about purchasing them. The thing about doing that is that neglecting to purchase these Flyknit wonders would result in one being unable to partake in the features inherent in their design. The value provided by these Nike sneakers is due to both the Flyknit make and the fact that they are incredibly stylish.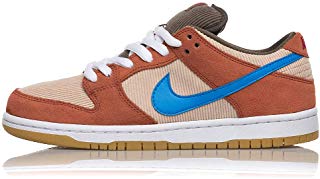 This is one of the most sought-after shoe designs of this century. Well, there are probably more popular shoes but, the inherently stylish design these sneakers have been imbued with makes them something that many individuals any when seen. They have somewhat "bigger" features which make them blend relatively well with various articles of clothing that have become popular in the last decade. Besides this, the reason these shoes have been included among the other greats of this article is that of the use of the Full-length air sole unit as well as the Elastic construction.
While we-ve seen various airpod enhanced midsoles on this list, we haven't come into contact with a midsole that made use of a full-length airpod in its design. The midsole of the Air Uptempo makes use of a full-length Airpod which basically makes it feel as if wearers, when wearing these shoes, are walking in a pair of clouds. They are just that comfortable.
These shoes are known for the comfort they provide to their wearers. This comfort is due to the fact that they make use of elastic elements all throughout their design. The elastic elements in the design of this shoe basically allow the shoe to stretch to meet the needs of wearers; this also means that break-in is no issue either. The area where this effect becomes the most prominent is likely the forefoot area; the material stretches to the size of the foot in this area.
The retail price of these sneakers when first purchased may appear to be expensive but, when really paid attention to isn't. These sneakers and the various elements inherent in their design work wonders to give one what they need in terms of value also. Consider the fact that they make use of things such as full-length air midsole and what that means in terms of support and comfort. These shoes are intended to provide one with all they'd need in this area and quite easily at that.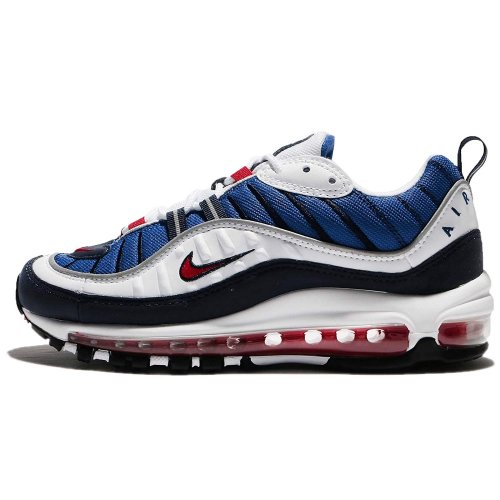 We've all heard of several different iterations of Air Max models of shoes. We've seen the Air Max 90, as well as the Air Max 97. What we haven't seen though, is the Air Max 98 (at least not in a while. These shoes are amazing as Air Max shoes and are trending because of their chic and stylish design. They are featured on this guide because of their Air Max cushioning as well as the thick tread along with the outsole.
While these are definitely some "fly" shoes, they have a design that allows them to be incredibly functional as well. These shoes have a thick rubber outsole that's been fashioned with rubber grooves, allowing it to be incredibly functional. The pattern of the rubber in the outsole of these shoes allows them to provide one with what they need to effectively traverse whatever (developed) terrain they're used on.
Air Max cushioning is considered to be an incredibly responsive and comfortable cushioning device. The use of this cushioning allows it to provide one with the comfort they'd need to reduce the fatigue that one's underfoot experiences while their shoes are worn. If you've ever worn a pair of Air Max shoes, then you likely understand the comfort and bounce that they allow one to have.
These are not the most expensive pair of shoes featured on this list, which is a very good thing with all things considered. When the Air Max 98 is purchased, one receives a pair of shoes that can be worn as both running shoes and as a highly functional pair of casual wear sneakers. This is where the value of this particular model stems from its versatility and functionality.

Subscribe to our Newsletter