Best Taos Shoes & Sandals Reviewed & Rated
last updated:
Aug 06, 2019
The company behind Taos shoes was founded in 2005 with the idea of creating beautifully designed, high quality footwear that is comfortable, supportive and versatile. Designed in Southern California, Taos shoes allow users to enjoy a stylish, earthy aesthetic that encourages a healthy foot environment through providing cushioning and support.
The list below looks at the highest rated Taos shoes currently available for purchase. With a variety of styles, including sneakers, boots, sandals and flats, you will easily find the model (or models) that suits you best, finding the perfect footwear for any occasion. You will also find that the Criteria for Evaluation, as well as the FAQ sections provide plenty of useful info that is sure to make your shopping experience more enjoyable.
This is the best product on our list that is currently in stock: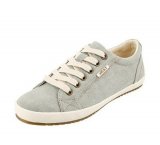 Star
Why is it better?
Thick Traction Sole
Adjustable Laces
Reinforced Heel Stitching
Lace Eyelets
Contrasting Sole Style
In a
Hurry? Editors choice: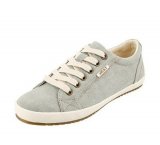 Test Winner: Star

30
Researched Sources
14,000
Reviews Considered
9
Hours Researching
10
Products Evaluated
Comfort
Features
Style
Support
Fit
By Default
Top 10 Taos Shoes


Soft Suede Upper
Adjustable Ankle Strap
Moldable Cork Footbed
Arch and Metatarsal Support
Low Wedge Heel
Come summer and warm weather, we all need that one stylish go-to sandal to take us on long strolls across town, on shopping trips at the mall, and even on casual lunch dates with friends. Hey Jute is just such a pair of Taos shoes, one that goes well with any type of a relaxed, summer outfit. It is a sandal with a low wedge heel wrapped in rope for stylishness and comfort, a design that originates from Portugal and is handcrafted with the utmost attention to detail.
The Hey Jute has a strappy upper made from suede that is both luxuriously soft and wonderfully malleable. The ankle strap has a buckle closure for an easy, adjustable fit. What we love the most about this option is that it has a cork footbed that is both lightweight and padded. Cork is a material that provides amazing shock absorption and moisture wicking, and the Hey Jute footbed is also molded to deliver superior arch and metatarsal support. The wedge is about two and a half inches high and poses no problem for walking around for hours on end.

The Hey Jute is a pair of Taos shoes we all need in our everyday summer collection. It is cute and versatile as it goes well with jeans and shorts and skirts and dresses. The comfort of this sandal has to be experienced to be believed, and we are sure that you won't find a more stylish and yet more supportive option than this one.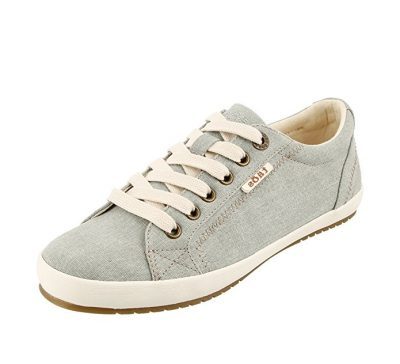 Thick Traction Sole
Adjustable Laces
Reinforced Heel Stitching
Lace Eyelets
Contrasting Sole Style
The Star is an unbelievably cute and lightweight pair of Taos shoes. You could honestly find a million reasons to wear this style. It is carefree and really an all-year option for footwear. The great thing about this choice, you can sport them with any clothing from pants, leggings, shorts, to dresses because of the extremely versatile style. They do have a lace-up vamp which makes them somewhat adjustable for skinnier or thicker feet.
The extra-soft cushioned collar and tongue on the Star will help your ankle to feel supported; important to help prevent ankle rolls. Also, the thick fabric keeps the ankle part from cutting into the soft skin of the Achilles. Canvas has long been a favorite choice to use for footwear material. It is lightweight and extremely breathable. It is also an eternal style that never goes out of fashion. Canvas does dry rather quickly should it get wet from a puddle or being caught in a rainstorm.
The Star is that everyday sneaker that we all need in our wardrobe. It is stylish, simple, and it goes well with all outfit combinations. Come warm, dry weather, you won't be able to imagine your days without the comfort of the Star!
You'll find that this pair of Taos shoes is comparable to classics such as the Converse Chuck Taylor or those lightweight sneakers by Superga, but it's important to keep in mind that they provide considerably more in terms of foot health, especially when it comes to support.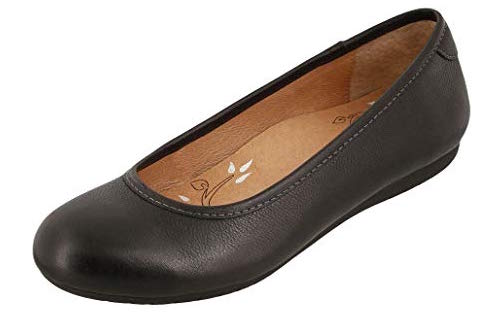 Leather Upper & Lining
Curves & Pods Footbed
Removable Footbed
Rubber Outsole
Antimicrobial Shield
May Stain Feet
Only Mild Arch Support
Nothing beats a classic ballet flat, whether you're looking for casual or professional footwear, and this pair of Taos shoes is exactly what you should go for if you're looking to purchase only one pair. Featuring an elegant silhouette topped with the quality and comfort that comes with shopping from this brand, the Rascal is the perfect pair of flats to pair with skinny jeans, a skirt, pencil trousers or even a little black dress for special occasions.
These Taos shoes come in a variety of color options in different shades of black and brown. You'll find both smooth and patent leather versions, and the fact that they're made from a quality hide means you'll be wearing them for at least a few seasons. Keeping in mind that both the upper and lining use leather, you can expect a breathable pair of footwear that will work in most weather conditions.
As for the sole portion and fit, this is where this model of Taos shoes excels. A Curves & Pods footbed supports the arch and cushions each step, and is removable, so you can thoroughly clean or replace it depending on your personal needs. An antimicrobial shield helps protect against bacterial overgrowth and odors. The rubber outsole on the bottom provides necessary traction on varied outdoors surfaces.
In terms of cost association, the Rascal goes for a price that's slightly above average compared to the other Taos shoes listed, but it truly is a versatile flat you can wear on multiple occasions.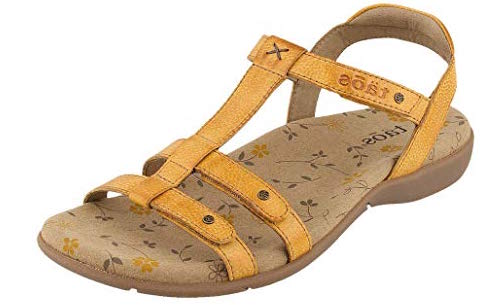 Leather Straps
Three Point Adjustability
Hook and Loop Closure
Soft Support Premium Footbed
Antimicrobial Shield
Straps May Move
Lacks Arch Support for Some
The second edition in the Trophy line, this model is one of the bestselling sandals you can find by the brand. Ideal for casual wear, but smart enough to be dressed up as well, this pair of Taos shoes will definitely become your go to summer option. The strappy upper comes in a variety of color options, and you'll find that it's easy enough to pair with a number of outfits.
What makes these Taos shoes so popular is the leather upper. Not only does the natural material mold to the wearer's foot with wear, it is also easy to adjust thanks to the multiple hook and loop closures. This way, the Trophy 2 can be adjusted in the toe, metatarsal and instep areas, allowing each wearer to get the perfect fit.
As for comfort features, there is a padded heel tab at the back which protects the sensitive achilles area, as well as Taos' Soft Support Premium footbed that cushions in the heel and ball of foot areas. Additionally, these Taos shoes provide adequate arch support for most users, and the Cool Recovery Foam helps with temperature control during hot summer days.
The cost of the Trophy 2 is average compared to other Taos shoes listed, so if you're in need of quality summer sandals, it's definitely the model to go with.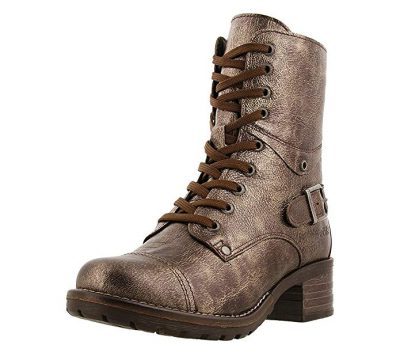 Adjustable Heel Buckle
Full Lace-up Vamp
Good Traction Sole
Faux Fur Lining
With this pair of Taos shoes we have a fashion-forward makeover to the always-trendy combat boot! This is a classic military style combat boot with a much softer look, and therefore, a wider appeal to the masses. They even added a lift by giving it a 2-inch heel for sophistication. What's more, is the entire upper is leather and will provide you with ultimate protection from all the weather elements.
If you don't like the padding in the Crave, or find that it is not enough in this interior footbed, you can simply remove it. It is very easy to add custom inserts or a more preferable footbed if you desire different cushioning. Having a zipper on a boot with a very tall shaft is a fabulous feature. This will make it so much easier to get your foot in and out of the shaft with little effort. Simply lower the zipper and then slide your foot on in. At the end of the night, these Taos shoes are easy to pull off by unzipping and giving a gentle tug.

With the Crave, you are getting a very durable item that will carry you through rain, snow, sunny days and everything in between. Leather is well-known for being long-lasting so you can be confident that your purchase will last for many seasons, with proper care.
These Taos shoes are slightly more expensive than the average pair of footwear by the brand, but you should also keep in mind that they're the highest rated item (based on hundreds of customer reviews) on this list, so you will surely appreciate the value they offer.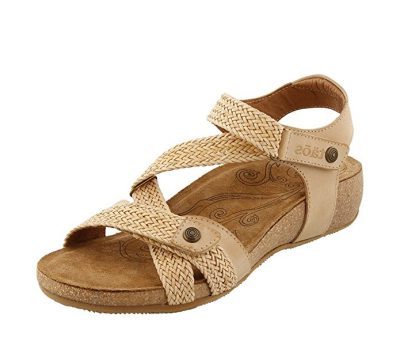 Multiple Adjustable Straps
Synthetic Sole
Hook and Loop Straps
Leather Lining
What consumer does not love wedges? They add sophistication and class to everything from blue jeans to dresses. However, some people don't like extremely tall wedges as they can sometimes be difficult to walk in. The Trulie style has a lower heel and numerous straps to help secure the product to your foot. As well, this pair of Taos shoes is rated highly for metatarsal support; otherwise known as the ball-of-the-foot support.
Cork has long been know as a fantastic material to be used for sole construction. The reasons range from it being anti-microbial to it being durable and long-lasting. Most importantly, cork has the ability to mold to your exact foot shape after a short break in period, thanks to its anatomical properties.
Having adjustable straps makes this pair of Taos shoes a huge hit. The adjustability means this choice can accommodate your foot if you are like most people and the size changes as the day wears on. Plus, it helps customize the shoe for your specific foot shape and size.

If you love to wear wedges and specifically look for a smaller heel, the Trulie is a great option. Plus, the suede footbed feels extremely soft and comfortable against your skin. You can dress these Taos shoes up or down and will find plenty of reasons to wear them.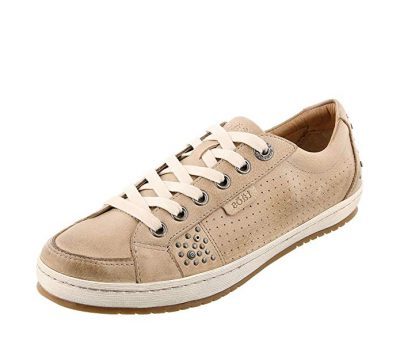 Lace-up Vamp
Padded Collar and Tongue
Nailhead Hardware
Nice Traction and Grip
These sneakers are the perfect companion to everything in your wardrobe at any time of the year. They provide great all-season wearability due to them being a full shoe that has very nice traction. Your feet will stay warm in the winter and cool in the summer thanks to the leather upper and many ventilation holes throughout the upper of these Taos shoes. Leather is assumed to be hot, but it is a great material for temperature regulation.
The rubber used in the sole of the Freedom is soft and flexible. It makes walking feel really nice and supported. Additionally, rubber is extremely durable and practically slip-resistant. You will feel secure walking on most surfaces. An added layer of softness and durability is in the leather that lines the interior of this pair of Taos shoes. It makes the shoe feel better and definitely lets your foot slide in and out easier.

The Freedom is a design that you will find yourself repeatedly reaching for in the morning; it allows you to really log the miles. The model is actually incredibly comfortable mile after mile.
Another sneaker option, it's highly recommended for those looking for Taos shoes that will last longer, and that will perform well in any type of weather conditions.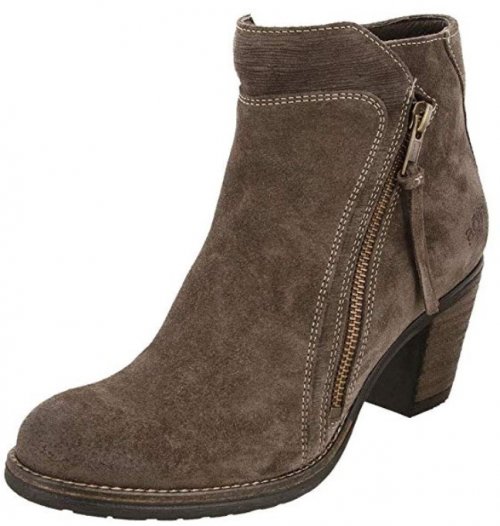 Well-Worn Look
Contoured Removable Footbed
Leather and Faux Fur Lining
Outside Zipper
Low Chunky Heel
When the days grow cold, the leaves turn orange and red and when all we want to do is to bundle up in layers, a cute, reliable suede bootie is a must-have. The Dillie is a classic autumn boot design, one that will easily find a place in your wardrobe and remain there for years to come. A silhouette that never goes out of style, you will love showing these Taos shoes off season after season, and matching it with all of your favorite sweater looks.
The Dillie has a plush suede upper and a zipper on the outer side for ease of entry and stylishness. Its inside is lined with leather and faux fur to provide both comfort and insulation. This pair of Taos shoes won't protect you from the harshest of winters, but it will hold up well against chilly November winds.
The footbed of the bootie is contoured and removable, to allow for more space inside the design should you need it, and the heel in the back is chunky and about two and a half inches high. You'll find that this model of Taos shoes is comfortable to wear all day long if you feel like it.

The Dillie is a perfect fall option. There is nothing we don't like about this bootie, from its well-worn, versatile aesthetic, to its comfort features, to the way it makes the wearer feel sassy and urban. Definitely grab it today and enjoy this lovely design for years to come!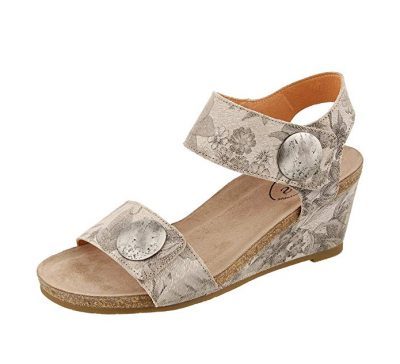 Medallion Accents
Leather-Lined Footbed
Thick Comfortable Straps
Integrated Platform
These are probably one of the more popular pairs of Taos shoes. They are a great choice for a wedge but offer more stability than most because of the lower heel height and straps that secure the item to your feet. The thick straps and metal accents help this product to look classy and refined with jeans, dresses, and more.
Cork is a very durable and highly-loved material when it is used in the footbed. It prevents odors, adds durability, and is fully-moldable to your exact foot shape. After wearing a few times to break it in, the cork becomes fully supportive of your foot shape.
The leather used in the straps of these Taos shoes has a nice texted and wonderfully aged appeal. They look rustic and classy. Leather adds a durable layer to the lifespan of the product because leather is made to withstand usage and the elements.

The Carousel 2 is at a great price level for a dressy or casual sandal. You will have no trouble wearing this every day so long as the weather is not too cold.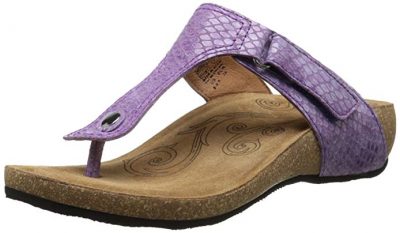 Lined Toe Post
Flexible Cork Sole
Hook and Loop Strap
Strong Arch Support
The Lucy is the ultimate choice of Taos shoes both in styling and comfort. This slide-on option has a toe thong piece that will help the items stay securely attached to your foot. This piece also acts as an accent to give this footwear a choice a different look than any of the others in the category. Also, this toe thong portion is leather lined throughout the upper so you can not get irritated skin from the harder strap rubbing against your skin. This choice is perfect for anyone looking to have simplicity or style depending on what outfit you choose to match it with.
When you flip this pair of Taos shoes over to examine the sole, you can see that it has a very nice looking tread pattern/traction to it. The psychedelic wave pattern will help keep you secure on your feet while not looking too outlandish from the sides so you feel awkward when wearing these.
While this model of Taos shoes only has one adjustable strap, it still gives you the ability to control how loose or tight the item and thereby strap is. This is perfect for those that have either very skinny or very thick feet, as the hook-and-loop strap makes it quick to fix to your liking.

The Lucy is an overall great pair of Taos shoes. You will find the leather-lined footbed supports your metatarsal and arch very nicely. It will be an item that you will want to wear every day because these are highly acclaimed for comfort and longevity.
Criteria Used for Evaluation

Comfort
This company stands on the foundation of their footwear and the amazing comfort you will get when you put a pair on. Comfort goes deeper than what you feel from the first sensation of a new pair of boots, slides, high-heels, or whatever the item may be. It has to be long-term comfortableness. In order for a pair of Taos shoes to be long-term wearable, it has to remain durable while supportive and flexible. That is a large task to fill. A product might be cozy right in the beginning but if you don't have the wow factor each and every time, it will become a casualty of the donation box.
Sole
When examining the sole of a pair of Taos shoes, it needs to be ultra supportive of the heel, ball, and arches of the feet. If the sole is not constructed in a manner that will support and elevate those parts of the feet, then you might likely end up with foot pains; which makes the product and your body uncomfortable.
Flexibility
The sole has to be flexible. However, not so much to where it offers no support, much akin to a sock. The goal of an ultimately flexible sole is to move with your foot. If your foot bends, the sole should bend. It should also encourage proper roll through of your step so that your stride is in line. This will help you to be overall more comfortable, especially for the long-term use of any pair of footwear.
Heat Retention
Unless you are specifically in the market for snowboard boots or winter items that retain body heat because you are hiking Mt. Everest, you more than likely do not want any sort of footwear that retains heat. They are so many reasons for this. To start, who has ever had really hot feet and thought to yourself that was comfortable? Humans are creatures of habit. We don't like our feet, or any part of our body, to be very cold or very hot. When looking at shoes you want something that will allow the heat to escape from the inside and let air flow in from the outside. The second very important part of keeping your feet cool is they won't be sweaty unless you are a person that has sweaty feet regardless of circumstances. Not having feet sweat build up on the interior is a very good thing. Once the interior gets wet and does not get dried properly, you are setting your station for a breeding ground of bacteria. No just that, but everything from athlete's feet to blisters can be caused by damp interiors. Eventually, the footwear might start stinking and it ruins the shoes. The product quality suffers majorly when you have sweaty feet and don't let the insides dry very well before wearing them again.

Features
If a footwear product of any style has poor quality construction, that means you are not going to like it and it probably will not live up to its full life-span potential. Reputable footwear companies take the design process with the utmost importance. We look at a product and see just what the face value is on the exterior, i.e. a cute design, laces or buckles, how high the heel is, etc. However, there is much more that goes into play on the inside than what we see on the outside.
Arch Support/Footbed
To begin with, the arch support a pair of Taos shoes has or lacks in so important. It is very mind-boggling to know that the arch combats 200,000 to 300,000 pounds of stress with each mile we walk! Every step you take, literally, you are causing this tiny portion of your foot to bear unthinkable amounts of pressure in relation to its size. The arch is made of dozens of small bones that have to withstand the repeated abuse we submit it with from shortly after birth until we pass on. With time and improper support, some people have found that the arch of their foot flattens out, collapses, or causes them pain from a certain point in life on forwards. It is very important that each consumer figures out what type of arch they have and purchases their footwear based on their specific type of arch. Arch support needs to be contoured to your exact foot shape as much as possible. Memory foam is a popular material to be used in creating the footbed and inner sole so that it molds to your foot pattern. The goal is to have it absorb the impact and shock instead of the fragile part of your foot taking the blunt force.
Midsole
This portion of any footwear is designed to absorb impacts that enter the shoe. It acts as a barrier from blocking the energy from transferring into the footbed and your body. It is a section that is between the outsole and the footbed. You will not see this portion of the product as it is encapsulated.
Outsole
This is the more specific name that people usually call the sole. It is the part you see and the part that touches the ground when you walk. Most soles are made from rubber or synthetic. Those two materials provide the best traction to prevent slips and falls. However, there are some soles made from leather or suede to give a high-end appearance. The outsole is the first line of defense from the pavement striking your foot. The outsole should aim to block the most amount of impact from transferring into your body.

Style
Ultimately, unless a consumer is shopping for a specific type of footwear for a specific reason, i.e. a job, they are going to first examine the style of the product. If a shopper does not like the style, it does not matter what benefits the item has. The person will not purchase an "ugly" product. Taos shoes are very stylish overall. They incorporate so many elements into their designs that the products are just appealing to the eye. They also offer a wide variety of choices; everything from flats, sandals, and "activewear" style. Each division has its own pros and cons. Which style is best will really be determined by what your individual needs are and for what you are purchasing the items for.
One major thing consumers sometimes forget to consider when making their choice is the all-year wearability of the shoe. To some, this is very important, for others, it might not matter so much. If you live somewhere that has 4 distinct seasons, you can't expect to buy sandals and wear them all year. Conversely, you would not buy heavy boots and wear them in the summer. Ultimately, you have to consider whether you want all-year wearability or if you will buy different styles for different seasons.

Support
High-quality footwear is crucial in providing you with everything you need from your Taos shoes. Not only do you want them to look good, but they also need to fit you perfectly to ensure comfort and support throughout the day.
When purchasing a pair of Taos shoes, you need to look for the features that will work for your feet. This depends heavily on the type of foot you have. Size is just one aspect, and it's important that you also consider the width of your forefoot, the height of your arch, the stability of your ankles, as well as your gait cycle.
If you know you have orthopedic conditions, take that into account before making a purchase. The right pair of shoes will feel good while wearing them and they will also prevent the further development of such issues.
Take a look for these features:
Arch Support
the most common problem area for the majority of people is the arch. This is the part at the bottom of your foot that's in charge of absorbing the shock from each of your landings, and it can often be the part of your foot that causes pain – either because of overuse or because of natural anatomical construction. People who have a low arch will benefit from pronounced arch support in their footwear seeing that it will lift the area, allowing it to work as intended. Those with arches that are too high, however, will also need some type of support in the area in order to stop the arch of the foot from overworking itself. Most foot-related health issues can be traced back to shoes which do not offer the proper support, and these include plantar fasciitis, overpronation, bunions, heel spurs, misalignment and many more. When shopping for your summer footwear, it is important that it offers support in this area. More pronounced support will need some getting used to, but in the long run, it will definitely make your walking experience more enjoyable.
Heel Support
When they walk, most people will land on their heel first. This means that this bone will take a lot of shock with every step, and if you do sports this amount of shock will increase considerably. If, by any chance your feet do not land in the most optimal position (if your feet tend to roll inwards or outwards), then the majority of this shock will travel up the leg to your knees, hips, and back. If you've ever experienced lower back pain after a few hours of walking, chances are that your shoes were not supportive enough in the heel. When shopping for sandals, look for a deep heel cup that will help align your body. Another thing you will need is cushioning that will absorb some of the excess shock, ensuring that your legs don't get too sore or tired after a long day.
Midfoot Support
The way to ensure the health of your feet is not just about the soles of your shoes. One of the biggest downsides of sandals and flip flops is that they often don't properly fit on the upper, making you work overtime just in order to keep them on. The best summer sandals will have an upper that will have several points of contact with your foot – both in the forefoot as well as in the rearfoot area. Look for straps that can be adjusted so as to give you a snug fit that you can comfortably walk around in. This is especially important if you plan on wearing your sandals for hiking trips.

Fit
Choosing a pair of Taos shoes that fit correctly is essential, as an ill-fitted shoe will reduce everything else, from comfort to support to durability of the product. If the shoe is too big, your foot will slip and you won't be able to maintain a proper walking pose, adding extra stress on joints and muscles that weren't meant to support them. If your shoe is too small, your toes will be cramped, leading to blisters and other orthopedic conditions.
When reviewing Taos shoes on this list for overall fit, we assessed hundreds of reviews across the web to determine if the shoe was true to size, according to hundreds of users with real experience. We also noted any common gripes for weird length or width of the shoe.
While everyone's feet are different in certain ways, a reputable manufacturer of footwear will make a product that can accommodate natural differences in people. With responsive cushioning, laces and removable insoles, there are many ways you can make a shoe fit you, at least at the margins.
Our recommendation before buying a pair of Taos shoes, is to check customer reviews for sizing suggestions.
Expert Interviews & Opinions
Most Important Criteria
(According to our experts opinion)
Experts Opinion
Editors Opinion
Users Opinion
By Default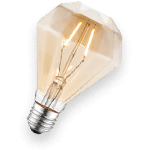 Cleaning Suede
When caring for suede footwear, use just a small bit of vinegar applied with a soft rag or suede brush, and let it dry. Using a suede or soft bristle brush, you can agitate the suede to clean out any stains. Corn meal or talcum powder can be used in lieu of vinegar should you so choose.
Keeping Sandals And Footbeds Smelling Good
A simple to make remedy to help keep your footwear smelling fresh is to combine 1 part baking soda, 1 part baking powder, 2 parts cornmeal, and if you prefer, a a few drops of a pleasant scented essential oil, into a container or bag. Mix thoroughly, then sprinkle a pinch into each shoe before wearing.
Other Factors to Consider

Value
How does one define value? Is it the overall cost of the shoe? Does how long it lasts matter? The true answer is a mix of the two. The best way to define value is to consider not only how happy the shoe or heel makes you feel, but also the cost-per-wear.
Cost-per-wear is essentially the product price divided by the number of times you wear the product. A $100 pair of shoes that you wear once to the club costs you $100 per wear, but a $400 pair of shoes that you can wear over and over again might actually cost you much less than the cheaper pair, over the long term.
Only you can determine how happy a certain pair of Taos shoes or heels makes you feel. From the "wow" feeling you get when you slip them on, to the amazing photos of your outfit you get to post on Instagram, this is another factor that goes into the value equation. Think carefully about both metrics!

Bottom Line
It is easy to see why so many consumers absolutely love Taos shoes once they put them on their feet. Not to mention, the company has been producing footwear that for many years people obsess over. Most of the consumers that purchase this brand become brand loyal; meaning they will eventually buy more than one pair.

Anyone can attest that any of the Taos shoes listed above are stylish and an overall dream pick. You won't have to sacrifice style or sophistication for comfort. These designs have unparalleled comfort and flexibility. With so many innovations in the products, you will stand firm knowing you are getting high-quality footwear.
Frequently Asked Questions
q:

Where are Taos shoes from originally?

a:

Taos shoes are designed in Southern California, and made in Portugal and Spain. The name, however, is inspired by the place of Taos, New Mexico.
q:

Are Taos shoes comfortable?

a:

Yes, Taos shoes always score very high on comfort reviews from millions of happy customers. They are very lightweight and soft on the feet so most people are extremely happy with their purchase in terms of comfort.
q:

Are Taos shoes vegan?

a:

No, they are not all vegan. You will possibly find some styles that are vegan but the company does not claim to make any of their products fully capable of being labeled vegan
q:

Are Taos shoes good for plantar fasciitis?

a:

Yes. Many people report finding long-term relief from plantar fasciitis when they wear Taos shoes. Plantar fasciitis occurs when too much strain is placed on the ligaments in the foot. The footbed of these soles really allows the muscles to spread out because it encourages equal pressure. Every case will be different and you are best to try the item and see if you are able to find relief.
q:

How do I take care of my Taos shoes?

a:

This depends on what type of material they are made of. Fortunately, for each of their products, this brand has a simple guide on how to best take care of them and clean them on their official website. Simply search for the name of your design, find its table of specifications, and learn how to maintain it in its best condition!
Subscribe to our Newsletter