Best Shoes for Bartending Reviewed & Rated
In a Hurry? Editors choice: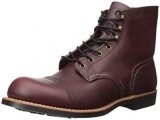 Test Winner: Red Wing Iron Ranger

If you have been tending bar for a while, you know there is nothing more important than the right pair of shoes. Working a full shift on your feet, moving back and forth, at a near sprint if it's busy, can take a real toll on your feet, and your knees and hips aren't far behind.

Furthermore, it gets messy behind the bar with drink and ice spills, even broken glass. The best pair of footwear will keep you protected - not just from losing your footing, but also from getting more seriously injured due to a cut or a burn from a hot liquid.

If you're unsure of where to start looking for the best footwear for this type of a job, this list presents you with the top ten choices currently available for purchase, with plenty of options for all budgets and workplace-specific requirements.
Standout Picks
Criteria Used for Evaluation
Comfort
When you work on your feet all shift, you need a design that is comfortable for both standing and moving around. But what makes a comfortable shoe? The comfort level, according to the Shoe and Allied Trades Research Association (SATRA) is measured in a 16 step process. 16 steps. Don't fret though, because if you are not a researcher or an engineer who studies comfort, it really comes down to support, size, shape, and stability.

Size: It is not uncommon for people to have one foot that is a different size than the other. If you are unsure of your size, a podiatrist can take the exact measurements for you. A design should fit your foot well, not so large that the foot travels inside and not so small that your feet become cramped and rigid. If you have a wider foot, it is important to look for an option with wide sizes to prevent compression. If you have a high arch, look for footwear that is specifically built with higher arch support.

Shape: Footwear has different shapes as well because it is built on lasts that are straight, semi-curved or curved. You should find a design that matches the shape of your foot as much as possible for the most comfortable wear. If you have a straight foot, it just will not be comfortable in a curved option.

Stability: This is another important factor in finding a comfortable option, especially if you are going to be standing in it for hours. You need a design that will keep your feet in the right position. It should be flexible enough for your foot type. Wider, flatter feet need a construction that is a little more rigid for sufficient stability, while a high arched foot needs a little more flexibility and cushion to "hug" the foot.
Other factors to consider to increase your comfort include padded linings, cushioned insoles, a flat base (no heel), plenty of toe room, and a cushioned midsole.
Outsole
You know what it's like behind that bar. Things spill, things break. It can get slippery and you need to protect your feet and the rest of you from falls. There are a number of tricks you can use to make your footwear more slip resistant:
scuffing up the outsole
using traction spray, or
spraying the soles with hairspray

 
There are two factors to look at when considering slip resistance:
Tread Pattern:
A tread pattern can help provide grip in slick situations. The deeper the groove on the tread, the more friction you have with the ground and the less likely you are to slip. The more grooves, the more friction you achieve as well. The shape of the tread pattern can also affect grip. Circles and multiple patterns increase grip, while flatter, singular patterns do not work as well.
Outsole Material:
The outsole material is also important and can provide protection from slips and falls. High-grade rubber works well on greasy surfaces and generally provides great traction. Polyurethane and neoprene soles also provide superior slip-resistance. PVC and nitrile offer good slip-resistance. Generally, these materials are soft enough and tacky enough on slippery surfaces to grab hold of the floor and push water, grease, oil, and other hazards away while still protecting your foot from broken glass and other items that may have fallen to the bar floor.
Upper
You're working in an environment where alcohol, ice, glass, and bottles can fall onto your feet. Beyond slipping and falling, injuries from items falling on your foot are definitely a problem. The best course of action is to choose a design that has a protective upper, as opposed to an open toe design or a one with a thin or a weak upper.

Leather is a great material for uppers as it is soft enough to be comfortable but tough enough to protect your foot from sharp or moderately heavy objects that might fall and hit you. Other materials that offer great protection for an upper include thicker synthetic leathers, rubber, and any design with a steel or a synthetic reinforced toe, no matter the material covering it.

You also want to avoid footwear that slips off too easily. Slip-ons are fantastic in the work environment, but once slipped on, they should stay on your foot. This has less to do with the upper and more to do with the design of a part of the upper - the heel cap. Look for a solid design that will hold the back of your foot well.
Style
One of the things to consider when shopping for footwear for your job is whether it will be appropriate for the situations you'll be in. There is a huge variety of things that are expected from professionals in the hospitality industry, so before going out and spending a ton of cash on footwear, you should first consider whether there are any special requirements.

Most cafes and bars will allow you to wear casual footwear at work, making sneakers and clogs a comfortable and affordable option that may even be worn on your way to and from work. Other establishments, however, will have certain regulations that may require you to wear a certain style of footwear or a certain color.

If you're seeking employment at an upscale bar, a pair of black oxfords or slip-ons will do better than your Chuck Taylors, but you might also be able to get away with a polished black leather clog, a pair of Mary Janes or a stylish boot. Women may be required to wear high heels, but this is a rare occurrence. If, however, you find yourself in need of a pair of comfortable heels, try to keep the height down as much as possible (below 3 inches), and go with a chunkier heel to give you a more stable surface to walk on.

Another thing to keep in mind is how easy or difficult your footwear will be to keep clean. As you'll be handling people's drinks and food, it's safe to say that your customers will appreciate if your uniform is kept fresh and looking good. Some models on this list will be easier to care for than others. Leather and synthetic uppers are especially practical, as most spills can be cleaned up with a simple wipe down with a damp cloth. Textiles, on the other hand, won't stand up to stains as well, so if you're worried about appearance, you should stay away from them.
Durability
With all this talk about protection, comfort, and style, you may be wondering: but what about durability? After all, this is a type of footwear that you will be wearing for hours on end, day after day, in not always favorable conditions - how can you make it last as long as possible? No one likes to purchase a new pair of shoes only to have them fall apart in record time.
When it comes to footwear durability, the quality of its materials, the sturdiness of its construction and the frequency of use are three major factors in deciding the length its lifespan.
In terms of materials, you want to be looking for leathers. Leather and suede, in particular, are amazingly durable, and if cared for well - with occasional cleaning and conditioning - genuine leather footwear should last you for a long time to come, even with frequent use. The downsides to this are that leather is more expensive than synthetics, and it is, of course, not animal-friendly. However, synthetic materials are just not as long-lasting and are likely to show signs of wear and tear pretty soon.
Canvas and fabric materials as well, while comfortable, are thin and fray easily, so you may not get much use out of them.
In terms of construction, look for footwear that is put together with stitching, as that is more durable than glue. If possible, opt for a Goodyear Welt construction (like in most Dr. Martens), as this guarantees that your design will last for literal years.
Finally, if you find that your footwear didn't last long - don't stress! Just consider everything we mentioned here on your next shopping trip, and you'll be fine!
Our Favorites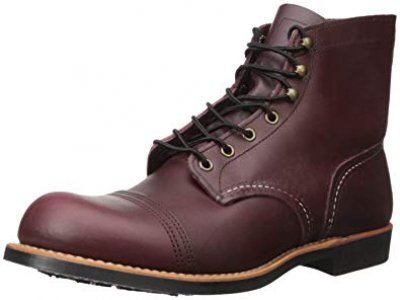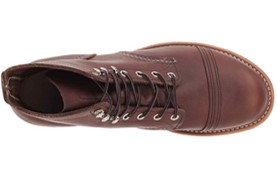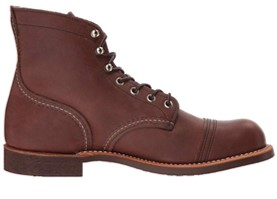 If you're in the market for a quality pair of footwear, that still keeps you looking good, consider the Red Wing Iron Ranger. Beautiful natural leather gives the Iron Ranger a retro look, and, as the leather can scuff, it can add some character to your footwear. Don't worry, the scuffs are easily removed with a soft dry cloth and light buffing! This design has a cap toe and quality quarter stitching for some flair, and great comfort features for when you're in for double shifts.
The outsole of the Iron Ranger features a nitrile cork, adding some cushion to your steps, and it also has a steel shank to support and stabilize you when standing or walking. The job usually requires not just hours on your feet, but the ability to run up and down the length of a bar serving drinks, so why not do it in a pair of boots that are comfortable and supportive?

The Red Wing Iron Ranger really is a beautifully crafted boot! Leather uppers have quarter stitching to give it an accent in style, along with a toe cap for some sophistication. A lace-up closure keeps you snuggly secure, while heel pocket prevents heel slippage. With several color options, you can find the one that is perfect for your attire.

The Red Wing Iron Ranger is constructed with quality craftsmanship, comfort, and versatility. This boot packs a punch for style, but can also be worn every day for work or play. A solid investment if you're looking for quality!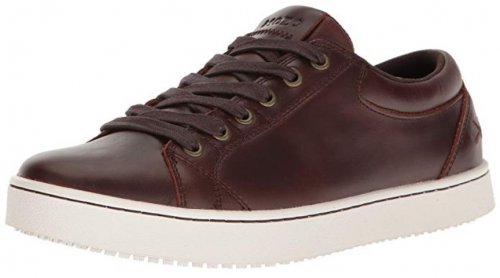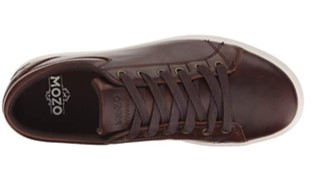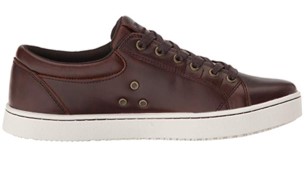 From the legendary Shoes for Crews brand comes the MOZO Finn, a design that looks as though it can be a dress sneaker, but which was specifically created for chefs, serves and similar professions within the hospitality industry. You are sure to love its simple yet elegant appearance while enjoying all the benefits of a spill- and slip-resistant construction.
The Finn is constructed out of leather that is water-resistant, and you can choose between a lace-up or a slip-on design. The heel counter provides support and stability when you're always dashing back and forth behind the bar, and there are gel insoles for extra comfort and cushioning. Breathability is achieved through three holes in the arch area which allow air to freely pass in and out of the design. Shoes for Crews itself is responsible for the slip-resistant traction which will keep you on your feet at all times.

If you're not looking for anything flashy and just want a sneaker-like option that perhaps looks a bit more put-together than the regular trainer - then the MOZO Finn is definitely the right choice! It hits all the checkmarks of a great design for this type of a job, and you would do well to find out why so many bartenders swear by it.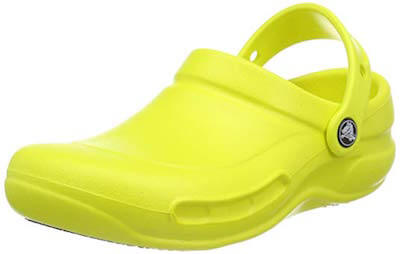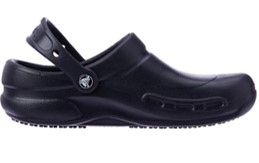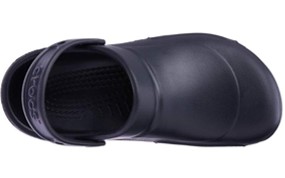 Developed especially for chefs and nursing staff, the Crocs Bistro is an updated version of their Classic Clog which is hugely popular among those who prefer to stay comfortable, and who need simple, easy to maintain footwear that can stand the test of spilling liquids and slippery floors. It's available in a few color options - from sensible blacks, grays, and blues to the more eye-catching tennis ball green, but it's not its looks that makes it such a good choice for those behind the bar. Instead, it's the functionality in a professional serving industry setting.
The entire design is made with the same Croslite material that is used for all Crocs products. Unlike the Classic Clog, this one features no perforations on the upper, saving your feet from any liquids that may end up on your feet. Still, if you do find that your clogs are less than presentable, you can easily wash them with a bit of water, and they'll look as good as new.

Not only does this clog feature ample arch support, a deep heel cup, and a roomy toe box, but it also makes use of a massaging footbed that soothes aching feet, even after hours of standing. You may also benefit from the heel strap that can be used for extra security, especially if in addition to tending the bar, you also have to take orders or help out with other aspects of the business.

Though not exactly cheap, this is definitely one of the more affordable styles on the list. It's well worth it, especially if you want to keep safe from slips and spills, as the grippy outsole on these will work even on wet tile and hardwood floors.

Newly updated in order to bring you an even better experience than its predecessor, the Dansko XP 2.0 is an excellent choice for anyone in the healthcare or hospitality industry as it offers all the benefits of the Professional Clog, but is far lighter, allowing you to stand and walk for longer without getting fatigued. The upper is made with leather that's been padded in key places to ensure a chafing-free experience, while the entire clog will mold to your feet as it breaks in, giving you that perfect fit you'll want to wear everywhere.
As a design that carries the American Podiatric Medical Association seal of acceptance, the XP 2.0 features a fully supportive arch that will help prevent pain and sensitivity and will contribute to a proper alignment that prevents joint and back pain after a long shift. Combined with the EVA midsole, you'll get the benefits of shock absorbing athletic footwear in a pair of secure clogs.

The footbed that comes with these clogs is made with double density polyurethane with a top layer of memory foam for the best possible cushioning you're likely to get. However, if you're in need of a custom level of support, or want to invest in a new footbed that will return the fresh feeling of new footwear, you can easily swap it out.

With a steep price, the Dansko XP 2.0 is best used by professionals who can invest in a higher quality piece of footwear that will last them for up to a couple of years with proper care. The stain resistant upper should stand up to most spills and won't be a bother to keep clean, while the slip-resistant synthetic outsole is one of the best in the market.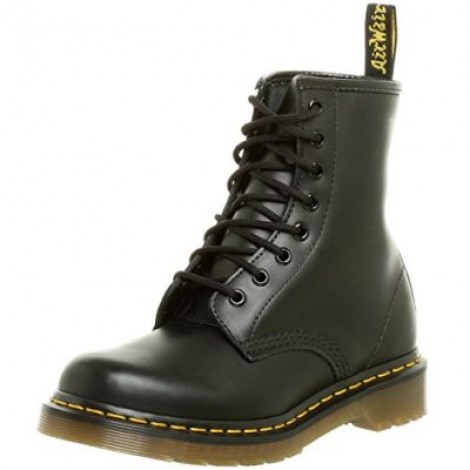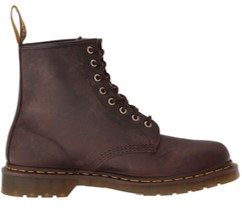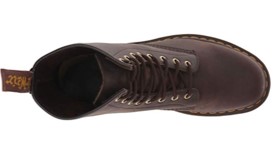 Classic Dr. Martens combat boots come with the Goodyear welt construction for excellent durability. The AirWare sole is oil and fat resistant and also slip-resistant. The boots come in four fashionable finishes, including distressed for a look that will satisfy anyone. A lightweight leather option is available. Above ankle height and superior leather quality provides excellent foot and ankle support.
Working behind the bar can be slippery, and the slip-resistant sole on these boots is a life (and ankle) saver. The AirWare sole also has added friction. Its oil and fat resistance will keep your classically styled combat boots looking great. Along with a very comfortable sole, the 1460 has excellent ankle support, which is important if you're moving around quickly throughout your shift. The extra durable leather upper and well designed lacing keeps your foot where it should be in the boot, preventing slipping.

These are at the higher end of the price range, but they are well worth the money. For the investment, you will get a pair of boots that last, no matter what your job throws at you. You can't go wrong with slip-resistance, style, and durability.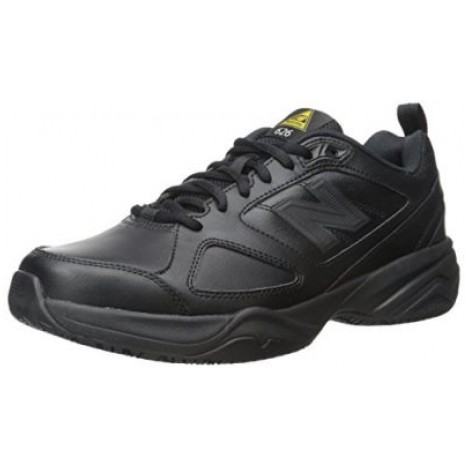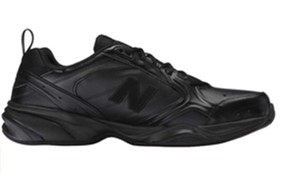 Casual comfort in a professional looking work sneaker with this 100% leather upper. The New Balance 626v2 features an IMEVA midsole for cushioning and a slip-resistant sole for working behind the bar. The Abzorb crash pad provides shock absorption in the heel. New Balance makes footwear for athletes and bartenders will benefit from their know-how with a well-engineered sneaker for your long shifts.
The midsole in the 626v2 provides important cushioning for your feet and you really don't get better than an IMEVA crafted midsole. This sneaker can take all you give it and come back the next day for more. The Abzorb crash pad in the heel works with the midsole to provide superior shock absorption. This is an important feature when you are moving constantly behind a busy bar. Your heels and ankles will thank you.

Designed for work by a company that engineers for high-performance athletes, you are getting shock absorption, comfort, and style in a slip resistant work sneaker. The 100% leather upper will need a little waterproofing before you get behind the bar but that's a minor issue considering the affordable price.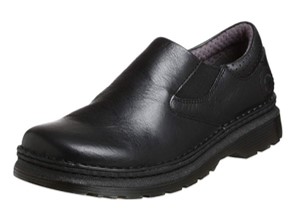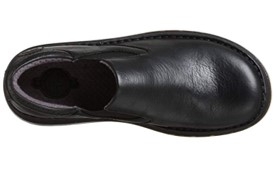 While we all are familiar with Dr. Martens boots, the brand also has several options for lower cut footwear that is both functional and easy for wear. The Orson combines the leather durability of their well-known boots, with a low cut, slip-on design that any bartender can appreciate. Outside is a comfortable air-cushioned sole that will have your steps staying lightweight well into the evening shift. It's also slip-resistant, a quality to look out for in shoes that encounter evening festivities pouring drinks!
The Orson has a comfortable padded collar, with perforated lining that keeps it breathable when it starts to heat up behind the bar. A bit of a lifted sole keeps an inch in height, to help allow you avoid any damage to uppers from wet floors, but also give extra cushion and comfort when standing. Classic 'Doc DNA' will have you standing comfortably all day long, with the support and cushion you need to work those longer hours into the evening weekend shifts.
Uppers are a 100% leather crafted masterpiece, so the Orson can take a good bit of wear and tear without faltering you in function. A gusseted tongue allows for some adjustable fit in the uppers, but will feel secure when the foot is inside without much wiggle room. A rounded toe shape helps give room for wider feet and proper toe splay. All in all, this slip on shoe has the simple lines and style to work behind the bar, with the durability and slip resistance needed to stay on your toes!

8

. Skechers Sure Track - Trickel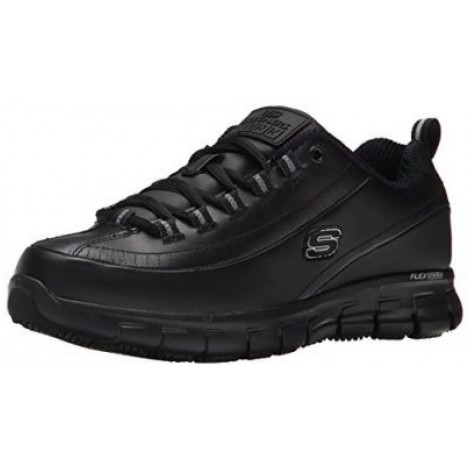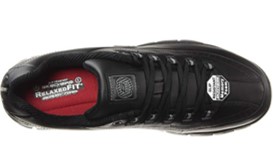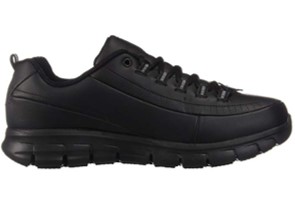 The Skechers Sure Track Trickel has a rubber sole and a memory foam insole for solid comfort. The upper features a soft fabric lining, a padded tongue and collar for all-around comfort. These sneakers are designed for work - they are rugged, comfortable and shock absorbing. They also feature memory foam removable and lightweight insoles for added comfort.
With memory foam insoles and a shock absorbing sole, you will get through your shift in great comfort. Extra padding means the top of your foot and ankle stay comfortable and the ventilation built in means you will stay cool. Bartenders wear out a lot of shoes, but this won't be the case with these rubber soled, leather upper, well-built sneakers. Besides the slip resistance and the cushioning, their soles are made from high-quality rubber that will last no matter what you're stepping in.

The removable insole means you can insert your own orthotic if you need to, or enjoy the extra cushioning of the memory foam. The Skechers Sure Track Trickel was designed specifically with long hours on your feet in mind and it shows.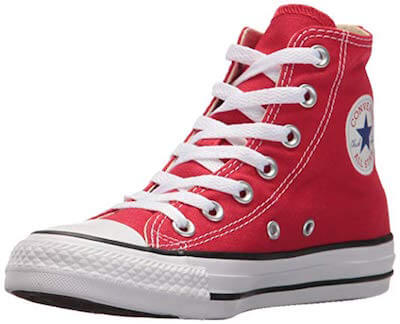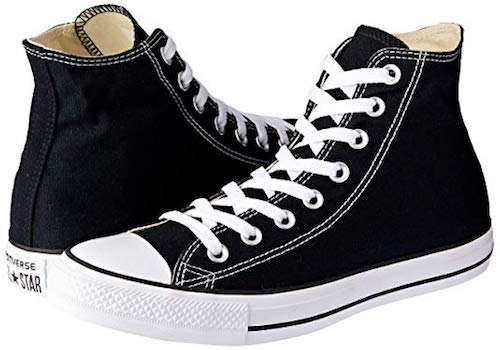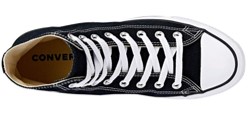 A legend when it comes to cool footwear, the Converse Chuck Taylor has numerous fans among professionals who are looking for a grippy sole, a comfortable fit and a breathable upper. Available in a low top and a high top version, as well as canvas and leather uppers, this sneaker is a great choice for anyone looking for an affordable pair that'll do the job without breaking the bank.
Originally designed for basketball players, the Chuck Taylor features a rubber sole with a diamond-shaped tread that sticks to most surfaces, including hardwood and tiles. In fact, it's such a good sole that it'll often be used by roofers, while it doesn't wear down so you won't have to worry about walking on concrete and similar abrasive surfaces.

Not only is it made with canvas, but the upper also features two vent holes on the instep to ensure proper airflow. This means that they shouldn't get too wet, even if you have sweaty feet, and can easily be kept clean and dried if you happen to spill something on them. Do note, however, that they're not water resistant, and won't protect you from hot liquids.

With a price that's around average (lower if you go for the low top version), the Converse Chuck Taylor is one of those options you probably already have in your closet, that'll do the job and will be versatile enough not to be limited to just the workplace. You can opt for a sensible color, or choose one of the funky designs and show off your unique fashion sense - you can rest assured that this sneaker will never go out of style.

Bartenders need a comfortable, durable design and this one fits that bill in spades. The Keen Kaci features a water-resistant leather upper which is important when dealing with spills. Other features include a metatomical, removable footbed designed to cradle your feet in comfort, a non-marking outsole, and CleanSport NXT technology for odor control. The insole is made of recycled foam for added comfort.
The footbed in the Kaci is designed for great arch support and to cradle the natural curves of your feet. It's removable if you have a custom insole and made of polyurethane for comfortable, secure footing. This design is water-resistant while maintaining a low-key style for any work environment. For those long days on your feet, it also features natural odor control so you won't have to air them out every other shift.

With the Keen Kaci, you are getting a design that was carefully engineered for work and is recommended by bartenders for its all day or all night comfort. Non-marking soles will make the boss happy while the footbed and odor control will keep a smile on your face. The design will also last longer than most, giving you the most value for your dollar.
Subscribe to our Newsletter