Best Barneys Shoes Reviewed
In a Hurry? Editors choice: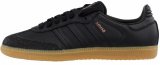 Test Winner: Adidas Samba

While today Barneys New York Inc. is a chain of luxury department stores, it hasn't always been that. In fact, the story of this now-iconic name began in 1923, when Barney Pressman pawned off his wife's engagement ring to open a tiny storefront in Manhattan. For approximately fifty years, Barney's Clothes sold apparel at discount prices, bought at closeouts, auctions and as overstock.

However, all of that changed once Barney's son Fred took over and slowly transformed the store from a discount house to a luxury department stocked full of up-and-coming Italian designers and names in the fashion industry that were both obscure and world-renown. Thus Barneys as we know it was born, and the rest, as they say, is history.
Standout Picks
Criteria Used for Evaluation
Brand
Being a department store, Barneys offers a wide selection of fashion brands and footwear manufacturers. We are talking about possibly hundreds of names here. You can literally find anything, from the easily-attainable sports names such as Adidas and New Balance, to less known but no less impressive in quality brands such as Comme Des Garçons Play and Ancient Greek Sandals.

What is important here to know, when it comes to brand selection, is that no one brand is better than another. Fashion, like all other forms of art and self-expression, is highly subjective, and whether or not you go for a specific designer or a specific style is all up to you and your personal preference.

What sets apart designer brands from 'regular' ones is the personal touch and the attention to detail. Take Balenciaga, for example. The Triple S sneaker has been specifically designed to break the rules of conventionality and challenge the concept of a traditional sporty sneaker silhouette. It is not meant to perform, but rather to impress with its aesthetic. Or at least to cause a few head turns here and there.

Another good example is the Taygete, from Ancient Greek Sandals. Being from a luxury brand, this sandal is handcrafted in Greece, with the utmost care given to the finest details. Several other options on our list have been produced in Italy, by the hand of only the most qualified of artisans.

Footwear produced at large, such as that from big manufacturers like Adidas, lacks that finesse that high-end shoes have. However, Adidas sneakers are also far less expensive than anything with a luxury label stamped on it, and yet they don't lack in the quality department at all.

Ultimately, your final decision shouldn't be based on brand name alone. While this is something that helps you narrow down your choices - especially if you already know which designer's aesthetic you favor - there are other factors which are just as, if not more, important when you're shopping for footwear of this caliber. Use the name of the footwear brand only as a compass to guide you to a design which will meet all of your other criteria as well, and then you can be sure that you are going home with the right pair of shoes for yourself.
Style
As a department store, Barneys is stocked full of countless styles and fashion options. However, given that this is a list of only the best ones, the selection is a little less varied. What you will encounter in our list is a number of sneakers - sports and lifestyle alike - as well as a sandal, a heel, and a clog.

The reason for this is quite simple - sneakers are arguably the most comfortable footwear choice available. They go well with literally any type of outfit - jeans, sweatpants, skirts, dresses, shorts, even suits! As long as it isn't a black-tie event or if your workplace isn't strictly against this casual design (and even then, dress sneakers are a thing), it is pretty much sneaker city if you wish it to be.

You can choose from some of the sportier options, such as the APL Techloom Pro, which is actually designed for running, and New Balance 990v4, a supportive sneaker that keeps you wonderfully cushioned as you walk long distance, or you can go a bit more glam, a bit more high end. The Common Projects Achilles, for example, and the Buscemi 100MM are sneakers which are meant to leave an impression on your surroundings. The Balenciaga Triple S as well - there isn't a fashion-conscious person who wouldn't look at you and think, wow, that one's got style.

When it comes to other footwear choices, we have the Taygete sandal for easy summer days, the Christian Louboutin So Kate for classy outings, and the Birkenstock Boston Shearling for whenever we need to be comfy and cozy without paying much attention to the overall appeal.

All of these designs suit specific occasions and specific seasons. High-top sneakers are great for chilly weather, while low-top ones offer more range of motion and more breathability. Open toes on the Ancient Greek Sandals Taygete are a must-have when it's too hot to wear sneakers outside, and the plush lining of the Boston Shearling provides heat retention that you need when the temperatures drop.

There is a suitable style for any event, and all you have to do is spend a few seconds considering whether or not an item is a good choice for you. After all, a shoe's visual appeal and usefulness is entirely up to you and your way of life, and no one else can - or should - make that decision for you.
Comfort
After narrowing down the brand names that you like, and landing on a style that you need, it is time to consider the potential comfort - or lack thereof - of a design. There is hardly any point in purchasing footwear that you can't wear, or that you put on only once before you decide that it is too uncomfortable to do it again. You want a design which you can wear as much as you like, which brings a smile to your face and not a twinge of dread as you think about what you're going to put your feet through in the next couple of hours.

So let's discuss how the items in our guide achieve their comfort levels.

Materials: One thing that all designer brands have in common is that they don't rely on any advanced features to maintain comfort. Rather, they turn to construction methods that have been tried and true through decades - even centuries - of practice, as well as premium quality materials that are impossible to not enjoy.
That is why we have a high number of genuine leather and suede options here; in fact, all of the options on our list contain a certain percentage of these materials. Leather and suede deliver comfort like no other, because of their wonderful ability to mold to the form of the foot. Over time, as you wear your shoe, it will take on the shape of your foot and provide you with a personalized comfort, one that fits no other foot but yours. This is why high-end footwear is still just as comfortable as, say, Nike or Adidas sneakers, even without all the fancy high-tech gadgets.
Technologies: Speaking of high-tech gadgets, another great way to make a shoe - especially a sneaker - comfortable is to outfit it with a carefully engineered technology. This is what we see in the APL Techloom Pro and the New Balance 990v4. Sports brands like these take pride in delivering only the most advanced systems to their customers, which are specially conceived by teams of experts to increase energy return, provide more shock-absorption, reduce the amount of pressure put on the joins, and deliver only the smoothest, most cushioned of rides.
While technologies like these may be important to professional athletes, to us regular folk, who aren't breaking world records or winning gold medals, it's simply a neat bonus. You shouldn't lose sleep over choosing the right technology for yourself, since slight differences in each don't mean much in the long run. What is important is that the design is comfortable as you wear it, and that you feel comfy and pampered no matter how much time you spend on your feet.
Heels: Finally, because of the Louboutin So Kate, we need to address the notion of heels, and how to pick out a comfortable heel optio, if you want to be able to walk and perhaps even dance as much as you want at an event.
Heels in themselves aren't very comfortable. However, if you choose one which is three inches or lower in height, and which has a stable, solid shape - a chunky heel or a wedge - then there is a high chance that you won't feel even the slightest discomfort.
Anything other than that - a heel that is four inches or higher and a stiletto one, which is coincidentally, what the So Kate embodies - will surely start to hurt in a couple of hours at most. There is no way around that. Heels put your foot in an unnatural position that can cause cramps, numbness and pain; only by choosing a lower height and a good foundation for your steps will you be able to find some relief while looking amazingly elegant at the same time.
Durability
When we purchase a gorgeous new pair of shoes, one that we are looking forward to showing off anywhere we can, and which is also addictively comfortable - we want to be able to wear them for as long as possible, no? Especially in the case of a luxury brand, for which we probably shelled out a lot of cash - it would be a huge disappointment if the design falls apart after only one season.

Durability of a model is determined by several different factors: the quality of the materials, the reliability of the construction, the conditions you wear it in, how often you wear it, etc. Some of these you can influence, and some of these you can't.

Fortunately, most of the designs in this guide are made out of truly the best, hand-picked materials. This is particularly true of brands such as Golden Goose, Balenciaga, Christian Louboutin and Ancient Greek Sandals. All of their products are carefully envisioned and constructed to last as long as possible, and even with regular wear they are surely going to last you years.

A little less durable are the New Balance 990v4, whose mesh material develops holes after a while, and the Birkenstock Shearling, whose lining starts falling out. However, these options are also far less expensive than of the brands listed above, and it stands to reason that you might have to replace them sooner.

What you shouldn't do, under any circumstances, is limit how often you wear your new favorite shoes just because you want them to last longer. Taking care of them, regularly cleaning them and conditioning them - if they require conditioning - is a good thing, but holding yourself back from enjoying the most out of them is not what amazing footwear is about. It is about wearing it, showing it off, being confident and proud of your purchase! Never let the fear of something falling apart prevent you from taking full pleasure in completing all of your outfits with such a stylish design.
Value
Lastly, as it has wound its way through all of our previous sections, we also have to mention the factor of price. A lot of the options on our list belong to luxury brands, ones which are not meant for the everyday public but for those who wear designer clothes, drive Ferraris and Maseratis, and own several beach-side villas. We understand that buying designer products is not a regular occurrence for most people, and a question of whether or not it is worth it is quite appropriate.

We already discussed the issue of durability in the previous section, and in it we confirmed how these designer brands definitely don't lack in quality. Their products are made from materials which ensure that you will be able to appreciate your fancy shoes for many seasons to come.

All of the options on our list are comfortable and easy to wear - maybe with some practice, in the case of the Louboutin So kate - and there isn't really anything that should stop you from treating yourself with a design that you may not ordinarily get. We're sure that everyone will envy you on that, and that they will want to get a pair just like it for themselves.

For your convenience, we ranked the options in our list from the least expensive at the top all the way down to the priciest. The Adidas Samba comes at an expected price for an Adidas sneaker - however, the Barneys New York limited edition is a bit more costly than that - followed by the Ancient Greek Sandals Taygete and the New Balance 990v4.

The last item on this ranking is the Balenciaga Triple S, whose price reflects the impact of the designer name and the now-almost-iconic stacked midsole silhouette. If you want to mimic the style of some of the most famous kpop stars (think JHope from BTS), then you'd have to part from a sizeable amount of money to do that.

However, fashion knows no bounds, and if you feel like your budget can take it - don't hesitate to reach for what you love the most, because we guarantee that you won't be disappointed.
Our Favorites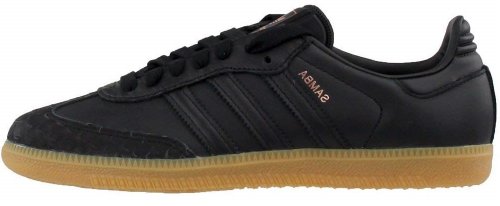 Adidas is an absolute powerhouse when it comes to all things sports gear related, and it is no wonder that one of their designs has found their way to this list. In fact, there is a limited-edition version of the Samba designed in collaboration with Barneys New York, bringing that extravagant oomph to an athletic silhouette.
The Adidas Samba is a low-top sneaker made entirely out of genuine leather. It comes in several color options, with an embossed three-stripe logo on the side that is a widely recognizable signature of Adidas. There is also a Samba stamp on the side, in metallic bronze, as well as the brand logo on the tongue.

This sneaker comes with a standard lace-up closure on the front which enables you to adjust the fit to your liking, and a textured translucent midsole. The inside of the Samba is lined with leather for a comfy ride and a healthy climate that protects your feet from bad odors. Finally, the outsole of this sneaker is made out of rubber, with an amber texture for slip resistance.

The Adidas Samba is effortlessly graceful in its simplicity. It isn't a sneaker for any hard-hitting sports, but it is a great lifestyle option. It will take you from the grocery store to the shopping mall, from a fun day at the park with your dogs to a casual lunch date with your friends. You can even dress it up with a skirt or a dress and some bling - there is nothing this sneaker can't do!

2

. Christian Louboutin So Kate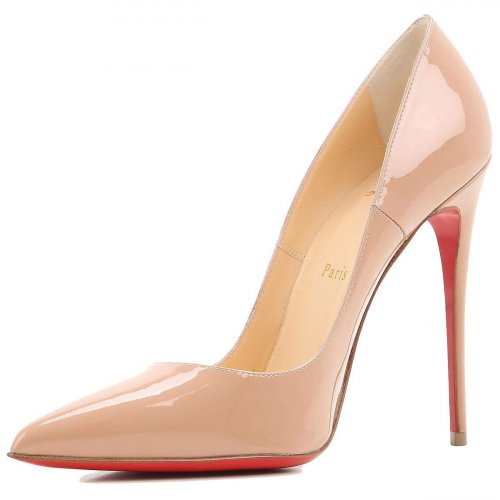 Christian Louboutin is a well-known name in the world of fashion, often directly associated with red bottom shoes, one of his signature elements. Louboutins are a breath of easy elegance, luxury, and exotic accents, and the So Kate pump is no different. This is a simple nude heel that you can pair with any outfit you wish and elevate your look to red-carpet heights.
The So Kate pump is made out of soft patent leather that doesn't dig into your skin. It has a sharp pointy-toe silhouette which speaks of refinement and fierceness at the same time and is actually a play on the famous Christian Louboutin Pigalle design, only lengthened and with a superfine heel.

Speaking of which, the heel of the So Kate is about 4.75 inches high. Intimidating, yes, but also flattering, as this height will visually slim down your figure. The stiletto shape may require some practice before you get used to walking in it, but we promise that the effort is worth it.

Finally, the slip-on design will make it quick and easy for you to get in and out of this stunning pump.

There isn't much more we can say about the Christian Louboutin So Kate, except that it is truly one outstanding shoe. This is a pump which is a must-have in any closet, as its color goes well with anything, and it adds a poised, regal flair to all outfit combinations. It is no surprise that this is one of the most popular Louboutin designs available in Barneys.

3

. Common Projects Achilles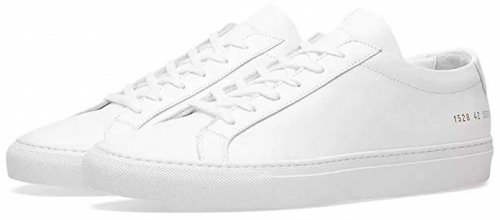 Founded by a designer duo, Prathan Poopat, and Flavio Girolami, Common Projects is the go-to high-end brand for minimalist footwear. Their products are crafted in Italy, out of only the highest quality canvas, leather and suede available, and their signature design is the Achilles sneaker. This a smooth, sleek low-top silhouette which is recognizable by the gold stamp at the heel, representing numbers for style and size.
The Common Projects Achilles is made out of smooth, flexible leather. It comes in a variety of color options, but we have selected this clean white look as one which will complement any outfit you come up with. There is a rounded toe at the front for comfortable wear, as well as a padded collar for bonus cushioning.

The lining of the Achilles is also made of leather, meaning that it ensures a healthy foot climate and is amazingly comfortable to wear, especially for longer periods of time. This sneaker comes with a rubber bottom for traction on all types of surfaces.

When it comes to the Common Projects Achilles, what you see is what you get. Meaning that you will treat yourself to an amazingly elegant, luxury sneaker that is versatile and also comfortable enough to wear day in and day out. It will work well both as a casual and a dressier option, and it is certainly a staple piece that everyone needs in their wardrobe.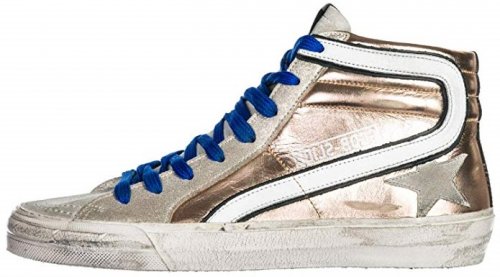 No, we didn't make a mistake and accidentally posted a picture of a used shoe - the Golden Goose brand is famous for its lived-in looks and designs which you'd never tell are actually new. The Slide sneaker is a high-top with distressed metallic leather and grey suede for the upper, and shoelaces which purposefully look like they've been worn for at least a couple of seasons. There's something undeniably charming about this worn chic aesthetic, and we're in love with the uniqueness of the design.
The Slide sneaker comes with a comfy round toe and a padded collar for extra cushioning. The laces are there for adjustability, while a zipper closure in the inner side allows for a quick and easy way in and out of the sneaker. A white leather trim follows the contours of the foot from the top to the side, and there is a signature star applique that is characteristic for the Golden Goose brand.

The midsole of the Slide is off-white and again with that distressed touch of the rest of the sneaker. The inside is lined with leather and French terry for irresistible comfort and moisture-wicking. There is a rubber outsole on the bottom with a herringbone pattern that ensures multi-directional traction.

The Golden Goose Slide is the type of sneaker you go for when you want to achieve an effortlessly laid-back look. Too often we get brand new sneakers which are snow white and take some time to get to that perfectly relaxed and weathered appearance that we want. With the Slide, you get the coolness and the easy casual flavor the moment you purchase it!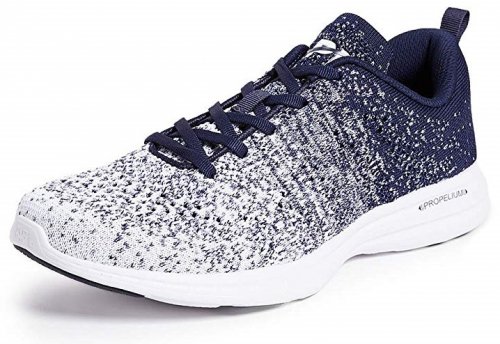 APL is a company which sits at the intersection of technology, performance, and fashion. Its founders are identical twins, Adam and Ryan Goldston, who deliver revolutionary products that are both stylish and functional. Thus comes the Techloom Pro, a running sneaker that is every bit as fashion-forward as sneakers of some of the more world-renowned lifestyle brands.
The stylistic appeal comes from the color, first and foremost. The Techloom Pro starts with the navy at the back and gradually fades into white at the front, creating a stunning ombre effect. The upper is woven in one piece, using TechLoom construction for an exceptional fit.

The Techloom Pro comes with a Propelium midsole, a technology which helps generate maximum energy and superior comfort. The midsole will remain structurally intact for far longer than if standard EVA is used. Moreover, the outsole of this sneaker has natural motion flex grooves which respond to every movement and support your foot throughout the run.

As promised by the new and rapidly developing company, the Techloom Pro is one mean running sneaker, with all the trendiness of a lifestyle option. You can get it for hitting that trail and increasing your mileage, or for something more relaxed, such as playing around with your kids or even throwing on a fashionable tracksuit and indulging in a marathon shopping trip. Everything is possible with the Techloom Pro!

6

. Ancient Greek Sandals Taygete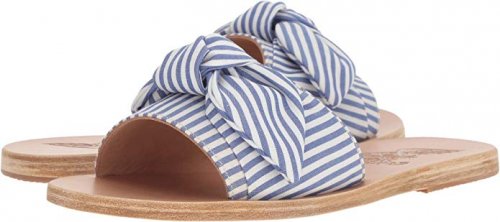 Ancient Greek Sandals is a brand which originated from, and is currently based in Athens. It was founded by two people who wanted to celebrate Greek heritage and culture, and through their designs, they certainly managed to do so. Like all of their products, the Taygete sandal is handcrafted in Greece by local artisans, and is certainly a touch of fresh summer flair that you need come warmer weather.
The Taygete is simple and straightforward, without any embellishments or whistles, and yet that is precisely what is so attractive about it. This open-toe silhouette is feminine and laid-back, with a striped gingham cotton upper with a bow accent on top. It is easy to slip on and easy to take off at a moment's notice; just what you need in the heat of summer!

The quality of the Taygete lies in its leather footbed, complete with leather lining and sole. As a natural material, leather is exceptionally durable, breathable and comfortable, as it takes on the shape of the foot over time. The Taygete won't cut into your skin or leave any indentations, and you'll love how light it feels on your feet.

We're at a loss to find something cuter or more minimalistic than this sandal. We all like a stylish slide which can go well with a sundress, with a swimsuit, or even with jeans or shorts for an evening stroll around the pier. Throw the Taygete on and make the best out of your summer!

7

. Birkenstock Boston Shearling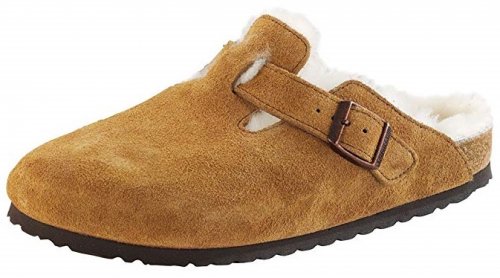 Birkenstock is a German brand that has been around for 200 years, give or take. This manufacturer has remained the leader of the supportive footwear industry thanks to its traditional construction methods and premium materials, and today there isn't a person on the planet who hasn't heard of Birkenstocks. The Boston Shearling design is the one that is a favorite among Barneys' clientele, and with good reason.
This clog is made from plush, luxurious suede, with a strap and a buckle closure across the instep which helps to customize the fit. It has a rounded toe for more room and is lined with shearling to ensure maximum coziness and fuzzy comfort.

Like all other Birkenstocks, the Boston Shearling comes with a contoured cork and latex footbed. Cork is an extremely shock-absorbing and moisture-wicking material and has wonderful molding abilities. As a result, this design changes shape to fit the contours of your foot over time. It may require a short break-in period, but once that's over, the Boston's personalized comfort will become irreplaceable to you.

We did mention that Birkenstocks actually belong in the category of supportive footwear, and are not considered very stylish. However, there is a certain practical flair to them that drew so many fashionistas and style bloggers to this silhouette. Today Birkenstocks are a staple, a design one can't picture their summer - or fall, in this case - without, and you won't regret getting yourself a pair of these as soon as you can.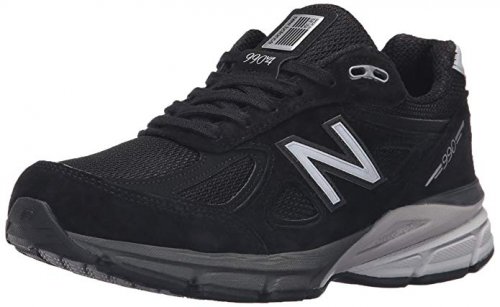 Having first started out as a manufacturer of shoe arch supports, New Balance has since its early days developed into a leader in the field of professional sports, and a provider of lifestyle sneakers which are a great combination of retro and urban chic. The 990v4 is exactly that - a mixture of old and new, a nostalgia-inducing silhouette with all the latest comfort technologies built into it.
The original design of the 990v4 was first released over thirty years ago. Since then, while the aesthetic remained largely the same, this sneaker has been updated with all the most advanced features New Balance can offer.

The 990v4 comes with the ENCAP technology, which provides unparalleled stability without sacrificing cushioning. It has a signature 'N' applique on the sides, as well as a logo tab on the tongue, padded for extra comfort. There is an EVA midsole for shock-absorption and microdot perforations all over the design to provide breathability and a sweat-free experience.

The New Balance 990v4 comes in a variety of color combinations, and we have selected this black as a classic, easy-to-pair-with-anything option. This sneaker brings that sporty vibe to all of your looks, and both make you retro stylish and supports you no matter how long you decide to walk for.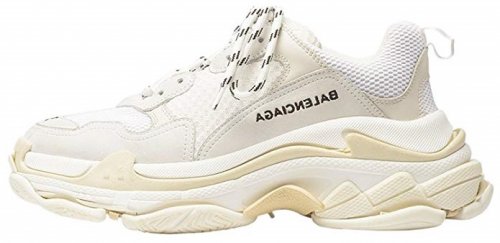 Founded in Paris in 1919, Balenciaga is a fashion powerhouse responsible for the cocoon coat, the balloon skirt, and the high-low hems. It is a brand all about experimenting, architectural shapes, and new silhouettes, as well as custom fabrics. The Triple S sneaker has taken the world by storm precisely due to its unconventional appearance, and today it can be seen all over on celebrities and fashion icons alike.
The Triple S is named that because it features three stacked soles that give it its unusual shape. The rest of the sneaker is styled as a more or less conventional American trainer, with a full lace-up closure on the front which helps you tighten it or loosen it up however much you want. It has a rounded toe and a logo tab on the padded tongue.

The upper of the Triple S is made from several different materials, including nubuck leather and mesh. The leather is there to provide durability and comfort, while the mesh is a lightweight material that allows air to freely pass through. This means that, in the Triple S, your feet will be cool and dry no matter how hot it gets outside.

We admit that style-wise, this sneaker is somewhat questionable. However, Balenciaga was confident in their design and seeing how the Triple S is all the rage this season, they had every reason to be. It is definitely a lifestyle - not a sports - sneaker, and one which is a bit outside the norm. Nevertheless, it is still celebrated for its mixed-materials construction and quilted effect, and it will surely find a place in your wardrobe as well.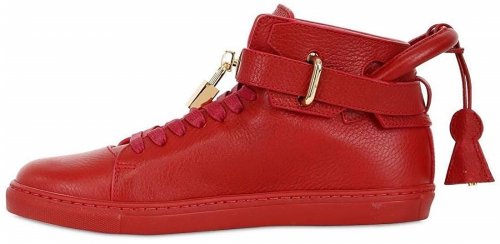 Jon Buscemi's goal in life was to elevate the classic sporty sneaker design. He launched his eponymous brand in 2013 and combined his urban aesthetic with fine Italian leatherwork, producing designs which are both functional and luxurious. And those two words are perfect to describe the uniqueness of the Buscemi 100MM Edge, a high top sneaker which is at the same time cool and unequivocally extravagant.
The Buscemi 100MM Edge is actually the first ever sneaker released by this brand, and it remains at the top of their bestselling lists for good reason. It is made out of grained leather and trimmed with grosgrain piping, and has geometric collar flaps and hardware details in gold.

The most eye-catching accent is the fully functional lock around the ankle, and it comes with a key sheathed in leather.

This lace-up style sneaker is lined with leather, and it features a three-piece push closure at the tongue. There is a rubber outsole on the bottom for traction, and there is also added cushioning in the tongue for bonus comfort.

The Buscemi 100MM Edge is certainly a sneaker that stands out in its originality. It is casual and laid-back but also has that bling moment, where you can show off your lock and key and attractive gold accents. If you're about stepping out of the conventional sneaker style and going for something more innovative, the 100MM Edge is just the right design for you.

Subscribe to our Newsletter