Best Running Strollers Reviewed
In a Hurry? Editors choice: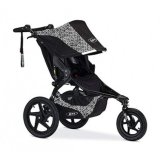 Test Winner: BOB Revolution Flex 2.0

Along with the many joys of parenthood is the opportunity to get out and enjoy a refreshing run with your child. You will both enjoy the fresh air and the scenery. There is nothing quite like the fun of enjoying a spring or summer morning together, just the two of you. It makes for some good exercise as well as quality child-parent time. Not only is it good exercise for you, but it is also good mental stimulation for your baby to be able to get out and see the world. We know how important it is to be able to enjoy this activity while staying safe and comfortable. Those were two of the biggest factors we kept in mind as we considered the best jogging strollers on this list.
Standout Picks
Criteria Used for Evaluation
Comfort
After considering hundreds of user reports, we came to the conclusion that comfort is just about the most important factor affecting these kinds of products. When we talk about comfort, we mean both yours and your child's comfort. For your child's comfort, we looked at the seat and how it was designed. We made sure it had ample padding and a comfortable design with plenty of room for your child's legs. We also examined the harness straps to make sure they were well designed and safe. We found that a potential problem could be the harness causing discomfort to your child, and that is a problem we tried to avoid with our choices for this list.
For your comfort, we looked at the height of the product and the design of the handle. We made sure the handle had some kind of good quality padding whether it was foam or rubber, and we also looked for models that allowed you to adjust the handle so that it would be more comfortable for you. The height of the product was a factor because this is something that is not adjustable, and depending on your height may or may not be comfortable for you. We tried to find products that are good for the average height person, but then that had an adjustable handle to accommodate someone taller or shorter.
Durability
We did some research to determine what are the most common areas to fail in these kinds of products. We wanted to know so that we could find products that avoid these common problem areas. What we found was that products like these often fail in one or more of three areas which are exposed metal parts, wheel and tires, and handles.
Exposed metal parts—Many of these products are made out of metal. Most of them have some kind of rustproof protective coating over the metal to improve their durability. Some of them, however, neglect to coat a few of the parts such as the bolts or the sliding system (used for folding the product). This is a potential for trouble. The reason brands might not coat the sliding mechanism is because it could hinder how easy the product folds up. Exposed metal means that the product is not fully waterproof and should not be used in rainy weather. There are some good quality products with this one flaw, and we did include those on the list, but most of the products we chose have a full rust proof coating so that they are safe for use in wet weather.
Wheel and tires—The great majority of these products have air-filled tires. This means that there is a potential for flat tires. To avoid this, we looked for products that have thick, durable tires. We also looked for good quality wheels that are securely attached, have a good suspension system, and that are made out of strong material. Another bonus was wheels that were very easy to remove in case you need to replace a flat.
Handles—As we mentioned before, we looked for handles that were coated with some kind of padding for your comfort. On the other hand, this means there is the potential for that coating to wear off, especially since this part of the product is going to get the most wear and tear. Our research suggested that rubber or silicone tends to be the most durable material for the handle. It is still very comfortable, maybe not quite as comfortable as foam, but it lasts longer and is still good at preventing blisters.
Ease of Use
For ease of use, we consistently examined three main things. They are ease of assembly, folding ability, and product footprint size. Let's look at each of those in detail. As for assembly, we examined users' reports on how easy the product was to put together and how long it took. We considered this related to safety since if the product is difficult to assemble, there is the potential for it to not be done right which then creates a hazard. We tried to avoid products where users said the product was so difficult to assemble that it did not seem to turn out right and even had parts fall off during use.
Folding was so important because it can make your life so much easier. We made the assumption that many users would be taking these products in and out of a car quite often, and then storing the product out of the way when at home. This means that you are going to be folding it a lot, which is why we purposely chose products that have a quick and easy folding system. Many of these have a one-touch or two-step folding system which is quick and easy to use.
Finally, as for the footprint of the product, we looked for products that were not overly bulky, because this would make them much less easy to use especially if you are in a crowded or narrow area. Also, Disney Land and Disney World have size requirements for these products, so we made sure to include at least a couple that does not exceed those requirements.
Adjustability
We found that the two most important areas of adjustability are the handle and the child's seating area. For the handle, we chose a number of products that allow you to adjust the handle up or down depending on your height and the most comfortable position for your arms when jogging. There were three main considerations that went into the child's seating area. These are seat recline, canopy adjustability, and harness size. Seat recline is important because it allows your child to either sit up at different angles or to lie back for a nap. It also allows you to take children of different ages. Young babies might need to lie almost flat, while older children will want to sit up more.
For canopy adjustability, we made sure to chose products that allow you to move the canopy forward or backward into different positions. This way you can shade your child from the sun, or give your child a better view depending on the weather. This also allows you to attach a baby carrier and then shade the carrier either fully or partially. Finally, as for harness size, we looked for the most adjustable harnesses on the market. We wanted to make sure that these products will be usable for several years as your child grows.
Stability
When researching poorly made products, we came across stories of similar jogging strollers tipping over or falling apart during use. This was something we wanted to avoid completely with the products we chose. Most of our choices incorporate bicycle technology in their wheel base and tires. These brands have used everything they know about making good quality bicycles to make good quality strollers. Bikes are good at handling all kinds of terrain at a quick pace without crashing. That is necessary for these products, too, especially since you will be jogging with them. That is why you will see a lot of big and wide tires with spokes like a bicycle. The wheelbase is often quite wide which might not be quite as convenient but is much better for stability. We also looked for products that are very long since this also adds to the stability.
10 Top Rated Jogging Strollers
1

. BOB Revolution Flex 2.0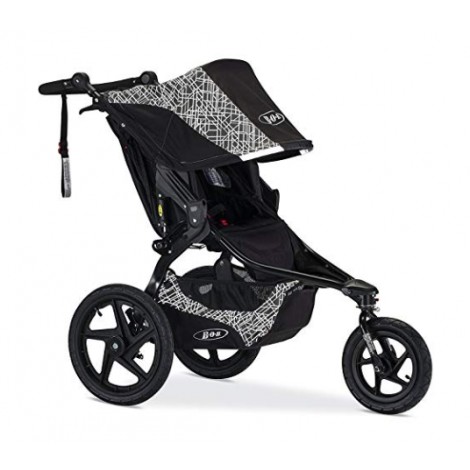 The Bob Revolution Flex 2.0 jogging stroller comes from a leading brand in baby and fitness accessories. This product comes in five color options which are all black, black with a white line design, orange and black, teal and black, or lime green and black. This product includes reflective fabric for safety.
The Flex 2.0 jogging stroller can hold up to 75 pounds of weight. The front wheel swivels for turning, but it can also be locked for safety when you are going to be moving in a straight line. When in the locked position, the product has a tracking adjustment knob to keep it going straight and prevent it from wandering. The Flex 2.0 gives your little one a smooth ride with its air-filled tires and mountain bike style suspension system. The handlebar is adjustable into nine different positions which allows you to adjust it to your height and to run with your arms higher or lower, whatever feels most comfortable. There is also a wrist strap on the handlebar which prevents the product from accidentally getting away from you, and the handlebar is also padded for extra comfort.
There is a little window in the back top of the product which allows you to peek in at your child and have a little chat when you stop for a rest. The Flex 2.0 is compatible with several of the popular car seat brands. You can put the car seat into this product which is especially good if your child is very young. The inside seat is adjustable and can let your child sit upright and enjoy the ride or lay back for a nap. The seat position can be adjusted with a single button. The seat is very padded and includes a five-point safety harness for buckling in your child.
There is plenty of ventilation in the Flex 2.0, and the top canopy offers ultraviolet protection of 50 plus. A foot-activated parking brake keeps the product in one place when you decide to stop for a breather. There is a pocket and a cargo area for storing all your gear. Folding the product is easy and can be accomplished in two steps. The biggest problem that users have run into is that the metal bolts that hold the product together are exposed and if they come in contact with water, they will rust. As long as you store the product indoors and do not go running out in the rain (which you probably would not want to anyway with a baby) then the product should be fine.

2

. Baby Trend Expedition Phantom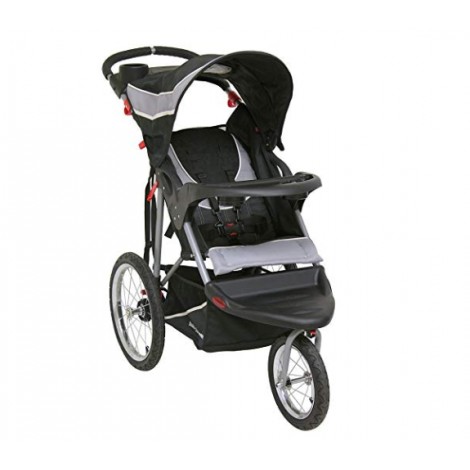 The Baby Trend Expedition running stroller features a top tray near the handle that has two cup holders. There is also a tray inside for your child, and this tray also has two cup holders. The handle is padded with a rubber grip and is designed ergonomically for comfort and ease of use. It is very soft and cushioned since it is what you will use both for pushing the jogging stroller when running and for carrying the product when it is folded up.
The storage compartment in the running stroller is covered to protect items you store there. The canopy ratchets into different positions depending on how much sun you need to block out. You could have the canopy all the way back on a cloudy day if you chose. The canopy blocks both the sun and the wind. The Baby Trend folds up with the release of a single lever. The frame is made out of steel and is both lightweight and very strong. The product is made to work well on all different types of terrain. The tires are actually bicycle tires and they are extra large which allows them to easily handle the rougher ground. The footrest has reflectors on it which help give more visibility in low light situations. You can get the Expedition with lime green accents, orange accents, or bubble gum pink accents, or you can choose the black and gray model.
Although most brands of car seats will fit in the Baby Trend Expedition, the bad news is that the locking mechanism will only work with Baby Trend car seats. This means that if you use a different brand of car seat, you will not be able to lock it into the product and it may not be as safe to use. This is so unfortunate because not many people want to have to buy a whole new car seat of a specific brand just to use this product. The seat in the Baby Trend running stroller can be reclined into several positions. The brand recommends that you regularly check for torn fabric or loose screws and that you replace any parts that wear out.

3

. Schwinn Interval 2-in-1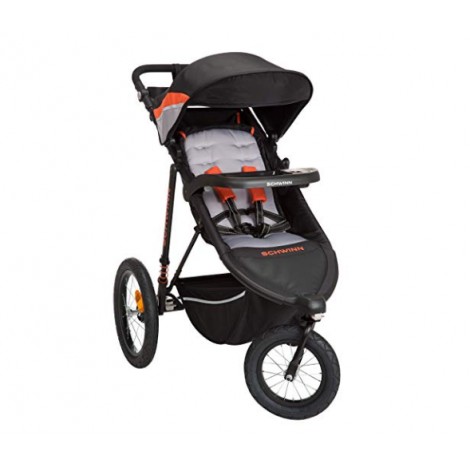 The great thing about the Schwinn jogging stroller is that it is convertible. It can be used for jogging or as a regular stroller for walking or running errands. Another great thing is the basket with a lid which is great for storing valuable items such as your car keys, phone, and wallet or purse.
The Schwinn has some great features for durability and for a smooth ride. It has heavy-duty performance shock absorbers and polished wheel ball bearings. The design of the Schwinn helps reduce rolling road resistance while still providing good traction to minimize skidding or slipping. Keeping your child comfortable is probably your number one priority, and that is why the Schwinn has padding covering the straps that buckle in your child. This way the product is both safe and comfortable. We have probably all heard children complain about being strapped into a car seat because it is uncomfortable and they do not understand the need for safety. The Schwinn helps to avoid this and ensures that the safety harness will not irritate your child.
One downside to the Schwinn is that it is very heavy. Although it is easy to fold, it still takes a lot of effort and strength to get it into a car since it is so heavy. The good news is that this means it is well built and sturdy, but the bad news is that it will be less convenient to travel around with. The handle is adjustable which helps you find whatever push angle seems to work best for you, and the Schwinn comes with a one year warranty, although it is a limited warranty and so probably only applies to product defects that were present from the beginning. The front tray has a place for your child's drink and snacks.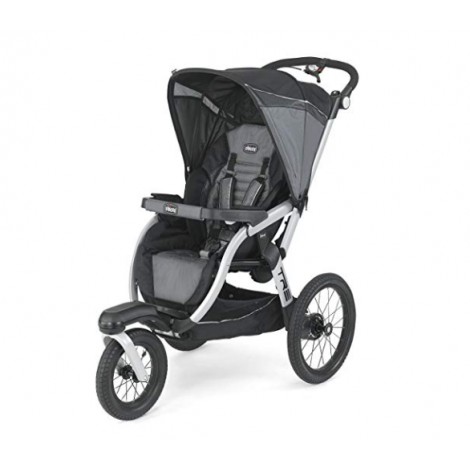 The Chicco has the ability to be folded three different ways for different storage situations. One is a standing fold for storing it in your garage or basement. It takes up a bit more room but stands on its own. The second is a flat fold which is best for storing in your car when you are transporting the product. The third fold is a compact fold. It is the most space efficient of the three and is best for long term storage in a small area such as a closet.
The great thing about the Chicco jogging stroller is how easy it is to clean. It is water-resistant and the occasional spill from snacks or a tipped over sippy cup will be no problem at all. The Chicco is made with sporty fabrics that are both durable and easy to clean. This product has a tinted window that can be converted to a mesh vent, and there are extension panels that you can attach with a zipper for added protection from the sun and wind. The seat can be easily removed if you want to use a carrier for your young baby during his or her first six months of life. The dual FlexCore suspension system is adjustable and allows you to choose between two options. You can choose a more soft suspension system for slow and bumpy rolling, or a more firm suspension for running quickly over the very smooth sidewalk. The suspension system can be changed with the tap of your foot.
The frame is made of aluminum which makes it much more lightweight than some models. The Chicco has a convenient control consul that has the controls for locking the front wheel, as well as a hand brake for decelerating smoothly and easily. The deceleration brake doubles as the parking brake when you are not moving. Some users have said that assembling the product is not very intuitive. Some have had trouble and have ended up putting things together in the wrong way which prevented it from working. Furthermore, users have said that they could not get very good help from the brand.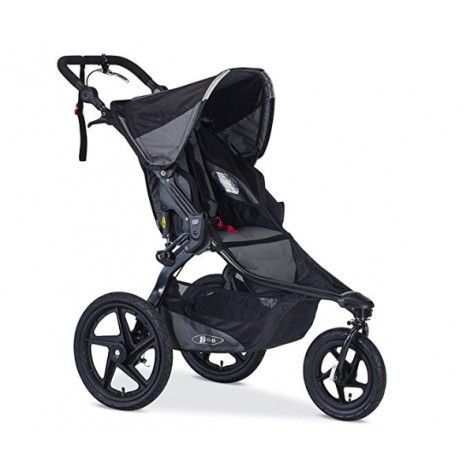 Another best jogging stroller from Bob Revolution, the Pro has a state of the art suspension system and excellent control and stability. The suspension system can move up and down up to three inches, and it can be adjusted for different amounts of weight support so that it provides a smooth ride as your child grows.
For excellent downhill control and safety, the Pro jogging stroller has an easy to reach hand brake on the handlebars. The brakes are drum brakes and are located on the rear tires for better stability when slowing down. The seat can recline to almost flat (70 degrees from vertical) for your child's comfort while napping. The seat can also be in the upright position so your child can view the journey. The Pro is best for children who are at least eight weeks old or more. The wheels are made from polymer and are designed for high impact. This model also has a two-seat model available in case you want to go jogging with two children at once.
When the wheel is unlocked, it can swivel quite a bit and allows for tight turns. Some users have complained that after about a year of use, the metal sliders that are part of the folding system begin to rust and wear out. Not everyone has reported this, but some seem to have had trouble with this area of the product. The product has several pockets perfect for storing snacks, toys, and accessories. Users have reported that the Pro offers complete protection from the weather, so if you are out running and it begins to rain, you will not have to worry about your child getting wet.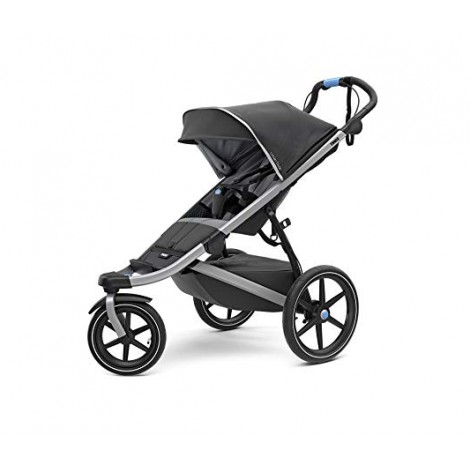 The Thule is consistently highly rated by users. It has an easy to reach and efficient integrated hand brake that sits right on the handlebar and can be operated with a twist. At just over 25 pounds, it is a lightweight option that does well on all types of terrain.
The Thule jogging stroller has a great storage system underneath the seat. It has a large cargo basket that has a cover that is attached with a zipper. This is great for making sure things do not fall out during your run. The basket s separated into two mesh compartments, and it also has a mesh pocket on the back of it. The canopy has multiple positions and has ventilation windows on the side. The rims of all of the wheels have reflective tape on them, as does the rim of the canopy. There is a back window with a magnetic closure which allows you to check on your child.
There are several accessories that you can purchase separately to go with the Thule. These include a sleeping bag to keep your child warm, a bottle holder, a multi-purpose organizer, a snack tray, a bumper bar, or a car seat adaptor. One downside is that these things must be purchased separately whereas some of them already come with other products on this list. Something that turned out to be somewhat of an inconvenience for some users was that the wheelbase at the back is really wide. This gives the product quite a big footprint and also makes it harder to maneuver it in narrow places. It might especially cause trouble if you want to take it inside a store where there might not be much room to pass carts in the aisles. Another potential downside is that the seat can't be put into an upright position. It stays in a reclined position and so is probably best for younger children and babies and not toddlers who are curious to sit up and look out at the passing landscape.

7

. Joovy Zoom 360 Ultralight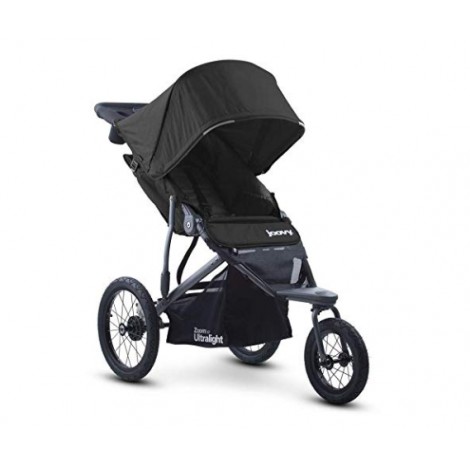 The seat of the Joovy Zoom stroller for jogging is extra wide and extra tall so that your child can ride in comfort and can also see extra well. The Joovy Zoom is built to give your child a good riding experience with a good field of view so that your child will be excited when you want to go jogging.
Unlike most of these kinds of strollers for joggers, the Joovy Zoom actually comes with a tire pump. You can take it with you to make sure you never get stranded with a flat tire when out jogging. The wheels have a quick release system which allows you to easily take them off if you want to reduce the space it takes to put the product in storage or for travel. But then you can easily put them back on when you get it back out to use again. The Joovy Zoom comes with a parent organizer which stores your things and keeps them handy for use. It has a place for your keys, phone, and drinks.
The Joovy Zoom jogging stroller is made to be durable with lightweight yet strong aircraft grade aluminum. The product comes in red, blue, black or gray, and you can purchase an optional rain canopy if you want to run during inclement weather. One of the common complains by users was that the Joovy Zoom is a bit hard to fold up when you are getting ready to leave. Another thing some stated was that the reclining seat only works until your child gets to a certain height, and then there is no longer enough room for their head.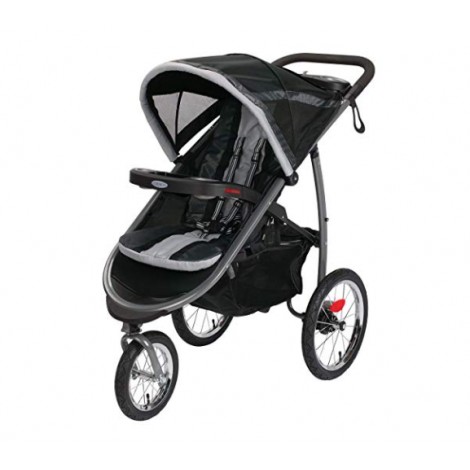 The Graco FastAction has a cradle for your smartphone which would also work for your mp3 player. It also includes two deep cup holders for you and a cup holder and tray for your child. The child's tray can be removed or pivoted to make it easy to get your child in and out of the jogging stroller.
The Graco FastAction has a convertible harness that can serve as a three-point or a five-point harness. This way you can adjust it to fit your child as they grow. This product features an automatic lock on the front tire. Some users loved this, while others had problems with it locking when they did not want it to. The canopy is expandable for more protection from the sun. The Graco stands upright when folded into the storage position. One downside is that the only suspension is from the air filled tires. There is no suspension system other than that. Users have said that the Graco is very tall which will be ideal if you are fairly tall, but if you are not, then it might be a little difficult to push around. The four color options are called Gotham (black and gray), tangerine (orange and black), azalea (pink and black), and pierce (cream and black).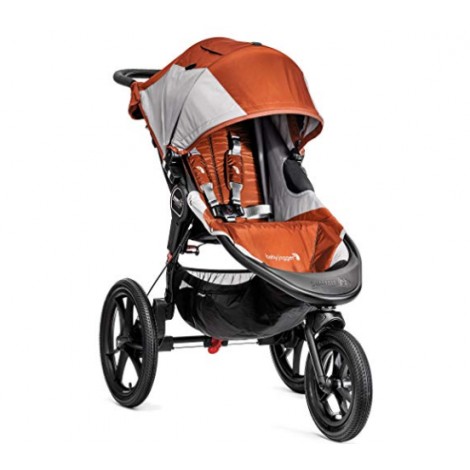 The Baby Jogger Summit is very easy to fold and can be compacted into an easy to store size. The harness system has shoulder pads for comfort and protection, and the running stroller comes with a lifetime warranty.
The Baby Jogger running stroller has a heavy duty all-wheel suspension system for a very smooth ride. Users have said that it lasts well for years. The wheel lock can be turned on or off remotely at the handle. One thing that has bothered some users is that stability of the product. Some say that it feels like it will tip over especially on uneven terrain, and others say that it is a bit wobbly with unstable wheels. Others have said that the hand brake can get in the way. Many users say that the Baby Jogger is easy to keep clean. It resists getting dirty and has easy to clean material.

10

. J is for Jeep Cross-Country Sport Plus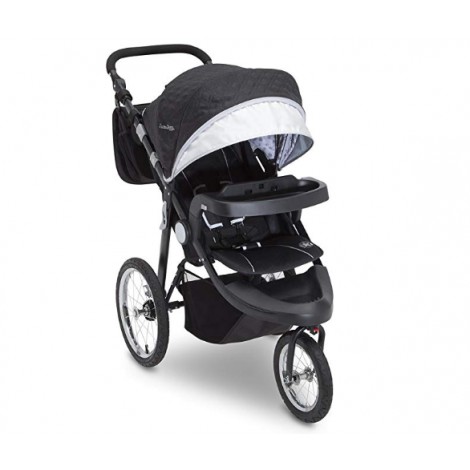 This jogging stroller is actually made by the same brand that manufactures jeep vehicles. This stroller is just as tough and durable as the vehicles are, and it has a strong steel frame with wheels designed for rough terrain.
The J is for Jeep stroller comes with a couple of types of adaptors to fit some common brands of baby carriers. It has good quality fabric on the canopy. The fabric is quilted and has a diamond pattern design on the outside and a pattern of stars on the inside. It also features a sun visor to help shade your child. Something that users have reported is that the handle on the back does not last very long. The foam padding can disintegrate and start to wear off. One nice thing about the handle on this jogging stroller, however, is that it is adjustable. the J is for Jeep has a large storage compartment with a see-through lid.

Subscribe to our Newsletter