Best Running Backpacks Reviewed
In a Hurry? Editors choice: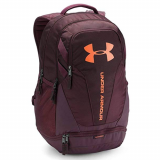 Test Winner: Under Armour Hustle 3.0

For hardcore training, or for a casual jog on the trail, you will probably find a lot of use in a storage solution which can hold all of your gear and accessories, as well as help you be prepared for the unexpected. Running backpacks can carry your snacks and hydration and a waterproof jacket in case you run into rain while you are out there.

The list below looks at the ten best running backpacks available. We looked for products that are lightweight yet can carry a lot, with multiple pockets and storage compartments along with several loops and clips on the outside. This way, you can choose the running backpack or hydration pack that suits your needs most, making your training sessions more efficient and enjoyable.
Standout Picks
Criteria Used for Evaluation
Adjustability
In our search for the ten best running backpacks on the market, we knew that adjustability was a big factor in determining which products made the list and which ones did not. All of the products we chose have at least some adjustability, and most have several ways they can be adjusted. This is the single biggest factor affecting how well the backpack fits. It is also very important for making sure the product stays secure and does not bounce around too much when you are on the move. And yet another thing it affects is how well and how evenly the weight is distributed across your body. Something we often noticed across reviews for several different products was how happy users were when they found products that had a whole bunch of adjustable options. They felt like they were basically able to customize the product to fit them perfectly. The nice thing about this is that more than one person could use the same product and would be able to adjust it to their own unique fit.
First of all, we wanted to make sure that at the very least the shoulder straps, also called the harness, was adjustable. This helps you move the pack up and down, determining how high or low it sits on your back, which also affects how the weight is distributed across your shoulders. This is essential for these types of products. If the product is too low, it will bounce and possibly even hit the back of your legs. If it is too high, it will hinder your arm, shoulder, and head movements. This was also one of the first essential criteria because of the fact that users will be of different heights and builds.
Next, we looked at the chest strap, also called the sternum strap. For one thing, this helps take away some of the strain that is on your shoulders. It helps pull the weight of the product down and forward instead of letting it pull your shoulders backward. It also secures the two main straps and keeps them from falling off your shoulders, another essential factor for using these when running. The sternum strap should be able to be adjusted both horizontally and vertically. That is, you should be able to tighten it to pull the two sides closer together, and you should also be able to move the whole thing higher or lower on your chest. This second way of adjusting the strap is usually done by either having the strap looped around both main shoulder straps, or having it on a track that runs along the inside edge of both shoulder straps. Another thing we read was that women especially need to be able to adjust the sternum strap up and down, and will possibly wear the sternum strap higher or lower than men typically do. Some experts recommend that you wear it somewhere around one inch below the collarbone, but some users prefer to wear it across where the solar plexus is. It is best to experiment and see what fit is most comfortable for you and feels like it is helping to relieve some of the weight of the pack.
We also looked at the hip belt which helps rest some of the weight on your hips and relieves some of the pressure off of your shoulders. One of the cool things we found was that often these products use the space efficiently by putting pockets on the adjustable straps, especially the hip belt and the two main shoulder straps. These are also a great location for pockets because they are in front of you and are within easy reach. Finally, we also looked at the straps that crisscross the back of the product and allow you to compress the product and the contents inside. This helps tremendously in securing the load and making sure the gear inside does not bounce around.
Durability
When shopping for athletic gear you are going to be using outside, you need to ensure you're investing in high quality products that will offer value. Depending on their size and style, running backpacks can be required to store a smaller or larger amount of gear, which can significantly increase the weight you will be carrying.
In order to prevent the backpack from giving into the weight of your items, you will need to ensure you're choosing a model made with durable, high quality materials. On the whole, manufacturers will most often opt for synthetics such as polyester or nylon, but canvas can be a popular choice as well. Before making a purchase, check the capacity of the bag, and try to opt for models with reinforcements in key places such as the bottom and shoulder straps.
Another key aspect for these products is the stitching quality. One of the most common issues with bags used to carry a lot of weight is that the stitching begins to give with wear. When compiling our list, we tried to include models by reliable manufacturers which paid close attention to the quality of the stitch, and some even feature necessary reinforcements.
The third aspect you will want to pay attention to are buckles and zippers. The strongest materials and best stitching wouldn't be worth a thing if the zipper is made from cheap materials and gives in after a couple of months. You will want your choice to be sturdy, easy to use, and to come with a guarantee. Sure, a zipper can be replaced, but any adjustments such as that would lessen the overall structural integrity of your backpack.
Lastly, if you're rough on your gear, you may want to choose a model with abrasion resistant reinforcements on the bottom and other high wear areas. Some of the products listed above have abrasion resistant bottoms and reinforcements in key areas, ensuring that there is no damage done, ensuring you get more use out of your investment.
Capacity
This criterion presented a little bit of a dilemma due to the fact that with this factor we were basically asking these products to do two things that were in opposition to each other. That is, we wanted them to have a lot of capacity and to be able to carry a lot of gear, but yet we wanted them to be small and lightweight and do not interfere with your ability to run.
When choosing products, we had to settle for a compromise between capacity and convenience, and we had to weigh the importance of being able to take a lot of gear with the comfort of being able to travel light. The products we chose generally range in capacity from around 10 liters up to 20 liters.
When you are choosing a product, you will need to think about what kind of activity you will be using it for, and if you want it to be versatile enough to be used for both athletic activities and for long distance traveling. You will need to choose a product based on how much you absolutely have to carry with you. It is probably best to go with the smallest option you can since it will be more minimal and will be less likely to tire you out.
One of the factors related to capacity was compartment design and the number of pockets. We looked for products that had at least one big zippered compartment, but also often up to two or three. We looked to see if there were some system of organization inside the compartments. Things like mesh pockets or organizers inside were a plus because otherwise, these main compartments tend to become a disorganized mess with everything just thrown in there.
We also looked for plenty of pockets on the outside of the product. Pockets of all different shapes and sizes were preferred since they each are best for different things. We made sure the products had a special place to store common items like keys, phone, water bottles or water bladder, and snacks.
Comfort
Many of us know what it is like to wear an ill-fitting pack that pinches and pulls and makes our back and shoulders feel sore and achy. No one wants that especially for when you are trying to get some exercise. To prevent this, we made sure the product had a good design and fit with adjustable straps so you can distribute the weight and feel comfortable for hours.
We looked for padding on the hip belts and on the shoulder straps. We closely examined user reviews to make sure the product did not have a tendency to dig into your skin or pinch anywhere. We also looked at fabric type and quality, as well as the design of the seams. This was to make sure the product was designed to prevent chafing, which can be a common problem when you are exercising because you might be wearing minimal clothing, like a tank top which allows the product to come in contact with your bare skin.
Finally, another essential quality of comfort was ventilation. Nearly all the products we chose have a mesh back panel and mesh shoulder straps. Often the back panel has several layers to help wick away sweat and provide breathability. Without this, you would have trouble with sweat getting trapped on your back and running down your skin. Making sure that the products were designed to keep you cool was one of the big factors relating to the comfort of these products.
Water Resistance
The unfortunate fact of the matter is that most of these products are not fully waterproof. If you plan to be out in the rain, it would be best if you placed any valuables or sensitive items in waterproof plastic sealable bags before storing them in the pack. Another option is to get a raincoat or a poncho that fits over the top of the pack.
The good news is that most of these products are at least water resistant, so a little light sprinkle of rain or some sweating is not going to soak through and ruin the items inside. Some products, even though they are not fully waterproof, do have a waterproof compartment inside for storing wet gear or valuables. Since we could not find products that were completely waterproof, we insisted on finding ones that were at least water resistant.
If you know you will be using your running backpack in weather that is less than ideal, it is highly recommended that you choose a model with a polyester or nylon upper, as these will repel water more efficiently than canvas would. You can also look into waxed canvas, which is popular among hikers and outdoor enthusiasts, but keep in mind that it will be heavier than synthetic gear.
10 Best Backpacks for Runners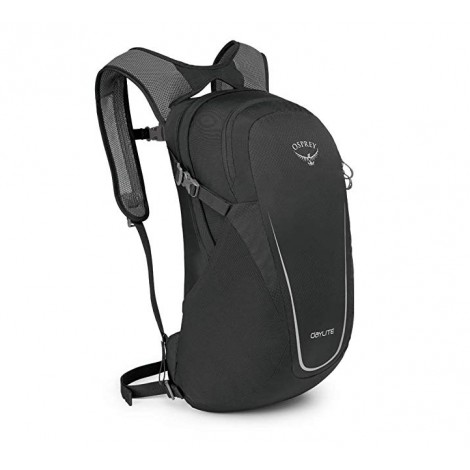 The Osprey running backpack can be worn by itself as a small, lightweight product perfect for use when running, or, you can just as easily attach it to the back of a larger pack for more storage when going on long hiking trips. One thing to keep in mind, though, is that the Osprey is not necessarily compatible with all large packs, but is certainly compatible with other products from the same brand.
The Osprey backpack for runners is made out of mesh and nylon which are both great for durability, breathability, and the nylon is great for its water resistance properties. The straps are made out of mesh which will ensure that you stay cool. The panel on the back is also made out of mesh. This is an excellent feature since users often mention that these kinds of products tend to give them a sweaty back. The Osprey prevents this from happening. The Osprey has some great features like a key clip so you do not lose your keys as well as an interior sleeve which can hold a hydration bladder, or it can be used to hold a tablet or a laptop. The Osprey's design makes it good for use in both exercises and in travel.
One thing that users did not like was that the side water bottle pockets are not deep enough and the water bottle kept falling out, especially when the pack was being bounced around on a trail. One idea might be to put the water bottles in other pockets and use the water bottle pockets for something else, something smaller like snacks or mini water bottles. Inside the front storage compartment is a mesh organizer which will help prevent having to stuff all your gear in a disorganized fashion.
There is a chest strap with a buckle and it is adjustable up and down. The Osprey can carry up to 13 liters of gear, and it is made out of a special kind of ripstop fabric for added durability. The total interior capacity amounts to 793 cubic inches. Although it is not completely waterproof, the Osprey is at least water resistant.

2

. Gregory Mountain Miwok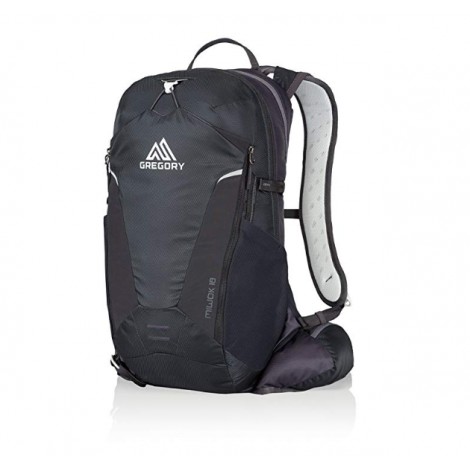 The shoulder straps and the back panel of the Gregory Mountain product have both padding and mesh so that they are both comfortable and ventilated. The straps on this product have a number of elastic loops on them which are handy for storing your sunglasses or other accessories. The loops are also useful for threading through a rubber hydration tube, and the straps also have a clip specifically designed for this purpose.
The Gregory Mountain backpack has something called BioSync Suspension which is designed to evenly distribute the weight of the product and also to help the product stay flexible which is helpful for using it in activities where you will be moving around a lot. This suspension system helps absorb shock, and it is designed to work well for going up and down steep inclines. The Gregory Mountain does have a ton of storage. It can hold 1,098 cubic inches or 18 liters. But users have said that the problem is that there are not enough pockets or organizers which means all your gear gets stuffed in one big lump instead of being organized and accessible. Something you could try is to purchase a separate organizer to put inside the product.
One cool feature the Gregory Mountain does have is an expandable pocket in the front. This pocket is designed to be used for a helmet or any other similar sized gear. It also has pockets on the hip belt so that you can keep things there that you need to have quick access to. The Gregory Mountain has a place to attach a safety light, and it also has a bungee loop to attach a pole for use in trekking. One of the pockets has a soft liner so that it will not scratch electronics making it ideal for storing your phone. The bottom panel has two layers to ensure that it will not tear and will hold in your gear securely.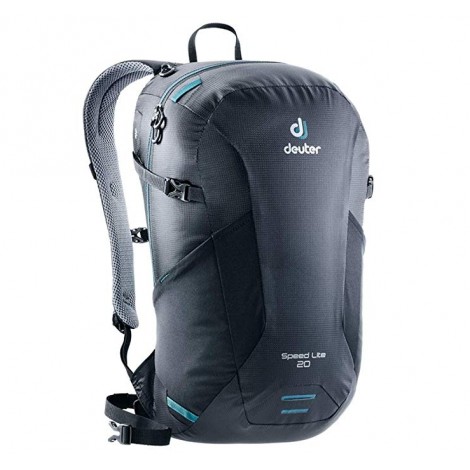 The Deuter Speed Lite 20 was developed for fast paced athletic activity, which makes it one of the best running backpacks you can purchase, It's also great for mountaineering and hiking, and may even be a good choice for travel, thanks to its capacity. Since the Deuter has a wet gear compartment, it is an especially good choice if you plan on participating in or training for a triathlon. The running backpack comes with a lifetime warranty, although it is limited.
The Deuter backpack for runners has a frame that is flexible, and it also has a chest strap, two hip wings, and a waist belt, all of which help to distribute the weight evenly and to provide a comfortable fit. Each of the straps is fully adjustable which is great news if you have trouble finding the right fitting product if you are extra tall or short. The Deuter has special pockets for snacks on the side and they are easy to reach so you can stay nourished without having to stop. This product actually has an SOS label built in which gives instructions for saving lives in case of a medical emergency or an injury.
The Deuter Speed Lite has a capacity of 20 liters, and it features several loops for all kinds of accessories. It has special zipper pulls which are designed to prevent snagging or tearing your gloves. Relating to gloves, the Deuter also has a special pocket for storing your gloves. On the plus side, the Deuter has a lot of storage capacity. But on the downside, it might be a little too long to comfortably fit shorter people, especially when used for athletic activities where it might get in the way. Some users have said this is an issue, while others did not think it was bothersome, especially since the product does have height adjustment options which can help.
Some great features of the Deuter include compression straps which help keep gear from shifting around while you are on the go. There are also light reflectors that are built in for added safety. This product uses a fabric that is made out of nylon that is high density and has a very tight weave. This makes it resistant to abrasions and also helps prevent tearing.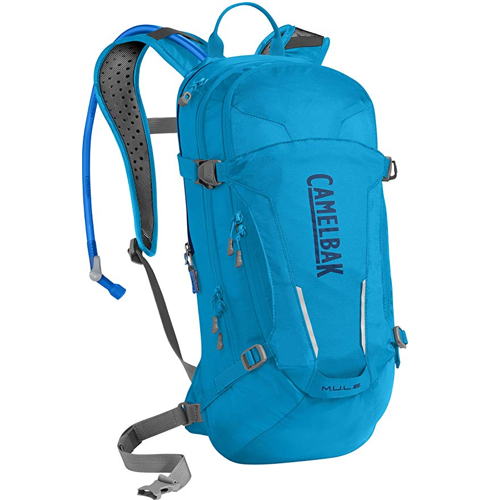 This model by CamelBak was designed for mountain biking expeditions as an easy way for athletes to stay hydrated and to have a way to carry their equipment. If, however, you're after a model you can carry around when hiking or training for marathons, this is definitely a great choice. It comes in several color options, and has reflective accents for low light visibility, which are crucial for keeping you safe. Another notable thing is that it's backed by a lifetime guarantee, so it's a purchase that's definitely worth making.
This hydro pack has a three liter Crux reservoir. It's easy to refill, delivers 20% more water per sip, and works with an on/off lever system that prevents leaks. The MagneticTubeTrap makes sure your tube snaps into place when you're done using it, minimizing the need to take your eyes off the trail. The back of this model is made more breathable through the addition of air channels, and a secure fit is ensured through a removable stability belt.
As for storage, the CamelBak M.U.L.E. allows runners and athletes to store all the necessities. In addition to a water reservoir, it will also allow you to pack enough snacks and gear for a full day. Furthermore, the outside features convenient hooks you can use for a helmet or similar protective gear, while the inner features plenty of pockets for your keys and tech. It also has a stretch overflow compartment for rain protection or an upper layer. The price of this model is around average for this type of equipment, and is a great investment for anyone looking for a multi-purpose running backpack.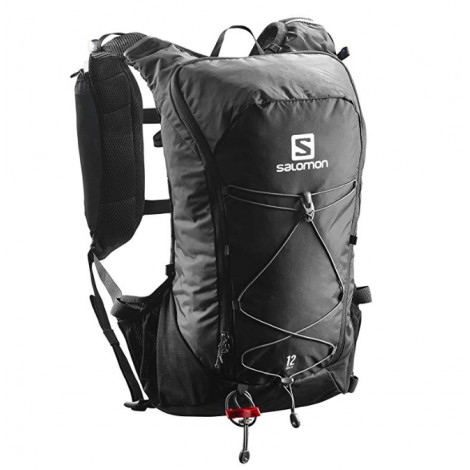 The Salomon Agile was designed by a leading manufacturer for trail running equipment, so you can rest assured you'll be getting all the required functionalities for maximized performance. This running backpack has a unique feature on the main harness straps. Each strap features a pocket just the right size for a water bottle. This way you can carry your hydration in an easy to reach place perfect for grabbing when on the go.
The Salomon Agile backpack comes with soft flasks for carrying water with you. It features soft fabric that is designed to not cause any chafing on your skin, and the product adapts to the shape of your body. It is adjustable and allows you to prevent irritation or pressure points on your sternum. The Salomon Agile has two loops which can be used to attach a helmet.
Users have said that the zipper for the hydration bladder compartment is not durable and has the tendency to stop working or to come apart. Unfortunately, the Salomon Agile is also not waterproof. It must be hand washed, but most likely you will be able to simply spot clean it most of the time. This product has a volume of 12.4 liters, so it is smaller than some models, but still good for carrying a light amount of gear. Unlike a lot of running backpacks, the Salomon Agile actually has quite a few color options to choose from including Barbados cherry/graphite, Citronelle, fiery red, night sky/sulfur spring, urban chic (a light gray), black, or surf the web (an ocean blue).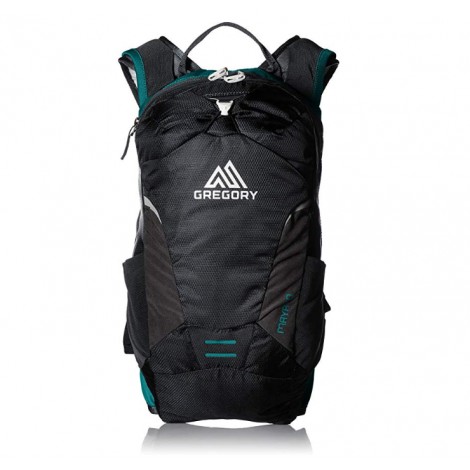 The Gregory Mountain Maya is one of the rare running backpacks designed especially for women. It's ergonomic design ensures a high level of adjustable comfort, and it boasts numerous functional features that are going to be perfect for day hikes or marathon training sessions. It comes in a couple of great color options which differ from the traditional ones usually on offer with this type of products.
The front pocket stretches for a lot of extra room, and it is fastened with a bungee so that you will not have trouble getting it closed even if you stuff a whole bunch of gear in there. The hip belt is padded and features a pocket on each side for easy reach. Since the Maya backpack is designed specifically to fit women, it does not have quite as much storage. It has a capacity of only 10 liters. You might be surprised at how small the product actually is. The pockets are highly expandable, though, so it will carry more than it looks like it will. Some users have said that they had trouble fitting much gear in this product, but others said that if they used the space efficiently, they could easily pack several layers of clothing for winter running.
One thing users loved about the Maya is that it has a ton of adjustable design features. There are straps and buckles and bungees all over it that allow you to completely customize the fit. The Maya has a 3D back panel that is made out of breathable foam. Inside of this product, there is a clip for hanging a hydration bladder. Having a clip for this has its advantages because it means you can remove the hydration bladder more quickly that way. The Maya has reflective webbing for running in low light conditions.

7

. Under Armour Hustle 3.0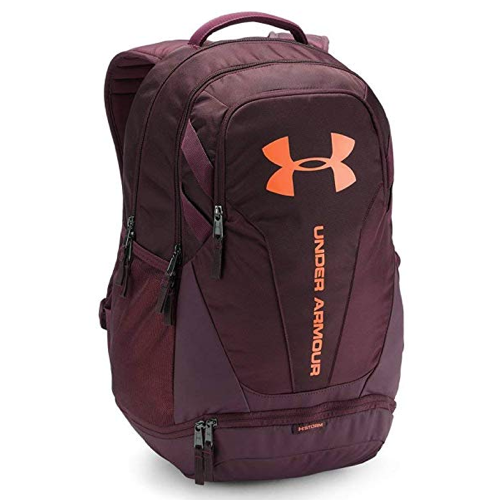 This model by Under Armour makes for the perfect everyday companion. Whether you want to use this backpack while running, or are looking for something you can carry anywhere you go, the Hustle 3.0 definitely is a great choice. It sports the company's recognizable logo on the front, and comes in three color options: black, white and camo.
The most important feature of this product by Under Armor is its water resistance that's achieved through clever use of high quality materials. The Storm technology incorporated in the backpack prevents your gear and snacks from getting wet in less than ideal weather. You'll also find that the front features a water-repellent valuables pocket where you can store your phone, wallet, and anything else you don't want to be damaged by moisture.
As for storage, this model has a soft protective laptop sleeve that'll hold a 15" laptop, so it can easily double as a school or work backpack as well. The bottom features a gusseted laundry or shoe storage compartment, and the material used on the bottom of the Hustle 3.0 is abrasion resistant, so you can place it on any surface without having to worry about damage. The straps are made with comfort in mind, and there are two side water bottle compartments to keep you hydrated on your run. The capacity of this model is 30 liters, which is plenty of room, and the price is around average for a simple backpack, making it a good choice for those who need a basic model.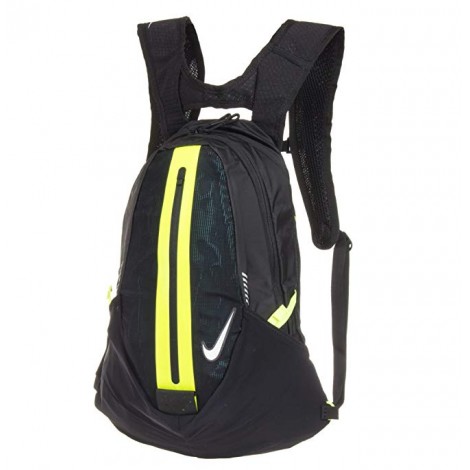 You sometimes have to choose between the convenience of a small running backpack and the convenience of a large amount of storage space. The Nike is pretty small at 41 centimeters tall by 31.5 centimeters wide. It does not have a lot of storage space, but you might find that its small size is a worthwhile trade-off.
One of the cool features of this product from Nike is the zipper on the back of the bag. It runs the length of the product and gives you some added storage space. Nike backpack has three main compartments, all of which can be accessed through secure zippers.
Another great thing about this particular model is that it is water resistant. It has ventilated shoulder straps to keep you cool, and some of the detailing are reflective. One detractor is that the product might not have quite as good of suspension and weight distribution as some other models on this list.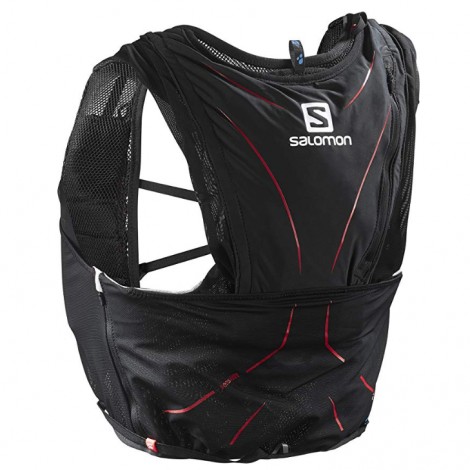 The Salomon Advanced Skin is one of the lightest weight running backpacks you can find. While it might not have as much storage as a traditionally designed model, its unique design offers other advantages like great breathability. You might not even feel like you are wearing anything extra. The whole product is made out of mesh which allows airflow to travel through it unhindered.
While the design of the Salomon Advanced Skin means that it is not waterproof, it is quick drying so sweat will evaporate rather than become trapped. If you need to protect some of your belongings from rain, you will want to put them in a plastic sealable bag before storing them in this product.
The Advanced Skin features several different pockets of varying shapes, sizes, and closures, each of them good for storing different things. It has a pocket for a water bottle, but it also has a pouch on the back for a hydration bladder. This product has been designed to minimize skin irritation and charing. The fabric is non-irritating, and all potential chafing areas have been given extra smoothing to avoid any problems. Users have spoken highly about how comfortable this model is and have said that comfort is one of its strongest aspects.
The great thing about this product's design is that all of your gear is easily reachable. You will never have to stop, take it off, and unzip the pouches like you would with other models. Users have said that this particular model is ideal for long-distance running. Some have said that the durability is an issue with thread sometimes unraveling, and others have said that the sizing runs a little large.

10

. New Balance Endurance II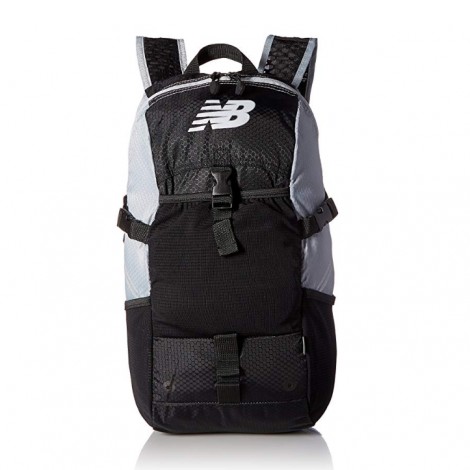 Many backpacks for runners only have a little bit of reflective tape here and there on the back of the product. But for extra safety, the New Balance Endurance has reflective features all the way around the product, so it does not matter what angle you are to the traffic, they will still be able to see you.
The Endurance has a removable foam pad that aids in keeping its structure. If you want less structure and a more slouchy style, you can take the pad out. The hydration bladder sleeve has a little bit different design on the Endurance than on other models. With the Endurance, there are two ports into the bladder sleeve, which means you can more easily choose which side to have the rubber tube on.
Inside this model is a valuables pocket that is lined with tricot. There are several eyelets on this product which make it more breathable. They act as ventilation ports. One thing missing on the Endurance is a place for a laptop. Although not completely necessary, it might have been nice if it was included because it makes the product more versatile.

Subscribe to our Newsletter