Best Helmets Reviewed
In a Hurry? Editors choice: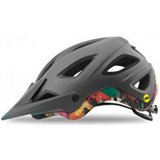 Test Winner: Giro Montaro

It is imperative to choose a helmet that compliments the way you ride. The ideal helmet should also be light in weight, appealing, well ventilated, and above all, fit your budget. All the helmets reviewed here meet basic US safety standards.

With your safety assured, most manufacturers focus on features as their selling points. Which means you may pay more for better features and better protection. This guide consists of the best helmets in the market: you are sure to find one that will satisfy your needs.
Standout Picks
Criteria Used for Evaluation
Weight
You need as few constraints as possible for optimal movement
Some excursions take a long time. Such journeys take you to a remote place and peddling a bicycle takes its toll on your body. In addition, physical exertion, muscle strain, gravity, wind resistance, and inertia work against your body.
When there is a large bucket strapped to your head, crick necks, general soreness, and fatigue are guarantee. It is common for lighter helmets to cost more, but with research, you can find something more affordable. Lighter models are more comfortable, and they increase your power to weight ratio.
In the end, a weight difference of 60g might not look like a difference to the untrained eye, but it goes a long way in improving overall performance. For the top cyclist, even the slightest reduction in weight represents an edge over the competition.
Fit
It is imperative knowing the right size before making a purchase
A properly fitting helmet is vital. It increases your comfort and reduces the time you take to gear up before a ride. A loose fitting model is prone to falling off, and a small one will stick out above your head, offering very little protection. Most manufacturers build helmets in small, medium, large, and extended sizes in some.
To establish the right sizes, wrap a tape measure around the largest part of your head (1 inch above your eyebrow). You can also use a piece of string or a ribbon around the same area and use a yardstick or flat ruler to measure the thread.
Check on the manufacturer's page for a helmet matching your measurement. Most distributors, retailers, and manufacturers list these sizes on their websites. Sizing is classified within a specific range, e.g., medium size ranges 21.75"–23.25" (55cm–59cm) and large ranges between 23.25"–24.75" (59cm–63cm).
If you are in between size classifications, you can go for a smaller size or wear a cycling cap or a skullcap to help you fit into a larger model. Some adults with little heads opt for children's helmets that fit them comfortably.
Use
Helmets are classified according to their usability
Here is how helmets differ:
Recreational is a budget-friendly headgear. They are appropriate for commuters, recreational activities, mountain and road biking. Inline skaters and skateboarders also like using them. They come with visors.
Road bike helmets are a must-have for road biking pros and enthusiasts. They feature an aerodynamic design, are lightweight, and have proper ventilation. They forgo many features like visor and attachment ports to keep them light or to maximize a cyclist's field of vision.
Mountain bikes ventilate well even at slow speeds. They offer superior rear protection, a secure fit for tackling rough terrain and a large visor to shield you from the sun. They also provide full-face protection. All these features are vital in downhill and park riding.
Multi-Sports feature a 2-in-1 design for a variety of activities like cycling, skateboarding or skiing. They usually have a hard shell in the skate-style that makes them heavier than typical cyclist helmets. The drawback with the headgear is they may lack cycling safety certification and cycling specific crush protection.
BMX riders need full-face protection that includes the chin and mouth when they are competing.
Kids' bikes have to meet the same CPSC safety standards as adult helmets. The fitting is essential, and your kid is free to select a design they like. Bright colors are a great option since they are easier to spot even in crowded areas.
Toddlers need to be very light and conform to the child's head shape since their body is fragile and still in development. The helmet should sit level on their head and be securable with a strap
Materials
Different components bring about varying attributes
In-mold construction is the standard in helmet design. This process is whereby the shell is fused to the inner liner without the use of bonding agents or glues. The result is light but sturdy design. For professional cyclists, the difference in weight matters though occasional cyclist could care less.
Shell: widely used plastic polymer compounds cover and hold the helmet together in case of a crash. It also provides puncture resistance and lets the helmet slide on impact. This design protects your head and neck.
Liner: most liners consist of expanded polystyrene foam. This foam is engineered to diminish the force on impact. Therefore, it is vital to test out your helmet for a comfortable fit.
Straps: nylon is the most preferred material in the construction of straps. It is widely available, sturdy, and doesn't cause skin irritation.
Buckles: some helmets feature buckles for adjusting or fastening the straps. The best kind is a magnetic buckle since they snap on fast.
Features
Various characteristics give a product an advantage over another
Ventilation: strategically placed vents increase the flow of wind over your head. These openings keep you cooler and make your ride more comfortable. They also make the helmet lighter.
Visors: they provide shielding from the sun, some models come with adjustable visors, and others are detachable. They are common in mountain bikes. However, visors add to the overall weight of the helmet and cause some wind resistance.
Shape: the shape of a particular model is not an aspect that bothers many people. Every brand has its idea of how heads are shaped. American models are rounder, while Italian ones are narrower. That's why you should always try a few products before making a purchase.
Chin bars: some mountain bike helmets have a chin bar that encircles the headgear to provide face protection on downhill runs and park riding. Some enduro racers use it for an extra layer of protection.
Adjustment mechanism: helmets always feature a mechanism that tightens or loosens the helmet for a perfect fit. This system usually has a knob and straps that you manipulate for effect.
Inner form layer: this is made of foam-like polystyrene to cushion your head from shock, adding an extra layer of protection.
Overall design: as is evident in this article, helmets come in a wide variety of shape, sizes, colors, and designs. The market has something to offer for everyone's sense of style, and occasionally, fresher and more exciting ones come out.
Hair port: If you have long hair, a helmet featuring a hair port may be a good buy. It is designed at the rear of the headgear to accommodate buns and ponytails without affecting the fitting.
Pressure points: when trying out a model, look out for pressure points and uneven pressure throughout the helmet. They are a sign that the fitting is not right.
Sunglasses: you should ensure that the desired model is compatible with your eyewear. You can take your sunglasses with you to ensure that the tightening mechanism doesn't touch the frames of your glasses.
Comfort: The main factors to consider when it comes to a helmet's satisfaction are the retention and padding system. CoolMax is common in many helmets, and some have proprietary padding. Some find CoolMax scratchy and irritating others find it smooth.
Retention systems cradle the head to secure the helmet firmly to your head. How and where the system cradles your head, varies across helmet models. These alterations mean that some will feel more secure than others will. Therefore trying on a helmet, adjusting and tightening it before you make a purchase, is the best way to know if it is stable enough.
When testing out a retention system, move your head around with a bit of force to see if it will stick. If there is a bit of play or it moves around, then that particular model isn't the right fit for your head shape. You have to be discriminative when it comes to fit and comfort because a helmet should serve you for a long time.
Shock absorption
Some manufacturers claim that their models prevent concussions.
The design and construction of a helmet feature technologies that offer protection from lateral and rotational forces in case of a crush.
MIPS (Multi-directional Impact Protection System) features a frictional coefficient layer that makes the helmet's foam liner rotate on impact. The play is subtle (within a few millimeters), but it reduces the intensity of the rotational force that may hit your brain, significantly decreasing the chances of debilitating damage.
WaveCel is the newest technology in shock absorption. It comprises a thick layer of polystyrene, which crumbles and loosens on impact, effectively reducing the intensity of lateral force. Smith features a similar technology called Koroyd, and a variety of manufacturers use slip planes, which are comparable to MIPS.
Top Mountain Bike, Cycling and Motorcycle Helmets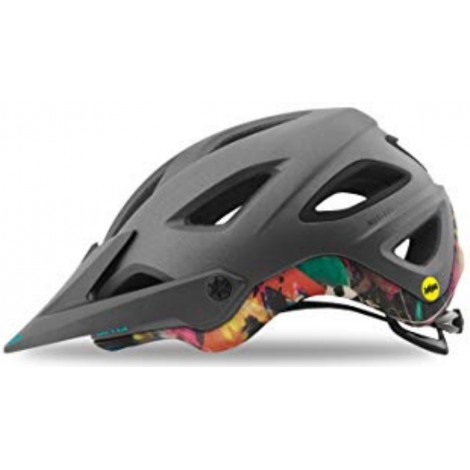 The Giro Montaro MIPS model has been one of the most popular trail and mountain bike helmets despite being around for only a few years. It features durable in-mold construction and a MIPS liner. They give the wearer excellent head protection and decent overall coverage. It is also light in weight: therefore, it doesn't weigh you down when you hit the trail wearing it.
The Giro's shell consists of a well-molded poly-carbonate shell. In turn, the shell is encased in an EPS body that absorbs shock and impact. The innermost layer has a MIPS (Multi-Directional Impact Protection System) which is added to the form lining. It rotates slightly on impact, to absorb the rotational energy generated by crashes that cause concussions and other head injuries.
The Giro is designed to keep you on the move with a host of inbuilt features for attaching other riding gear. It has some handy breakaway design camera mounts that detach on impact. They protect both your head and camera in the event of a crash. It also has the proprietary Giro Plus visor adjustment system or P.O.V that accommodates the use of full goggles.
The mountain bike helmet has an internal challenging airflow system with 16 vents. It enhances your comfort when taking long rides on hot days. It also has the Roc Loc fit system incorporated into it to provide a comfortable, secure fit so that the helmet stays in place. For your hygiene, this model's lining has anti-microbial and hydrophobic qualities to prevent sweat and bacterial buildup.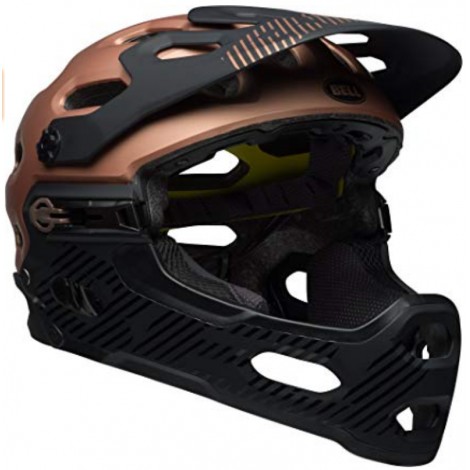 When it comes to Downhill Mountain biking a lightweight half shell and full-face protection are essential. The bell M3 model delivers this protection as well as other versatile features to ensure that it will make the slight compromise of forgoing a full-face alternate worth it. It makes a great option if you need a full-face model but cannot meet the cost.
The chin bar can be detached from the rest of the bike helmet during long climbs and locked back in place for technical terrain. This process takes seconds without the use of tools. It also features a float fit system that makes it lighter, more comfortable, and adjustable thanks to a rubber over-mound dial. They have also adopted No-twist Tri-glides for added ease in adjusting the bike helmet.
This model has the MIPS system for additional shock protection in case of impact. A breakaway camera mount has also been integrated into this model for seamless camera attachment, so there's no need for messy tape or zip ties. The visor has a Google guide adjustment system that accommodates glasses and goggles even when the visor is not attached.
For ventilation, the Super 3R comes with 23 bike helmet vents, six chin bar vents, and four blow ports. This model is available in a variety of sizes and colors that meet the CPSC bicycle specification.

3

. Smith Optics Forefront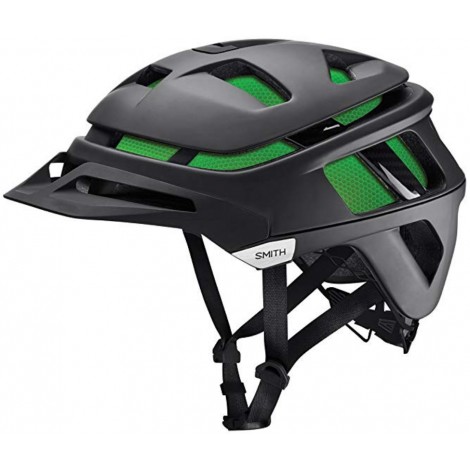 If you are in the market for a mountain bike helmet with personality and a spectacular design, look no further. This forefront helmet features a breathable Koroyd tube structure in its construction. This construction system consists of tiny extruded co-polymer tubes that absorb 30% more shock when compared to foam. These microstructures are also hollow, letting air pass through results in a lighter, more breathable, and highly protective cycling helmet.
This model's cradle is easy to adjust to fit right thanks to a wheel on the lower edge. Even without the chin guard, this product feels secure thanks to a MIPS liner. The visor on this model can be adjusted to block the sun. You can even shift it out of the way to pop your goggles under it.
This product also has the AirEvac system that keeps goggles from fogging by moving hot air away from them.
It also features a threaded brass insert at the top you can attach a mounting kit for motion lights and cameras. This mount is designed to break away on impact, reducing the risk of injury.
The only drawbacks are that this product doesn't meet with full DH safety standards.Many people also didn't care much for its mushroom-like design. Aside from that, this is a decently priced and valuable cycling helmet.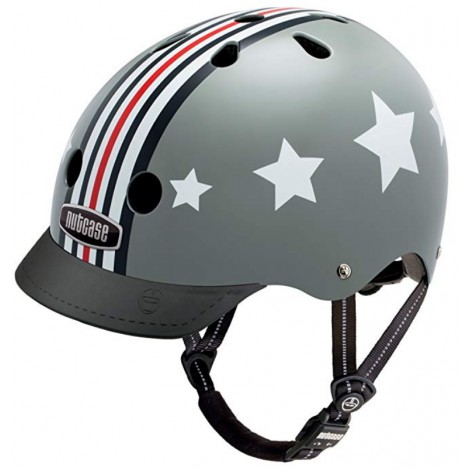 The Nutcase is a convenient and fashionable street bike helmet. It is available in a stunning array of colors. The model has catch graphics inscribed, breaking away from the tradition of flat finishes- standard in most biking products. This design offers you a vibrant way to extend your personality while keeping your head safe from injury.
The construction features a durable ABS shell made from an injected mold and an expanded Polystyrene foam for additional protection. There's also a detachable visor to shield you from the sun and the rain. This street bike helmet also has 11 vents and a central air channel for ventilation.
The nutcase's chinstrap has a pad to prevent neck pitching for extra comfort. The chinstrap features a Fidlock magnetic buckle that is strong and secure. Opening and closing the clasp even with gloved hands will be an effortless one-hand operation. It also has a detachable and reflective spin for the perfect fit.
This street bike helmet is CPSC certified thus safe for cycling, scooting, and skating. It also complies with U.S. ASTM F1492 safety standards meaning it can also be used for trick roller skating and skateboarding.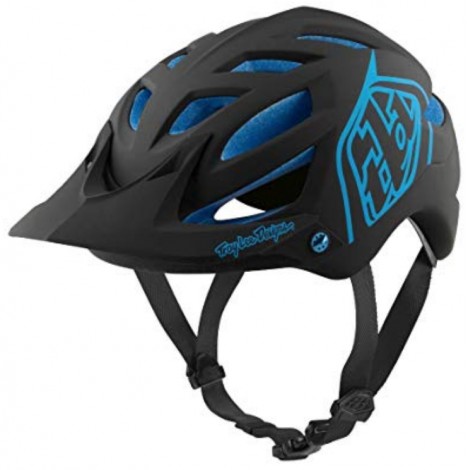 The A1 is a super, lightweight, fully encapsulated all-mountain model from Troy Lee design. The shell of this mountain bike helmet is made of reinforced polycarbonate and features a molded EPS liner that extends down the side and back. This arrangement gives maximum coverage and crash protection for all riding conditions.
This mountain bike helmet has eight pressurized air inlet vent for letting in the fresh ambient air and eight outlet vents for releasing hot air. They will help keep your head cool and comfortable even on hot days. The design also features three adjustment levels for a proper head fit. You can also customize it to fit your riding style and an array of eyewear.
The plush inner liner is made of absorbent anti-microbial material that is removable and washable. This product offers excellent protection, an ultra-fit, and style. It comes highly recommended for cross country riding, dirt trial jumping, and single-track racing.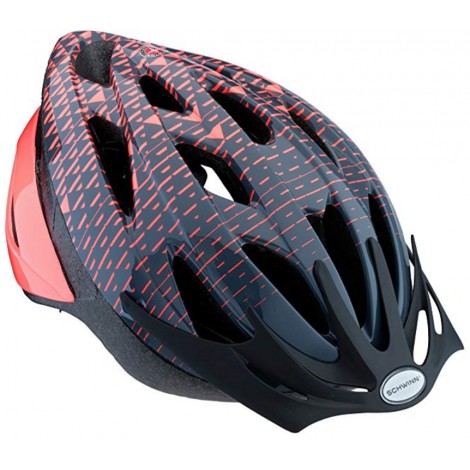 Schwinn is a well-known brand when it comes to affordable biking products. This particular cycling helmet comes at a very inexpensive price and has a host of features. It's light and durable since it is made of a three-piece fully padded micro-shell. It has a proper fit that can be adjusted with a dial fit strip and a webbing with 3600 degrees of adjustability.
The ventilation is also well thought out; there are 21 well-placed vents to keep your head cool. The cycle helmet comes with a built-in visor to shield you from sun rays. The cap has adjustable straps for an exceptional fit. The visor is also detachable.
The padding wicks at moisture. As such, it will prevent sweat build up, which can be a drag during hot summers. It comes in an array of sizes for ages 14 and older, but there is also a kid's model. The model's adjustable webbing makes for a comfortable fit for both men and women.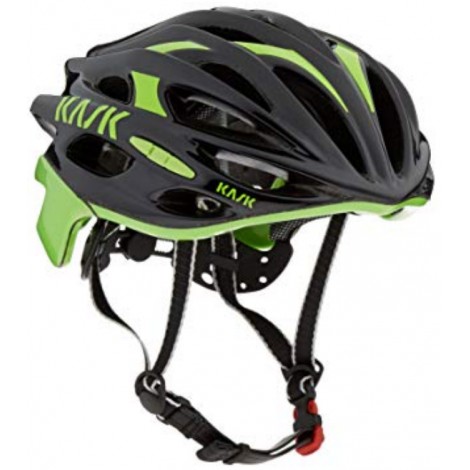 The mojito comes at a low price but has everything you would get from a pro-level cycling helmet. It has high adjustability, low weight, excellent ventilation, and it is very comfortable. There are 26 air vents around the head covering. The vents at the front let air in, and the rear ones expel it. This characteristic means that you can stay cool during hot days, but it presents a problem on, unusually cold days.
This model has a solid in-mold construction featuring an expanded polystyrene foam that absorbs shock on impact. It also has a non-slip gel in the padding for additional safety and shock resistance. Kask has also incorporated a proprietary Up-N-Down ratchet on the back for optimal fitting and comfort.
Its thin padding and rear adjustment dial make for a comfortable fit no matter your head shape. The strap is secure thanks to the nylon construction, and they have integrated a faux leather strap beneath the chin to counter chaffing. It is available in 24 gorgeous colors and decorative decal stickers meaning you can match your cycling helmet's color to your bike and other cycling gear.
Your safety is assured since this product is CPSC 1203, AS/NZS 2063: 2008, and EN 1078: 1997 approved. It is quite a steal since it comes at half the price of pro options.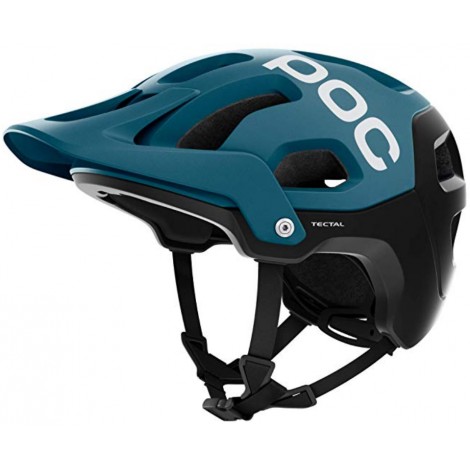 The Poc Tectal brings new and innovative tech to this market segment. Unlike most products on this list, it uses a proprietary Spin tech instead of MIPS. The pads are located on the inside of the cycling helmet. This design protects a rider from injury in the event of an angled impact. It is also very stylish with a variety of colors and decorations to choose from.
This product is ideally suited for high-intensity trail riding and enduro racing. Its unibody shell features reinforced EPS liner in its construction, giving it more integrity and assuring you of comfort and protection even with this product's light weight. Precision straps molded into the liner offer a simple way to adjust the cycling helmet for a comfortable fit.
For ventilation, the Tectal has 16 air vents. Nine large vents are located in the front to maximize the flow of fresh air to the forehead; three vents to the top and five at the rear act as exhaust vents for hot air. The inside also has deep air channels to the back and rear to maximize ventilation.
The Poc It is also fitted with a Recco reflector, which rescuers can use as a beacon to locate you in the event you get lost in a remote location.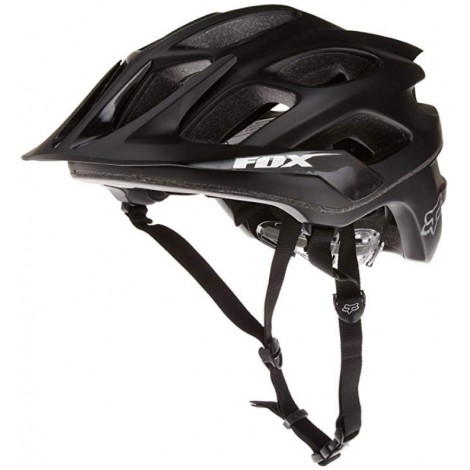 The Fox Flux is an affordable option and is suitable for a variety of riding styles. It is the most cumbersome product in this list- when looking at the weight to size ratio. However, its many glowing qualities and features offset the weight.
The manufacturer has also incorporated a ratchet retention mechanism to adjust the mountain bike helmet for a perfect fit. The outer shell is covered in plastic to reduce cosmetic damage. This material means that the product keeps looking new for longer.
It also has a visor to shield riders from the sun. This model comes with a rear spoiler made of the same material as the visor, which reduces resistance and drag as you ride. Additionally, it also increases airflow for ventilation.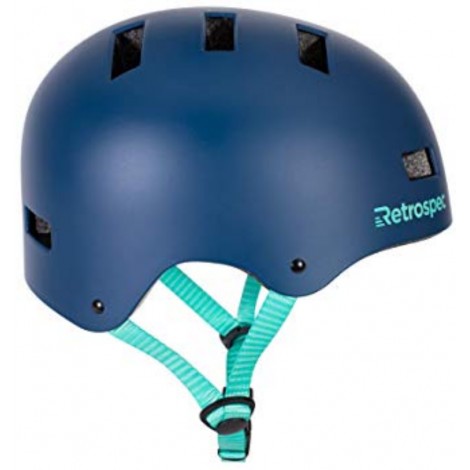 This multi-sport helmet is a popular choice for many extreme sports enthusiasts. It is a 2-in-1 multi-sport helmet good for either skiing or cycling. The shell features a tough ABS exterior, while the interior consists of an EPS padding for optimal shock absorption.
It meets EN 1077:2007 safety standards for Ski Helmets and CPSC 16 CFR, Part 1203 standards for bicycle helmets. Meaning your safety is guaranteed in whether you're out skating or cycling in this multi-sport helmet. It also has 14 air vents for optimal temperature control.
In this model, a handy goggle clip is Included for holding your eyewear steady whether skiing or cycling. For a custom fit, this model has the ErgoKnob Adjustable Dial, which is a simple one-hand dial you twist to get a snug fit.
The traverse H2 2 is also loaded with removable protective earmuff to keep your ears toasty in the snow. The earmuffs also add an extra layer of protection from biting winds and frost. At just one pound, anyone who is 14 years and above can comfortably wear the Retrospect.

Subscribe to our Newsletter