Best Shoes for Cross Country & Track Meets Reviewed
In a Hurry? Editors choice: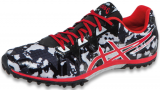 Test Winner: ASICS Freak 2

For those of you who like to move your
run off the road
, away from the traffic and out into the countryside, you will know that the shoes you wear are your most important piece of running equipment. It is very important to invest in a good quality pair of specialized shoes for your running needs. Cross country running will require your choice of shoes to function well over many miles and across lots of different types of terrain. Shoes that are suitable for this specialized type of running need to provide
good traction
to ensure grip on even the most slippery surfaces,
support
, flexibility, durability to withstand heavy use and protection to ensure that the foot is safe on even the most undeveloped terrains.
Standout Picks
Criteria Used for Evaluation
Breathability
As with any type of running shoe, choosing a cross-country runner which allows plenty of airflow is paramount. When running the feet are particularly prone to sweat a lot. This can be a bigger problem for some, particularly sweaty runners, however, all runners will experience sweaty feet. If this sweating is excessive, the moisture present in your shoes can lead to a build-up of bacteria. These bacteria are the major cause of bad foot odor and also conditions, such as athletes foot or even blisters.
Opting for a running shoe which has a thin mesh upper, helps to ensure that the foot is adequately ventilated during your run. This means that the foot will stay drier and therefore will prevent the build-up of bacteria in the shoe. Having a well-ventilated shoe will also keep you more comfortable during your run, by allowing your feet to keep cool.
Airflow is needed due to excessive heat and sweat generated during running. That gives you moisture build-up and can result in bacteria causing foot conditions such as odor or athlete's foot.
Choose a running shoe with a mesh upper. Mesh uppers give breathability to help provide ventilation during your run. Your feet will be drier and the risks of bacteria build-up will be reduced. You'll also have a run that is comfortable.
Weather Resistance
Whilst having a shoe with good ventilation is very important for cross country running, it is also important to choose a shoe which will provide adequate water resistance. Unfortunately, many of the thin mesh materials used for good breathability easily allow water into the shoe.
When cross country running, it is common to encounter very wet trails or bad weather. So having shoes which have a level of water resistance or are fully waterproof helps to prevent the occurrence of wet feet which can lead to an uncomfortable running experience and even to the formation of blisters.
It is common in cross-country running to encounter wet conditions. Your shoes need to have adequate water resistance or be waterproof.
Running shoes for cross-country have breathable mesh material but mesh allows for water and other liquids to enter your shoes.
There are plenty of cross-country shoes that have both breathability and water resistance or are waterproof. Make sure the water protection is listed and what it is before you purchase.
Traction
As cross-country running tracks consist of very unpredictable terrains, that may be uneven, rocky and often very wet, it is very important to choose a shoe which provides you with a strong grip. This helps to prevent slips and falls which can lead to injuries. As well as preventing slips and subsequent injuries, having good traction can also increase your performance by improving your run times.
The vast majority of specialised cross country running shoes have spikes present on the outsole. These are usually made of metal and provide the best grip on grass and dirt surfaces. If you run predominately on harder, flat or rocky surfaces, these would not be very suitable as they would wear down too quickly. Instead, you would be better off opting for a shoe with a rubber waffle outsole. This will provide less traction but would be much more suitable for use on these types of surfaces. Often, companies produce both a spiked and a spikeless version of the same shoe, allowing you to choose which one is most appropriate for you.
Cross-country involves coming in contact with terrains that are unpredictable. Such unpredictably can result in falls, slips, and even injuries if the traction is not correct.
Spikes are very common in such shoes and are on the outsole. They provide a strong grip in terrains that have grass or dirt and are most likely to be constructed of metal. Flatter, harder, smoother, and rockier surfaces need a waffle-designed outsole instead.
You can usually find a spike and spikeless version for the same pair of cross-country shoes.
Flexibility
Having the correct level of flexibility in a running shoe, helps to ensure that the foot is able to move in a natural way. Often the midsoles of a shoe can be quite stiff, which can prevent the natural bending of the foot during running. This may lead to discomfort and possible injury. When choosing a shoe, it is important to check that the flexibility is right for you. In order to do this, you should make sure that the shoe bends where your foot naturally bends, i.e. at the forefoot. When you bend the shoe, it should not really bend in the middle, as your foot does not naturally bend at this point. You should not feel as if your natural movement is being constricted in any way.
Flexibility helps your feet to move in a natural way. That gives you a gait that is painless and reduces possible foot injuries.
Cross-country shoes have the tendency to be less flexible due to their protective padding but the forefoot is usually wider and since you bend your feet at the forefoot, there should be some flexibility to help you.
The movement should feel natural and pain-free with every step you take.
Protection
As cross country trails can be rocky and uneven they can present opportunities for injuries to the sole of the foot. Therefore, it is very important that specialized cross country running shoes have adequate protection in both the outsole and midsole in order to protect the foot. By having enough protection underfoot, the runner should not feel any discomfort both during and after the run. A more heavily padded midsole will ensure comfort across even the rockiest of terrains.
There needs to be protection for the underfoot in the outsole and midsole. Cross-country terrains can be very uneven and therefore, harder on your feet.
The more padded the midsole is, the better the underfoot protection will be. It will also help reduce any discomfort but the downside is a less flexible shoe.
Cross country terrains can be very hard on the shoes that run over them. Rocky, uneven surfaces can create damage to both the upper and the outsole of a running shoe. Given that most running shoes come with a fairly high price tag, it is important to ensure that they last as long as possible and provide you with many hours of running pleasure.
This is the reason why it is usually worthwhile investing a little bit more money in your running shoes, in order to ensure that they are constructed using the highest quality materials.
Cross-country running is much harder on shoes and the terrain of such running can cause wear, tear, and damage.
The durability needs to be very strong and long-lasting and giving you plenty of running miles and hours. These kinds of shoes will have a higher price tag due to their high-quality materials.
Top 10 Shoes for Cross Country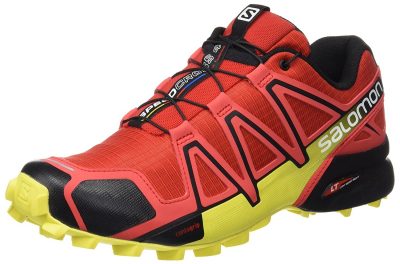 The Salomon Speedcross 4 heads the top of this list with very good reason, it is definitely one of the best choices for cross country running. Its aggressive lug pattern provides excellent traction over unpredictable terrain. Whilst it also offers great comfort to the wearer, with plush cushioning and a supportive midsole. Ensuring both high performance and a comfortable fit.
The patented Sensifit technology provides a snug fit, which adapts to the shape of the foot. This also combines with the QuickLace system to tailor the fit and allow the shoes to slide on and off the foot easily.
The outsole utilizes Contagrip rubber for excellent traction, even if surfaces are slippery or wet. The lug pattern has been optimized on this 4th generation shoe for superior grip across all types of terrain. This is one of the more expensive choices of shoe given in this list. However, it does have a high level of durability, performs exceptionally well and provides fantastic grip across varied terrains. Altogether this shoe is well worth the investment.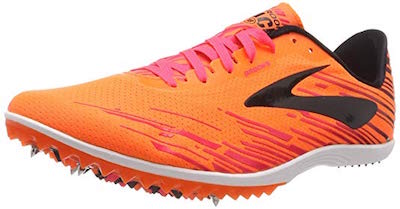 This model is the only cross country running shoe by Brooks, and it comes in a Spike or Spikeless version, so you can choose according to your needs and preferences. Extremely lightweight, this neutral model is great for those with a normal or high arch, and even despite the limited color options, it looks excellent. It's one of the fastest feeling shoes of this kind, so it will be appreciated both by high school runners, as well as professionals.
The bottom of the Mach 18 uses a Pebax RNW spike plate, combining it with an aggressive lug pattern for the best possible traction you can wish for (especially on harder surfaces). In terms of shock absorption, you'll benefit from an EVA foam midsole that thins towards the toes for a more responsive ride.
The biggest update to this version is the upper which is now made with a seamless construction for the ultimate fit. The mesh used is highly breathable and stretches in key areas (allowing all foot shapes to feel comfy in the shoe), while printed overlays ensure stability and lock in that work even with fast direction changes. The heel even features a bit of padding for a shoe you can easily wear barefoot without sacrificing comfort. In terms of price, this model isn't exactly cheap, but it ranks around average, so it's a good investment for most runners looking for something a bit more professional.

3

. Saucony Kilkenny XC7 Spike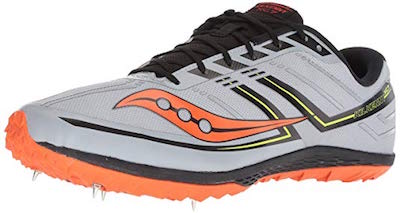 This entry level spike is perfect for high school runners who want a good amount of cushioning combined with a durable outsole and a comfortable upper. With a price point that's budget-friendly, especially if you manage to get it on sale, and a few stylish color options that will appeal to a lot of people, this model is definitely a good choice if you're after great quality and a good fit.
The upper of the Kilkenny XC7 is very breathable and lightweight, wrapping the foot without putting too much pressure on any part of it. The mesh allows fresh air in and moisture out, and the printed overlays eliminate bulk and weight, but still provide excellent support over the entire foot. A classic lace closure and lightly padded collar maximize the in-shoe experience.
The midsole of the Kilkenny is the best thing about the shoe, being made with EVA foam that wraps around the arch and heel, ensuring ample cushioning. The Pebax spike plate is embedded in the midsole, making this a slightly stiffer shoe than other models by Saucony, it's still a highly comfortable performer. The carbon rubber used in the outsole ensures not just sticky traction but also great durability, making this a great choice in more than one way.

4

. ASICS GEL-Fujitrabuco 7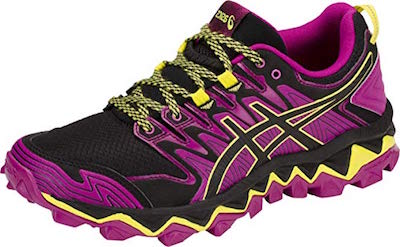 Released in late 2018, the GEL-Fujitrabuco 7 is a neutral trail runner, great for those who can't, or prefer not to use spikes. This model is appreciated by most trail runners, and uses all of the brand's best technology to give you a comfortable, cushioned ride on rough terrain. It's a model that's ideal for longer runs and training sessions, and the biggest updates in the seventh edition include a more supportive sole, as well as a grippier, more durable outsole.
In true ASICS fashion, the GEL-Fujitrabuco 7 includes a rearfoot GEL cushioning system that absorbs shock (especially for heel landers) protecting muscles and joints from the force generated on impact. A FlyteFoam Lyte midsole provides comfort and energy return without packing weight, and a DuoMax support system supports the arch, correcting mild over and underpronation.
The outsole uses AsicsGrip technology which is a highly grippy rubber outsole with multi-directional lugs for great performance on multiple surfaces. The upper uses synthetic overlays for stability, and a Lace Garage pocket for safely storing your laces while running. As for price, this model ranks slightly above average compared to the other models listed, and is best chosen by those who need a great outsole for varied surfaces.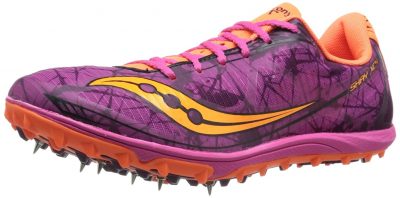 The Saucony Shay XC4 Flat offers an aggressive outsole, which has been highly improved from previous models, to ensure good traction from a flat cross country shoe, ie. one with no spikes. The shoe is both lightweight and breathable, qualities which are important for a cross country shoe. They are also available in many funky designs, which are sure to stand out.
The midsole is made up of compression-molded EVA. This provides the wearer with fantastic cushioning to ensure a comfortable experience. The EVA makes the midsole fairly firm, which is preferred by some runners as it provides a more supportive feel underfoot.
The outsole of the Shay XC4 has been transformed from previous models of the shoe to create better traction during runs. The use of XT-600 rubber, a rubber with outstanding abrasion, optimizes traction, whilst ensuring the outsole remains lightweight and durable. The Shay XC4 sports a very reasonable price tag. Considering the desirable features that the shoe offers to the wearer, including the clever use of materials to keep it very lightweight, this represents good value for money.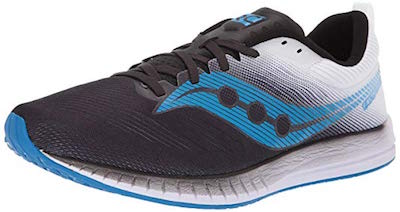 The latest edition of the Saucony Fastwitch provides a stable ride with even lower weight, and is ideal for those who need additional support without the bulk that usually comes with it. A 4mm heel to toe drop allows for a more natural ride than most shoes, and is a fast feeling shoe ideal for competition running. Although the outsole on this model is not made with spikes, or even for dirt, mud or grass conditions, it's still a solid choice for anyone with pronation issues.
The best part about the Fastwitch 9 is the upper with is made with engineered mesh to combine breathability with the support provided by the printed overlays. The collar is generously padded for maximum comfort, especially at the back of the heel, while an SSL EVA midsole protects the foot from shock, offering a ride that's both responsive and cushioned.
The Fastwitch 9 is more flexible than its predecessors, mainly thanks to a triangular midfoot post, but also the flex grooves in the PWRTRAC outsole which is one of the grippiest compounds you will find. As for cost, this is another averagely priced model that works well for those in need of a higher level of stability.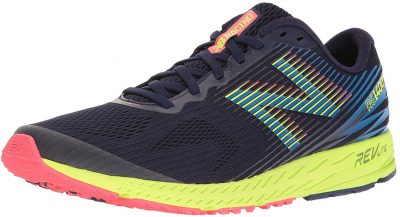 The New Balance 1400 is a neutral racing shoe which is very lightweight and durable, helping to increase your speed without jeopardizing its longevity. It has a high level of cushioning to provide extra support to those runners who need it. These shoes are also designed to provide optimal protection to the wearer, with a particularly supportive midsole.
The high level of cushioning provided by the New Balance 1400 comes in the form of the REVlite midsole. This is a very lightweight midsole, which in addition to fantastic cushioning, also provides great responsivity to increase performance.
The New Balance 1400 has been designed to fit like a sock in order to give optimal comfort to the wearer. The overlay is made to be seamless, to ensure that there is no discomfort from rubbing. The cost of the shoe is about average for a shoe of this standard. The enhanced comfort and support offered by the shoe means that it is worth spending the money to ensure a comfortable running experience.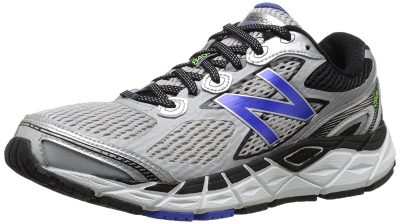 Despite having enough support and durability to perform well off-road, the New Balance 840 boasts superior comfort, with a highly cushioned midsole. The latest version of the 840 is more flexible than ever, with improved flex grooves in the sole of the shoe. The outsole of the shoe incorporates non-aggressive treads, which provide the runner with fantastic traction.
The midsole of the New Balance 840 is built to provide all-day comfort to the runner. As well as providing cushioning underfoot, this EVA material also makes the midsole both lightweight and durable.
Despite being a flat shoe, without spikes, the New Balance 840 has a blown rubber outsole which provides excellent traction, making the shoe suitable for cross-country running.
The New Balance 840 is a fairly high priced running shoe. However, it provides a great deal of additional support and comfort to those who need it. For this reason, if you have any foot or knee problems that require extra support, it is well worth the money.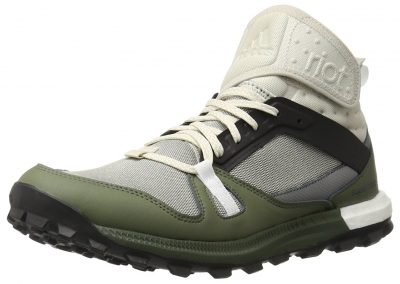 The Adidas Supernova Riot M is one of the top choices for off-road running shoes currently available on the market. It incorporates many great trail-ready features and also has an attractive and appealing design. It is a very durable shoe, with superior traction and comfort to rival many of its competitors.
The outsole of the Adidas Supernova Riot M is highly rated by its reviewers. It is constructed using a Continental rubber which provides superior grip on off-road trails. The outsole also contains deep lugs to further enhance grip. This tough rubber outsole also ensures that the shoe is highly durable.
This technology is used within the midsole of the shoe. This innovative Boost foam compound ensures excellent energy return with every stride taken. This feature definitely helps to boost the performance of the shoe. This shoe is moderately priced for this category, but given the extra features that it provides, it is well worth the investment.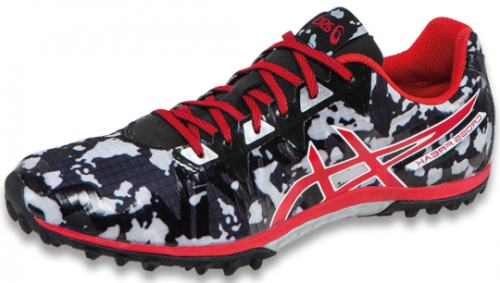 This shoe is not for the faint of heart. Constructed for aggressive running and racing for all kinds of terrains, the spiked rubber outsole is combined with the Trusstic System Plate for traction and stabilization. The EVA midsole is compression molded for cushioning that is responsive on hard surfaces and the mesh upper is breathable, flexible, and lightweight. Your foot will be nicely wrapped by the thin TPU overlays to help keep your foot platform grounded.
You want a cross-country shoe that is lightweight but doesn't lack in strength. The trusstic system is a specialized system that reduces the sole unit weight but keeps the structural integrity. No surprised movements that can reduce your performance or even possibly hurt your feet as the stability remains strongly in place.
Spikes are paramount in cross-country as they provide much better grip in all the different kinds of terrains. Having a five spike system gives you control that is sure-footed in terrains such as hills, tight corners, and hills. It will also leave your run balanced and strong. Higher priced but they are targeted for hardcore cross-country. If you are serious about championship running and need a pair that will take you to the winning finish line, these are the ones to choose.

Subscribe to our Newsletter