Best Workout Clothing for Women Reviewed
In a Hurry? Editors choice: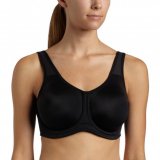 Test Winner: Wacoal Underwire Sport Bra

Activewear can either make your workout or break it entirely. Whether you're a gym aficionado, a fitness DVD connoisseur or someone brand new to working out, the importance of proper workout clothes cannot be understated.

We all know how uncomfortable it is to put clothing on and get to work for the day only to find out what we're wearing is less-than-ideal in someway (scratchy material, uncomfortable seams) and we have to sit in them the entire rest of the day.

You don't want to have that distracting experience when you get to the gym for your workout. That's why we've taken it upon ourselves to compile a list of the ten best workout clothes for women. Below you'll find the absolute best tank tops, sports bras, shorts and leggings to accompany you during your most strenuous workouts and your most laid-back ones, too.
Standout Picks
Criteria Used for Evaluation
Durability
Durability is a huge concern these days. We all know that things aren't made the way they used to be. Your grandparents probably still have appliances they used in the 1950s tucked away somewhere in their homes still in pristine condition, whereas the toaster you bought last year has already found a home in the landfill.
It is important to look at durability in your workout clothes because if a garment is of poor quality, why would you want to waste your time and money purchasing it? In order to score durability, we scoured thousands of reviews, read clothing labels, studied particular material types and tested out the clothing ourselves.
The options listed above all ranked high in terms of durability. Of course, how long a particular garment will last does depend on how you plan on using it, so we highly recommend reading any manufacturers instructions before buying. Keep in mind that synthetic garments such as sports bras and leggings may need to be hand washed, as well as that certain types of workouts take a bigger toll on your equipment. This way, you can take the right steps to ensure your workout gear last years.
Overall Fit
When we consider the fit of clothing, we are usually talking about the size. In this case, however, we want you to consider the way your clothes fit you. You may find that you prefer a different fit for different types of activities and that is totally normal, too. You might want to wear tighter and more form-fitting workout clothing during your strength training regimen so you can see your form in the mirror better and loose fitting clothes during yoga when you don't want to feel restricted.
But know that choosing loose fitting clothes may have an effect on your overall athletic performance for some activities. For example, you'll have a much better run or bike ride if you're wearing tighter fitting clothing than you would if you chose to put on a wide-leg pant that may end up holding you back or getting tangled in your peddles.
The general idea is that you don't want to purchase anything clothing that is going to get in the way of you performing whatever activity it is that you'll be wearing them for. You may need to tailor your clothing choices to the specific activity you'll be participating in so it's always nice to have a wide array of options to choose from.
Materials
The materials your workout clothes are made out of can quite literally make or break the garment. If you're choosing clothing made with poor quality materials, you're taking a bit of a risk. Sure, you might be able to save a couple of dollars in your initial investment, but you're going to end up paying for it in the long run.
Workout garments made from poor materials may cause a host of unsavory side effects:
See through material. No one wants to be bending over for a heavy deadlift or squatting 150 pounds only to later find out that everyone in the gym knows what color their underwear is. Poor materials often are see-through during certain bending over motions and will become progressively more see-through as time wears on.
Smelly fabric. Clothes made with low-quality materials are much more likely to retain unsavory scents post-workout and even after washing.
Bacteria buildup. Dirty workout gear and clothing options that are not breathable can create (and hoard) germs that will breed bacteria over time. This bacteria buildup can lead to things like yeast infections and urinary tract infections.
So, what are some great material choices for workout wear then, you ask?
Cotton is a great fabric choice for any of your low-impact workouts. It tends to soak moisture up like a sponge so you'll want to avoid cotton for any of your HIIT workouts or runs. You can feel free to wear cotton during things like light lifting or slower yoga flows.
Wicking fabrics are great if you're going to be doing something a little higher intensity or if you sweat a lot. Materials like nylon and spandex are all really great at pulling moisture away from your skin, keeping your core temperature down.
If you do a lot of workouts in Mother Nature, you really need to take fabrics into account. Layer up in winter months using a polypropylene base to keep sweat off of your skin. Add fleece layers if necessary to keep warm. During the summer months, you'll want to go back to the aforementioned moisture-wicking options. If you are working out in the sun a lot, polyester is a great choice as it will help protect you from the UV rays of the sun.
Versatility
While you may not be planning on wearing your Under Armour shorts to the mall anytime soon, we wanted to include products in our buying guide that have multiple uses and can take you beyond the treadmill. You should be able to get more use out of your gear than for just one particular workout.
For example, some of the leggings listed above were made to be worn for running or yoga. But can you war them on your off time and still be comfortable and stylish? Of course! In fact, athleisure is a huge trend right now and a lot of celebrities are wearing 90's-esque clothing (sneakers and sweatpants for example) to many fashion events.
We think that all 10 of the products in our buying guide can be worn for many different workouts, be it yoga, running, strength training, CrossFit or anything in between. Whether you take your new gear to the gym or the grocery store or wear it to school pick up, you'll be comfortable and fashionable plus you will always ready in case of a zombie apocalypse (score!).
Comfort
Nothing is worse than buying clothing that seems to fit well in the change room only to find that there is a scratchy seam or the material is uncomfortable once you put it on at home. Comfort is especially hard to gauge when you're online shopping. There is a certain amount of risk involved when you shop online because you're not able to physically feel the fabric in your hands or try the clothes on before committing to buying them.
We were able to determine comfort levels of the products in our buying guide in a few different ways. First, we scoured thousands of reviews from current users to determine how they felt the clothing fit and how soft the fabric was on their skin. We read product descriptions, clothing labels and even tried the clothes on ourselves to determine overall comfort level.
We are happy to say that we think you'll love the way that all ten of the products on our list fit and feel on your body. They're all made with the best materials and come from well-respected brands in the industry that are known for the high quality of their gear.
Top 10 Workout Clothes for Women
1

. Panache Underwire Sports Bra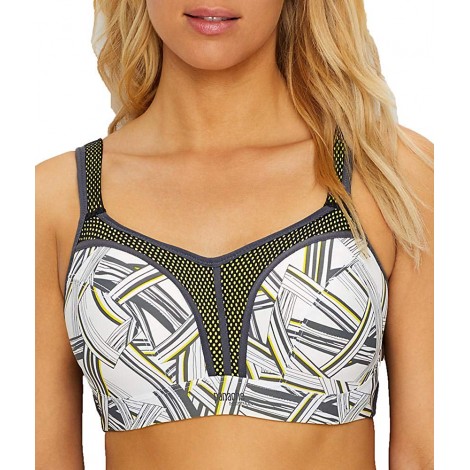 One of the top performing workout clothes items on our list is this sports bra from Panache. Available in a huge range of sizes and colors, the Panache workout bra is a great choice for the woman who wants a comfortable but supportive model. It comes in sizes from 28D to 40H so chances are there is a size option there that will work for you.
This workout bra is a perfect choice for women who have bigger busts. With its underwire support and cushioned straps, you'll not only be extremely comfortable while you work out but held in place as well. This sports bra is different from many others on the market because it encapsulates your breasts instead of strapping them down. It's been proven to reduce breast bounce by 83% without feeling restrictive like other bras.
The Panache bra is very comfortable. It is made from a lightweight material that will keep sweat away from your skin and its breathable mesh panels will help to keep you feeling cool no matter how hard you're working. The cups are molded which will help to reduce friction for improved comfort levels. The bra can be converted into a racerback style if you so choose, providing even more versatility.
The price of this model is slightly above average for this type of garment, but if you're having trouble finding the ideal support for your needs, it's more than worth checking out.

2

. Wacoal Underwire Sport Bra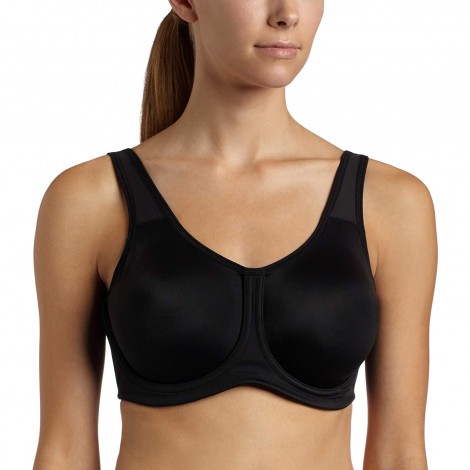 The Wacoal Underwire sports bra is an incredibly popular option among women with bigger breasts. Made to provide maximum support, it's ideal for high impact sports and training sessions, and is comfortable enough to be worn during your off time as well. The Wacoal Underwire bra is available in sizes from 32C to 42DDD and comes in a huge variety of colors and styles.
The workout bra is made from 100% spandex material and features a triple hook and eye closure for comfort and support. It's a perfect companion for any of your high-impact activities due to its two-ply cup construction and the floating underwire frame. For women who find themselves in the G and H cup range, there is an inner sling included for additional support.
If you've ever participated in a workout where breast bounce has caused you pain, discomfort or distraction, you know how important it is to invest in a high-quality supportive sports bra. We think the Wacoal Underwire will be able to provide you with the support and comfort you need to able to perform your best in any of your favorite activities.
The price of this model is considerably higher than similar products, but considering that maximum support is difficult to find in large sizes, it definitely is worth a try.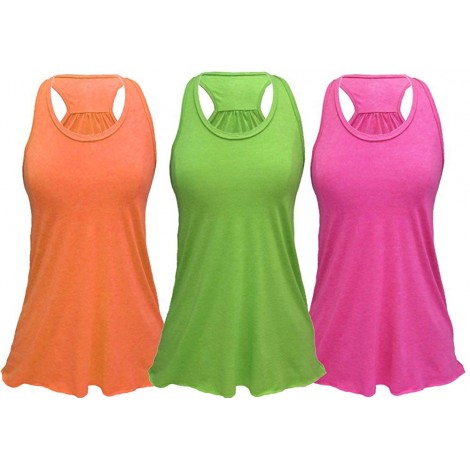 Do you have a hard time deciding what color to purchase when it comes to your workout gear? You don't need to worry about that anymore because the Epic MMA tanks come in three packs of assorted colors. Are you a fan of colors like orange/lime/pink? Or maybe pink/blue/purple? How about more subdued colors like black/white/army green? If so, you'll love that these tanks all come together in a 3-pack from Epic MMA Gear.
If you're not a fan of tight fitting workout tank tops, this option is going to be right up your alley. They have more of a relaxed and flowy fit, perfect for women who prefer not to feel restricted by their clothing in the tummy region.
These tanks are made from a lightweight blend of cotton, rayon, and poly, the perfect trifecta for a comfortable and figure-flattering fit. They have a racer back that allows for a great range of movement, and are incredibly lightweight making them a good choice for most sports and leisure activities. Additionally, they're quite affordable, making them a great choice for those who are on a budget.

4

. Nike Swoosh Sports Bra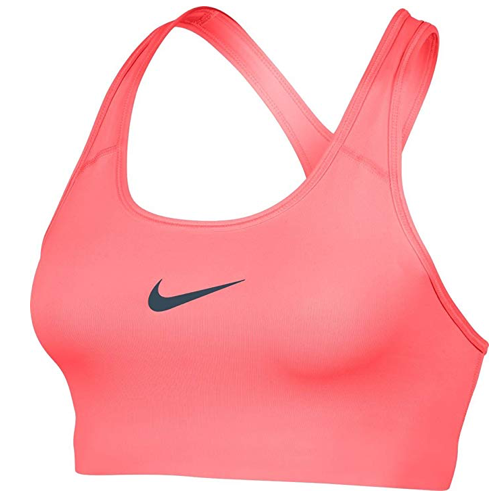 A supportive sports bra is a crucial piece of equipment for any of your workouts. Whether you're running, working out at the gym, attending aerobics class or just going around town running errands, you need to ensure you're maximizing your comfort. This model by Nike both looks and performs great. It can be worn on its own, or you can layer other clothes over it, achieving a relaxed but covered up look.
This sports bra can be purchased in a variety of neutrals and colors, and you'll find that it's relatively easy to match with your favorite yoga pants, running tights or shorts. It comes in six sizes so that it includes all body types, and is the ideal choice for medium impact sports.
It's made from 88% recycled polyester and 12% spandex, with an 80% polyester and 20% spandex lining, as well as synthetic padding in the front and back. It uses Dri-FIT technology to wick sweat and moisture from your skin, keeping you cool and odor free. It's machine washable, so you won't have to worry about maintenance.
The racerback allows for a great range of movement without constriction, and the front offers a good amount of support through the stretchy fabric. As for price, it's slightly more expensive than similar models from lesser known brands, but the Nike Swoosh Sports Bra does make for a good buy.

5

. Under Armour Fly-By Shorts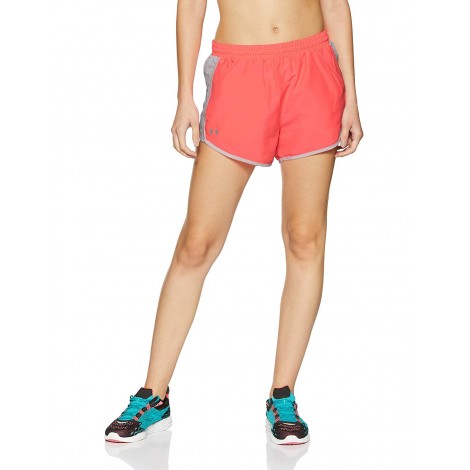 Does just the mere thought of wearing capris or full-length pants while you workout make you sweat? You're not alone. A lot of women can't handle wearing pants or crops while they get their sweat on. That's where items like the Under Armour Fly-By Shorts come in handy.
These are made with a lightweight material that will provide you with the most comfortable fit in women's workout shorts you may ever find. Despite the lightweight construction of this product, they're also very durable so you won't be heading back to the store to purchase a new pair anytime soon.
If you're a chronic overheater, you know how important it is to be able to keep your body cool during your workouts. Under Armour is one of the best companies out there for providing their consumers with gear that will prevent overheating during particularly sweaty and difficult workouts. These shorts are made with a material that will wick away any wetness and dry very quickly. Not to mention they've equipped the Fly-By Shorts with mesh side panels for the ultimate in breathability. So if you're overheating, the excess heat will have a place to go.
The elastic waistband is wide for a comfortable fit that won't leave you feeling exposed. These are averagely priced compared to other garments by Under Armour, so if breathability is your priority, definitely go for this option.

6

. Under Armour Play Up 2.0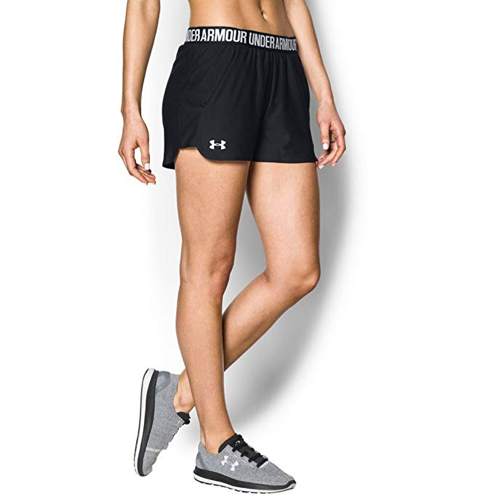 These training shorts by Under Armour are the ideal choice for a number of activities. Whether you're after a pair of running shorts, a comfortable bottom to wear to the gym, or even something you can put on on hot summer days, the Play Up 2.0 definitely is a model to consider. These shorts have a simple, flattering design and come in a huge variety of color options, allowing you to stand out or blend in as much as you wish.
The waistband of these shorts is an exposed printed elastic that sits on the hips for a comfortable experience. Because the waistband is wide, it shouldn't cut into your skin, or ride up, allowing the shorts to stay in place regardless of the activity you're engaging in. It's also highly flexible, making for a secure fit and easy on and off.
The material used for the shorts is 100% polyester which has a number of benefits. First and foremost, this synthetic choice is soft to the touch and incredibly lightweight. It breathes well, wicking moisture away, thus preventing odor-causing bacteria from appearing in this garment. The sides have pockets which you can use on the go, but note that they're not deep enough to securely hold your phone or valuables while running and bouncing.
To increase durability, this garment uses anti-pilling and anti-picking technology in the seams, and is machine washable for easy maintenance. It's relatively affordable, but do keep in mind that certain color choices sell for a higher price than others.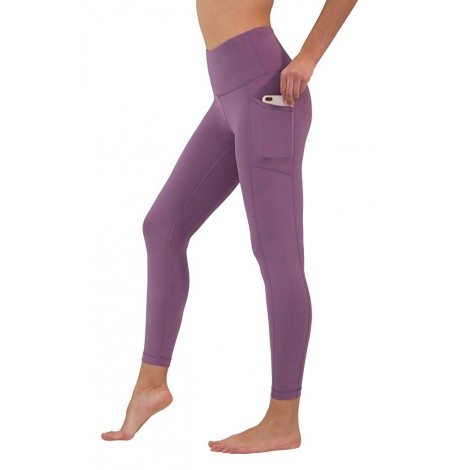 Though 90 Degrees by Reflex may not be a household name just yet, they're on their way to becoming one. These high waisted leggings are a true testament to what this company can do. They're ideal for a variety of workouts, but can also be worn as leisure wear while you're going about your day, running errands or chilling out at home.
Do you do a lot of heavy lifting and/or bending and squatting during your workouts? If so, you want to invest in bottoms that are going to be squat-proof. That is to say, you want your pants to not showcase the color of your underwear to all of the other gym-goers. That's part of what makes these leggings so great. These are made with 24% Spandex Interlock weave meaning that you won't need to worry about visible panties during your squat sets anymore.
Another great feature of these workout leggings is that they have a pocket specifically designed to case your smartphone. No more sweaty, heavy and uncomfortable armbands necessary!
As if you needed another reason to choose these leggings, but their high waisted construction makes them a great choice for anyone who worries about muffin tops or spilling out of their workout pants. These can provide an adequate amount of compression to your tummy, helping you to look even more trim than you already are. These are considerably more affordable than similar models by leading brands, so if you want something simple, that isn't over the top, they're definitely the way to go.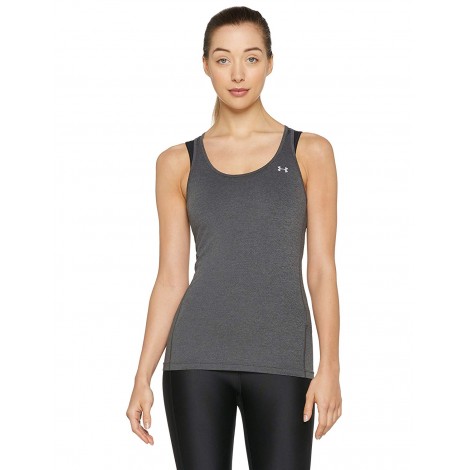 The HeatGear top by Under Armour is the perfect choice for women looking for workout garments that let the body breathe and don't hold onto moisture, even during rigorous activity. Designed to follow the body's silhouette, this top is highly comfortable to wear, allows for a great range of movement, and can be worn for almost any activity. Plus, it can be purchased in a number of colors, including those that match other gear by this brand.
HeatGear is one of Under Armour's proprietary technologies that will help their consumers to be able to perform their absolute best regardless of what the climate is like. Clothing that is a HeatGear style is designed to keep those who are wearing it cool and dry during their workouts.
If you haven't guessed already, this workout tank top is outfitted with the HeatGear technology so it's going to feel lightweight, cool and comfortable when you wear it. This makes it a great choice for women who overheat easily during their workouts or do a lot of working out outside during the warmer months.
The tank is able to wick any sweat away and if it were to get wet during your gym routine, it's going to dry really fast. If you're prone to sweating, you'll be happy to know that this workout tank top is outfitted with anti-odor technology that will stop the growth of microbes that cause odor.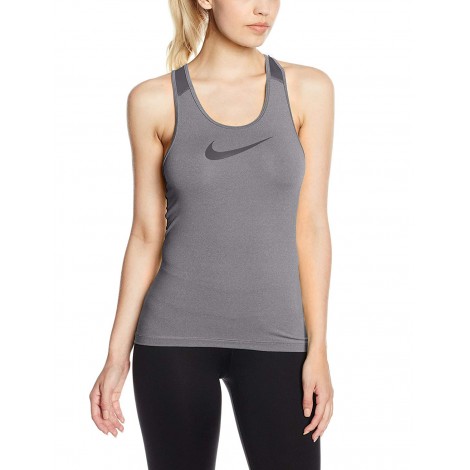 You didn't think we'd finish off our workout clothing buying guide without the granddaddy of all athletic brands did you? The Pro Cool tank from Nike may take a lower spot on our list, but it is still a fantastic option for your training needs.
This workout tank top is made with Nike's Dri-FIT technology. This tech is similar to Under Armour's HeatGear and Adidas' Climacool in that it is designed to keep you dry and comfortable during all of your workouts. In addition to the fabric choice, this tank also has mesh panels that will help to keep you cool as well.
The tank has more of a fitted silhouette than some of the other options in our buying guide. This makes it a great choice for activities where you don't want to feel held back by your clothing. For example, running races or even on the treadmill, will be easier and more comfortable in a tank top like this that won't float in the wind.
Available in 11 different colors like dark grey, crimson, lime green, and purple, there is sure to be an option that suits your personal tastes.



Taking the last spot in our top ten list is this fantastic racerback from Reebok. If you're indecisive and on a budget, you might be happy to learn that this workout tank top is available in a whopping 36 different color and style options at a price tag you won't feel guilty about. Whether you choose a solid color like hibiscus, a heathered fabric like goji berry or a printed Reebok option in purple wine, there is certainly going to be a color/style that suits your needs.
This tank features a scoop neck with smooth and flat seams so you're always comfortable. The racerback design makes sure that it's easy for you to move about during your workout and to show your muscular shoulders off, too.
It's made with quick-drying fabrics so you won't be distracted by sweat building up on your tank. It's made with 95% polyester and 5% spandex so you're promised a shirt that is as soft and comfortable as it is easy to machine wash at home.

Subscribe to our Newsletter